Iron Horse
Blog

I was honored to be one of 100 delegates on Governor Brown's Trade and Investment Mission to Mexico. I was invited in my new role as a member of the California Board of Food and Agriculture. As luck would have it, I was on the same flight as the Governor leaving SanFrancisco.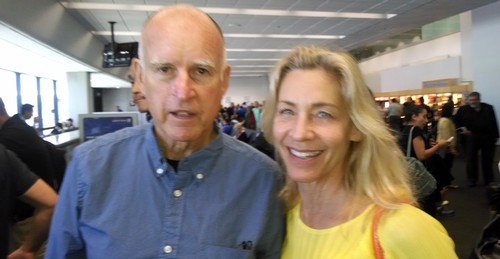 I was very proud that our Classic Vintage Brut was the tpasting wine at the Delegation Dinner ... after the margaritas.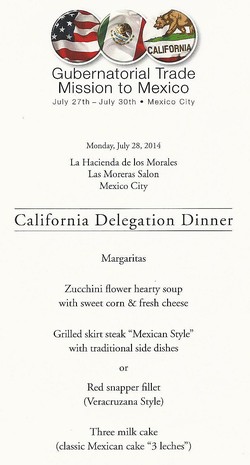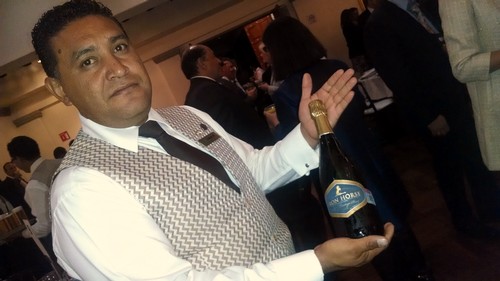 The agriculture contingent include California Secretary of Agriculture Karen Ross and State Assemblymember Susan Eggman, who chairs the Assembly Agriculture Committee.
We were briefed by the USDA attache in Mexico, met with the Minister of Agriculture to discuss border isues and toured food markets where there are California cantaloupes for sale in Mexico City.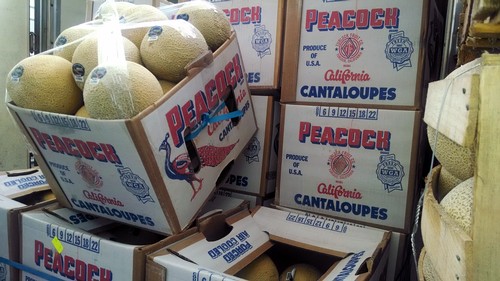 Some of the learbings were disturbing. For example, paperwork can hold up prduce at the border - in both directions, for 11 hours while it rots in the trucks in part because we are behind Mexico in getting the required documentation on-line, so just a transposed number can cause extreme delays.
Another was the perception of California wine in Mexico as quality, but expensive. The market veers more comfortably to South American wine and for special occasions they look to ... not France, but Spain. The best Mexican wines come from Baja California, in the Valle de Guadalupe.
One of the most memorable moments of the trip was the signing of a Memorandum of Understanding between California and Mexico to combat climate change, which I found fascinating as a state to country agreement.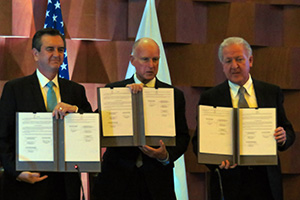 The next day, the Governor and the Archbishop of Los Angeles convened religious and diplomatic leaders from Mexico and Central America to discuss immigration reform and the influx of unaccompanied children coming to the United States. Mexico is now grappling with a very different and demanding border experience to its south along with the issues we share between Tijuana and San Diego.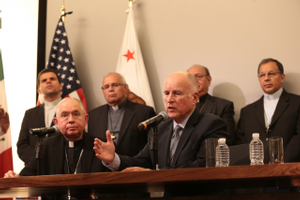 It was truly an honor to represent the extended Iron Horse family on this trip. It meant so much to our vineyard crew and cellar team.


July is always full of anticipation. We are bottling the wines from 2013 and gearing up for harvest. The early betting is on a good-sized crop and on an early crush. It's exciting to think that this could be our third excellent vintage in a row.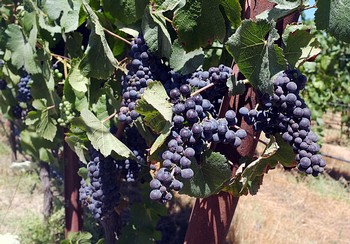 As usual we are later than most, which is a good thing, in that we hope to have a nice, long growing season. So far so great, though a lot can happen between the lip and the sip. Please wish us luck!
In the meantime, the lavender harvest is truly excellent.

And the blackberries perfectly delicious. I love dropping two or three or five in a glass of bubbly.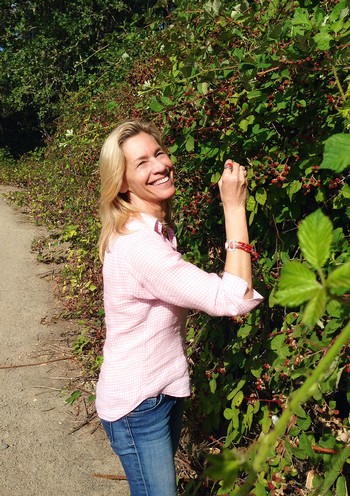 As you know, we have always carried the flag for Green Valley, our special growing area, which lies entirely within the Russian River Valley. The name on the application for recognition as an AVA (American Viticultural Area) was my mother, Audrey M. Sterling and her attorney of record was my father Barry H. Sterling. They had such great vision. This was 1983, simultaneous with Russian River filing for AVA status.
I feel extremely proud that the Russian River winegrowers are now starting to define themselves as a group of four "neighborhoods" - Sebastopol Hills, Green Valley, Laguna Ridge and the Middle Reach. Only Green Valley has set federally recognized boundaries. The others are loosely defined to not step on anyone's toes. As you might imagine, trying to delineate the Laguna Ridge from the Middle Reach can get neighbors to arguing. But I am fascinated with the results of comparing and contrasting soil types, how the fogs moves, harvest dates, and flavor profiles.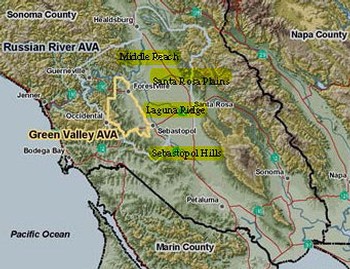 Here's a link to an excellent article on the wines "way out west" including Iron Horse that is well worth reading: http://bit.ly/1jZOjX8.
I hope your calendar is full of many upcoming opportunities to celebrate. We have a Super Moon on August 10, which is reason enough to pop a cork!
With all my best wishes,


I wish everyone could have been here for our Earth Day event on Sunday. It was our best ever.
I felt privileged to hear Sandra Day O'Connor speak about the meaning of Earth Day, her memories of growing up on an arid Arizona ranch and the value of water, which deeply resonates in a drought year. And, I learned a new word - petrichor, which is the scent of rain on dry earth, or the scent of dust after rain.
Of course I loved that she said, "'Wine is the best celebration of the earth." But my favorite part of her talk was about her friendship with my parents since their days at Stanford.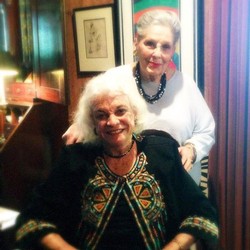 Head Chef Douglas Keene outdid himself with the food. The Chardonnays and Pinot Noirs from our friends and neighbors are so delicious. I love when Green Valley comes together as a community. And the pies!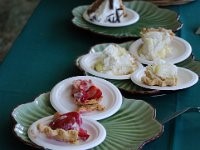 We had art, heard a great rendition of Bésame Mucho by the gorgeous and talented Trio Ellas, and learned about the application of drones for agriculture.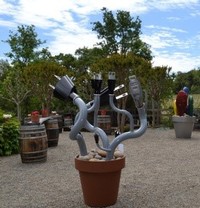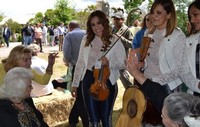 I cannot imagine what we will do next year!

I am very proud to announce the release of a new, limited edition, vintage Sparkling Wine called Rainbow Cuvée, available at the winery and on our website.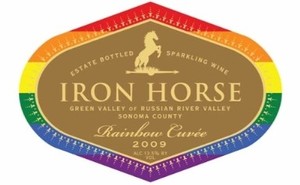 It's meant for everyone who believes in love, justice and equality … and, nothing says marriage quite like a gorgeous bottle of bubbles.
The wine is vintage 2009 Blanc de Blancs - 100% estate Chardonnay, aged three-plus years en tirage. The dosage, or finishing element, makes it unique. Only 250 cases were produced.
Dosage is the final ingredient to go in the bottle before the cork. It is syrup made of wine and sugar. How much is added to the bottle sets the degree of sweetness to dryness of the Sparkling. The composition of the dosage sets the style, like a spice or seasoning.
It never ceases to amaze me how a few milliliters can change the color, bouquet, weight, flavors and finish. Rainbow Cuvée is certainly one of the most delicious we have ever produced.
The release date coincides with rainbow season in the vineyards. We are told Iron Horse has more rainbows per square inch than anywhere else.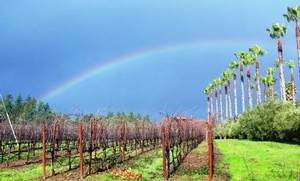 Stylistically, "Rainbow" is bright and exciting, dry, surprisingly rich, made for celebration.
The label design is by Mark Berry of Akins Berry Communications. The winery retail price is $58/bottle, available at the Iron Horse Tasting Room and on-line.

Governor Brown's State of the State and the President's State of the Union have inspired me to write a state of the winery report. The traditional format is an enumeration of accomplishments from the past year, followed by a vision for the year ahead.
Iron Horse has much to be proud of:
Our newly replanted vineyards are now in their "seventh leaf" and yielding the rewards of the extraordinary investment we have made in the vineyards, replanting 80 of 160 acres since 2005. That's almost the entire original vineyard planted in 1970 and 71. My brother Laurence Sterling, our winemaker David Munksgard and viticulturalist Daniel Roberts are doing a fantastic job.
Naturally, the heightened viticultural knowledge we have today has raised the quality of our wines exponentially, making the accolades of 2013 all the more gratifying.
Our ratings were higher and more consistent, especially on the bubbles. Not that we live or die by scores, but we feel the effect of going up two or three notches. We sold the entire 2009 vintage of Wedding Cuvee in six months and have started shipping 2010, maybe because of the 93 point rating in Wine Spectator with Tim Fish's comment that it was "built for a party." Robert Parker awarded our 2007 Brut Rose 93 points. Wine Enthusiast rated 2004 Brut LD 94 points and named it one of the Top 100 Wines of the Year. Wine & Spirits named Iron Horse one of the Top 100 Wineries of the Year.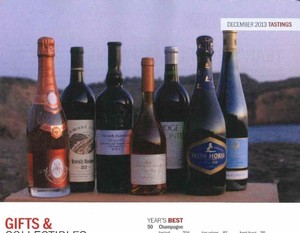 The photograph they ran in their December issue speaks volumes. I salute the vineyard team and the winemaking crew and thank our media friends.
We were honored that Iron Horse was served at the dinner hosted by President Obama for China's President Xi Jinping in Southern California last June, continuing a tradition of the White House choosing Iron Horse for five consecutive Presidential Administrations beginning with the Reagan-Gorbachev Summit Meetings. Amazingly, we will be celebrating the 30th anniversary of that milestone in November 2015.
Perhaps most exciting is the evolution of my niece Barrie Sterling's role at Iron Horse. I think she is doing everything right - spending time in the vineyards and out in the market selling wine. She hosts V.I.P tours of the winery, does the chalk board art for the Tasting Room and is working with her grandfather and name sake Barry Sterling on the vegetable garden. Several years ago, my New Year Resolution was to figure out how to be in two places at once. And now I have.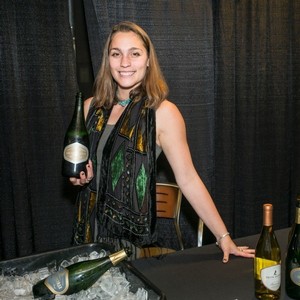 My forecast for 2014 is for some very exciting highs as well as some very tough challenges.
First is the release of our 2012 Estate Pinot Noir. This is the first time in five years that we have had any Pinot Noir to really sell, after a massive replant of the original vineyards (due to old age).
In many ways, this can be seen as a new launch. We are so lucky to get back in with such a spectacular vintage. The category is vibrant. Green Valley is the most sought after area of the Russian River for Pinot Noir today. We finally have ample supply, which will be the new norm for Iron Horse.
I can't wait for you to taste it. It has a beautiful bouquet. The mouth-feel is ripe and opulent. It changes by the minute in the glass. It is young, of course, but it is like a genie that jumps out of the bottle saying, "I am 2012. Drink me!"
Now, when you come taste with us at the winery, we have an entire flight devoted to Pinot Noir for you to try.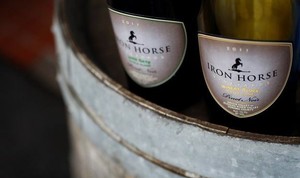 The biggest challenge is drought. This is a problem we share with all Californians. We are all in this together.
Fortunately, our reservoir is two-thirds full, thanks to my parents' foresight to build the reservoir in 1976 and thanks to my brother's contract for re-cycled water from Forestville, which he initiated in 1990.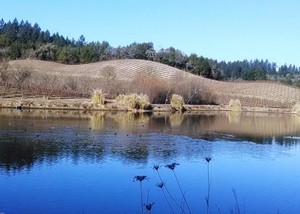 We are anticipating an early spring. We have Daphne in bloom, quince, star magnolia in full flower, even daffodils starting to open up. It will hit 72 degrees today. Strangely the drier it is, the colder the lows. We have frost almost every morning.
Laurence is trying to time the pruning in the vineyards accordingly and we are saving every drop of water we can for frost protection.
Come what may, the Iron Horse family is working very hard and doing some really great work. How perfect that Chinese New Year January 31 starts the Year of the Horse. We plan on celebrating all year long and hope you will join us in toasting every opportunity.