Iron Horse
Blog

Dear Friends and Family,
We are beyond excited that we can re-open for outdoor tastings, which, as you know, is our forte and makes social distancing very easy to achieve. We are already "by appointment", so we are simply pairing down the number of guests we can welcome at a time to comply with the "new normal". We will be wearing masks … and guests will have to wear masks too when you arrive and until you get situated to start tasting. Masks are the fashion accessory of the moment!
For everyone's sake … and your comfort … we will adhere to the protocols provided by the Wine Institute to a T. Having guests at the winery will be fun and exciting. It will be our greatest pleasure to get back to sharing our stunning view and our wines. And, we have some very delicious new releases. We're just thrilled to be able to open them up for you. Even with social distancing it will be celebratory and fun - two of our specialties.
We are offering a tasting flight of five wines – three bubblies, a Single Vineyard Chardonnay, and a Single Vineyard Pinot Noir along with delicious artisanal picnic boxes from Big Bottom Market Monday through Saturday and on Sundays we are beyond excited to welcome back The Oyster Girls.
We will keep saying it forever: Thank you all so much for your support, always, and especially the last two months. It has been so encouraging to have you rally beside us as we weather this storm together. We are so grateful.
Here is our check list for re-opening, for your peace of mind:
Reservations are mandatory. Please book online in advance. Or, call us at 707 887 1507.
All staff will be wearing masks.
Protocols require guests to don masks when you get out of your car in the parking area and keep them on until you are situated at the Tasting Bar.
You will pick up your tasting glasses at check in, right out of the rack from the dishwasher.
Hand sanitizer will be available at check in and all along the Tastings Bars.
Social distancing is required. We ask that you please stay at least six feet apart from others and we will gently remind you, if need be.
We will be disinfecting all surfaces after each tasting.Tasting menus will be printed individually and thrown away.
Payment will be contact free, no cash please.
While we can't say we will be welcoming you with open arms (still no hugging), it is certainly with open hearts.


Dear Friends and Family,
I am very excited that we have decided to host an Earth Day event this Sunday … virtually. As you know we have enjoyed many wonderful Earth Day celebrations over the years with great speakers from Jerry Brown to Sandra Day O'Connor. This Sunday we have lured legendary Oceanographer Sylvia Earle for our "keynote" via Zoom. Please click here to register.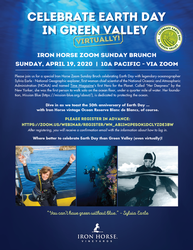 Sylvia bears a striking resemblance to Ariel and you might recognize her from Rolex ads. Please click here to read up on her amazing accomplishments.
As we become more proficient in video conferencing, I thought I would share some pro tips from professional photographer Tyler Chartier on how to look good on Zoom. It mainly comes down to lighting, a smile, and I would add ... a glass of wine.
Plus, I am very happy to share some virtual backgrounds that you can use featuring this beautiful place I am lucky enough to call home.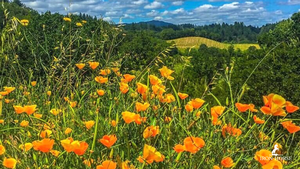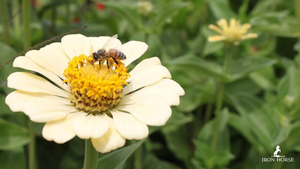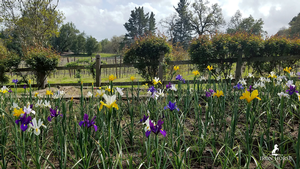 Just click on each photo to download
I hope I get to see you IRL very soon. Until then,
Joy

Dear Friends and Family,
Thank you for the outpouring of concern, for my parents and for the entire Iron Horse family. Thankfully, we are all fine and pulling together as kith and kin. We are so very lucky and appreciative to have so much love around us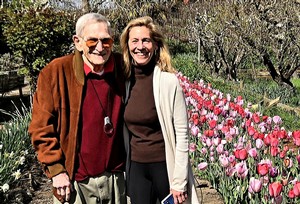 ... even at a six foot distance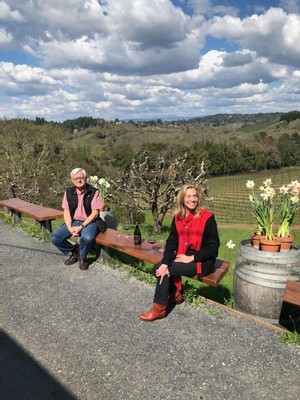 Right now, we are thinking of you and yours and hope you are all OK. We know so many of you, personally, from the wonderful times spent in our Tasting Room … and feel especially close to you right now … as the on-line orders are fluttering in. Your thoughtfulness is like a rainbow – appropriately on this first day of spring.
Like so many, we're doing our best so we can continue to be part of all your moments - big and small - for years to come. We are very lucky that wine is considered essential, as an agricultural product. As Thomas Jefferson said: "Wine is a necessity."
I hope you'll consider sending Iron Horse as a gift when you want to be "there", but you can't physically be there. And, stock up for yourselves. We are offering $1 shipping on six bottles or more. The shipping discount will show up at check out.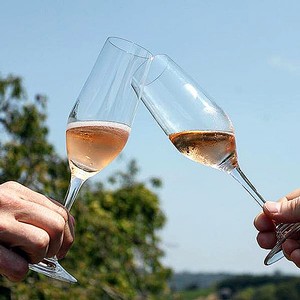 Thank you for your great, ongoing support and, most importantly, your closeness to us in heart.


Dear Friends and Family, This is a time for optimism, a steady hand and doing everything we can to help protect the community.
Here at Iron Horse, we have changed our protocol to clinking glasses instead of shaking hands.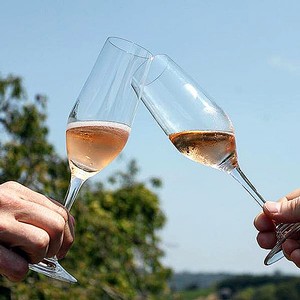 Following the Governor's announcement, we have closed our Tasting Room. Our wines are still available for purchase and pick up here at the winery from 8a to 4p; we are just not offering tastings. The best, easiest, safest and most helpful option available 24/7 is to order online. We are offering $1 shipping on six bottles or more. Please clicke here.
We know not everyone can stay home, and we owe a big debt of gratitude to our doctors, nurses, and caregivers, first responders, everyone in essential services, the unbelievably great people working in the grocery stores and pharmacies. Thank you!
I also want to share the view from the winery with you. It will still be here when this is over.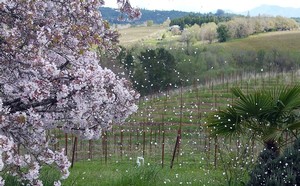 Wishing you and yours all our very best during this crazy, unprecedented time.


Dear Friends and Family,
This has been an amazing month. Not one drop of rain, which is of course concerning, but at the same time wondrously beautiful.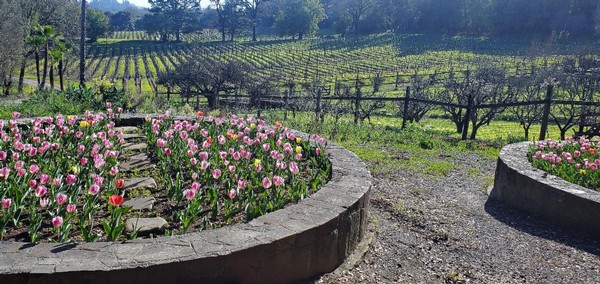 If we stay on this path, it will be the first time of no rain for the entire month of February since 1864.
We are starting to see a hint of budbreak in the vineyard – about a month early, which is alittle weird. But, as our Winemaker David Munksgard reminds us, weird is not bad; it's just different. Moreover, this is farming – always unpredictable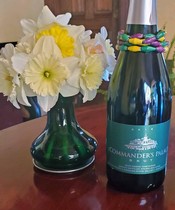 Fortunately, the forecast says drizzle on March 1, which even if it just pats down the roads will be most welcome.
In the meantime, tomorrow is Mardi Gras. I hope you will join us in a toast with our 2014 Commander's Palace Cuvée - the very delicious, vintage Rosé that we make exclusively for the legendary Commander's Palace in New Orleans. Come celebrate and score some "parade beads" made from recycled magazines. We only have a limited amount and they are sure to go fast.
The tradition of throwing prizes to parade goers in New Orleans goes back to the 19thcentury. They were originally made of glass. Then came plastic. The ones we are giving out come from Atlas Handmade Beadsand are eco-friendly.
One thought for Lent is to give up plastic.
There's no real significance to Mardi Gras beads except fun. The colors do have meaning, purple represents justice, green symbolizes faith and gold exemplifies power.
As they say in New Orleans, "laisez les bon temps roulez" and believe that the splendor of an early spring will extend into an equally glorious vintage.

Finally, I am sure I am preaching to the choir, but please vote – all the way down the ballot.
With all my very best,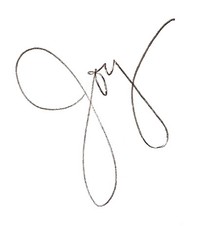 Dear Friends and Family,
Happy Chinese New Year, celebrating the "Year of the Rat".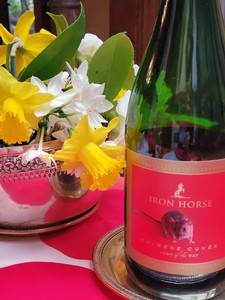 The Rat is the first sign in the 12-animal cycle of Chinese Astrology, a portent of new beginnings. Rats are said to be clever and wise, symbols of wealth and abundance. Rat years include 1924, 1936, 1948 , 1960, 1972, 1984, 1996, 2008, 2020, making this is the perfect gift for anyone expecting a baby (Us! My eldest niece Justine is due this summer) … and for those celebrating a milestone birthday, like turning 60 (namely, our brilliant, handsome label designer Mark Berry).
Here is a line up of our Chinese New Year labels of the past five years.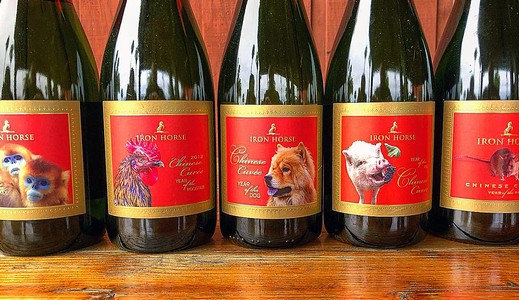 The endearing creature on this year's label, a Key Largo woodrat (Neotoma floridana), is sadly endangered. Fewer than 250 adults are left in the wild. This "studio portrait" is part of National Geographic's Photo Ark, created by photographer Joel Sartore ( Click here for more information), a biblical effort to document 12,000 species before they disappear and to get people to care, even about a little rat, while there's still time. We are very proud that licensing the photo for our label helps the cause.
Yesterday, one of our wonderful Wine Club members told us the origin story of the Chinese Zodiac that he learned as a child. It's a story of a great race, deciding which animals made it into the 12 year cycle, and in what order. The animals had to cross a river, so the Ox had the advantage, but the clever rat jumped on the Ox's back and once across, jumped ahead to be the first. The Ox is second.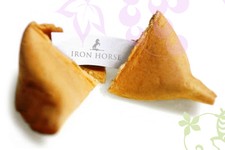 We are pouring "Rat" in our tasting room. Please make a reservation (or order online).
Wishing you great prosperity and double happiness!


Dear Friends and Family, The year is quickly coming to a close, ushering in a new decade. The Twenty-Twenties! This deserves a toast. Many toasts. And some thought.
I hope the 2020s live up to the Roaring '20s in exuberance and progress, but without the bad ending and certainly sans Prohibition.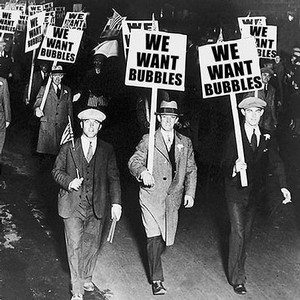 Here are my recommendations for celebration and contemplation:
In honor of the 100th anniversary of the 19th amendment, I vote for Joy! as the most uplifting and energizing of our bubblies. This is a special occasion wine, made for Blanc de Blancs lovers. It is "grower-producer", vintage 2005, 100% Estate Grown Chardonnay, and aged 13 years en tirage, which takes it to an entirely new and exciting level.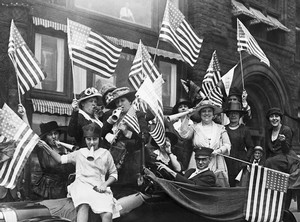 For a wine with meaning, I suggest 2014 Gratitude. It has a fuller, more ample profile as the blend is predominantly Pinot Noir. $5 of every bottle sold goes to the Redwood Empire Food Bank, providing food to those in need from Sonoma to the Oregon border. This is our third vintage of making Gratitude. The contribution comes to about $20,000 a year.
For sheer fun, 2011 Brut LD Rosé has the best bubble action ever and is the most likely to make you jump out of your chair and do the Charleston.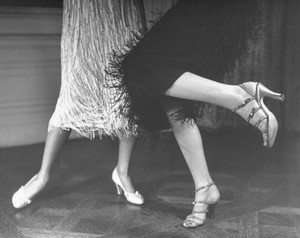 For seasonal and festive, 2013 Winter's Cuvée is made in a rich, expressive, glamorous style.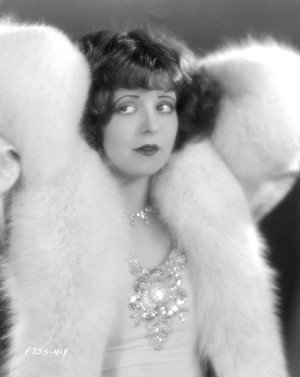 And, you can't go wrong with 2015 Classic Vintage Brut. This is the flagship of our bubblies as it expresses everything we are striving for, sending off memory bells that say champagne because of its finesse and elegance, but with fruit that is unmistakably California, Sonoma County, Russian River, Green Valley and most specifically Iron Horse. This my mother's favorite of our Sparklings. What more need I say?
My go to Chardonnay is a new release – our 2016 Heart of the Vineyard Chardonnay, which traces its California lineage to a clone originally planted by the Wente family during prohibition.
Not to be missed, 2017 Gold Ridge Pinot Noir is our hat tip to terroir. This is Calvin Coolidge; whose 1924 presidential campaign slogan was "Keep Cool and Keep Coolidge". Gold Ridge is our special soil type in cool, foggy Green Valley, considered one of the most desirable especially for Pinot Noir.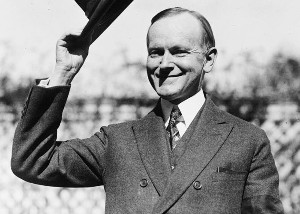 We are pouring these wines in our tasting room. Please make a reservation (or order online) and tell 'em Joy sent you.


Dear Friends and Family, I sat in on one of the best meetings last Friday, conducted by my brother, laying the groundwork, literally, for a great vintage in 2020.
The wines of 2019 are basically all settled. We are ecstatic about the quality, particularly the bubblies. The vines are on the verge of going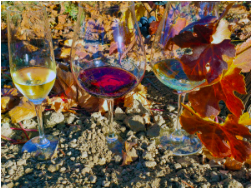 dormant. It's time to review – what went right, what went wrong and how to continue a trajectory we have been pursuing for many years.
I love that just days after our fermentations are done, we are planning what we can do better with the next vintage, which, hard to believe, is coming up very quickly. (Yes! A friendly reminder: the 20's are just 50 days away.)
Our work plan is essentially to put even more precision into our precision farming and go all "in" on climate smart agriculture.
Few agricultural products are as sensitive to climate as wine grapes. Part of what makes wine so marvelous is its capacity to express the nuances of the vintage, the vineyard – all the inestimable, interlocking attributes that come together as terroir. On a very personal level, we ourselves were essentially climate refugees when we had to evacuate from the wildfires.
This is our welcome back to the Tasting Room photo the first day we were able to get to work.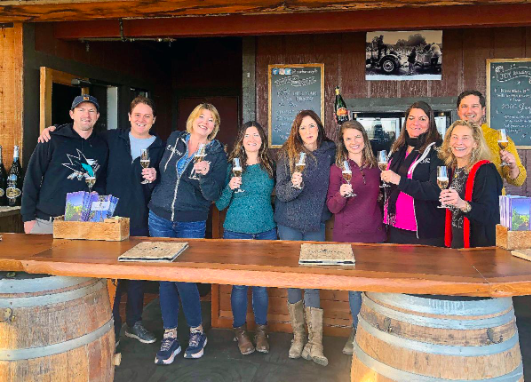 As farmers, we are excited to have the opportunity to be part of a world solution. Through our farming practices, vineyards can help sequester carbon in the soil. We are going to prune in a whole new way for vintage 2020, with training to begin in December, to broaden out the growing season and give ourselves a chance of keeping up with the pruning, training, tying, suckering, leaf pulling and dropping green fruit, to get even just two days of breathing room, before we start harvest. Everything we can do to do better at these essential tasks can directly result in higher quality.

We're going to reconfigure the irrigation system in our favorite Chardonnay blocks, step up our monitoring of soil moisture, and reevaluate our cover crop mix and how high to till so it has a chance to reseed without exacerbating the potential for frost problems.

I am very excited about setting up more owl barns and adding perches for other raptors as the best solution for gophers, and I am so pleased we are converting to "Weed Slayer", an organic herbicide based on clove oil.
I hope we are going to get a pause around Thanksgiving. It is my mother's favorite holiday and a real treat because she pulls out all the stops. She sets a magnificent table and has already started planning for this year. It's always different and stunning; with many, many wine glasses. She says she already has an image in her mind for this year.
Here's the table from vintage 2016,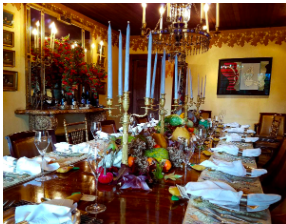 Thanksgiving 2017,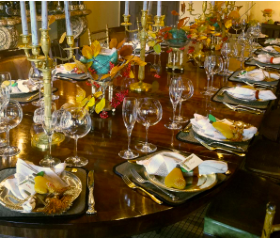 and, Hospitality Manager Dixie Bohlke with my father at the table last year.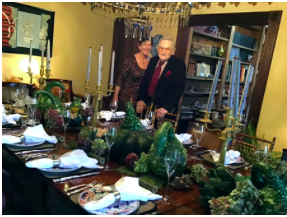 I am very excited that we have released two new wines: 2005 Joy! Blanc de Blancs, aged 13 and a half years en tirage, produced exclusively in magnums. This is for Blanc de Blancs lovers. And, for red wine drinkers, 2017 Gold Ridge Pinot Noir, a complex and elegant blend, named for our special soil type, Gold Ridge soil, among the most coveted, especially for Pinot Noir.

Our 2011 Brut Rose LD has been awarded an outstanding 93-point rating in the current issue of Wine Spectator, described as "… distinctive, with a touch of age … hardly a typical bubbly blush…" And, 2014 Wedding Cuvee is #28 in Wine Enthusiast's Top 100 Wines of the Year.

We, as a family, feel especially thankful this year. We wish you and yours all our very best.

With heartfelt gratitude,



After a very long, cold, very wet winter, I have decided to start chronicling the gardens again ... and wines releases, starting today. I firmly believe the beauty of our place is integral to our terroire. The vineyards are the gardens. The gardens are the vineyards. They are of one piece.
Sunday April 21, 2019
This is an absolutely perfect time of year at Iron Horse, especially this year, after all the rain. Just driving here on the Gravenstein Highway (aka Hwy 116) with the apples in bloom is a pleasure.
My father planted this cherry in front of the winery our first spring, 1976 – before the winery was even built. It is a favorite Instagram backdrop, but with a very limited window of opportunity.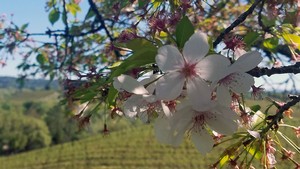 This was yesterday (Saturday) afternoon behind my parents' home. The profusion of calla lilies has been amazing. And, the roses are about to burst.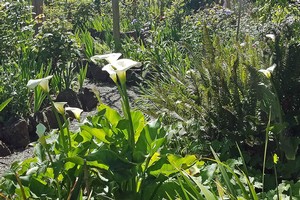 One of my greatest pleasures is walking in this garden with my father and watching it evolve.
I picked these shots because they convey a very special space in time and tell the story behind our wines in this shipment. I am firmly convinced that the beauty of the place is part and parcel of our terroir for the grapes and all the beauty that grows here. The grapes know they are in a perfect spot and they are not going to disappoint.
We are featuring three beautiful wines in our May Wine Club Shipment:
2015 Rainbow Cuvee - Our toast to diversity. We are relasing the new vintage May 9, so you can have it on hand Pride Month. 400 cases.
2016 Native Yeast Chardonnay - The grapes for this wine come from the furthest knoll behind the bottle in this photo. 220 cases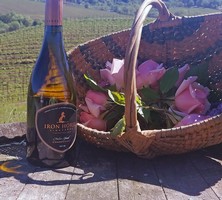 2016 Home Block Pinot Noir - Small production, from this beautifully sheltered, three-acre site, behind the iris bed, planted to the Calera Clone. 250 cases.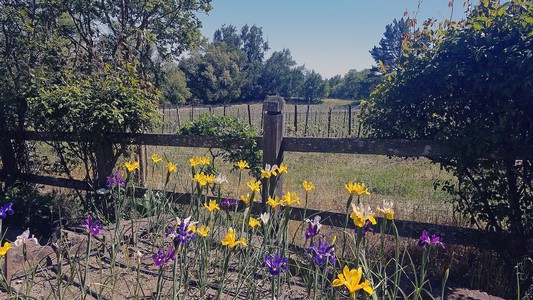 I hope you are planning to come visit. Our Under the Palms Tastings are now underway. This is a new experience for you to enjoy Wednesdays through Fridays - a private, seated tasting, twice daily, for two to four guests, at a "ringside" table, under the palms, facing our gorgeous view, where you can see the individual vineyard blocks while tasting the corresponding wines, with cheese. And, yes. You get to sit down!
Please make reservations here.
Brace yourself. Memorial Day is coming.
With all my very best,