Iron Horse
Blog

Wine is fashion in many ways. There are clear trends.
Right now, bubbles are "in". And we are enjoying every minute of it!

According to Tim Fish in the upcoming June 15 issue of Wine Spectator:
"This is an exciting moment for California bubbly. Sales have jumped in recent years, and the state's producers continue to push the envelope on quality, developing new niche bottlings while preserving their reputation for value."

The consumption figures above from the California Wine Institute are are real through 2013. We then continued upward with our "expert extrapolation" that we will cross the 20,000,000 case mark this year.
This surge has several contributors. One is Prosecco. For many, that fruity, user-friendly Italian wine is a gateway to more complex bubbles.
Another is the mass appreciation for handcrafted, small batch drinks across the board in categories like wine, beer, cider, and spirits. Two representative examples are limited edition Iron Horse cuvees:

2010 Summit Cuvee

&

2010 Rainbow Cuvee

.
Summit Cuvee commemorates the unprecedented free-climb of the Dawn Wall of El Capitan in Yosemite National Park, California - the realization of a dream and an inspiration. Only 300 cases have been produced.
Rainbow Cuvee celebrates marriage equality. This is our second vintage of this special, small production bubbly. We are very proud that the inaugural release was served at the White House LGBT reception last June. Total production is just 250 cases.

Rosés are a special niche. Ours is very striking, both in color and taste. It's a dark rose, bottled in clear glass. Originally awarded 93 points by Robert Parker, the 2007 vintage now has six plus years less aging. The most recent disgorging is 5/4/15.
Serious fans increasingly call for ultra brut or no dosage, like our Brut X, which is a 500 case production.
Most exciting to me is the breadth of interesting bubblies today. Not just Grande Marques, and even beyond Grower Champagne, the next "big thing", according to Wine & Spirits Magazine is "Somm Sparklings."
Wine & Spirit's Associate Publisher Samantha Groseth has this to say on the topic:
"Some of the most interesting intelligence we gather from our Annual Restaurant Poll comes in the wines that most excite sommeliers. In 2015, we heard a lot of chatter about sparkling wine, and not just grower Champagne — sparkling wine is on the minds' of America's sommeliers, whether it's from the Loire, California, Finger Lakes, Italy or Jura."
Iron Horse was included in this category at the debut Somm Sparkling Table at Wine & Spirits' annual Top of the List Tasting. A true honor. There were about a dozen to taste, right next to the Grand Central Oyster Bar station - Herman Wiener Blanc de Blancs no dosage, from the Finger Lakes, which is poured by the glass at NoMad, Gruet from New Mexico, Raventos, Domaines de la Berjorie and Baumard, both cremants de Loire, Murgo Etna Rosso, from Sicily, that was very unusual, Banfi, La Marca Prosecco and La Spinetta Moscato d'Asti.
It was Iron Horse and Roederer Estate from California. Ours was certainly the most fun table at the tasting.





Going back to Tim Fish's article in Spectator, Tim makes the point that the bubbly business is increasingly year-round:
"Many people think of bubbly in connection to Christmas and New Year's Eve, but it's also enjoyable as a summer drink. Sparkling wine has always been about summer for me."
My family and I are very proud that Iron Horse ranks among Tim's personal favorites on his blog.
IRON HORSE 2010 Classic Vintage Brut, Green Valley of Russian River Valley, $42. 91 points. Supple and richly styled, with tart apple and spiced hazelnut aromas leading to Meyer lemon, brioche and zesty cinnamon flavors.

IRON HORSE 2010 Russian Cuvee, Green Valley of Russian River Valley, $42. 90 points. A plush style, with a lingering hint of sweetness balanced by solid acidity. Offers accents of ripe Meyer lemon, toasted cinnamon and almond brioche

IRON HORSE 2010 Wedding Cuvee, Green Valley of Russian River Valley, $42. 91 points. A serious bubbly but fun to drink with lively and floral raspberry flavors.

More and more people now think about bubbly as a wine … to be enjoyed year round with food. As we like to say here at Iron Horse: #notjustforbreakfastanymore.

"You never miss the water till the well has run dry." Irish Proverb
1,900 wells have gone dry in California as we dive further into a four year drought. That's about 1% of the state's wells, with the greatest concentration in the Fresno area. Groundwater levels continue dropping, in some places as much as 10 feet. For the first time in nearly a century, farmers who normally receive canal water from the Fresno Irrigation District will get no regular deliveries. As one Fresno Irrigation District farmer conceded in the Fresno Bee, "You can't release water you don't have."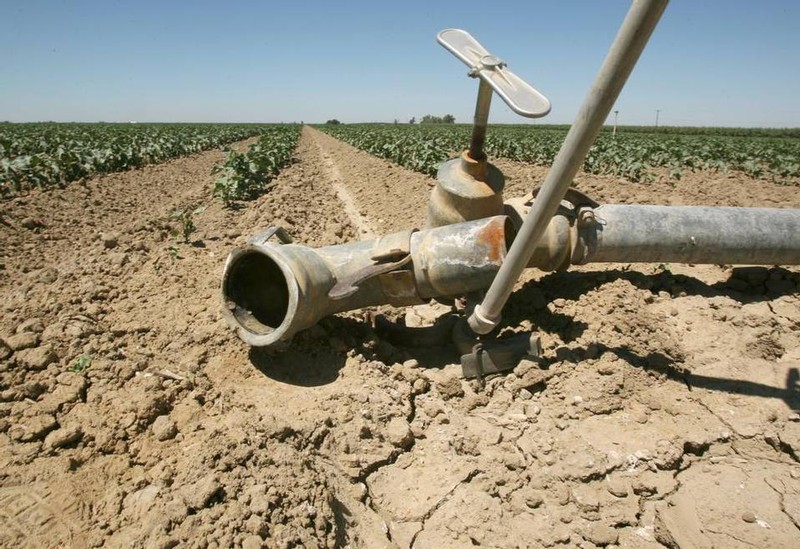 Essentially - water will be flowing in the canals but will NOT be available for on-farm use. A shocking image. Law abiding farmers wishing to avoid fines will have to turn on their pump and pray for sufficient groundwater to make it through the season.
The water that is available has been repurposed - tasked with recharging underground aquifers and directed to surface water treatment plants.
As a member of the California State Board of Food and Agriculture, appointed by the Governor, I attended a public forum on the drought last week in Fresno.
The event's big takeaway: mandatory restrictions will become a way of life.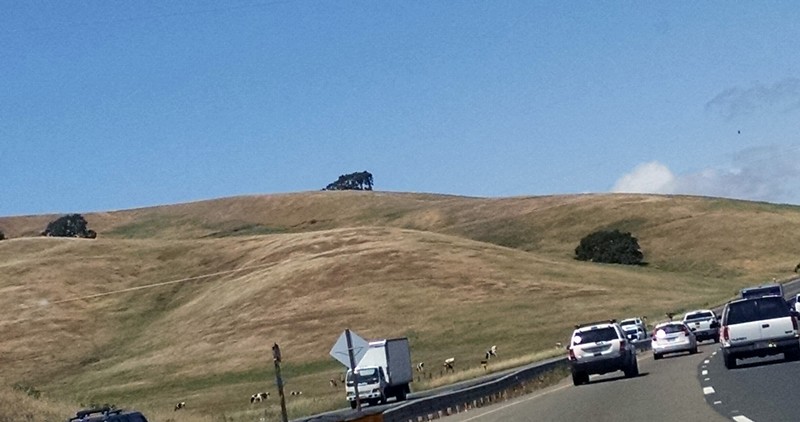 (pictured above - Marin Hills turning gold prematurely - a phenomenon we usually see in August)
Here's a snapshot of information shared by government officials:
California Business, Consumer Services and Housing Agency Secretary Anna Caballero estimated 4,000 residents don't have access to water because wells have run dry. She said, "It's obviously a health crisis and we want to make sure we're doing everything we can to provide resources to be able to avoid that." (Source)

Mark Ghilarducci, director of the Governor's Office of Emergency Services, provided updates on the government's drought relief and conservation plans, water efficiency programs and increased funding for research and development of new technology. (Source)

Ghilarducci hinted that further cuts may become necessary if it doesn't look like people are saving enough to meet the state's targets. Governor Jerry Brown's April executive order requires an across-the-board 25 percent reduction in the state's water use by February 2016. (Source)
I had expected fights to break out at the meeting. My first hope was that everyone would be asked to park their guns at the door. Instead, we heard mainly sad stories:
One rural homeowner spoke of groundwater concerns, saying:
​

"The water table dropped two feet a year for 70 years and right now it's dropping at eight feet a year." He dug a new well that goes down 400 feet and figures he is OK for the time being. But realizes many others won't be.
There was a shared and vocal concern about the blame being heaped on agriculture.
An almond grower called the criticism "hyperbolic attacks."
CDFA Board President Craig McNamara, a walnut grower, posted on the CDFA's "Planting Seeds" blog:
"Those holding that point of view may believe that farmers and ranchers consume more than their fair share of water. While it's easy to cast blame, let's not forget that irrigation wells have gone dry, lifelong investments are dying in the fields and serious financial burdens are hanging overhead."
Secretary of Agriculture Karen Ross wrote an OpEd piece in the Modesto Bee asking: What happens to Ag water? Eventually people eat and drink it. (Source) The piece opens up with this statement:
"A recent survey by the Farm Water Coalition indicated that 41 percent of California's irrigated farmland will lose 80 percent of its surface water in 2015 due to cutbacks because of the drought. Add that to a reduction of more than 30 percent last year and it's obvious that farmers and ranchers have suffered the brunt of drought-related losses, so far."

As the crisis continues to evolve, expand and worsen in dangerous new ways, all Californians need to become involved in the drought conversation. Acreage, livelihoods, health, and the environment are being threatened.


Our next Board meeting is Tuesday June 2 at CDFA headquarters in Sacramento, beginning at 10am with participation from New York Times Columnist Mark Bittman as well as representatives from Mother Jones, Grist and Gizmodo. As always, it is open to the public for comment.

A horrifying headline.
And a must read. I actually found the Op Ed in last Sunday's NY Times to be very balanced…. its concluding paragraph espousing everything I believe.
"The drought may indeed be a long overdue bill for creating an oasis civilization. But therein lies a solution. The Golden State is an invention, with lives to match. If the drought continues, California will be forced to rely even more on what has long sustained it — imagination. Not a bad thing to have too much of."
Imagination and innovation -- these are the precious resources which have historically made California rich and famous. I wholeheartedly believe they are the attributes which will ultimately resolve the drought crisis.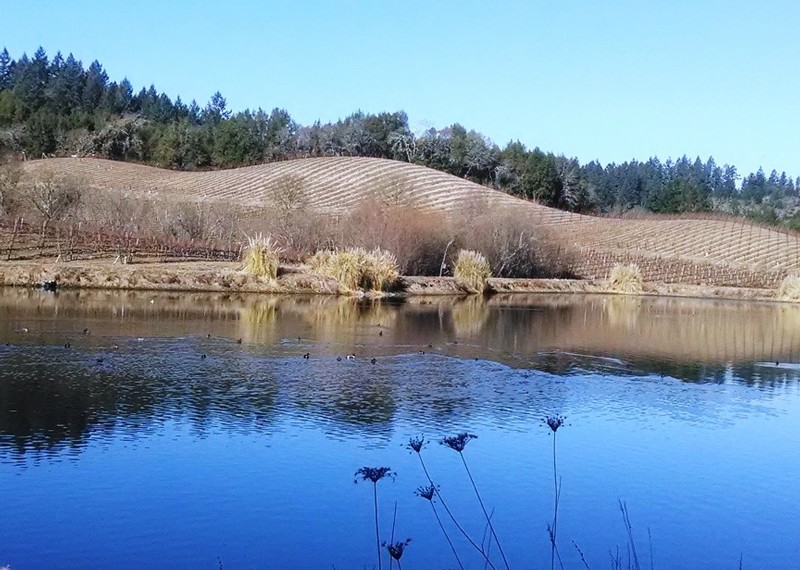 Just last month, California launched a push to stimulate aggressive drought fighting innovation. A spokesman for the California Energy Commission says the program will begin this summer.
In a demonstration of the fact that necessity is truly the mother of invention, innovators are working on disruptive technologies to optimize Mother Earth's gifts.
Among them:
1) water conveyance systems
2) desalination
3) on-site water reuse
4) high tech approaches to more efficient water use in agriculture.
The governor unveiled the latest version of his proposal to build two underground tunnels at 40 feet wide and 35 miles long in the Sacramento-San Joaquin Delta.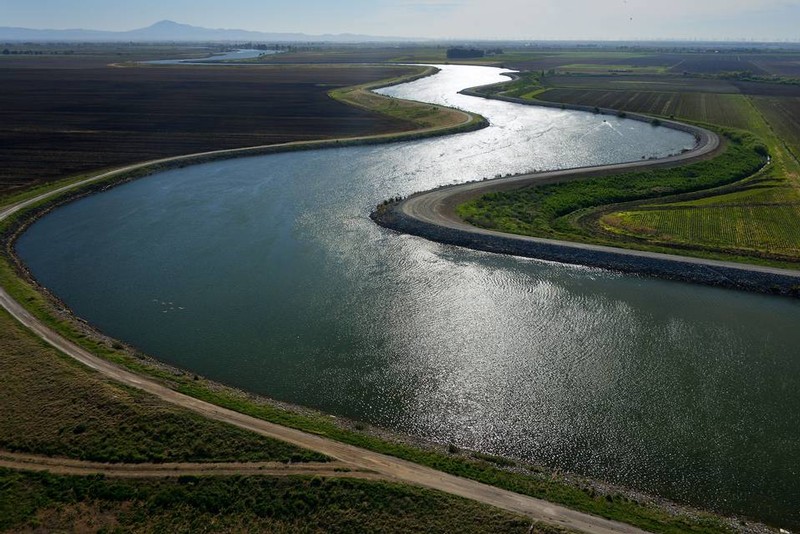 A French engineering and construction firm has proposed a flexible undersea pipeline.
Pro: This would carry water from two NorCal rivers to cities down the coast, addressing dire need
Con: Sky-high construction costs tabled this project in 1975 when originally considered
Elon Musk's Tesla Motors is sparking a renewable power revolution by translating their famed car technology for the residential/commercial market. He's seeking to slash the current water demands for power generation with battery packs linked to a solar power system.
Pro: Musk asserts that his water saving batteries will play an important role in ending fossil fuel dependence and global warming trends. Tesla stationary energy storage systems are already in beta testing in residential/commercial/winery environments
Con: Like the car, this Tesla technology is not cheap and infrastructural changes required to make the technology go mainstream are daunting

A few more exciting prospects I'm keeping my eye on....
1) USA: Lawrence Livermore National Laboratory researchers have developed a new capacitive desalination technique. The project could ultimately lower the cost & time of desalinating seawater.
2) AUSTRALIA: The country has constructed eight "desal" plants during their (perish the thought) 15 year drought.
3) ISRAEL: Scientists are currently running the world's largest and cheapest reverse-osmosis desalination plant.
While scanning the globe for solutions and finding inspiration in the indomitable spirit of fellow Californians, my family and I leverage the natural gifts in our own backyard as we wait for necessity to provide. At our Iron Horse Vineyards, we use advanced treated water from the town of Forestville and recycled water from the winery to charge our reservoir for frost protection and irrigation.
An unlikely hero is emerging in this arena -- earthworms. The efforts of the tiny organisms provide an organic solution to treating thousands of gallons of wastewater each day from wineries. Even the smallest among us will deserve praise when the history of our crisis is written.
What part will you play?


Last week's Holy Water blog installment triggered community conversation on important related reading. I hope this week's installment spurs conversation about the place of technology in this battle. I will continue to keep you updated as California drought coverage and state action plans develop. Let's keep this urgently needed conversation alive #EndofCalifornia

Happy Birthday to Iron Horse co-founder Audrey M. Sterling, who turns 84 on May 5. The Cinco de Mayo birth date always encouraged the family to joke that the entire country of Mexico is celebrating with her.

Audrey is as dynamic & sparkling as Iron Horse cuvees and her elegance, grace, and humor has always pushed both the family and our family business forward. Her favorite Iron Horse wine is our Classic Vintage Brut and she has always said that Pinot Noir is her "baby."

A bit of #throwbackthursday appropriate background: Audrey is a native San Franciscan and a fourth generation Californian. She attended Lowell High School and Stanford University, where she met Barry. She served as Fair Employment Practices Commissioner for the State of California under Governor Pat Brown and spent almost four years fighting discrimination in employment and housing.
The Sterlings moved to France in 1967, where she became the first and only person I know to have visited every single gallery in the Louvre. I now wear the gorgeous couture gowns she collected in Paris.

Audrey was a more than equal partner in the founding of Iron Horse. She ran the vineyard, overseeing the building of the winery and restoration of the Victorian home on the property while Barry commuted to Los Angeles to practice law and was lovingly regarded as the family's "cash crop." In fact, they chose to settle on the West County because of their shared love of Burgundies and my mother's knowledge of the area's cool, foggy climate which makes it so perfect for Chardonnay and Pinot Noir.
The name on the 1983 application for federal recognition of Green Valley as an official American Viticultural Area (AVA) was Audrey M. Sterling and her attorney of record was Barry H. Sterling.

My mother has impeccable taste and has set the vineyard standards from the beginning. All of our wines have to pass muster with her and Barry. And best practice with "tough customers" is to bring them home for lunch for Mother to win them over. Her personal goal for Iron Horse is for our wines to be the most expensive on the wine list.
Her influence and involvement are inestimable. The vineyard's great partnership with National Geographic is thanks to my Mother. She and Nat Geo's Chairman Emeritus Gil Grosvenor were tablemates at a lunch at the Field Museum in Chicago and in the course of conversation found out they share the same birthday … day and year. Thus a friendship was born.
Ten years ago, we celebrated their 75th birthday at a gala in Washington D.C. The Society helped us launch our annual Earth Day event in 2007 and four years later we created the first vintage of Ocean Reserve Blanc de Blancs, which benefits National Geographic's Ocean Initiative. $4 a bottle goes to help establish marine protected areas and support sustainable fishing around the globe.

Audrey Sterling is my hero. Every day, I look in the mirror and wish that I will "grow up" to be just like her. The Sterling family looks forward to bringing you into our sparkling family history.

Holy Water is an essay written by Joan Didion in 1979. In a sentence, it's about being obsessed with water. A feeling we know too well these days.

Joan Didion for me is a quintessential California writer like Wallace Stegner, John Steinbeck, Jack London, Mark Twain – the sole woman in the pantheon.
Mainly, look at how cool she is:
THEN

And NOW, as a model for the Céline ads in all the fashion magazines - Vogue, Elle, W, Harpers Bazaar

Her essay Holy Water is a great read … or re-read in this time of extreme drought. I highly, highly recommend it. If you have a moment, tweet me what you think using @IronHorseVyds, @joybubbles and #HolyWater.
As a member of the Food and Agriculture Board, I get a daily compilation of 20 or more links to every news story, fact sheet, white paper and blog being written about water, drought, fish, almonds, desalination, cemetery water use, etc. So far, my favorite is an interactive map that shows water use by water district. It's interesting to see the variation across the state. Click here for the map from The New York Times.
Among friends, casual dinner table conversation frequently turns to personal water saving tips. One friend, who lives in Belvedere, says she lines up buckets in the shower to catch what you would normally let go down the drain until the water gets warm. Another, says his wife got him to put tall plastic trash cans all over their lawn to capture and store rainfall. He now refers to this installation as yard art. "My wife might let the lawn go, but never the roses", he says.

These tips bring to mind another must-read: Rainwater Harvesting for Drylands and Beyond by Brad Lancaster, in case you are considering building a cistern.
"Not many people I know carry their end of the conversation when I want to talk about water deliveries," wrote Didion in 1979. In 2015, just about everyone I know can hold their own on that topic! We are acutely aware how water deliveries directly affect our personal lives. Back then, swimming pools were easy targets as symbols of excessive water use. The war cry in the North was "we don't want our water going to fill the swimming pools of Beverly Hills."
Today's villains are the almond growers. Everyone is shocked to learn that it takes a gallon of water to grow one almond … and that 90% of California almonds get exported. But it is too facile to point fingers. Here is an excellent article from The Guardian that provides a balanced view. It presents the argument of an almond grower through exploring a case study. The piece tracks a family-owned almond farm which began investing in water efficiency decades before it was "cool." Sounds like a beautiful vineyard in Green Valley I know....

I am optimistic.
For one thing, the board I sit on is very active in advising the Governor. A positive sign that our leadership is open to diverse and expert inputs. Number two, the state is facing the issue head on… as is every local agency. Every asset, every resource is being thrown into the fight. Everyone in a position to make a difference is working very hard and they are all very, very smart.
As the Governor said at our Celebrate Earth Day in Green Valley event, "Don't worry about the drought. Just don't use too much water."
I will continue to keep you updated as California drought coverage and state action plans develop. Let's keep this urgently needed conversation alive #HolyWater

It's not every day I start off the week with an Iron Horse "shout out" from the Office of the First Lady. I'm proud to announce that our wine - 2007 Russian River Cuvee - will be poured at Tuesday evening's State Dinner for the Prime Minister of Japan.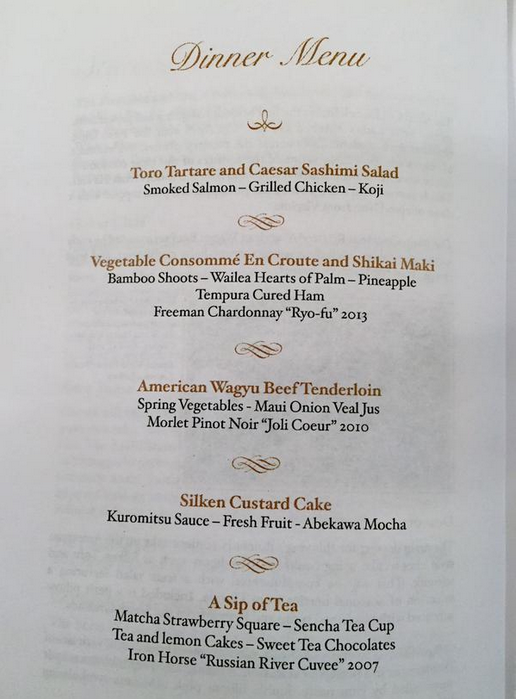 As I'm sure you know, an invitation to a White House state dinner is one of Washington's most sought-after "tickets". VIP guests resplendent in black tie and designer gowns dine on an impeccably concepted four-course meal served by America's most famous kitchen.
The news that Iron Horse has a ticket as a featured VIP beverage came during an 11AM EST press preview for the State Dinner, led by Michelle Obama (ending speculation over which "patriotic tasting wine" would be chosen). Find the menu announcement here. The guest chef is Masaharu Morimoto. The tables will be decorated with cherry blossoms that symbolize the friendship between the US and Japan … and each place setting will have a set of red lacquered chopsticks.
The First Lady unveiled the menu along with the Obama state china service which she had a hand in designing. The china introduces a special blue inspired by the waters of Hawaii being called "Kailua blue" and the service was made by Pickard China, of Antioch, Illinois. The President was born in Hawaii and Illinois is the First Lady's home state. Find the Architectural Digest spotlight on the china here.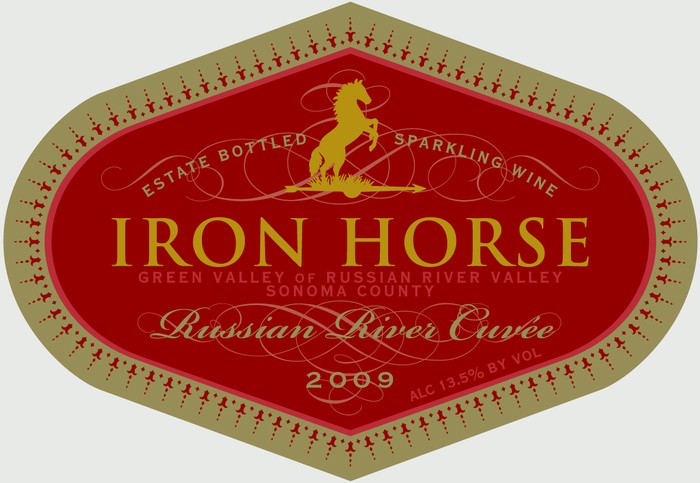 Iron Horse is "at home" in the elegant State Dining Room during this Obama administration which has been selective with their schedule of State Dinners. They've hosted the fewest since the Truman administration, which seems to assign each event heightened historical significance. Our wine was served at the State Dinner for India in November 2009 (It paired wonderfully with the post-meal Beyoncé performance!) as well as the State Dinner for David Cameron in March 2012. Traditionally, Iron Horse is served as the toasting wine, at the end of the meal.

The Iron Horse relationship with the Obamas continues our vineyard's tradition of strong White House relations. Iron Horse has been a favorite going back 30 years and five consecutive Presidential Administrations. Something we're very proud of. Stay tuned as we continue to chronicle all exciting elements of this soiree - from the bubbles to the fashion & entertainment - with the hashtag #IronHorseintheWhiteHouse

Welcome to the second installment of our Star Chef Blog Series. We've begun a regular blog series sharing Q&As with our most special friends who serve Iron Horse cuvees in their restaurants or in this case -- at State Department functions. We've interviewed Iron Horse's great friend, State Department Chef Jason Larkin, to get his take on food pairings which might accompany Iron Horse sparklings & wines in a large group setting.

Starting at Blair House (the official guesthouse of the President) under Secretary Condoleezza Rice, Jason was quickly identified as a rising star capable of running special functions at the State Department for the incoming Hillary Clinton. Hillary championed the concept of "soft power" where treaties were signed over the dinner table and food & wine credited as a diplomatic tool. Thus, Jason was tasked with growing the program that is powering delicious diplomatic affairs. He ended the practice of exporting tasks like selecting wine pairings by taking it on himself and in doing so he defined a fresh path forward for the State Department which relies on local ingredients and commitment to variety. He almost never repeats a dish.
When concepting a menu for specific meals with world leaders, he aims to highlight American flavors and brands which both showcase our uniqueness and an understanding of the visitor's culinary transitions. Lucky for us, Jason is a valued Iron Horse fan who famously features Iron Horse wines at very high profile State Department and Presidential events.
When we called Jason up we challenged him to walk us through a large group friendly food pairing for a variety of our wines. Here's what we learned….
Iron Horse Interview with Jason Larkin
Iron Horse: What attracts you to regularly leverage Iron Horse productions in your Diplomatic Reception Rooms?
Jason Larkin

: I just love Iron Horse wine - period. Every wine I've ever had has been food friendly and goes well with a large variety of dishes. Any opportunity I have to serve them, I reach out.
Iron Horse: You've featured Iron Horse products at extremely newsworthy State Department events, tell us why.
Jason Larkin: I serve Iron Horse at the most high profile, Presidential functions because of their consistently high caliber. The bottles themselves have beautiful labels and there's frequently an amazing tie-in with the guest or the event itself. When China's then Vice President Xi visited in 2012, the Iron Horse Chinese Cuvee was the perfect pairing. The gold and red label invoked good fortune.

The next year, after Mr. Xi became President of China, we chose Iron Horse again for the working dinner hosted by President Obama at the Annenberg Estate in Southern California.
Iron Horse: How are you planning to leverage Iron Horse in the next few weeks?
Jason Larkin: We have a lot of environmental events coming up, including meetings with people who are invested in the care of the oceans. So I'm looking forward to serving the Ocean Reserve Blanc de Blanc at the Oceans Conference.
I was also very excited to offer Iron Horse Sparkling as well as Chardonnay and Pinot Noir at this week's Diplomatic Culinary Partnership Event kick-off produced along with the James Beard Foundation. We're launching the US Pavillion at the Milan Expo which is titled "American Food 2.0" and serves to highlight the best of American cuisine and creativity.

Iron Horse: Can you explain a bit about the The Diplomatic Culinary Partnership and the American Chef Corps groups which will be enjoying our wines and sparklings at the event?
Jason Larkin: The Diplomatic Culinary Partnership and the American Chef Corps are some of the most unique and delicious programs we have here at State. Participating chefs are respected as diplomats who foster a cross-cultural exchange by interacting with internationals.
As John Kerry said at the event, "There is absolutely something about good food that brings people together, and that's what diplomacy is all about…[meals] are a critical part of our ability to be able to do business and talk and break bread and break down barriers and listen to each other and understand culture, history, and really dig underneath all the policy issues...literally some of the most candid and productive conversations that I have had have been over a good meal in somebody's country."
Jason Larkin: Here are the food offerings from the vendors and chefs ---
CHEF STATIONS
Steak Tartare American
Raw Beef Sirloin, Parker House Roll
Created by José Andrés
Merguez Stuffed Lamb Rib
Saffron Braised Celery, Baby Artichokes and Grilled Yogurt
Created by Mike Isabella
Lobster Deviled Egg
Rainbow Hill Farm Organic Eggs topped with Ossetra Caviar
Created by Jamie Leeds
Puri-spiced Avocado filled in a whole meal puffed biscuit
Sweet Yogurt, Date Tamarind Chutney
Created by Vikram Sunderam
(CHEF'S NOTE: "I know the avocado dish is a wild one, I would probably enjoy it with a lager beer. But of course sparkling goes with just about everything!")

Iron Horse: Finally, is that Iron Horse Classic Vintage Brut in Secretary Kerry's glass for his toast?
Jason Larkin: Yes, absolutely, what a great moment! He was giving remarks and wanted to do an impromptu toast to the chefs so one of his people ran to the bar (which I happened to be standing next to, of course) and grabbed one of the glasses that was pre-poured.
****
Read more about the Diplomatic Culinary Partnership: http://www.jamesbeard.org/dcp

Watch the full video of John Kerry's remarks at the Diplomatic Culinary Partnership - Milan Expo Reception. Final scenes show Secretary Kerry toasting with Iron Horse Sparkling: http://www.state.gov/secretary/remarks/2015/04/240965.htm

Earth Day carries a lot of meaning for Iron Horse Vineyards and this year was is different. The global holiday marks an urgent call to arms in the conservation of the world around us. In this spirit, my Green Valley based family hosted honored guests in celebrating our love of the land. I was thrilled to introduce inspiring keynote speakers and friends; Gov. Jerry Brown and Kevin Jorgeson.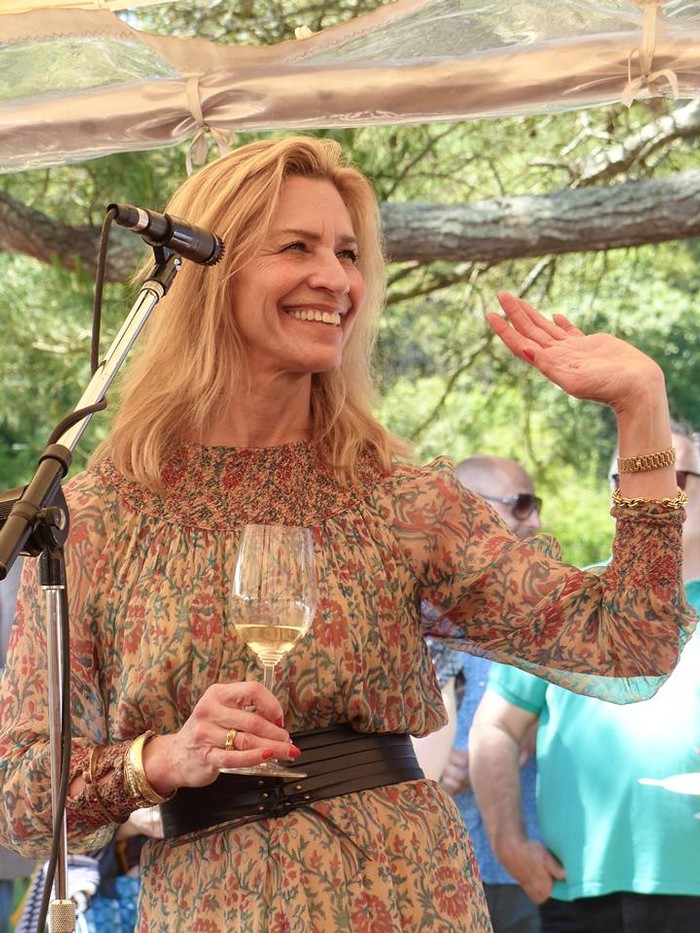 Kevin famously topped the Dawn Wall of El Capitan and subsequently toasted with Iron Horse bubbly. As a special celebration of the unprecedented 3,000 foot free-climb of climbing partners Kevin and Tommy Caldwell, we introduced our 2010 Summit Cuvée, a limited production, one time only, vintage brut which Jorgeson helped us finesse.
Surprising attendees with an impromptu conversation on the California drought, Gov. Jerry Brown ascended the podium and seized a moment to applaud California's environmental leadership. He reassures residents the state will survive its historic four-year drought through creativity and unity. My favorite quote from the Governor's talk: Don't worry about the drought; just don't use too much water!
The day was a smashing success and it has triggered some soul searching. As we celebrate Earth Day in our roles as stewards of the environment, Kevin Jorgesen asks us: What's OUR Dawn Wall? He never gave up on his dream of free-climbing El Capitan. My dream is for a united push towards great responsibility to the environment. The rewards of pushing through imagined limitations are endless.
….Because nothing compliments bubbles like a mountainous cake, we wrapped up the day by inviting Kevin Jorgeson to slice up a sweet replica of El Capitan after tracing his route on the "iced" terrain. Ain't life sweet?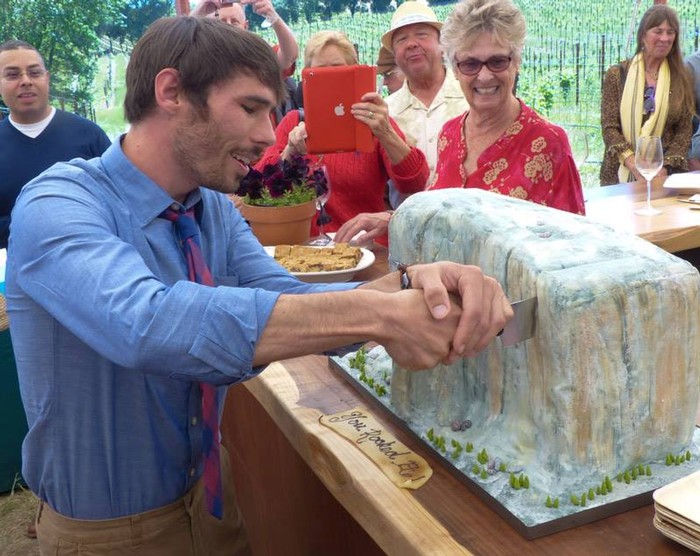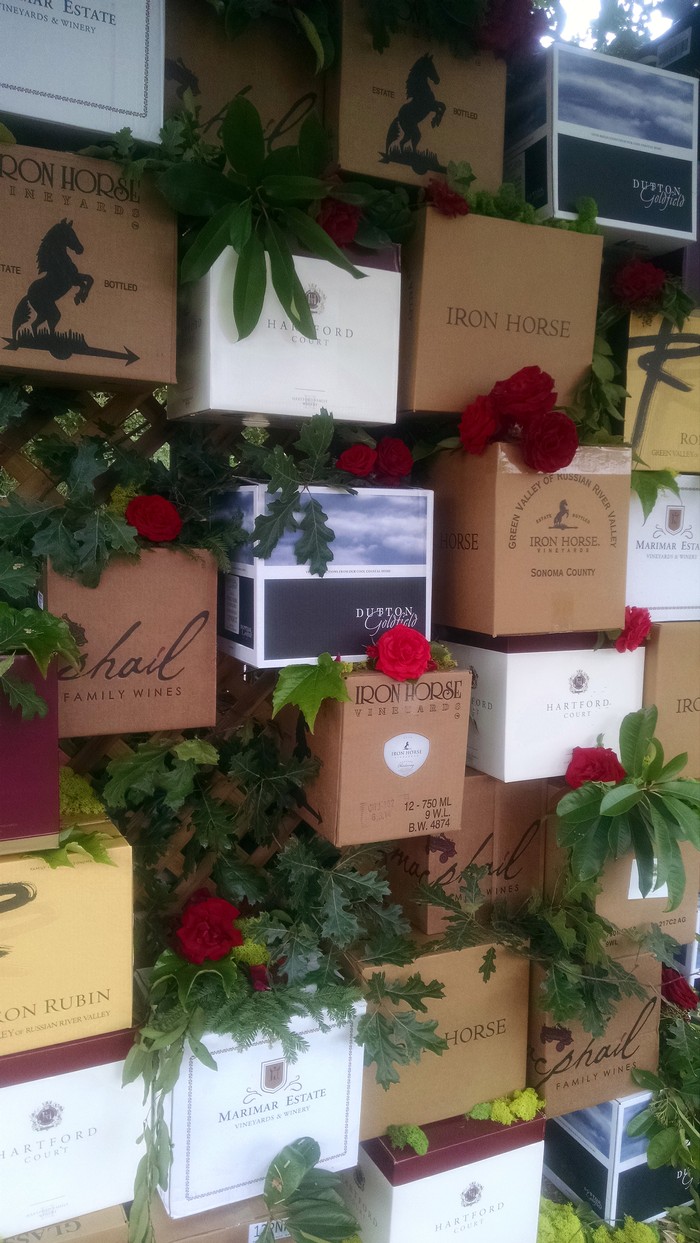 Find a fantastic recap of the day from Press Democrat here: http://www.pressdemocrat.com/news/3812019-186/governor-urges-unity-in-drought

Get your limited edition 2010 Summit Cuvee here: http://bit.ly/1H9hVMf
Find an Earth Day event recap from one of our VIP guests, Adrienne from Rich Life on a Budget, here: http://bit.ly/1DBUdBb
Peruse another Earth Day recap from a friend of Iron Horse, Jo Diaz, who has honored me with the title of "Mother Nature in Disguise:" http://bit.ly/1DOILp5

For those who have been to Iron Horse Vineyards, you know our Green Valley enterprise is a family affair. I run the front of the house, my brother is in charge of operations in the vineyards, and my parents set the standards. We all pitch in where extra hands are needed, but there is one role where exclusive credit is due. And that's the role of Vegetable Garden CEO.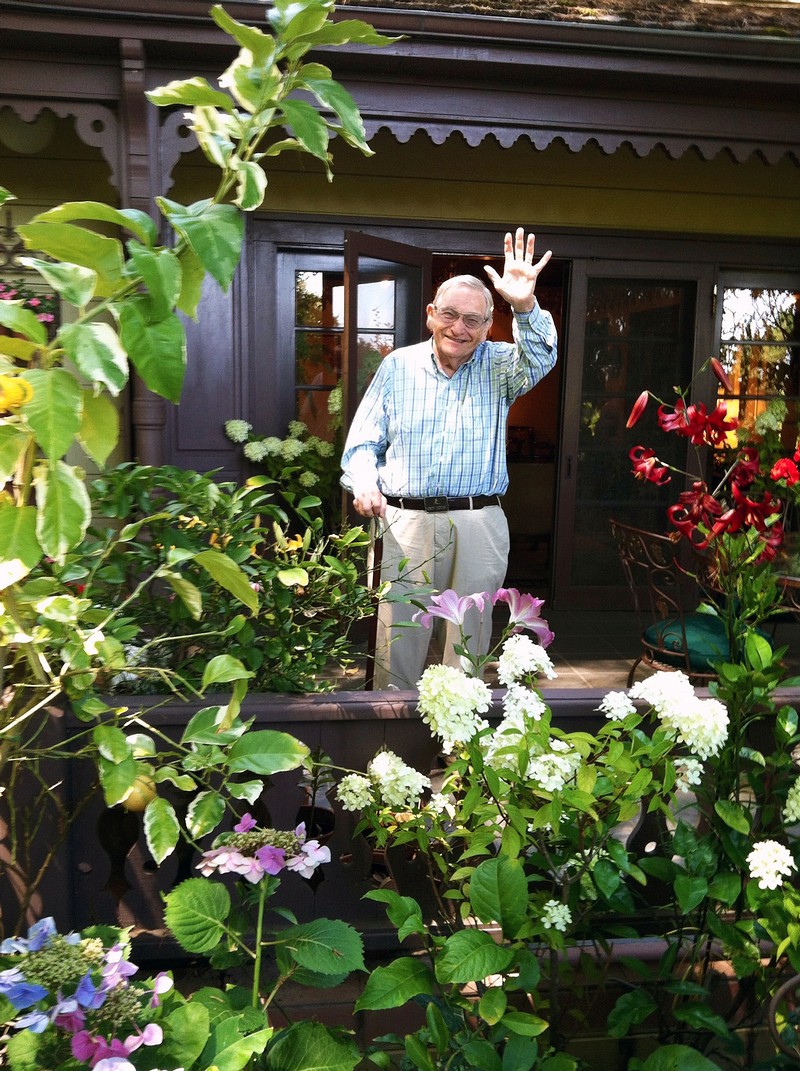 For years, my father has presided over a massive, roving vegetable garden with help from First Lieutenant Jose Puga who has assisted from the beginning. The garden has "gone viral" and now boasts over 300 varieties of tomatoes alone. The living exhibit of deliciousness rotates to different locations on the property, and this year the open field behind my house is playing host. Because of my proximity to the project, I will be regularly tracking growth on the blog!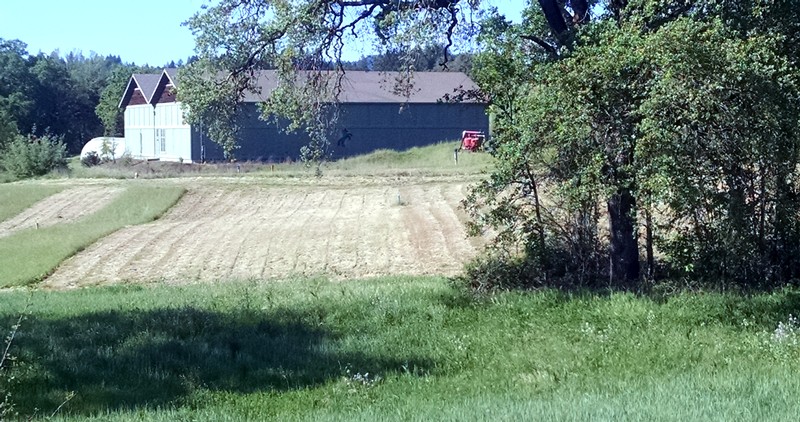 Everything is started from seed but won't go into the ground until we are past frost season. Normally we worry about frost as late June 1st. But this year, everything is three weeks ahead, so the planting date is approaching.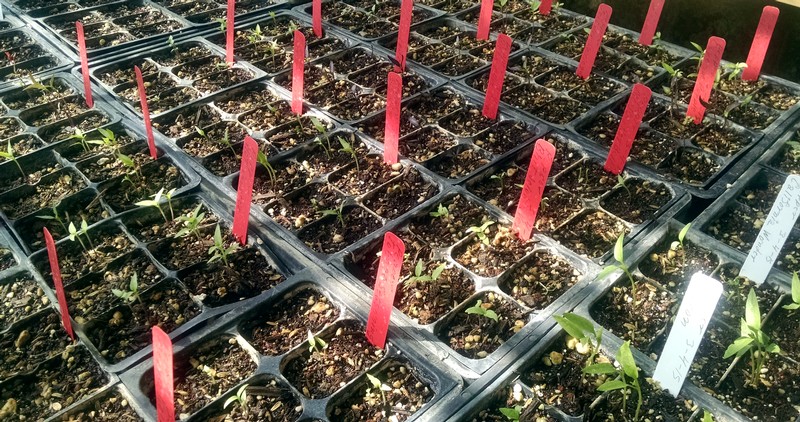 Here are some of my dad's top tips for starting a successful garden:
Q: First, explain the origins of your passion for gardening.
A: Living in France in the '60s was a real eye opener for me. In those days, in California, we didn't have access to the variety of fresh vegetables and fruits that we encountered in Europe. For example, we had mainly two types of lettuce - iceburg and romaine, and we thought that was advanced. I remember the luncheon at the Savoy Hotel in London where I first had a mache salad.
We took the opportunity to immerse ourselves in the old world, which was new to us. We got very used to having fresh produce from the local markets every morning which generated an early "farm-to-table" menu. It was very exciting. When we moved back home from Europe, we couldn't find the things that we'd grown accustomed to. So we simply decided to grow them!
To that end, on return visits to France, we made a point of shopping for seeds to continue growing the diversity in our Sonoma garden. Across from Notre Dame, there were two blocks of stalls along the river devoted to seeds. We could also find them in the South of France, near the flower market in Nice.
Q: What is the size and scope of the garden this year?
A: The vegetable garden will be about two acres. I need a lot of room! The size is necessary for the diversity that I'm committed to.
Q: What's new and exciting this season's garden?
A: There are always some new things to try. I have a special enthusiasm for my tomatoes, but in order to save space for new things, I limit myself to 300 types of tomatoes. And I'm constantly refining my collection to allow for new varieites to enter the garden's repertoire.
Charentais melons have always been one of my specialities, a product indigenous to Provence. I'm also starting fresh with new artichokes this spring.

For me, the "excitement factor" is delivered by innovations in produce color, flavor, and shape. It's the ever evolving variety that keeps me passionate and engaged. Any one vegetable can have a number of different textures, colors, and styles. Years ago, most items had one color - like white cauliflower, green beans and red beets. Now you get a gorgeous range of colors for some if the classics. One of our favorites last year was beautiful golden cauliflower.We now make the most delicious beet chips, sweeter than potatoe chips, made from white beets.
Food really is more exciting now than ever.
Q: What environmental considerations do you keep in mind on the estate?
A: It's important to rotate crops so you don't play out your land. We rotate our garden on the property every couple of years.
I have farming in my blood passed down from several generations. One set of grandparents were homsteaders in Alberta, Canada. My mother's family grew walnuts in San Juan Capistrano. My father grew grapefuit and dates in the Coachella Valley, so I have always had ties to the land, a love of the land, and we work towards a better understanding of sustainable farming principles. No chemicals. We weed with old fashioned, long handled hoes and irrigate with recycled water using drip hoses.
Q: How has the vegetable garden added to the overall richness of the Iron Horse estate?
A: Variety is the spice of life. Nothing tastes quite like our home grown tomatoes. We firmly believe the fruits and vegetables we grow here naturally pair beautifully with our wines - terroir and terroir. The enthusiasm has touched every member of my family. My children and grandchildren have all participated in the garden planning and tasks at some point.
Q: What are your top tips for the at-home grower?
A: As you sketch out the garden and pick your seeds, you can start planting certain items in a hot house to get them going. It's important to be aware of your climate's limitation. For us, we can still get frost through the end of spring, so getting a head start is key. I also grow three seedlings for each of 300 types of tomato I will plant and then only plant out the strongest one of each varitety in the ground. Right now, that means I have 900 tomato plants that we are raising. This is to insure we have a succesful crop.
My top tip is to get a hot house. These days you can purchase a self assembling, small hot house. Getting that head start is worth-while.
Q: What are some of your favorite sources of seeds for those who need a little guidance?
A: There are marvellous catalogues and exchanges like "Seed Savers" and "The Territorial Seed Company" and "Totally Tomatoes". Here in Sonoma County, Petaluma has the "Baker Creek Heirloom Seed Company"store inside a grand old bank bnuilding, which has a beautiful selection comparable to my old haunts in Paris. Every year, these sources bring a few options that end up as permanent "favorites" in the planting schedule. The hard part is being restricted to just 300 kinds of tomatoes.

Everything costs water:
It takes about 30 – 35 gallons of water to make a glass of wine

56 gallons for a latte to go

400 gallons to grow the cotton for a T-shirt

6230 gallons a week to maintain a 100' x 100' lawn
Think about the possible tradeoffs. According to one calculation, if you pulled out a thousand square feet of lawn, you could enjoy an additional three bottles of wine a week and come out even in your water footprint.
I have heard several friends complain that they can't possibly cut back any more than they already have. City dwellers resent the farmers. Some farmers feel they are being pitted against the environmentalists. The fact is, we are all in this together. We each have to do our utmost.
Here is a snapshot of our water use – in the vineyards, the winery and our personal lives. Bear in mind, Iron Horse is our business and it is also our home. We have three generations living on the property (in three homes), plus two of our foremen in separate houses with their families.

We have five wells, which supply the houses and a 45-acre foot reservoir that my parents built when they purchased the vineyard in 1976. The reservoir is fed primarily by rainwater, Green Valley Creek (a tributary of the Russian River), and highly treated waste-water from nearby Forestville.

Our rights to Green Valley Creek are called "licensed" water rights. The main license goes back to 1975. A smaller one goes back to 1948. These are limited rights. We can take no more than 86 acre-feet during the season (November to June) at a rate of less than 5 cubic feet per second (cfs, or 2,245 gal/min), assuming there is enough water in the creek for both us and the fish.
It is a great source of pride that the Department of Fish and Wildlife has spotted Coho salmon in Green Valley Creek for the first time in 20 years.

The reservoir gets recharged with recycled water upon request. Our agreement is to take 20 acre feet, and have an option for 20 more. Last year we received 30 plus acre feet; the year before about 12.
Frost protection and irrigation efforts are powered by the reservoir. These actions benefit 1) the vineyard 2) the orchard and flower garden at my parents' house and 3) the summer vegetable garden behind my house.

The most significant water usage is associated with frost protection in the vineyard. Last year's weather spared us from excessive water use, we activated the frost protection system only four times. One of the worst years was 2008 when ice was hanging from the vines.
We use conventional overhead sprinklers for vineyard frost protection. We can't use wind machines like you see on flatland vineyards in Napa nor smudge pots like citrus growers because our property is a series of rolling hills. Our proximity to the ocean makes us vulnerable to frost as late as June 1. The stakes are high for us; not frost protecting could expose us to losing a third of our crop.
Overhead sprinklers deliver water at a rate of roughly one-quarter to one-third of an inch per hour. So far this season, we have turned on the sprinklers four times - about 13 hours total.
In the winery, our major water usage is for 1) cleaning tanks, barrels, picking bins and the presses during harvest and 2) power washing the floors. We pride ourselves on maintaining an immaculate facility. All of our grey water goes through the storm drains to the reservoir. We do not use detergents.

In our homes, even farmers take Navy showers.
Every vineyard's water use varies, just like fine wine, with the climate, the soil and the lay of the land. I would rate our water use at 94 points on a 100 point scale. We can always do better.
The point is, we live in a watery world. It takes/costs water to do everything. An economist will tell you that if water was given its real monetary value, we wouldn't have a problem. The market would even itself out naturally.
Except that

water is a right

, like air. The state has assigned relief funds for rural communities where the wells have gone dry. Food banks are gearing up for added demand in the summer as land is fallowed, resulting in job loss. In November 2014, California Secretary of Agriculture Karen Ross launched a campaign to raise 200 million pounds of food for food banks by the end of the year.
As with just about everything, I think we want/need to strike a balance.
For additional information on water and agriculture, I highly recommend the Public Policy Institute of California's "Water for Farms

" briefing that just came out and that CDFA posted on their Planting Seeds blog. Their report provides accurate statistics and comes from a well-respected, non-partisan organization.
Find the personal water footprint calculator from National Geographic here

.
And consider this final water conservation tip –

old wine barrels are great for harvesting rain water

.