Iron Horse
Blog

We were dreaming of a green Christmas this year and we got it. Thank you Santa! A near average amount of rain, bringing the hills back to life.
Even more importantly, we have snowpack to the Sierras.
The Sierra Nevada Snowpack currently stands at 105% of normal - the first time above average since 2012.
This is a remarkable milestone in a state where snow was virtually absent even at the highest elevations well into February last winter, and has been consistently far below average for four consecutive years. The early season storms in NorCal have been cold ones, creating a very healthy accumulation of snow across even in the middle elevation.
Think back to April 1 when Jerry Brown at Echo Summit in the Sierra Nevada Mountains, walking across dry grass, announced the first ever mandatory water cutbacks of 25%. The Governors of California have trekked to that spot for 65 years and this was the first time there was no snow.
Snowpack contributes about 30 percent of California's water supply. This season's first measurement was last Wednesday, December 30. The next will be April 1.
Meanwhile, back at the ranch, we recorded about seven inches of rain in December. The hills have greened-up. There's water running down the creek.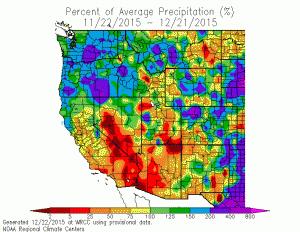 We actually had flooding for two days, closing off the main entrance to the winery. All visitors, tasters, workers, the office, tasting room team, FedEx trucks had to go around the back way – a solid 30 minute detour, two days before Christmas. It was hard not to complain. We need the water. And it is amazing how many intrepid tasters there are.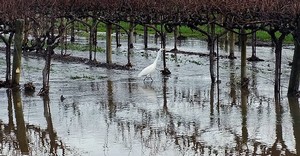 The week leading up to New Year's was old and dry with blue skies, puffy grey clouds and sometimes rainbows in our view.
We started pruning mid-month. We are pruning as if the drought will continue, deciding to err of the side of caution, though it means lowering our sights again in terms of crop sisze. The vineyard teams were given golf pencils with instructions that only shoots bigger than the pencil could be pruned down to two buds (meaning two shoots per position), anything smaller, would be pruned to one bud.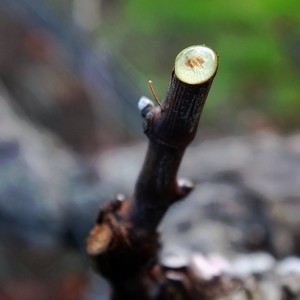 We are hoping for nice, steady, but not overwhelming rain in January. More specifically, we'd like for the storms to unfold with ideally a two-day lull between each one to allow the water to seep into the ground and not just rush off down the creek to the Ocean, please.
Wish for a good El Nino!


Happy Winter Solstice! The official start of winter. Meteorologists consider December 1 as the first day of winter, but the season's celestial start is tonight.
Though the entire day is "observed", solstice occurs at a specific time - the same time everywhere on Earth when the North Pole is tilted farthest from the sun.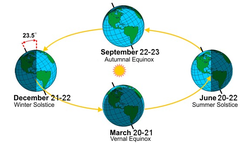 It is the shortest day of the year ... and the longest night.
This certainly deserves a toast!
Winter Solstice as a celebration goes back millennia. The most famous at Stonehenge, seemingly built for this specific astrological event as the stones are aligned on a sight-line that points directly to the winter solstice sunset.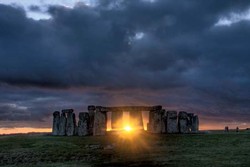 Ancient Romans celebrated with the Feast of Saturnalia - a festival that lasted seven days with banquets honoring Saturn, father of the gods. These Saturnalian banquets were held as far back at 217 BCE.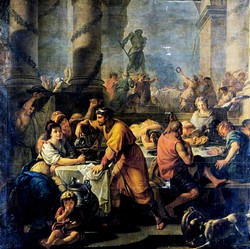 Pre-Christian Scandinavia celebrated the winter solstice with the Feast of Juul and the burning of a log, which became the traditional Yule log.
A perfect way to celebrate tonight is by cozying up with a wood burning fire (or lots of candles) and a glass or two of bubbly.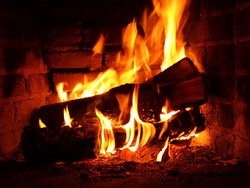 It is also a perfect occasion to say thank you for your role in making this such a gratifying year for us. Please know that we are toasting you and send our warmest wishes.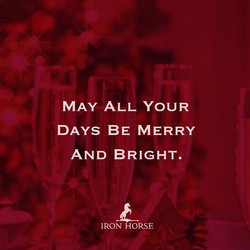 'Tis the season for gift guides, discount codes (insider tip: use code HOLLY for $10 shipping valid through 12/15 on three or more bottles) and predictions for the year ahead.

I know it's hard to believe, but 2016 is coming on fast. As a winery deeply rooted in our home place, we generally operate outside the trendy category, striving for classic, true to our vineyards, always in style, elegance and balance. But it is exciting to get a glimpse into the data based forecasts for where our cohorts are headed and we are tickled to find ourselves "ahead of the curve."
Since we're in the gift-giving mood, we've rounded up some of the stand out themes from our future gazing friends.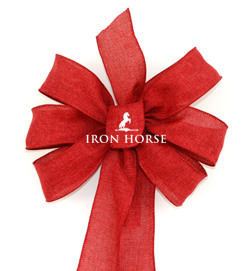 One such visionary is

Kimberly Charles

, founder of Charles Communications Associates, who provides perspective on volume (bookmark Kimblery's blog for access to her extremely valuable insights at

All the Swirl

). In our data focused chat, Kimberly explains that global wine consumption is up 5.3% and she estimates we'll enjoy 35 billion bottles in 2016. Yes that's billion with a

b

… with plenty of room to continue growing in the U.S (more on that growth

here). This is where the Millennials come in. They grew up watching their parents drink wine, see it as a daily pleasure, and according to a report from Canadian Investment Bank RBC Capital Markets, Millennials want premium bottles.
Trend spotter Andrew Freeman of AF & Co proclaims in his 2016 Trends Report that consumers are enjoying a case of "multiple personality disorder." In other words, we want the best of all worlds. We participate in wellness movements favoring moderation, then swing to indulgent experiences, sometimes in just a matter of hours.

Here are some trends to watch for in 2016 in the Food World:
Vegetables are the hero, especially amongst Millennials. People want less animal protein and support veggies as a "center of the plate component."
Hawaiian is the cuisine du-jour. It's the latest regional "New American" food in the spotlight.
The spicier, the better! Even desserts are getting the fiery treatment as data shows that embracing the heat is not only delicious, but healthy.
Table service at upscale restaurants livens up in a response to a Millennial demand to be entertained and get a peek at what's happening behind the scenes. Chefs themselves are getting in on the action upping the ante on engaging experiences.
Brunch becomes a main event. Even health nuts are relishing the opportunity to throw caution to the wind once a week during brunch, indulging in the carb heavy, over the top feast.

Now for the Beverage World:
Bubbles mania reigns. But we knew that! Sparkling Wine has captured the imagination of the public beyond celebrating special occasions. The growth of bubbles dwarfs that of still wines (see image). Restaurants are embracing this trend with expanded offerings. As Kimberly Charles declares, "There's is a virality to hearing the pop of a cork, you want to be part of it." We certainly agree! According to consumer products analyst Nik Modi at RBC Capital Markets, the rise in Sparkng Wine sales dwarfs still wine sales.

Note: In economists' terms, C0nsumer Value = the ratio of product price to product benefit
Stylistically, white wines are showing more restraint - lower alcohols, less oak, brighter acidity - a trend that's part of our core values at Iron Horse.
Chardonnay is America's #1 selling varietal, showing double digit growth. Even traditional red wine drinkers are exploring more white wines.
Coffee gets a modern makeover. New techniques and flavors create balanced and "treatful" beverages.
Instagram worthy embellished cocktails dominate. Think gold dusted flowers, sugar stirrers, designer straws, even perfectly smoked pork belly pieces. Andrew Freeman posed the very apropo question, "If we don't Instagram it -- did it even happen?" (By the way, we're on Instagram @IronHorseVyds)
The Bloody Mary is having a moment. Could there be a better way to recover after a late night sampling of our "Brilliant Bubbles Collection"? We don't think so! And none are more delicious than Diane's Bloody Marys featured at Michael Mina's Tailgate at Levi Stadium (mentioned on recent our Star Chef Spotlight in Michael Mina).
As we take stock of a fantastic year at Iron Horse, and give thanks for your great support and friendship, we are already looking forward to a new year of success and innovation in our continued pursuit of toast-worthy excellence.
We'd love to hear your delicious predictions for 2016. Chime in on social media and in the comments below!


Cheers!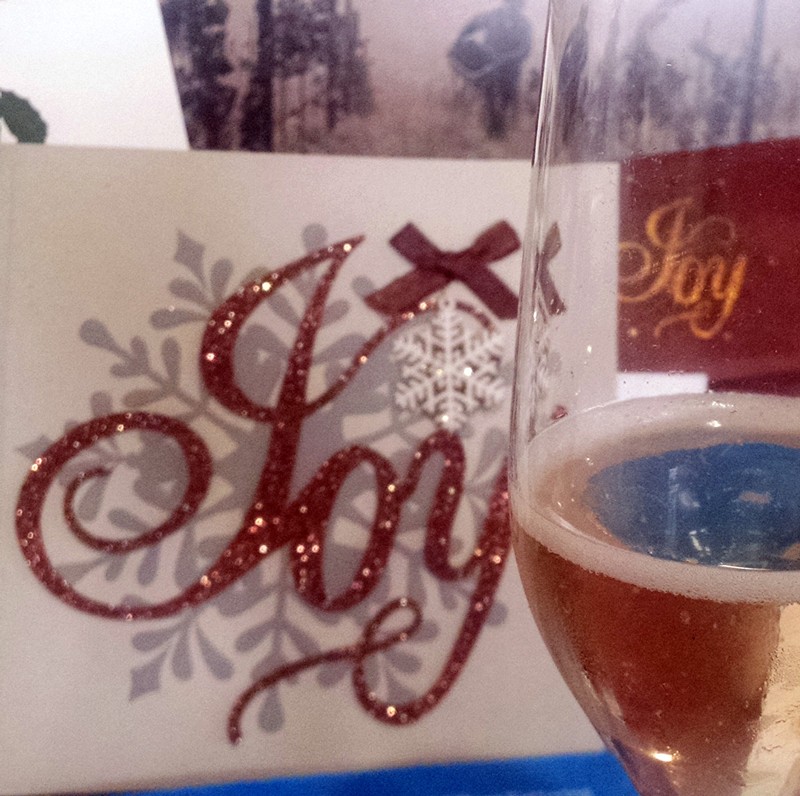 ****

Thirty years ago this month (November 19th), Ronald Reagan and Mikhail Gorbachev met in Geneva, Switzerland for their first Summit Meeting. All of the historians agree that the two superpowers were poles apart until that moment when they clinked glasses with Iron Horse. It was amazing how quickly their relationship evolved. And for all these years, my family has taken complete credit for ending the Cold War.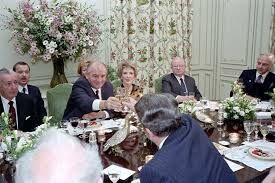 The Reagans hosted the Gorbachevs for dinner at Maison Saussure, a grey stone 18th century chateau on a 20 acre park about three miles from Geneva and just a few yards away from the lake. It was the residence of the Aga Kahn, who vacated it for the President and Mrs. Reagan.

The dinner was private. It started around 8 p.m. and was reportedly limited to just 16 people.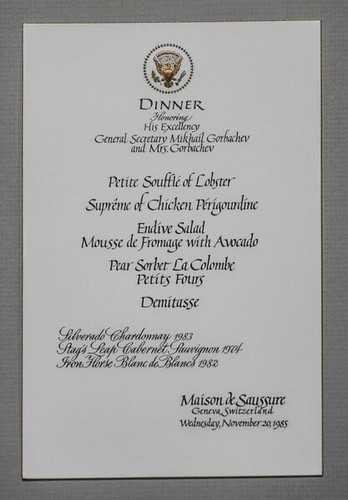 Recorded in the National Security Archive, the toasts which are now de-classified and available online, became the basis for the joint statement released the next day. Both sides emphasized that the Geneva meeting started something that would lead them to more significant steps in improving bilateral relations and the global situation, "with mutual understanding and a sense of responsibility," putting into text that a nuclear war cannot be won and must never be fought. See Document 24: Geneva Summit Memorandum of Conversation. November 20, 1985, 8:00-10:30 p.m. Dinner Hosted by President and Mrs. Reagan.
Reagan's Secretary of State George Schultz wrote in his memoire, "Nancy Reagan had orchestrated a wonderful dinner that night at Maison de Saussure. Both Reagan and Gorbachev were relaxed. They spoke with warmth in their toasts at the dinner table, and the toasts had real content. We then moved into the library for coffee."

"Arrangements for the next day were not at all settled. There would be a final ceremonial meeting at the International Press Center. The agreed statement, I thought, would shape up satisfactorily. But what would the leaders do? I said to the president and Gorbachev , 'You can't just sit there while a statement is being presented. You are the leaders. You each must say something.' I sensed reluctance. Each was hesitant, I surmised, to risk being seen on worldwide television while the other might level criticism. Agree to speak for three minutes each, along the lines of the toasts you gave at dinner,' I urged. They both knew they should speak, and each was looking for a little reassurance from the other."
Jack F. Matlock Jr. wrote in Reagan and Gorbachev, "Including private dinners [in the summit program] was built on the idea that the two leaders must not only respect each other but also like each other to accomplish [peace between the United States and Soviet Union]. It was also a signal to the bureaucracy that it was okay to be friends with the other side. We wanted to create an environment where representatives from the two sides could speak privately if we thought we had a problem rather than going to the press and having a big brouhaha. It helped reduce tensions, ultimately. Being friendly personally does not achieve everything, but it becomes a lot harder to achieve your common goals if you're not being friendly."

Matlock was the White House's senior coordinator of policy toward the Soviet Union and the one who rehearsed with Reagan prior to the Geneva Summit, playing the role of Gorbachev. He later became Ambassador to Moscow.
Iron Horse was chosen for this historic event by a Sacramento wine merchant named David Berkley, who knew the Reagans from their days in the Governor's Mansion. David became the unpaid, unsung wine advisor to the White House, consulting with the Social Secretary, the Chief Usher and the chef to pick wines to match a particular occasion, diplomatic goal and the richness of a sauce.
He recommended Iron Horse because of the quality of our wine (of course!), but also because it was perfectly "themed." The Reagan Administration paid as much attention to the "optics" as they did the issues and we fit in as an American winery, rooted in the town of Sebastopol, near the Russian River.
At the time, we were told that the wine selection had to be signed off by every member of Cabinet because it was considered such a high level diplomatic decision. And, for security reasons we were asked to ship the cases in unmarked boxes to Andrews Air Force Base.
I have always felt, though this is pure conjecture, that they chose our Blanc de Blancs because Ronald Reagan liked to wear the white hat.
The vintage served was 1983 when our first vintage of Sparkling was 1980. We were still so young. And this truly put us on the map.
It is noteworthy that the second Summit in Reykjavik, Iceland was declared a setback both by media of the day and historians … perhaps because Iron Horse was not deployed? But Iron Horse was brought back into play as the toasting wine at the State Dinner at the White House in 1987, which lead to the signing of the INF Treaty.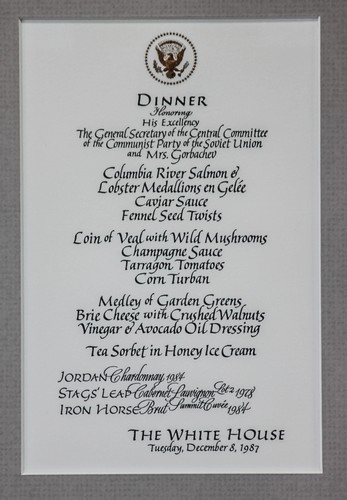 We now produce about 1,000 cases of Russian Cuvee a year commemorating what Time Magazine called one of the ten most significant events of the 20th century. To celebrate the 30th anniversary of the Geneva Summit, we are releasing for the first time, magnums of our Russian Cuvee and our Blanc de Blancs – only 40 cases are available of each.

Some people have suggested the way things are going today, we need to get back into the business of diplomacy with Russia. It does seem there are lessons to be learned from the Geneva Summit in terms of reestablishing contact after a period of tense relations between two world powers.




Here's a toast to getting Russia to the table again … with a glass.
******

Bubbles in Sparkling Wine are not just pretty, little nothings. They work harder than you think.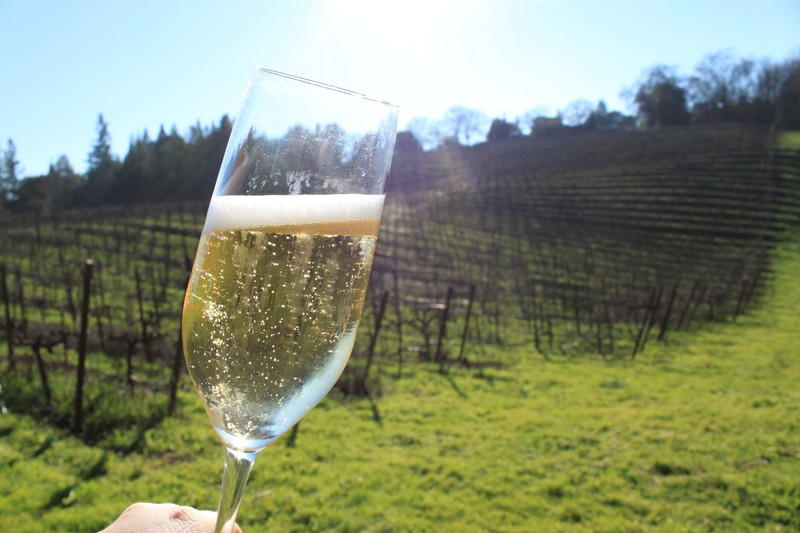 For one thing, they are not empty. The bubbles deliver hundreds of molecules to the top of the glass. When they explode on the surface, they deliver the aromas & flavors which make top quality Sparkling a truly delicious wine.
Creating bubbles is the littlest trick of nature. This begins at Iron Horse Vineyards by hand harvesting the fruit, gently pressing the grapes. We then ferment the juice completely dry, making a gorgeous blend and ultimately bottle it as a low alcohol base wine … adding a precise amount of sugar and yeast.
The sugar triggers the secondary fermentation, bumping up the alcohol by about a point. One of the natural by-products of fermentation is the creation of carbon dioxide (Co2), which normally escapes from the barrel or the tank, but for bubbly we trap it in the bottle with a crown cap, forcing the gas to dissolve into the wine creating … ta da … bubbles.
More than 600 chemical compounds join the carbon dioxide - each lending its own unique aroma and flavor quality.
The magic is in how long we age the wine on the yeast in the bottle. The longer we age it en tirage, the smaller the bubbles and the greater the finesse on the wine.
A perfect example is our 2000 Brut LD, aged for 14 years and disgorged just last month.

The yeast cells feed on the nutrients in the wine. As they become saturated, they start to die off giving back to the wine a rich, creamy texture through a chemical progress (autolysis), much like stirring the lees of Chardonnay in the barrel.
You can see the difference just holding the glass to the light. Big bubbles are called "frog's eyes". Not a compliment!
You can also feel the difference. The longer the wine is aged on the yeast, the more integrated the bubbles, the smoother the texture, the more elegant the "mouth feel."
As the yeast cells break down, they emit amino or fatty acids that coat the bubbles, so that when they launch off the bottom of your glass, they don't glom together. Instead they stay separate and travel up to the surface in streams of tiny, diffuse, gas-filled spheres.
As the bubbles ascend the length of a glass in tiny trails, they drag along the molecules of aroma and flavors which explode out of the surface.
When they burst, they release enough energy to create tiny auditory shock waves; the fizzing sound is a chorus of hundreds of individual bubbles bursting every second.
With each sip, the bubbles excite special receptors on the tongue contributing to that tingling feeling that makes bubbly so seductive.
The bubbles also serve to retain the acidity of the wine. A flat bottle will taste too sweet and out of balance.
The collapse of bubbles at the surface is even more exciting under a microscope.
According to

Gerard Liger-Belair

, a physicist at the University of Reims in Champagne (of course), bubbles collapsing close to each other produce unexpected lovely flower-shaped structures unfortunately completely invisible to the naked eye.
"This is a fantastic example of the beauty hidden right under our nose." (Source: Uncorked: The Science of Champagne, published by Princeton University Press.)
British physicist, oceanographer and Champagne aficionado Helen Czerski, explains that bubble dynamics of Sparkling Wine are the same as in the ocean, but with greater consequence. Bubbly can change our mood, but the bubbles in the ocean affect climate.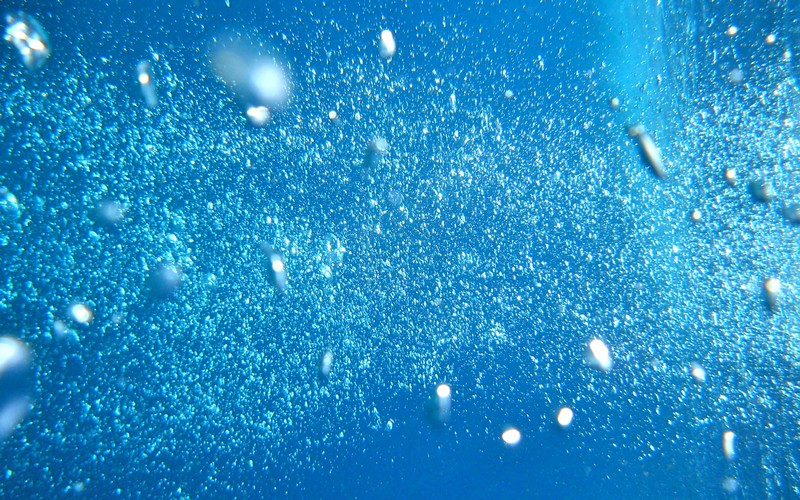 "Bubbles are little packets of gases that rise or fall as if they're on little conveyor belts," she says. They carry carbon dioxide and oxygen from the atmosphere down into the ocean, and then when they go back up again they pop and sulfur compounds from marine plants are sent upward, forming particles in the air that lead to the formation of clouds."
Czerski is studying how to detect and count ocean bubbles of different sizes to help scientists in other disciplines create more accurate models. She said that scientists have found it difficult to judge the effect of bubbles on their data for years and usually have had to add a "fudge factor" to account for them.
"For instance, bubbles ring like bells when they are formed or when sound waves go past them, and if you're studying sounds traveling through the ocean -- like sounds from whales or sonar -- bubbles can get in the way of what you're trying to listen for,"
And she adds, "A good way of getting people to enjoy my lectures on bubbles is to give them a glass of Champagne."
Her favorite "parlor trick" is to drop a few raisins into the fizz. The raisins sink to the bottom of the glass, before being lifted back to the surface by the bubbles, which then burst, sending the raisins back down again.
So, what's the best way to pour a glass of bubbly and maximize the sensory experience? A study published in the American Chemical Society Journal of Agriculture and Food Chemistry answers that question. Pouring on an angle preserves twice the carbon dioxide bubbles compared to pouring down the middle of the glass.
More scintillating sparkling facts:
Never underestimate the force of a flying cork. The warmer the bubbly, the more the pressure builds and the faster the cork flies when you pop it open, clocked at up to 30 mph.

The magnum is the optimum size for bubbly because the larger bottle retains more CO2 in the wine as it is being poured.

The white wisp of mist rising from a just-popped bottle is not carbon dioxide. That's a fog of ethanol and water vapor, triggered by the sudden drop in gas temperature when the pressure is released. (adiabatic expansion)

No need to swirl a glass of Bubbly, in fact it is frowned upon. The bubbles are already releasing the aromas and flavors. Swirling just knocks down the bubbles we work so hard to achieve.
Now let's talk about glassware.
The old fashioned flat coupe ( like the ones my parents drank from at their wedding)

has a very slow bubble engine because the bubbles don't get to rise very far. Flavour is delivered to the air gradually, but escapes from the space above the glass very quickly.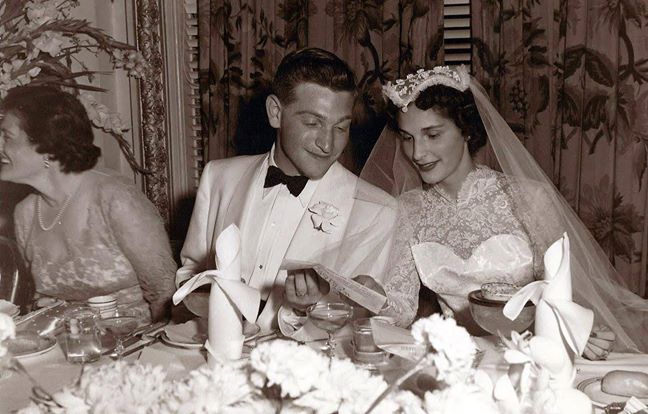 The tall thin flute has a very powerful bubble engine, delivering lots of flavour very quickly, and spitting lots of fizz upwards.
Some sommeliers like to serve champagne in white wine glasses because flutes "stifle the flavour".
The Riedel glassmakers have taken it a step further with their new "Champagne Wine Glass." President, CEO, & 11th generation glassmaker Maximilian Riedel says "the larger rim diameter enables the aromas of the Champagne to be released" and complexity to develop.
I had the honor of conducting an impromptu experiment with George Riedel, Maximilian's father, several years ago in Healdsburg. We tasted Iron Horse vintage Blanc de Blancs side by side in a flute and a Burgundy glass. In the flute, the Bubbly was bright and vibrant. In the other glass, it seemed older, softer.


Next time, I hope to try it in a glass slipper.
****

Always up for a celebration, I was very excited to learn that October 1st is the official start of the New Water Year in California. This should be greeted with popping corks and renewed optimism. First because we made it through Water Year 2015 … and second because we might just luck out with El Niño, now being ballyhooed as our "great wet hope." As I follow local coverage of rising El Niño fever (here) I encourage you to read along with me and ultimately draft your own personal New Water Year Resolution #MyNewWaterYearResolution
As a friend and neighbor says, "Here we are, enjoying Indian summer and praying for a rip-roaring El Niño to clobber us this winter. How California, to hope for a disaster to end a catastrophe!"
Photo via @Claudio Chea
Water Year 2015 has been noteworthy for several reasons:
Far less precipitation than normal in California

Temperatures far warmer than normal

A strengthening El Niño in the equatorial Pacific that some scientists believe is now "too big to fail." Find the scientific facts in last week's LA Times coverage here.
In a revised forecast released last Thursday, the National Weather Service said Northern California stands a decent chance of getting significant precipitation this winter. WeatherWest.com data points to this conclusion as well. In fact, they explain that the present track is comparable in magnitude to both the 1982-1983 and 1997-1998 events which were the strongest in the long-term record.

While forecasters have been saying this winter will likely bring heavy rains to Southern California, which is typical for El Niño, they've been less certain about the outlook for the northern half of the state. This is insight we desperately need. The state's major reservoirs are in the north, making rain and snow in that region of utmost importance to significantly bolster the state's water supplies.
The bulk of the precipitation is predicted to fall in December but mainly during the traditional rainy season from January - March. Luckily, Winter Is Coming.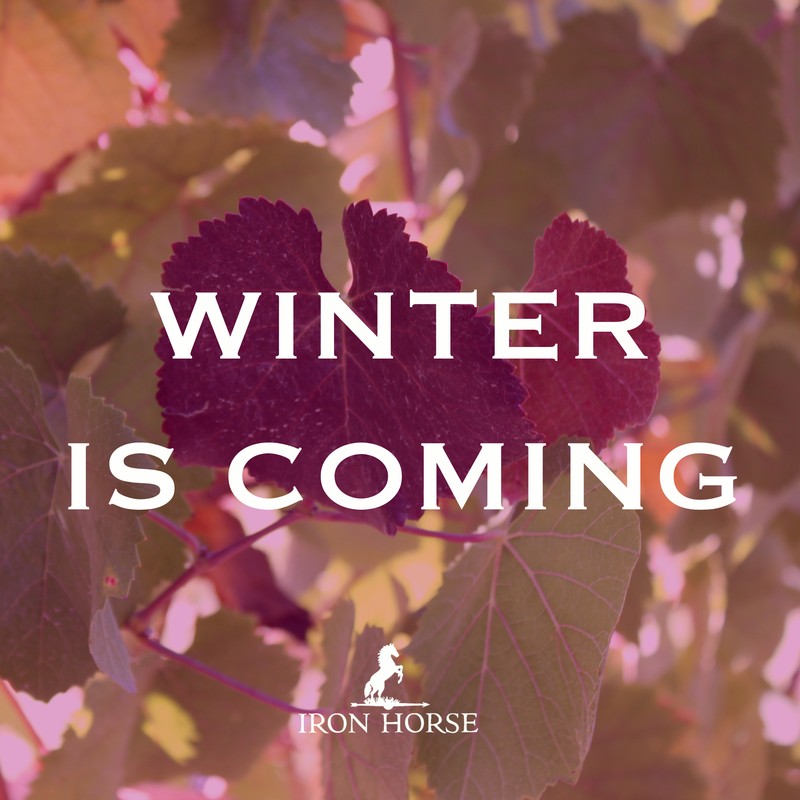 William Patzert, a climate expert at NASA's Jet Propulsion Laboratory in Pasadena, is the most optimistic and outspoken about the northern rain exposure. He's convinced El Niño will be felt in Northern California. "At this point – at this particular time – this is too large to fail," he said.
If history is a guide, California will see big snow in the northern mountains along with rain in the south, Patzert said. "The last two El Niños that were of this magnitude hosed all of California," he said. "If you look at the snowpack for those two El Niños, you had double the snowpack, too."
What's changed since the weather service's previous forecasts? Temperature anomalies in the Pacific are increasingly favorable to Northern California's rain outlook and according to Jeffrey Mount, a water specialist at the Public Policy Institute of California, the so-called "ridiculously resilient ridge," the high-pressure system that has kept rain and snow from falling on California, is finally breaking down.

Also check out this extremely cool NOAA video animation showing their weekly temperature readings of El Nino.
But Mount and Jay Lund, an engineer and watershed specialist at UC Davis, want to manage expectations. The experts point to the relative rarity of strong El Niños – just six since 1957. Their main point? We could still be left disappointed.
"We have a small sample size," Lund said. "There's still a substantial probability that we're going to continue to be in a drought next year."
So this is no time to become over confident. We must remain committed to conservation.
Here in Sonoma County, I am very proud to say the vintners have stepped up with voluntary measures to save water and help protect the Coho salmon. The Press Democrat quoted state regulators who showered Sonoma County landowners with praise. Read about the creative efforts and resulting hope for the future here.
Statewide, we Californians continue meeting the Governor's water conservation mandate. We reduced water use by nearly 27 percent during August, exceeding Jerry Brown's 25 percent conservation mandate for a third straight month.
Now we need everybody to make a New Water Year Resolution! My suggestion is that you resolve to capture and store as much rain possible. Whether it be in a reservoir, cistern or water barrels sold at the hardware store. Tip - old wine barrels actually work very well for this purpose. Share your resolutions with our us in the comments or on social media with the #MyNewWaterYearResolution
Hopefully, we will look back on Water Year 2015 as the final year of one of the state's most severe dry periods on record. And may 2016 be the year we "win" the drought (see NY Times' "How California Is Winning the Drought" here).
Many cultures mark the New Year on different dates and with special rituals. There's Chinese New Year in January-February and Jewish New Year in September. The Ancient Egyptians timed their New Year to the flooding of the Nile in July. So, in some ways, October 1st can be seen as California's New Year … appropriate as we tend to be a culture apart on most things.
And how to celebrate California New Year? With California bubbly, of course.

Cheers! Happy #winewednesday & Happy New Water Year!
***

Harvest has begun, starting with Chardonnay for Sparkling at the foot of the estate, right by my house. This is my 30th vintage at Iron Horse and I still get goosebumps watching the first grapes go into the press.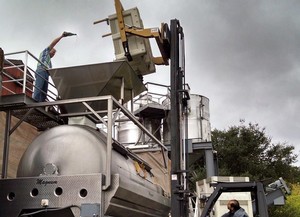 Our ceremony involves winemaker David Munksgard pouring a bottle of bubbly in with the grapes while we all raise a glass to the vintage.
This was our earliest start ever - four days before last year. But unique environmental conditions triggered both an early and extended timeline for the whole growing season, a reality that could yield more complex flavors in the resulting wine. Just like a tomato, the grapes accumulate more flavor the longer they hang on the vine.
We are anticipating a smaller crop as we pruned for drought, a tactic employed to protect the vines from carrying too much fruit in such dry conditions. So far, all of our other crops - the berries, peaches, early Gravenstein apples, hydrangeas, zinnias, lilies, lettuces, cherry tomatoes and right now an abunance of squash blossoms are so gorgeous. There is every reason to think the grapes will follow suit.
This summer has brought many new accolades. I am extremely proud that Iron Horse was included on the Daily Meal's new list of the 101 Best Wineries in America. It is a very interesting, and in many cases an unexpected compilation of wineries from across the country - not exclusively California and the Pacific Northwest. I thank the tastemakers who put it together, including Chef Daniel Boulud, Chicago restauranteur Cathy Matuano and of course the Editorial Director Coleman Andrews.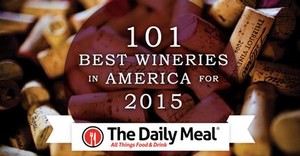 I am also very excited to announce that we are updating our wine labels, which you will first see on our 2013 Single Vineyard wines to be released this fall. I have always thought of Iron Horse as a work in progress. Each harvest we ask ourselves, how can we take our quality up another notch? In that spirit, the packaging also has to evolve. The last update was ten years ago. Our label designer Mark Berry did a fabulous job - the bottle is wider, the label bigger and less cluttered, the logo more prominent, the background is black and the foil embossing is copper. I think it's gorgeous.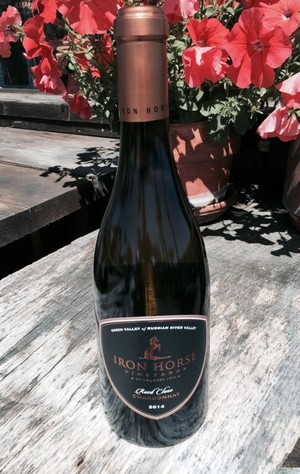 Recently a dear friend changed and really upgraded my thinking, saying Iron Horse is more than a work in progress … it is a dream in progress. This is now my new mantra.
I hope you will come visit in the next few weeks. First to taste the grapes before they go into the press … and then the juice. We will make you our specialty bubbly cocktail, which you can only have at Iron Horse and only this time of year. We call it a Sterlini (like a Bellini) – Brut X with a tiny splash of fresh free run juice directly out of the press.
Please wish us luck with vintage 2015.

With the start of summer, the drought has been hitting closer and closer to home … and then, suddenly, it is home.

Wells are starting to go dry in nearby Forestville. Up until now, I have felt relatively secure that the North Bay (Marin, Sonoma, Napa) is experiencing nothing more than a "severe drought." This classification is a level five on the seven levels of severity. Therefore, in a small way I have considered our vineyard as more fortunate when compared with other parts of the state, like Fresno, which is suffering "extraordinary drought."
Since I last blogged on this topic, the State Water Resouces Control Board approved an emergency regulation aimed at protecting the threatened Coho Salmon and Steelhead. Ordinances affect about 13,000 properties in the watersheds of Dutch Bill Creek, Green Valley Creek, which bisects Iron Horse, Mark West Creek and Mill Creek. Water users in these watersheds, i.e. us, will be subject to: 1) enhanced conservation measures built on existing statewide water restrictions 2) regular submission of reports detailing surface and groundwater use. (Note: Below is a photo of our creek from May 2013. It shows water … today it is just muddy.)

The center of this issue goes beyond the mandatory reporting of diversions, focusing on the very definition of a diversion. According to a draft of the emergency regulation:
"Diversions" means all water diverted or pumped from surface waters or from subsurface waters that are hydraulically connected to the surface stream within the 
watersheds.

All subsurface water is considered hydraulically connected to the surface stream if 
pumping that water may contribute to a reduction in stream stage or flow of any 
surface stream within the watersheds.
For the first time ever we will monitor and report on our groundwater use, filing what we have diverted with the State Water Boards.
Really this just means more paperwork. Historically, we only divert water from the creek when the water level is high enough for the health of the fish. Our Iron Horse family has been working with Fish & Wildlife officials since last November to remove any barriers preventing fish from commuting up and down stream. To support our joint efforts, we have significantly reduced our diversions. In 2013 we pumped 8 acre/feet, in 2014 just 2.75, and in 2015, none … so as not to endanger the hatchlings seeded by Fish & Wildlife. We love the salmon and do everything we can to help them navigate Green Valley Creek.
This makes us more reliant on the fruits of our conservation efforts including recycled water and winery grey water which goes to the reservoir for the vineyards, gardens and landscaping. This reservoir is just about full - re-charged by advanced treated water from Forestville. We are installing meters on our wells and our houses. We are mowing more frequently in the vineyards to preserve the cover crop and keep it from competing with the vines. We pruned and have been thinning shoots to reduce water needs of the vines. (Below - a picture of the vegetable garden, irrigated with advanced treated water.)

Good news is that at least in May, we celebrated residential water use wins as shared in the Los Angeles Times. Urban areas reported a 29% drop in usage which is the biggest monthly decline yet since Gov. Jerry Brown ordered mandatory cuts. But officials caution that these efforts will have to ramp up as the warmer months become more exaggerated, we need six consistent months of similar water use declines to see serious impact.
As experts admit, overall water usage this summer is anyone's guess and is largely dependent on the heat. Every drop counts - a philosophy that has been embraced by everyone at Iron Horse. In fact, my brother is growing a "drought beard" to proactively "repurpose" water normally used while shaving.
As for our beloved California salmon …
We spend a good part of the year waiting for summer, which heralds the return of wild king salmon, considered by many to be Sonoma's "National Dish".

State and federal wildlife agencies have been transporting the new generation of baby fish via tanker truck to San Francisco Bay. Due to the drought, rivers and streams have become too shallow or too warm for salmon to navigate and survive the journey to the Pacific.
The salmon transport has been in progress since February, with 35,000 gallon tanker trucks being used to transport salmon along the 90 minute journey from hatcheries to the ocean via the freeway to bypass dried-up riverbeds.
In the next few years, we will start to see the effect of the drought on fish in the ocean. Warmer water makes the fish harder to catch because they're not concentrated in their normal areas. And we don't yet know how many fish have reproduced in the rivers and creeks … and how many will make it back.
The Salmon's Life Cycle:
The fish swim up the river and spawn, those baby salmon grow into smolts and work their way down to the ocean within a year or two. They spend five or six years in the ocean, and then they go back up the river they were born in to spawn again and die. If there's no water, they can't swim downstream to the ocean or back upstream to reproduce. We're affected by the water conditions from five or six years ago. So we'll see the effects of the drought in the next few years.
Nutritional Value:
California wild and natural King Salmon is considered by many to be the finest member of the salmon family and extremely nutritious. "Fast" food facts:
less than 200 calories per 3-ounce portion

excellent source of quality protein (21 grams, 47% of the Recommended Daily Intake)

low in saturated fat and sodium

rich in vitamins and minerals

ocean-run California King salmon is also very rich in omega-3 fatty acids
Versatility:
Salmon can be grilled, baked, broiled, poached, microwaved, sautéed, smoked, canned, or eaten raw in sushi and as sashimi. It can be prepared with any of your favorite seasonings or marinades: simple or exotic, homemade or store-bought. Don't think of it as only an entree; it can also be featured in chowders and soups, pastas, appetizers, salads and sandwiches. And most importantly, it pairs beautifully with Chardonnay, Pinot Noir and bubbly!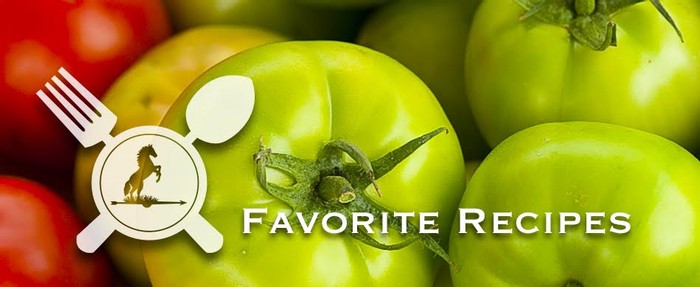 Iron Horse Favorite Recipe:

Whole Roasted Salmon in a Crust of Sea Salt
Ingredients:
1-8Lb. Salmon, gutted, scaled and trimmed
salt and pepper
1 bunch fresh thyme
several fresh bay leaves
6 Lb. sea salt
extra virgin olive oil
zest of 4 lemons, finely chopped
Serves: 8 people
Directions:
Preheat oven to 450 degrees. Wash fish thoroughly, inside and out, and pat dry. Season the cavity of the fish with salt and pepper, the thyme and bay leaves.
Spread half the sea salt on the bottom of a large baking dish or half sheet tray. Place the fish and completely cover it from head to tail with the remaining salt. Put in the oven and bake 10 minutes per pound.
Remove from oven and let rest for 5 minutes. Brush away as much salt as possible from the fish. Then, using a sharp knife, gently remove and discard skin. With a thin spatula, remove the filets from along the backbone, place on a serving platter and drizzle with olive oil and lemon zest.
######

At Iron Horse, we wear our Pride on our sleeve…. and on our bottles, celebrating diversity with our 2010 Rainbow Cuvee. This second vintage of the vibrant, limited production bubbly delivers the celebratory experience that so perfectly pairs with this 45th anniversary of San Francisco Pride in our urban backyard ... and at the White House annual LGBT reception held June 24.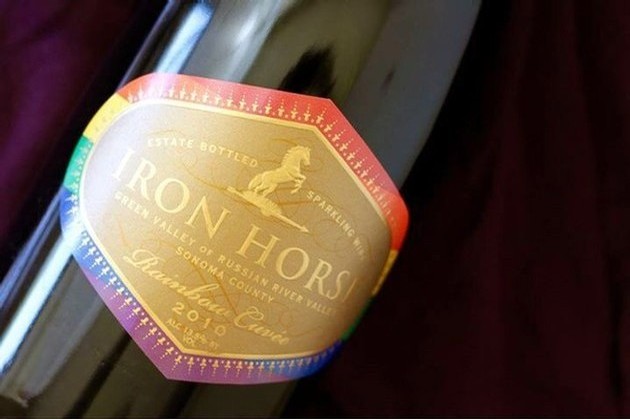 We are honored to be recognized as one of the top 6 most gay friendly winery in California.
On Saturday June 27, radio host Joel Riddell will be broadcasting live at the heart of the San Francisco festivities on Talk Radio 910 including a pre-taped interview about Iron Horse and the creation of Rainbow Cuvee. Stay tuned for more information on how to listen in.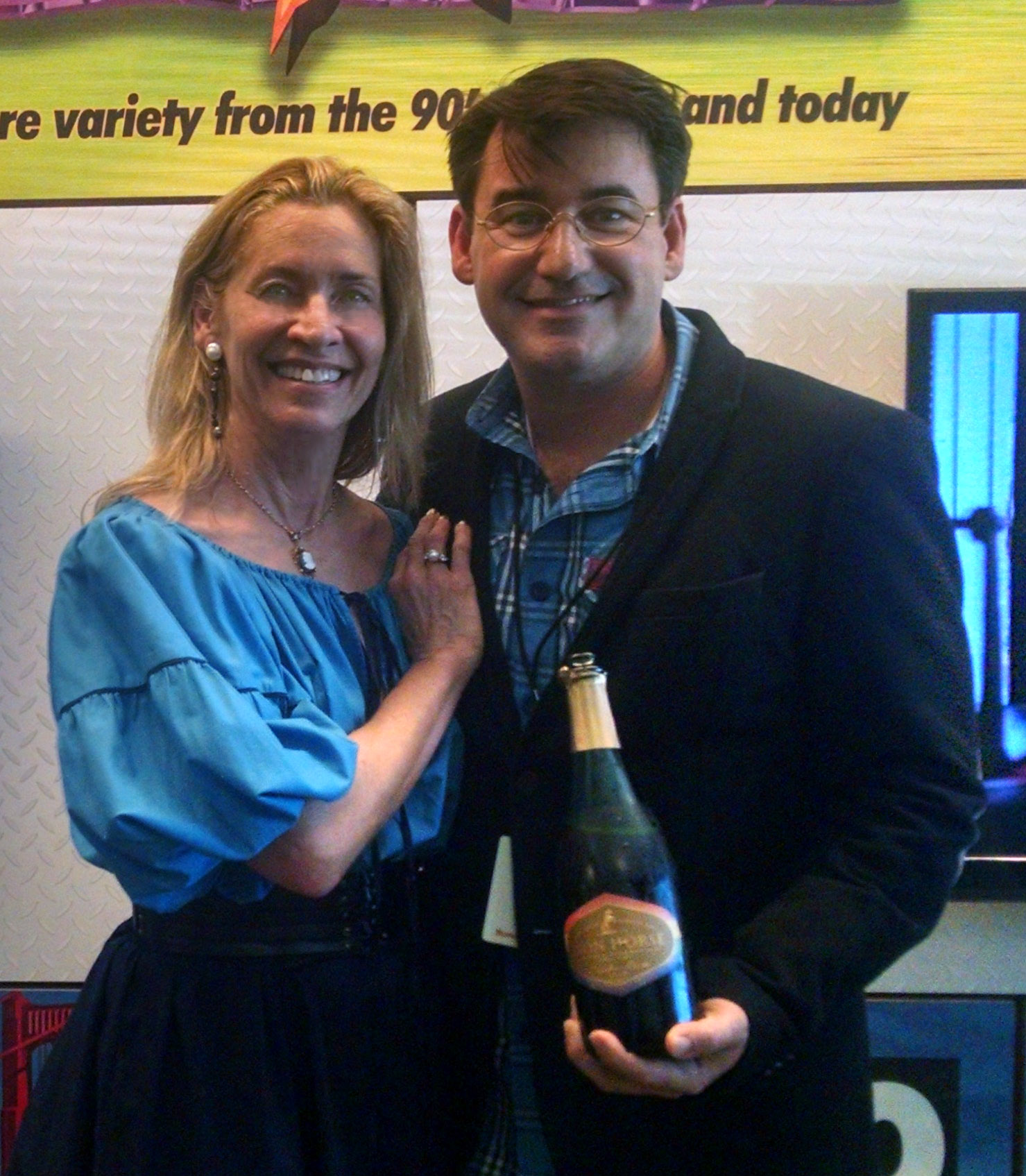 San Francisco Pride occurs on June 27 - 28. The theme this year is "Equality without Exception".
Here are some insider tips if you're planning to attend.
1. Wear sunscreen.
2. Get to the parade early … it's usually five people deep along the route.
3. Use Uber or take the bus. Do not try to park down there.
4. Obey the rules on nudity. (There aren't any!)
5. Best bar for people watching, Twin Peaks at Castro and Market. It's all glass and has a balcony.
6. Tune in to Dining Around with Joel Riddell on Saturday 1-3pm on iHeartRadio, Talk Station 910, KKSF.
7. For after the parade on Sunday, go to Disco Daddy at the SF Eagle. It will be the closest you can get to the spirit of "old Pride". Sylvester, Dianna Ross, Grace Jones and the Village People will be channeled. $5 at the door, this is the best deal on Pride Day and walking distance from the parade.
8. Go see City Hall light up at night in the rainbow colors.
9. Get up to date on the "Alphabet Soup". It's not LGBT anymore. The latest is LGBTQQIA, which stands for Lesbian, Gay, Bisexual, Transgender, Queer, Questioning, Intersex and Ally. By the way, Iron Horse is an ally.
10. Make sure you have your Rainbow Cuvee chilling at home. You'll be ready for it when you get done.
The idea of Rainbow Cuvee is thanks to our friend and Direct to Consumer expert, Sonyia Grabski, inspired by the beauty of Gay Pride Flags fluttering in a June breeze.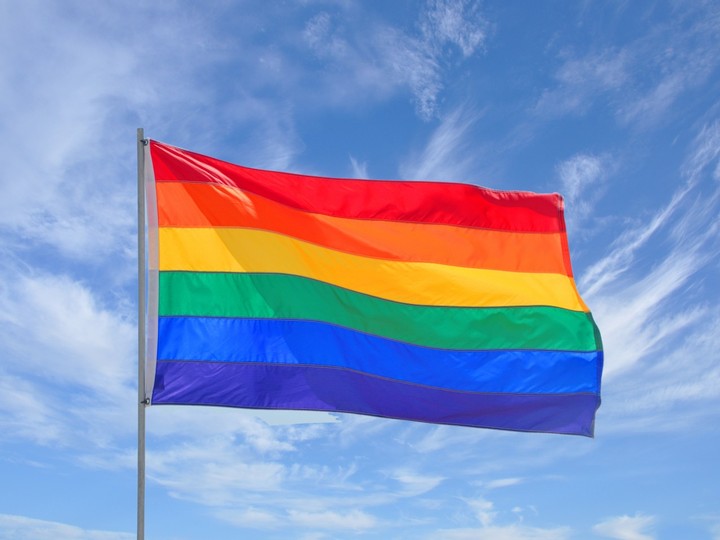 The strong symbol and graphic direction provided the official colors which were carefully integrated with the Iron Horse brand by our label designer Mark Berry.
Mark presented six design variations to start the process. And in playing around with print techniques, our team discovered the option of an iridescent foil on the rainbow border. This element adds the festive and dynamic feeling that we wanted to convey the delicious flavors within and the larger message of our times.
For an insight into the design process, check out these interesting photos, showing the embossed base colors and the final foil stage.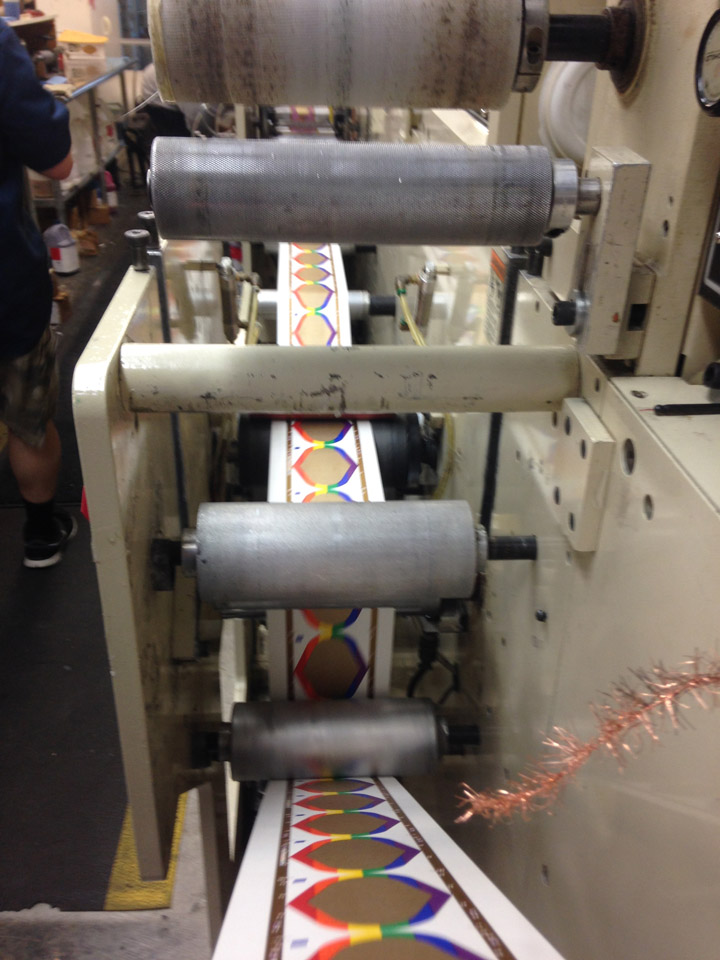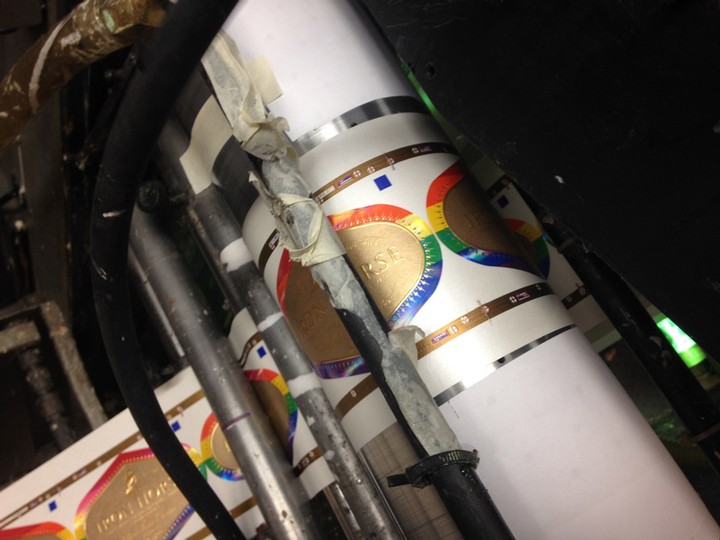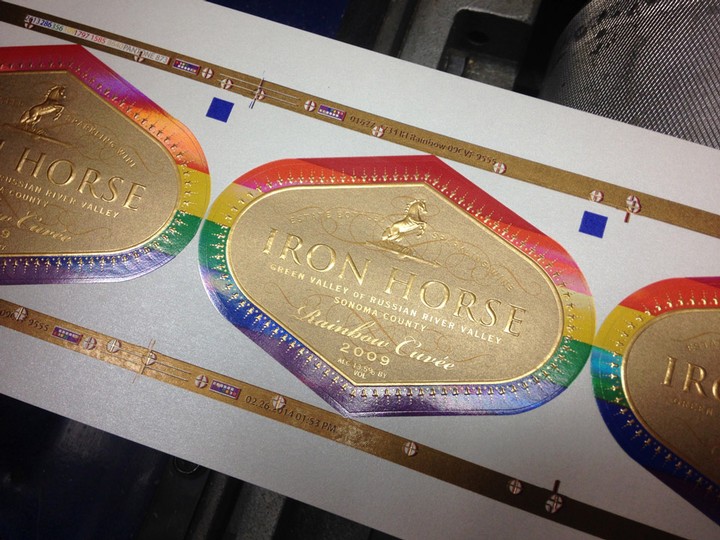 Supplemental Reading for those who like a little FAQ FUN:
The Betsy Ross of the Rainbow Flag was San Francisco designer Gilbert Baker. It was first unfurled in 1978 at the Gay Freedom Day Parade. Legend has it that Baker was inspired by Judy Garland singing "Over the Rainbow" and the Stonewall riots that happened in New York shortly after Garland's death.
The world's largest Pride celebration is in Sao Paulo, Brazil.
It's important to remember how much has changed in just the last decade … and exciting to celebrate that we are at a major tipping point in the march towards marriage equality, when the strength of national support has raised hopes of a Supreme Court ruling on the rights of same-sex couples to marry across the country.
Here's to the freedom of being yourself!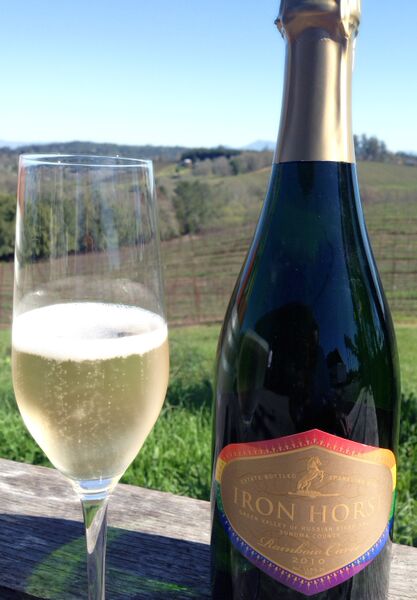 Surfs up!
Here at Iron Horse we strive to catch every wave and today happens to be World Oceans Day - celebrated every June 8 across our blue planet. Now officially recognized by the United Nations, the date was originally proposed in 1992 by Canada at the Earth Summit in Rio de Janeiro.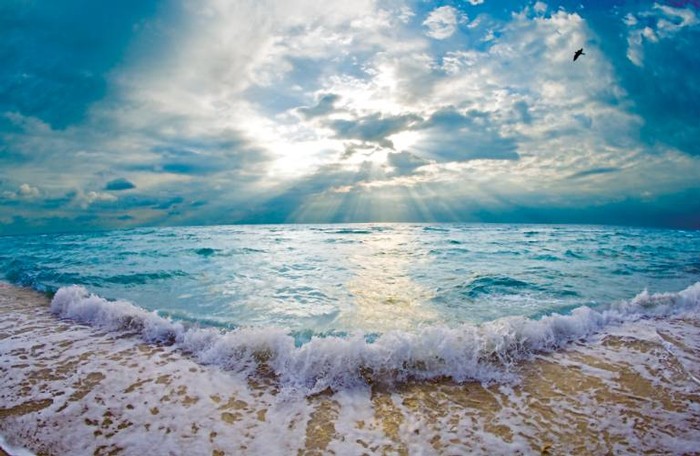 Water has been a big topic for us this year. So it should come as no surprise that we are passionate about our ocean - the "heart" of our world. It connects us, regulates the climate, feeds millions of people, produces oxygen, is home to an incredible array of wildlife, provides important medicines, facilitates trade, and is so very beautiful. It's imperative that we assume the responsibility to care for the ocean as it cares for us.
There are many ways to show some ocean love:
Cut back on using disposable plastic bags

Go to the aquarium

Wear blue

Get involved in a community beach clean up

If you are lucky enough to be near the water, dive in

Just tweeting about the day spreads the word and gets people interested

Be mindful about your food choices. Educate yourself about sustainable seafood choices starting with this piece from Chef Barton Seaver here

Leverage the Monterey Bay Aquarium Seafood Watch - a great resource
For the past five years, we've gone one step further to merge the oceans we love with what we do best. We will be toasting with our special 2010 Ocean Reserve Blanc de Blancs, which we produce in partnership with National Geographic.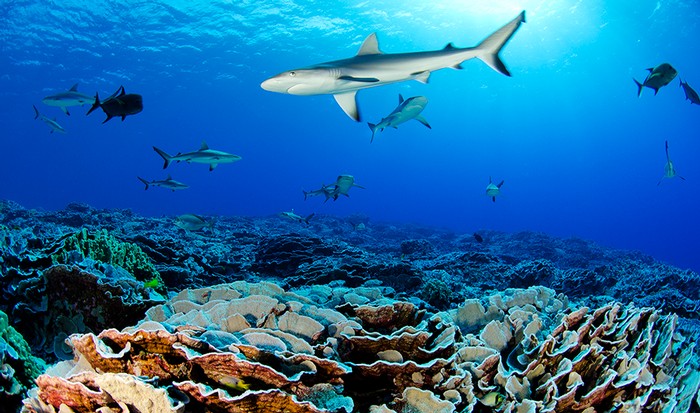 $4 per bottle goes to NatGeo's Ocean Initiative, helping establish Marine Protected Areas and support sustainable fishing around the globe. It is a great source of pride that our contribution comes to about $220,000 in five years ... and counting.
The first vintage was welcomed with the inspirational Barton Seaver. As explained in this 2010 article

here

, the National Geographic fellow came to taste with us.
In one video, Barton elaborates on the nearby ocean's impact on Iron Horse "meroire"… he also conveniently presents a grill-friendly pairing recipe where sustainably farmed seafood appropriately takes center stage. The must-watch video is here.
Barton was an ideal partner in the creation of this cuvee and his words on the topic encapsulate the larger mission of our efforts perfectly:
"The oceans are in all of us and are in all that we hold dear. The wine with which we celebrate World Oceans Day was in fact grown in deposits of ancient marine life, the juice of the grapes itself a product of our oceans and a testament to the power of the oceans to sustain our reality."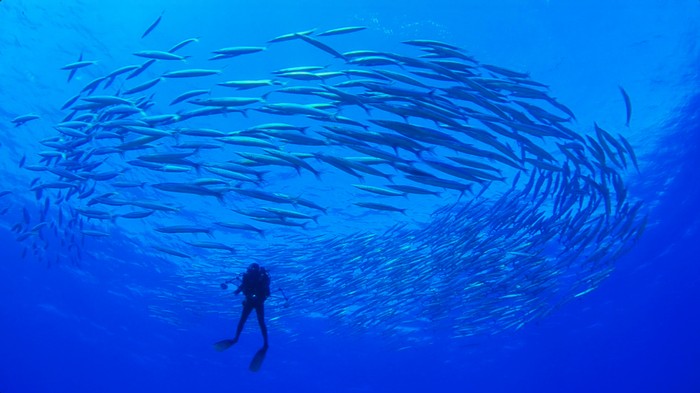 In fact, Barton believes how we eat and drink is the first step towards environmental responsibility. He has been known to explain, "Deliciousness is the first line of environmentalism." And of course the ocean plays a major role in our signature Iron Horse winemaking. The nearby Pacific (only 13 miles as the crow flies) is the driver of our special microclimate that allows us to make unparalleled Sparkling Wine with bright acidity and brilliant aromas.
Today, take a moment to meditate on the ocean's role in everyday life.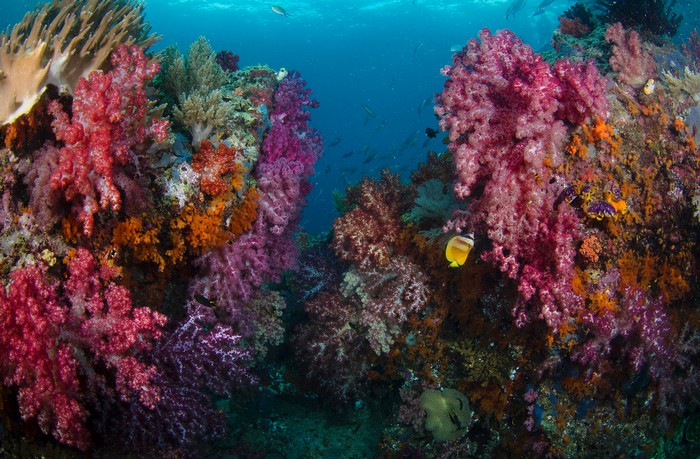 Ocean Day Fast Facts:
Oceans cover three quarters of the Earth's surface, contain 97% of the Earth's water, and represent 99% of the living space on the planet by volume

Over three billion people depend on marine and coastal biodiversity for their livelihoods

Globally, the market value of marine and coastal resources and industries is estimated at $3 trillion per year or about 5% of global GDP

Oceans contain nearly 200,000 identified species, but actual numbers may lie in the millions

Oceans absorb about 30% of carbon dioxide produced by humans, buffering the impacts of global warming

Oceans serve as the world's largest source of protein, with more than 2.6 billion people depending on the oceans as their primary source of protein

Marine fisheries directly or indirectly employ over 200 million people

As much as 40% of the world oceans are heavily affected by human activities - pollution, depleted fisheries, and loss of coastal habitats
As you digest these bubbly fast facts do what Mother Nature would want…. pair them with a special bottle of bubbles. Each sip of 2010 Oceans Reserve Blanc de Blanc is made even more wonderful with the knowledge that you're donating to a beautiful blue cause.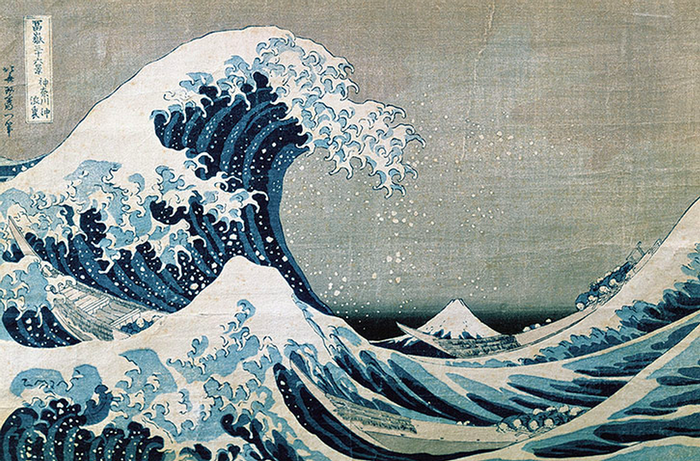 Resources:
World Oceans Day Organization here
Q&A with National Geographic Explorer-in-Residence Enric Sala here
Bio of Barton Seaver, chef, author and National Geographic Fellow here
The National Geographic webpage dedicated to our Ocean Reserve Sparkling here
Iron Horse being served this week at National Geographic's Explorers Symposium in Washington, DC. Event details here