Iron Horse
Blog

At Iron Horse, we wear our Pride on our sleeve…. and on our bottles, celebrating diversity with our 2010 Rainbow Cuvee. This second vintage of the vibrant, limited production bubbly delivers the celebratory experience that so perfectly pairs with this 45th anniversary of San Francisco Pride in our urban backyard ... and at the White House annual LGBT reception held June 24.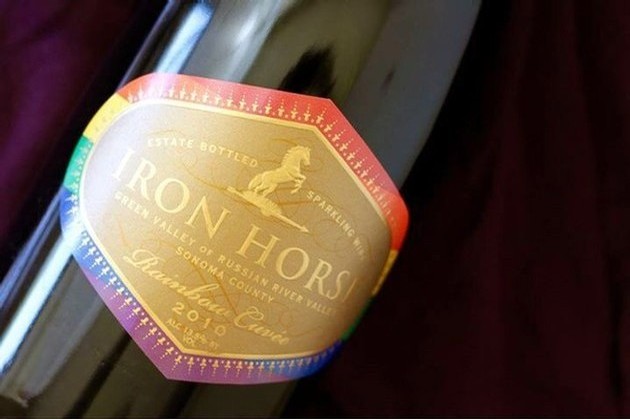 We are honored to be recognized as one of the top 6 most gay friendly winery in California.
On Saturday June 27, radio host Joel Riddell will be broadcasting live at the heart of the San Francisco festivities on Talk Radio 910 including a pre-taped interview about Iron Horse and the creation of Rainbow Cuvee. Stay tuned for more information on how to listen in.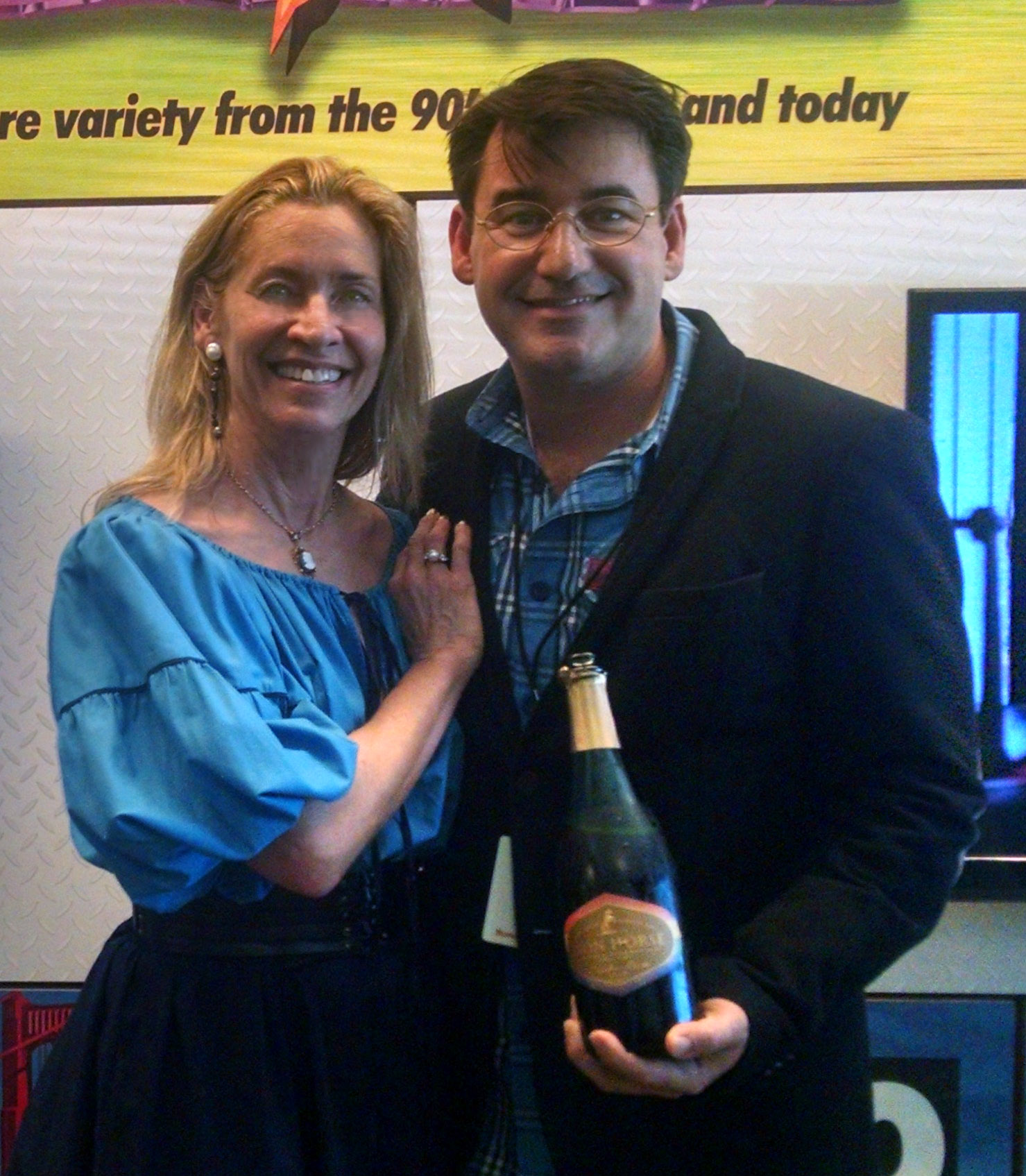 San Francisco Pride occurs on June 27 - 28. The theme this year is "Equality without Exception".
Here are some insider tips if you're planning to attend.
1. Wear sunscreen.
2. Get to the parade early … it's usually five people deep along the route.
3. Use Uber or take the bus. Do not try to park down there.
4. Obey the rules on nudity. (There aren't any!)
5. Best bar for people watching, Twin Peaks at Castro and Market. It's all glass and has a balcony.
6. Tune in to Dining Around with Joel Riddell on Saturday 1-3pm on iHeartRadio, Talk Station 910, KKSF.
7. For after the parade on Sunday, go to Disco Daddy at the SF Eagle. It will be the closest you can get to the spirit of "old Pride". Sylvester, Dianna Ross, Grace Jones and the Village People will be channeled. $5 at the door, this is the best deal on Pride Day and walking distance from the parade.
8. Go see City Hall light up at night in the rainbow colors.
9. Get up to date on the "Alphabet Soup". It's not LGBT anymore. The latest is LGBTQQIA, which stands for Lesbian, Gay, Bisexual, Transgender, Queer, Questioning, Intersex and Ally. By the way, Iron Horse is an ally.
10. Make sure you have your Rainbow Cuvee chilling at home. You'll be ready for it when you get done.
The idea of Rainbow Cuvee is thanks to our friend and Direct to Consumer expert, Sonyia Grabski, inspired by the beauty of Gay Pride Flags fluttering in a June breeze.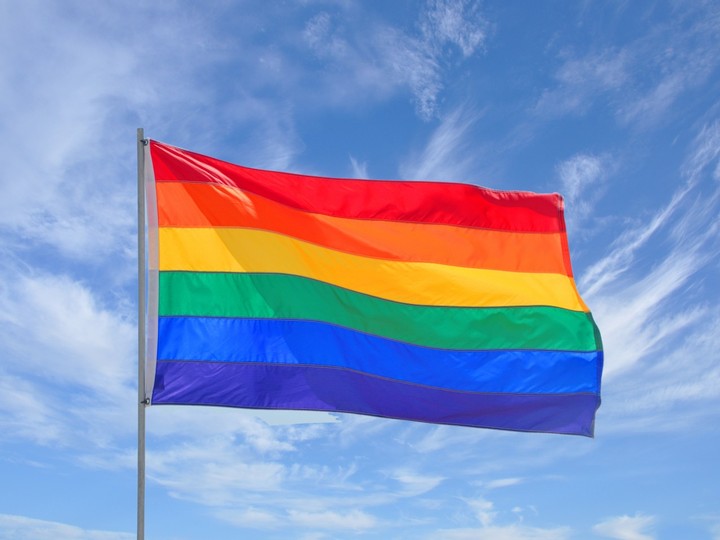 The strong symbol and graphic direction provided the official colors which were carefully integrated with the Iron Horse brand by our label designer Mark Berry.
Mark presented six design variations to start the process. And in playing around with print techniques, our team discovered the option of an iridescent foil on the rainbow border. This element adds the festive and dynamic feeling that we wanted to convey the delicious flavors within and the larger message of our times.
For an insight into the design process, check out these interesting photos, showing the embossed base colors and the final foil stage.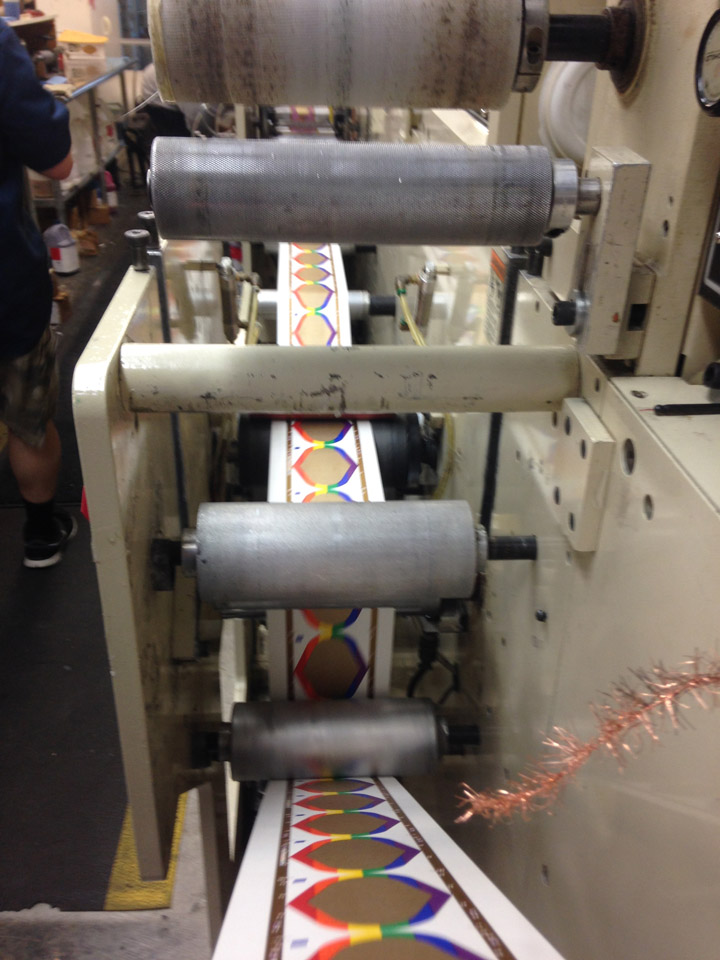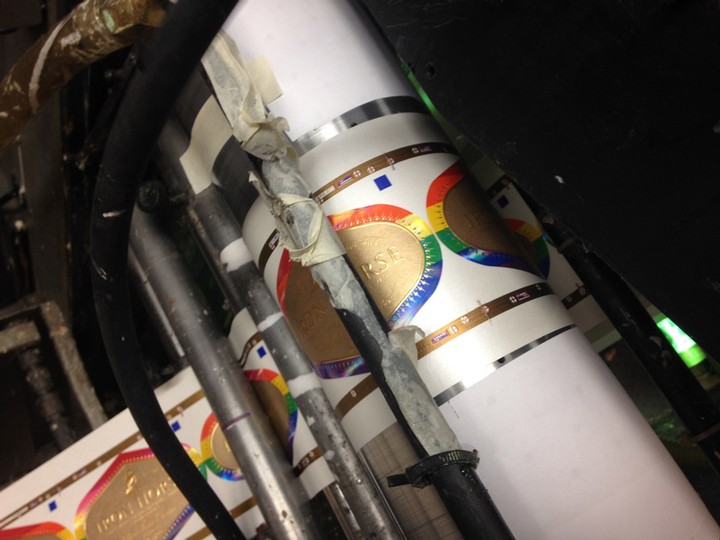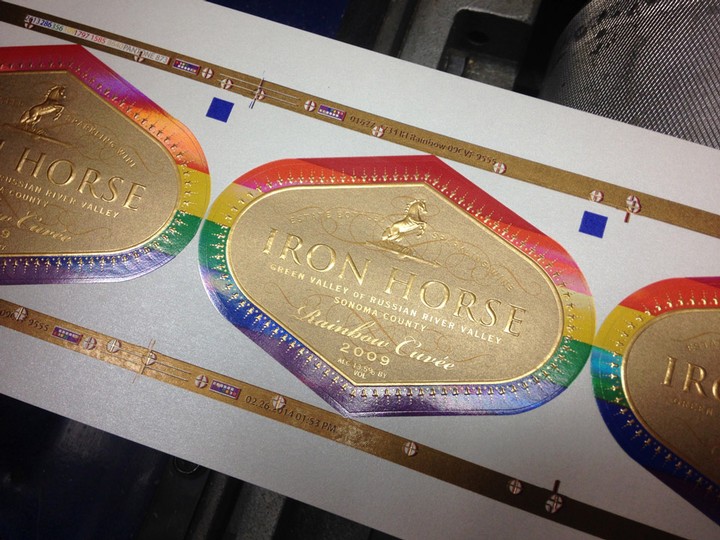 Supplemental Reading for those who like a little FAQ FUN:
The Betsy Ross of the Rainbow Flag was San Francisco designer Gilbert Baker. It was first unfurled in 1978 at the Gay Freedom Day Parade. Legend has it that Baker was inspired by Judy Garland singing "Over the Rainbow" and the Stonewall riots that happened in New York shortly after Garland's death.
The world's largest Pride celebration is in Sao Paulo, Brazil.
It's important to remember how much has changed in just the last decade … and exciting to celebrate that we are at a major tipping point in the march towards marriage equality, when the strength of national support has raised hopes of a Supreme Court ruling on the rights of same-sex couples to marry across the country.
Here's to the freedom of being yourself!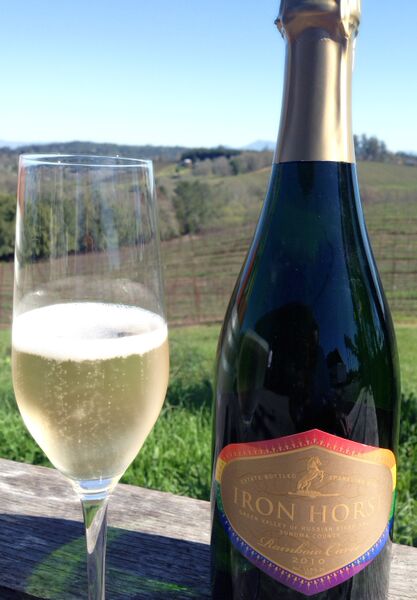 Dear Friends & Family,
Vintage 2014 is in barrel and the fermentations underway. The year will be noted for drought, earthquake and wild fires. And yet, the grapes that went into the press were wonderfully delicious.
My brother Laurence wisely pruned to the drought, specifically to reduce how much leaf canopy and grapes each vine had to grow and mature. This was a gut call made last December … before we knew that this would be another severe drought year.
It was an early harvest. Everything started early. It's as though we bracketed the growing season and moved it ahead three weeks, beginning with bud break. Even now the theme is following through with camellias in boom at my parents' house that normally don't come out until Thanksgiving.
Usually, during harvest, there is a fairly predictable order of when each block and variety will get picked, based on our history of 38 years at Iron Horse. This year, that orderliness flew out the window. This meant more sampling, more rows to walk, and the need for turn on a dime flexibility in moving around the vineyard crews. This is a vintage when being estate bottled made all the difference.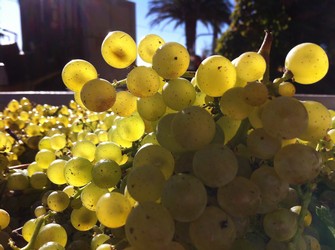 Drought years can produce grapes that require extra care with fermentations and that seems to be holding true. Fortunately, our winemaker's strong suit is coaxing "grumpy" yeast to cooperate.
So, how are the wines? It is still too early for a definitive answer as the fermentations aren't done, but I am optimistic this will stand with 2012 and 2013 as our third straight excellent vintage in a row.
Right now, my current new personal favorite of our Chardonnays is our 2012 Native Yeast. Wine Enthusiast has given it a 93 point rating. Total production of this single vineyard Chardonnay is 250 cases. I love it with anything to do with fresh fall corn – corn chowder, corn bread, and succotash.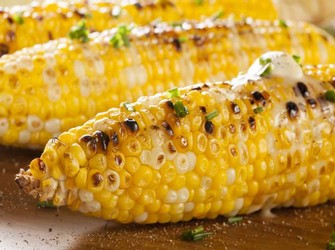 My family joins me in wishing you and yours our very best. Please pray for rain for us ... gentle, easy, light, but steady rain ... preferably at night, like Camelot.
Joy