Iron Horse
Blog

Wine is fashion in many ways. There are clear trends.
Right now, bubbles are "in". And we are enjoying every minute of it!

According to Tim Fish in the upcoming June 15 issue of Wine Spectator:
"This is an exciting moment for California bubbly. Sales have jumped in recent years, and the state's producers continue to push the envelope on quality, developing new niche bottlings while preserving their reputation for value."

The consumption figures above from the California Wine Institute are are real through 2013. We then continued upward with our "expert extrapolation" that we will cross the 20,000,000 case mark this year.
This surge has several contributors. One is Prosecco. For many, that fruity, user-friendly Italian wine is a gateway to more complex bubbles.
Another is the mass appreciation for handcrafted, small batch drinks across the board in categories like wine, beer, cider, and spirits. Two representative examples are limited edition Iron Horse cuvees:

2010 Summit Cuvee

&

2010 Rainbow Cuvee

.
Summit Cuvee commemorates the unprecedented free-climb of the Dawn Wall of El Capitan in Yosemite National Park, California - the realization of a dream and an inspiration. Only 300 cases have been produced.
Rainbow Cuvee celebrates marriage equality. This is our second vintage of this special, small production bubbly. We are very proud that the inaugural release was served at the White House LGBT reception last June. Total production is just 250 cases.

Rosés are a special niche. Ours is very striking, both in color and taste. It's a dark rose, bottled in clear glass. Originally awarded 93 points by Robert Parker, the 2007 vintage now has six plus years less aging. The most recent disgorging is 5/4/15.
Serious fans increasingly call for ultra brut or no dosage, like our Brut X, which is a 500 case production.
Most exciting to me is the breadth of interesting bubblies today. Not just Grande Marques, and even beyond Grower Champagne, the next "big thing", according to Wine & Spirits Magazine is "Somm Sparklings."
Wine & Spirit's Associate Publisher Samantha Groseth has this to say on the topic:
"Some of the most interesting intelligence we gather from our Annual Restaurant Poll comes in the wines that most excite sommeliers. In 2015, we heard a lot of chatter about sparkling wine, and not just grower Champagne — sparkling wine is on the minds' of America's sommeliers, whether it's from the Loire, California, Finger Lakes, Italy or Jura."
Iron Horse was included in this category at the debut Somm Sparkling Table at Wine & Spirits' annual Top of the List Tasting. A true honor. There were about a dozen to taste, right next to the Grand Central Oyster Bar station - Herman Wiener Blanc de Blancs no dosage, from the Finger Lakes, which is poured by the glass at NoMad, Gruet from New Mexico, Raventos, Domaines de la Berjorie and Baumard, both cremants de Loire, Murgo Etna Rosso, from Sicily, that was very unusual, Banfi, La Marca Prosecco and La Spinetta Moscato d'Asti.
It was Iron Horse and Roederer Estate from California. Ours was certainly the most fun table at the tasting.





Going back to Tim Fish's article in Spectator, Tim makes the point that the bubbly business is increasingly year-round:
"Many people think of bubbly in connection to Christmas and New Year's Eve, but it's also enjoyable as a summer drink. Sparkling wine has always been about summer for me."
My family and I are very proud that Iron Horse ranks among Tim's personal favorites on his blog.
IRON HORSE 2010 Classic Vintage Brut, Green Valley of Russian River Valley, $42. 91 points. Supple and richly styled, with tart apple and spiced hazelnut aromas leading to Meyer lemon, brioche and zesty cinnamon flavors.

IRON HORSE 2010 Russian Cuvee, Green Valley of Russian River Valley, $42. 90 points. A plush style, with a lingering hint of sweetness balanced by solid acidity. Offers accents of ripe Meyer lemon, toasted cinnamon and almond brioche

IRON HORSE 2010 Wedding Cuvee, Green Valley of Russian River Valley, $42. 91 points. A serious bubbly but fun to drink with lively and floral raspberry flavors.

More and more people now think about bubbly as a wine … to be enjoyed year round with food. As we like to say here at Iron Horse: #notjustforbreakfastanymore.

Earth Day carries a lot of meaning for Iron Horse Vineyards and this year was is different. The global holiday marks an urgent call to arms in the conservation of the world around us. In this spirit, my Green Valley based family hosted honored guests in celebrating our love of the land. I was thrilled to introduce inspiring keynote speakers and friends; Gov. Jerry Brown and Kevin Jorgeson.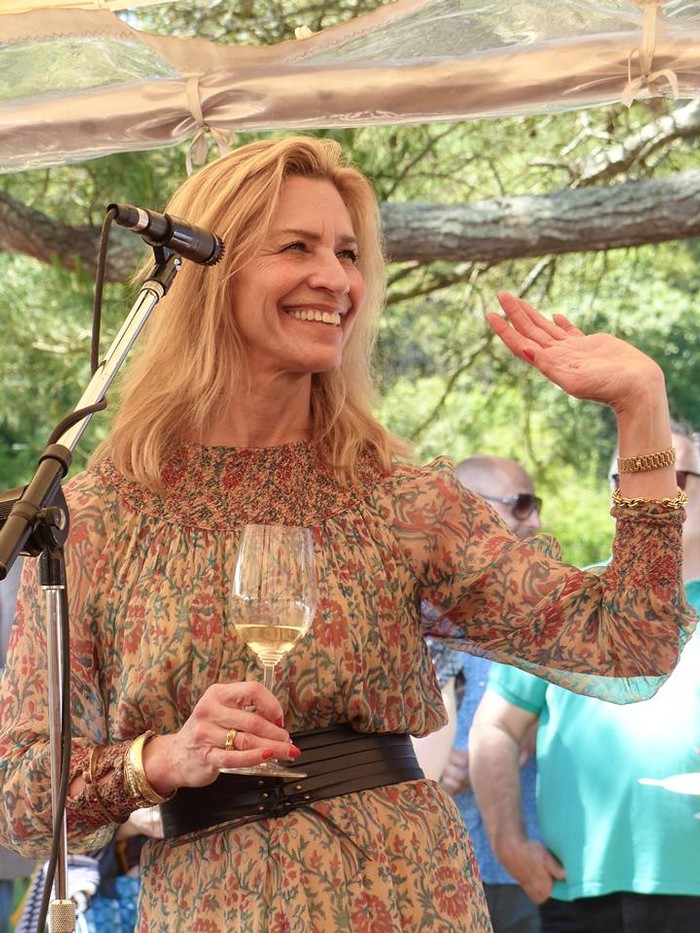 Kevin famously topped the Dawn Wall of El Capitan and subsequently toasted with Iron Horse bubbly. As a special celebration of the unprecedented 3,000 foot free-climb of climbing partners Kevin and Tommy Caldwell, we introduced our 2010 Summit Cuvée, a limited production, one time only, vintage brut which Jorgeson helped us finesse.
Surprising attendees with an impromptu conversation on the California drought, Gov. Jerry Brown ascended the podium and seized a moment to applaud California's environmental leadership. He reassures residents the state will survive its historic four-year drought through creativity and unity. My favorite quote from the Governor's talk: Don't worry about the drought; just don't use too much water!
The day was a smashing success and it has triggered some soul searching. As we celebrate Earth Day in our roles as stewards of the environment, Kevin Jorgesen asks us: What's OUR Dawn Wall? He never gave up on his dream of free-climbing El Capitan. My dream is for a united push towards great responsibility to the environment. The rewards of pushing through imagined limitations are endless.
….Because nothing compliments bubbles like a mountainous cake, we wrapped up the day by inviting Kevin Jorgeson to slice up a sweet replica of El Capitan after tracing his route on the "iced" terrain. Ain't life sweet?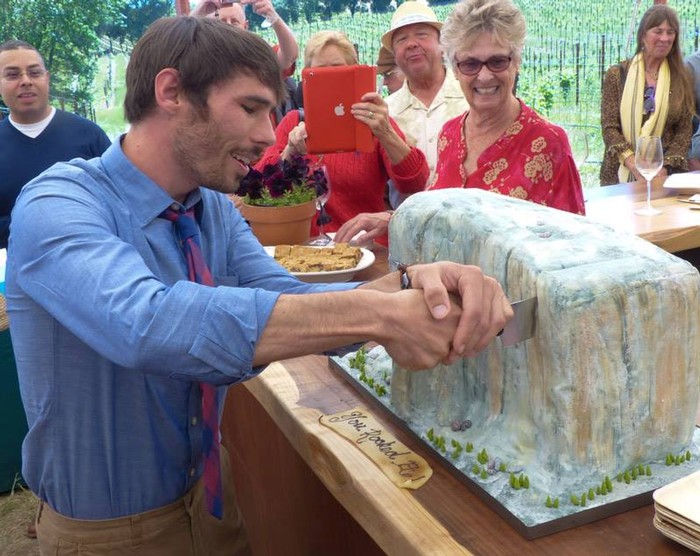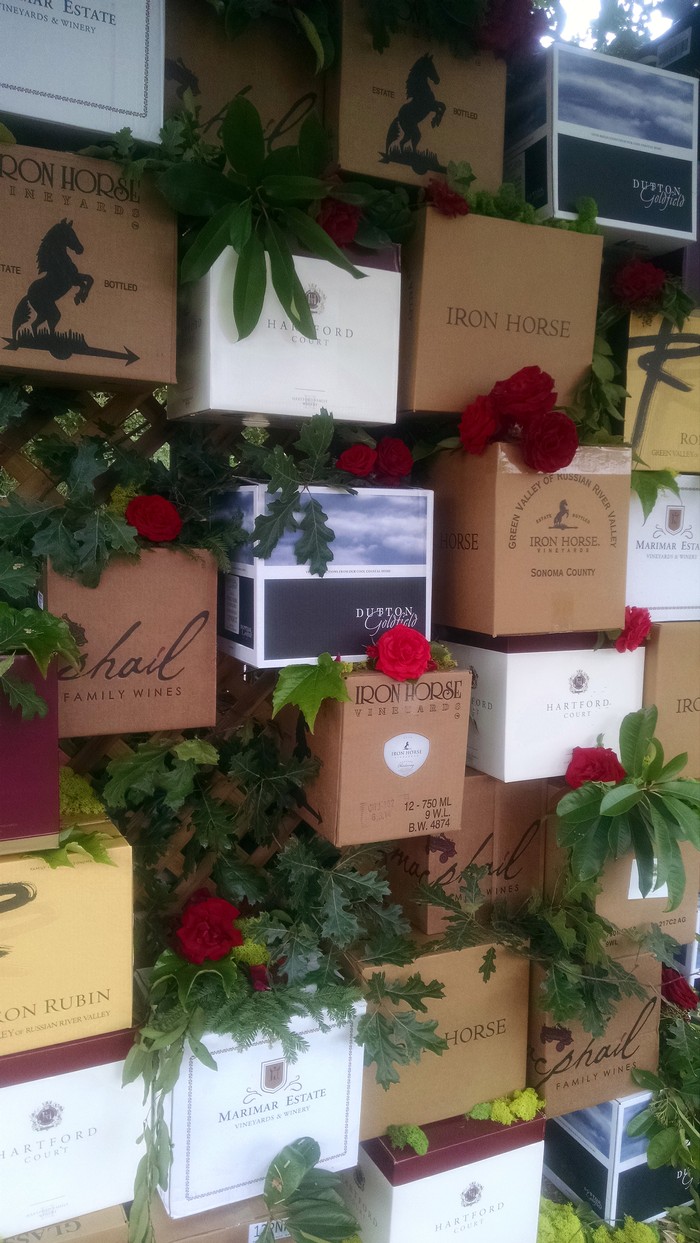 Find a fantastic recap of the day from Press Democrat here: http://www.pressdemocrat.com/news/3812019-186/governor-urges-unity-in-drought

Get your limited edition 2010 Summit Cuvee here: http://bit.ly/1H9hVMf
Find an Earth Day event recap from one of our VIP guests, Adrienne from Rich Life on a Budget, here: http://bit.ly/1DBUdBb
Peruse another Earth Day recap from a friend of Iron Horse, Jo Diaz, who has honored me with the title of "Mother Nature in Disguise:" http://bit.ly/1DOILp5

Everything costs water:
It takes about 30 – 35 gallons of water to make a glass of wine

56 gallons for a latte to go

400 gallons to grow the cotton for a T-shirt

6230 gallons a week to maintain a 100' x 100' lawn
Think about the possible tradeoffs. According to one calculation, if you pulled out a thousand square feet of lawn, you could enjoy an additional three bottles of wine a week and come out even in your water footprint.
I have heard several friends complain that they can't possibly cut back any more than they already have. City dwellers resent the farmers. Some farmers feel they are being pitted against the environmentalists. The fact is, we are all in this together. We each have to do our utmost.
Here is a snapshot of our water use – in the vineyards, the winery and our personal lives. Bear in mind, Iron Horse is our business and it is also our home. We have three generations living on the property (in three homes), plus two of our foremen in separate houses with their families.

We have five wells, which supply the houses and a 45-acre foot reservoir that my parents built when they purchased the vineyard in 1976. The reservoir is fed primarily by rainwater, Green Valley Creek (a tributary of the Russian River), and highly treated waste-water from nearby Forestville.

Our rights to Green Valley Creek are called "licensed" water rights. The main license goes back to 1975. A smaller one goes back to 1948. These are limited rights. We can take no more than 86 acre-feet during the season (November to June) at a rate of less than 5 cubic feet per second (cfs, or 2,245 gal/min), assuming there is enough water in the creek for both us and the fish.
It is a great source of pride that the Department of Fish and Wildlife has spotted Coho salmon in Green Valley Creek for the first time in 20 years.

The reservoir gets recharged with recycled water upon request. Our agreement is to take 20 acre feet, and have an option for 20 more. Last year we received 30 plus acre feet; the year before about 12.
Frost protection and irrigation efforts are powered by the reservoir. These actions benefit 1) the vineyard 2) the orchard and flower garden at my parents' house and 3) the summer vegetable garden behind my house.

The most significant water usage is associated with frost protection in the vineyard. Last year's weather spared us from excessive water use, we activated the frost protection system only four times. One of the worst years was 2008 when ice was hanging from the vines.
We use conventional overhead sprinklers for vineyard frost protection. We can't use wind machines like you see on flatland vineyards in Napa nor smudge pots like citrus growers because our property is a series of rolling hills. Our proximity to the ocean makes us vulnerable to frost as late as June 1. The stakes are high for us; not frost protecting could expose us to losing a third of our crop.
Overhead sprinklers deliver water at a rate of roughly one-quarter to one-third of an inch per hour. So far this season, we have turned on the sprinklers four times - about 13 hours total.
In the winery, our major water usage is for 1) cleaning tanks, barrels, picking bins and the presses during harvest and 2) power washing the floors. We pride ourselves on maintaining an immaculate facility. All of our grey water goes through the storm drains to the reservoir. We do not use detergents.

In our homes, even farmers take Navy showers.
Every vineyard's water use varies, just like fine wine, with the climate, the soil and the lay of the land. I would rate our water use at 94 points on a 100 point scale. We can always do better.
The point is, we live in a watery world. It takes/costs water to do everything. An economist will tell you that if water was given its real monetary value, we wouldn't have a problem. The market would even itself out naturally.
Except that

water is a right

, like air. The state has assigned relief funds for rural communities where the wells have gone dry. Food banks are gearing up for added demand in the summer as land is fallowed, resulting in job loss. In November 2014, California Secretary of Agriculture Karen Ross launched a campaign to raise 200 million pounds of food for food banks by the end of the year.
As with just about everything, I think we want/need to strike a balance.
For additional information on water and agriculture, I highly recommend the Public Policy Institute of California's "Water for Farms

" briefing that just came out and that CDFA posted on their Planting Seeds blog. Their report provides accurate statistics and comes from a well-respected, non-partisan organization.
Find the personal water footprint calculator from National Geographic here

.
And consider this final water conservation tip –

old wine barrels are great for harvesting rain water

.