Iron Horse
Blog
Winemaking at Iron Horse is a passion and brimming with romance. It's a family effort spanning three generations. Winemaker David Munksgard (pictured below in his "mad scientist" lab) has been a part of the vineyard family for the past 20 years. He plays a leading role in determining the outcome of exceptional Iron Horse wines and bubbly.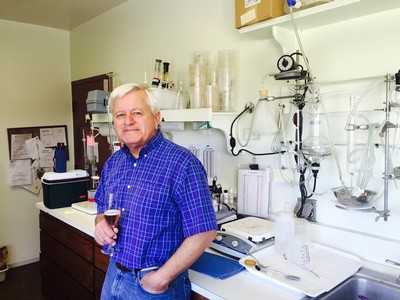 I had the pleasure of touring the property with David one sunny afternoon in Green Valley. The first thing that sticks out is David's emphasis on the importance of the "place." After an ebullient hello and a pop of Wedding Cuvee to celebrate my recent marriage, he informed me that the Iron Horse estate has the most sought after land for growing Chardonnay and Pinot Noir in all of California.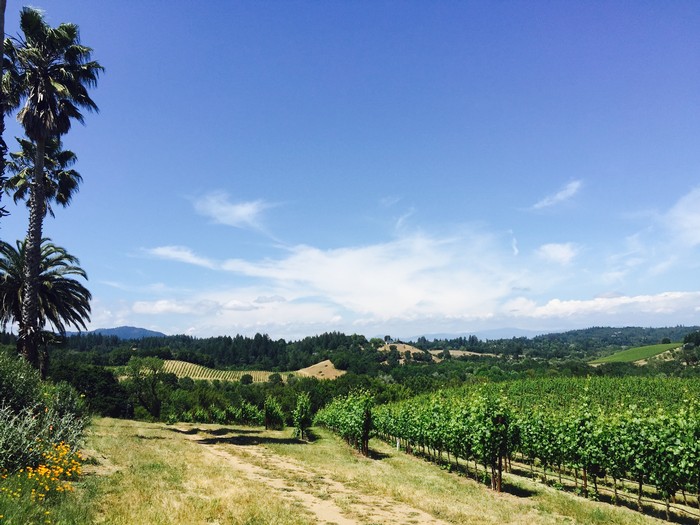 The unique conditions - cool nights and nearby ocean influences, make each of the exclusively estate bottled wines rich with the special flavors, specific to the vineyard and never the result of "recipe winemaking." Don't get him started on his "special sauce" or his tireless drive for balance, quality, and class in a bottle.
David starts out every day in a personal paradise. He arrives in the vineyards at 6AM and conducts a sunrise walk through. The winemaking process is about getting on an intimate level with the grapes from beginning of their life cycle 'til the wine is corked and "laid down" to age. David even admits to whispering motivational words to grapes. And when he returns to his "desk" -- this delicious view below awaits him....
His efforts are grounded in the superior vineyard farming style implemented by Partner and Director of Operations Laurence Sterling. The vineyard has been slowly replanted over the past eight years by 10-15 acre increments. In certain blocks, the row direction was changed to get the most even sunlight with computer generated simulations guiding the proper orientation.
Laurence's responsible farming has had ripple effects beyond superb wine, even the creek which cuts across the property has begun spawning salmon again. I'm not surprised to see this commitment to doing what's right pop up again and again. As a keen Iron Horse observer, this pervades all decision making, regardless of just how challenging it might be.
David's roots are on the East Coast, where European wine is the template. Burgundian wines and French style sparklings are his jumping off point - a style that matches the Sterlings' love of French tastes/culture based on their history as past French residents! The combined French influence is evident in Iron Horse wines, especially as they age. Flavors also originate from the site and from his deep understanding of his audience - the Iron Horse fans. He works with team members in blind tastings and solicits consumer feedback from visitors at the tasting room to facilitate consistent improvement and innovation.
To better understand the sparkling winemaking process, David walked me through pivotal points which illuminated the intense work, oversight, time and patience required:
Step 1: August is dedicated to hand picking pinot noir for sparkling, followed by chardonnay. Each vineyard block is kept separate until blending time.
Step 2: Fermentation.
Step 3: In February, David starts assessing blend options. He plays with the blends based on smell, visuals, and of course tastes. He consults the team through "blending sessions" and notes that he has to separate from his own preferences at this point. His priority is to determine proper taste for the different occasion and label. (Note - David's toughest critic is his wife whose all time favorite Iron Horse Sparkling is Russian Cuvee)
Step 4: After the sparkling blends are chosen, they're put into stainless steel then refrigerated to
force crystals to form so they won't form in the bottle. You'll find these "cold stabilization" tanks with ice on the sides!
Step 5: Seven days before bottling day, he grows a yeast culture. One day before bottling, he adds sugar. The product is bottled for the secondary fermentation creating bubbles and then aged for three to eight and even 15 years for the future magnums of Joy!
Step 6: The riddling process and disgorging process remove the spent yeast. At this point, a dose of David's "special sauce" is added - this secret ingredient determines the degree of sweetness to dryness and sets the style of each of the Iron Horse bubblies.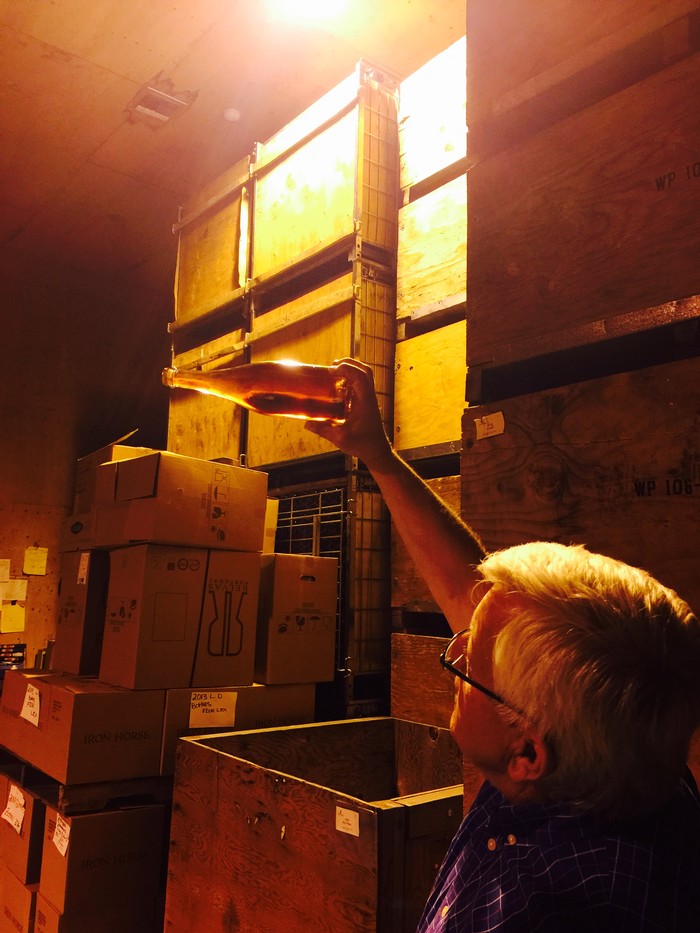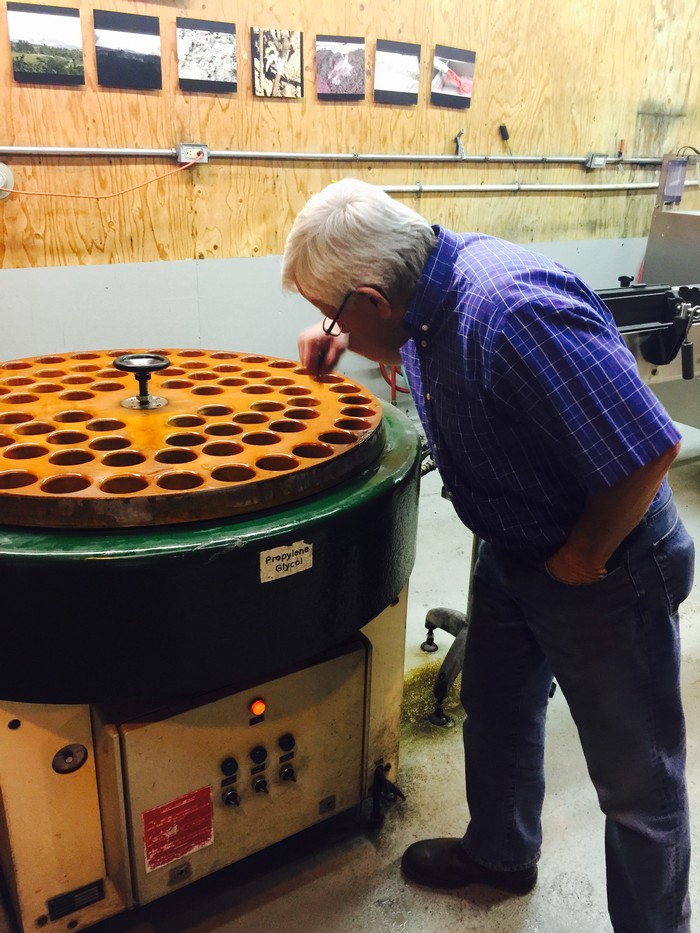 Fun Fact! Even the Iron Horse corks have been specially curated. The vineyard partners with one family in Portugal - David says they're the best in the business! Signature cork shown off below by the wonderful Wine Club Manager Kevin Vanderhoff.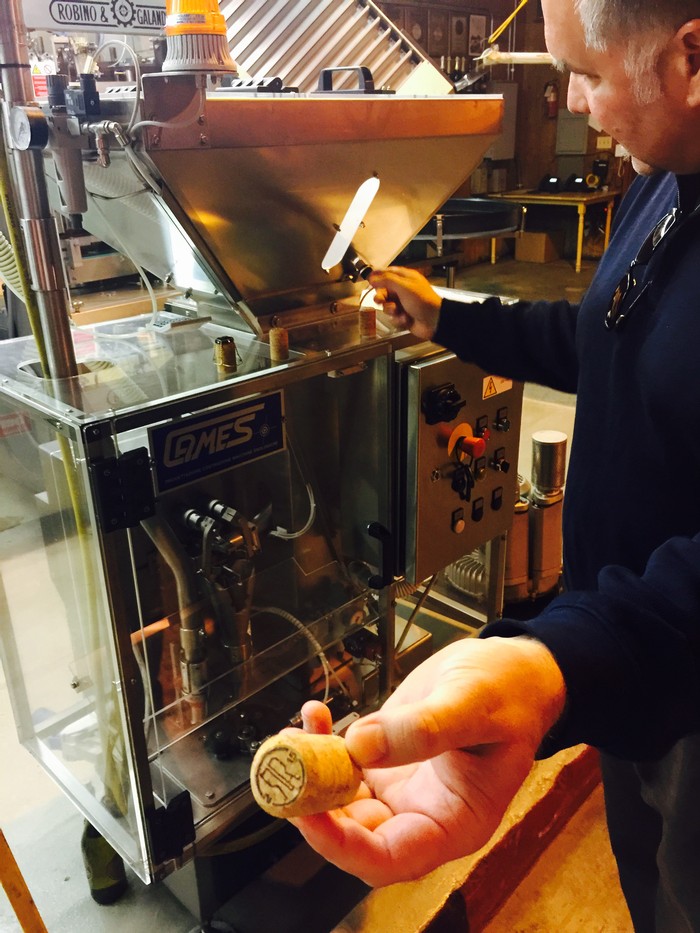 If you ask David to name his favorite bottling - you won't find an easy answer. His passion for all of his creations drives the Winemaker's Choice Club option where David selects his two favorite bottles each month to answer the question of "what's the winemaker drinking." Sometimes he'll spotlight "hidden gems" which he and the cellar master might stumble upon by accident in some forgotten corner … a discovery prospect which I found very romantic!
He does make a few recommendations:
Summit Cuvee, commemorating the history making free climb by two brave climbers and Iron Horse friends in Yosemite in January. Some have called it his "masterpiece," the special sauce (aka liqueur de dosage) is a deliciously distinctive flavor with notes of caramelized cream soda like.
Russian Cuvee, the "ideal toasting" sparkling, always at the ready, chilling in his fridge at home.
Ocean Reserve, made in partnership with National Geographic. $4 a bottle goes to National Geographic's Ocean Initiative to help establish marine protected areas and support sustainable fishing.
And Summer's Cuvee, a limited production, seasonal pop that he dreamed about for years before actually developing. The new vintage has just been released!
Pictured below... bottles always line his desk and the Tasting Room shelves just outside.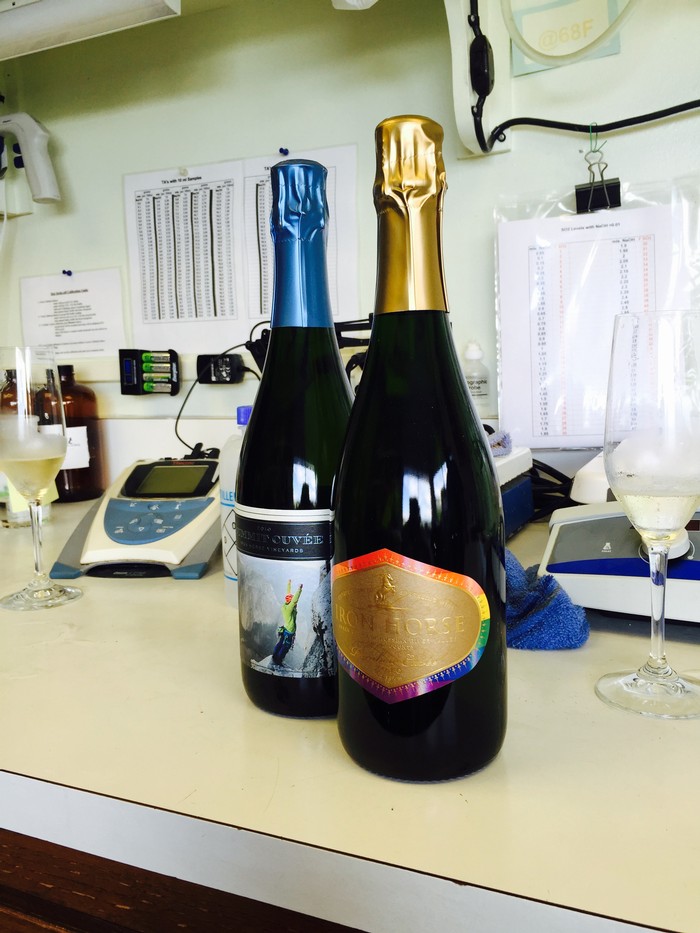 He also enjoys working with longtime Iron Horse special partners, like Charlie Palmer, Michael Mina, Commander's Palace, and Disney where Iron Horse is the official wine in the theme parks and on board their cruise ships. These friends have a long standing trust in the irresistible allure of the vineyard flavors and David's winemaking prowess.
David, a poetic and gentle soul at his core, explained sweetly "You want to fall in love with the wine." This reflects our winemaker's self-assigned mission to create the perfect sip which anchors you into a memory and an experience. He speaks about overhearing brides in the Tasting Room reminiscing about Wedding Cuvee on their special day and is filled with emotion. That's what he works for. That pairing of a beautiful moment in time punctuated by the specially crafted and perfectly corresponding bubbles.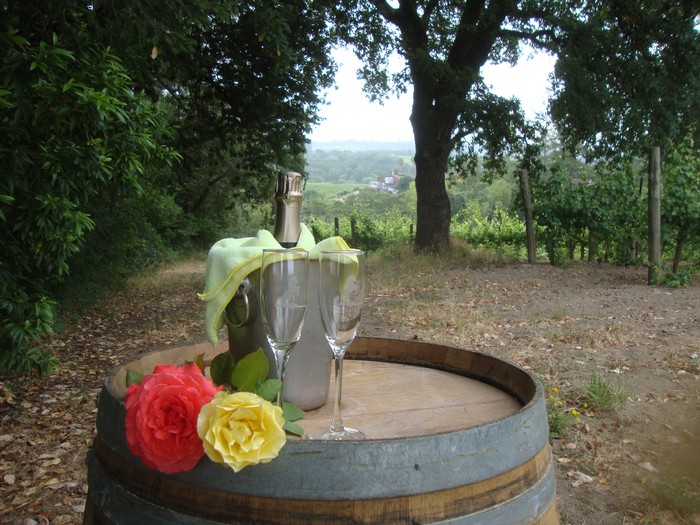 For more fun with David, Iron Horse offers very special "Truck Tours" of the vineyard on Mondays, by appointment only. And I must warn you that these tours are becoming legendary at Iron Horse. A recent "Truck Tour" resulted in a proposal and a pop of a champagne cork with David as a co-conspirator.
He began a private tour with a glass of bubbly & an unsuspecting future bride accompanied by her prince charming. David led the couple to a barrel conveniently placed in his favorite area of the vineyard where he strategically stopped the truck to point out the beautiful view of the winery - handed off a bottle of Wedding Cuvee - and stepped aside for the magic proposal to occur in the glow of fizzing Iron Horse bubbles. I think it goes without saying . . . she said YES.
Book your own romantic memories by clicking here . . .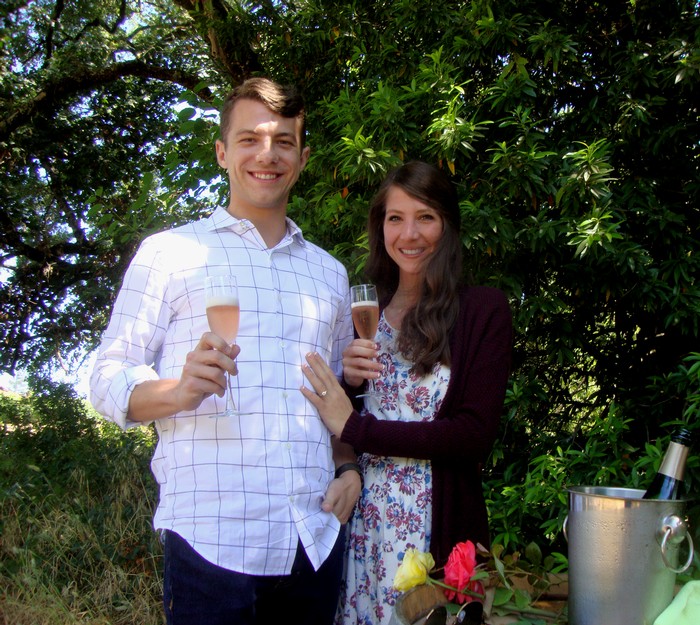 -Interview with D. Munksgard as told to Tarin Teno
As one of the Iron Horse Social Media Angels, it's my very good fortune to be able to investigate some of the most intriguing vineyard practices, trends, and history and blog about them. With summer unofficially underway, it's time we chat about a little thing called Wedding Season.

For those of you preparing to get married or attend a wedding in the next few months - congrats! You've just self opted into a series of showers, bachelorette or bachelor parties, rehearsals, receptions, and maybe a few hangovers.
Whether you're a member of the bridal party, a guest at the VIP table, or second cousin twice removed - you're probably wondering how to "win" wedding season. Iron Horse has you covered.
Nothing says marriage like the sound of a sparkling bottle "pop" and the smooth, crisp experience of toasting with Green Valley bubbles. Leverage our Wedding Season Gift Guide to help you mark once in a lifetime moments from engaged bliss to wedded celebrations and first, 25th and 50th anniversaries.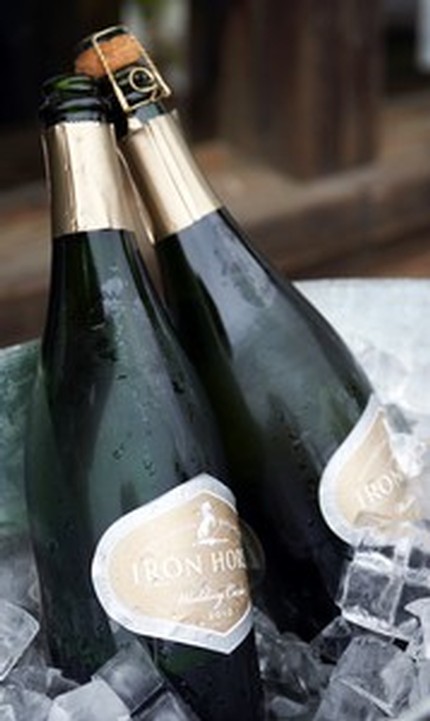 For the groom-to-be who has it all - Shower him with a 2004 Brut LD Magnum as he embarks upon his own "stag do." Everything about this selection is special, from the eight plus years of aging to the very limited availability.
For the calorie counting bride-to-be - Brut X offers a bone-dry finish that is as wonderfully expressive as the bride will be after enjoying a bottle during bachelorette weekend games. The dosage is gown fitting-friendly and sugar-free.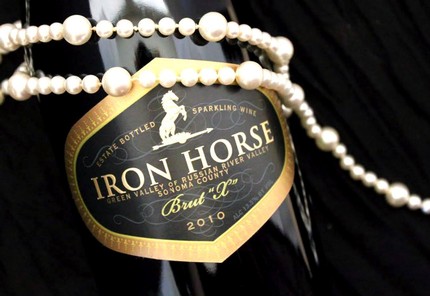 For the dangerously-in-love couple - Wedding Cuveé. Need we say more?? If this bottle's name and chic label doesn't grab your attention, the description will. The rich, creamy bubbly has a perfect rose hue making it dangerously easy to sip and our most romantic choice. For maximum sparkling impact - gift your favorite betrothed couple with the Jerobaum (Important Note: this writer must confess bias - I kicked off my wedding weekend by popping this bottle in the back of the church.)

For the power couple - Russian Cuveé is one of the preferred toasting wines at the White House for five consecutive Presidential Administrations.. It has been on the menu at many of the most important historic milestones of our time, including the Reagan-Gorbachev Summit Meetings which ended the Cold War. So why not usher in the era of peace and love, wedding bliss with these bottles?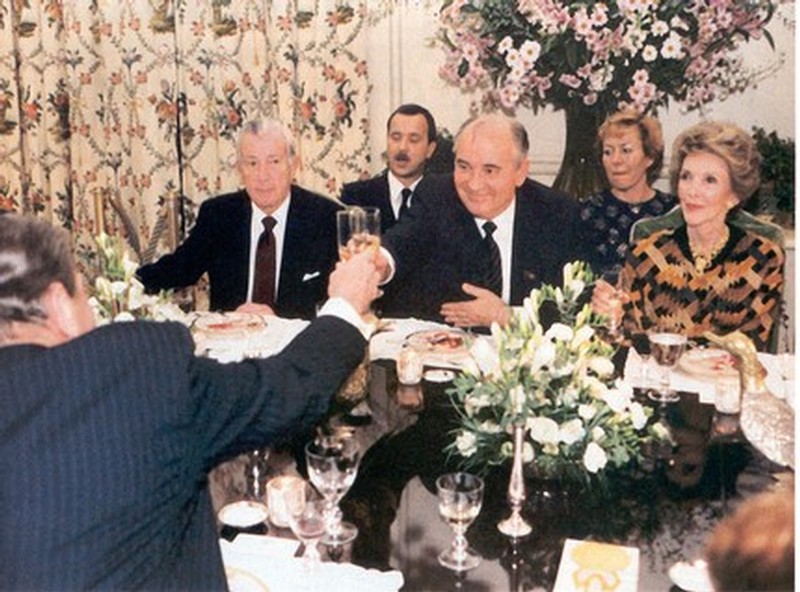 For traditionalists- Classic Vintage Brut is our most deliciously vintage option and the favorite of Iron Horse cofounder, and arbiter of exquisite taste, Audrey Sterling. The perfect pinpoint bubbles will please even the most "attentive" of brides. Catering teams will have no problem at all pairing the delicious flavors with a crowd pleasing seated dinner.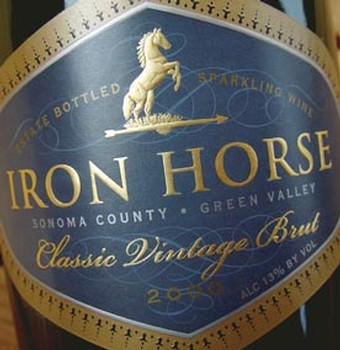 For LGBT couples - Rainbow Cuveé is a limited edition, vintage Sparkling Wine meant for everyone who believes in love, justice and equality. It's the perfect option for any and all unions - a toast to the right to love with a very beautiful bottle, which we are very proud was served at the White House LGBT reception last June.
For the first year survivors (or should we say achievers) - Summit Cuveé. You've made it through the most perilous trails and lived to tell the tale! Rejoice like Kevin Jorgeson and Tommy Caldwell after their amazing, unprecedented and inspiring Yosemite climb without ropes in January. This rich and delicious limited edition will pair perfectly with the top tier of any wedding cake! (Writer note - this is equally as delightful for celebrations of any/all peak moments!)


Stay tuned to the blog as we dive further into wedding season. I'll be sharing real life love stories hot off the "wedding-wire" - each featuring sweet "I Do's," sweeter couples, and Iron Horse bubbly as their special guest. In the meantime, the entire Iron Horse family encourages you to share your own #ironhorsewedding moments by using that hashtag and tagging us on all social media channels. Cheers!

Wine is fashion in many ways. There are clear trends.
Right now, bubbles are "in". And we are enjoying every minute of it!

According to Tim Fish in the upcoming June 15 issue of Wine Spectator:
"This is an exciting moment for California bubbly. Sales have jumped in recent years, and the state's producers continue to push the envelope on quality, developing new niche bottlings while preserving their reputation for value."

The consumption figures above from the California Wine Institute are are real through 2013. We then continued upward with our "expert extrapolation" that we will cross the 20,000,000 case mark this year.
This surge has several contributors. One is Prosecco. For many, that fruity, user-friendly Italian wine is a gateway to more complex bubbles.
Another is the mass appreciation for handcrafted, small batch drinks across the board in categories like wine, beer, cider, and spirits. Two representative examples are limited edition Iron Horse cuvees:

2010 Summit Cuvee

&

2010 Rainbow Cuvee

.
Summit Cuvee commemorates the unprecedented free-climb of the Dawn Wall of El Capitan in Yosemite National Park, California - the realization of a dream and an inspiration. Only 300 cases have been produced.
Rainbow Cuvee celebrates marriage equality. This is our second vintage of this special, small production bubbly. We are very proud that the inaugural release was served at the White House LGBT reception last June. Total production is just 250 cases.

Rosés are a special niche. Ours is very striking, both in color and taste. It's a dark rose, bottled in clear glass. Originally awarded 93 points by Robert Parker, the 2007 vintage now has six plus years less aging. The most recent disgorging is 5/4/15.
Serious fans increasingly call for ultra brut or no dosage, like our Brut X, which is a 500 case production.
Most exciting to me is the breadth of interesting bubblies today. Not just Grande Marques, and even beyond Grower Champagne, the next "big thing", according to Wine & Spirits Magazine is "Somm Sparklings."
Wine & Spirit's Associate Publisher Samantha Groseth has this to say on the topic:
"Some of the most interesting intelligence we gather from our Annual Restaurant Poll comes in the wines that most excite sommeliers. In 2015, we heard a lot of chatter about sparkling wine, and not just grower Champagne — sparkling wine is on the minds' of America's sommeliers, whether it's from the Loire, California, Finger Lakes, Italy or Jura."
Iron Horse was included in this category at the debut Somm Sparkling Table at Wine & Spirits' annual Top of the List Tasting. A true honor. There were about a dozen to taste, right next to the Grand Central Oyster Bar station - Herman Wiener Blanc de Blancs no dosage, from the Finger Lakes, which is poured by the glass at NoMad, Gruet from New Mexico, Raventos, Domaines de la Berjorie and Baumard, both cremants de Loire, Murgo Etna Rosso, from Sicily, that was very unusual, Banfi, La Marca Prosecco and La Spinetta Moscato d'Asti.
It was Iron Horse and Roederer Estate from California. Ours was certainly the most fun table at the tasting.





Going back to Tim Fish's article in Spectator, Tim makes the point that the bubbly business is increasingly year-round:
"Many people think of bubbly in connection to Christmas and New Year's Eve, but it's also enjoyable as a summer drink. Sparkling wine has always been about summer for me."
My family and I are very proud that Iron Horse ranks among Tim's personal favorites on his blog.
IRON HORSE 2010 Classic Vintage Brut, Green Valley of Russian River Valley, $42. 91 points. Supple and richly styled, with tart apple and spiced hazelnut aromas leading to Meyer lemon, brioche and zesty cinnamon flavors.

IRON HORSE 2010 Russian Cuvee, Green Valley of Russian River Valley, $42. 90 points. A plush style, with a lingering hint of sweetness balanced by solid acidity. Offers accents of ripe Meyer lemon, toasted cinnamon and almond brioche

IRON HORSE 2010 Wedding Cuvee, Green Valley of Russian River Valley, $42. 91 points. A serious bubbly but fun to drink with lively and floral raspberry flavors.

More and more people now think about bubbly as a wine … to be enjoyed year round with food. As we like to say here at Iron Horse: #notjustforbreakfastanymore.

Holy Water is an essay written by Joan Didion in 1979. In a sentence, it's about being obsessed with water. A feeling we know too well these days.

Joan Didion for me is a quintessential California writer like Wallace Stegner, John Steinbeck, Jack London, Mark Twain – the sole woman in the pantheon.
Mainly, look at how cool she is:
THEN

And NOW, as a model for the Céline ads in all the fashion magazines - Vogue, Elle, W, Harpers Bazaar

Her essay Holy Water is a great read … or re-read in this time of extreme drought. I highly, highly recommend it. If you have a moment, tweet me what you think using @IronHorseVyds, @joybubbles and #HolyWater.
As a member of the Food and Agriculture Board, I get a daily compilation of 20 or more links to every news story, fact sheet, white paper and blog being written about water, drought, fish, almonds, desalination, cemetery water use, etc. So far, my favorite is an interactive map that shows water use by water district. It's interesting to see the variation across the state. Click here for the map from The New York Times.
Among friends, casual dinner table conversation frequently turns to personal water saving tips. One friend, who lives in Belvedere, says she lines up buckets in the shower to catch what you would normally let go down the drain until the water gets warm. Another, says his wife got him to put tall plastic trash cans all over their lawn to capture and store rainfall. He now refers to this installation as yard art. "My wife might let the lawn go, but never the roses", he says.

These tips bring to mind another must-read: Rainwater Harvesting for Drylands and Beyond by Brad Lancaster, in case you are considering building a cistern.
"Not many people I know carry their end of the conversation when I want to talk about water deliveries," wrote Didion in 1979. In 2015, just about everyone I know can hold their own on that topic! We are acutely aware how water deliveries directly affect our personal lives. Back then, swimming pools were easy targets as symbols of excessive water use. The war cry in the North was "we don't want our water going to fill the swimming pools of Beverly Hills."
Today's villains are the almond growers. Everyone is shocked to learn that it takes a gallon of water to grow one almond … and that 90% of California almonds get exported. But it is too facile to point fingers. Here is an excellent article from The Guardian that provides a balanced view. It presents the argument of an almond grower through exploring a case study. The piece tracks a family-owned almond farm which began investing in water efficiency decades before it was "cool." Sounds like a beautiful vineyard in Green Valley I know....

I am optimistic.
For one thing, the board I sit on is very active in advising the Governor. A positive sign that our leadership is open to diverse and expert inputs. Number two, the state is facing the issue head on… as is every local agency. Every asset, every resource is being thrown into the fight. Everyone in a position to make a difference is working very hard and they are all very, very smart.
As the Governor said at our Celebrate Earth Day in Green Valley event, "Don't worry about the drought. Just don't use too much water."
I will continue to keep you updated as California drought coverage and state action plans develop. Let's keep this urgently needed conversation alive #HolyWater

It's not every day I start off the week with an Iron Horse "shout out" from the Office of the First Lady. I'm proud to announce that our wine - 2007 Russian River Cuvee - will be poured at Tuesday evening's State Dinner for the Prime Minister of Japan.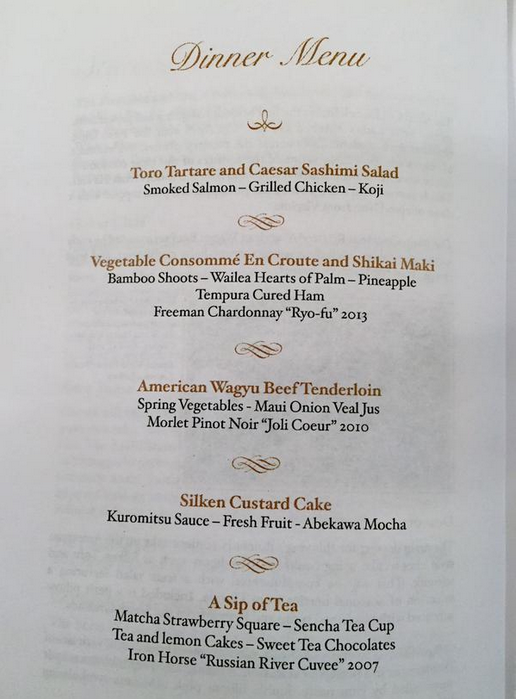 As I'm sure you know, an invitation to a White House state dinner is one of Washington's most sought-after "tickets". VIP guests resplendent in black tie and designer gowns dine on an impeccably concepted four-course meal served by America's most famous kitchen.
The news that Iron Horse has a ticket as a featured VIP beverage came during an 11AM EST press preview for the State Dinner, led by Michelle Obama (ending speculation over which "patriotic tasting wine" would be chosen). Find the menu announcement here. The guest chef is Masaharu Morimoto. The tables will be decorated with cherry blossoms that symbolize the friendship between the US and Japan … and each place setting will have a set of red lacquered chopsticks.
The First Lady unveiled the menu along with the Obama state china service which she had a hand in designing. The china introduces a special blue inspired by the waters of Hawaii being called "Kailua blue" and the service was made by Pickard China, of Antioch, Illinois. The President was born in Hawaii and Illinois is the First Lady's home state. Find the Architectural Digest spotlight on the china here.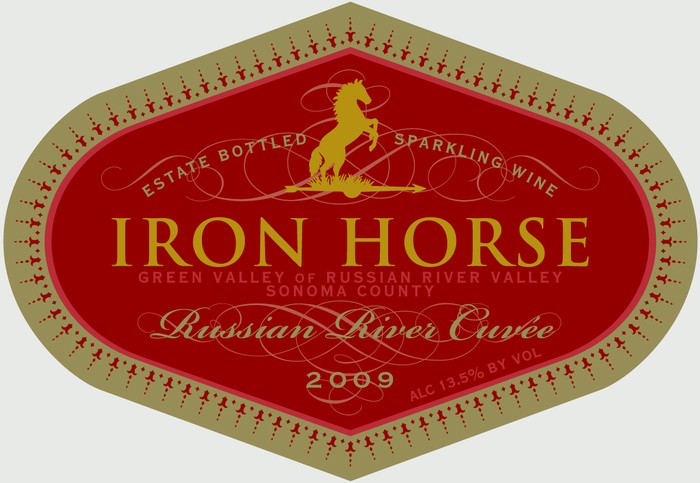 Iron Horse is "at home" in the elegant State Dining Room during this Obama administration which has been selective with their schedule of State Dinners. They've hosted the fewest since the Truman administration, which seems to assign each event heightened historical significance. Our wine was served at the State Dinner for India in November 2009 (It paired wonderfully with the post-meal Beyoncé performance!) as well as the State Dinner for David Cameron in March 2012. Traditionally, Iron Horse is served as the toasting wine, at the end of the meal.

The Iron Horse relationship with the Obamas continues our vineyard's tradition of strong White House relations. Iron Horse has been a favorite going back 30 years and five consecutive Presidential Administrations. Something we're very proud of. Stay tuned as we continue to chronicle all exciting elements of this soiree - from the bubbles to the fashion & entertainment - with the hashtag #IronHorseintheWhiteHouse

Earth Day carries a lot of meaning for Iron Horse Vineyards and this year was is different. The global holiday marks an urgent call to arms in the conservation of the world around us. In this spirit, my Green Valley based family hosted honored guests in celebrating our love of the land. I was thrilled to introduce inspiring keynote speakers and friends; Gov. Jerry Brown and Kevin Jorgeson.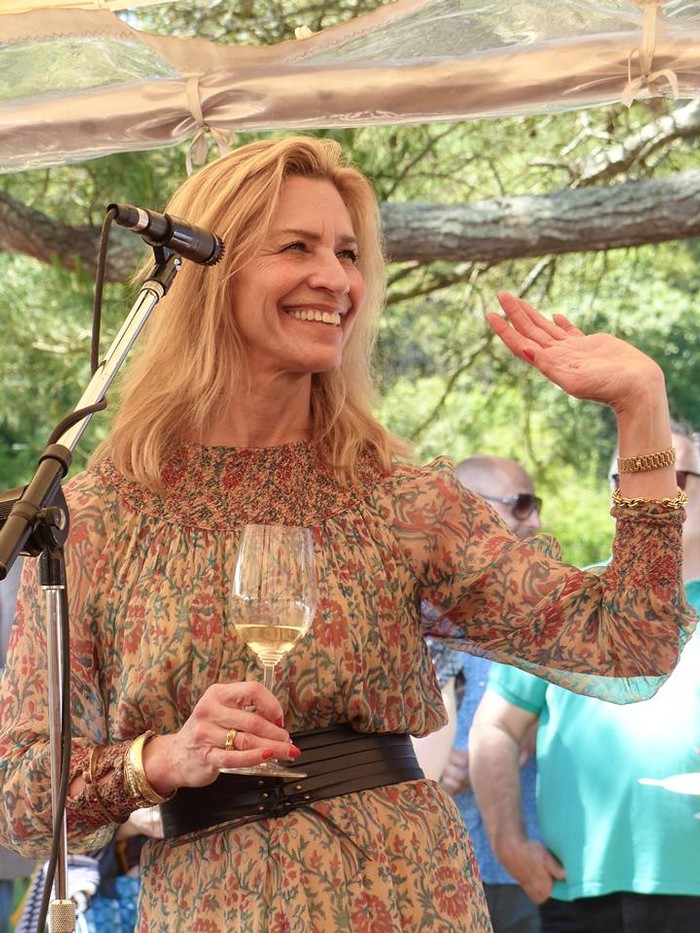 Kevin famously topped the Dawn Wall of El Capitan and subsequently toasted with Iron Horse bubbly. As a special celebration of the unprecedented 3,000 foot free-climb of climbing partners Kevin and Tommy Caldwell, we introduced our 2010 Summit Cuvée, a limited production, one time only, vintage brut which Jorgeson helped us finesse.
Surprising attendees with an impromptu conversation on the California drought, Gov. Jerry Brown ascended the podium and seized a moment to applaud California's environmental leadership. He reassures residents the state will survive its historic four-year drought through creativity and unity. My favorite quote from the Governor's talk: Don't worry about the drought; just don't use too much water!
The day was a smashing success and it has triggered some soul searching. As we celebrate Earth Day in our roles as stewards of the environment, Kevin Jorgesen asks us: What's OUR Dawn Wall? He never gave up on his dream of free-climbing El Capitan. My dream is for a united push towards great responsibility to the environment. The rewards of pushing through imagined limitations are endless.
….Because nothing compliments bubbles like a mountainous cake, we wrapped up the day by inviting Kevin Jorgeson to slice up a sweet replica of El Capitan after tracing his route on the "iced" terrain. Ain't life sweet?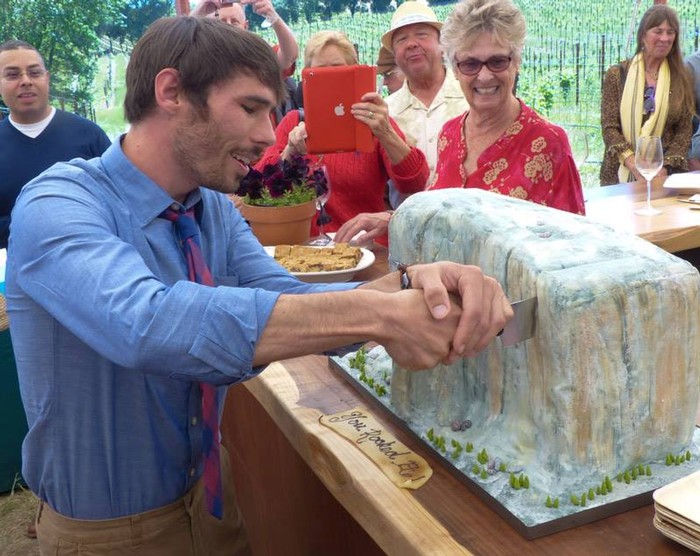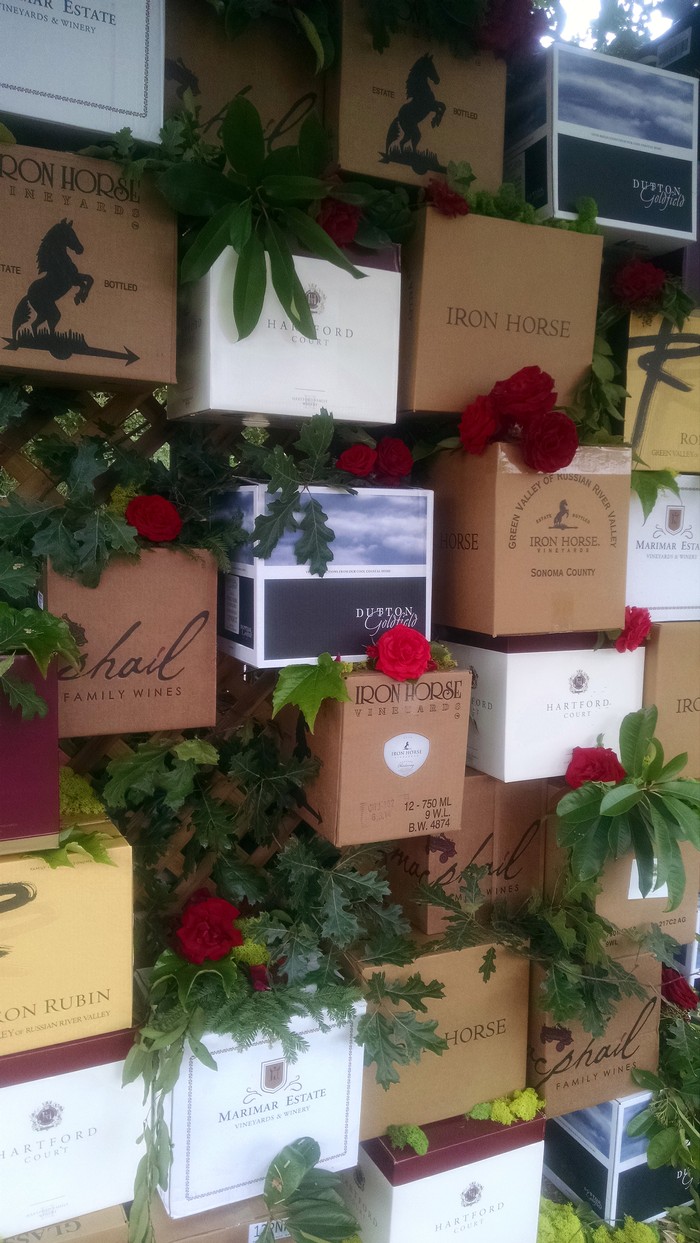 Find a fantastic recap of the day from Press Democrat here: http://www.pressdemocrat.com/news/3812019-186/governor-urges-unity-in-drought

Get your limited edition 2010 Summit Cuvee here: http://bit.ly/1H9hVMf
Find an Earth Day event recap from one of our VIP guests, Adrienne from Rich Life on a Budget, here: http://bit.ly/1DBUdBb
Peruse another Earth Day recap from a friend of Iron Horse, Jo Diaz, who has honored me with the title of "Mother Nature in Disguise:" http://bit.ly/1DOILp5

Everything costs water:
It takes about 30 – 35 gallons of water to make a glass of wine

56 gallons for a latte to go

400 gallons to grow the cotton for a T-shirt

6230 gallons a week to maintain a 100' x 100' lawn
Think about the possible tradeoffs. According to one calculation, if you pulled out a thousand square feet of lawn, you could enjoy an additional three bottles of wine a week and come out even in your water footprint.
I have heard several friends complain that they can't possibly cut back any more than they already have. City dwellers resent the farmers. Some farmers feel they are being pitted against the environmentalists. The fact is, we are all in this together. We each have to do our utmost.
Here is a snapshot of our water use – in the vineyards, the winery and our personal lives. Bear in mind, Iron Horse is our business and it is also our home. We have three generations living on the property (in three homes), plus two of our foremen in separate houses with their families.

We have five wells, which supply the houses and a 45-acre foot reservoir that my parents built when they purchased the vineyard in 1976. The reservoir is fed primarily by rainwater, Green Valley Creek (a tributary of the Russian River), and highly treated waste-water from nearby Forestville.

Our rights to Green Valley Creek are called "licensed" water rights. The main license goes back to 1975. A smaller one goes back to 1948. These are limited rights. We can take no more than 86 acre-feet during the season (November to June) at a rate of less than 5 cubic feet per second (cfs, or 2,245 gal/min), assuming there is enough water in the creek for both us and the fish.
It is a great source of pride that the Department of Fish and Wildlife has spotted Coho salmon in Green Valley Creek for the first time in 20 years.

The reservoir gets recharged with recycled water upon request. Our agreement is to take 20 acre feet, and have an option for 20 more. Last year we received 30 plus acre feet; the year before about 12.
Frost protection and irrigation efforts are powered by the reservoir. These actions benefit 1) the vineyard 2) the orchard and flower garden at my parents' house and 3) the summer vegetable garden behind my house.

The most significant water usage is associated with frost protection in the vineyard. Last year's weather spared us from excessive water use, we activated the frost protection system only four times. One of the worst years was 2008 when ice was hanging from the vines.
We use conventional overhead sprinklers for vineyard frost protection. We can't use wind machines like you see on flatland vineyards in Napa nor smudge pots like citrus growers because our property is a series of rolling hills. Our proximity to the ocean makes us vulnerable to frost as late as June 1. The stakes are high for us; not frost protecting could expose us to losing a third of our crop.
Overhead sprinklers deliver water at a rate of roughly one-quarter to one-third of an inch per hour. So far this season, we have turned on the sprinklers four times - about 13 hours total.
In the winery, our major water usage is for 1) cleaning tanks, barrels, picking bins and the presses during harvest and 2) power washing the floors. We pride ourselves on maintaining an immaculate facility. All of our grey water goes through the storm drains to the reservoir. We do not use detergents.

In our homes, even farmers take Navy showers.
Every vineyard's water use varies, just like fine wine, with the climate, the soil and the lay of the land. I would rate our water use at 94 points on a 100 point scale. We can always do better.
The point is, we live in a watery world. It takes/costs water to do everything. An economist will tell you that if water was given its real monetary value, we wouldn't have a problem. The market would even itself out naturally.
Except that

water is a right

, like air. The state has assigned relief funds for rural communities where the wells have gone dry. Food banks are gearing up for added demand in the summer as land is fallowed, resulting in job loss. In November 2014, California Secretary of Agriculture Karen Ross launched a campaign to raise 200 million pounds of food for food banks by the end of the year.
As with just about everything, I think we want/need to strike a balance.
For additional information on water and agriculture, I highly recommend the Public Policy Institute of California's "Water for Farms

" briefing that just came out and that CDFA posted on their Planting Seeds blog. Their report provides accurate statistics and comes from a well-respected, non-partisan organization.
Find the personal water footprint calculator from National Geographic here

.
And consider this final water conservation tip –

old wine barrels are great for harvesting rain water

.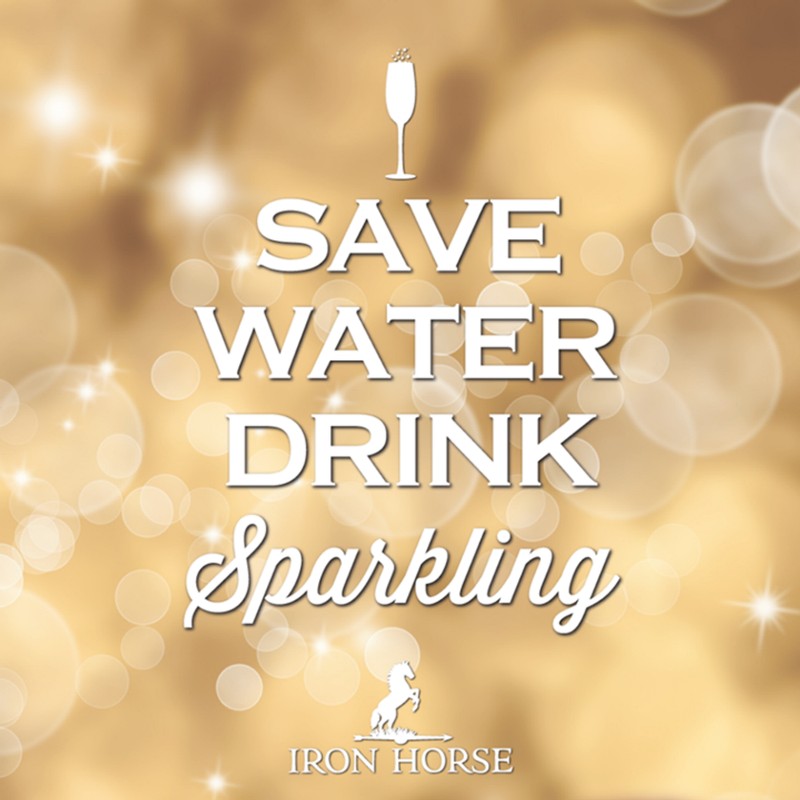 Welcome to the first installment of our Star Chef Blog Series. Over the next few months, we'll be sharing Q&As with our most special friends who serve custom Iron Horse cuvees in their restaurants. In honor of Easter & Passover, and with the spirit of renewal that comes with Spring, we've interviewed Iron Horse's great friend Charlie Palmer for a fresh take on a classic.
Starting with New York City's Aureole, Charlie now owns 14 restaurants around the country, two hotels in the heart of California's wine country and The Mystic Hotel in San Francisco. Our friendship with Charlie Palmer is as rich as his culinary creations and shines through in the delicious Aureole Cuvee. The current release is our 20th vintage of making this unique, limited production bubbly.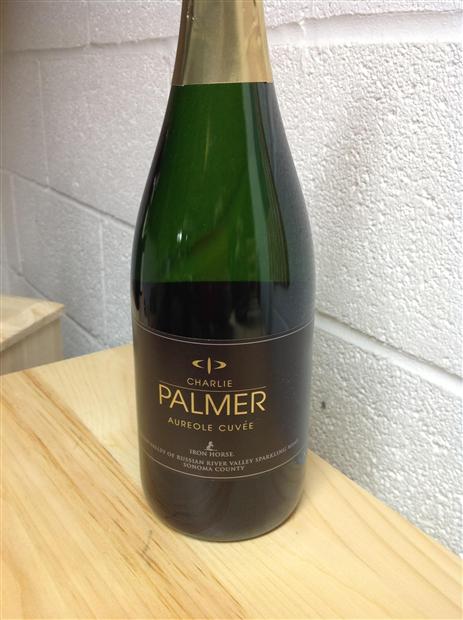 When we called Charlie up one early Spring day, we challenged him to walk us through a seasonally appropriate food pairing for our sparkling wine and Pinot Noirs. The season is right for the Sonoma County baby lamb or ham and our Pinot Noirs just received stellar ratings by the editors at Wine Enthusiast which will appear in the June 2015 issue. Here's what we learned...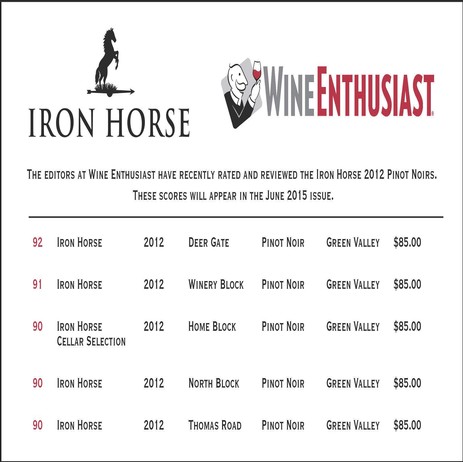 IRON HORSE INTERVIEW WITH CHARLIE PALMER:
Iron Horse: What drew you to develop a partnership with Iron Horse?
Charlie Palmer

: We started with Iron Horse years ago. My team of wine directors and sommeliers aimed to develop a sparkling wine that was both "food friendly" and could be an aperitif. The

Aureole Cuvee

is just that. We offer restaurant guests a small coup glass as they peruse the cocktail menu. Just 3 ozs of bubbles triggers that feeling of celebration and serves as a palette starter, but you can certainly drink it through the entire meal.
Iron Horse

: What flavors make the Aureole Cuvee a menu go-to for you?
Charlie Palmer: It's about freshness and balance. It was important that the sparkling wine bring good acidity to compliment richer foods with higher fat content.
Iron Horse: Spring has sprung at our vineyards. What celebratory sparkling creations are you preparing for Easter and Passover celebrations at your restaurant?
Charlie Palmer: When you think of Easter and Passover, you think of brunch. Our brunch menus at a few of the restaurants will offer a seasonal sparkling wine cocktail which will include 6 oz of the Aureole Cuvee, a few drops of pomegranate syrup to get a blush pink coloring, pomegranate seeds, and half an ounce of absynth.
Iron Horse: What's on the menu for the main course?
Charlie Palmer: When I was a kid we always had a big, roast ham for Easter. It brings salty, rich flavors that are perfect for pairing with Iron Horse Pinot Noir. The fatty, smokiness of the cured ham is perfect for balancing the Pinot Noir flavors which bring fruitiness and acidity up front. Lamb dishes would also work wonderfully.
Iron Horse: You mention Pinot Noirs, ours were recently honored with excellent ratings awarded by Wine Enthusiast. What makes this Iron Horse red stand out?
Charlie Palmer: When people think about Iron Horse - they think about sparkling. But the Pinots have some of the most interesting terrior make-ups. Green Valley Pinot is different from other areas because of its indigenous vegetal overtone which makes them more interesting than some of the bigger fruit bombs from Sonoma Coast and Russian River. They have great depth and finesse that are more Burgundian in style than others you see from California.
Iron Horse: Finally, how do you conclude an Easter or Passover meal?
Charlie Palmer: I'm not big on sweet wines or Ports. More than anything else I like the idea of closing the meal with dessert and sparkling wine, especially fruit desserts. I would recommend poached green peaches with deconstructed crumble and Aureole Cuvee. This has good acidity and effervescence from the sparkling wine in the poaching liquid.

For more information about Charlie Palmer's current projects visit charliepalmer.com. Find shop our full selection of Iron Horse Sparkling Wine on our website.

I had the pleasure of meeting with U.S. Ambassador to China, Max Baucus, and his wife, Melodee Hanes while they were visiting Napa Valley last Friday. Over a sinfully delicious pizza lunch, I joined fellow industry leaders to brainstorm ways to increase California wine exports to China.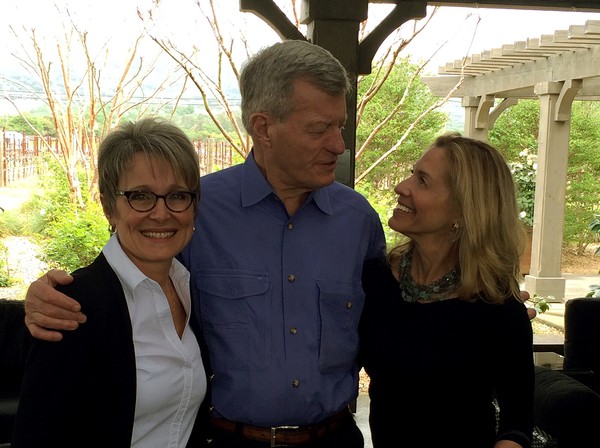 Wine Institute sponsored this roundtable luncheon with exporting vintners active in the China market. I participated as a representative of both Iron Horse Vineyard & Sonoma County and I joined colleagues including Michael Parr representing Wente Family Vineyards and Richard Grey from E&J Gallo. The event was hosted by Delicato Family Vineyards CEO Chris Indelicato, at Black Stallion Winery in Napa.
Our challenge was simple - to

rechart a course towards a successful exporting relationship with China

after austerity campaigns led to a 7% decline in California wine exports in 2014. With

China representing the world's largest red wine drinking nation

, the mission is certainly worthy.
Four next steps emerged from the roundtable discussion:
Build partnerships with tourism boards, i.e. Visit California and Sonoma County Tourism Bureau, to bring more Chinese tourists to wine country.

Pitch strategic partnerships with Disney about featuring California wines when Shanghai Disneyland opens in 2016.

Ambassador Baucus and his wife graciously offered to host a dinner in Beijing featuring California wine and agricultural products in the Fall.

Optimize Wine Institute's education program in China to build awareness of California as home to premium wines.
As a California wine ambassador and family vineyard owner, I am thrilled to be part of restarting these great business relationships. We have extensive experience exporting to China since we launched our trade with the country in 2011 via a special Chinese "Year of the Dragon" Cuvee. The wine was a major hit with buyers and was notably served at a 2012 State Department luncheon honoring then Chinese Vice President Xi Jinping hosted by Hillary Clinton & Joe Biden. We continue to develop special cuvee offerings for our Chinese audience and look forward to increased collaboration with our global Iron Horse Family.
For more information, find the fill Wine Institute press release on 2014 California wine exports here: http://bit.ly/1HstTg9