Iron Horse
Blog

Dear Friends and Family,
Thank you for the outpouring of concern, for my parents and for the entire Iron Horse family. Thankfully, we are all fine and pulling together as kith and kin. We are so very lucky and appreciative to have so much love around us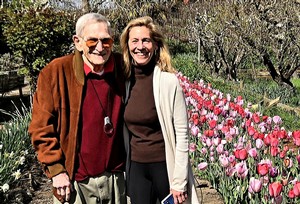 ... even at a six foot distance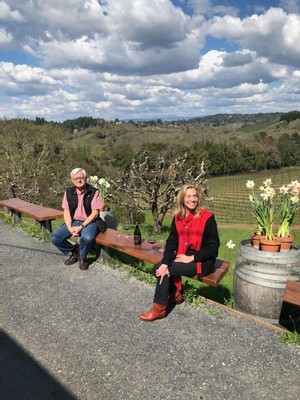 Right now, we are thinking of you and yours and hope you are all OK. We know so many of you, personally, from the wonderful times spent in our Tasting Room … and feel especially close to you right now … as the on-line orders are fluttering in. Your thoughtfulness is like a rainbow – appropriately on this first day of spring.
Like so many, we're doing our best so we can continue to be part of all your moments - big and small - for years to come. We are very lucky that wine is considered essential, as an agricultural product. As Thomas Jefferson said: "Wine is a necessity."
I hope you'll consider sending Iron Horse as a gift when you want to be "there", but you can't physically be there. And, stock up for yourselves. We are offering $1 shipping on six bottles or more. The shipping discount will show up at check out.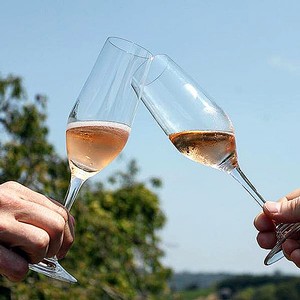 Thank you for your great, ongoing support and, most importantly, your closeness to us in heart.


After a very long, cold, very wet winter, I have decided to start chronicling the gardens again ... and wines releases, starting today. I firmly believe the beauty of our place is integral to our terroire. The vineyards are the gardens. The gardens are the vineyards. They are of one piece.
Sunday April 21, 2019
This is an absolutely perfect time of year at Iron Horse, especially this year, after all the rain. Just driving here on the Gravenstein Highway (aka Hwy 116) with the apples in bloom is a pleasure.
My father planted this cherry in front of the winery our first spring, 1976 – before the winery was even built. It is a favorite Instagram backdrop, but with a very limited window of opportunity.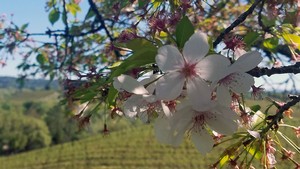 This was yesterday (Saturday) afternoon behind my parents' home. The profusion of calla lilies has been amazing. And, the roses are about to burst.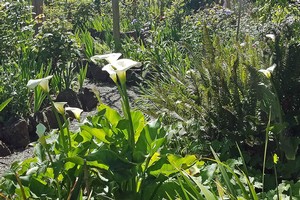 One of my greatest pleasures is walking in this garden with my father and watching it evolve.
I picked these shots because they convey a very special space in time and tell the story behind our wines in this shipment. I am firmly convinced that the beauty of the place is part and parcel of our terroir for the grapes and all the beauty that grows here. The grapes know they are in a perfect spot and they are not going to disappoint.
We are featuring three beautiful wines in our May Wine Club Shipment:
2015 Rainbow Cuvee - Our toast to diversity. We are relasing the new vintage May 9, so you can have it on hand Pride Month. 400 cases.
2016 Native Yeast Chardonnay - The grapes for this wine come from the furthest knoll behind the bottle in this photo. 220 cases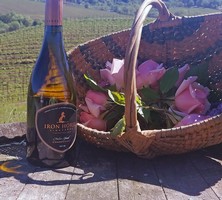 2016 Home Block Pinot Noir - Small production, from this beautifully sheltered, three-acre site, behind the iris bed, planted to the Calera Clone. 250 cases.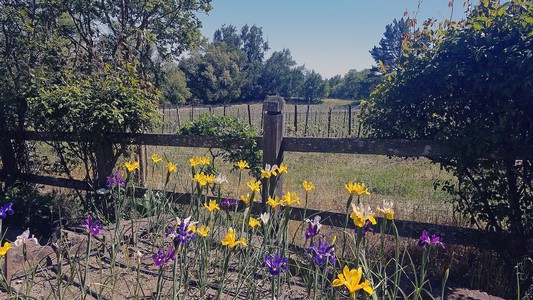 I hope you are planning to come visit. Our Under the Palms Tastings are now underway. This is a new experience for you to enjoy Wednesdays through Fridays - a private, seated tasting, twice daily, for two to four guests, at a "ringside" table, under the palms, facing our gorgeous view, where you can see the individual vineyard blocks while tasting the corresponding wines, with cheese. And, yes. You get to sit down!
Please make reservations here.
Brace yourself. Memorial Day is coming.
With all my very best,


Dear Friends and Family, These are the Dog Days,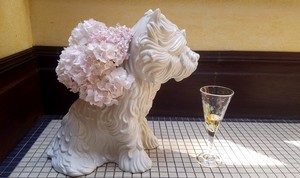 which at Iron Horse means we have verasion in the vineyards.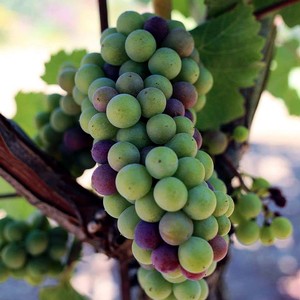 Verasion is the onset of ripening, when the grapes turn color. My brother says verasion is like popcorn. It starts with just one … then several … and then the color is popping out all over.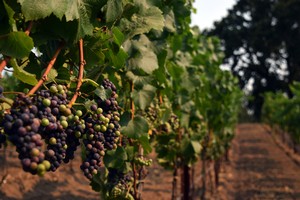 Veraison is often a bit faster in young blocks. Also note that shoots are becoming "woody". Just 1-2 weeks ago that shoot was green. The vines are signaling that harvest is near.
With Chardonnay, the skins become translucent, so that a backlit berry will reveal the seeds within.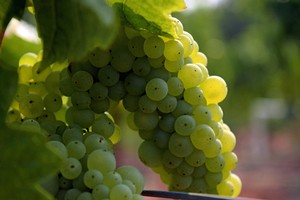 Other indicators include a delicious crop of wild blackberries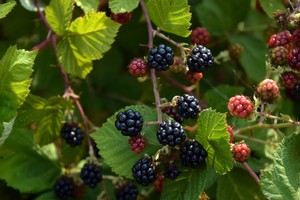 Naked Ladies starting to appear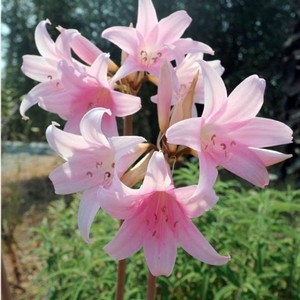 We are extraordinary wealthy in squash blossoms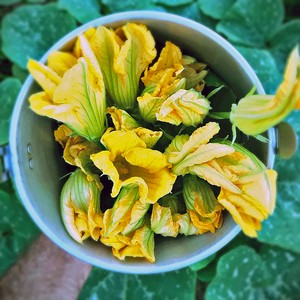 And Queen Anne's Lace
I am extremely proud to report our 2010 Brut LDreceived an outstanding 94 point review from Wine Spectator: "Sleek and luxurious, with floral, brioche and baked apple aromas that open to rich and complex Asian pear, spiced nut, ginger and cinnamon flavors that linger on the long finish. Drink now through 2021." Thank you Tim Fish!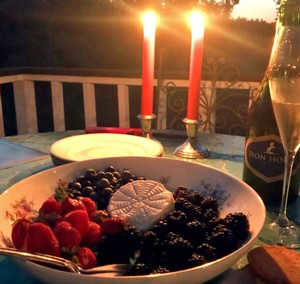 Try it with berries, ricotta cheese and candlelight.
Our hearts are with our neighbors to the North. We can see a shifting, thin layer of smoke on the horizon - a constant reminder of how very lucky we are. Thank you firefighters!
With all my very best,


Sometimes the best tasting notes are just one word - simple, declarative and easy to grasp, like "Wowzah!", which is how our Winemaker David Munksgard describes our just released 2010 Brut LD. This is our first release of an LD in four years.
LD stands for Late Disgorged, aged longer on the yeast in the bottle and our designation for tête de cuvee or top of the line bubbly. It's a play on Bollinger's RD or Récemment Dégorgée (recently disgorged), which is trademarked.
This is our first LD in four years, freshly disgorged just this month, after lavishly aging for seven years en tirage. Only about 500 cases were produced.
The longer the wine is aged on the yeast in the bottle, the smaller the bubbles, so the mouthfeel is soft, elegant, rich and creamy – like drinking a cloud. You will taste and feel the quality with the first sip. It should just effervesce away in your mouth.
From clouds to rainbows, we are also celebrating the release of our 2014 Rainbow Cuvee, just in time for Pride Month.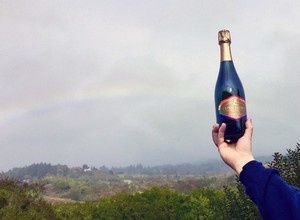 This year, the Rainbow is a vibrant and exciting Blanc de Blancs - 100% Chardonnay, vintage 2014. This is our toast to diversity. Total production 300 cases.
We are getting our first crops of strawberries.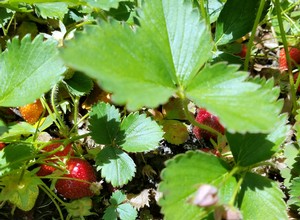 And I am closing in on my ambition to fill every vase in my house with roses.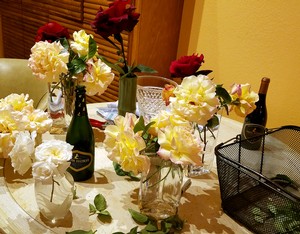 I am especially happy to report that Joy! has been awarded 93 points in Wine Advocate and 94 in Wine & Spirits Magazine, to appear in their Best Summer Sparklers issue.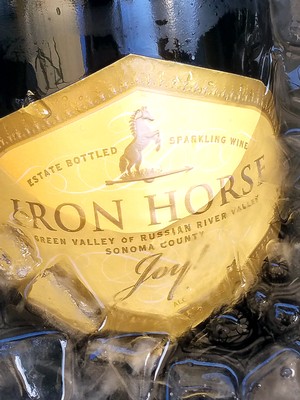 Our 2015 Home Block Pinot Noir received a 92-point rating in Wine Enthusiast. In this case, the wine description is much more poetic: "Sublime in mint and forest floor tones, this is a seductively robust wine that's rich and rewarding on the palate but never loses its sense of balance and place." We call this "Home Block" because it is adjacent to my parents' home. It is most sheltered of our vineyard sites. And, this is where my niece Justine is getting married next month.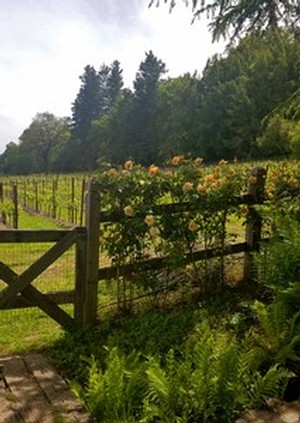 As you can imagine, my father is working very hard to get the garden in "leaf perfect" condition for her. We all love the groom and really can't wait to have a big, beautiful party.
Cheers to love!

With so much happening around us, there is something very centering about focusing on harvest.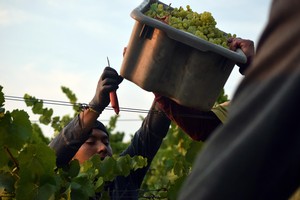 Photo: David Munksgard
All the fruit for Sparkling and Pinot Noir has now been picked. We will probably be done by the end of this week, which seems very early, but remember, our harvest started on August 4 for bubbly, so, that's a month … and this weekend's heatwave accelerated everything.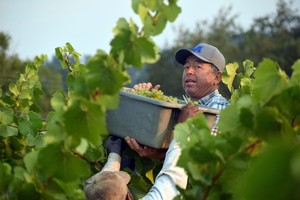 Photo: David Munksgard
So far, Vintage 2017 is all about extremes – even just speaking climatically, we went from extreme drought to record rain fall to record breaking heat. This weekend is certainly one for the record books. It was 106 degrees in San Francisco Friday. 70 degrees here on Saturday at 5am. That never happens.
Extremes always lead to more work. And I could not be more proud of our vineyard and winery crews. This is the first vintage for our new Assistant Winemaker Megan Hill. It has certainly been challenging, but her smile speaks volumes.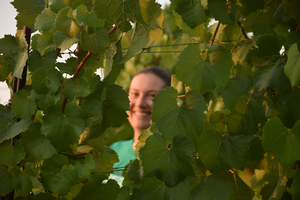 Photo: David Munksgard
It's hard to pry a quality assessment of the vintage out of my brother Laurence and our winemaker David, but I spied a hint on a sample of Chardonnay free run juice. The labels says "F-Low" (for the lower part of block F on the Estate) – "the beginning of a great BdeB (Blanc de Blancs)."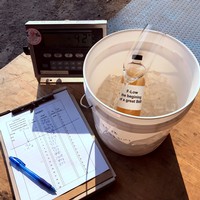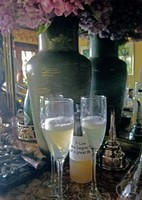 Photo: LG Sterling
Free run juice straight out of the press also makes a delicious Sparkling cocktail, which you can only have here at Iron Horse and only this time of year. We call it the "Sterlini".
One of my favorite though little-known quotes is from (I believe) JFK, talking about something he learned playing touch football, "When you see blue sky, go for it."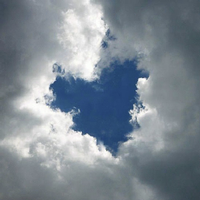 In that spirit, Happy Labor Day! I hope you are celebrating with the fruits of our labor and join us in sending all of our positive energy to our many friends and my cousins Rand and Pamela in Houston.
As harvest draws near, the excitement grows and grows; not just with me as the winemaker, but with everyone here at the winery.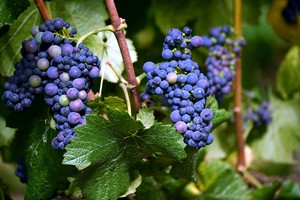 Photo: Elieen Vasko
You know harvest is nigh when we have veraison, i.e. when the grapes start taking on the color you see at harvest. Pinot Noir starts off green, then turns purple. Chardonnay starts off green, then turns a pretty, translucent, straw gold.
Photo: David Munksgard
Other early indicators include the Naked Ladies ...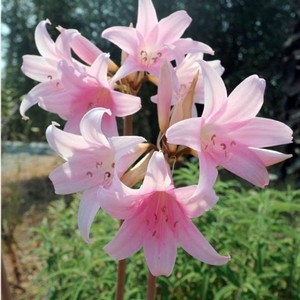 Photo: LG Sterling
... and the onsalught of squash.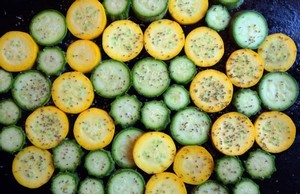 Photo: LG Sterling
Here in wine country, vineyards are everywhere. Even if you are not involved in the wine world, it is hard not to feel the anticipation. My neighbor, a senior airline pilot, noticed the changing color of the grapes on his daily commute, prompting him to knock on my door to ask when I thought harvest might begin this year.
On Wednesday (July 26) we did our very first vineyard grape samples. This is when we randomly pick a cluster here and a cluster there, then mash them up in a bucket. The juice is then tested for Brix, or percent sugar. Based on this sample and general observations, I'm holding by my prediction that we'll start the second (or possibly third) week in August.
All the winter rain along with late spring rain gave our vines a huge gulp of water. The vines reacted by growing more leaves than I've ever seen in my career. Too many leaves cause shading of the grapes as well as raising the humidity in the fruit zone - conditions perfect for mildew and bunch rot. I want beautiful, fully mature grapes that are free of those ugly things. The best option is to remove that excess foliage, open up the fruit zone and allow fresh air in. This is done by vine hedging mechanically as well as removing lateral growth and individual leaves by hand. It's a "bunch" of work, but so worth it. The vineyards are looking really good. The crew has been working very hard; they are my heroes.
Wish us luck!
David Munksgard, Winemaker


Hey June 🎵,
l am very proud to be flying to London for the prestigious Decanter Magazine "Exploration of International Sparkling Wines" - initially a PR and marketing dream, now tragically a point of pride in defiance of terror.

My heart goes out to the families and loved ones of the victims from Saturday's attacks. As the Brits say: Keep calm and carry on.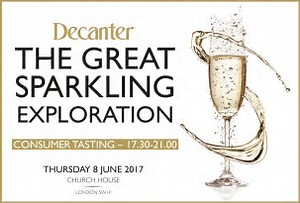 You can click here to see the catalog. Iron Horse and Schramsberg are the two American producers.
By my way of thinking, once in London, I am half way to Africa. So, I am going to see our cousins, the mountain gorillas in Uganda. It is thrilling to get a notification from the airline that says: "Your flight to Entebbe is approaching ..."

I am told it will be a very emotional experience - primate to primate. Gorillas are, after all, family. We will be tracking them on foot from a base camp in Bwindi Impenetrable Forest. There are just 600 left in the wild.

Also very exciting, our Estate Chardonnay, Pinot Noir and 2013 Ocean Reserve Blanc de Blancs are being featured at National Geographic's Explorers Symposium in Washington DC.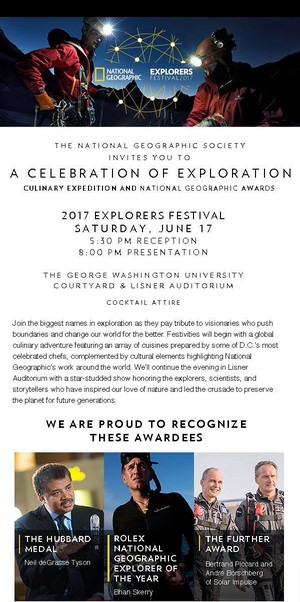 Here at home, we've had bloom ... and now grapes, which over the course of summer will size up and become filled with delicious flavors.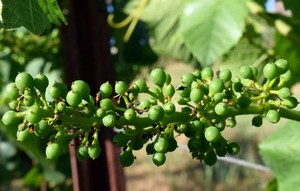 photo: LG Sterling

We are bottling the 2016 Sparklings to be laid down for the next three, four and in the case of Joy! at least 12 years en tirage. In the meantime, we are releasing our first wine from vintage 2016 - our very delicious 2016 UnOaked Chardonnay.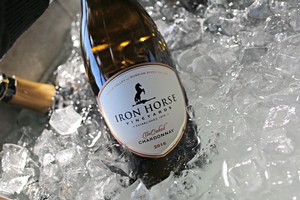 photo: Shana Bull
The timing couldn't be better as we have been sold out of the prior vintage for months.
We have some fun events coming up:
World Oceans Day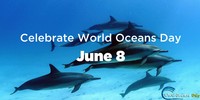 They say the ocean deserves its own day; we at Iron Horse like to add that the ocean deserves its own bubbly! Please join us in a toast with our 2013 Ocean Reserve Blanc de Blancs. We are offering a complimentary tasting for everyone who comes to the Tasting Room wearing blue on June 8. Remember, we are "by appointment" for tours and tastings.
Ocean Reserve is a special limited production Sparkling Wine created in partnership with National Geographic. $4/bottle goes to help restore the ocean's health and abundance.

Summer of Love Garden Party, exclusively for Wine Club Members


Please join us Sunday August 6 for our annual Wine Club garden party at the home of Iron Horse co-founders Audrey & Barry Sterling. This year we are celebrating the 50th anniversary of the Summer of Love, so be sure to wear flowers in your hair. 11a to 1p. Limited to 60 guests. Club Members price $50/person.
Share the love (and a glass or two of 2013 Wedding Cuvee) with Audrey & Barry as they celebrate their 65th wedding anniversary. Click here for more details.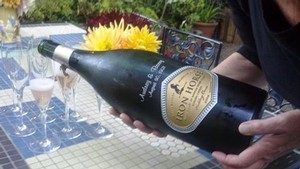 A very special toast! And all best wishes,


'Tis the season for gift guides, discount codes (insider tip: use code HOLLY for $10 shipping valid through 12/15 on three or more bottles) and predictions for the year ahead.

I know it's hard to believe, but 2016 is coming on fast. As a winery deeply rooted in our home place, we generally operate outside the trendy category, striving for classic, true to our vineyards, always in style, elegance and balance. But it is exciting to get a glimpse into the data based forecasts for where our cohorts are headed and we are tickled to find ourselves "ahead of the curve."
Since we're in the gift-giving mood, we've rounded up some of the stand out themes from our future gazing friends.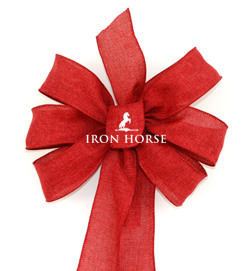 One such visionary is

Kimberly Charles

, founder of Charles Communications Associates, who provides perspective on volume (bookmark Kimblery's blog for access to her extremely valuable insights at

All the Swirl

). In our data focused chat, Kimberly explains that global wine consumption is up 5.3% and she estimates we'll enjoy 35 billion bottles in 2016. Yes that's billion with a

b

… with plenty of room to continue growing in the U.S (more on that growth

here). This is where the Millennials come in. They grew up watching their parents drink wine, see it as a daily pleasure, and according to a report from Canadian Investment Bank RBC Capital Markets, Millennials want premium bottles.
Trend spotter Andrew Freeman of AF & Co proclaims in his 2016 Trends Report that consumers are enjoying a case of "multiple personality disorder." In other words, we want the best of all worlds. We participate in wellness movements favoring moderation, then swing to indulgent experiences, sometimes in just a matter of hours.

Here are some trends to watch for in 2016 in the Food World:
Vegetables are the hero, especially amongst Millennials. People want less animal protein and support veggies as a "center of the plate component."
Hawaiian is the cuisine du-jour. It's the latest regional "New American" food in the spotlight.
The spicier, the better! Even desserts are getting the fiery treatment as data shows that embracing the heat is not only delicious, but healthy.
Table service at upscale restaurants livens up in a response to a Millennial demand to be entertained and get a peek at what's happening behind the scenes. Chefs themselves are getting in on the action upping the ante on engaging experiences.
Brunch becomes a main event. Even health nuts are relishing the opportunity to throw caution to the wind once a week during brunch, indulging in the carb heavy, over the top feast.

Now for the Beverage World:
Bubbles mania reigns. But we knew that! Sparkling Wine has captured the imagination of the public beyond celebrating special occasions. The growth of bubbles dwarfs that of still wines (see image). Restaurants are embracing this trend with expanded offerings. As Kimberly Charles declares, "There's is a virality to hearing the pop of a cork, you want to be part of it." We certainly agree! According to consumer products analyst Nik Modi at RBC Capital Markets, the rise in Sparkng Wine sales dwarfs still wine sales.

Note: In economists' terms, C0nsumer Value = the ratio of product price to product benefit
Stylistically, white wines are showing more restraint - lower alcohols, less oak, brighter acidity - a trend that's part of our core values at Iron Horse.
Chardonnay is America's #1 selling varietal, showing double digit growth. Even traditional red wine drinkers are exploring more white wines.
Coffee gets a modern makeover. New techniques and flavors create balanced and "treatful" beverages.
Instagram worthy embellished cocktails dominate. Think gold dusted flowers, sugar stirrers, designer straws, even perfectly smoked pork belly pieces. Andrew Freeman posed the very apropo question, "If we don't Instagram it -- did it even happen?" (By the way, we're on Instagram @IronHorseVyds)
The Bloody Mary is having a moment. Could there be a better way to recover after a late night sampling of our "Brilliant Bubbles Collection"? We don't think so! And none are more delicious than Diane's Bloody Marys featured at Michael Mina's Tailgate at Levi Stadium (mentioned on recent our Star Chef Spotlight in Michael Mina).
As we take stock of a fantastic year at Iron Horse, and give thanks for your great support and friendship, we are already looking forward to a new year of success and innovation in our continued pursuit of toast-worthy excellence.
We'd love to hear your delicious predictions for 2016. Chime in on social media and in the comments below!


Cheers!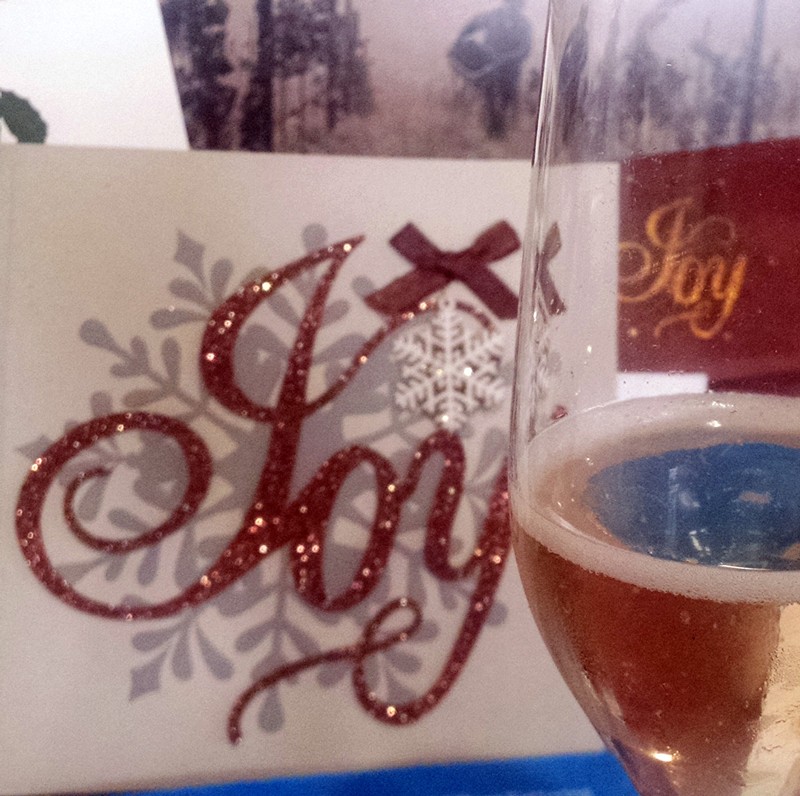 ****
This year's harvest offered a bunch of "firsts" for the Iron Horse team and provided challenges for expert wine growers like the Sterling Family and winemaker David Munksgard. Each harvest offers its own hurdles and opportunities to recommit to a vineyard philosophy of garnering exceptional flavors. But as the 2015 harvest comes to a close, it's apparent that this year was uniquely challenging for several reasons.
To learn more about the unprecedented growing conditions and harvesting game plan that define the vintage, I snagged some precious time with David, the 35 year "veteran of the vines" who teamed with Laurence Sterling to employ methods that traditionally are only seen in the finest wine chateaus in France.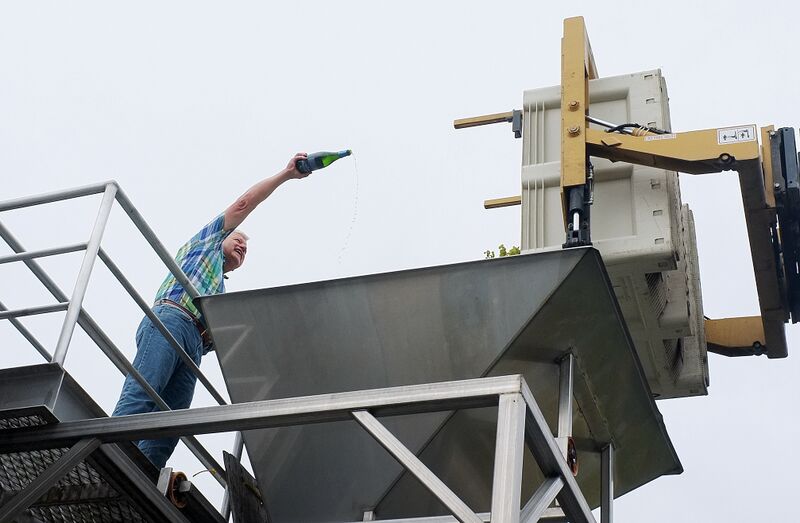 Tarin: Where are we with harvest? Close to wrapping up?
David: We will finish this week.
Tarin: Is it appropriate to say that this year's harvest calendar was anything but expected?
David: Yes, it was completely mixed up. The normal progression would be to start by picking Pinot Noir for Sparkling, followed by Chardonnay for Sparkling. Then we'd move to Chardonnay grapes for still wines and finish with Pinot Noir for still. This year, we started with Pinot Noir for Sparkling but then jumping all over the place from there. We're actually wrapping up with sparkling. In my 35 year career, I have never seen a harvest like this. That doesn't mean it's bad. It simply means that it's challenging. You really needed to be IN the vineyard to observe and judge the ripening vine by vine, day by day, so that you could improvise a game plan to take advantage of a constantly changing situation.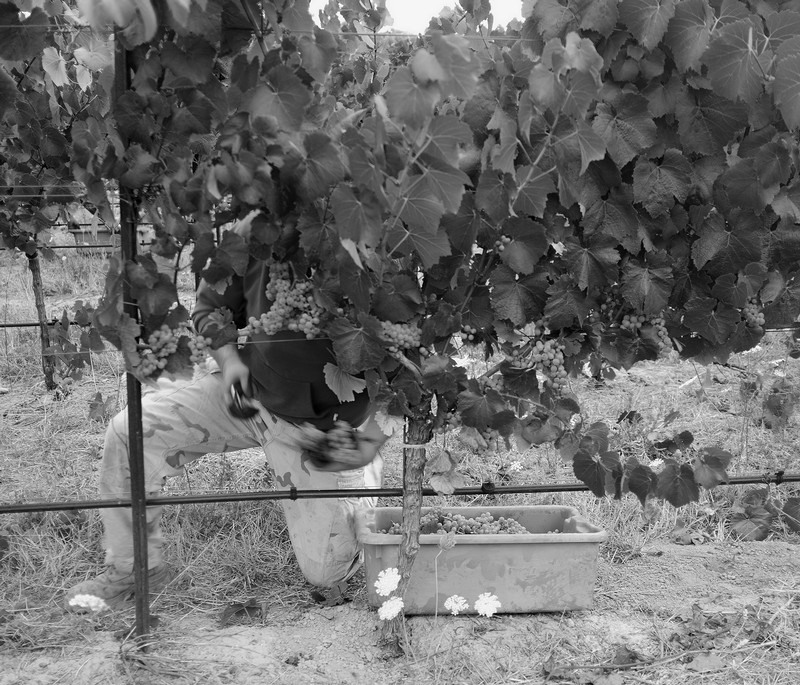 Tarin: Explain some of the hurdles you experienced upon starting the harvest.
David: Compared to the previous three bountiful years, this crop was sadly very light. Additionally when we assessed the grape vines, rather than finding uniformity, we found Pinot Noir vines where half the grapes were green and half were purple. Knowing that it was going to be a smaller harvest, we had to work with this diversity and not just cut those green grapes and let them drop to the ground. Essentially, we had to pick each vine twice. Laurence and I were clear with the vineyard team about which shades of purple were ripe for picking. It was the only way we could protect our ability to make the highest quality wine.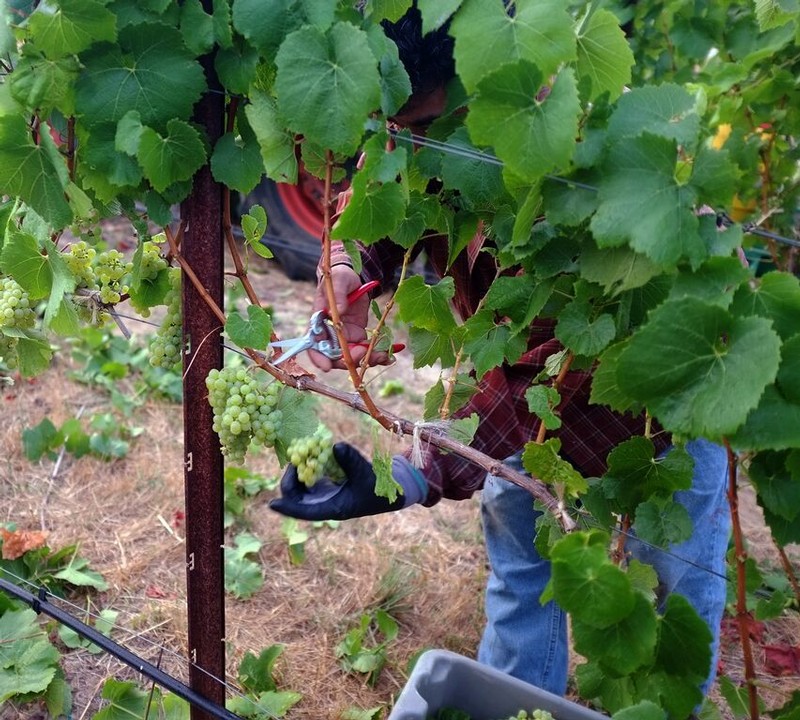 Tarin: How do you describe the vintage?
David: Challenging! But it is so satisfying to work with people who can all agree on the solution even when it is the more difficult path. Sure, we could have waited until the average analysis of the vineyard was what we needed, but the truth is that we would never have been able to make an amazing product by picking under-ripe or overripe fruit and let it even out in the press. We simply can't do things like that with our commitment to excellence. We have to protect the reputation of the winery and if that means working twice as hard and incurring the cost, then we will. In the end, we devised a way to make really great wines in a difficult vintage.
Tarin: How does this harvest compare with last year?
David: Last year, harvest was delivered to us with a ribbon. But I think the wines are going to be on par with the last couple of excellent vintages.
Tarin: We're hearing that quantity is down … but quality is high?
David: Quality is not high because the crop is small - the quality is simply there thanks to what Iron Horse does in the vineyards.
Currently we have only six wines available to taste. The rest are still fermenting. But they are clearly equal to the past few great vintages. Honestly, this was kind of shocking. Based on what we had to go through, I was expecting the results wouldn't be so great. I am extremely happy to be surprised.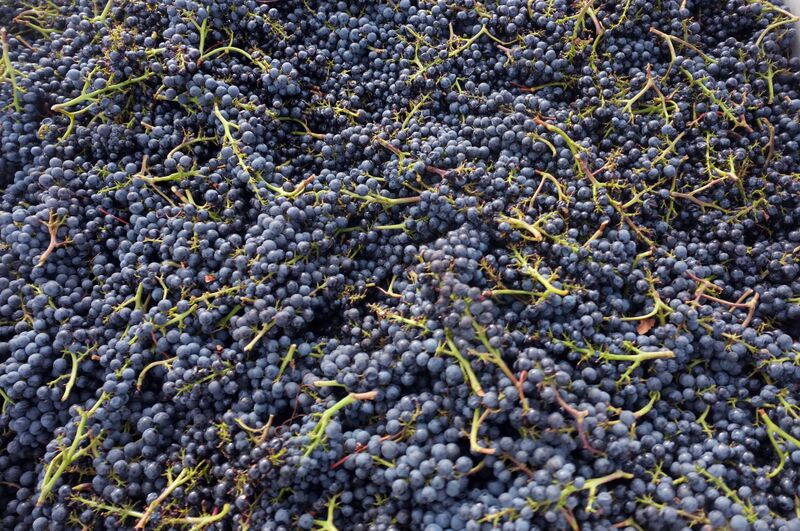 Tarin: Weather was clearly a driving factor, describe the weather starting with that nice rain in December 2014…. then what?
David: Nice and promising ... then extreme, protracted drought. Luckily we have a reservoir on the property, which the Sterlings had the foresight to build in the 70s. We use recycled water which Laurence and the vineyard crew carefully allocated to keep the vines in really great shape. We never got to a place where I was nervous about the vines holding up until the grapes were mature.
We didn't have as much fog as we normally have. There was a time where the harvest was faster than normal - the sugars were rising quickly, but then we dropped into moderate weather with cool nights. For the most part, the weather was cooperative with cooler conditions that envelope the grapes through the night until mid morning and allowed the crew to pick until 10-11am.
However at the very end, we had a few days of 100+ heat. By then, the few remaining blocks could be completely picked before the day got too hot. We only had one very small block that suffered a slight bit from the high temperatures. It was our last block of Pinot Noir for still wine, our harvest crew culled out clusters that had raisined.
Tarin: What has the long growing season meant?
David: When we started bud break, it was ridiculously early - two weeks ahead of last year, which was three weeks ahead of 2013. Then we went into a period of cool almost cold weather and that stopped the clock. The vine is only active when the average daytime temps are above 60 degrees, if it doesn't meet that, the vine goes into a dormant, slumber state. So essentially, the early spring didn't count. In the absence of a consistent rise in temperatures, we got the cluster to cluster variation which was so challenging. All the historically important and reliable timelines got stopped and re-started repeatedly. That interruption of the normal cycle in the vineyard led to uneven ripening and us picking the same vines repeatedly.
Tarin: What are your great take aways from this harvest?
David: I've always heard that the great vineyards in France make exceptional wines even in a difficult vintage, while lesser chateaus often miss the mark under distress. What it boils down to is the commitment on the part of those great wineries. Iron Horse has that passion and dedication. As Laurence says, "It has to MEAN something when we put 'Estate Grown.'" on our labels.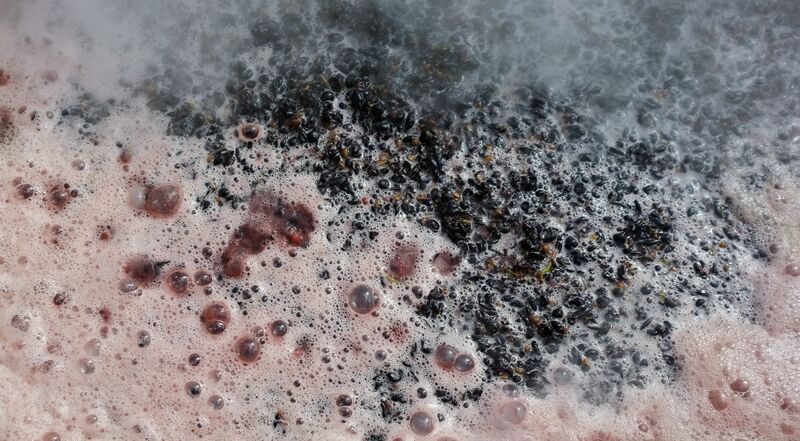 Tarin: Now, tell us about your new drone! We LOVE this video shot recently. How are you using the drone in the vineyard?
David: I initially used a small drone with a 1-2 megapixel camera to take some vineyard photos. At the time, I of course knew the property was beautiful but I didn't know it was that beautiful! I ultimately upgraded to a big drone with a large high def camera and I've been blown away at the view from 400 feet.
From a practice perspective, the benefits are untapped. Years ago, we would do an annual flight over the vineyard for infrared insights into the foliage conditions in different sections. With the drone, we can do this much more frequently and at lower cost.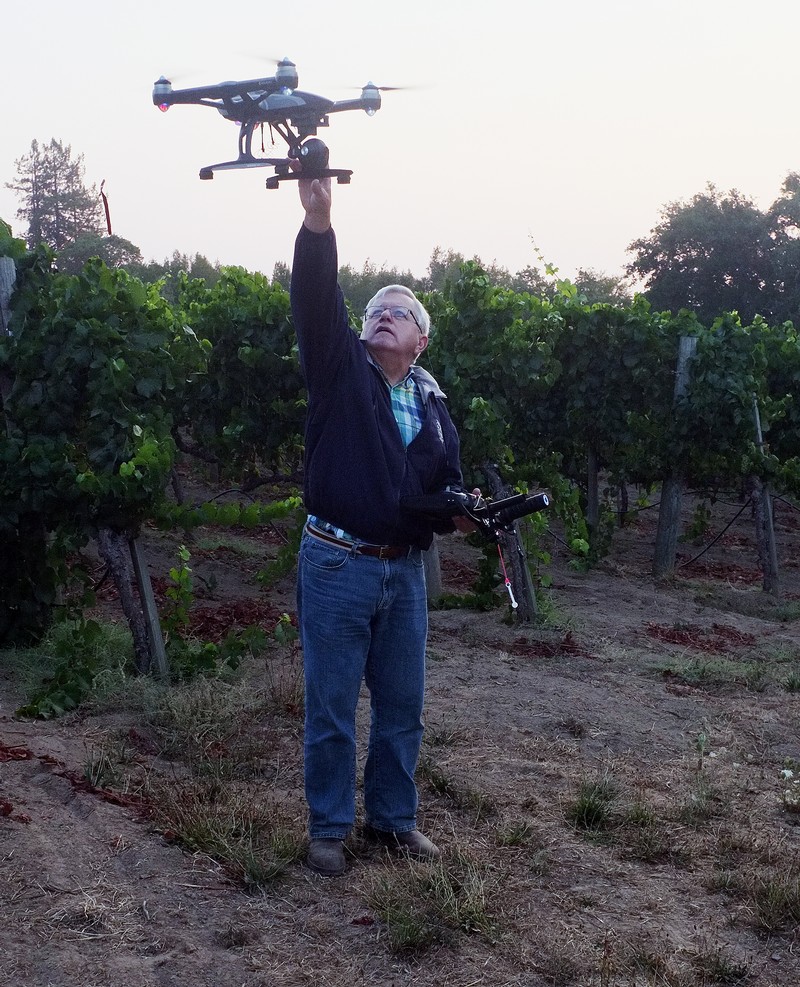 Tarin: How has it helped with the harvest?
David: I got this drone a couple weeks into harvest, but next year I plan on getting it up there weeks before we start picking to look around with a hawk's perspective. These flights will serve to help us identify which vines need more emitters (more water). It also has the potential to pinpoint differences in the canopy. Once something out of the ordinary catches your eye, you can walk out to that spot and see what's going on. I'm sure this drone can be used to make a better bottle of wine.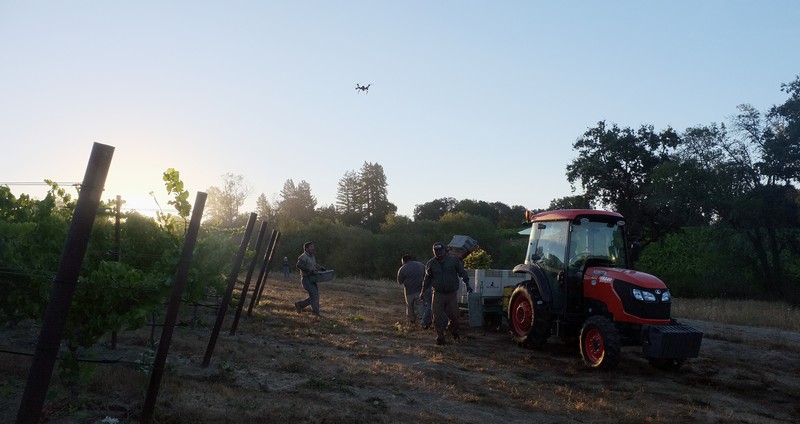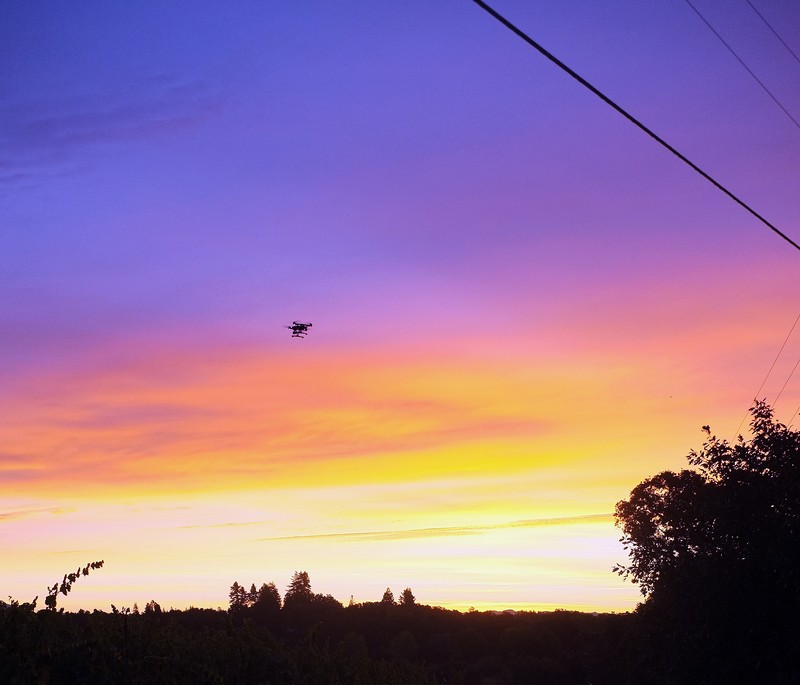 Tarin: When will we be able to taste the wines of 2015?
David: The Sterling family tradition has been to get together around Thanksgiving to taste the new vintage. Generally, November-December is when you get your first good sense of quality ie depth of character and complexity of flavors.
And as winemaker I taste the wines continuously as they develop.
As a finished product, the Chardonnays will be released in two years, the Pinot Noir in three and most of the bubbles in 2019.
###


It's a week filled with promise and forward momentum at Iron Horse. The harvest has arrived. But just as we look ahead to an exciting new vintage, we want to take a moment to acknowledge many long-time friends recently honored by two key wine publications, just now receiving their plaques and certificates.
Wine Enthusiast's "Top 100 American Wine Restaurants" and Wine Spectator's "World's Greatest Wine Lists" have triggered industry-wide applause and we are happy to join in the chorus of congratulations to all of the winners. These wine list masters are recognized for stellar wine curation that is quite often the result of years of playful experimentation, daily tastings, dedicated travel, and team input.
Wine Enthusiast chooses restaurants where wine is as "integral as the celebrated fare." Resisting the urge to be distracted by the "longest, deepest, or trendiest lists," they celebrate the movement away from overly formal dining, more towards unique wine & food experiences. Their carefully selected list of 100 is illustrated by an interactive map, with an impressively even spread across different states, though, not surprisingly, heavily weighted in California and New York.
Wine Spectator looks at the world, assessing the breadth of quality wine producers featured on the wine list, along with a thematic match to the food menu in price and style. The Spectator Awards have three tiers:
1) Award of Excellence - 90+ well chosen selections
2) Best of Award of Excellence - 400+ selections (some more than 1000+) which display vintage depth, vertical offerings of several top producers from major regions, excellence breadth spread over several winegrowing regions
3) Grand Award - 1500+ selections with serious breadth of top producers, outstanding depth of mature vintages, selection of large format bottles, harmony with the menu in flavors, organization & presentation (81 winners this year).
Star sommeliers work with the chefs to create perfectly paired moments and in so doing are changing the way we eat and drink as a country. We are lucky to call many of them our friends and long-time supporters … and luckier still to be able to call a few of the nation's top honorees to discuss their award season glory. As you'll see, every region is rich in character and influenced by local factors in specific ecosystems, but you'll also find time honored philosophies at work as well. Read along as we talk to influencers located in different areas of the country.
"California Calling" - Iron Horse West Coast Anchors
Shelley Lindgren - A16 in San Francisco

Background: Shelley was awarded for Outstanding Wine Program in American from the James A Beard Foundation in May. She was recently honored in 7X7 Magazine as a San Francisco Reader's Choice for "Most Intoxicating Wine List". And this month her restaurant is featured on Wine Enthusiast list of "America's 100 Best Wine Restaurants 2015." She's most proud of her efforts to create an award-winning wine menu at a neighborhood restaurant, elevating itself against bigger operations with deeper pockets. A fun fact is that Shelley has family ties to the Sterlings through her husband going back several generations. She says she is constantly inspired by the Sterling family's commitment to the local community and has followed in Iron Horse's philanthropic footsteps with her own efforts through Slide Ranch, an organization that connects children with nature to foster new generations of environmental stewards in California.
Iron Horse Favorite: Her menu always offers three to four Sparkling Wines by the glass. One Prosecco, one rose, and right now, we are proud to say, Iron Horse Classic Vintage Brut "which has a beautiful vibrant acidity and richness that's a perfect celebratory glass of wine." Her focus is Italian with many California options.
Reaction to News of the Honor: "Restaurants rely on a team effort and A16 continues to be more of a team effort than ever. My husband Greg comes to mind first because of his restaurant building experience and vision for the space itself, including designing the wine "cage." My business partner, Victoria Libin, supports and shares the philosophy of quality, organic and love of food and wine together with service. This amazing support and honor helps us remember what a great gift it is to be ambassadors of so many wines we love and tell their stories daily."
Tips For Iron Horse Readers Striving to Achieve Wine Award Worthy Excellence at Home: "We've followed the approach of 'if it grows together, it goes together'. We consider factors like the season's bounty, weather, if it is a daily wine or a celebratory wine. We find that more and more customers are appreciating Sparkling Wines than ever before and always feel rose is incredibly versatile. I recommend trying new wines, new grapes and buying favorites. Wine is an always evolving art. Ask your wine shop owner, restaurant server or sommelier to recommend a style of wine you are in the mood to drink. I always find that it is so much fun to discover exciting new wines, this makes a meal a great pleasure."
The Great City of Chicago - Iron Horse Central Region Anchor
Rachael Lowe - Spiaggia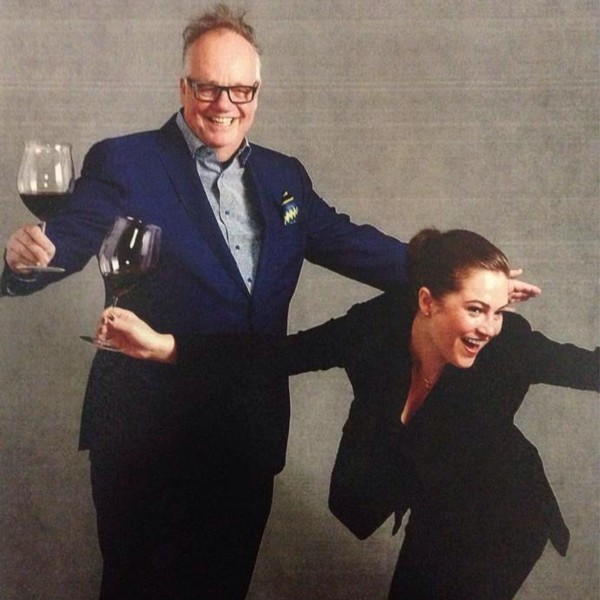 Background: The Wine Enthusiast "cover girl" was elevated to Wine Enthusiast's Hall of Fame for her Windy CIty excellence. She shares a full page Q&A on page 52 of the magazine's hardcopy with her colleague Chef Tony Mantuano. They discuss the importance of freshness at their iconic restaurant which has been open for 31 years, as well as the youthful and global infusion that Rachael contributed to the program. She is particularly excited about her newly concepted International Pairing that embodies a "flight around the world" with wines from exotic destinations like Croatia and Hungary. She's also spearheading an initiative at their reopened cafe which will shine a light on women winemakers - a list that will prominently feature Iron Horse!
Iron Horse Favorite: Rachael has always loved the Classic Vintage Brut. She explains it's "a perfect blend of Chardonnay and Pinot Noir, expressive, with aromas of green apple, lemon curd, marzipan and a touch of toast. Always great for any occasion and it pairs beautifully with most any food."
Reaction to News of the Honor: "We were thrilled! Tony and I had gone and done this really fun photo shoot knowing that we were going to be included in the article but NOT having a clue that we would be featured on the cover! A friend of mine had an online subscription to the magazine and sent me an email; we didn't believe it until we physically saw it. It really is such an honor."
Tips For Iron Horse Readers Striving to Achieve Wine Award Worthy Excellence at Home: "I would suggest exploring up-and-coming regions, and expanding from there. One doesn't always need to spend a ton of money to find quality wines; getting to know bottles from Cotes du Rhone, Sicily, Montsant, alternative Sparklings are an amazing way to educate oneself! Versatility is important as well. It is always great to have a vast assortment of wines from which to choose; who knows what one will feel like or what food might be on the table on any given night! And set the tone with your setting! At Spiaggia, we display our wine artfully in a wine foyer that's lit and temperature controlled, don't be afraid to use your bottles as art."
The Big Apple - Iron Horse East Coast Anchors
Anna Cabrales - Morrell Wine Bar in Rockefeller Plaza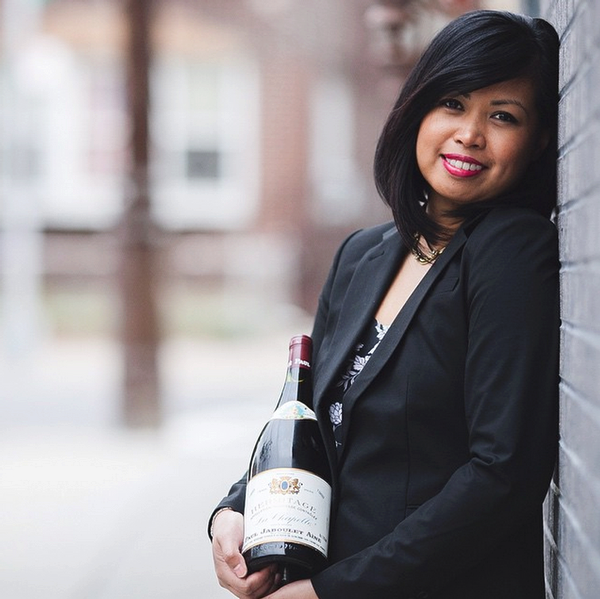 Background: Anna Cabrales has been with the pioneering Roberta Morrell's company for three years, and it marks her first position as the lead sommelier. Her wine program was honored by Wine Spectator with the "Best of Award of Excellence" this year and she is working towards building up the list for the Grand Award category next year. She will do this with her five tastings a day regimen, access to truly amazing deep verticals,, and guidance from the prestigious Morrell & Co. retail arm. Anna's enthusiasm for creating a family like experience makes this spot an oasis nestled into the chaotic New York scene. Her most treasured skill is the ability to listen to guests, creating a pleasurable moment when the guest is connected properly with the right food and wine for the perfect bite.
Reaction to News of the Honor: "I feel very grateful to Roberta Morrell for giving me a home. She gives me an energy that I didn't know I had in me and inspires me with stories of being one of the few women in wine in NYC in the early days of her career."
Tips For Iron Horse Readers Striving to Achieve Wine Award Worthy Excellence at Home: "When it comes to entertaining and dining, it has to be very thoughtful. It's about going the extra step to think about what might make guests smile with little added elements like glassware, temperature, and always having something out on the table. Consider transitions, how you'll progress into the next dish and the next wine. Similar to how I operate at the restaurant, it's ultimately about being open, warm and connecting people through well paired food & wine experiences. And whenever possible, make it rain champagne!"
Andre Compeyre - The Regency Bar & Grill on the Upper East Side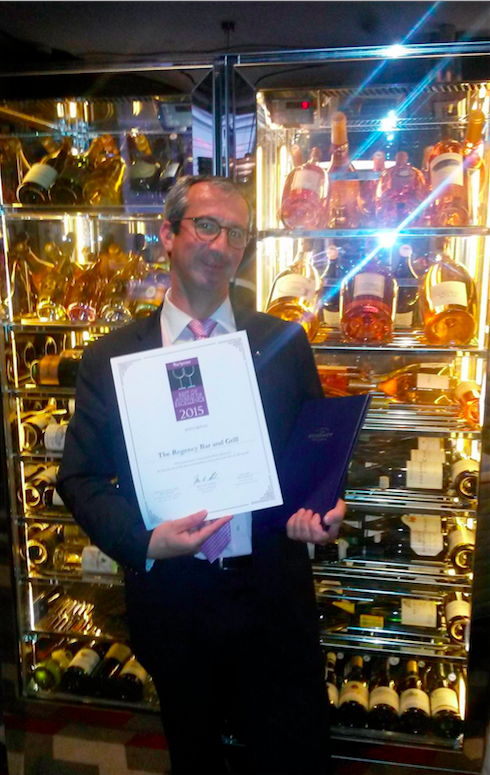 Background: The 20 year veteran in the wine industry was awarded by Wine Spectator as a new winner of the "Best of Award of Excellence."
Iron Horse Favorite: Since the opening, Andre has been proud to serve the UnOaked Chardonnay. The reaction from guests has continually elicited positive feedback. He also rotates other Iron Horse favorites. He's currently pouring the 2012 Estate Pinot Noir, and has on the list the Estate Chardonnay, and three Sparklings: Wedding Cuvee, Classic Vintage Brut, and Ocean Reserve. He especially likes the Pinot because of the balance - not overly fruity, with good minerality, and earthiness.
Reaction to News of the Honor: "It truly is a great honor for someone who has been in the business for over 20 years. The owners of the restaurant trusted me to build the wine program from scratch, marking an amazing opportunity to build with just a budget and a little direction. I forwarded the news to the owners right away so they could see what their investment had reaped. We opened in January 2014 and being in New York, I sought to have an international wine list with a moderate pricing approach, a goal that look me a year of work to fully realize. I waited a full year to submit to Wine Spectator and I appreciate that my peers have noted these efforts. I also forwarded the news to the team working on the floor with me. I shared this win with my team in the front and back of the house who are just as proud as I am of what we're sending out."
Tips For Iron Horse Readers Striving to Achieve Wine Award Worthy Excellence at Home: "Find someone that you trust, whether it's a restaurant somm or a retailer. The world of wine directors has changed drastically over the past 20 years, and professionals are more willing than ever to share their passion. If guests come in and mention they're going to have a cocktail party, I'm more than happy to give them a suggestion about what to serve or as an invited guest, what bottle to bring for the hosts. The industry has moved from trying to upsell to being rooted in sharing the passion for wine. Everyone has their own taste, but you can define quickly whose personality goes with what taste. Provide options based on country, single estate, and vintage."
Southern Charm - Iron Horse South Region Anchors
Dan Davis - Commander's Palace in New Orleans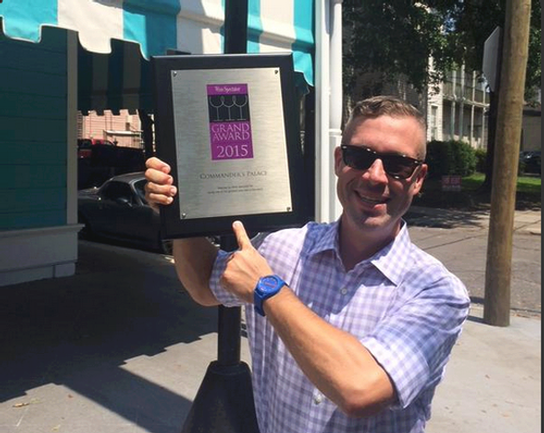 Background: Dan, or @CPWineGuy as he's known in the digital world, holds a Hall of Fame position in the Wine Enthusiast list of America's 100 Best Wine Restaurants 2015 which is occupied by only 76 restaurants worldwide. This honor marks their fourth year on the list, and Dan's sixth year running the program. The 135 year old Big Easy institution continues to stay at the forefront at the industry because of Dan's commitment to expanding the already substantial wine program. Wine Enthusiast notes that the "wine guy" has added offsite storage for future pours, introducing wines to the list when they are perfectly ready from a maturity standpoint.
Iron Horse Favorite: Dan explained that Iron Horse has been the signature house Sparkling Wine at Commander's Palace for 20 years. They have special bottlings, double magnums & magnums of their custom-made special cuvee. He believes that Iron Horse is one of the definitive American Sparkling Wines and that it goes amazingly well with the food served at the restaurant. He feels the house cuvee's distinctive qualities originate from the Iron Horse terroir and cold micro-climate of Green Valley." It's the right terroir for great bubbles."
Reaction to News of the Honor: "My first thought was thank goodness! It's a nerve racking waiting period. I feel rewarded for our commitment to offering reasonable price points. Of our 2600 wines on the menu, 60 wines are under $60 so anyone can join us for a drink and we encourage sampling with our offering of half glasses. This award is also especially meaningful since we're coming up on 10th anniversary of Katrina. After Katrina, the restaurant leadership got back in here to rebuild. Current managing partners all sat down and said - we don't know if business is coming back so let's just shoot for the moon. It's also a great feeling to be able to continue our restaurant's legacy which goes back to Ella Brennan, who development the first award winning wine cellar in New Orleans, which was grounded in European and Californian wines."
For Iron Horse Readers Striving to Achieve Wine Award Worthy Excellence at Home: "We believe that a great meal begins with great company. At Commander's Palace, we love wine and it's a big part of our culture, but so are cocktails and food. I recommend starting your evening with cocktails and then moving into great wines. We don't believe in limits- the more the better. And great friends are great seasoning."
Molly Wismeir - R'evolution in New Orleans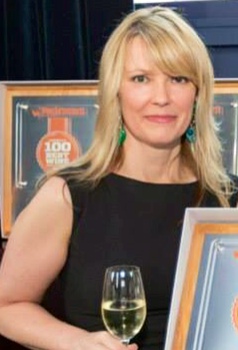 Background: Another longtime friend of our CEO Joy Sterling, Molly has an impressive professional pedigree including sommelier roles at the venerable Charlie Trotter's, Cru Cafe, and Epic in Chicago. Today, the Wine and Spirits Director at Restaurant R'evolution is basking in the glow of the Wine Spectator "Best of Award of Excellence" for her 1500 bottle selection that pairs with contemporary Creole fare.
Iron Horse Favorite: Molly has partnered with Iron Horse many times in the past, she remembers days of tastings with Joy at both Cru Cafe and Charlie Trotters and brought her affinity for the Iron Horse signature flavors to R'evolution. She believes the Iron Horse UnOaked Chardonnay is a benchmark in the category and notes that the Pinots, Sparklings, and Chardonnays are a core brand for her that are hard to keep in stock. Personally, the former Russian history scholar loves the Russian Cuvee as well as the Wedding Cuvee. The UnOaked Chardonnay is a "great expression of Green Valley and Russian River. Iron Horse stays true to their soil and what they do. The approachability and genuine nature of the brand is all in that bottle."
Reaction to News of the Honor: "We're in a group of stellar peers and I'm proud to be recognized for the work of our whole team. I started working on the wine list in 2010 and started by focusing on the seven nations of the Creole Cuisine as well as other European classics. I had to get a better understanding of New Orleans and what kinds of guests we'd have so that I could strategize how to blow them away."
Tips For Iron Horse Readers Striving to Achieve Wine Award Worthy Excellence at Home: "There's no right or wrong. You have to know what kind of food you're serving, make sure you've cooked it before and you've tasted it. Ask yourself 'what is it about that food that made you select it?' Then consider that what grows together, goes together. If you can wrap your arms around those concepts, you'll be stepping in the right direction. It's also important to think about what's in season and use what wine is being released right now. There's usually a sentimentality behind what food you're serving and the same should be true of the wine. The Sparkling from Iron Horse is a great way to set the tone with an approachable style. Remember that your objective is to make people happy; hosts who keep that in mind can't fail."
Sean Beck - Backstreet Cafe in Houston, Texas

Background: Dubbed by Wine Spectator's Charles Dalton as the "Dean of Houston Sommeliers," the 19 year veteran of the wine industry is a true ambassador of wine. He's changing how Texans are thinking about wine by exploring previously untapped wine regions with his dynamic wine programs. Sean approaches his career with an academic perspective, acknowledging that he's been fortunate to learn from industry greats, who have inspired him to adopt the philosophy that his work is never done. He is also proud of his inexpensive designation by the Spectator. He explains that people fall in love with great wine at all different points in their lives. It's important for the "unofficial wine ambassador" that he not dismiss a lover of wine by solely operating above a certain price point. "It builds people's confidence when they can have a great bottles at $30 to $40. Then they can evolve from there."
Iron Horse Favorite: At the moment, Sean is pouring our Ocean Reserve Blanc de Blanc 2009. He not only enjoys the bubbly but the message ties into his organization's thoughts on seafood and their emphasis on the importance of our oceans. Just like he pursues partnerships with ethically responsible fishermen and local products, he's strongly aligned with the Iron Horse Vineyards ethos that fundamentally champions respect of land. He's also a fan of our Chardonnays and Classic Vintage Brut.
Reaction to News of the Honor: "It was nice to hear and adds to the momentum of the Houston fine dining scene. But there's never that ah-ha moment for me. I'm always in perpetual motion. While you can have some underlying themes, the wine program is always so reflective of what you're doing food wise and who you're serving it to. This award is more of a sign of the times, reflecting things like seasons, environmental concerns, changing clientele, and the changing nature of this city."
Tips For Iron Horse Readers Striving to Achieve Wine Award Worthy Excellence at Home: "Setting drives everything, it's important to put together a feeling or mindset to drink wine. I've had more great bottles of wine ruined by setting and bad company. Also, knowing who you're having and the meaning behind the gathering dictates what you should serve. The more festive the occasion, the more simple you can go, since the energy is already there. Selecting wines should be done the same way you'd think about a guest list -- you have certain friends whom you love but can't have them in certain environments. Same thing with wine."
*****