Iron Horse
Blog
It's a week filled with promise and forward momentum at Iron Horse. The harvest has arrived. But just as we look ahead to an exciting new vintage, we want to take a moment to acknowledge many long-time friends recently honored by two key wine publications, just now receiving their plaques and certificates.
Wine Enthusiast's "Top 100 American Wine Restaurants" and Wine Spectator's "World's Greatest Wine Lists" have triggered industry-wide applause and we are happy to join in the chorus of congratulations to all of the winners. These wine list masters are recognized for stellar wine curation that is quite often the result of years of playful experimentation, daily tastings, dedicated travel, and team input.
Wine Enthusiast chooses restaurants where wine is as "integral as the celebrated fare." Resisting the urge to be distracted by the "longest, deepest, or trendiest lists," they celebrate the movement away from overly formal dining, more towards unique wine & food experiences. Their carefully selected list of 100 is illustrated by an interactive map, with an impressively even spread across different states, though, not surprisingly, heavily weighted in California and New York.
Wine Spectator looks at the world, assessing the breadth of quality wine producers featured on the wine list, along with a thematic match to the food menu in price and style. The Spectator Awards have three tiers:
1) Award of Excellence - 90+ well chosen selections
2) Best of Award of Excellence - 400+ selections (some more than 1000+) which display vintage depth, vertical offerings of several top producers from major regions, excellence breadth spread over several winegrowing regions
3) Grand Award - 1500+ selections with serious breadth of top producers, outstanding depth of mature vintages, selection of large format bottles, harmony with the menu in flavors, organization & presentation (81 winners this year).
Star sommeliers work with the chefs to create perfectly paired moments and in so doing are changing the way we eat and drink as a country. We are lucky to call many of them our friends and long-time supporters … and luckier still to be able to call a few of the nation's top honorees to discuss their award season glory. As you'll see, every region is rich in character and influenced by local factors in specific ecosystems, but you'll also find time honored philosophies at work as well. Read along as we talk to influencers located in different areas of the country.
"California Calling" - Iron Horse West Coast Anchors
Shelley Lindgren - A16 in San Francisco

Background: Shelley was awarded for Outstanding Wine Program in American from the James A Beard Foundation in May. She was recently honored in 7X7 Magazine as a San Francisco Reader's Choice for "Most Intoxicating Wine List". And this month her restaurant is featured on Wine Enthusiast list of "America's 100 Best Wine Restaurants 2015." She's most proud of her efforts to create an award-winning wine menu at a neighborhood restaurant, elevating itself against bigger operations with deeper pockets. A fun fact is that Shelley has family ties to the Sterlings through her husband going back several generations. She says she is constantly inspired by the Sterling family's commitment to the local community and has followed in Iron Horse's philanthropic footsteps with her own efforts through Slide Ranch, an organization that connects children with nature to foster new generations of environmental stewards in California.
Iron Horse Favorite: Her menu always offers three to four Sparkling Wines by the glass. One Prosecco, one rose, and right now, we are proud to say, Iron Horse Classic Vintage Brut "which has a beautiful vibrant acidity and richness that's a perfect celebratory glass of wine." Her focus is Italian with many California options.
Reaction to News of the Honor: "Restaurants rely on a team effort and A16 continues to be more of a team effort than ever. My husband Greg comes to mind first because of his restaurant building experience and vision for the space itself, including designing the wine "cage." My business partner, Victoria Libin, supports and shares the philosophy of quality, organic and love of food and wine together with service. This amazing support and honor helps us remember what a great gift it is to be ambassadors of so many wines we love and tell their stories daily."
Tips For Iron Horse Readers Striving to Achieve Wine Award Worthy Excellence at Home: "We've followed the approach of 'if it grows together, it goes together'. We consider factors like the season's bounty, weather, if it is a daily wine or a celebratory wine. We find that more and more customers are appreciating Sparkling Wines than ever before and always feel rose is incredibly versatile. I recommend trying new wines, new grapes and buying favorites. Wine is an always evolving art. Ask your wine shop owner, restaurant server or sommelier to recommend a style of wine you are in the mood to drink. I always find that it is so much fun to discover exciting new wines, this makes a meal a great pleasure."
The Great City of Chicago - Iron Horse Central Region Anchor
Rachael Lowe - Spiaggia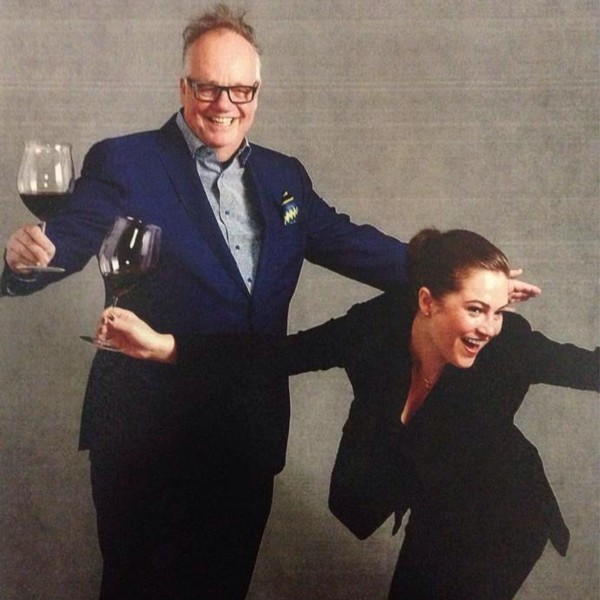 Background: The Wine Enthusiast "cover girl" was elevated to Wine Enthusiast's Hall of Fame for her Windy CIty excellence. She shares a full page Q&A on page 52 of the magazine's hardcopy with her colleague Chef Tony Mantuano. They discuss the importance of freshness at their iconic restaurant which has been open for 31 years, as well as the youthful and global infusion that Rachael contributed to the program. She is particularly excited about her newly concepted International Pairing that embodies a "flight around the world" with wines from exotic destinations like Croatia and Hungary. She's also spearheading an initiative at their reopened cafe which will shine a light on women winemakers - a list that will prominently feature Iron Horse!
Iron Horse Favorite: Rachael has always loved the Classic Vintage Brut. She explains it's "a perfect blend of Chardonnay and Pinot Noir, expressive, with aromas of green apple, lemon curd, marzipan and a touch of toast. Always great for any occasion and it pairs beautifully with most any food."
Reaction to News of the Honor: "We were thrilled! Tony and I had gone and done this really fun photo shoot knowing that we were going to be included in the article but NOT having a clue that we would be featured on the cover! A friend of mine had an online subscription to the magazine and sent me an email; we didn't believe it until we physically saw it. It really is such an honor."
Tips For Iron Horse Readers Striving to Achieve Wine Award Worthy Excellence at Home: "I would suggest exploring up-and-coming regions, and expanding from there. One doesn't always need to spend a ton of money to find quality wines; getting to know bottles from Cotes du Rhone, Sicily, Montsant, alternative Sparklings are an amazing way to educate oneself! Versatility is important as well. It is always great to have a vast assortment of wines from which to choose; who knows what one will feel like or what food might be on the table on any given night! And set the tone with your setting! At Spiaggia, we display our wine artfully in a wine foyer that's lit and temperature controlled, don't be afraid to use your bottles as art."
The Big Apple - Iron Horse East Coast Anchors
Anna Cabrales - Morrell Wine Bar in Rockefeller Plaza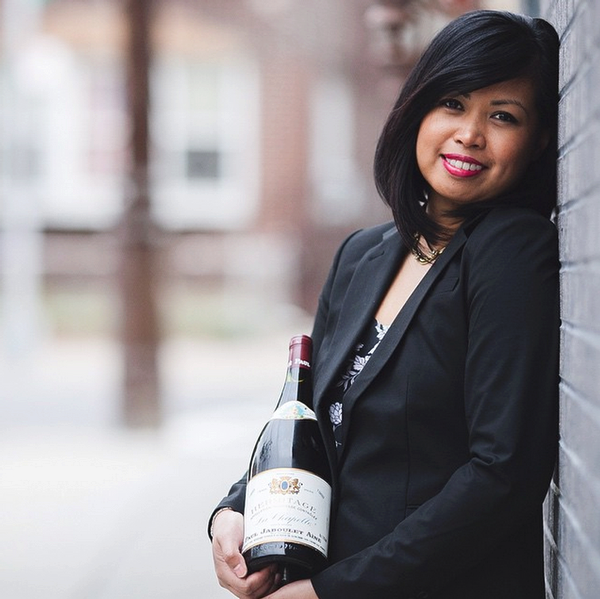 Background: Anna Cabrales has been with the pioneering Roberta Morrell's company for three years, and it marks her first position as the lead sommelier. Her wine program was honored by Wine Spectator with the "Best of Award of Excellence" this year and she is working towards building up the list for the Grand Award category next year. She will do this with her five tastings a day regimen, access to truly amazing deep verticals,, and guidance from the prestigious Morrell & Co. retail arm. Anna's enthusiasm for creating a family like experience makes this spot an oasis nestled into the chaotic New York scene. Her most treasured skill is the ability to listen to guests, creating a pleasurable moment when the guest is connected properly with the right food and wine for the perfect bite.
Reaction to News of the Honor: "I feel very grateful to Roberta Morrell for giving me a home. She gives me an energy that I didn't know I had in me and inspires me with stories of being one of the few women in wine in NYC in the early days of her career."
Tips For Iron Horse Readers Striving to Achieve Wine Award Worthy Excellence at Home: "When it comes to entertaining and dining, it has to be very thoughtful. It's about going the extra step to think about what might make guests smile with little added elements like glassware, temperature, and always having something out on the table. Consider transitions, how you'll progress into the next dish and the next wine. Similar to how I operate at the restaurant, it's ultimately about being open, warm and connecting people through well paired food & wine experiences. And whenever possible, make it rain champagne!"
Andre Compeyre - The Regency Bar & Grill on the Upper East Side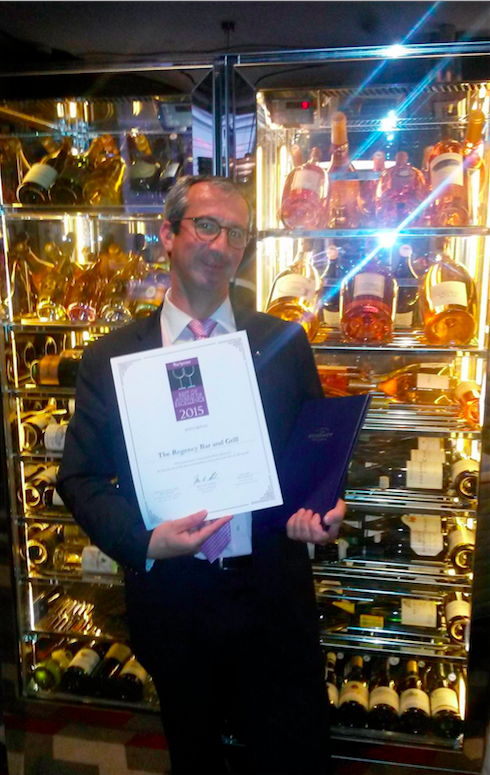 Background: The 20 year veteran in the wine industry was awarded by Wine Spectator as a new winner of the "Best of Award of Excellence."
Iron Horse Favorite: Since the opening, Andre has been proud to serve the UnOaked Chardonnay. The reaction from guests has continually elicited positive feedback. He also rotates other Iron Horse favorites. He's currently pouring the 2012 Estate Pinot Noir, and has on the list the Estate Chardonnay, and three Sparklings: Wedding Cuvee, Classic Vintage Brut, and Ocean Reserve. He especially likes the Pinot because of the balance - not overly fruity, with good minerality, and earthiness.
Reaction to News of the Honor: "It truly is a great honor for someone who has been in the business for over 20 years. The owners of the restaurant trusted me to build the wine program from scratch, marking an amazing opportunity to build with just a budget and a little direction. I forwarded the news to the owners right away so they could see what their investment had reaped. We opened in January 2014 and being in New York, I sought to have an international wine list with a moderate pricing approach, a goal that look me a year of work to fully realize. I waited a full year to submit to Wine Spectator and I appreciate that my peers have noted these efforts. I also forwarded the news to the team working on the floor with me. I shared this win with my team in the front and back of the house who are just as proud as I am of what we're sending out."
Tips For Iron Horse Readers Striving to Achieve Wine Award Worthy Excellence at Home: "Find someone that you trust, whether it's a restaurant somm or a retailer. The world of wine directors has changed drastically over the past 20 years, and professionals are more willing than ever to share their passion. If guests come in and mention they're going to have a cocktail party, I'm more than happy to give them a suggestion about what to serve or as an invited guest, what bottle to bring for the hosts. The industry has moved from trying to upsell to being rooted in sharing the passion for wine. Everyone has their own taste, but you can define quickly whose personality goes with what taste. Provide options based on country, single estate, and vintage."
Southern Charm - Iron Horse South Region Anchors
Dan Davis - Commander's Palace in New Orleans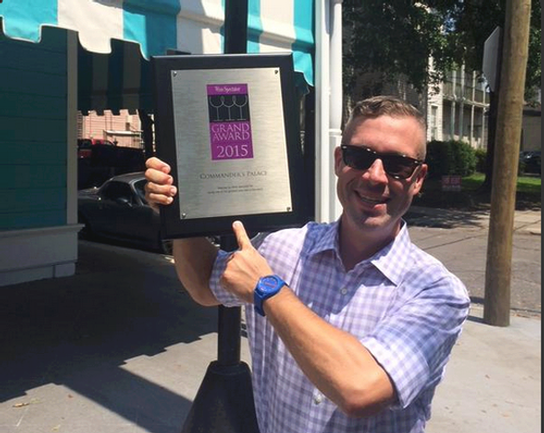 Background: Dan, or @CPWineGuy as he's known in the digital world, holds a Hall of Fame position in the Wine Enthusiast list of America's 100 Best Wine Restaurants 2015 which is occupied by only 76 restaurants worldwide. This honor marks their fourth year on the list, and Dan's sixth year running the program. The 135 year old Big Easy institution continues to stay at the forefront at the industry because of Dan's commitment to expanding the already substantial wine program. Wine Enthusiast notes that the "wine guy" has added offsite storage for future pours, introducing wines to the list when they are perfectly ready from a maturity standpoint.
Iron Horse Favorite: Dan explained that Iron Horse has been the signature house Sparkling Wine at Commander's Palace for 20 years. They have special bottlings, double magnums & magnums of their custom-made special cuvee. He believes that Iron Horse is one of the definitive American Sparkling Wines and that it goes amazingly well with the food served at the restaurant. He feels the house cuvee's distinctive qualities originate from the Iron Horse terroir and cold micro-climate of Green Valley." It's the right terroir for great bubbles."
Reaction to News of the Honor: "My first thought was thank goodness! It's a nerve racking waiting period. I feel rewarded for our commitment to offering reasonable price points. Of our 2600 wines on the menu, 60 wines are under $60 so anyone can join us for a drink and we encourage sampling with our offering of half glasses. This award is also especially meaningful since we're coming up on 10th anniversary of Katrina. After Katrina, the restaurant leadership got back in here to rebuild. Current managing partners all sat down and said - we don't know if business is coming back so let's just shoot for the moon. It's also a great feeling to be able to continue our restaurant's legacy which goes back to Ella Brennan, who development the first award winning wine cellar in New Orleans, which was grounded in European and Californian wines."
For Iron Horse Readers Striving to Achieve Wine Award Worthy Excellence at Home: "We believe that a great meal begins with great company. At Commander's Palace, we love wine and it's a big part of our culture, but so are cocktails and food. I recommend starting your evening with cocktails and then moving into great wines. We don't believe in limits- the more the better. And great friends are great seasoning."
Molly Wismeir - R'evolution in New Orleans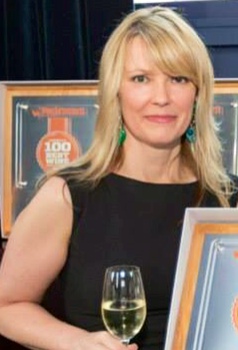 Background: Another longtime friend of our CEO Joy Sterling, Molly has an impressive professional pedigree including sommelier roles at the venerable Charlie Trotter's, Cru Cafe, and Epic in Chicago. Today, the Wine and Spirits Director at Restaurant R'evolution is basking in the glow of the Wine Spectator "Best of Award of Excellence" for her 1500 bottle selection that pairs with contemporary Creole fare.
Iron Horse Favorite: Molly has partnered with Iron Horse many times in the past, she remembers days of tastings with Joy at both Cru Cafe and Charlie Trotters and brought her affinity for the Iron Horse signature flavors to R'evolution. She believes the Iron Horse UnOaked Chardonnay is a benchmark in the category and notes that the Pinots, Sparklings, and Chardonnays are a core brand for her that are hard to keep in stock. Personally, the former Russian history scholar loves the Russian Cuvee as well as the Wedding Cuvee. The UnOaked Chardonnay is a "great expression of Green Valley and Russian River. Iron Horse stays true to their soil and what they do. The approachability and genuine nature of the brand is all in that bottle."
Reaction to News of the Honor: "We're in a group of stellar peers and I'm proud to be recognized for the work of our whole team. I started working on the wine list in 2010 and started by focusing on the seven nations of the Creole Cuisine as well as other European classics. I had to get a better understanding of New Orleans and what kinds of guests we'd have so that I could strategize how to blow them away."
Tips For Iron Horse Readers Striving to Achieve Wine Award Worthy Excellence at Home: "There's no right or wrong. You have to know what kind of food you're serving, make sure you've cooked it before and you've tasted it. Ask yourself 'what is it about that food that made you select it?' Then consider that what grows together, goes together. If you can wrap your arms around those concepts, you'll be stepping in the right direction. It's also important to think about what's in season and use what wine is being released right now. There's usually a sentimentality behind what food you're serving and the same should be true of the wine. The Sparkling from Iron Horse is a great way to set the tone with an approachable style. Remember that your objective is to make people happy; hosts who keep that in mind can't fail."
Sean Beck - Backstreet Cafe in Houston, Texas

Background: Dubbed by Wine Spectator's Charles Dalton as the "Dean of Houston Sommeliers," the 19 year veteran of the wine industry is a true ambassador of wine. He's changing how Texans are thinking about wine by exploring previously untapped wine regions with his dynamic wine programs. Sean approaches his career with an academic perspective, acknowledging that he's been fortunate to learn from industry greats, who have inspired him to adopt the philosophy that his work is never done. He is also proud of his inexpensive designation by the Spectator. He explains that people fall in love with great wine at all different points in their lives. It's important for the "unofficial wine ambassador" that he not dismiss a lover of wine by solely operating above a certain price point. "It builds people's confidence when they can have a great bottles at $30 to $40. Then they can evolve from there."
Iron Horse Favorite: At the moment, Sean is pouring our Ocean Reserve Blanc de Blanc 2009. He not only enjoys the bubbly but the message ties into his organization's thoughts on seafood and their emphasis on the importance of our oceans. Just like he pursues partnerships with ethically responsible fishermen and local products, he's strongly aligned with the Iron Horse Vineyards ethos that fundamentally champions respect of land. He's also a fan of our Chardonnays and Classic Vintage Brut.
Reaction to News of the Honor: "It was nice to hear and adds to the momentum of the Houston fine dining scene. But there's never that ah-ha moment for me. I'm always in perpetual motion. While you can have some underlying themes, the wine program is always so reflective of what you're doing food wise and who you're serving it to. This award is more of a sign of the times, reflecting things like seasons, environmental concerns, changing clientele, and the changing nature of this city."
Tips For Iron Horse Readers Striving to Achieve Wine Award Worthy Excellence at Home: "Setting drives everything, it's important to put together a feeling or mindset to drink wine. I've had more great bottles of wine ruined by setting and bad company. Also, knowing who you're having and the meaning behind the gathering dictates what you should serve. The more festive the occasion, the more simple you can go, since the energy is already there. Selecting wines should be done the same way you'd think about a guest list -- you have certain friends whom you love but can't have them in certain environments. Same thing with wine."
*****
With another installment in our celebrity chef spotlight, we took the opportunity to chat with a magical partner around a very special milestone. Andrew Sutton has been the lead culinary visionary at Disneyland since 2000. Chef took a moment to walk us through his experience serving Iron Horse Fairy Tale Cuvee for the past 15 years and throughout Disneyland's 60th Diamond Celebration (read more about this year long fete from the Wall Street Journal).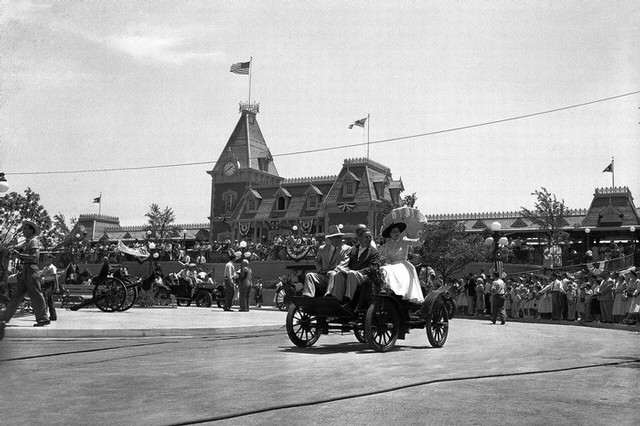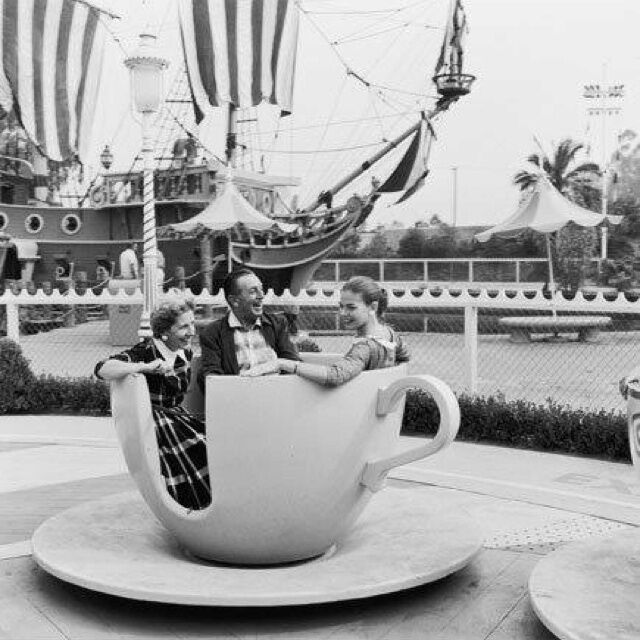 The Happiest Place on Earth opened their doors on July 17, 1955. The park has hosted over 700 million guests from over 200 countries. It is an American icon, loved by people around the world.
We first created Fairy Tale Cuvee over 25 years ago thanks to Iron Horse Co-Founder Barry Sterling, who came up with the concept of making Special Cuvees (keep reading for an equally special discount opportunity). Among the first was Fairy Tale Wedding Cuvee originally created for the Wedding Chapel at the Disney's Grand Floridian Resort in Orlando.
Our star partner's environmentally-friendly, direct-to-farmer practices define his ever-changing menus. It also aligns him perfectly with the Iron Horse ethos that's guided by a commitment to operating the right way to yield the right tastes. Andrew explains the satisfaction of offering California Wine Country & fine dining in an iconic American location.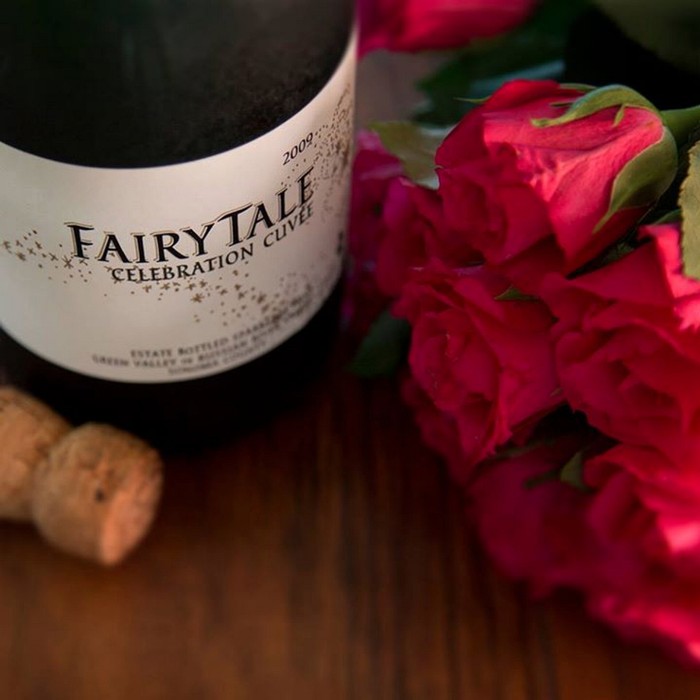 Interview with Andrew Sutton: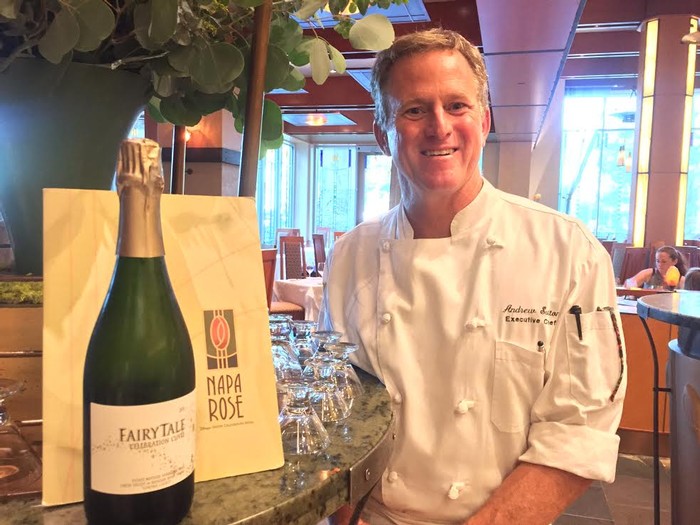 Iron Horse: What's your role at Disneyland?
Andrew Sutton: I manage all three signature restaurants at Disneyland - Club 33, Napa Rose, and Cathay Circle. I also oversee our Grand Californian Bake Shop and Central Bakery with our lead pastry chef who provides sweets for Napa Rose along with Carte Circle.
Iron Horse: How has your role with Disneyland evolved over your 15 year tenure?
Andrew Sutton: We've come a long way. Fine dining isn't something that many expect to see at Disneyland but that's exactly what we provide. This offering is the product of my approach to food that I brought from my Napa Valley days as chef at Auberge du Soleil. Working directly with the farmers, I was exploring farm to table before farm to table was cool, and brought that to Anaheim. Disney has always been very supportive of my drive to find the right sources. This seasonal, responsible approach has delicious outcomes. You're rewarded with flavor.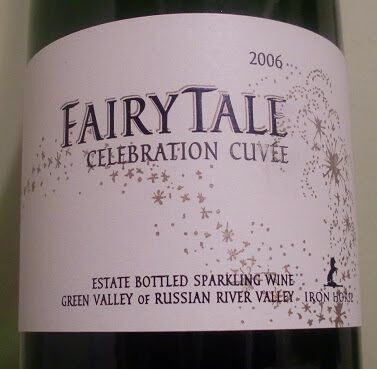 Iron Horse: A "right" source for sparkling wine has definitely been Iron Horse for the past 20 plus years. Explain a little bit about what our bubbly partnership means to you.
Andrew Sutton: As a strong believer in working with local partners who practice sustainable techniques, this is an ideal philosophical collaboration. We serve the Iron Horse Fairy Tale Cuvee on our menu throughout the year, and our prix fixe menu at Napa Rose.
Iron Horse: As someone who brought the "wine country feel" to Disney, what makes our sparkling ideal for your guests?
Andrew Sutton: When I think about Iron Horse there are two things that make it particularly relevant for me. First, I love Joy Sterling! She gifted three cases of wine for my wedding. Second, Iron Horse is a very high quality American sparkling that lends itself to American flavors. I've been out at Iron Horse to experience the feel and smell of their land. The initial Francophile sensibility intermingles with a California perspective. That flavor profile comes through.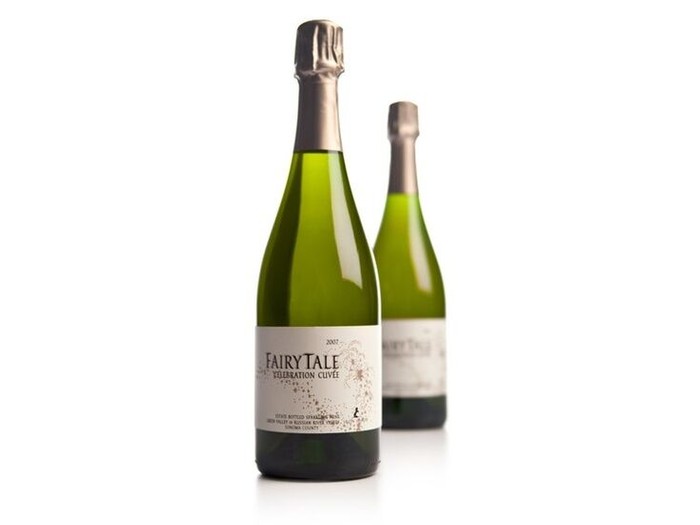 Iron Horse: How are you using Fairy Tale Cuvee during Disneyland's 60th Anniversary celebrations?
Andrew Sutton: During the peak of our Diamond Celebration, we'll have a vintner's table at Napa Rose that will offer the best of our products, starting with Iron Horse Fairy Tale Cuvee. It adds to the "sense of place" that comes and facilitates a smooth flow to the experience.
Iron Horse: How could a guest capture this experience on their own at home? Can you share some pairing recommendations with us?
Andrew Sutton: Iron Horse sparkling can pair with seafood and birds nicely. It's not afraid to go against grilled flavors and satay as well. It's that ease of pairing that makes this sparkling ideal to work with. So something like a grilled salmon, american corn, with a highlight of tangerine and lemon in the background.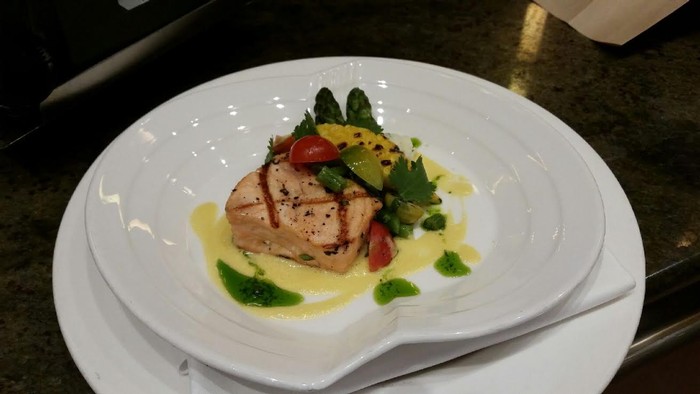 Join us in a special toast to Walt Disney with Iron Horse 2012 Fairy Tale Cuvee, produced exclusively for the resorts, theme parks and cruise ships, but available at our Tasting Room and in our online shop - use Discount Code 60YEARS to receive special pricing - 20% discount on purchases of six or more bottles, which can include other Iron Horse wines except large formats.
###

With the start of summer, the drought has been hitting closer and closer to home … and then, suddenly, it is home.

Wells are starting to go dry in nearby Forestville. Up until now, I have felt relatively secure that the North Bay (Marin, Sonoma, Napa) is experiencing nothing more than a "severe drought." This classification is a level five on the seven levels of severity. Therefore, in a small way I have considered our vineyard as more fortunate when compared with other parts of the state, like Fresno, which is suffering "extraordinary drought."
Since I last blogged on this topic, the State Water Resouces Control Board approved an emergency regulation aimed at protecting the threatened Coho Salmon and Steelhead. Ordinances affect about 13,000 properties in the watersheds of Dutch Bill Creek, Green Valley Creek, which bisects Iron Horse, Mark West Creek and Mill Creek. Water users in these watersheds, i.e. us, will be subject to: 1) enhanced conservation measures built on existing statewide water restrictions 2) regular submission of reports detailing surface and groundwater use. (Note: Below is a photo of our creek from May 2013. It shows water … today it is just muddy.)

The center of this issue goes beyond the mandatory reporting of diversions, focusing on the very definition of a diversion. According to a draft of the emergency regulation:
"Diversions" means all water diverted or pumped from surface waters or from subsurface waters that are hydraulically connected to the surface stream within the 
watersheds.

All subsurface water is considered hydraulically connected to the surface stream if 
pumping that water may contribute to a reduction in stream stage or flow of any 
surface stream within the watersheds.
For the first time ever we will monitor and report on our groundwater use, filing what we have diverted with the State Water Boards.
Really this just means more paperwork. Historically, we only divert water from the creek when the water level is high enough for the health of the fish. Our Iron Horse family has been working with Fish & Wildlife officials since last November to remove any barriers preventing fish from commuting up and down stream. To support our joint efforts, we have significantly reduced our diversions. In 2013 we pumped 8 acre/feet, in 2014 just 2.75, and in 2015, none … so as not to endanger the hatchlings seeded by Fish & Wildlife. We love the salmon and do everything we can to help them navigate Green Valley Creek.
This makes us more reliant on the fruits of our conservation efforts including recycled water and winery grey water which goes to the reservoir for the vineyards, gardens and landscaping. This reservoir is just about full - re-charged by advanced treated water from Forestville. We are installing meters on our wells and our houses. We are mowing more frequently in the vineyards to preserve the cover crop and keep it from competing with the vines. We pruned and have been thinning shoots to reduce water needs of the vines. (Below - a picture of the vegetable garden, irrigated with advanced treated water.)

Good news is that at least in May, we celebrated residential water use wins as shared in the Los Angeles Times. Urban areas reported a 29% drop in usage which is the biggest monthly decline yet since Gov. Jerry Brown ordered mandatory cuts. But officials caution that these efforts will have to ramp up as the warmer months become more exaggerated, we need six consistent months of similar water use declines to see serious impact.
As experts admit, overall water usage this summer is anyone's guess and is largely dependent on the heat. Every drop counts - a philosophy that has been embraced by everyone at Iron Horse. In fact, my brother is growing a "drought beard" to proactively "repurpose" water normally used while shaving.
As for our beloved California salmon …
We spend a good part of the year waiting for summer, which heralds the return of wild king salmon, considered by many to be Sonoma's "National Dish".

State and federal wildlife agencies have been transporting the new generation of baby fish via tanker truck to San Francisco Bay. Due to the drought, rivers and streams have become too shallow or too warm for salmon to navigate and survive the journey to the Pacific.
The salmon transport has been in progress since February, with 35,000 gallon tanker trucks being used to transport salmon along the 90 minute journey from hatcheries to the ocean via the freeway to bypass dried-up riverbeds.
In the next few years, we will start to see the effect of the drought on fish in the ocean. Warmer water makes the fish harder to catch because they're not concentrated in their normal areas. And we don't yet know how many fish have reproduced in the rivers and creeks … and how many will make it back.
The Salmon's Life Cycle:
The fish swim up the river and spawn, those baby salmon grow into smolts and work their way down to the ocean within a year or two. They spend five or six years in the ocean, and then they go back up the river they were born in to spawn again and die. If there's no water, they can't swim downstream to the ocean or back upstream to reproduce. We're affected by the water conditions from five or six years ago. So we'll see the effects of the drought in the next few years.
Nutritional Value:
California wild and natural King Salmon is considered by many to be the finest member of the salmon family and extremely nutritious. "Fast" food facts:
less than 200 calories per 3-ounce portion

excellent source of quality protein (21 grams, 47% of the Recommended Daily Intake)

low in saturated fat and sodium

rich in vitamins and minerals

ocean-run California King salmon is also very rich in omega-3 fatty acids
Versatility:
Salmon can be grilled, baked, broiled, poached, microwaved, sautéed, smoked, canned, or eaten raw in sushi and as sashimi. It can be prepared with any of your favorite seasonings or marinades: simple or exotic, homemade or store-bought. Don't think of it as only an entree; it can also be featured in chowders and soups, pastas, appetizers, salads and sandwiches. And most importantly, it pairs beautifully with Chardonnay, Pinot Noir and bubbly!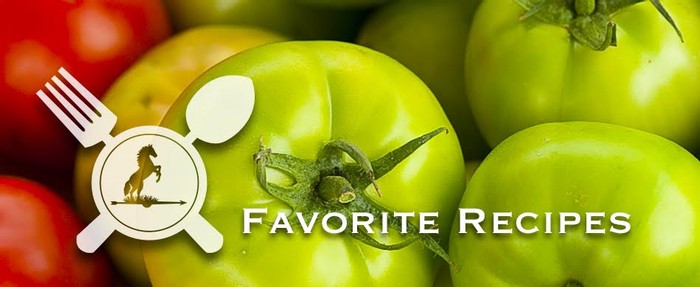 Iron Horse Favorite Recipe:

Whole Roasted Salmon in a Crust of Sea Salt
Ingredients:
1-8Lb. Salmon, gutted, scaled and trimmed
salt and pepper
1 bunch fresh thyme
several fresh bay leaves
6 Lb. sea salt
extra virgin olive oil
zest of 4 lemons, finely chopped
Serves: 8 people
Directions:
Preheat oven to 450 degrees. Wash fish thoroughly, inside and out, and pat dry. Season the cavity of the fish with salt and pepper, the thyme and bay leaves.
Spread half the sea salt on the bottom of a large baking dish or half sheet tray. Place the fish and completely cover it from head to tail with the remaining salt. Put in the oven and bake 10 minutes per pound.
Remove from oven and let rest for 5 minutes. Brush away as much salt as possible from the fish. Then, using a sharp knife, gently remove and discard skin. With a thin spatula, remove the filets from along the backbone, place on a serving platter and drizzle with olive oil and lemon zest.
######
Winemaking at Iron Horse is a passion and brimming with romance. It's a family effort spanning three generations. Winemaker David Munksgard (pictured below in his "mad scientist" lab) has been a part of the vineyard family for the past 20 years. He plays a leading role in determining the outcome of exceptional Iron Horse wines and bubbly.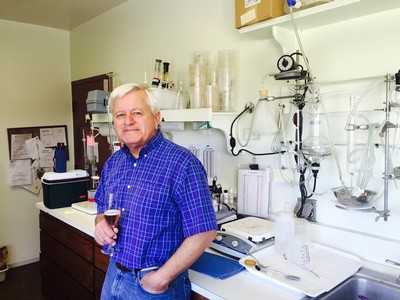 I had the pleasure of touring the property with David one sunny afternoon in Green Valley. The first thing that sticks out is David's emphasis on the importance of the "place." After an ebullient hello and a pop of Wedding Cuvee to celebrate my recent marriage, he informed me that the Iron Horse estate has the most sought after land for growing Chardonnay and Pinot Noir in all of California.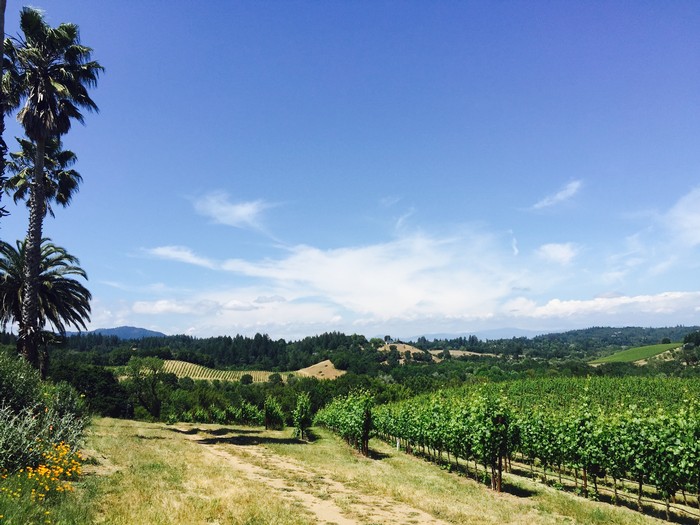 The unique conditions - cool nights and nearby ocean influences, make each of the exclusively estate bottled wines rich with the special flavors, specific to the vineyard and never the result of "recipe winemaking." Don't get him started on his "special sauce" or his tireless drive for balance, quality, and class in a bottle.
David starts out every day in a personal paradise. He arrives in the vineyards at 6AM and conducts a sunrise walk through. The winemaking process is about getting on an intimate level with the grapes from beginning of their life cycle 'til the wine is corked and "laid down" to age. David even admits to whispering motivational words to grapes. And when he returns to his "desk" -- this delicious view below awaits him....
His efforts are grounded in the superior vineyard farming style implemented by Partner and Director of Operations Laurence Sterling. The vineyard has been slowly replanted over the past eight years by 10-15 acre increments. In certain blocks, the row direction was changed to get the most even sunlight with computer generated simulations guiding the proper orientation.
Laurence's responsible farming has had ripple effects beyond superb wine, even the creek which cuts across the property has begun spawning salmon again. I'm not surprised to see this commitment to doing what's right pop up again and again. As a keen Iron Horse observer, this pervades all decision making, regardless of just how challenging it might be.
David's roots are on the East Coast, where European wine is the template. Burgundian wines and French style sparklings are his jumping off point - a style that matches the Sterlings' love of French tastes/culture based on their history as past French residents! The combined French influence is evident in Iron Horse wines, especially as they age. Flavors also originate from the site and from his deep understanding of his audience - the Iron Horse fans. He works with team members in blind tastings and solicits consumer feedback from visitors at the tasting room to facilitate consistent improvement and innovation.
To better understand the sparkling winemaking process, David walked me through pivotal points which illuminated the intense work, oversight, time and patience required:
Step 1: August is dedicated to hand picking pinot noir for sparkling, followed by chardonnay. Each vineyard block is kept separate until blending time.
Step 2: Fermentation.
Step 3: In February, David starts assessing blend options. He plays with the blends based on smell, visuals, and of course tastes. He consults the team through "blending sessions" and notes that he has to separate from his own preferences at this point. His priority is to determine proper taste for the different occasion and label. (Note - David's toughest critic is his wife whose all time favorite Iron Horse Sparkling is Russian Cuvee)
Step 4: After the sparkling blends are chosen, they're put into stainless steel then refrigerated to
force crystals to form so they won't form in the bottle. You'll find these "cold stabilization" tanks with ice on the sides!
Step 5: Seven days before bottling day, he grows a yeast culture. One day before bottling, he adds sugar. The product is bottled for the secondary fermentation creating bubbles and then aged for three to eight and even 15 years for the future magnums of Joy!
Step 6: The riddling process and disgorging process remove the spent yeast. At this point, a dose of David's "special sauce" is added - this secret ingredient determines the degree of sweetness to dryness and sets the style of each of the Iron Horse bubblies.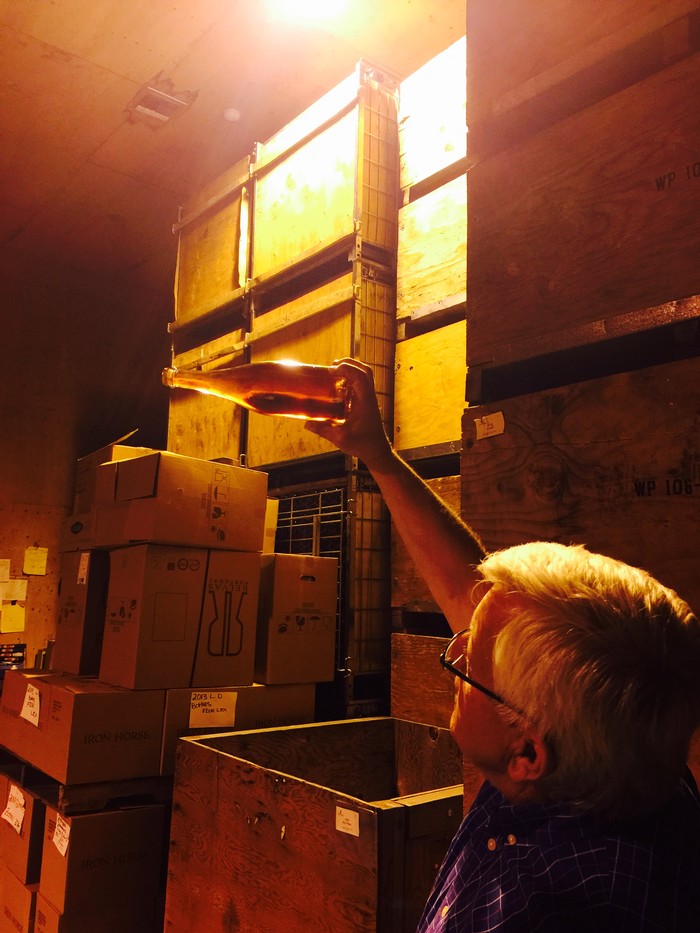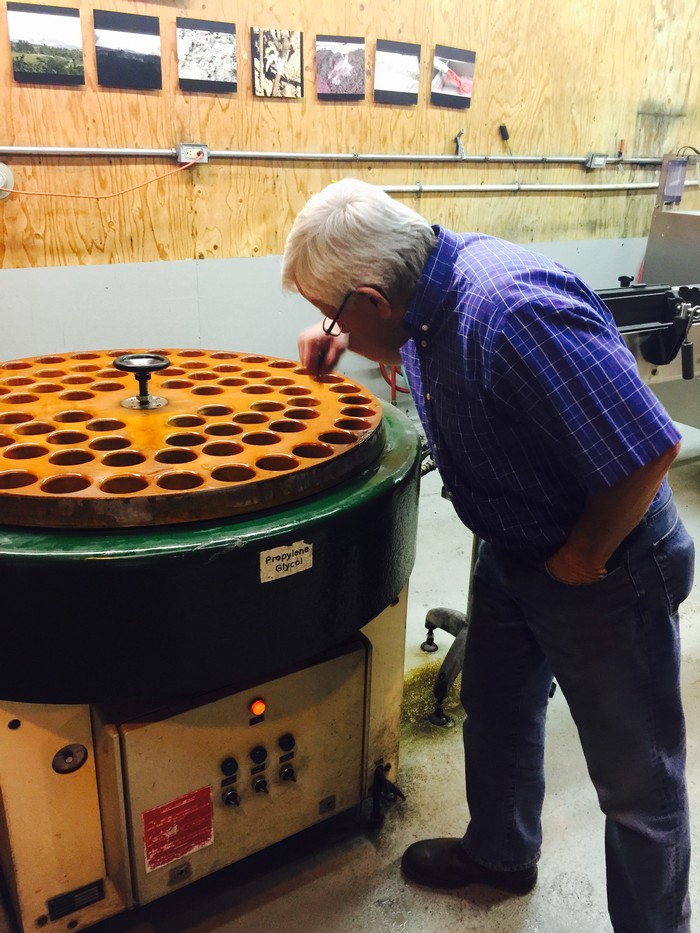 Fun Fact! Even the Iron Horse corks have been specially curated. The vineyard partners with one family in Portugal - David says they're the best in the business! Signature cork shown off below by the wonderful Wine Club Manager Kevin Vanderhoff.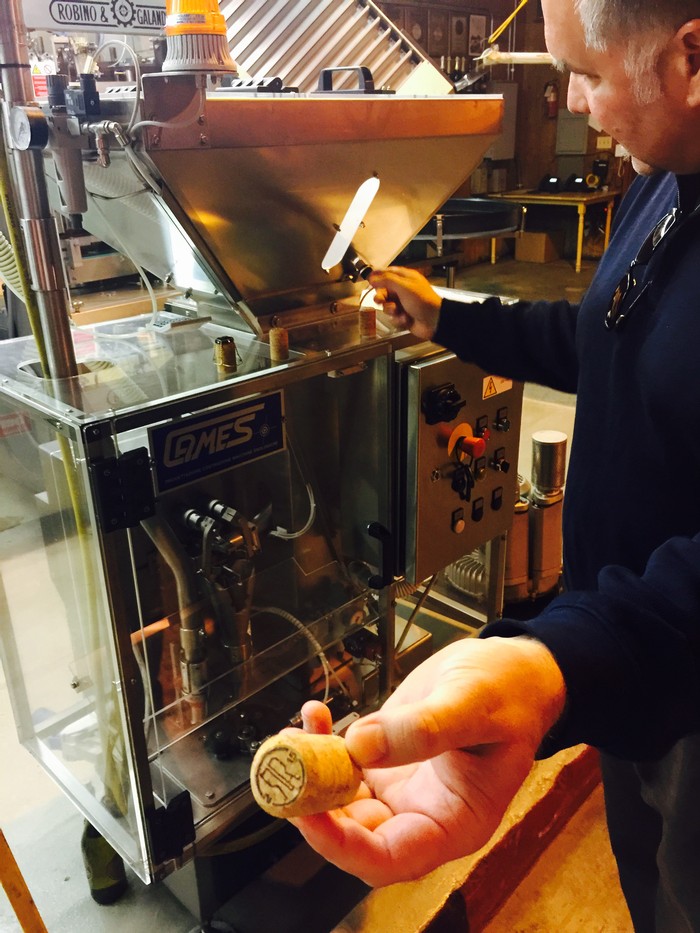 If you ask David to name his favorite bottling - you won't find an easy answer. His passion for all of his creations drives the Winemaker's Choice Club option where David selects his two favorite bottles each month to answer the question of "what's the winemaker drinking." Sometimes he'll spotlight "hidden gems" which he and the cellar master might stumble upon by accident in some forgotten corner … a discovery prospect which I found very romantic!
He does make a few recommendations:
Summit Cuvee, commemorating the history making free climb by two brave climbers and Iron Horse friends in Yosemite in January. Some have called it his "masterpiece," the special sauce (aka liqueur de dosage) is a deliciously distinctive flavor with notes of caramelized cream soda like.
Russian Cuvee, the "ideal toasting" sparkling, always at the ready, chilling in his fridge at home.
Ocean Reserve, made in partnership with National Geographic. $4 a bottle goes to National Geographic's Ocean Initiative to help establish marine protected areas and support sustainable fishing.
And Summer's Cuvee, a limited production, seasonal pop that he dreamed about for years before actually developing. The new vintage has just been released!
Pictured below... bottles always line his desk and the Tasting Room shelves just outside.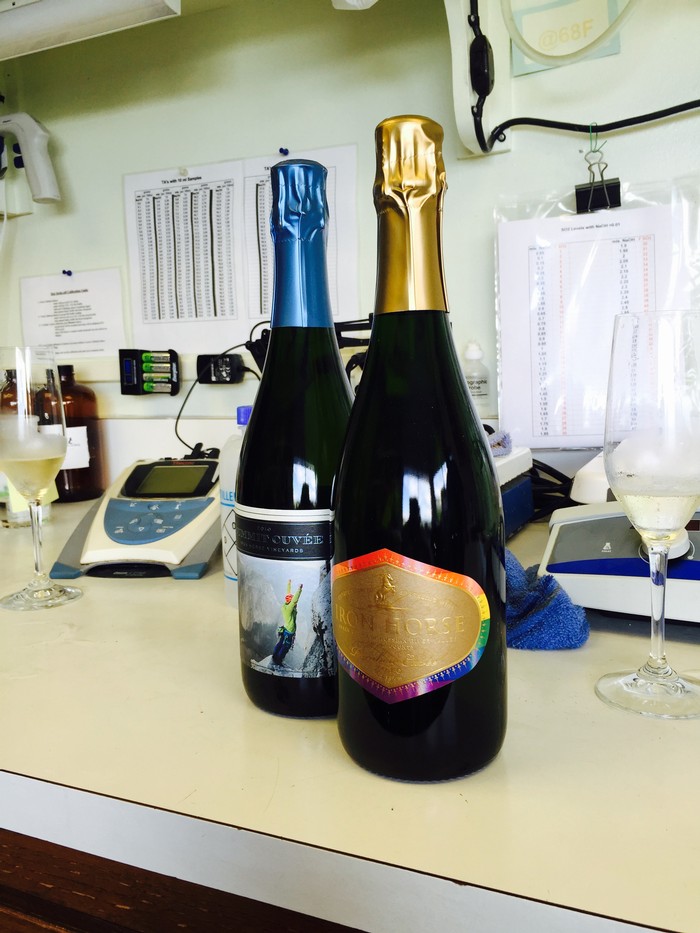 He also enjoys working with longtime Iron Horse special partners, like Charlie Palmer, Michael Mina, Commander's Palace, and Disney where Iron Horse is the official wine in the theme parks and on board their cruise ships. These friends have a long standing trust in the irresistible allure of the vineyard flavors and David's winemaking prowess.
David, a poetic and gentle soul at his core, explained sweetly "You want to fall in love with the wine." This reflects our winemaker's self-assigned mission to create the perfect sip which anchors you into a memory and an experience. He speaks about overhearing brides in the Tasting Room reminiscing about Wedding Cuvee on their special day and is filled with emotion. That's what he works for. That pairing of a beautiful moment in time punctuated by the specially crafted and perfectly corresponding bubbles.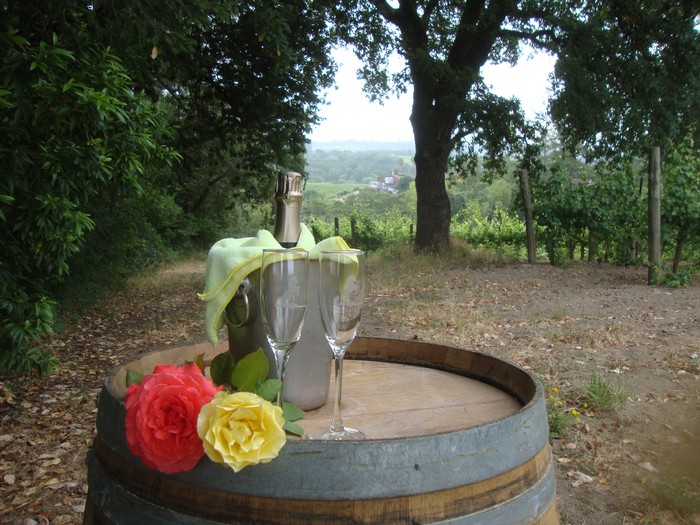 For more fun with David, Iron Horse offers very special "Truck Tours" of the vineyard on Mondays, by appointment only. And I must warn you that these tours are becoming legendary at Iron Horse. A recent "Truck Tour" resulted in a proposal and a pop of a champagne cork with David as a co-conspirator.
He began a private tour with a glass of bubbly & an unsuspecting future bride accompanied by her prince charming. David led the couple to a barrel conveniently placed in his favorite area of the vineyard where he strategically stopped the truck to point out the beautiful view of the winery - handed off a bottle of Wedding Cuvee - and stepped aside for the magic proposal to occur in the glow of fizzing Iron Horse bubbles. I think it goes without saying . . . she said YES.
Book your own romantic memories by clicking here . . .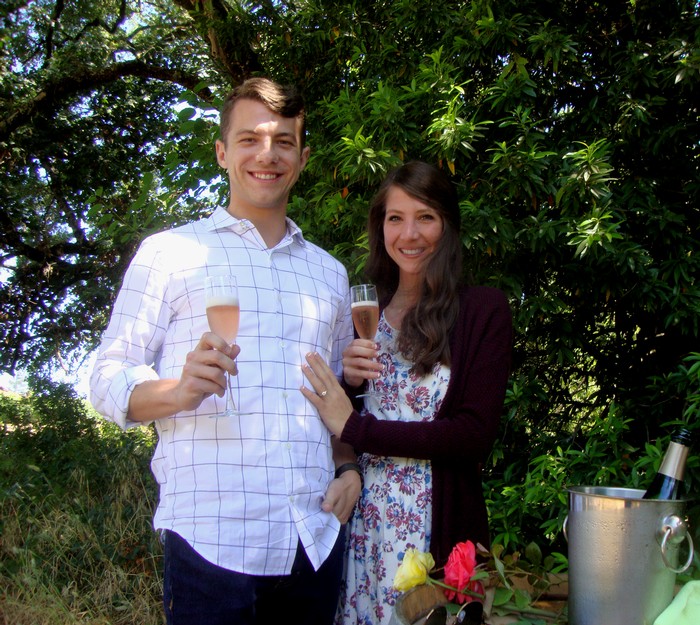 -Interview with D. Munksgard as told to Tarin Teno

At Iron Horse, we wear our Pride on our sleeve…. and on our bottles, celebrating diversity with our 2010 Rainbow Cuvee. This second vintage of the vibrant, limited production bubbly delivers the celebratory experience that so perfectly pairs with this 45th anniversary of San Francisco Pride in our urban backyard ... and at the White House annual LGBT reception held June 24.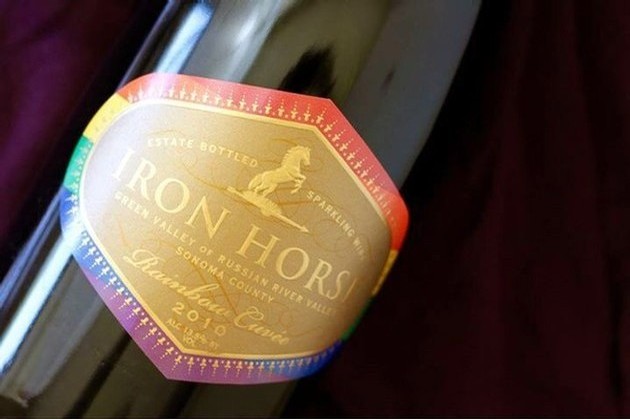 We are honored to be recognized as one of the top 6 most gay friendly winery in California.
On Saturday June 27, radio host Joel Riddell will be broadcasting live at the heart of the San Francisco festivities on Talk Radio 910 including a pre-taped interview about Iron Horse and the creation of Rainbow Cuvee. Stay tuned for more information on how to listen in.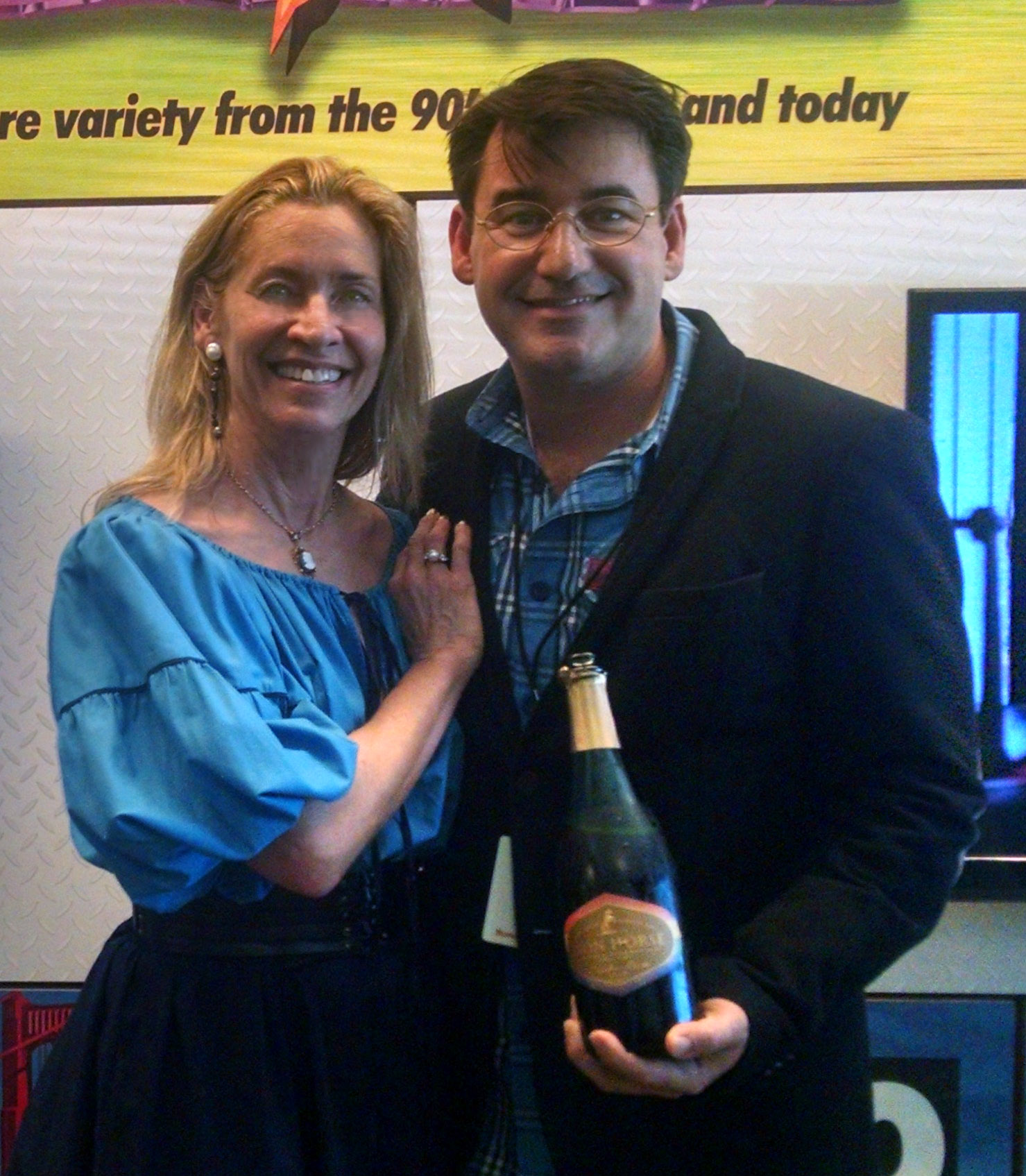 San Francisco Pride occurs on June 27 - 28. The theme this year is "Equality without Exception".
Here are some insider tips if you're planning to attend.
1. Wear sunscreen.
2. Get to the parade early … it's usually five people deep along the route.
3. Use Uber or take the bus. Do not try to park down there.
4. Obey the rules on nudity. (There aren't any!)
5. Best bar for people watching, Twin Peaks at Castro and Market. It's all glass and has a balcony.
6. Tune in to Dining Around with Joel Riddell on Saturday 1-3pm on iHeartRadio, Talk Station 910, KKSF.
7. For after the parade on Sunday, go to Disco Daddy at the SF Eagle. It will be the closest you can get to the spirit of "old Pride". Sylvester, Dianna Ross, Grace Jones and the Village People will be channeled. $5 at the door, this is the best deal on Pride Day and walking distance from the parade.
8. Go see City Hall light up at night in the rainbow colors.
9. Get up to date on the "Alphabet Soup". It's not LGBT anymore. The latest is LGBTQQIA, which stands for Lesbian, Gay, Bisexual, Transgender, Queer, Questioning, Intersex and Ally. By the way, Iron Horse is an ally.
10. Make sure you have your Rainbow Cuvee chilling at home. You'll be ready for it when you get done.
The idea of Rainbow Cuvee is thanks to our friend and Direct to Consumer expert, Sonyia Grabski, inspired by the beauty of Gay Pride Flags fluttering in a June breeze.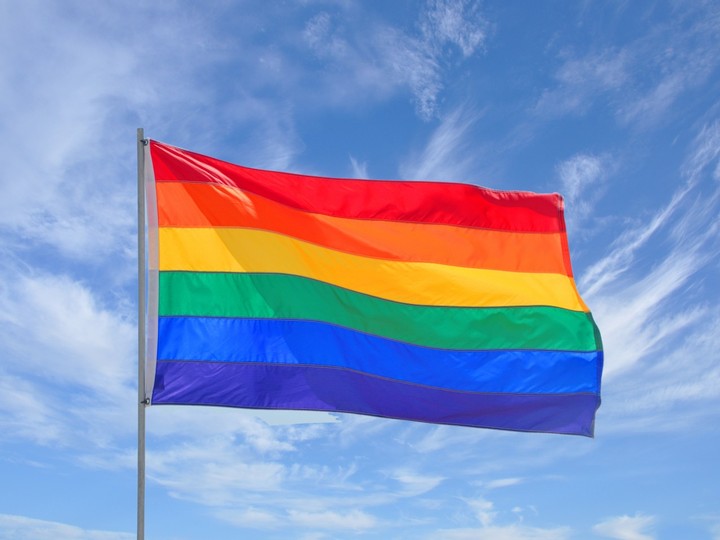 The strong symbol and graphic direction provided the official colors which were carefully integrated with the Iron Horse brand by our label designer Mark Berry.
Mark presented six design variations to start the process. And in playing around with print techniques, our team discovered the option of an iridescent foil on the rainbow border. This element adds the festive and dynamic feeling that we wanted to convey the delicious flavors within and the larger message of our times.
For an insight into the design process, check out these interesting photos, showing the embossed base colors and the final foil stage.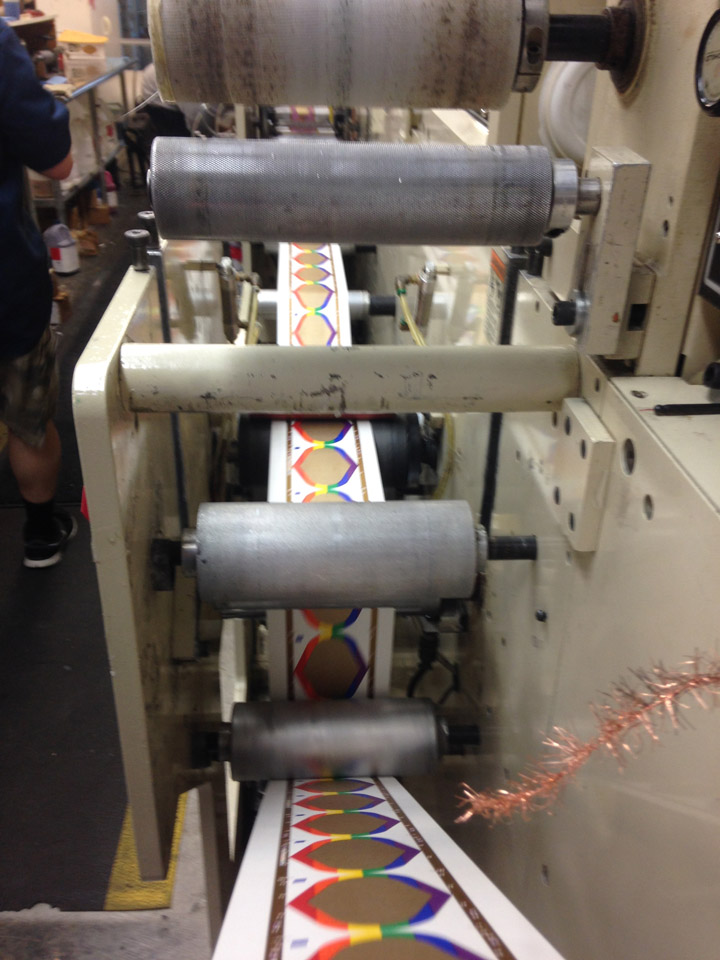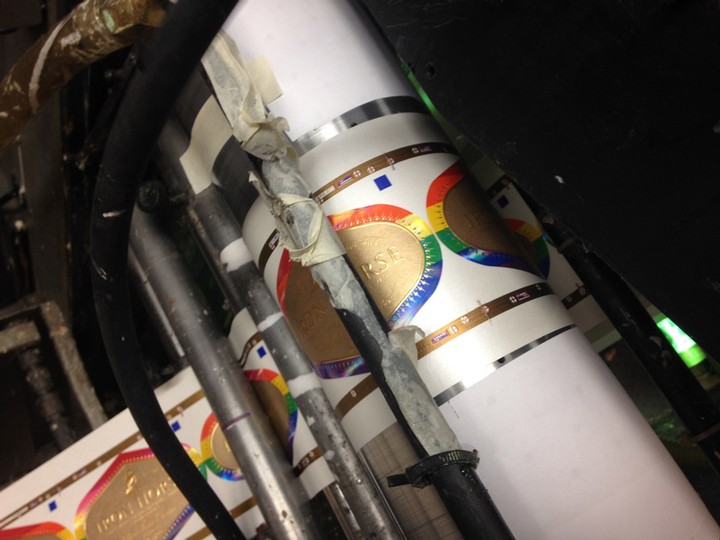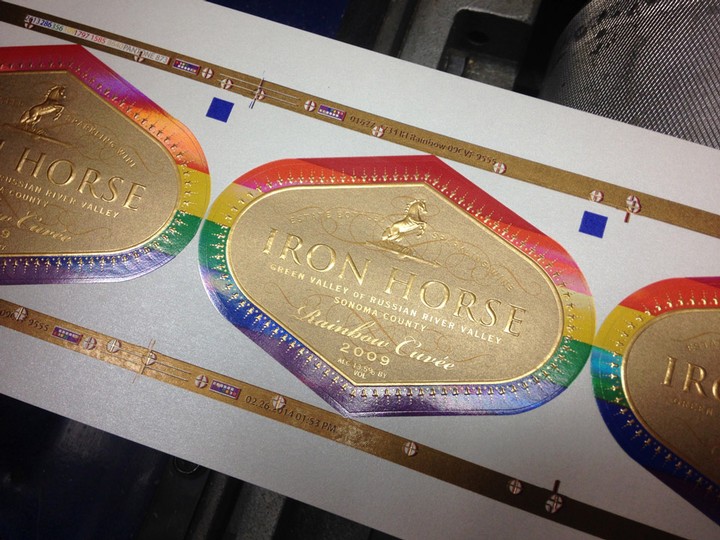 Supplemental Reading for those who like a little FAQ FUN:
The Betsy Ross of the Rainbow Flag was San Francisco designer Gilbert Baker. It was first unfurled in 1978 at the Gay Freedom Day Parade. Legend has it that Baker was inspired by Judy Garland singing "Over the Rainbow" and the Stonewall riots that happened in New York shortly after Garland's death.
The world's largest Pride celebration is in Sao Paulo, Brazil.
It's important to remember how much has changed in just the last decade … and exciting to celebrate that we are at a major tipping point in the march towards marriage equality, when the strength of national support has raised hopes of a Supreme Court ruling on the rights of same-sex couples to marry across the country.
Here's to the freedom of being yourself!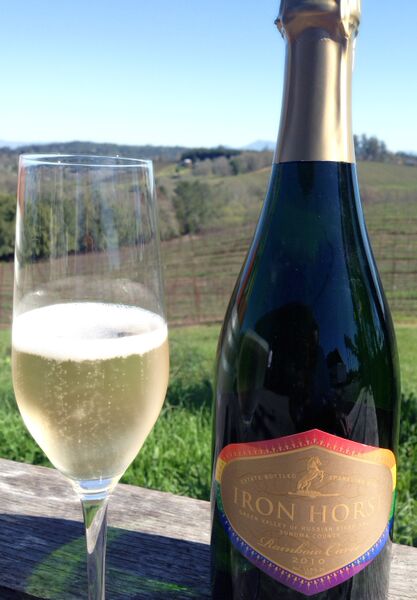 Surfs up!
Here at Iron Horse we strive to catch every wave and today happens to be World Oceans Day - celebrated every June 8 across our blue planet. Now officially recognized by the United Nations, the date was originally proposed in 1992 by Canada at the Earth Summit in Rio de Janeiro.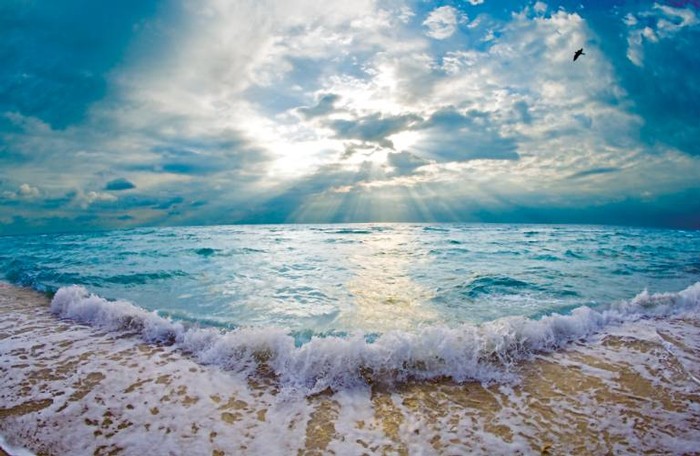 Water has been a big topic for us this year. So it should come as no surprise that we are passionate about our ocean - the "heart" of our world. It connects us, regulates the climate, feeds millions of people, produces oxygen, is home to an incredible array of wildlife, provides important medicines, facilitates trade, and is so very beautiful. It's imperative that we assume the responsibility to care for the ocean as it cares for us.
There are many ways to show some ocean love:
Cut back on using disposable plastic bags

Go to the aquarium

Wear blue

Get involved in a community beach clean up

If you are lucky enough to be near the water, dive in

Just tweeting about the day spreads the word and gets people interested

Be mindful about your food choices. Educate yourself about sustainable seafood choices starting with this piece from Chef Barton Seaver here

Leverage the Monterey Bay Aquarium Seafood Watch - a great resource
For the past five years, we've gone one step further to merge the oceans we love with what we do best. We will be toasting with our special 2010 Ocean Reserve Blanc de Blancs, which we produce in partnership with National Geographic.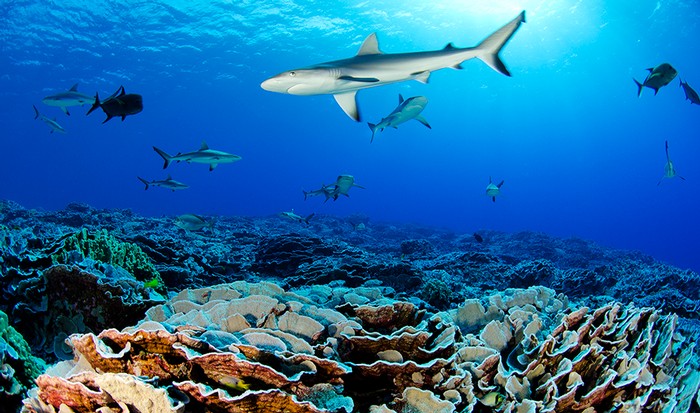 $4 per bottle goes to NatGeo's Ocean Initiative, helping establish Marine Protected Areas and support sustainable fishing around the globe. It is a great source of pride that our contribution comes to about $220,000 in five years ... and counting.
The first vintage was welcomed with the inspirational Barton Seaver. As explained in this 2010 article

here

, the National Geographic fellow came to taste with us.
In one video, Barton elaborates on the nearby ocean's impact on Iron Horse "meroire"… he also conveniently presents a grill-friendly pairing recipe where sustainably farmed seafood appropriately takes center stage. The must-watch video is here.
Barton was an ideal partner in the creation of this cuvee and his words on the topic encapsulate the larger mission of our efforts perfectly:
"The oceans are in all of us and are in all that we hold dear. The wine with which we celebrate World Oceans Day was in fact grown in deposits of ancient marine life, the juice of the grapes itself a product of our oceans and a testament to the power of the oceans to sustain our reality."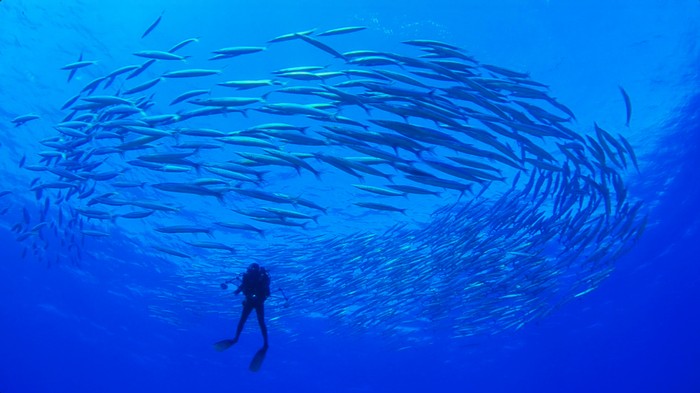 In fact, Barton believes how we eat and drink is the first step towards environmental responsibility. He has been known to explain, "Deliciousness is the first line of environmentalism." And of course the ocean plays a major role in our signature Iron Horse winemaking. The nearby Pacific (only 13 miles as the crow flies) is the driver of our special microclimate that allows us to make unparalleled Sparkling Wine with bright acidity and brilliant aromas.
Today, take a moment to meditate on the ocean's role in everyday life.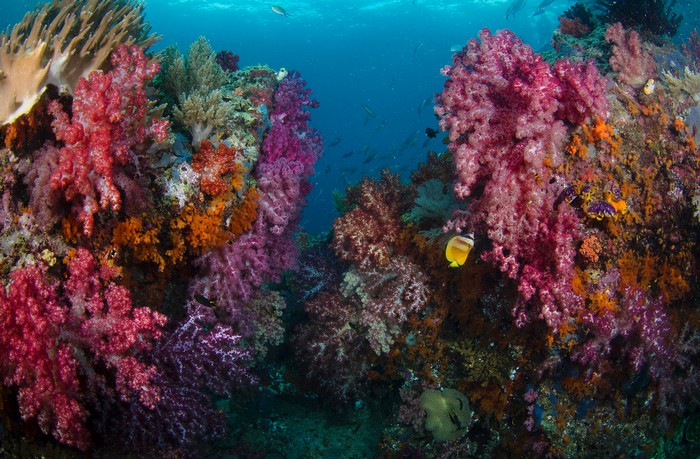 Ocean Day Fast Facts:
Oceans cover three quarters of the Earth's surface, contain 97% of the Earth's water, and represent 99% of the living space on the planet by volume

Over three billion people depend on marine and coastal biodiversity for their livelihoods

Globally, the market value of marine and coastal resources and industries is estimated at $3 trillion per year or about 5% of global GDP

Oceans contain nearly 200,000 identified species, but actual numbers may lie in the millions

Oceans absorb about 30% of carbon dioxide produced by humans, buffering the impacts of global warming

Oceans serve as the world's largest source of protein, with more than 2.6 billion people depending on the oceans as their primary source of protein

Marine fisheries directly or indirectly employ over 200 million people

As much as 40% of the world oceans are heavily affected by human activities - pollution, depleted fisheries, and loss of coastal habitats
As you digest these bubbly fast facts do what Mother Nature would want…. pair them with a special bottle of bubbles. Each sip of 2010 Oceans Reserve Blanc de Blanc is made even more wonderful with the knowledge that you're donating to a beautiful blue cause.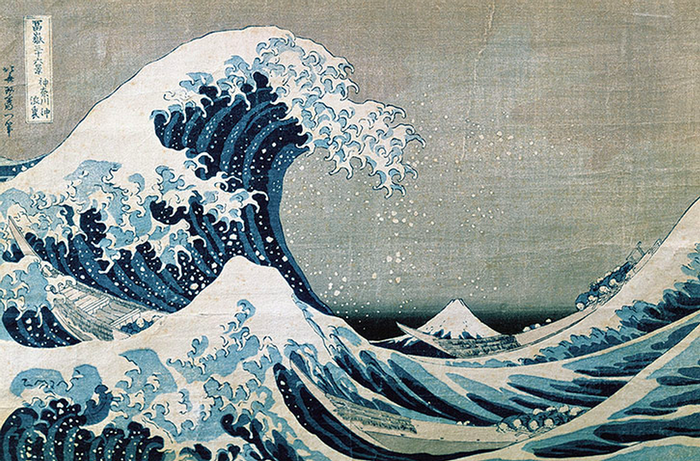 Resources:
World Oceans Day Organization here
Q&A with National Geographic Explorer-in-Residence Enric Sala here
Bio of Barton Seaver, chef, author and National Geographic Fellow here
The National Geographic webpage dedicated to our Ocean Reserve Sparkling here
Iron Horse being served this week at National Geographic's Explorers Symposium in Washington, DC. Event details here
As one of the Iron Horse Social Media Angels, it's my very good fortune to be able to investigate some of the most intriguing vineyard practices, trends, and history and blog about them. With summer unofficially underway, it's time we chat about a little thing called Wedding Season.

For those of you preparing to get married or attend a wedding in the next few months - congrats! You've just self opted into a series of showers, bachelorette or bachelor parties, rehearsals, receptions, and maybe a few hangovers.
Whether you're a member of the bridal party, a guest at the VIP table, or second cousin twice removed - you're probably wondering how to "win" wedding season. Iron Horse has you covered.
Nothing says marriage like the sound of a sparkling bottle "pop" and the smooth, crisp experience of toasting with Green Valley bubbles. Leverage our Wedding Season Gift Guide to help you mark once in a lifetime moments from engaged bliss to wedded celebrations and first, 25th and 50th anniversaries.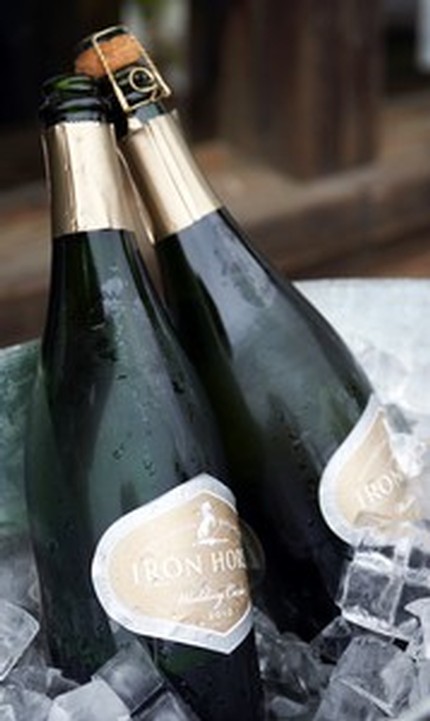 For the groom-to-be who has it all - Shower him with a 2004 Brut LD Magnum as he embarks upon his own "stag do." Everything about this selection is special, from the eight plus years of aging to the very limited availability.
For the calorie counting bride-to-be - Brut X offers a bone-dry finish that is as wonderfully expressive as the bride will be after enjoying a bottle during bachelorette weekend games. The dosage is gown fitting-friendly and sugar-free.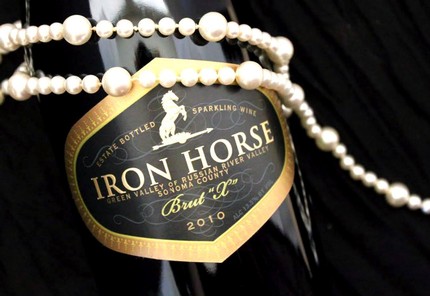 For the dangerously-in-love couple - Wedding Cuveé. Need we say more?? If this bottle's name and chic label doesn't grab your attention, the description will. The rich, creamy bubbly has a perfect rose hue making it dangerously easy to sip and our most romantic choice. For maximum sparkling impact - gift your favorite betrothed couple with the Jerobaum (Important Note: this writer must confess bias - I kicked off my wedding weekend by popping this bottle in the back of the church.)

For the power couple - Russian Cuveé is one of the preferred toasting wines at the White House for five consecutive Presidential Administrations.. It has been on the menu at many of the most important historic milestones of our time, including the Reagan-Gorbachev Summit Meetings which ended the Cold War. So why not usher in the era of peace and love, wedding bliss with these bottles?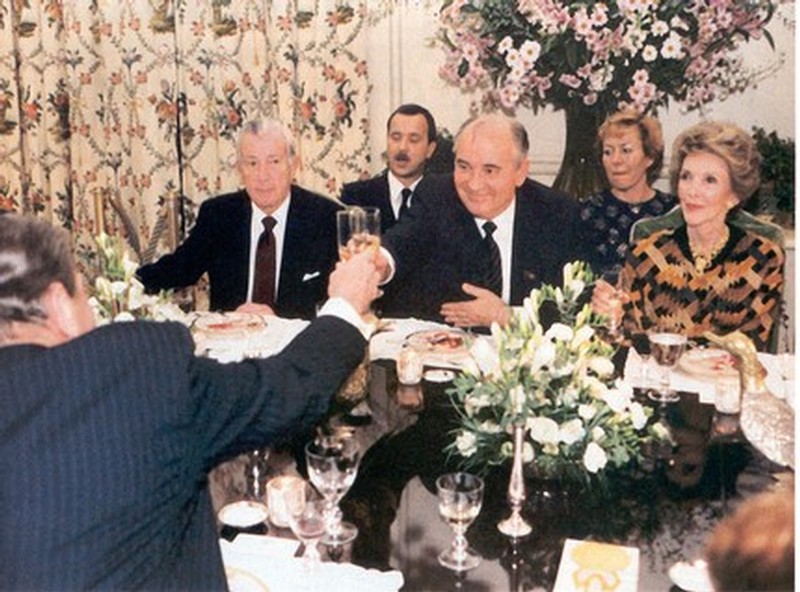 For traditionalists- Classic Vintage Brut is our most deliciously vintage option and the favorite of Iron Horse cofounder, and arbiter of exquisite taste, Audrey Sterling. The perfect pinpoint bubbles will please even the most "attentive" of brides. Catering teams will have no problem at all pairing the delicious flavors with a crowd pleasing seated dinner.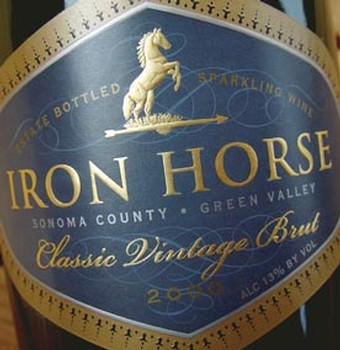 For LGBT couples - Rainbow Cuveé is a limited edition, vintage Sparkling Wine meant for everyone who believes in love, justice and equality. It's the perfect option for any and all unions - a toast to the right to love with a very beautiful bottle, which we are very proud was served at the White House LGBT reception last June.
For the first year survivors (or should we say achievers) - Summit Cuveé. You've made it through the most perilous trails and lived to tell the tale! Rejoice like Kevin Jorgeson and Tommy Caldwell after their amazing, unprecedented and inspiring Yosemite climb without ropes in January. This rich and delicious limited edition will pair perfectly with the top tier of any wedding cake! (Writer note - this is equally as delightful for celebrations of any/all peak moments!)


Stay tuned to the blog as we dive further into wedding season. I'll be sharing real life love stories hot off the "wedding-wire" - each featuring sweet "I Do's," sweeter couples, and Iron Horse bubbly as their special guest. In the meantime, the entire Iron Horse family encourages you to share your own #ironhorsewedding moments by using that hashtag and tagging us on all social media channels. Cheers!

Wine is fashion in many ways. There are clear trends.
Right now, bubbles are "in". And we are enjoying every minute of it!

According to Tim Fish in the upcoming June 15 issue of Wine Spectator:
"This is an exciting moment for California bubbly. Sales have jumped in recent years, and the state's producers continue to push the envelope on quality, developing new niche bottlings while preserving their reputation for value."

The consumption figures above from the California Wine Institute are are real through 2013. We then continued upward with our "expert extrapolation" that we will cross the 20,000,000 case mark this year.
This surge has several contributors. One is Prosecco. For many, that fruity, user-friendly Italian wine is a gateway to more complex bubbles.
Another is the mass appreciation for handcrafted, small batch drinks across the board in categories like wine, beer, cider, and spirits. Two representative examples are limited edition Iron Horse cuvees:

2010 Summit Cuvee

&

2010 Rainbow Cuvee

.
Summit Cuvee commemorates the unprecedented free-climb of the Dawn Wall of El Capitan in Yosemite National Park, California - the realization of a dream and an inspiration. Only 300 cases have been produced.
Rainbow Cuvee celebrates marriage equality. This is our second vintage of this special, small production bubbly. We are very proud that the inaugural release was served at the White House LGBT reception last June. Total production is just 250 cases.

Rosés are a special niche. Ours is very striking, both in color and taste. It's a dark rose, bottled in clear glass. Originally awarded 93 points by Robert Parker, the 2007 vintage now has six plus years less aging. The most recent disgorging is 5/4/15.
Serious fans increasingly call for ultra brut or no dosage, like our Brut X, which is a 500 case production.
Most exciting to me is the breadth of interesting bubblies today. Not just Grande Marques, and even beyond Grower Champagne, the next "big thing", according to Wine & Spirits Magazine is "Somm Sparklings."
Wine & Spirit's Associate Publisher Samantha Groseth has this to say on the topic:
"Some of the most interesting intelligence we gather from our Annual Restaurant Poll comes in the wines that most excite sommeliers. In 2015, we heard a lot of chatter about sparkling wine, and not just grower Champagne — sparkling wine is on the minds' of America's sommeliers, whether it's from the Loire, California, Finger Lakes, Italy or Jura."
Iron Horse was included in this category at the debut Somm Sparkling Table at Wine & Spirits' annual Top of the List Tasting. A true honor. There were about a dozen to taste, right next to the Grand Central Oyster Bar station - Herman Wiener Blanc de Blancs no dosage, from the Finger Lakes, which is poured by the glass at NoMad, Gruet from New Mexico, Raventos, Domaines de la Berjorie and Baumard, both cremants de Loire, Murgo Etna Rosso, from Sicily, that was very unusual, Banfi, La Marca Prosecco and La Spinetta Moscato d'Asti.
It was Iron Horse and Roederer Estate from California. Ours was certainly the most fun table at the tasting.





Going back to Tim Fish's article in Spectator, Tim makes the point that the bubbly business is increasingly year-round:
"Many people think of bubbly in connection to Christmas and New Year's Eve, but it's also enjoyable as a summer drink. Sparkling wine has always been about summer for me."
My family and I are very proud that Iron Horse ranks among Tim's personal favorites on his blog.
IRON HORSE 2010 Classic Vintage Brut, Green Valley of Russian River Valley, $42. 91 points. Supple and richly styled, with tart apple and spiced hazelnut aromas leading to Meyer lemon, brioche and zesty cinnamon flavors.

IRON HORSE 2010 Russian Cuvee, Green Valley of Russian River Valley, $42. 90 points. A plush style, with a lingering hint of sweetness balanced by solid acidity. Offers accents of ripe Meyer lemon, toasted cinnamon and almond brioche

IRON HORSE 2010 Wedding Cuvee, Green Valley of Russian River Valley, $42. 91 points. A serious bubbly but fun to drink with lively and floral raspberry flavors.

More and more people now think about bubbly as a wine … to be enjoyed year round with food. As we like to say here at Iron Horse: #notjustforbreakfastanymore.

It's not every day I start off the week with an Iron Horse "shout out" from the Office of the First Lady. I'm proud to announce that our wine - 2007 Russian River Cuvee - will be poured at Tuesday evening's State Dinner for the Prime Minister of Japan.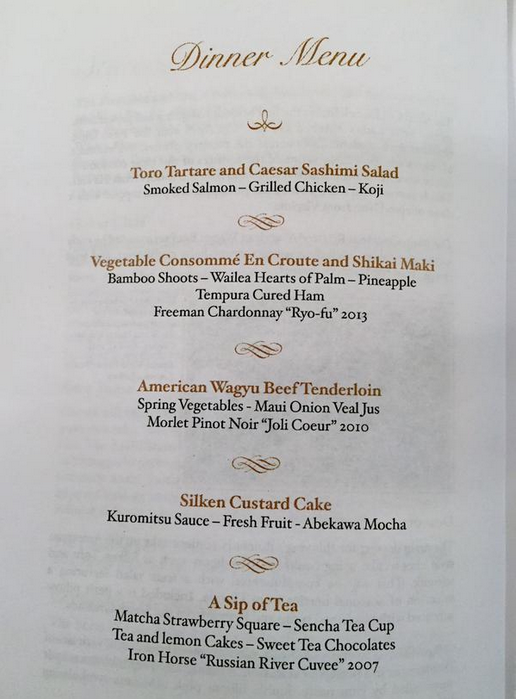 As I'm sure you know, an invitation to a White House state dinner is one of Washington's most sought-after "tickets". VIP guests resplendent in black tie and designer gowns dine on an impeccably concepted four-course meal served by America's most famous kitchen.
The news that Iron Horse has a ticket as a featured VIP beverage came during an 11AM EST press preview for the State Dinner, led by Michelle Obama (ending speculation over which "patriotic tasting wine" would be chosen). Find the menu announcement here. The guest chef is Masaharu Morimoto. The tables will be decorated with cherry blossoms that symbolize the friendship between the US and Japan … and each place setting will have a set of red lacquered chopsticks.
The First Lady unveiled the menu along with the Obama state china service which she had a hand in designing. The china introduces a special blue inspired by the waters of Hawaii being called "Kailua blue" and the service was made by Pickard China, of Antioch, Illinois. The President was born in Hawaii and Illinois is the First Lady's home state. Find the Architectural Digest spotlight on the china here.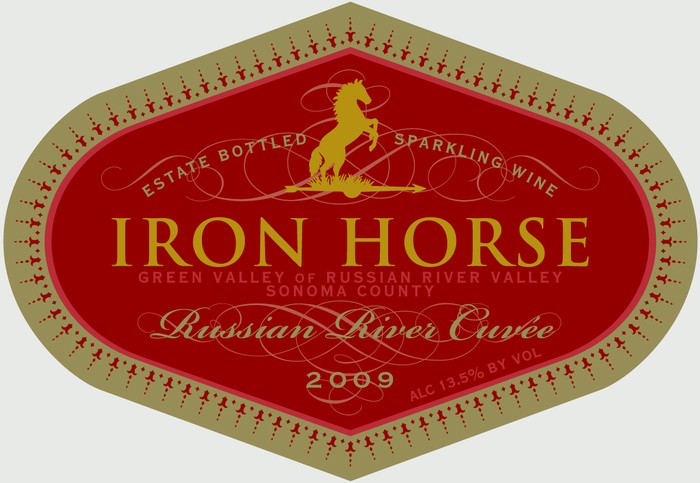 Iron Horse is "at home" in the elegant State Dining Room during this Obama administration which has been selective with their schedule of State Dinners. They've hosted the fewest since the Truman administration, which seems to assign each event heightened historical significance. Our wine was served at the State Dinner for India in November 2009 (It paired wonderfully with the post-meal Beyoncé performance!) as well as the State Dinner for David Cameron in March 2012. Traditionally, Iron Horse is served as the toasting wine, at the end of the meal.

The Iron Horse relationship with the Obamas continues our vineyard's tradition of strong White House relations. Iron Horse has been a favorite going back 30 years and five consecutive Presidential Administrations. Something we're very proud of. Stay tuned as we continue to chronicle all exciting elements of this soiree - from the bubbles to the fashion & entertainment - with the hashtag #IronHorseintheWhiteHouse

Welcome to the first installment of our Star Chef Blog Series. Over the next few months, we'll be sharing Q&As with our most special friends who serve custom Iron Horse cuvees in their restaurants. In honor of Easter & Passover, and with the spirit of renewal that comes with Spring, we've interviewed Iron Horse's great friend Charlie Palmer for a fresh take on a classic.
Starting with New York City's Aureole, Charlie now owns 14 restaurants around the country, two hotels in the heart of California's wine country and The Mystic Hotel in San Francisco. Our friendship with Charlie Palmer is as rich as his culinary creations and shines through in the delicious Aureole Cuvee. The current release is our 20th vintage of making this unique, limited production bubbly.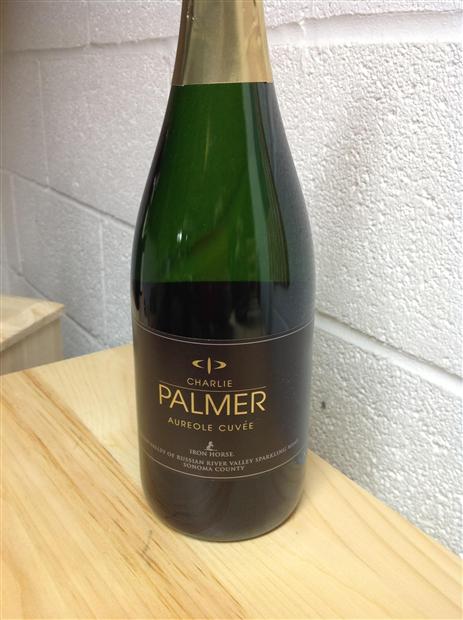 When we called Charlie up one early Spring day, we challenged him to walk us through a seasonally appropriate food pairing for our sparkling wine and Pinot Noirs. The season is right for the Sonoma County baby lamb or ham and our Pinot Noirs just received stellar ratings by the editors at Wine Enthusiast which will appear in the June 2015 issue. Here's what we learned...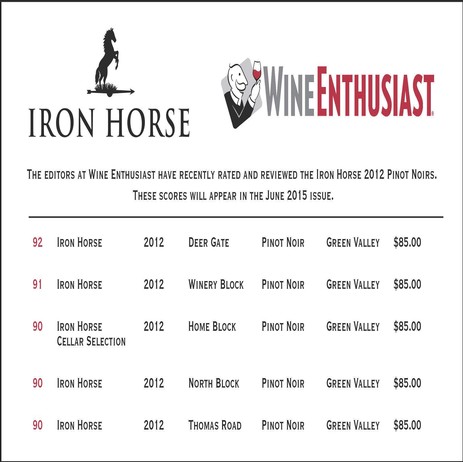 IRON HORSE INTERVIEW WITH CHARLIE PALMER:
Iron Horse: What drew you to develop a partnership with Iron Horse?
Charlie Palmer

: We started with Iron Horse years ago. My team of wine directors and sommeliers aimed to develop a sparkling wine that was both "food friendly" and could be an aperitif. The

Aureole Cuvee

is just that. We offer restaurant guests a small coup glass as they peruse the cocktail menu. Just 3 ozs of bubbles triggers that feeling of celebration and serves as a palette starter, but you can certainly drink it through the entire meal.
Iron Horse

: What flavors make the Aureole Cuvee a menu go-to for you?
Charlie Palmer: It's about freshness and balance. It was important that the sparkling wine bring good acidity to compliment richer foods with higher fat content.
Iron Horse: Spring has sprung at our vineyards. What celebratory sparkling creations are you preparing for Easter and Passover celebrations at your restaurant?
Charlie Palmer: When you think of Easter and Passover, you think of brunch. Our brunch menus at a few of the restaurants will offer a seasonal sparkling wine cocktail which will include 6 oz of the Aureole Cuvee, a few drops of pomegranate syrup to get a blush pink coloring, pomegranate seeds, and half an ounce of absynth.
Iron Horse: What's on the menu for the main course?
Charlie Palmer: When I was a kid we always had a big, roast ham for Easter. It brings salty, rich flavors that are perfect for pairing with Iron Horse Pinot Noir. The fatty, smokiness of the cured ham is perfect for balancing the Pinot Noir flavors which bring fruitiness and acidity up front. Lamb dishes would also work wonderfully.
Iron Horse: You mention Pinot Noirs, ours were recently honored with excellent ratings awarded by Wine Enthusiast. What makes this Iron Horse red stand out?
Charlie Palmer: When people think about Iron Horse - they think about sparkling. But the Pinots have some of the most interesting terrior make-ups. Green Valley Pinot is different from other areas because of its indigenous vegetal overtone which makes them more interesting than some of the bigger fruit bombs from Sonoma Coast and Russian River. They have great depth and finesse that are more Burgundian in style than others you see from California.
Iron Horse: Finally, how do you conclude an Easter or Passover meal?
Charlie Palmer: I'm not big on sweet wines or Ports. More than anything else I like the idea of closing the meal with dessert and sparkling wine, especially fruit desserts. I would recommend poached green peaches with deconstructed crumble and Aureole Cuvee. This has good acidity and effervescence from the sparkling wine in the poaching liquid.

For more information about Charlie Palmer's current projects visit charliepalmer.com. Find shop our full selection of Iron Horse Sparkling Wine on our website.