Iron Horse
Blog


Hey June 🎵,
l am very proud to be flying to London for the prestigious Decanter Magazine "Exploration of International Sparkling Wines" - initially a PR and marketing dream, now tragically a point of pride in defiance of terror.

My heart goes out to the families and loved ones of the victims from Saturday's attacks. As the Brits say: Keep calm and carry on.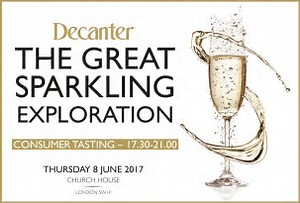 You can click here to see the catalog. Iron Horse and Schramsberg are the two American producers.
By my way of thinking, once in London, I am half way to Africa. So, I am going to see our cousins, the mountain gorillas in Uganda. It is thrilling to get a notification from the airline that says: "Your flight to Entebbe is approaching ..."

I am told it will be a very emotional experience - primate to primate. Gorillas are, after all, family. We will be tracking them on foot from a base camp in Bwindi Impenetrable Forest. There are just 600 left in the wild.

Also very exciting, our Estate Chardonnay, Pinot Noir and 2013 Ocean Reserve Blanc de Blancs are being featured at National Geographic's Explorers Symposium in Washington DC.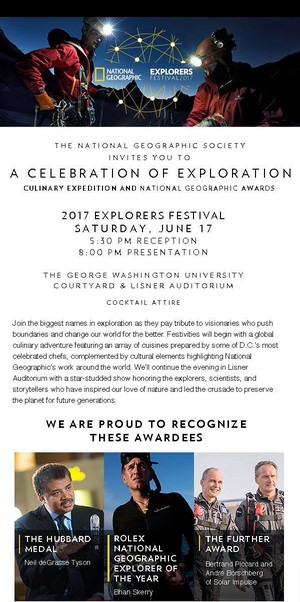 Here at home, we've had bloom ... and now grapes, which over the course of summer will size up and become filled with delicious flavors.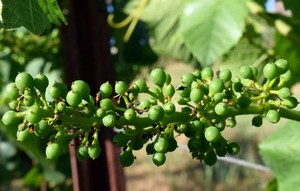 photo: LG Sterling

We are bottling the 2016 Sparklings to be laid down for the next three, four and in the case of Joy! at least 12 years en tirage. In the meantime, we are releasing our first wine from vintage 2016 - our very delicious 2016 UnOaked Chardonnay.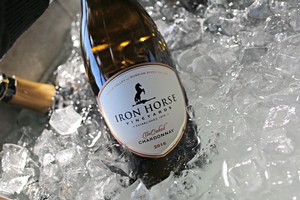 photo: Shana Bull
The timing couldn't be better as we have been sold out of the prior vintage for months.
We have some fun events coming up:
World Oceans Day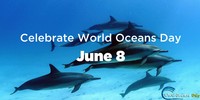 They say the ocean deserves its own day; we at Iron Horse like to add that the ocean deserves its own bubbly! Please join us in a toast with our 2013 Ocean Reserve Blanc de Blancs. We are offering a complimentary tasting for everyone who comes to the Tasting Room wearing blue on June 8. Remember, we are "by appointment" for tours and tastings.
Ocean Reserve is a special limited production Sparkling Wine created in partnership with National Geographic. $4/bottle goes to help restore the ocean's health and abundance.

Summer of Love Garden Party, exclusively for Wine Club Members


Please join us Sunday August 6 for our annual Wine Club garden party at the home of Iron Horse co-founders Audrey & Barry Sterling. This year we are celebrating the 50th anniversary of the Summer of Love, so be sure to wear flowers in your hair. 11a to 1p. Limited to 60 guests. Club Members price $50/person.
Share the love (and a glass or two of 2013 Wedding Cuvee) with Audrey & Barry as they celebrate their 65th wedding anniversary. Click here for more details.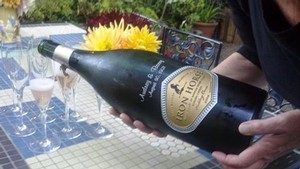 A very special toast! And all best wishes,



Greetings from thoroughly drenched Green Valley. We have received 22 inches of rain since January 1. Green Valley Creek which bisects the vineyard is a tributary of the Russian River and that whole swath of the estate is in a 100 year floodplain.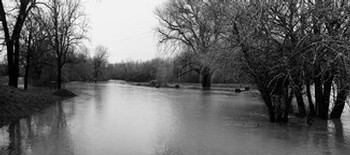 Photo: LG Sterling
For several days you couldn't see the tops of the posts on the bridge. We call that doing our part to replenish the aquifers.
Of course we need the rain. A year ago, 43 percent of the state was gripped by "exceptional drought". Now that figure is two percent. (Source: US Drought Monitor) And after 40 years here at Iron Horse we are seasoned at riding out a wet winter.
We are very lucky that our vineyards are hillside and our sandy soils drain easily. The rainbows have been inspiring. But we are going to have to hustle to get the pruning done before bud break.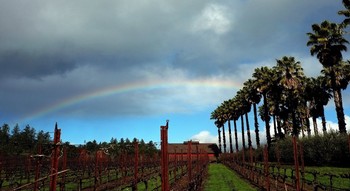 Photo: LG Sterling
January is the traditional time to report on the state of the winery and I am proud to convey that the state of the winery is strong - a soggy mess after what has seemed like boundless rain from the start, but gamely moving forward.

There are some things about 2016 I would be very happy to repeat. Number #1, our many successes as a vineyard, winery, business and family. I am privileged to get to work with an exceptional team. And, last year, in some areas, we surprised ourselves.

I smile when I think about how smoothly we transitioned to tastings by appointment on the weekends. The response surpassed all expectations. We had the pleasure of welcoming 33,000 guests here last year and the San Francisco Chronicle named us one of the top 50 Tastings Rooms in Napa & Sonoma.

Now we ask that you please make reservations on weekdays too. It truly elevates the experience. Please look at the reservation program to see how easy it is.
Some of my fondest memories of 2016 involve toasting with "Cuvee 50" for Super Bowl 50 in San Francisco, which now feels so far back in time, and "Spirit of 76" celebrating the 40th Anniversary of when my parents acquired Iron Horse in 1976.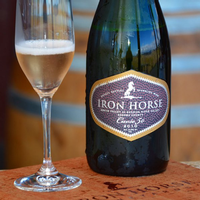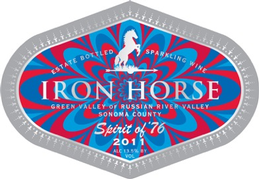 Both were one time only, limited production bubblies, never to be replicated.
2016 was in no way an easy vintage. The crop was low and there was so much uneven ripening that in many blocks we picked just half the crop - strictly the mature fruit, and then went back two three days later to pick the rest once it too had fully ripened. The resulting wines have set a new bar for us and the year will always stand out as our 40th harvest at Iron Horse.
From the beginning the goal has been to strive for the highest quality, so it is especially gratifying to see Iron Horse in the current issue of Wine Enthusiast at the same table with the very best in the world.
Looking forward, the next release of Joy! is Friday March 17, St. Patrick's Day. It's bound to be a lucky day. This will be our third time hosting a Joy! Release Tasting. So far they have been very successful. There is no doubt that the first one, last March got the most excitement because we had been out of Joy! (Joy!less) for three years. Still, the November release did extremely well and received a near perfect 98 point rating. The November Joy! was 50% Pinot and 50% Chardonnay. I say "was" because as of last night we had 18 magnums left. The upcoming Joy! is the same vintage - 2003, but Blanc de Blancs and aged six months longer. Please make reservations here.

I am also very excited about how our Earth Day event is evolving.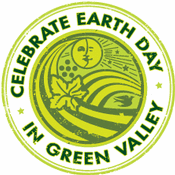 The theme is the future of food.
The participating wineries are DeLoach Vineyards, Dutton-Goldfield Winery, Freeman Vineyard and Winery, Hartford Family Winery, Iron Horse Vineyards, Lynmar Estate, Marimar Estate, Rubin Family of Wines.
The keynote speaker is California Secretary of Agriculture Karen Ross.
Acclaimed San Francisco Chef Traci Des Jardins is on board to showcase the "Impossible Burger", made entirely from plants, served it at the Paris Climate Change Conference as tartare.
Ronstadt Generations will perform live, honoring the family's musical traditions with the Southwestern and Mexican songs of their heritage blended with original material. Special guest: Linda Ronstadt.
Imperfect Produce is providing a beautiful display of "ugly" produce as crudités.
We have enlisted Copia, a mobile app that helps businesses and events connect excess edible food to feed communities in need, instantly.
I hope you will be able to join in. Net proceeds will benefit Sustainable Conservation, a non-profit organization uniting people to solve California's toughest environmental challenges, chosen by Secretary Ross to be the beneficiary.

Finally, Gung Hay Fat Choy. Saturday is Chinese New Year. And naturally we are pouring our Year of the Rooster Cuvee in the Tasting Room.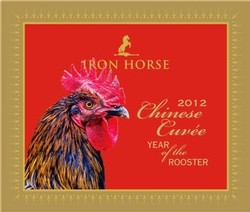 Please come join us in a toast.

My new favorite word is florilegium.



flor·i·le·gi·um





 (flôr′ə-lē′jē-əm)





n. pl. flor·i·le·gi·a (-jē-ə)





[New Latin flōrilegium, flower-gathering (translation of Greek anthologion, flower-gathering, anthology), from Latinflōrilegus, gathering flowers : flōs, flōr-, flower; see flower + legere, to gather; see leg- in Indo-European roots.]
A collection of botanical drawings and paintings depicting the plants of an area, focusing on their beauty. The artful science of florilegia flourished from the 17th century to the late 19th century, portraying special selections of rare and exotic plants from far afield. The modern florilegium seeks to record the plants from within a particular garden or place.
My friend Maralee Beck, visiting from Los Angeles, recommended we start compiling an Iron Horse florilegium after going on a garden tour with my father and being enthralled by his stories. "He knows the provenance of every flower and tree and when each was planted." she said. "It will be a wonderful record."

So, today the project gets underway. The beginning may be a little haphazard, but it will evolve and it seems most auspicious to begin on the eve of May's Full Moon which happens to be called the Flower Moon because so many plants are peaking right now. In the end, I hope to have an inventory of what's in bloom as well as a catalogue of the various plants whose lives are rich with history here.
The early results follow …
First the vines. Iron Horse is a series of gentle, rolling hills covered in Chardonnay and Pinot Noir.

The official start of the wine growing season is bud break … then we have bloom. This year's bloom started the first week of May, about the same time as last year. The flowers are tiny, off-white and have a very subtle scent individually, but cumulatively contribute to a faint sweetness in the breeze. The grapes set behind the flowers.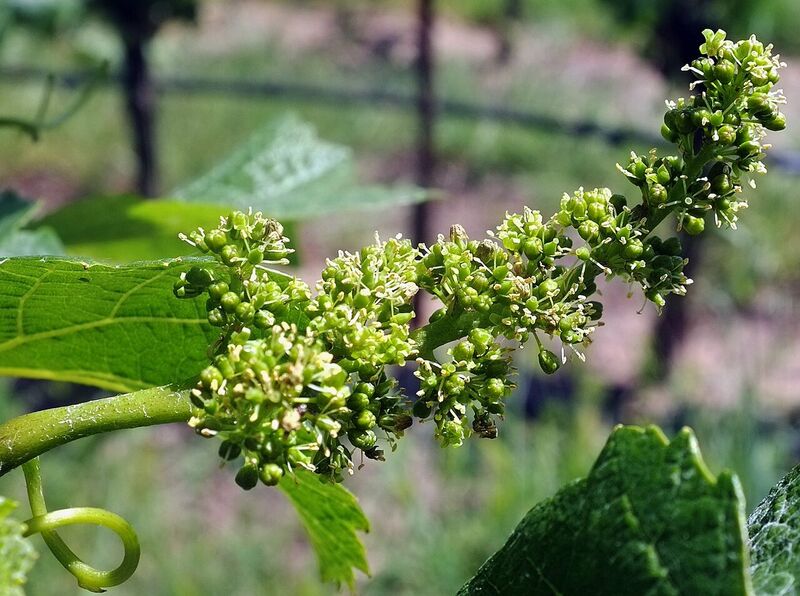 Most spectacular right now are the
roses
along the road leading up to the winery. My mother's favorite, the
Cecile Brunners
, are like giant fountains of pale pink. These have been propagated by my father from one bush he planted 40 years ago in front of an old potting shed. Now they crown the fence along the Chardonnay vineyards. I count 70 of these beauties in a quarter mile.

Interspersed are white JFKs, tall red Mister Lincolns and Peace Roses, the most popular rose in the world which, commemorating the founding of the United Nations in San Francisco in 1945. (My mother attended the ceremonies at the War Memorial Opera House as a highschooler and sat in the last seat in the last row. I was honored to attend the 70th anniversary celebrations last year at the Fairmont Hotel, where the charter was drafted, and at City Hall, where I met Malala Yousafzai, the Pakistani schoolgirl awardd the Nobel Peace Prize for standing up the Taliban and defending her right to education.

My mind (and legs!) climb the hill to the colonnades of alternating palm and olive trees that lead to the winery, which my brother dubbed Palmolive Drive.
The olives trees along the drive are in bloom. These are Mission Olives, planted 40 years ago. We make our own olive oil, just enough for personal consumption.

Sauntering along this road I soak in the statuesque beauty of my surroundings. The entrance is still awe inspiring no matter how many times I've pass through it. And it's a respect I share with our many guests who walk or drive along this corridor. We hosted a sit down dinner for 500 people at one continuous table a quarter mile long down this drive for the Sonoma County Barrel Auction in 1987. There were six chefs, three on each side, each with their own cooking station and wait staff to prepare and serve the meal for 83 guests. Obviously you couldn't cross sides, so the servers walked out single file and turned like cadets to set down the plates for each course. There were rolling toasts that started at one end and traveled down the entire length of the table like a wave.
The palms now stand 50 feet tall and like stately pillars are the defining architecture of our place. But they were completely laughable the first spring (circa 1977) when the daffodils were taller than the trees. Most of them are Washingtonians. They can reach an awesome 100 feet. They were very popular in Victorian times (when my parents' home was built) as an exotic and a sign of establishment.

In 2010, when then Chairman of the National Geographic Society Gil Grosvenor spoke at our annual Earth Day event, Palmolive Drive became an outdoor gallery with poster size National Geographic magazine covers lining the way … and a small fleet of bamboo bicycles people could test ride up and down the drive.
There are a number of other palms around the property … some we can't identify. Back in the 1970s and 80s people would advertise in the Santa Rosa Press Democrat that they had mature palms for the taking, if you could provide the labor to pull them out of the ground and transport them. So, my father would go to those homes with a couple of guys from the vineyard crew and pick them up. My parents are incurable collectors and we are now extremely wealthy in palms. My informal inventory puts us at about 100 and counting. A recent addition is a beautiful Lady Palm that my parents purchased for their 63rd wedding anniversary, now flourishing amid the dahlias near their home.
A second, perpendicular row of palms lead to my parents home. There you see Smoke Trees showing off their puffy, billowy, pink smoke-like flowers ...

interspersed with pomegranates also in bloom. Just as it says in the Songs of Solomon: "Let us go early to the vineyards to see if the vines have budded, if their blossoms have opened, and if the pomegranates are in bloom— there I will give you my love." I think of the pomegranate as my father's fruit, because we get them in October for his birthday.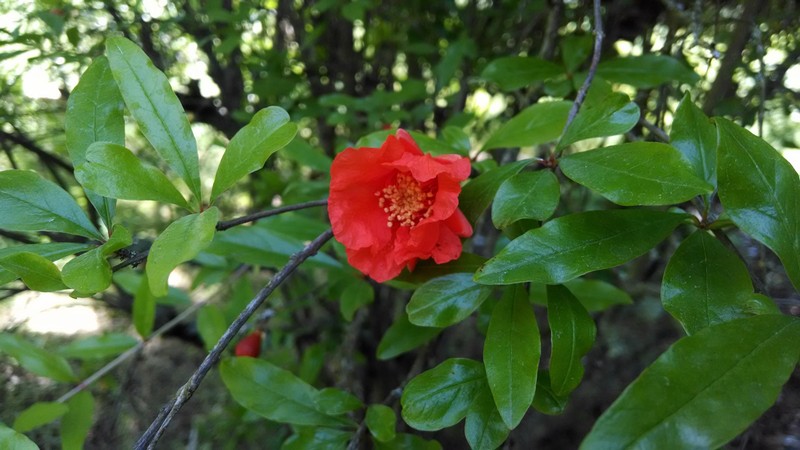 While the palms and the roses tend to steal the show, there are many more co-stars that deserve recognition. Around the winery, some of the stand-out specimens include:
Red Hot Pokers aka "Torch Lilies" - drought tolerant, grow on their own without much care, thrive in our Gold Ridge soil and, best of all, are very alluring to hummingbirds. My father loves them. "They are delightful" he says, "Like beacons of light. That's why you put them at entrances because they are welcoming."

Lavandin – not true lavender, it's a hybrid. The smell is very different - woody, spicy-green, more pungent than sweet. It has larger leaves, longer stems, and larger, more vibrantly colored flowers, pointed at the tip. More of a landscaping plant in cool regions, great attraction for bees and butterflies.

Daisies: The origin of the word Daisy is the Anglo Saxon for day's eye because they open at dawn. It symbolizes new beginnings and in the "language of flowers means loyal love and "I will never tell". They are also skillful in attracting butterflies.

They will be done blooming very shortly and replaced with yellow marigolds and then in August with zinnias, grown from seed in the hothouse.
I hope you enjoyed meandering with me. The busy ecosystem at Iron Horse doubles as our home. Three generations live on the estate. The walk from my house to the winery is the best in the country. And while I love all seasons here, there's something magical about the vivacity of spring striving for our affection under May's moon. I hope you're inspired to visit and experience the natural beauty for yourself.
Next month brings a whole new crop of blooms … and another moon to toast. In the meantime, cheers to the Full Flower Moon.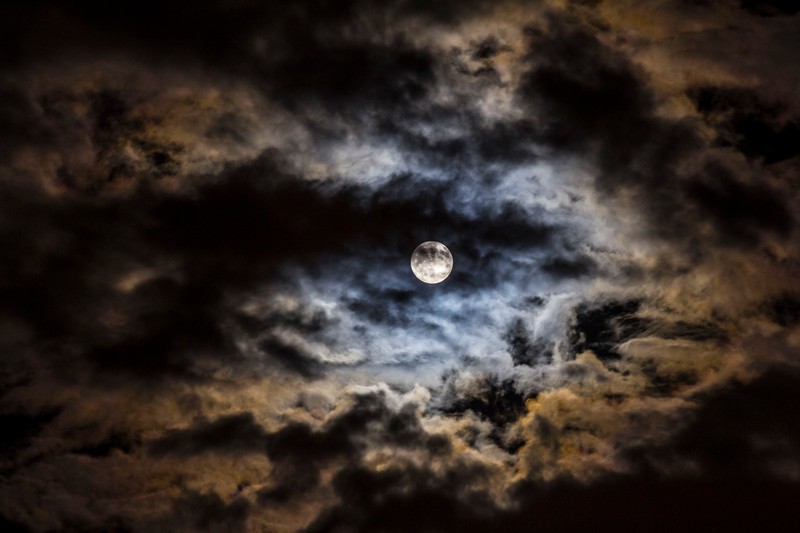 The vineyards look gorgeous. It is raining pink petals at my house from wild climbing roses some 30 feet high, giving new meaning to April showers.

The poppies around the Tasting Room hold special meaning. I remember casting wild flower seeds on walks with my father that first spring after my parents purchased Iron Horse in 1976.
There is no doubt in my mind that the beauty of the estate is very much part of our terroir. In fact, better than words or pictures, the wines capture it best.

I am very proud that our 2013 crop of Pinots received 94 to 90 point reviews in Wine Enthusiast:
94 Points - 2013 Deer Gate
94 Points - 2013 Winery Block
93 Points - 2013 Home Block
93 Points - 2013 Thomas Road
92 Points - 2013 Estate Pinot Noir
90 Points - 2013 "Q"
Thinking ever so slightly ahead, I hope you are properly provisioned for April 22, which promises to be the most celebrated day on the planet. It is Earth Day, the first night of Passover, a full moon AND a Friday. The day miraculously spans an amazing range of subjects we care about deeply.
Earth Day is an international holiday with billions of participants, and one of my favorite celebrations. For newbies to green Iron Horse festivities, see coverage of past celebrations here.
Earth Day 2016 will be one to remember on a global scale. President Barack Obama and Chinese President Xi Jinping have agreed to sign the Paris Climate Accord at an official ceremony at the United Nations in New York on April 22.


How fitting to toast with our vintage Ocean Reserve Blanc de Blancs. The special edition Sparkling was created in partnership with National Geographic to help establish marine protected areas and support sustainable fishing. $4 per bottle sold goes to National Geographic's Ocean Initiative.
Turning to Passover, we acknowledge the central role wine plays throughout the evening where it is required four times during the Seder. For those of you who still think Manischewitz is de rigeur, my family traditionally serves Pinot Noir. The blessing over the "fruit of the vine" is one we all know by heart. There's a chalice for the prophet Elijah, plus the 10 teaspoons of wine we each spill out of our glasses into a saucer as a sacrifice to ward off the 10 biblical plagues that God inflicted on Egypt to secure the release of the Israelites from slavery as explained in the Book of Exodus.

I think we can all agree these are calamities ... though we did pray for flooding during the harshest points of the California drought :
The Nile turning to blood
Infestation of frogs
Lice
Flies
Death of livestock
Boils
Thunder & hail
Locusts
Darkness
Smiting of the first born
Pharaoh capitulated after the tenth plague, and then changed his mind, portrayed to the utmost of your imagination in Cecil B. DeMille's Ten Commandments with Charlton Heston as Moses in one of the greatest moments in movie history.
This is my third year hosting Passover at my house. I will borrow my father's annotated Haggadah, a silver chalice from my grandmother that we fill with wine for Elijah, and a blue velvet matzo cover embroidered by my great grandmother when she was eight years old, shortly after sailing to America from Odessa.
In a break with tradition, I am planning on serving Russian Cuvee. Bubbles will pair beautifully with classic Passover dishes like smoked salmon, matzo ball soup, potato latkes with crème fraiche and apple sauce, fried artichokes … even brisket. After all, Passover is a celebration – a celebration of freedom against oppression. And I feel Elijah will enjoy bubbly for a change.
The night will not conclude before celebrating the full moon – the pink moon, to be exact. Nothing befits a full moon like bubbles. And a "pink moon" naturally calls for a gorgeous pale rosé like our Wedding Cuvée. This is the most romantic of our Sparklings, the one we are best known for. I describe it as dangerously easy to drink.

I am a major advocate of toasting the full moon. It unites us.
So, to recap, we will be raising a glass for Earth Day, at least four for Passover, culminating with a late night toast to the full moon.


With so much to celebrate, I just hope none of us will have to wake up too early on the 23rd.

The allure of buried treasure beguiles us as children. We trudge through our backyards guided by maps which point us to the spot marked X. Ah! The excitement of discovering something hidden.
This is an experience which eludes most of us as adults. That was, until our cellar master discovered a cache of long forgotten, unlabeled magnums of Sparkling Wine from various vintages going back 10-15 years. A treasure trove of beautifully aged bubbly - 30 cases of this, 40 cases of that, from seven vintages and 13 different base wines. The first vintage of Joy! was a 1991, which we released in spring of 2007.
Today, the Joy! project is in full bloom. The new release, vintage 2003, makes its debut Friday, March 18th (details about Release Day Joy! at the vineyard here). Shop it here.

To sip this wine is to experience the magic of 12 years aging in contact with the yeast before disgorging. As winemaker David Munksgard explains, it takes a full 12 years for the wine's alcohol and acid to have the time to dissolve the goodness inside the yeast's mitochondria (break out those biology textbooks!). Once released, those "goodies" (amino acids, proteins, and fatty acids) achieve two things, both hallmarks of truly beautiful bubbles. They contribute to the umami experience and the fatty acids coat the bubbles which making the perfect, pin point, tiny orbs that accumulate at the surface of the glass creating a "foam cap" or crown. The result is an especially creamy texture and nutty, brioche aromas.
I wish I could say that we planned Joy!, but I do feel it is to our credit that we hold onto these magnums for so long. As everyone in business knows, the most expensive thing you can do is hold onto inventory.
There is no doubt in my mind that longer aging is the key to creating the greatest California Sparklings, second only to vineyard site. The longer the time en tirage, the smaller the bubbles, leading to richer, creamier and more elegant wine. Top quality bubbly is so much about texture, which can only come from extended time on the lees. When you are drinking a tete de cuvee, like Joy!, you should not even have to swallow. It should just effervesce away in your mouth. (See our blog post on The Science behind the Magic, October 2015).
David says that he doesn't know of any other California producers nor many French houses making this kind of time investment. (Maybe we should change the name of the wine to Patience?) That said, we urge you to be completely spontaneous in drinking Joy! We've already held onto to it long enough and David is always quick to remind us that even the most special wines are not made to be revered, but shared and enjoyed.

Here are his tasting notes:
"By nose, yeast and toasted hazelnut lead the way to grapefruit and baked apple scents with a hint of ginger. By mouth, your first impression is more sensual than taste. Full, rich and yet youthful and bright all at once. The most perfect lemon curd; creamy richness with freshness and bright finish. It is lush and refined like a silky ribbon."
How can you resist?


It has been four long, thirsty years since we have had any Joy! to share. That was the 1999 vintage, which won a near perfect 98 point score in Wine Enthusiast, 93 Points from Robert Parker and 93 points from Wine & Spirits.
The reviews were spectacular:
"Graceful and refined, with crisp apple and yeasty lemon aromas that lead to complex flavors of toasted almond, ginger and spicy mineral. Finishes with pinpoint crispness."
"Drink now!"
"Light gold in the glass with aromas of wet stones, lemon, and roasted nuts, this wine tastes of bright apple, lemon, buttered toast, long finish. Wonderful acidity. One of the finest made in California"
"A deft blend of richness and delicacy, offering mature aromas of spiced apple, almond and cinnamon, with opulent flavors of toasty crème brûlée, laced with notes of mineral and ginger. Great length."
We were greatly honored when it was served to the Queen of England at a State Dinner at the Ambassador's residence in London, Winfield House, in 2011.
Fortunately, the four year "drought" has been worth the wait! The current release is 70% Pinot Noir and 30% Chardonnay. The disgorging date (day/month/year) is on the back of each bottle.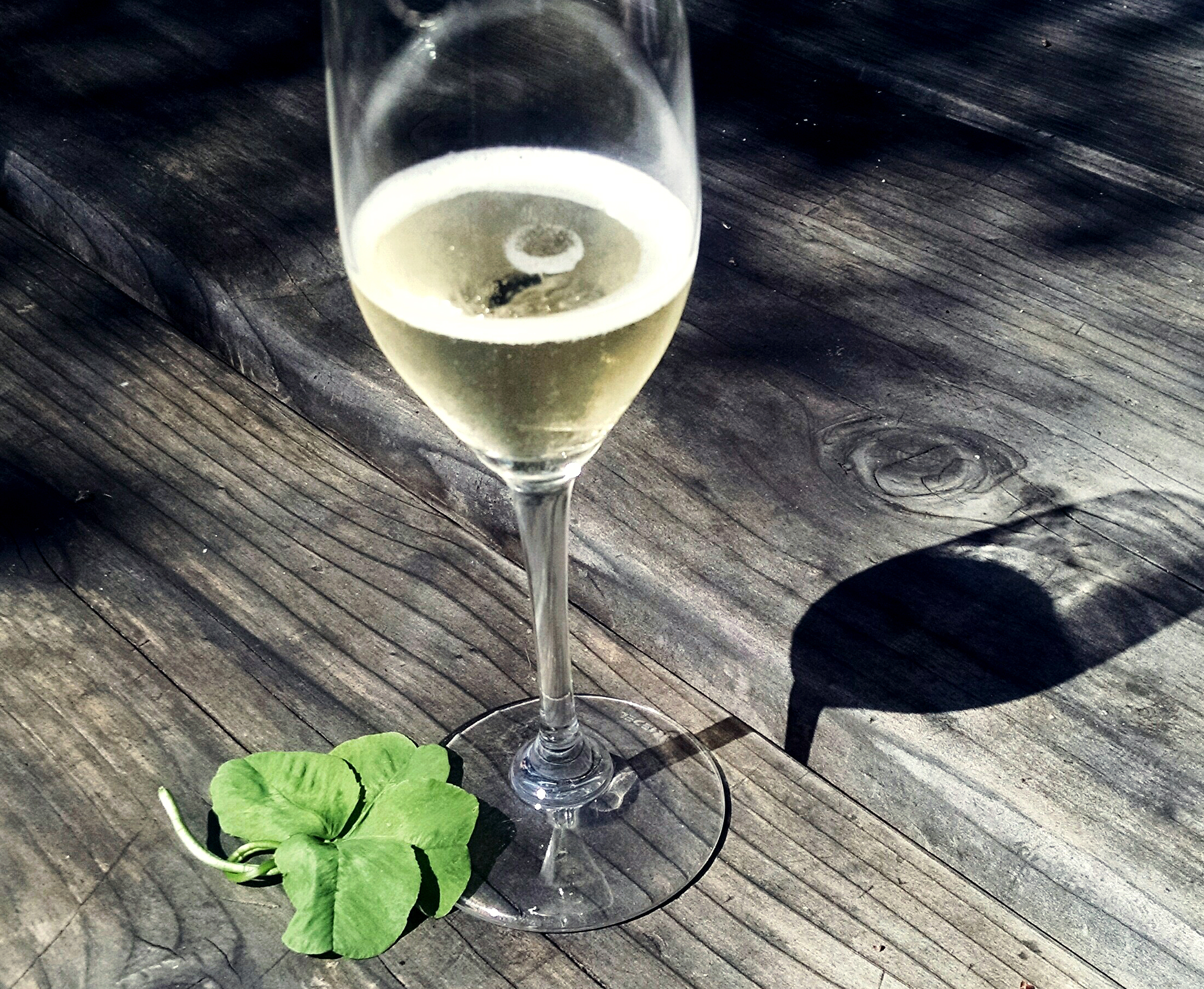 Spring forth and enjoy!

Happy Winter Solstice! The official start of winter. Meteorologists consider December 1 as the first day of winter, but the season's celestial start is tonight.
Though the entire day is "observed", solstice occurs at a specific time - the same time everywhere on Earth when the North Pole is tilted farthest from the sun.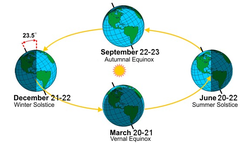 It is the shortest day of the year ... and the longest night.
This certainly deserves a toast!
Winter Solstice as a celebration goes back millennia. The most famous at Stonehenge, seemingly built for this specific astrological event as the stones are aligned on a sight-line that points directly to the winter solstice sunset.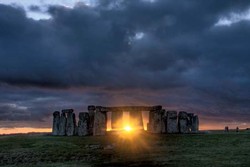 Ancient Romans celebrated with the Feast of Saturnalia - a festival that lasted seven days with banquets honoring Saturn, father of the gods. These Saturnalian banquets were held as far back at 217 BCE.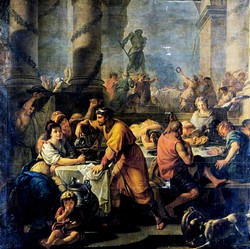 Pre-Christian Scandinavia celebrated the winter solstice with the Feast of Juul and the burning of a log, which became the traditional Yule log.
A perfect way to celebrate tonight is by cozying up with a wood burning fire (or lots of candles) and a glass or two of bubbly.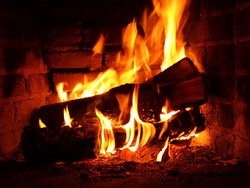 It is also a perfect occasion to say thank you for your role in making this such a gratifying year for us. Please know that we are toasting you and send our warmest wishes.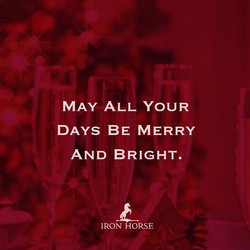 'Tis the season for gift guides, discount codes (insider tip: use code HOLLY for $10 shipping valid through 12/15 on three or more bottles) and predictions for the year ahead.

I know it's hard to believe, but 2016 is coming on fast. As a winery deeply rooted in our home place, we generally operate outside the trendy category, striving for classic, true to our vineyards, always in style, elegance and balance. But it is exciting to get a glimpse into the data based forecasts for where our cohorts are headed and we are tickled to find ourselves "ahead of the curve."
Since we're in the gift-giving mood, we've rounded up some of the stand out themes from our future gazing friends.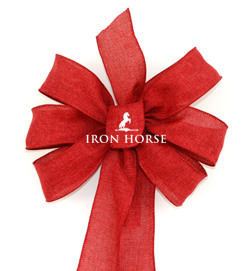 One such visionary is

Kimberly Charles

, founder of Charles Communications Associates, who provides perspective on volume (bookmark Kimblery's blog for access to her extremely valuable insights at

All the Swirl

). In our data focused chat, Kimberly explains that global wine consumption is up 5.3% and she estimates we'll enjoy 35 billion bottles in 2016. Yes that's billion with a

b

… with plenty of room to continue growing in the U.S (more on that growth

here). This is where the Millennials come in. They grew up watching their parents drink wine, see it as a daily pleasure, and according to a report from Canadian Investment Bank RBC Capital Markets, Millennials want premium bottles.
Trend spotter Andrew Freeman of AF & Co proclaims in his 2016 Trends Report that consumers are enjoying a case of "multiple personality disorder." In other words, we want the best of all worlds. We participate in wellness movements favoring moderation, then swing to indulgent experiences, sometimes in just a matter of hours.

Here are some trends to watch for in 2016 in the Food World:
Vegetables are the hero, especially amongst Millennials. People want less animal protein and support veggies as a "center of the plate component."
Hawaiian is the cuisine du-jour. It's the latest regional "New American" food in the spotlight.
The spicier, the better! Even desserts are getting the fiery treatment as data shows that embracing the heat is not only delicious, but healthy.
Table service at upscale restaurants livens up in a response to a Millennial demand to be entertained and get a peek at what's happening behind the scenes. Chefs themselves are getting in on the action upping the ante on engaging experiences.
Brunch becomes a main event. Even health nuts are relishing the opportunity to throw caution to the wind once a week during brunch, indulging in the carb heavy, over the top feast.

Now for the Beverage World:
Bubbles mania reigns. But we knew that! Sparkling Wine has captured the imagination of the public beyond celebrating special occasions. The growth of bubbles dwarfs that of still wines (see image). Restaurants are embracing this trend with expanded offerings. As Kimberly Charles declares, "There's is a virality to hearing the pop of a cork, you want to be part of it." We certainly agree! According to consumer products analyst Nik Modi at RBC Capital Markets, the rise in Sparkng Wine sales dwarfs still wine sales.

Note: In economists' terms, C0nsumer Value = the ratio of product price to product benefit
Stylistically, white wines are showing more restraint - lower alcohols, less oak, brighter acidity - a trend that's part of our core values at Iron Horse.
Chardonnay is America's #1 selling varietal, showing double digit growth. Even traditional red wine drinkers are exploring more white wines.
Coffee gets a modern makeover. New techniques and flavors create balanced and "treatful" beverages.
Instagram worthy embellished cocktails dominate. Think gold dusted flowers, sugar stirrers, designer straws, even perfectly smoked pork belly pieces. Andrew Freeman posed the very apropo question, "If we don't Instagram it -- did it even happen?" (By the way, we're on Instagram @IronHorseVyds)
The Bloody Mary is having a moment. Could there be a better way to recover after a late night sampling of our "Brilliant Bubbles Collection"? We don't think so! And none are more delicious than Diane's Bloody Marys featured at Michael Mina's Tailgate at Levi Stadium (mentioned on recent our Star Chef Spotlight in Michael Mina).
As we take stock of a fantastic year at Iron Horse, and give thanks for your great support and friendship, we are already looking forward to a new year of success and innovation in our continued pursuit of toast-worthy excellence.
We'd love to hear your delicious predictions for 2016. Chime in on social media and in the comments below!


Cheers!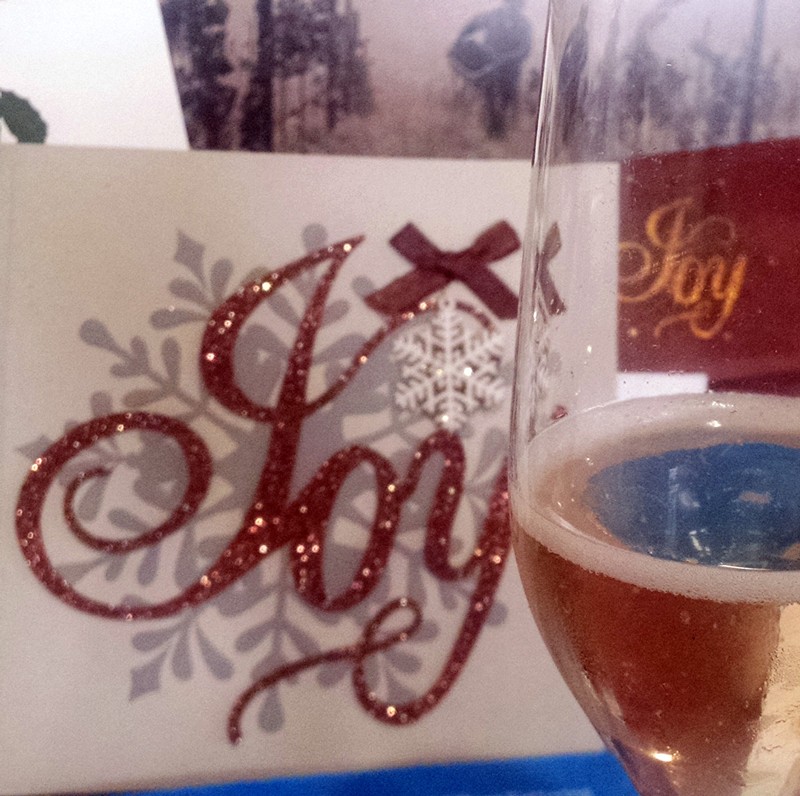 ****

Bubbles in Sparkling Wine are not just pretty, little nothings. They work harder than you think.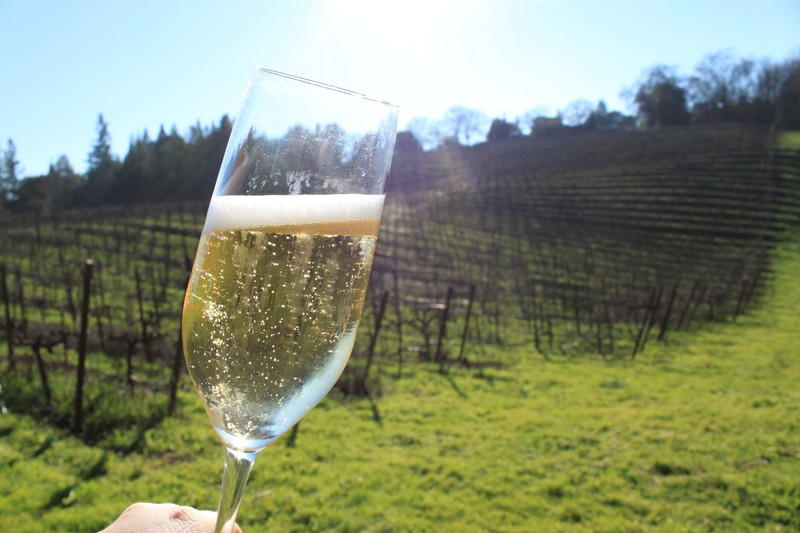 For one thing, they are not empty. The bubbles deliver hundreds of molecules to the top of the glass. When they explode on the surface, they deliver the aromas & flavors which make top quality Sparkling a truly delicious wine.
Creating bubbles is the littlest trick of nature. This begins at Iron Horse Vineyards by hand harvesting the fruit, gently pressing the grapes. We then ferment the juice completely dry, making a gorgeous blend and ultimately bottle it as a low alcohol base wine … adding a precise amount of sugar and yeast.
The sugar triggers the secondary fermentation, bumping up the alcohol by about a point. One of the natural by-products of fermentation is the creation of carbon dioxide (Co2), which normally escapes from the barrel or the tank, but for bubbly we trap it in the bottle with a crown cap, forcing the gas to dissolve into the wine creating … ta da … bubbles.
More than 600 chemical compounds join the carbon dioxide - each lending its own unique aroma and flavor quality.
The magic is in how long we age the wine on the yeast in the bottle. The longer we age it en tirage, the smaller the bubbles and the greater the finesse on the wine.
A perfect example is our 2000 Brut LD, aged for 14 years and disgorged just last month.

The yeast cells feed on the nutrients in the wine. As they become saturated, they start to die off giving back to the wine a rich, creamy texture through a chemical progress (autolysis), much like stirring the lees of Chardonnay in the barrel.
You can see the difference just holding the glass to the light. Big bubbles are called "frog's eyes". Not a compliment!
You can also feel the difference. The longer the wine is aged on the yeast, the more integrated the bubbles, the smoother the texture, the more elegant the "mouth feel."
As the yeast cells break down, they emit amino or fatty acids that coat the bubbles, so that when they launch off the bottom of your glass, they don't glom together. Instead they stay separate and travel up to the surface in streams of tiny, diffuse, gas-filled spheres.
As the bubbles ascend the length of a glass in tiny trails, they drag along the molecules of aroma and flavors which explode out of the surface.
When they burst, they release enough energy to create tiny auditory shock waves; the fizzing sound is a chorus of hundreds of individual bubbles bursting every second.
With each sip, the bubbles excite special receptors on the tongue contributing to that tingling feeling that makes bubbly so seductive.
The bubbles also serve to retain the acidity of the wine. A flat bottle will taste too sweet and out of balance.
The collapse of bubbles at the surface is even more exciting under a microscope.
According to

Gerard Liger-Belair

, a physicist at the University of Reims in Champagne (of course), bubbles collapsing close to each other produce unexpected lovely flower-shaped structures unfortunately completely invisible to the naked eye.
"This is a fantastic example of the beauty hidden right under our nose." (Source: Uncorked: The Science of Champagne, published by Princeton University Press.)
British physicist, oceanographer and Champagne aficionado Helen Czerski, explains that bubble dynamics of Sparkling Wine are the same as in the ocean, but with greater consequence. Bubbly can change our mood, but the bubbles in the ocean affect climate.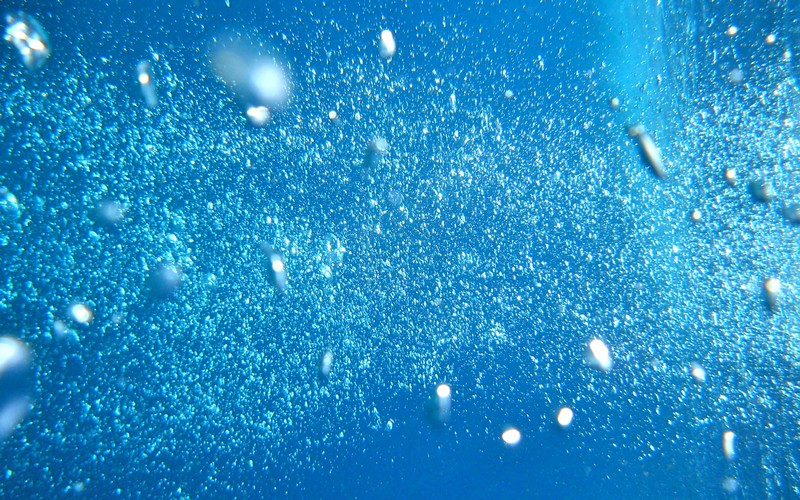 "Bubbles are little packets of gases that rise or fall as if they're on little conveyor belts," she says. They carry carbon dioxide and oxygen from the atmosphere down into the ocean, and then when they go back up again they pop and sulfur compounds from marine plants are sent upward, forming particles in the air that lead to the formation of clouds."
Czerski is studying how to detect and count ocean bubbles of different sizes to help scientists in other disciplines create more accurate models. She said that scientists have found it difficult to judge the effect of bubbles on their data for years and usually have had to add a "fudge factor" to account for them.
"For instance, bubbles ring like bells when they are formed or when sound waves go past them, and if you're studying sounds traveling through the ocean -- like sounds from whales or sonar -- bubbles can get in the way of what you're trying to listen for,"
And she adds, "A good way of getting people to enjoy my lectures on bubbles is to give them a glass of Champagne."
Her favorite "parlor trick" is to drop a few raisins into the fizz. The raisins sink to the bottom of the glass, before being lifted back to the surface by the bubbles, which then burst, sending the raisins back down again.
So, what's the best way to pour a glass of bubbly and maximize the sensory experience? A study published in the American Chemical Society Journal of Agriculture and Food Chemistry answers that question. Pouring on an angle preserves twice the carbon dioxide bubbles compared to pouring down the middle of the glass.
More scintillating sparkling facts:
Never underestimate the force of a flying cork. The warmer the bubbly, the more the pressure builds and the faster the cork flies when you pop it open, clocked at up to 30 mph.

The magnum is the optimum size for bubbly because the larger bottle retains more CO2 in the wine as it is being poured.

The white wisp of mist rising from a just-popped bottle is not carbon dioxide. That's a fog of ethanol and water vapor, triggered by the sudden drop in gas temperature when the pressure is released. (adiabatic expansion)

No need to swirl a glass of Bubbly, in fact it is frowned upon. The bubbles are already releasing the aromas and flavors. Swirling just knocks down the bubbles we work so hard to achieve.
Now let's talk about glassware.
The old fashioned flat coupe ( like the ones my parents drank from at their wedding)

has a very slow bubble engine because the bubbles don't get to rise very far. Flavour is delivered to the air gradually, but escapes from the space above the glass very quickly.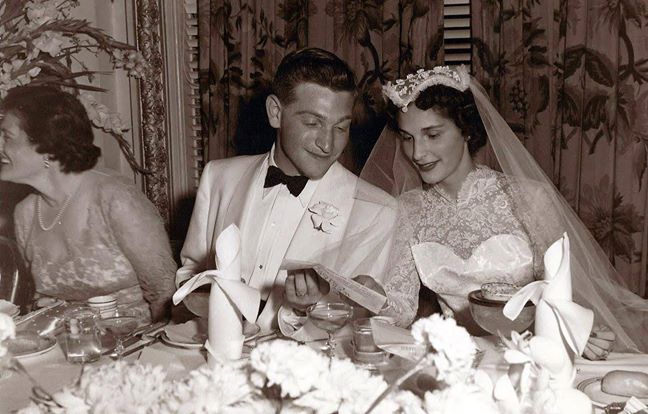 The tall thin flute has a very powerful bubble engine, delivering lots of flavour very quickly, and spitting lots of fizz upwards.
Some sommeliers like to serve champagne in white wine glasses because flutes "stifle the flavour".
The Riedel glassmakers have taken it a step further with their new "Champagne Wine Glass." President, CEO, & 11th generation glassmaker Maximilian Riedel says "the larger rim diameter enables the aromas of the Champagne to be released" and complexity to develop.
I had the honor of conducting an impromptu experiment with George Riedel, Maximilian's father, several years ago in Healdsburg. We tasted Iron Horse vintage Blanc de Blancs side by side in a flute and a Burgundy glass. In the flute, the Bubbly was bright and vibrant. In the other glass, it seemed older, softer.


Next time, I hope to try it in a glass slipper.
****
It's officially fall! And with that comes Football Season. To explore the art of tailgating and the role bubbles play in the quintessentially American fete, we caught up with our longtime friend Michael Mina. The rockstar restaurateur pours our special production Michael Mina Cuvee at his many beautiful restaurants across the country and has been in the headlines as he launches the second year of his famous tailgate hosted in the new Levi's Stadium. Learn from the master about the art of grazing this season and how to match up signature seasonal dishes with your favorite Iron Horse bottles…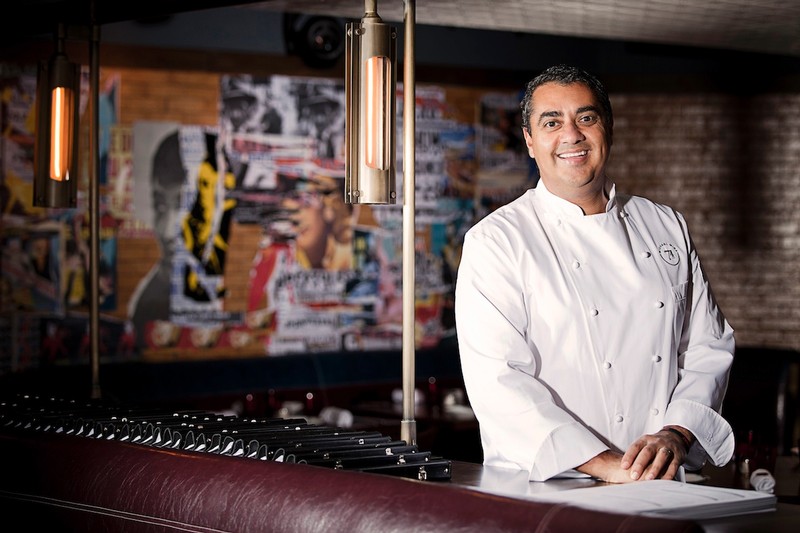 Tarin: Tell us about your tailgating venture with the 49ers and what inspired you to pursue it.
Michael Mina: Part of why I moved to San Francisco was because I'm a huge fan of the 49ers. I've been a season ticket holder for decades and I've had the good fortune of getting to know the forces from the team who dominate both the field and the behind-the-scenes business. So when the organization was building their new Levi's Stadium, they knew they wanted to leverage my 20+ years of tailgating experience to launch a Bourbon Steak / pub inspired venture with me to appeal to the demographic of the stadium.
Tarin: And so the plans got into motion. What came next?
Michael Mina: When we looked at the drawings of the restaurant space, there was a weird area next to it that remained empty. I suggested we move into that area to execute a tailgate. It was then that the tailgate proposal was concepted. I suggested we run a membership only tailgate event and use the space for catering during the off season. We intended to target a couple hundred members and just have some fun with it.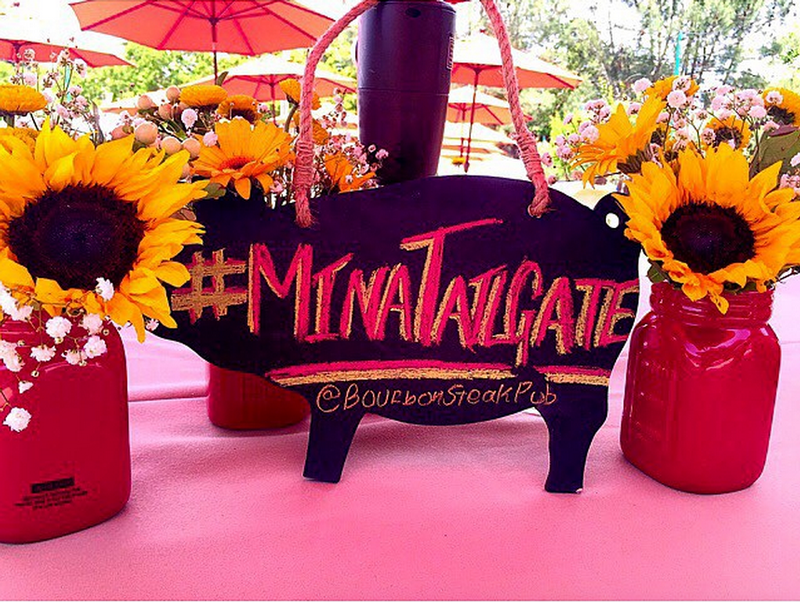 Tarin: Clearly, the organization considered your proposal a culinary touchdown. Tell us a bit more about how the tailgate has become the spectacle that it is today.
Michael Mina: One of the key elements of the event is that we invite outside chefs to help make each tailgate a unique and over the top experience. We also built a rotisserie that holds an entire cow - 1200 lbs and each game we roast a Skywalker Ranch Wagyu animal. We have massive pots that can hold literally tons of water and over 200 lobsters. We keep within the spirit of the tailgate but offer a range of fine dining to walk around stations. Guests can select from 12 composed dishes and 20 other items throughout the space as they explore the inside or outdoor seating options. Members spend their time watching the 80 screens and working through their food and drink options.
Tarin: This is very obviously a passion project for you.
Michael Mina: Absolutely. I don't really get too fanatic about anything except the 49ers. It's the one time I get really crazy. I'm definitely responsible for whooping up the crowd.
Tarin: Any fun behind the scenes scoop on the players themselves? Are they fans of yours?
Michael Mina: I have a lot of favorite players on the team and the feelings are reciprocal. There's a private tunnel for players to easily access our tailgate after the game. Players like Kaepernick, Eric Reid, Vernon Davis are frequent guest. And last weekend NaVorro Bowman requested tuna tartare he'd had at one of my restaurants in Miami. So I do take requests from VIPs, especially the new coach who is a serious foodie and in the restaurant all the time.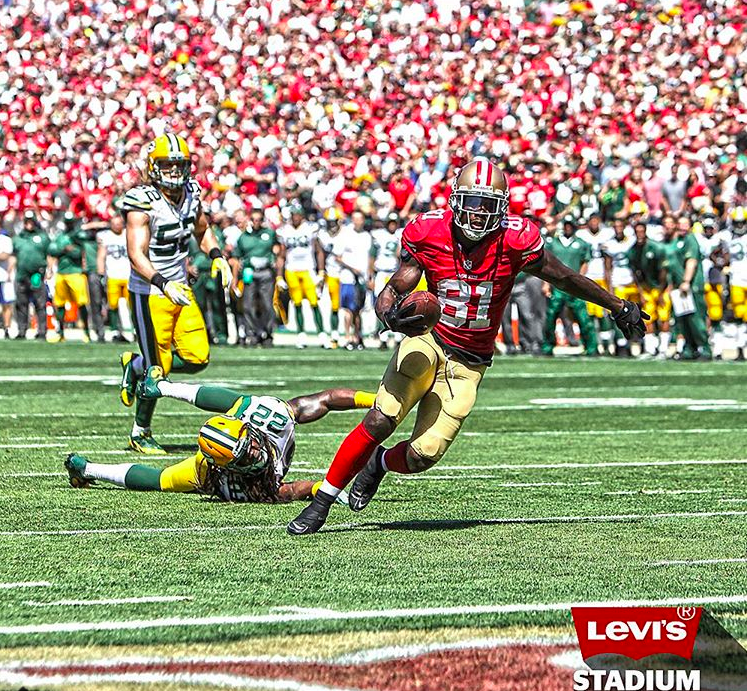 Tarin: What did you have planned for the game against the Green Bay Packers?
Michael Mina: That game will let us explore what football is all about. We got really cheesy. For example, we had a couple of fondue fountains where we offered black truffle cheddar and some classics with everything you could ever need to dip from wagyu cow, to brats, beautifully grilled vegetables, and sourdough bread.
Tarin: Which celeb chef are you really excited about collaborating with as you look down the schedule.
Michael Mina: I found out that one of my friends, Chef Todd English, is from Atlanta so he'll be on hand to execute a crazy Southern BBQ spread with me. He just sent me the menu and I'm looking forward to some classic Georgia style BBQ. I'm hoping that Joy Sterling will come pour for that game! It's been fun to learn new things about my friends as well as the cities that they come from.
Tarin: For our readers who can't make it out to the Bourbon Steak tailgate extravaganza, what do you recommend for football fans who are throwing a football watching party at home?
Michael Mina:
I like to theme it off of the team that we're playing against. I select cocktails and beers that work within that frame.

It's important that you don't just think about the dishes that come from that region or city - I like to take products that come from that state in general. And always stay within the spirit of tailgate while diversify outside of only smoked or BBQed items.

Especially when outside, I like to have a pot of something ready to do like a braised soup or chili.

And considering timing! Take the slow approach of doing one thing at a time. Grill some steak and slice it up on the spot. Then do what's next. Don't try to make it a meal all at one time - should be about grazing and drinking.

Tarin: What about wine pairings? Do bubbles come into play?
Michael Mina: Of course bubbles come into play! That's how every great tailgate should start. A glass of champagne and a bloody mary! My wife runs a bloody mary bar with her own unique recipes she's going to bottle and sell as part of her new company.
Tarin: Iron Horse is honored to have a wonderful friendship with you. And we'd like to explain to our blog readers how Michael Mina Cuvee came about. Joy wanted to remind you that we started 20 vintages (or shall we say football seasons) ago!
Michael Mina: Has it been that long?? Yes, we've been connected to Joy and Iron Horse for 20 years. And about 11 years ago, the label officially changed to Michael Mina Cuvee in honor of the launch of my Michael Mina restaurant.
Michael Mina: Now a question for Joy -- does she remember the first dish I paired with the bubbles?
Tarin: I'll have to ask her, in the meantime please tell the readers!
Michael Mina: When we first got the cuvee, we paired it with my new Caviar Parfait. The crispness of the cuvee cut through the rich flavors of the creme fraiche and salmon, but the richness also paired wonderfully with the overall dish. It's still my favorite all-time pairing.
Tarin: What makes Iron Horse special for you?
Michael Mina: It's delicious to sip. But it also pairs really well with food. That's what makes these bubbles a go-to year after year - they're very versatile.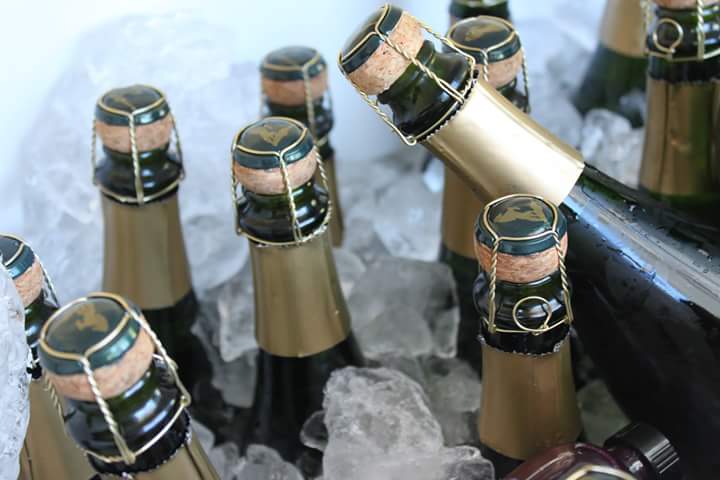 Tarin: I know Super Bowl 50 is a ways off but it will be played at Levi's Stadium. Are you excited and how are you going to tackle that momentous day at the tailgate?
Michael Mina: I have a gut feeling that the 49ers will be on the field that day each year because I'm a true fan. If we ARE there this year, I made a bet with my son that I'll get a team inspired tattoo. So I'm scared but I'll take the bet.For the tailgate, we're working with the NFL on their week long takeover of the stadium.
Tarin: Promise us that you'll share a sneak peek when you know more!
Michael Mina: Of course! More to come.
*****
This year's harvest offered a bunch of "firsts" for the Iron Horse team and provided challenges for expert wine growers like the Sterling Family and winemaker David Munksgard. Each harvest offers its own hurdles and opportunities to recommit to a vineyard philosophy of garnering exceptional flavors. But as the 2015 harvest comes to a close, it's apparent that this year was uniquely challenging for several reasons.
To learn more about the unprecedented growing conditions and harvesting game plan that define the vintage, I snagged some precious time with David, the 35 year "veteran of the vines" who teamed with Laurence Sterling to employ methods that traditionally are only seen in the finest wine chateaus in France.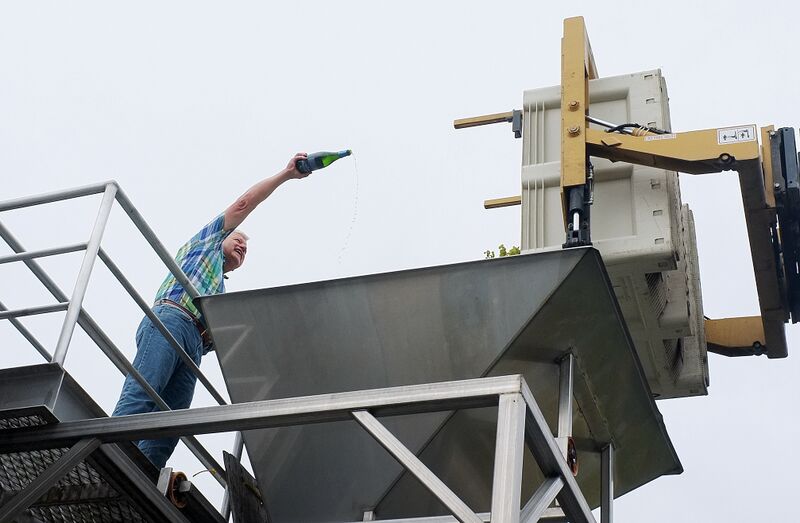 Tarin: Where are we with harvest? Close to wrapping up?
David: We will finish this week.
Tarin: Is it appropriate to say that this year's harvest calendar was anything but expected?
David: Yes, it was completely mixed up. The normal progression would be to start by picking Pinot Noir for Sparkling, followed by Chardonnay for Sparkling. Then we'd move to Chardonnay grapes for still wines and finish with Pinot Noir for still. This year, we started with Pinot Noir for Sparkling but then jumping all over the place from there. We're actually wrapping up with sparkling. In my 35 year career, I have never seen a harvest like this. That doesn't mean it's bad. It simply means that it's challenging. You really needed to be IN the vineyard to observe and judge the ripening vine by vine, day by day, so that you could improvise a game plan to take advantage of a constantly changing situation.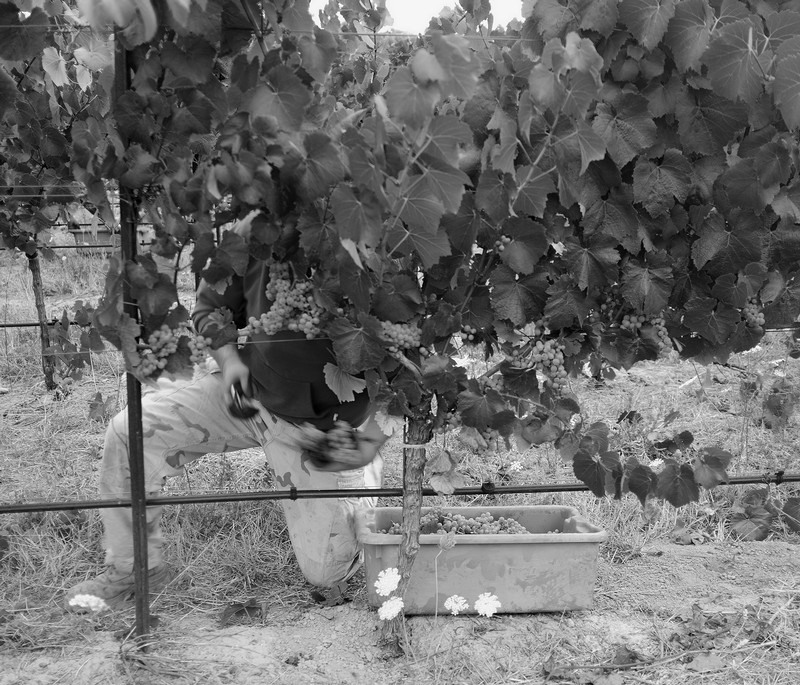 Tarin: Explain some of the hurdles you experienced upon starting the harvest.
David: Compared to the previous three bountiful years, this crop was sadly very light. Additionally when we assessed the grape vines, rather than finding uniformity, we found Pinot Noir vines where half the grapes were green and half were purple. Knowing that it was going to be a smaller harvest, we had to work with this diversity and not just cut those green grapes and let them drop to the ground. Essentially, we had to pick each vine twice. Laurence and I were clear with the vineyard team about which shades of purple were ripe for picking. It was the only way we could protect our ability to make the highest quality wine.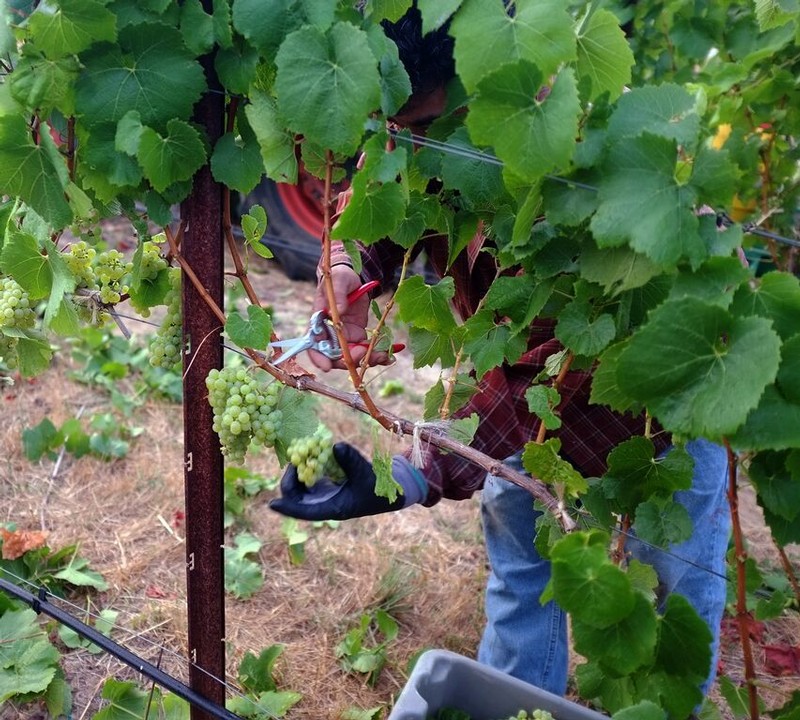 Tarin: How do you describe the vintage?
David: Challenging! But it is so satisfying to work with people who can all agree on the solution even when it is the more difficult path. Sure, we could have waited until the average analysis of the vineyard was what we needed, but the truth is that we would never have been able to make an amazing product by picking under-ripe or overripe fruit and let it even out in the press. We simply can't do things like that with our commitment to excellence. We have to protect the reputation of the winery and if that means working twice as hard and incurring the cost, then we will. In the end, we devised a way to make really great wines in a difficult vintage.
Tarin: How does this harvest compare with last year?
David: Last year, harvest was delivered to us with a ribbon. But I think the wines are going to be on par with the last couple of excellent vintages.
Tarin: We're hearing that quantity is down … but quality is high?
David: Quality is not high because the crop is small - the quality is simply there thanks to what Iron Horse does in the vineyards.
Currently we have only six wines available to taste. The rest are still fermenting. But they are clearly equal to the past few great vintages. Honestly, this was kind of shocking. Based on what we had to go through, I was expecting the results wouldn't be so great. I am extremely happy to be surprised.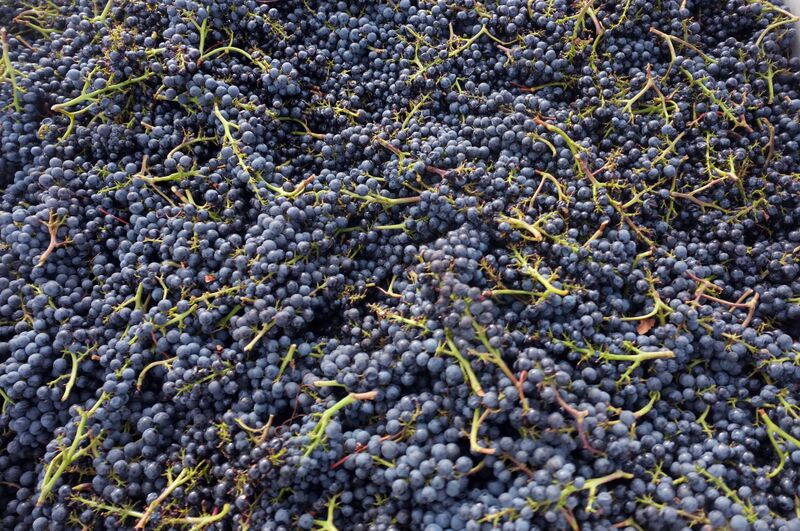 Tarin: Weather was clearly a driving factor, describe the weather starting with that nice rain in December 2014…. then what?
David: Nice and promising ... then extreme, protracted drought. Luckily we have a reservoir on the property, which the Sterlings had the foresight to build in the 70s. We use recycled water which Laurence and the vineyard crew carefully allocated to keep the vines in really great shape. We never got to a place where I was nervous about the vines holding up until the grapes were mature.
We didn't have as much fog as we normally have. There was a time where the harvest was faster than normal - the sugars were rising quickly, but then we dropped into moderate weather with cool nights. For the most part, the weather was cooperative with cooler conditions that envelope the grapes through the night until mid morning and allowed the crew to pick until 10-11am.
However at the very end, we had a few days of 100+ heat. By then, the few remaining blocks could be completely picked before the day got too hot. We only had one very small block that suffered a slight bit from the high temperatures. It was our last block of Pinot Noir for still wine, our harvest crew culled out clusters that had raisined.
Tarin: What has the long growing season meant?
David: When we started bud break, it was ridiculously early - two weeks ahead of last year, which was three weeks ahead of 2013. Then we went into a period of cool almost cold weather and that stopped the clock. The vine is only active when the average daytime temps are above 60 degrees, if it doesn't meet that, the vine goes into a dormant, slumber state. So essentially, the early spring didn't count. In the absence of a consistent rise in temperatures, we got the cluster to cluster variation which was so challenging. All the historically important and reliable timelines got stopped and re-started repeatedly. That interruption of the normal cycle in the vineyard led to uneven ripening and us picking the same vines repeatedly.
Tarin: What are your great take aways from this harvest?
David: I've always heard that the great vineyards in France make exceptional wines even in a difficult vintage, while lesser chateaus often miss the mark under distress. What it boils down to is the commitment on the part of those great wineries. Iron Horse has that passion and dedication. As Laurence says, "It has to MEAN something when we put 'Estate Grown.'" on our labels.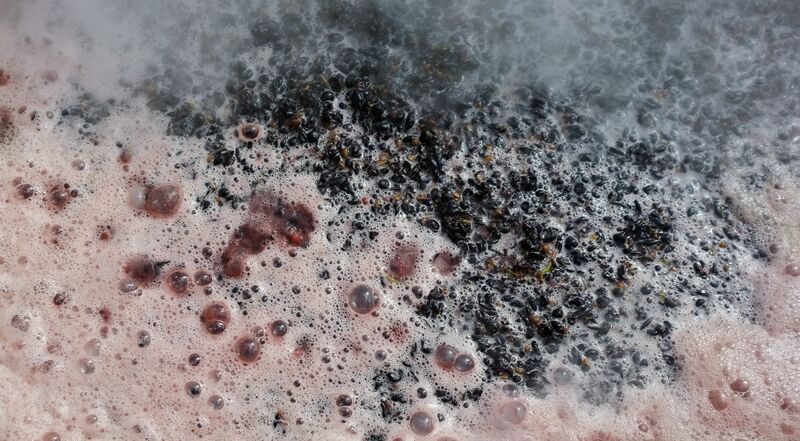 Tarin: Now, tell us about your new drone! We LOVE this video shot recently. How are you using the drone in the vineyard?
David: I initially used a small drone with a 1-2 megapixel camera to take some vineyard photos. At the time, I of course knew the property was beautiful but I didn't know it was that beautiful! I ultimately upgraded to a big drone with a large high def camera and I've been blown away at the view from 400 feet.
From a practice perspective, the benefits are untapped. Years ago, we would do an annual flight over the vineyard for infrared insights into the foliage conditions in different sections. With the drone, we can do this much more frequently and at lower cost.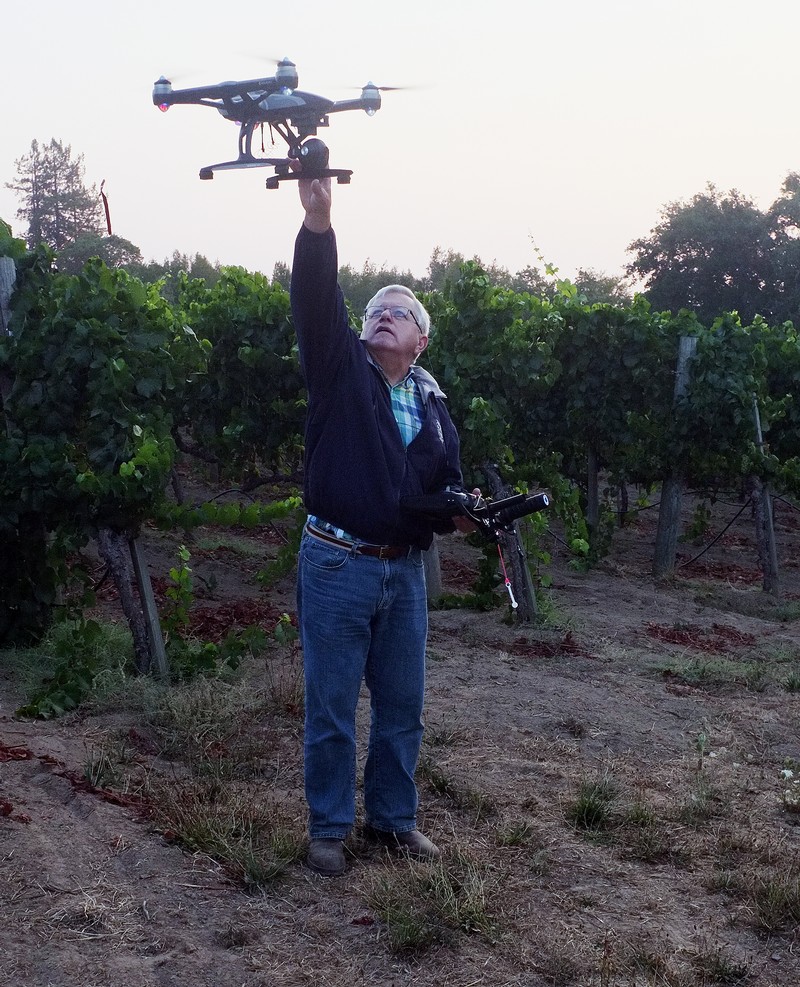 Tarin: How has it helped with the harvest?
David: I got this drone a couple weeks into harvest, but next year I plan on getting it up there weeks before we start picking to look around with a hawk's perspective. These flights will serve to help us identify which vines need more emitters (more water). It also has the potential to pinpoint differences in the canopy. Once something out of the ordinary catches your eye, you can walk out to that spot and see what's going on. I'm sure this drone can be used to make a better bottle of wine.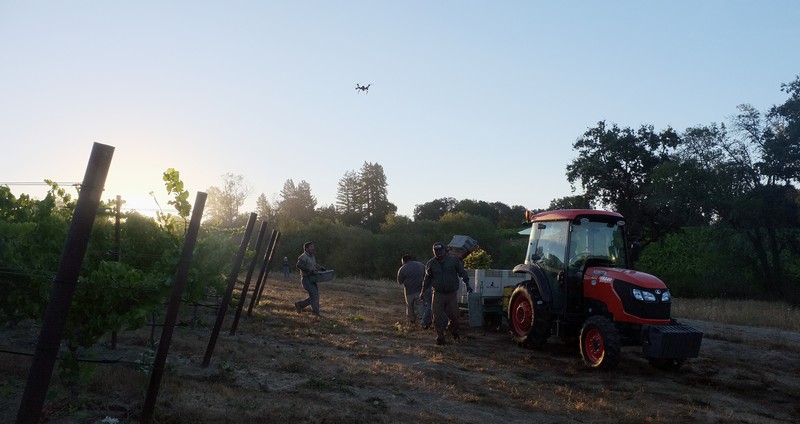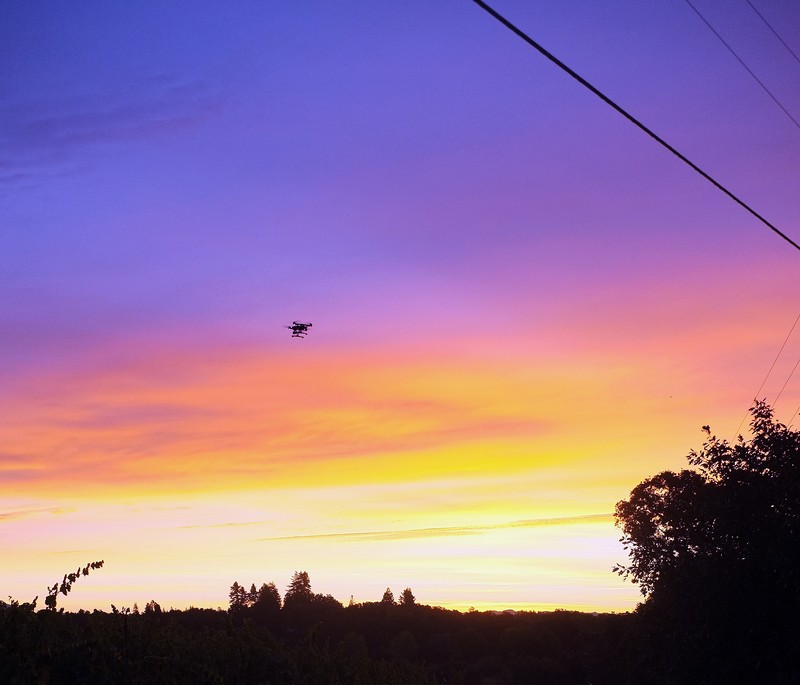 Tarin: When will we be able to taste the wines of 2015?
David: The Sterling family tradition has been to get together around Thanksgiving to taste the new vintage. Generally, November-December is when you get your first good sense of quality ie depth of character and complexity of flavors.
And as winemaker I taste the wines continuously as they develop.
As a finished product, the Chardonnays will be released in two years, the Pinot Noir in three and most of the bubbles in 2019.
###