Iron Horse
Blog

Always up for a celebration, I was very excited to learn that October 1st is the official start of the New Water Year in California. This should be greeted with popping corks and renewed optimism. First because we made it through Water Year 2015 … and second because we might just luck out with El Niño, now being ballyhooed as our "great wet hope." As I follow local coverage of rising El Niño fever (here) I encourage you to read along with me and ultimately draft your own personal New Water Year Resolution #MyNewWaterYearResolution
As a friend and neighbor says, "Here we are, enjoying Indian summer and praying for a rip-roaring El Niño to clobber us this winter. How California, to hope for a disaster to end a catastrophe!"
Photo via @Claudio Chea
Water Year 2015 has been noteworthy for several reasons:
Far less precipitation than normal in California

Temperatures far warmer than normal

A strengthening El Niño in the equatorial Pacific that some scientists believe is now "too big to fail." Find the scientific facts in last week's LA Times coverage here.
In a revised forecast released last Thursday, the National Weather Service said Northern California stands a decent chance of getting significant precipitation this winter. WeatherWest.com data points to this conclusion as well. In fact, they explain that the present track is comparable in magnitude to both the 1982-1983 and 1997-1998 events which were the strongest in the long-term record.

While forecasters have been saying this winter will likely bring heavy rains to Southern California, which is typical for El Niño, they've been less certain about the outlook for the northern half of the state. This is insight we desperately need. The state's major reservoirs are in the north, making rain and snow in that region of utmost importance to significantly bolster the state's water supplies.
The bulk of the precipitation is predicted to fall in December but mainly during the traditional rainy season from January - March. Luckily, Winter Is Coming.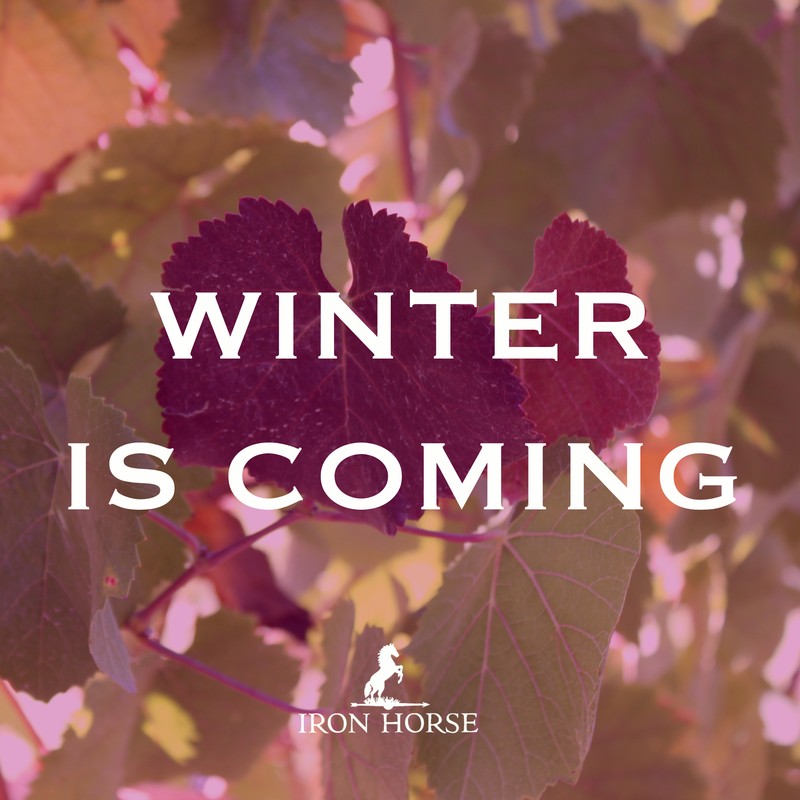 William Patzert, a climate expert at NASA's Jet Propulsion Laboratory in Pasadena, is the most optimistic and outspoken about the northern rain exposure. He's convinced El Niño will be felt in Northern California. "At this point – at this particular time – this is too large to fail," he said.
If history is a guide, California will see big snow in the northern mountains along with rain in the south, Patzert said. "The last two El Niños that were of this magnitude hosed all of California," he said. "If you look at the snowpack for those two El Niños, you had double the snowpack, too."
What's changed since the weather service's previous forecasts? Temperature anomalies in the Pacific are increasingly favorable to Northern California's rain outlook and according to Jeffrey Mount, a water specialist at the Public Policy Institute of California, the so-called "ridiculously resilient ridge," the high-pressure system that has kept rain and snow from falling on California, is finally breaking down.

Also check out this extremely cool NOAA video animation showing their weekly temperature readings of El Nino.
But Mount and Jay Lund, an engineer and watershed specialist at UC Davis, want to manage expectations. The experts point to the relative rarity of strong El Niños – just six since 1957. Their main point? We could still be left disappointed.
"We have a small sample size," Lund said. "There's still a substantial probability that we're going to continue to be in a drought next year."
So this is no time to become over confident. We must remain committed to conservation.
Here in Sonoma County, I am very proud to say the vintners have stepped up with voluntary measures to save water and help protect the Coho salmon. The Press Democrat quoted state regulators who showered Sonoma County landowners with praise. Read about the creative efforts and resulting hope for the future here.
Statewide, we Californians continue meeting the Governor's water conservation mandate. We reduced water use by nearly 27 percent during August, exceeding Jerry Brown's 25 percent conservation mandate for a third straight month.
Now we need everybody to make a New Water Year Resolution! My suggestion is that you resolve to capture and store as much rain possible. Whether it be in a reservoir, cistern or water barrels sold at the hardware store. Tip - old wine barrels actually work very well for this purpose. Share your resolutions with our us in the comments or on social media with the #MyNewWaterYearResolution
Hopefully, we will look back on Water Year 2015 as the final year of one of the state's most severe dry periods on record. And may 2016 be the year we "win" the drought (see NY Times' "How California Is Winning the Drought" here).
Many cultures mark the New Year on different dates and with special rituals. There's Chinese New Year in January-February and Jewish New Year in September. The Ancient Egyptians timed their New Year to the flooding of the Nile in July. So, in some ways, October 1st can be seen as California's New Year … appropriate as we tend to be a culture apart on most things.
And how to celebrate California New Year? With California bubbly, of course.

Cheers! Happy #winewednesday & Happy New Water Year!
***
This year's harvest offered a bunch of "firsts" for the Iron Horse team and provided challenges for expert wine growers like the Sterling Family and winemaker David Munksgard. Each harvest offers its own hurdles and opportunities to recommit to a vineyard philosophy of garnering exceptional flavors. But as the 2015 harvest comes to a close, it's apparent that this year was uniquely challenging for several reasons.
To learn more about the unprecedented growing conditions and harvesting game plan that define the vintage, I snagged some precious time with David, the 35 year "veteran of the vines" who teamed with Laurence Sterling to employ methods that traditionally are only seen in the finest wine chateaus in France.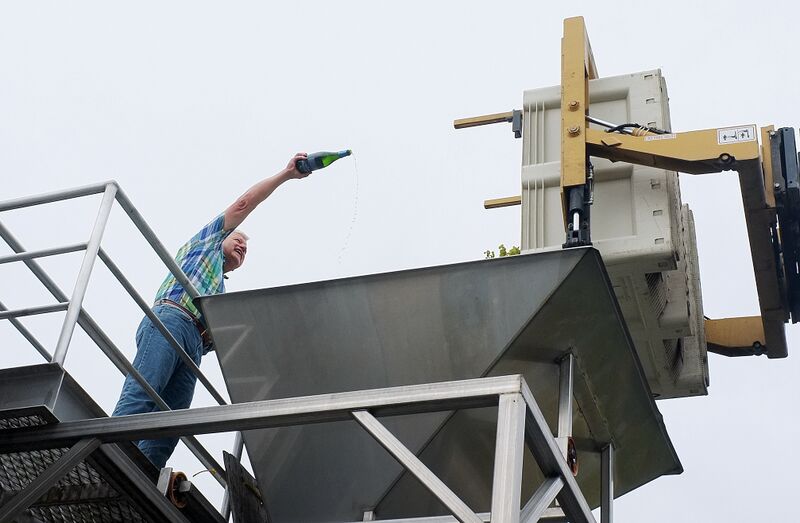 Tarin: Where are we with harvest? Close to wrapping up?
David: We will finish this week.
Tarin: Is it appropriate to say that this year's harvest calendar was anything but expected?
David: Yes, it was completely mixed up. The normal progression would be to start by picking Pinot Noir for Sparkling, followed by Chardonnay for Sparkling. Then we'd move to Chardonnay grapes for still wines and finish with Pinot Noir for still. This year, we started with Pinot Noir for Sparkling but then jumping all over the place from there. We're actually wrapping up with sparkling. In my 35 year career, I have never seen a harvest like this. That doesn't mean it's bad. It simply means that it's challenging. You really needed to be IN the vineyard to observe and judge the ripening vine by vine, day by day, so that you could improvise a game plan to take advantage of a constantly changing situation.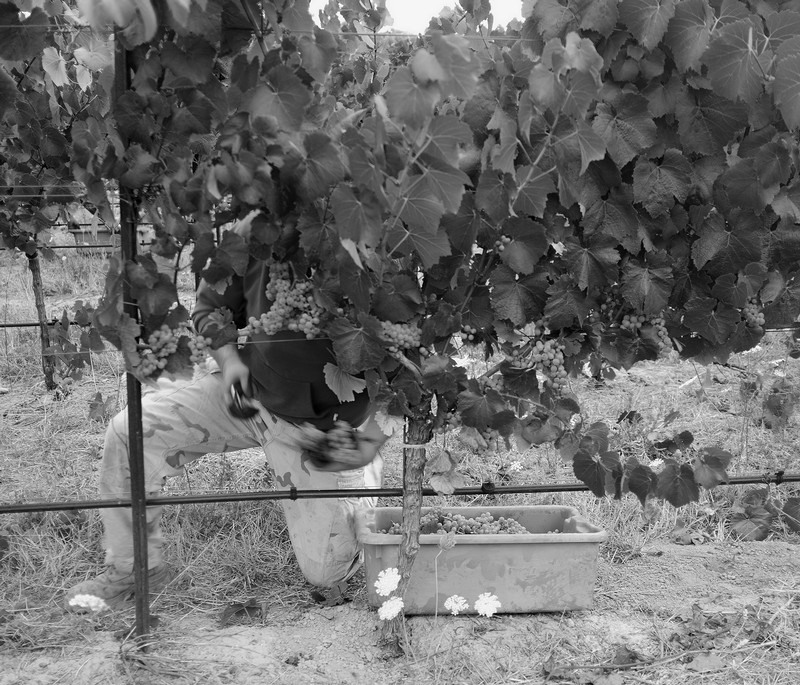 Tarin: Explain some of the hurdles you experienced upon starting the harvest.
David: Compared to the previous three bountiful years, this crop was sadly very light. Additionally when we assessed the grape vines, rather than finding uniformity, we found Pinot Noir vines where half the grapes were green and half were purple. Knowing that it was going to be a smaller harvest, we had to work with this diversity and not just cut those green grapes and let them drop to the ground. Essentially, we had to pick each vine twice. Laurence and I were clear with the vineyard team about which shades of purple were ripe for picking. It was the only way we could protect our ability to make the highest quality wine.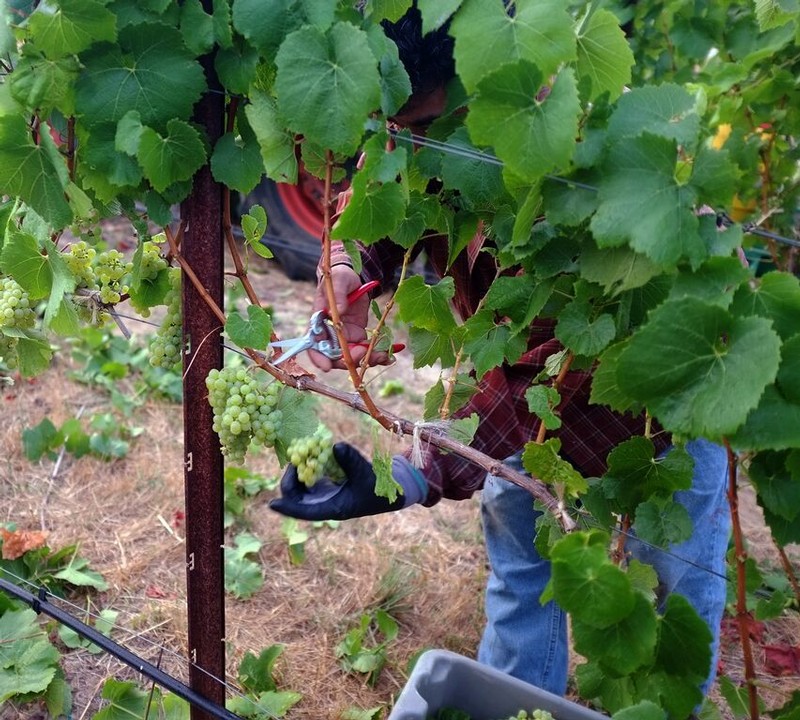 Tarin: How do you describe the vintage?
David: Challenging! But it is so satisfying to work with people who can all agree on the solution even when it is the more difficult path. Sure, we could have waited until the average analysis of the vineyard was what we needed, but the truth is that we would never have been able to make an amazing product by picking under-ripe or overripe fruit and let it even out in the press. We simply can't do things like that with our commitment to excellence. We have to protect the reputation of the winery and if that means working twice as hard and incurring the cost, then we will. In the end, we devised a way to make really great wines in a difficult vintage.
Tarin: How does this harvest compare with last year?
David: Last year, harvest was delivered to us with a ribbon. But I think the wines are going to be on par with the last couple of excellent vintages.
Tarin: We're hearing that quantity is down … but quality is high?
David: Quality is not high because the crop is small - the quality is simply there thanks to what Iron Horse does in the vineyards.
Currently we have only six wines available to taste. The rest are still fermenting. But they are clearly equal to the past few great vintages. Honestly, this was kind of shocking. Based on what we had to go through, I was expecting the results wouldn't be so great. I am extremely happy to be surprised.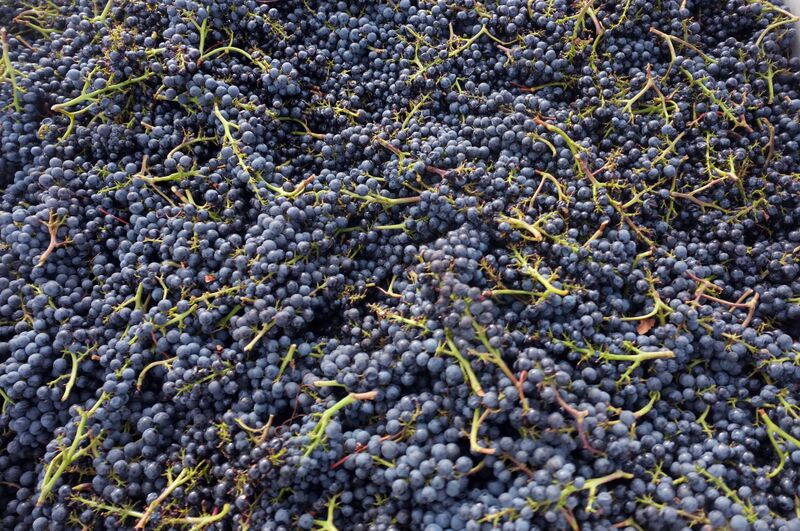 Tarin: Weather was clearly a driving factor, describe the weather starting with that nice rain in December 2014…. then what?
David: Nice and promising ... then extreme, protracted drought. Luckily we have a reservoir on the property, which the Sterlings had the foresight to build in the 70s. We use recycled water which Laurence and the vineyard crew carefully allocated to keep the vines in really great shape. We never got to a place where I was nervous about the vines holding up until the grapes were mature.
We didn't have as much fog as we normally have. There was a time where the harvest was faster than normal - the sugars were rising quickly, but then we dropped into moderate weather with cool nights. For the most part, the weather was cooperative with cooler conditions that envelope the grapes through the night until mid morning and allowed the crew to pick until 10-11am.
However at the very end, we had a few days of 100+ heat. By then, the few remaining blocks could be completely picked before the day got too hot. We only had one very small block that suffered a slight bit from the high temperatures. It was our last block of Pinot Noir for still wine, our harvest crew culled out clusters that had raisined.
Tarin: What has the long growing season meant?
David: When we started bud break, it was ridiculously early - two weeks ahead of last year, which was three weeks ahead of 2013. Then we went into a period of cool almost cold weather and that stopped the clock. The vine is only active when the average daytime temps are above 60 degrees, if it doesn't meet that, the vine goes into a dormant, slumber state. So essentially, the early spring didn't count. In the absence of a consistent rise in temperatures, we got the cluster to cluster variation which was so challenging. All the historically important and reliable timelines got stopped and re-started repeatedly. That interruption of the normal cycle in the vineyard led to uneven ripening and us picking the same vines repeatedly.
Tarin: What are your great take aways from this harvest?
David: I've always heard that the great vineyards in France make exceptional wines even in a difficult vintage, while lesser chateaus often miss the mark under distress. What it boils down to is the commitment on the part of those great wineries. Iron Horse has that passion and dedication. As Laurence says, "It has to MEAN something when we put 'Estate Grown.'" on our labels.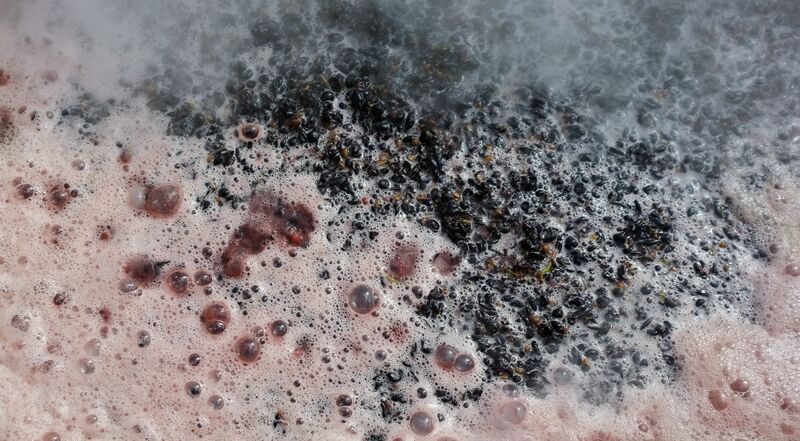 Tarin: Now, tell us about your new drone! We LOVE this video shot recently. How are you using the drone in the vineyard?
David: I initially used a small drone with a 1-2 megapixel camera to take some vineyard photos. At the time, I of course knew the property was beautiful but I didn't know it was that beautiful! I ultimately upgraded to a big drone with a large high def camera and I've been blown away at the view from 400 feet.
From a practice perspective, the benefits are untapped. Years ago, we would do an annual flight over the vineyard for infrared insights into the foliage conditions in different sections. With the drone, we can do this much more frequently and at lower cost.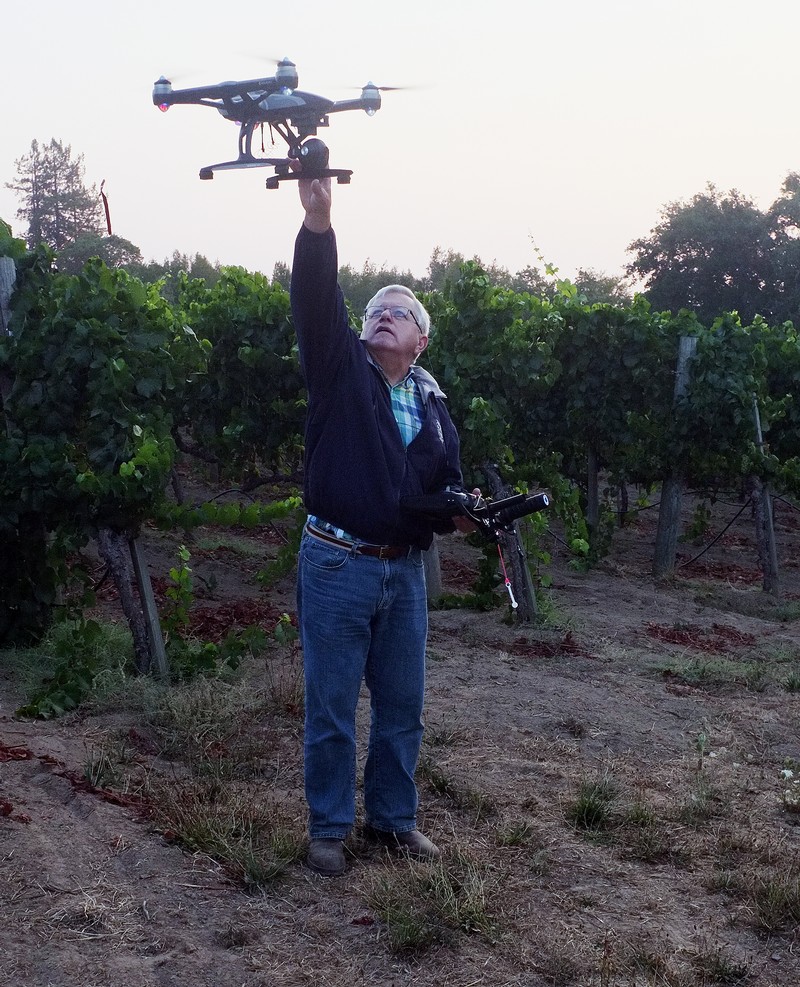 Tarin: How has it helped with the harvest?
David: I got this drone a couple weeks into harvest, but next year I plan on getting it up there weeks before we start picking to look around with a hawk's perspective. These flights will serve to help us identify which vines need more emitters (more water). It also has the potential to pinpoint differences in the canopy. Once something out of the ordinary catches your eye, you can walk out to that spot and see what's going on. I'm sure this drone can be used to make a better bottle of wine.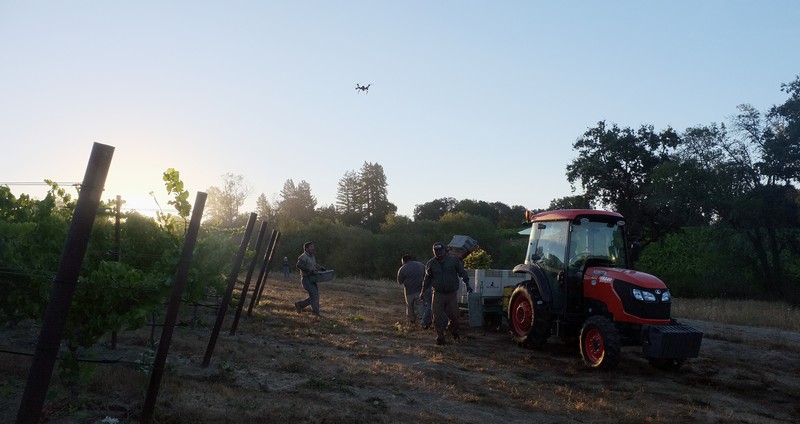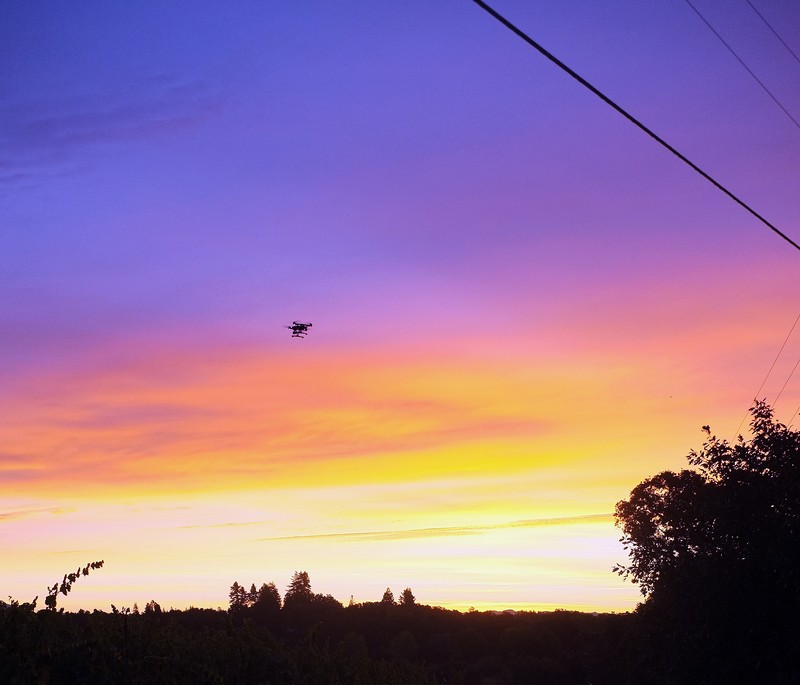 Tarin: When will we be able to taste the wines of 2015?
David: The Sterling family tradition has been to get together around Thanksgiving to taste the new vintage. Generally, November-December is when you get your first good sense of quality ie depth of character and complexity of flavors.
And as winemaker I taste the wines continuously as they develop.
As a finished product, the Chardonnays will be released in two years, the Pinot Noir in three and most of the bubbles in 2019.
###



With the start of summer, the drought has been hitting closer and closer to home … and then, suddenly, it is home.

Wells are starting to go dry in nearby Forestville. Up until now, I have felt relatively secure that the North Bay (Marin, Sonoma, Napa) is experiencing nothing more than a "severe drought." This classification is a level five on the seven levels of severity. Therefore, in a small way I have considered our vineyard as more fortunate when compared with other parts of the state, like Fresno, which is suffering "extraordinary drought."
Since I last blogged on this topic, the State Water Resouces Control Board approved an emergency regulation aimed at protecting the threatened Coho Salmon and Steelhead. Ordinances affect about 13,000 properties in the watersheds of Dutch Bill Creek, Green Valley Creek, which bisects Iron Horse, Mark West Creek and Mill Creek. Water users in these watersheds, i.e. us, will be subject to: 1) enhanced conservation measures built on existing statewide water restrictions 2) regular submission of reports detailing surface and groundwater use. (Note: Below is a photo of our creek from May 2013. It shows water … today it is just muddy.)

The center of this issue goes beyond the mandatory reporting of diversions, focusing on the very definition of a diversion. According to a draft of the emergency regulation:
"Diversions" means all water diverted or pumped from surface waters or from subsurface waters that are hydraulically connected to the surface stream within the 
watersheds.

All subsurface water is considered hydraulically connected to the surface stream if 
pumping that water may contribute to a reduction in stream stage or flow of any 
surface stream within the watersheds.
For the first time ever we will monitor and report on our groundwater use, filing what we have diverted with the State Water Boards.
Really this just means more paperwork. Historically, we only divert water from the creek when the water level is high enough for the health of the fish. Our Iron Horse family has been working with Fish & Wildlife officials since last November to remove any barriers preventing fish from commuting up and down stream. To support our joint efforts, we have significantly reduced our diversions. In 2013 we pumped 8 acre/feet, in 2014 just 2.75, and in 2015, none … so as not to endanger the hatchlings seeded by Fish & Wildlife. We love the salmon and do everything we can to help them navigate Green Valley Creek.
This makes us more reliant on the fruits of our conservation efforts including recycled water and winery grey water which goes to the reservoir for the vineyards, gardens and landscaping. This reservoir is just about full - re-charged by advanced treated water from Forestville. We are installing meters on our wells and our houses. We are mowing more frequently in the vineyards to preserve the cover crop and keep it from competing with the vines. We pruned and have been thinning shoots to reduce water needs of the vines. (Below - a picture of the vegetable garden, irrigated with advanced treated water.)

Good news is that at least in May, we celebrated residential water use wins as shared in the Los Angeles Times. Urban areas reported a 29% drop in usage which is the biggest monthly decline yet since Gov. Jerry Brown ordered mandatory cuts. But officials caution that these efforts will have to ramp up as the warmer months become more exaggerated, we need six consistent months of similar water use declines to see serious impact.
As experts admit, overall water usage this summer is anyone's guess and is largely dependent on the heat. Every drop counts - a philosophy that has been embraced by everyone at Iron Horse. In fact, my brother is growing a "drought beard" to proactively "repurpose" water normally used while shaving.
As for our beloved California salmon …
We spend a good part of the year waiting for summer, which heralds the return of wild king salmon, considered by many to be Sonoma's "National Dish".

State and federal wildlife agencies have been transporting the new generation of baby fish via tanker truck to San Francisco Bay. Due to the drought, rivers and streams have become too shallow or too warm for salmon to navigate and survive the journey to the Pacific.
The salmon transport has been in progress since February, with 35,000 gallon tanker trucks being used to transport salmon along the 90 minute journey from hatcheries to the ocean via the freeway to bypass dried-up riverbeds.
In the next few years, we will start to see the effect of the drought on fish in the ocean. Warmer water makes the fish harder to catch because they're not concentrated in their normal areas. And we don't yet know how many fish have reproduced in the rivers and creeks … and how many will make it back.
The Salmon's Life Cycle:
The fish swim up the river and spawn, those baby salmon grow into smolts and work their way down to the ocean within a year or two. They spend five or six years in the ocean, and then they go back up the river they were born in to spawn again and die. If there's no water, they can't swim downstream to the ocean or back upstream to reproduce. We're affected by the water conditions from five or six years ago. So we'll see the effects of the drought in the next few years.
Nutritional Value:
California wild and natural King Salmon is considered by many to be the finest member of the salmon family and extremely nutritious. "Fast" food facts:
less than 200 calories per 3-ounce portion

excellent source of quality protein (21 grams, 47% of the Recommended Daily Intake)

low in saturated fat and sodium

rich in vitamins and minerals

ocean-run California King salmon is also very rich in omega-3 fatty acids
Versatility:
Salmon can be grilled, baked, broiled, poached, microwaved, sautéed, smoked, canned, or eaten raw in sushi and as sashimi. It can be prepared with any of your favorite seasonings or marinades: simple or exotic, homemade or store-bought. Don't think of it as only an entree; it can also be featured in chowders and soups, pastas, appetizers, salads and sandwiches. And most importantly, it pairs beautifully with Chardonnay, Pinot Noir and bubbly!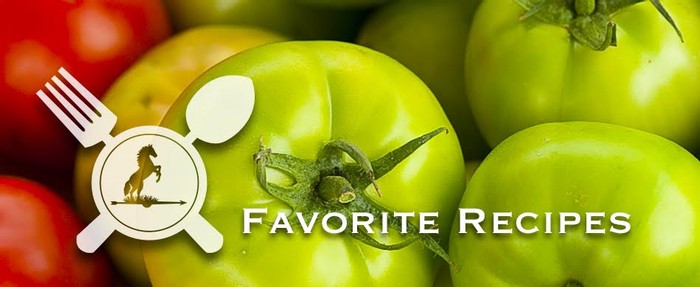 Iron Horse Favorite Recipe:

Whole Roasted Salmon in a Crust of Sea Salt
Ingredients:
1-8Lb. Salmon, gutted, scaled and trimmed
salt and pepper
1 bunch fresh thyme
several fresh bay leaves
6 Lb. sea salt
extra virgin olive oil
zest of 4 lemons, finely chopped
Serves: 8 people
Directions:
Preheat oven to 450 degrees. Wash fish thoroughly, inside and out, and pat dry. Season the cavity of the fish with salt and pepper, the thyme and bay leaves.
Spread half the sea salt on the bottom of a large baking dish or half sheet tray. Place the fish and completely cover it from head to tail with the remaining salt. Put in the oven and bake 10 minutes per pound.
Remove from oven and let rest for 5 minutes. Brush away as much salt as possible from the fish. Then, using a sharp knife, gently remove and discard skin. With a thin spatula, remove the filets from along the backbone, place on a serving platter and drizzle with olive oil and lemon zest.
######

Welcome to the first installment of our Star Chef Blog Series. Over the next few months, we'll be sharing Q&As with our most special friends who serve custom Iron Horse cuvees in their restaurants. In honor of Easter & Passover, and with the spirit of renewal that comes with Spring, we've interviewed Iron Horse's great friend Charlie Palmer for a fresh take on a classic.
Starting with New York City's Aureole, Charlie now owns 14 restaurants around the country, two hotels in the heart of California's wine country and The Mystic Hotel in San Francisco. Our friendship with Charlie Palmer is as rich as his culinary creations and shines through in the delicious Aureole Cuvee. The current release is our 20th vintage of making this unique, limited production bubbly.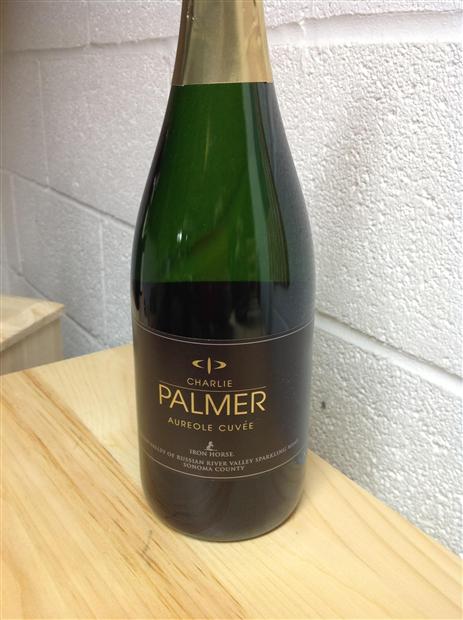 When we called Charlie up one early Spring day, we challenged him to walk us through a seasonally appropriate food pairing for our sparkling wine and Pinot Noirs. The season is right for the Sonoma County baby lamb or ham and our Pinot Noirs just received stellar ratings by the editors at Wine Enthusiast which will appear in the June 2015 issue. Here's what we learned...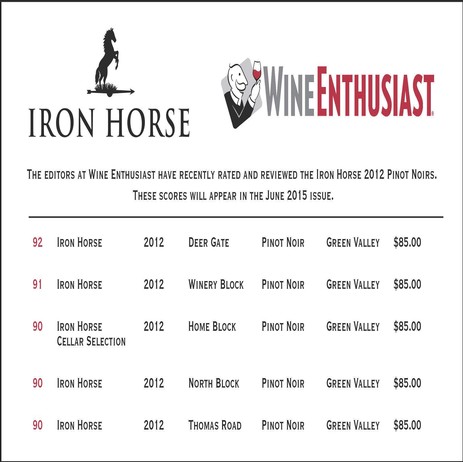 IRON HORSE INTERVIEW WITH CHARLIE PALMER:
Iron Horse: What drew you to develop a partnership with Iron Horse?
Charlie Palmer

: We started with Iron Horse years ago. My team of wine directors and sommeliers aimed to develop a sparkling wine that was both "food friendly" and could be an aperitif. The

Aureole Cuvee

is just that. We offer restaurant guests a small coup glass as they peruse the cocktail menu. Just 3 ozs of bubbles triggers that feeling of celebration and serves as a palette starter, but you can certainly drink it through the entire meal.
Iron Horse

: What flavors make the Aureole Cuvee a menu go-to for you?
Charlie Palmer: It's about freshness and balance. It was important that the sparkling wine bring good acidity to compliment richer foods with higher fat content.
Iron Horse: Spring has sprung at our vineyards. What celebratory sparkling creations are you preparing for Easter and Passover celebrations at your restaurant?
Charlie Palmer: When you think of Easter and Passover, you think of brunch. Our brunch menus at a few of the restaurants will offer a seasonal sparkling wine cocktail which will include 6 oz of the Aureole Cuvee, a few drops of pomegranate syrup to get a blush pink coloring, pomegranate seeds, and half an ounce of absynth.
Iron Horse: What's on the menu for the main course?
Charlie Palmer: When I was a kid we always had a big, roast ham for Easter. It brings salty, rich flavors that are perfect for pairing with Iron Horse Pinot Noir. The fatty, smokiness of the cured ham is perfect for balancing the Pinot Noir flavors which bring fruitiness and acidity up front. Lamb dishes would also work wonderfully.
Iron Horse: You mention Pinot Noirs, ours were recently honored with excellent ratings awarded by Wine Enthusiast. What makes this Iron Horse red stand out?
Charlie Palmer: When people think about Iron Horse - they think about sparkling. But the Pinots have some of the most interesting terrior make-ups. Green Valley Pinot is different from other areas because of its indigenous vegetal overtone which makes them more interesting than some of the bigger fruit bombs from Sonoma Coast and Russian River. They have great depth and finesse that are more Burgundian in style than others you see from California.
Iron Horse: Finally, how do you conclude an Easter or Passover meal?
Charlie Palmer: I'm not big on sweet wines or Ports. More than anything else I like the idea of closing the meal with dessert and sparkling wine, especially fruit desserts. I would recommend poached green peaches with deconstructed crumble and Aureole Cuvee. This has good acidity and effervescence from the sparkling wine in the poaching liquid.

For more information about Charlie Palmer's current projects visit charliepalmer.com. Find shop our full selection of Iron Horse Sparkling Wine on our website.

Today marks the official start of Spring. A major milestone for my Iron Horse family. The date has been marked in my calendar for many reasons. First, we'll experience the first total solar eclipse since November 3, 2013. This eclipse always bring a new moon so we'll also be channeling the spirit of renewal that comes with the season. I take this opportunity to celebrate the new beginning with meditation, yoga, a hike through the vineyard, and a conscious effort to not over schedule my days.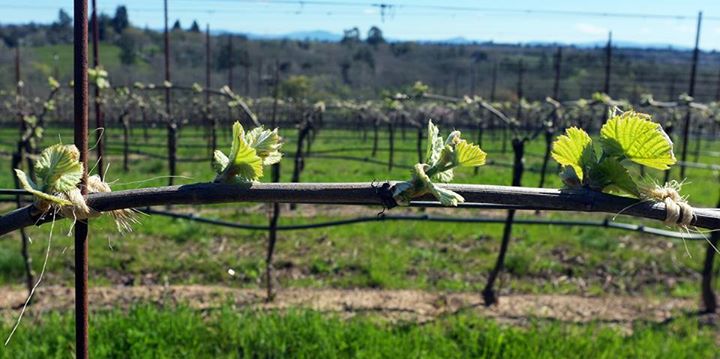 Second, the seasonal change marks a significant change in our activity out in the vineyards. Though I mentioned before that "season creep" has brought unusually warm temperatures earlier, the consistently warmer temps will now wake vines from their winter naps in a phenomenon we call "budbreak." We carefully monitor these sensitive, young buds to ensure evening frosts don't damage them. As flowering begins, Iron Horse growers manually train vines to grow optimally. With our guiding hand, grape clusters will get just the right amount of sunlight and air and we'll have conquered an important growing milestone.
Have a wonderful Spring Equinox and total solar eclipse. I look forward to seeing your bright faces in our Tasting Room to usher in this new season.