Iron Horse
Blog

Dear Friends and Family,
Happy Chinese New Year, celebrating the "Year of the Rat".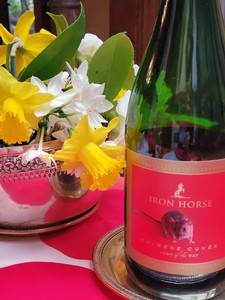 The Rat is the first sign in the 12-animal cycle of Chinese Astrology, a portent of new beginnings. Rats are said to be clever and wise, symbols of wealth and abundance. Rat years include 1924, 1936, 1948 , 1960, 1972, 1984, 1996, 2008, 2020, making this is the perfect gift for anyone expecting a baby (Us! My eldest niece Justine is due this summer) … and for those celebrating a milestone birthday, like turning 60 (namely, our brilliant, handsome label designer Mark Berry).
Here is a line up of our Chinese New Year labels of the past five years.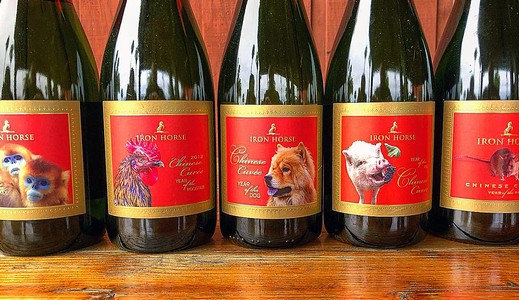 The endearing creature on this year's label, a Key Largo woodrat (Neotoma floridana), is sadly endangered. Fewer than 250 adults are left in the wild. This "studio portrait" is part of National Geographic's Photo Ark, created by photographer Joel Sartore ( Click here for more information), a biblical effort to document 12,000 species before they disappear and to get people to care, even about a little rat, while there's still time. We are very proud that licensing the photo for our label helps the cause.
Yesterday, one of our wonderful Wine Club members told us the origin story of the Chinese Zodiac that he learned as a child. It's a story of a great race, deciding which animals made it into the 12 year cycle, and in what order. The animals had to cross a river, so the Ox had the advantage, but the clever rat jumped on the Ox's back and once across, jumped ahead to be the first. The Ox is second.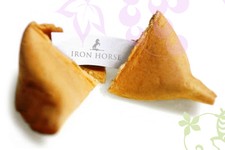 We are pouring "Rat" in our tasting room. Please make a reservation (or order online).
Wishing you great prosperity and double happiness!


Sometimes the best tasting notes are just one word - simple, declarative and easy to grasp, like "Wowzah!", which is how our Winemaker David Munksgard describes our just released 2010 Brut LD. This is our first release of an LD in four years.
LD stands for Late Disgorged, aged longer on the yeast in the bottle and our designation for tête de cuvee or top of the line bubbly. It's a play on Bollinger's RD or Récemment Dégorgée (recently disgorged), which is trademarked.
This is our first LD in four years, freshly disgorged just this month, after lavishly aging for seven years en tirage. Only about 500 cases were produced.
The longer the wine is aged on the yeast in the bottle, the smaller the bubbles, so the mouthfeel is soft, elegant, rich and creamy – like drinking a cloud. You will taste and feel the quality with the first sip. It should just effervesce away in your mouth.
From clouds to rainbows, we are also celebrating the release of our 2014 Rainbow Cuvee, just in time for Pride Month.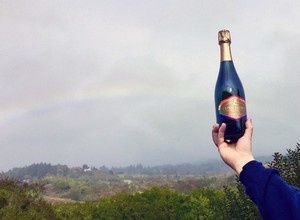 This year, the Rainbow is a vibrant and exciting Blanc de Blancs - 100% Chardonnay, vintage 2014. This is our toast to diversity. Total production 300 cases.
We are getting our first crops of strawberries.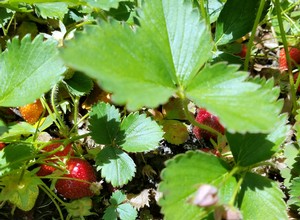 And I am closing in on my ambition to fill every vase in my house with roses.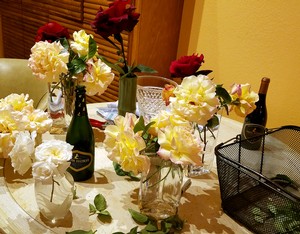 I am especially happy to report that Joy! has been awarded 93 points in Wine Advocate and 94 in Wine & Spirits Magazine, to appear in their Best Summer Sparklers issue.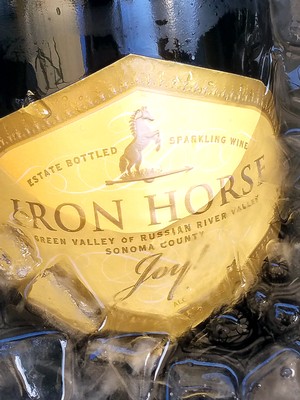 Our 2015 Home Block Pinot Noir received a 92-point rating in Wine Enthusiast. In this case, the wine description is much more poetic: "Sublime in mint and forest floor tones, this is a seductively robust wine that's rich and rewarding on the palate but never loses its sense of balance and place." We call this "Home Block" because it is adjacent to my parents' home. It is most sheltered of our vineyard sites. And, this is where my niece Justine is getting married next month.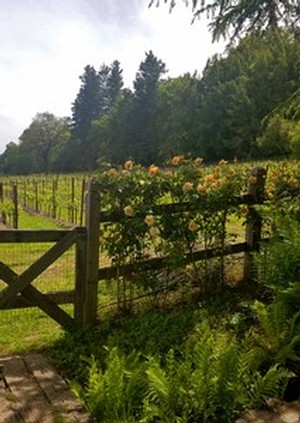 As you can imagine, my father is working very hard to get the garden in "leaf perfect" condition for her. We all love the groom and really can't wait to have a big, beautiful party.
Cheers to love!

There is nothing quite like spring at Iron Horse. Even five inches of rain in a 30-hour continuous downpour couldn't put a damper on it.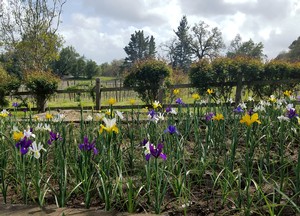 It was a crazy storm - a "pineapple express", thankfully not that intense, but unrelenting, turning us into Island Iron Horse.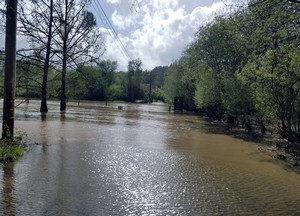 Cazadero got seven inches. San Francisco recorded the biggest one day of rain since the Gold Rush. Yosemite flooded and closed.
Undaunted, our Winemaker David Munksgard and I sat down to taste our about to be released 2014 Rainbow Cuvee, which is a Blanc de Blancs this year, and our 2010 Brut LD, our first LD in four years. We had a great conversation about the future and what better thing to do, even if the creek is rising. Both bubblies are being disgorged and labeled and will make their debut in our May Wine Club shipment.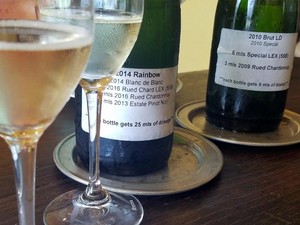 We were flooded at the main entrance all weekend, but it was a great relief to see that the iris and most importantly the vines had stood up to the storm.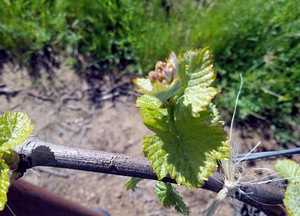 Fortunately, nothing deters our wonderful fans and club members. I am very proud of the intrepid tasters who made the trek around the back way onto the property, especially for our first Oyster Sunday of the season.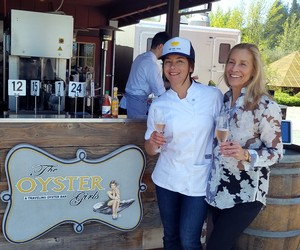 This year, The Oyster Girls are offering freshly shucked, raw and barbecued oysters, cooked shrimp and a caviar tasting. The dates are every Sunday through October from 12 noon to 4 pm (or until they run out). Please, please, please make advance reservations for tasting.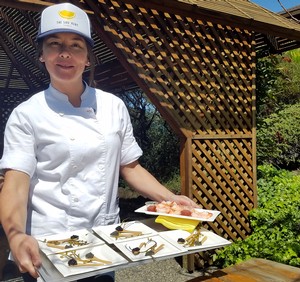 Sometimes it can be an adventure coming to Iron Horse, but always worth it. I firmly believe the beauty of the place is part of our special terroir. The grapes know they are growing in a gorgeous spot and are not to make anything less than the most delicious, memorable and pleasurable wines.
All of us in the Iron Horse family hope you will come visit and drink in the view.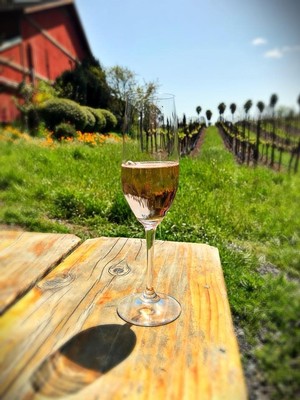 Photo: Rob Akins
With all my very best,


Dear Friends and Family, Happy daylight saving! By some accounts, the brainchild of Benjamin Franklin, while living in Paris, the idea was to turn forward the clocks to take advantage of the extra hour of sunlight to save energy, which in those days meant candle wax. Since then, it has gone through many enactments, adjustments, and repeals. Today is the 100th anniversary of the current practice, observed in about 70 countries, including the US except for Hawaii, parts of Arizona and now possibly Florida. It marks the unofficial start of spring and the equally unofficial release of the new vintage of Iron Horse Spring Rose.
The official debut of Spring Rose is March 21, but patience is not our strong suit. It is in our wine club shipment going out this week.
I am happy to report we are very close to bud break and finishing up pruning. We've tested the frost protection system and have a good amount of water (knock on wood). We've been lucky to have a cold spell, which has thank fully slowed things down a bit. If you look closely, you can see a dusting of snow on Mt. St. Helena.
Here you can see a drop of sap at a fresh cut point, where the new growth will be.
Everything crossed for a great vintage.
ICYMI, I want to share with you a very nice story about an environmental restoration effort to re-oak wine country in the wake of the fires. It's a volunteer operation, spearheaded by the California Native Plant Society, with more than 1,000 neighbors who collected acorns. So many people signed up to gather, box, and mail in acorns from the North Bay that it briefly crashed the Plant Society's server. (Source: Sonoma County Gazette http://sonomacountynurseries.com/articles/restoring-oak-trees-after-the-sonoma-county-wildfires). Now those acorns are sprouting. Once they grow into oak seedlings, they can be planted in the ground and will be given out to residents and landowners to replace an estimated at 50 square miles of oaks.
We pride ourselves on our oaks here at Iron Horse. They are as much a part of the Sonoma landscape as the vineyards.
Finally, we have a new Joy! It has become our pattern to release a different Joy! every six months. This bottling is a blend - 68% Pinot Noir 32% Chardonnay, whereas last fall's Joy! was a Blanc de Blancs. Both are vintage 2004. This new, spring Joy! is aged six months longer and disgorged last week, after 13 years en tirage. A total of 360 bottles produced, exclusively magnums. Delicious! If I do say so myself.
I hope we will have the pleasure of welcoming you here at Iron Horse this spring. Remember, the Oyster Girls are back for our weekly Oyster Sundays beginning April 8 through October. Please make reservations to partake.
One benefit to daylight saving time is that wine o'clock comes an hour early today. So, I say, cheers to that!
With all my very best,


With so much happening around us, there is something very centering about focusing on harvest.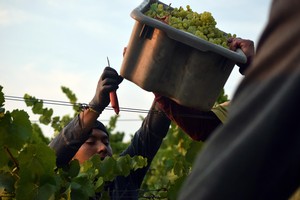 Photo: David Munksgard
All the fruit for Sparkling and Pinot Noir has now been picked. We will probably be done by the end of this week, which seems very early, but remember, our harvest started on August 4 for bubbly, so, that's a month … and this weekend's heatwave accelerated everything.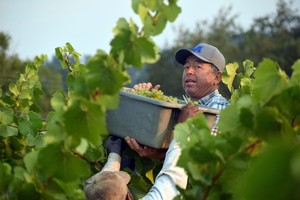 Photo: David Munksgard
So far, Vintage 2017 is all about extremes – even just speaking climatically, we went from extreme drought to record rain fall to record breaking heat. This weekend is certainly one for the record books. It was 106 degrees in San Francisco Friday. 70 degrees here on Saturday at 5am. That never happens.
Extremes always lead to more work. And I could not be more proud of our vineyard and winery crews. This is the first vintage for our new Assistant Winemaker Megan Hill. It has certainly been challenging, but her smile speaks volumes.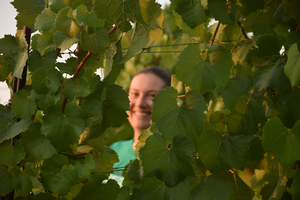 Photo: David Munksgard
It's hard to pry a quality assessment of the vintage out of my brother Laurence and our winemaker David, but I spied a hint on a sample of Chardonnay free run juice. The labels says "F-Low" (for the lower part of block F on the Estate) – "the beginning of a great BdeB (Blanc de Blancs)."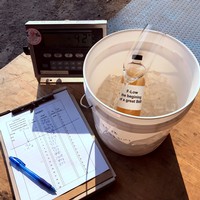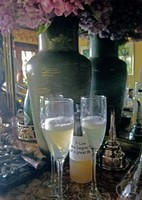 Photo: LG Sterling
Free run juice straight out of the press also makes a delicious Sparkling cocktail, which you can only have here at Iron Horse and only this time of year. We call it the "Sterlini".
One of my favorite though little-known quotes is from (I believe) JFK, talking about something he learned playing touch football, "When you see blue sky, go for it."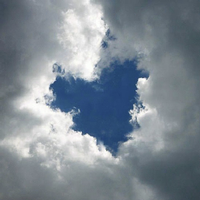 In that spirit, Happy Labor Day! I hope you are celebrating with the fruits of our labor and join us in sending all of our positive energy to our many friends and my cousins Rand and Pamela in Houston.

El Niño

was a big help to our long term water woes, but not the savior many had hoped (read our blog's past predictions for the

Great Wet Hope here

). Winter storms brought normal snowpack in the Sierra, but once the flurries stopped and the seasons changed, melt-off from the high country proved swift and disappointing.
The Department of Water Resources projects that the mountains produced about three quarters of normal runoff during the months of heaviest snowmelt. This shorts the rivers and reservoirs that typically provide a third of California's water, cementing a fifth year of historic drought for the Golden State (news coverage here). Now the Governor has used his executive powers to enact permanent measures, acknowledging that water conservation has to become a way of life.

"Permanent" turns out to be through January 17 when the state Water Resources Control Board can revise the regulations. For the next five months we are off mandatory water use management and onto voluntary cutbacks.
Instead of a statewide decree, cities and towns are now allowed to manage their individual conservation efforts. This measure acknowledges the obvious - that water, like every resource, is not naturally equally distributed statewide.
Back in 2015, the Governor mandated a 25% reduction in water use compared with a baseline of 2013, with the 411 water districts reporting monthly (full story from the Sacramento Bee here).
Post-El Nino, California officials feel we can afford a break in certain parts of the state, especially in the North. It has now been determined that we can ease off draconian, one size fits all measures. Local communities are empowered to decide their own conservation needs based on a three year stress test. Monthly reporting remains honoring a motto of "Trust, but verify."

Map of Official Monitoring Stations in the Delta region
In the first month on this "honor system," the state averaged 23% reduction. July's numbers will be released soon, concrete evidence of continued commitment to voluntary water frugality.
As an active observer of California Water Policy, I can't imagine anyone thought El Nino would provide a panacea for drought. Complete recovery requires several more years of "average" rainfall but it definitely was a boon here in Sonoma where soils were saturated and reservoirs refilled.
Long term, the Governor is right to plan for perpetual drought, which experts says is a very real possibility. Some anticipate a time when water may become more valuable than land, positing that land without water won't be worth much. Shocking.
Theories like these are motivating significant action on a large scale. In an extremely controversial move, Southern California's powerful Metropolitan Water District recently purchased 20,000 acres, scattered across five agricultural islands in the North's Sacramento-San Joaquin Delta.

Shown above, the area is called the "Delta" because it forms a triangle of roughly 1,000 miles of waterways from Antioch to Sacramento to Stockton and is the hub of California's water delivery network. Metropolitan says they were interested in purchasing the islands so they could restore natural wetlands habitat for plants and wildlife. Such restoration projects are required of water districts to offset the effects of their reservoirs, dams and canals. Two of the islands are in the path of Gov. Jerry Brown's plan to build two tunnels underneath the Delta. And owning the islands also grants Metropolitan senior rights to pump water out of the Delta.
Critics say the purchase was an old fashioned water grab. It was challenged in court, but allowed to go through (coverage here and more here).
This story is not without a happy update: Stanford researchers have detected a potential new water source in the Central Valley. Perhaps as much as three times more groundwater than previous estimates.
Previous studies only looked at depths of up to 1,000ft (300m). This one went deeper - and investigations show there's three times as much fresh water at 1,000–3,000ft (300–900m) below ground.
But the potential "windfall" comes with caveats. It is very deep thus prohibitively expensive to extract and could be salty. Drilling for it could lead to further land subsidence, already a major problem. And much of these hitherto unknown water sources happen to be close to oil and gas wells, which puts them at risk of being contaminated.

Shut-down desalinization plant in Marina, Cali image via NewsDeeply.com
The Central Valley is home to California's most productive farm belt, but the region's groundwater is so severely overdrafted that i

n some places that the land has been sinking two inches a month. Problems with subsidence started decades ago, but have been made worse by the current drought. With surface water so scarce, one study shows we are currently pumping water out of the ground at twice the rate that the aquifers can naturally recharge. At this rate, pulling more water out of the ground wouldn't help.
The scientists are not advocating the use of this new-found source … at least not just yet. As the old saying goes, "Don't count your chickens before they hatch."
It'll take a while to figure out how to tap those very deep aquifers … and how to replenish them. In the meantime, we need to approach this new source with caution. Premature efforts could pollute the precious water AND inadvertently poke the "sleeping bear" - a term my friend and fellow water policy wonk Phil Grosse uses to describe the network of fault lines underlying the state. But this is California, where imagination and ingenuity are two of our greatest resources in overcoming technical difficulties and ultimately sway public policy.
In a press release on this topic, the Stanford scientists were cautiously optimistic despite the proximity of the groundwater to a potentially hazardous oil and gas operation. But they noted that the contamination risks are great enough that we should be paying attention. We might need to use this water in a decade, so it's definitely worth protecting. Find further reading on this important finding here and here.
I believe science will move us forward in the long run and I remain hopeful that technology will yield a sustainable solution. But for now, I'm relying on good old fashioned conservation. My wish list includes more normal rainfall, ideally from Thanksgiving through February and preferably at night, like Camelot.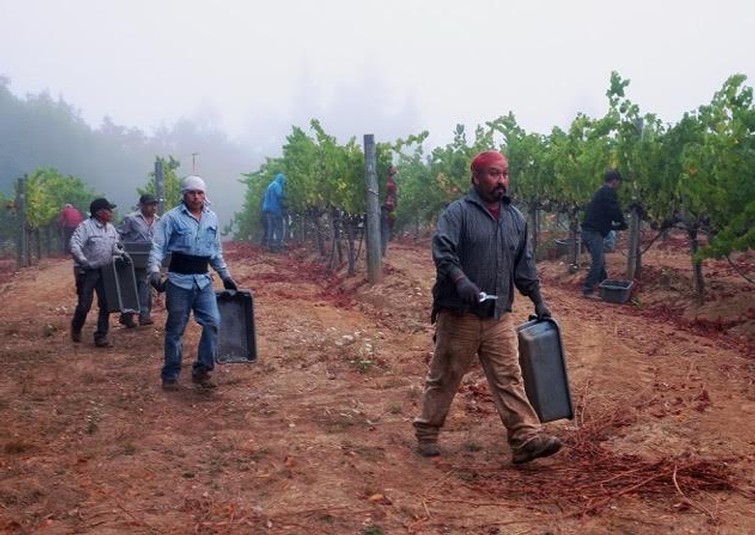 Last day of harvest 2016 for Sparkling at Iron Horse. Photo: Laurence Sterling
####

The nature of our business is completely dependent on, well, nature! And though we're just now approaching summer, the vines are already filled out and we have blocks with completed set – cues points to yet another very early harvest, which amazingly will be our 40th vintage.
Our winemaker David Munksgard shocked me this morning, advising we could possibly start picking August 1. But he cautioned that's just a time frame, not an exact date. "Some of what I do here is science. Most is what I call practicing my craft. The rest is instinct, good hunches, what my gut tells me." And being ready, come what may.
Our start date for harvest has been inching ahead for the past several vintages:
2015, August 4

2014, August 8

2013, August 21

2012, August 30
So far, the set looks very good. "Set" refers to how the fruit sets behind the blossoms. A good set means we have a shot at a healthy sized crop which is extremely welcome news – our livelihood depends on it. Of course a lot can happen between the lip and the sip, but the ideal would be a nice steady even summer, i.e. cool, foggy mornings with the sun finally poking out at about 11am – not too hot, not too cold, but just right.

Keeping up with Mother Nature is a full time job. Shoot thinning is a perfect example. Laurence Sterling has acquired a hedger tool to assist in letting just the right amount of filtered sunlight to get to the grapes. He calls this a "Goldilocks solution" to a higher quality outcome.
Meanwhile, David has started flying his drone looking for variation in shoot density. Some blocks are beautifully consistent; others have uneven pockets. When you walk a vineyard, you walk so slowly that you simply do not see the gradual change in canopy density. If you could just jump up 200 feet and look down you'd see the difference. Now we can!

Our heroic drone helped detect unwanted gaps in the vineyard canopy in a Chardonnay block up on the highest most westerly part of the estate. A seasoned winemaker's hunch pointed to a likely culprit, but that experienced guess was substantiated by drone shots, showing a signature pattern associated with a vineyard fungus called Eutypa. This is a common disease, which delays shoot emergence in spring, affected shoots that eventually do grow have dwarfed, chlorotic leaves.
The drone shot clearly shows missing vines neatly aligned "within the row" suggesting something was being spread vine to vine. If it was a root pest or flying bug, the disturbance in the vines would not be as "neat and inline." Once properly diagnosed, the vineyard crew descended upon the cause to cure it and Laurence has ordered replacement vines to fill in those gaps in the Thomas Road Vineyard.
Today our bird's eye views show a healthy and strong vineyard.

Even after 40 years, this is a completely new view for us. And the pictures, besides being informative, are just plain cool.
Speaking of cool, we are experiencing our signature summer cool, foggy weather with the sun just beginning to poke through at 11am, validating Mark Twain's famous quote: "The coldest winter I ever spent was summer in San Francisco." A word to wise when coming to taste with us is definitely dress in layers.

As summer beckons, our thoughts naturally turn to love. This is high season for Wedding Cuvee aka Love Potion, a sure fire way to help newlyweds live deliciously ever after.
We recommend taking our bottles of Wedding Cuvee into the big day in a big way. Jeroboams of our most romantic bubbly can be engraved with the names of the bride and groom and the wedding date. Have the bridal party sign the bottle with a metallic pen, then send us the empty and we'll re-cork and re-foil it (note: not re-fill) to make a beautiful keepsake.
Rainbow Cuvee adds another level of meaning as we celebrate the nuptials of every American and marriage equality. This year marks the one year anniversary of the landmark Supreme Court "love wins" ruling and we are extremely honored that the Obama Administration served Iron Horse at the White House LGBT reception June 9.




#######

My new favorite word is florilegium.



flor·i·le·gi·um





 (flôr′ə-lē′jē-əm)





n. pl. flor·i·le·gi·a (-jē-ə)





[New Latin flōrilegium, flower-gathering (translation of Greek anthologion, flower-gathering, anthology), from Latinflōrilegus, gathering flowers : flōs, flōr-, flower; see flower + legere, to gather; see leg- in Indo-European roots.]
A collection of botanical drawings and paintings depicting the plants of an area, focusing on their beauty. The artful science of florilegia flourished from the 17th century to the late 19th century, portraying special selections of rare and exotic plants from far afield. The modern florilegium seeks to record the plants from within a particular garden or place.
My friend Maralee Beck, visiting from Los Angeles, recommended we start compiling an Iron Horse florilegium after going on a garden tour with my father and being enthralled by his stories. "He knows the provenance of every flower and tree and when each was planted." she said. "It will be a wonderful record."

So, today the project gets underway. The beginning may be a little haphazard, but it will evolve and it seems most auspicious to begin on the eve of May's Full Moon which happens to be called the Flower Moon because so many plants are peaking right now. In the end, I hope to have an inventory of what's in bloom as well as a catalogue of the various plants whose lives are rich with history here.
The early results follow …
First the vines. Iron Horse is a series of gentle, rolling hills covered in Chardonnay and Pinot Noir.

The official start of the wine growing season is bud break … then we have bloom. This year's bloom started the first week of May, about the same time as last year. The flowers are tiny, off-white and have a very subtle scent individually, but cumulatively contribute to a faint sweetness in the breeze. The grapes set behind the flowers.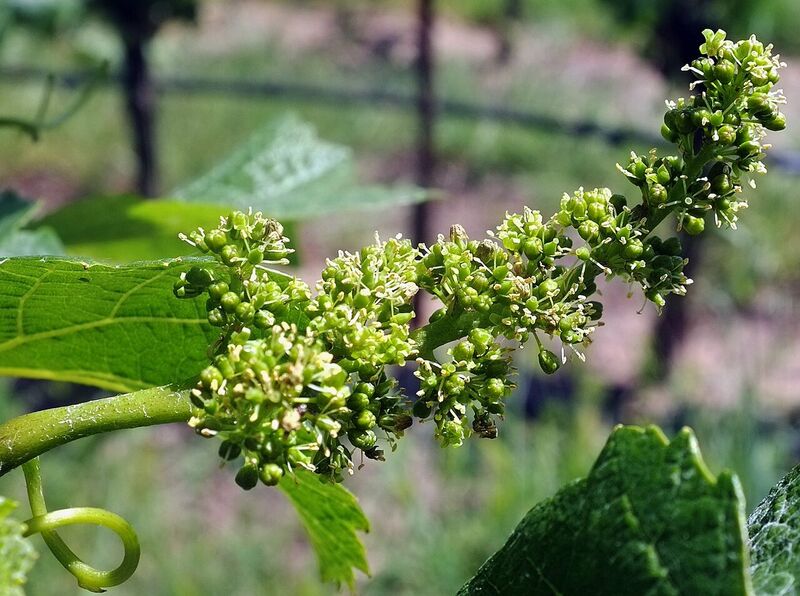 Most spectacular right now are the
roses
along the road leading up to the winery. My mother's favorite, the
Cecile Brunners
, are like giant fountains of pale pink. These have been propagated by my father from one bush he planted 40 years ago in front of an old potting shed. Now they crown the fence along the Chardonnay vineyards. I count 70 of these beauties in a quarter mile.

Interspersed are white JFKs, tall red Mister Lincolns and Peace Roses, the most popular rose in the world which, commemorating the founding of the United Nations in San Francisco in 1945. (My mother attended the ceremonies at the War Memorial Opera House as a highschooler and sat in the last seat in the last row. I was honored to attend the 70th anniversary celebrations last year at the Fairmont Hotel, where the charter was drafted, and at City Hall, where I met Malala Yousafzai, the Pakistani schoolgirl awardd the Nobel Peace Prize for standing up the Taliban and defending her right to education.

My mind (and legs!) climb the hill to the colonnades of alternating palm and olive trees that lead to the winery, which my brother dubbed Palmolive Drive.
The olives trees along the drive are in bloom. These are Mission Olives, planted 40 years ago. We make our own olive oil, just enough for personal consumption.

Sauntering along this road I soak in the statuesque beauty of my surroundings. The entrance is still awe inspiring no matter how many times I've pass through it. And it's a respect I share with our many guests who walk or drive along this corridor. We hosted a sit down dinner for 500 people at one continuous table a quarter mile long down this drive for the Sonoma County Barrel Auction in 1987. There were six chefs, three on each side, each with their own cooking station and wait staff to prepare and serve the meal for 83 guests. Obviously you couldn't cross sides, so the servers walked out single file and turned like cadets to set down the plates for each course. There were rolling toasts that started at one end and traveled down the entire length of the table like a wave.
The palms now stand 50 feet tall and like stately pillars are the defining architecture of our place. But they were completely laughable the first spring (circa 1977) when the daffodils were taller than the trees. Most of them are Washingtonians. They can reach an awesome 100 feet. They were very popular in Victorian times (when my parents' home was built) as an exotic and a sign of establishment.

In 2010, when then Chairman of the National Geographic Society Gil Grosvenor spoke at our annual Earth Day event, Palmolive Drive became an outdoor gallery with poster size National Geographic magazine covers lining the way … and a small fleet of bamboo bicycles people could test ride up and down the drive.
There are a number of other palms around the property … some we can't identify. Back in the 1970s and 80s people would advertise in the Santa Rosa Press Democrat that they had mature palms for the taking, if you could provide the labor to pull them out of the ground and transport them. So, my father would go to those homes with a couple of guys from the vineyard crew and pick them up. My parents are incurable collectors and we are now extremely wealthy in palms. My informal inventory puts us at about 100 and counting. A recent addition is a beautiful Lady Palm that my parents purchased for their 63rd wedding anniversary, now flourishing amid the dahlias near their home.
A second, perpendicular row of palms lead to my parents home. There you see Smoke Trees showing off their puffy, billowy, pink smoke-like flowers ...

interspersed with pomegranates also in bloom. Just as it says in the Songs of Solomon: "Let us go early to the vineyards to see if the vines have budded, if their blossoms have opened, and if the pomegranates are in bloom— there I will give you my love." I think of the pomegranate as my father's fruit, because we get them in October for his birthday.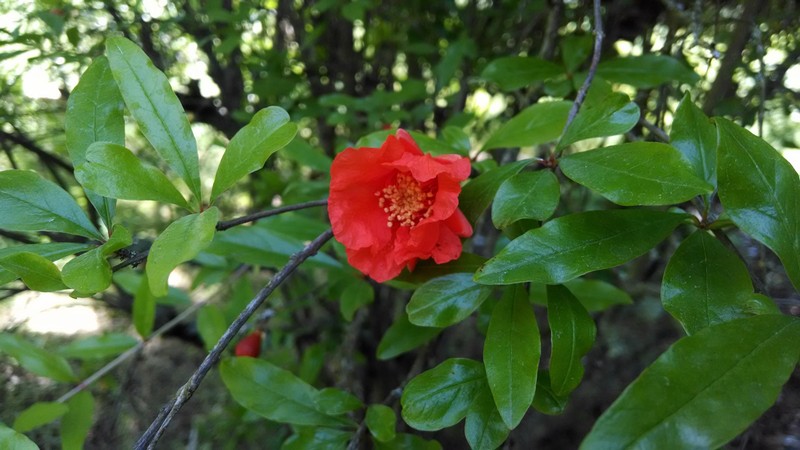 While the palms and the roses tend to steal the show, there are many more co-stars that deserve recognition. Around the winery, some of the stand-out specimens include:
Red Hot Pokers aka "Torch Lilies" - drought tolerant, grow on their own without much care, thrive in our Gold Ridge soil and, best of all, are very alluring to hummingbirds. My father loves them. "They are delightful" he says, "Like beacons of light. That's why you put them at entrances because they are welcoming."

Lavandin – not true lavender, it's a hybrid. The smell is very different - woody, spicy-green, more pungent than sweet. It has larger leaves, longer stems, and larger, more vibrantly colored flowers, pointed at the tip. More of a landscaping plant in cool regions, great attraction for bees and butterflies.

Daisies: The origin of the word Daisy is the Anglo Saxon for day's eye because they open at dawn. It symbolizes new beginnings and in the "language of flowers means loyal love and "I will never tell". They are also skillful in attracting butterflies.

They will be done blooming very shortly and replaced with yellow marigolds and then in August with zinnias, grown from seed in the hothouse.
I hope you enjoyed meandering with me. The busy ecosystem at Iron Horse doubles as our home. Three generations live on the estate. The walk from my house to the winery is the best in the country. And while I love all seasons here, there's something magical about the vivacity of spring striving for our affection under May's moon. I hope you're inspired to visit and experience the natural beauty for yourself.
Next month brings a whole new crop of blooms … and another moon to toast. In the meantime, cheers to the Full Flower Moon.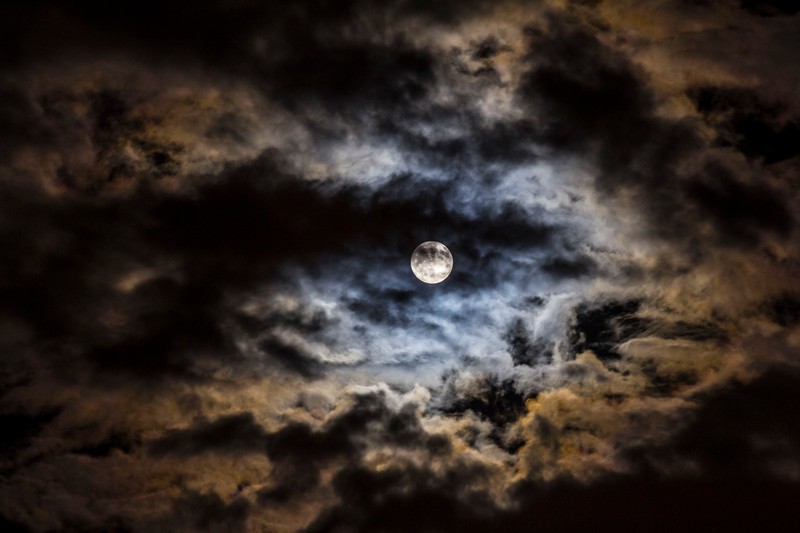 The allure of buried treasure beguiles us as children. We trudge through our backyards guided by maps which point us to the spot marked X. Ah! The excitement of discovering something hidden.
This is an experience which eludes most of us as adults. That was, until our cellar master discovered a cache of long forgotten, unlabeled magnums of Sparkling Wine from various vintages going back 10-15 years. A treasure trove of beautifully aged bubbly - 30 cases of this, 40 cases of that, from seven vintages and 13 different base wines. The first vintage of Joy! was a 1991, which we released in spring of 2007.
Today, the Joy! project is in full bloom. The new release, vintage 2003, makes its debut Friday, March 18th (details about Release Day Joy! at the vineyard here). Shop it here.

To sip this wine is to experience the magic of 12 years aging in contact with the yeast before disgorging. As winemaker David Munksgard explains, it takes a full 12 years for the wine's alcohol and acid to have the time to dissolve the goodness inside the yeast's mitochondria (break out those biology textbooks!). Once released, those "goodies" (amino acids, proteins, and fatty acids) achieve two things, both hallmarks of truly beautiful bubbles. They contribute to the umami experience and the fatty acids coat the bubbles which making the perfect, pin point, tiny orbs that accumulate at the surface of the glass creating a "foam cap" or crown. The result is an especially creamy texture and nutty, brioche aromas.
I wish I could say that we planned Joy!, but I do feel it is to our credit that we hold onto these magnums for so long. As everyone in business knows, the most expensive thing you can do is hold onto inventory.
There is no doubt in my mind that longer aging is the key to creating the greatest California Sparklings, second only to vineyard site. The longer the time en tirage, the smaller the bubbles, leading to richer, creamier and more elegant wine. Top quality bubbly is so much about texture, which can only come from extended time on the lees. When you are drinking a tete de cuvee, like Joy!, you should not even have to swallow. It should just effervesce away in your mouth. (See our blog post on The Science behind the Magic, October 2015).
David says that he doesn't know of any other California producers nor many French houses making this kind of time investment. (Maybe we should change the name of the wine to Patience?) That said, we urge you to be completely spontaneous in drinking Joy! We've already held onto to it long enough and David is always quick to remind us that even the most special wines are not made to be revered, but shared and enjoyed.

Here are his tasting notes:
"By nose, yeast and toasted hazelnut lead the way to grapefruit and baked apple scents with a hint of ginger. By mouth, your first impression is more sensual than taste. Full, rich and yet youthful and bright all at once. The most perfect lemon curd; creamy richness with freshness and bright finish. It is lush and refined like a silky ribbon."
How can you resist?


It has been four long, thirsty years since we have had any Joy! to share. That was the 1999 vintage, which won a near perfect 98 point score in Wine Enthusiast, 93 Points from Robert Parker and 93 points from Wine & Spirits.
The reviews were spectacular:
"Graceful and refined, with crisp apple and yeasty lemon aromas that lead to complex flavors of toasted almond, ginger and spicy mineral. Finishes with pinpoint crispness."
"Drink now!"
"Light gold in the glass with aromas of wet stones, lemon, and roasted nuts, this wine tastes of bright apple, lemon, buttered toast, long finish. Wonderful acidity. One of the finest made in California"
"A deft blend of richness and delicacy, offering mature aromas of spiced apple, almond and cinnamon, with opulent flavors of toasty crème brûlée, laced with notes of mineral and ginger. Great length."
We were greatly honored when it was served to the Queen of England at a State Dinner at the Ambassador's residence in London, Winfield House, in 2011.
Fortunately, the four year "drought" has been worth the wait! The current release is 70% Pinot Noir and 30% Chardonnay. The disgorging date (day/month/year) is on the back of each bottle.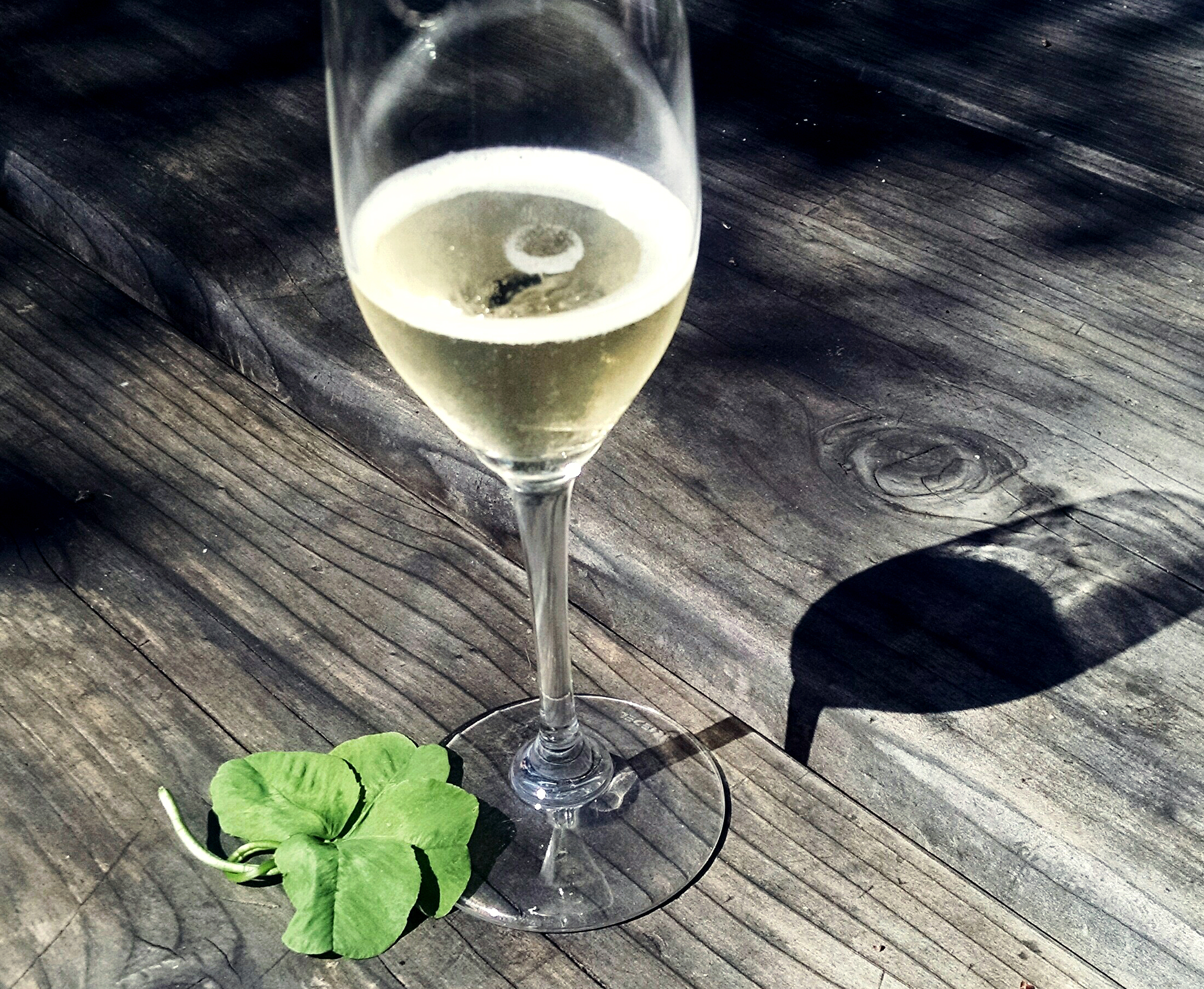 Spring forth and enjoy!

Happy Winter Solstice! The official start of winter. Meteorologists consider December 1 as the first day of winter, but the season's celestial start is tonight.
Though the entire day is "observed", solstice occurs at a specific time - the same time everywhere on Earth when the North Pole is tilted farthest from the sun.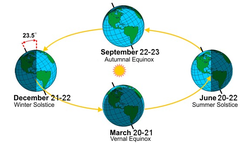 It is the shortest day of the year ... and the longest night.
This certainly deserves a toast!
Winter Solstice as a celebration goes back millennia. The most famous at Stonehenge, seemingly built for this specific astrological event as the stones are aligned on a sight-line that points directly to the winter solstice sunset.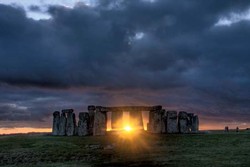 Ancient Romans celebrated with the Feast of Saturnalia - a festival that lasted seven days with banquets honoring Saturn, father of the gods. These Saturnalian banquets were held as far back at 217 BCE.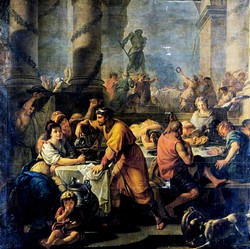 Pre-Christian Scandinavia celebrated the winter solstice with the Feast of Juul and the burning of a log, which became the traditional Yule log.
A perfect way to celebrate tonight is by cozying up with a wood burning fire (or lots of candles) and a glass or two of bubbly.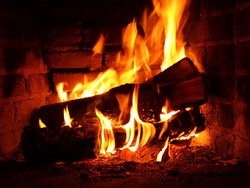 It is also a perfect occasion to say thank you for your role in making this such a gratifying year for us. Please know that we are toasting you and send our warmest wishes.