Iron Horse
Blog

For those who have been to Iron Horse Vineyards, you know our Green Valley enterprise is a family affair. I run the front of the house, my brother is in charge of operations in the vineyards, and my parents set the standards. We all pitch in where extra hands are needed, but there is one role where exclusive credit is due. And that's the role of Vegetable Garden CEO.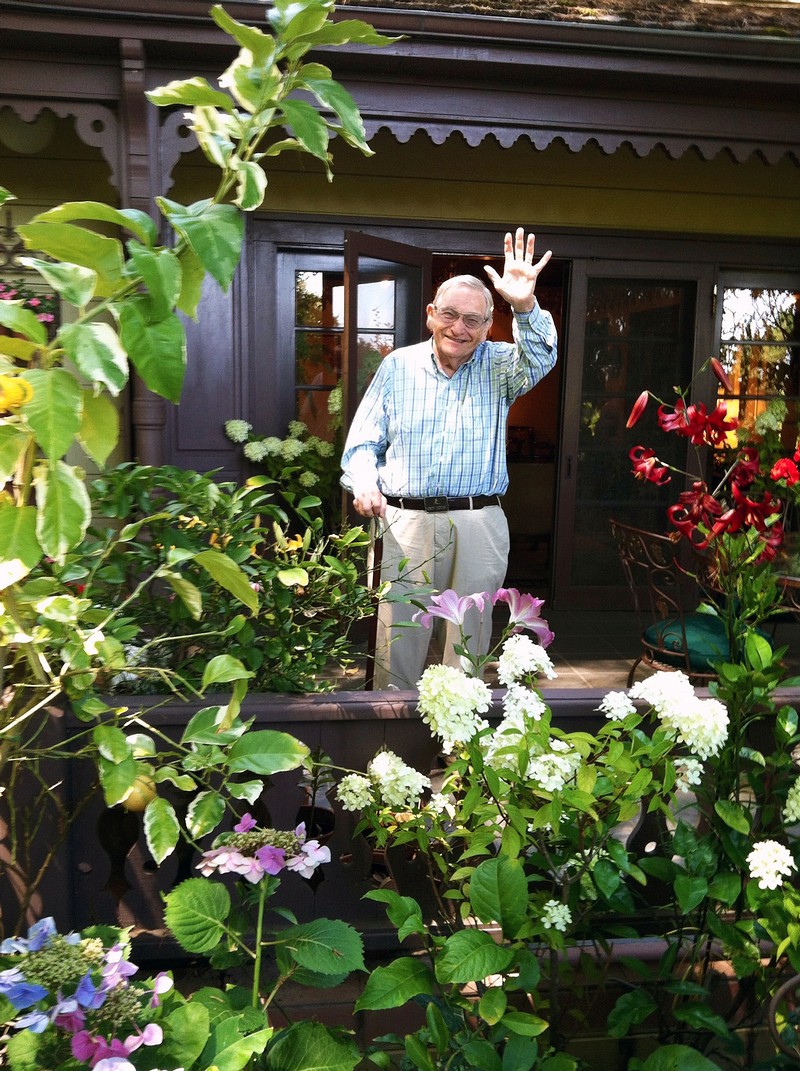 For years, my father has presided over a massive, roving vegetable garden with help from First Lieutenant Jose Puga who has assisted from the beginning. The garden has "gone viral" and now boasts over 300 varieties of tomatoes alone. The living exhibit of deliciousness rotates to different locations on the property, and this year the open field behind my house is playing host. Because of my proximity to the project, I will be regularly tracking growth on the blog!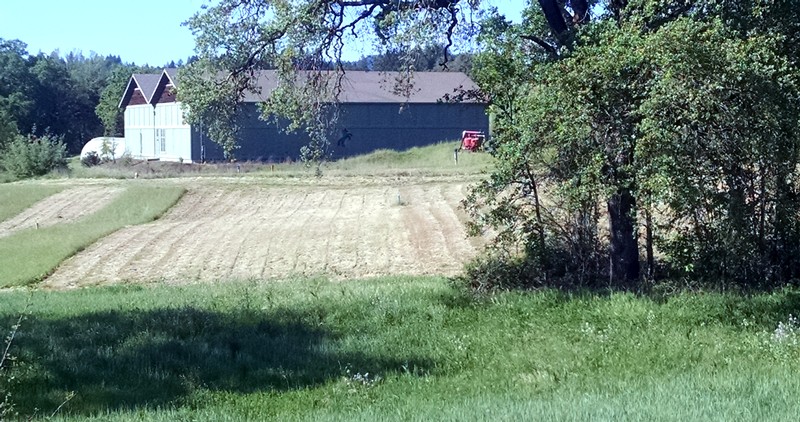 Everything is started from seed but won't go into the ground until we are past frost season. Normally we worry about frost as late June 1st. But this year, everything is three weeks ahead, so the planting date is approaching.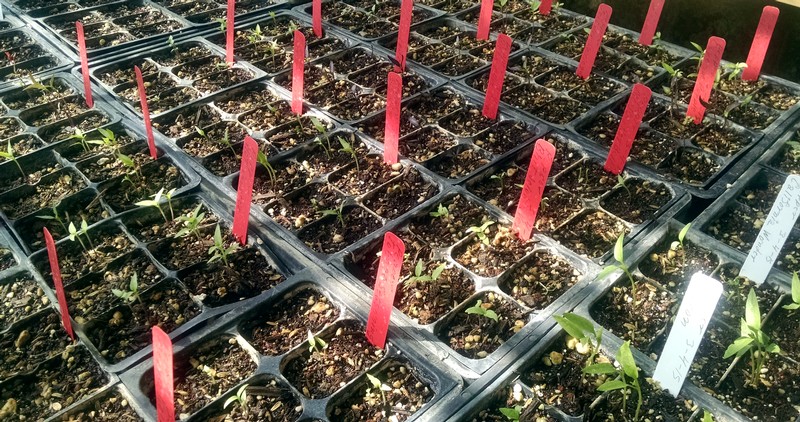 Here are some of my dad's top tips for starting a successful garden:
Q: First, explain the origins of your passion for gardening.
A: Living in France in the '60s was a real eye opener for me. In those days, in California, we didn't have access to the variety of fresh vegetables and fruits that we encountered in Europe. For example, we had mainly two types of lettuce - iceburg and romaine, and we thought that was advanced. I remember the luncheon at the Savoy Hotel in London where I first had a mache salad.
We took the opportunity to immerse ourselves in the old world, which was new to us. We got very used to having fresh produce from the local markets every morning which generated an early "farm-to-table" menu. It was very exciting. When we moved back home from Europe, we couldn't find the things that we'd grown accustomed to. So we simply decided to grow them!
To that end, on return visits to France, we made a point of shopping for seeds to continue growing the diversity in our Sonoma garden. Across from Notre Dame, there were two blocks of stalls along the river devoted to seeds. We could also find them in the South of France, near the flower market in Nice.
Q: What is the size and scope of the garden this year?
A: The vegetable garden will be about two acres. I need a lot of room! The size is necessary for the diversity that I'm committed to.
Q: What's new and exciting this season's garden?
A: There are always some new things to try. I have a special enthusiasm for my tomatoes, but in order to save space for new things, I limit myself to 300 types of tomatoes. And I'm constantly refining my collection to allow for new varieites to enter the garden's repertoire.
Charentais melons have always been one of my specialities, a product indigenous to Provence. I'm also starting fresh with new artichokes this spring.

For me, the "excitement factor" is delivered by innovations in produce color, flavor, and shape. It's the ever evolving variety that keeps me passionate and engaged. Any one vegetable can have a number of different textures, colors, and styles. Years ago, most items had one color - like white cauliflower, green beans and red beets. Now you get a gorgeous range of colors for some if the classics. One of our favorites last year was beautiful golden cauliflower.We now make the most delicious beet chips, sweeter than potatoe chips, made from white beets.
Food really is more exciting now than ever.
Q: What environmental considerations do you keep in mind on the estate?
A: It's important to rotate crops so you don't play out your land. We rotate our garden on the property every couple of years.
I have farming in my blood passed down from several generations. One set of grandparents were homsteaders in Alberta, Canada. My mother's family grew walnuts in San Juan Capistrano. My father grew grapefuit and dates in the Coachella Valley, so I have always had ties to the land, a love of the land, and we work towards a better understanding of sustainable farming principles. No chemicals. We weed with old fashioned, long handled hoes and irrigate with recycled water using drip hoses.
Q: How has the vegetable garden added to the overall richness of the Iron Horse estate?
A: Variety is the spice of life. Nothing tastes quite like our home grown tomatoes. We firmly believe the fruits and vegetables we grow here naturally pair beautifully with our wines - terroir and terroir. The enthusiasm has touched every member of my family. My children and grandchildren have all participated in the garden planning and tasks at some point.
Q: What are your top tips for the at-home grower?
A: As you sketch out the garden and pick your seeds, you can start planting certain items in a hot house to get them going. It's important to be aware of your climate's limitation. For us, we can still get frost through the end of spring, so getting a head start is key. I also grow three seedlings for each of 300 types of tomato I will plant and then only plant out the strongest one of each varitety in the ground. Right now, that means I have 900 tomato plants that we are raising. This is to insure we have a succesful crop.
My top tip is to get a hot house. These days you can purchase a self assembling, small hot house. Getting that head start is worth-while.
Q: What are some of your favorite sources of seeds for those who need a little guidance?
A: There are marvellous catalogues and exchanges like "Seed Savers" and "The Territorial Seed Company" and "Totally Tomatoes". Here in Sonoma County, Petaluma has the "Baker Creek Heirloom Seed Company"store inside a grand old bank bnuilding, which has a beautiful selection comparable to my old haunts in Paris. Every year, these sources bring a few options that end up as permanent "favorites" in the planting schedule. The hard part is being restricted to just 300 kinds of tomatoes.

Everything costs water:
It takes about 30 – 35 gallons of water to make a glass of wine

56 gallons for a latte to go

400 gallons to grow the cotton for a T-shirt

6230 gallons a week to maintain a 100' x 100' lawn
Think about the possible tradeoffs. According to one calculation, if you pulled out a thousand square feet of lawn, you could enjoy an additional three bottles of wine a week and come out even in your water footprint.
I have heard several friends complain that they can't possibly cut back any more than they already have. City dwellers resent the farmers. Some farmers feel they are being pitted against the environmentalists. The fact is, we are all in this together. We each have to do our utmost.
Here is a snapshot of our water use – in the vineyards, the winery and our personal lives. Bear in mind, Iron Horse is our business and it is also our home. We have three generations living on the property (in three homes), plus two of our foremen in separate houses with their families.

We have five wells, which supply the houses and a 45-acre foot reservoir that my parents built when they purchased the vineyard in 1976. The reservoir is fed primarily by rainwater, Green Valley Creek (a tributary of the Russian River), and highly treated waste-water from nearby Forestville.

Our rights to Green Valley Creek are called "licensed" water rights. The main license goes back to 1975. A smaller one goes back to 1948. These are limited rights. We can take no more than 86 acre-feet during the season (November to June) at a rate of less than 5 cubic feet per second (cfs, or 2,245 gal/min), assuming there is enough water in the creek for both us and the fish.
It is a great source of pride that the Department of Fish and Wildlife has spotted Coho salmon in Green Valley Creek for the first time in 20 years.

The reservoir gets recharged with recycled water upon request. Our agreement is to take 20 acre feet, and have an option for 20 more. Last year we received 30 plus acre feet; the year before about 12.
Frost protection and irrigation efforts are powered by the reservoir. These actions benefit 1) the vineyard 2) the orchard and flower garden at my parents' house and 3) the summer vegetable garden behind my house.

The most significant water usage is associated with frost protection in the vineyard. Last year's weather spared us from excessive water use, we activated the frost protection system only four times. One of the worst years was 2008 when ice was hanging from the vines.
We use conventional overhead sprinklers for vineyard frost protection. We can't use wind machines like you see on flatland vineyards in Napa nor smudge pots like citrus growers because our property is a series of rolling hills. Our proximity to the ocean makes us vulnerable to frost as late as June 1. The stakes are high for us; not frost protecting could expose us to losing a third of our crop.
Overhead sprinklers deliver water at a rate of roughly one-quarter to one-third of an inch per hour. So far this season, we have turned on the sprinklers four times - about 13 hours total.
In the winery, our major water usage is for 1) cleaning tanks, barrels, picking bins and the presses during harvest and 2) power washing the floors. We pride ourselves on maintaining an immaculate facility. All of our grey water goes through the storm drains to the reservoir. We do not use detergents.

In our homes, even farmers take Navy showers.
Every vineyard's water use varies, just like fine wine, with the climate, the soil and the lay of the land. I would rate our water use at 94 points on a 100 point scale. We can always do better.
The point is, we live in a watery world. It takes/costs water to do everything. An economist will tell you that if water was given its real monetary value, we wouldn't have a problem. The market would even itself out naturally.
Except that

water is a right

, like air. The state has assigned relief funds for rural communities where the wells have gone dry. Food banks are gearing up for added demand in the summer as land is fallowed, resulting in job loss. In November 2014, California Secretary of Agriculture Karen Ross launched a campaign to raise 200 million pounds of food for food banks by the end of the year.
As with just about everything, I think we want/need to strike a balance.
For additional information on water and agriculture, I highly recommend the Public Policy Institute of California's "Water for Farms

" briefing that just came out and that CDFA posted on their Planting Seeds blog. Their report provides accurate statistics and comes from a well-respected, non-partisan organization.
Find the personal water footprint calculator from National Geographic here

.
And consider this final water conservation tip –

old wine barrels are great for harvesting rain water

.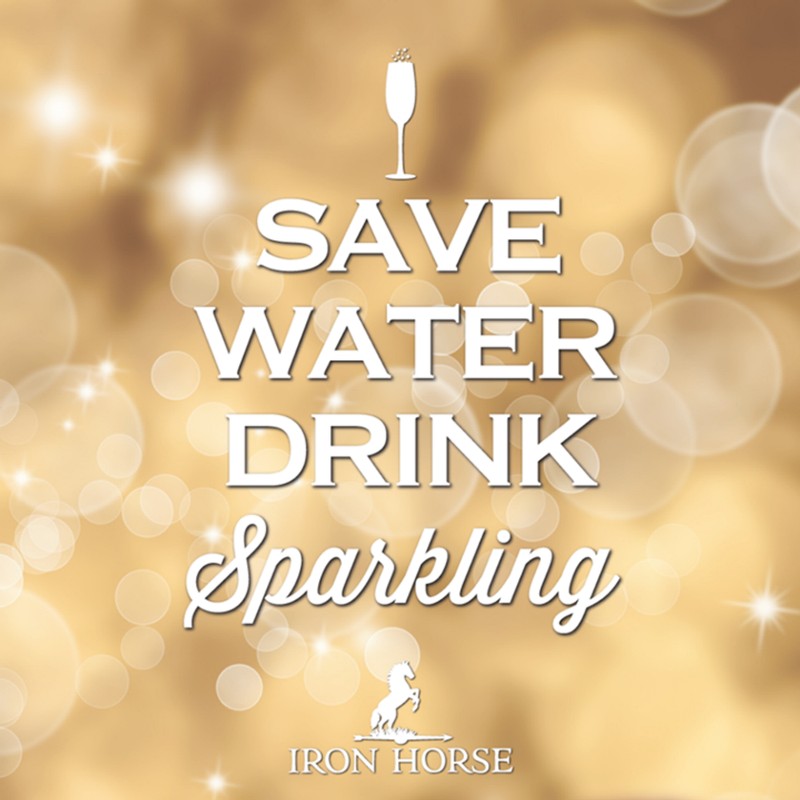 Welcome to the first installment of our Star Chef Blog Series. Over the next few months, we'll be sharing Q&As with our most special friends who serve custom Iron Horse cuvees in their restaurants. In honor of Easter & Passover, and with the spirit of renewal that comes with Spring, we've interviewed Iron Horse's great friend Charlie Palmer for a fresh take on a classic.
Starting with New York City's Aureole, Charlie now owns 14 restaurants around the country, two hotels in the heart of California's wine country and The Mystic Hotel in San Francisco. Our friendship with Charlie Palmer is as rich as his culinary creations and shines through in the delicious Aureole Cuvee. The current release is our 20th vintage of making this unique, limited production bubbly.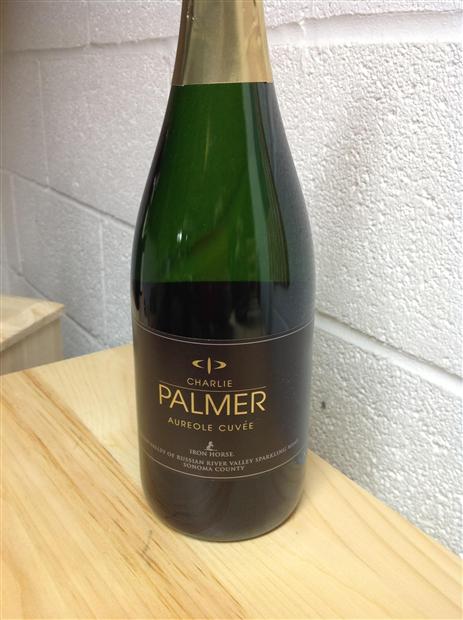 When we called Charlie up one early Spring day, we challenged him to walk us through a seasonally appropriate food pairing for our sparkling wine and Pinot Noirs. The season is right for the Sonoma County baby lamb or ham and our Pinot Noirs just received stellar ratings by the editors at Wine Enthusiast which will appear in the June 2015 issue. Here's what we learned...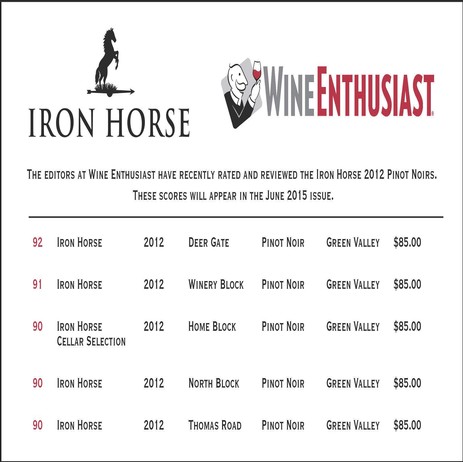 IRON HORSE INTERVIEW WITH CHARLIE PALMER:
Iron Horse: What drew you to develop a partnership with Iron Horse?
Charlie Palmer

: We started with Iron Horse years ago. My team of wine directors and sommeliers aimed to develop a sparkling wine that was both "food friendly" and could be an aperitif. The

Aureole Cuvee

is just that. We offer restaurant guests a small coup glass as they peruse the cocktail menu. Just 3 ozs of bubbles triggers that feeling of celebration and serves as a palette starter, but you can certainly drink it through the entire meal.
Iron Horse

: What flavors make the Aureole Cuvee a menu go-to for you?
Charlie Palmer: It's about freshness and balance. It was important that the sparkling wine bring good acidity to compliment richer foods with higher fat content.
Iron Horse: Spring has sprung at our vineyards. What celebratory sparkling creations are you preparing for Easter and Passover celebrations at your restaurant?
Charlie Palmer: When you think of Easter and Passover, you think of brunch. Our brunch menus at a few of the restaurants will offer a seasonal sparkling wine cocktail which will include 6 oz of the Aureole Cuvee, a few drops of pomegranate syrup to get a blush pink coloring, pomegranate seeds, and half an ounce of absynth.
Iron Horse: What's on the menu for the main course?
Charlie Palmer: When I was a kid we always had a big, roast ham for Easter. It brings salty, rich flavors that are perfect for pairing with Iron Horse Pinot Noir. The fatty, smokiness of the cured ham is perfect for balancing the Pinot Noir flavors which bring fruitiness and acidity up front. Lamb dishes would also work wonderfully.
Iron Horse: You mention Pinot Noirs, ours were recently honored with excellent ratings awarded by Wine Enthusiast. What makes this Iron Horse red stand out?
Charlie Palmer: When people think about Iron Horse - they think about sparkling. But the Pinots have some of the most interesting terrior make-ups. Green Valley Pinot is different from other areas because of its indigenous vegetal overtone which makes them more interesting than some of the bigger fruit bombs from Sonoma Coast and Russian River. They have great depth and finesse that are more Burgundian in style than others you see from California.
Iron Horse: Finally, how do you conclude an Easter or Passover meal?
Charlie Palmer: I'm not big on sweet wines or Ports. More than anything else I like the idea of closing the meal with dessert and sparkling wine, especially fruit desserts. I would recommend poached green peaches with deconstructed crumble and Aureole Cuvee. This has good acidity and effervescence from the sparkling wine in the poaching liquid.

For more information about Charlie Palmer's current projects visit charliepalmer.com. Find shop our full selection of Iron Horse Sparkling Wine on our website.

The Iron Horse family is excited to announce the release of our 2010 vintage of Rainbow Cuvee. Timed to debut in concert with prime rainbow watching season at Iron Horse, we love having new vintages for you to try under a scenic sky. This is our second vintage of this special cuvee. Like all of our bubblies, it is estate bottled which means we use only our own grapes and vintage which requires three plus years of aging.
We are very proud that the inaugural release was served at the

White House LGBT reception

last June. The first edition has an established presence in a momentous cultural & political moment in our country's history, and we expect nothing less from this next release.
Production is very limited

, only 250 cases will be available at the winery and online in our

Shop Wines

tab. There may be a few retailers who special order it, but it will not be in general distribution. Last year, we sold out in five months so make sure to secure yours in time for June Gay Pride celebrations.
I'd love to see your #rainbowcuvee pictures on the Iron Horse Facebook Page, my personal page as Joy Sterling and on Twitter. My handle on Twitter is @joybubbles and the winery's is @IronHorseVyds.
With all best wishes … on every rainbow.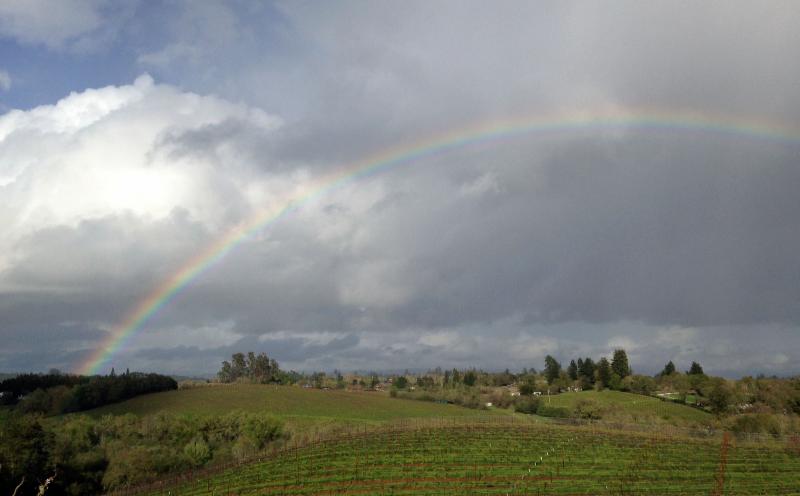 I had the pleasure of meeting with U.S. Ambassador to China, Max Baucus, and his wife, Melodee Hanes while they were visiting Napa Valley last Friday. Over a sinfully delicious pizza lunch, I joined fellow industry leaders to brainstorm ways to increase California wine exports to China.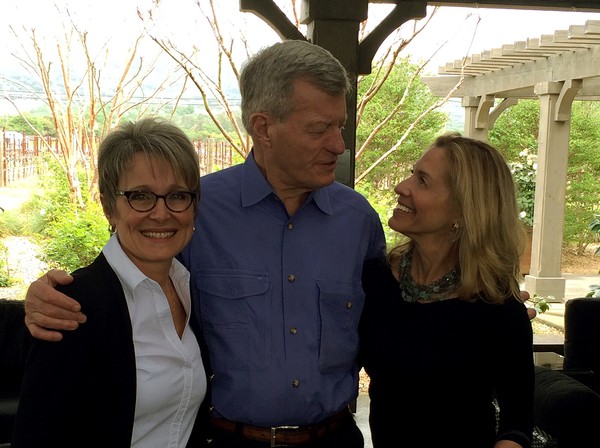 Wine Institute sponsored this roundtable luncheon with exporting vintners active in the China market. I participated as a representative of both Iron Horse Vineyard & Sonoma County and I joined colleagues including Michael Parr representing Wente Family Vineyards and Richard Grey from E&J Gallo. The event was hosted by Delicato Family Vineyards CEO Chris Indelicato, at Black Stallion Winery in Napa.
Our challenge was simple - to

rechart a course towards a successful exporting relationship with China

after austerity campaigns led to a 7% decline in California wine exports in 2014. With

China representing the world's largest red wine drinking nation

, the mission is certainly worthy.
Four next steps emerged from the roundtable discussion:
Build partnerships with tourism boards, i.e. Visit California and Sonoma County Tourism Bureau, to bring more Chinese tourists to wine country.

Pitch strategic partnerships with Disney about featuring California wines when Shanghai Disneyland opens in 2016.

Ambassador Baucus and his wife graciously offered to host a dinner in Beijing featuring California wine and agricultural products in the Fall.

Optimize Wine Institute's education program in China to build awareness of California as home to premium wines.
As a California wine ambassador and family vineyard owner, I am thrilled to be part of restarting these great business relationships. We have extensive experience exporting to China since we launched our trade with the country in 2011 via a special Chinese "Year of the Dragon" Cuvee. The wine was a major hit with buyers and was notably served at a 2012 State Department luncheon honoring then Chinese Vice President Xi Jinping hosted by Hillary Clinton & Joe Biden. We continue to develop special cuvee offerings for our Chinese audience and look forward to increased collaboration with our global Iron Horse Family.
For more information, find the fill Wine Institute press release on 2014 California wine exports here: http://bit.ly/1HstTg9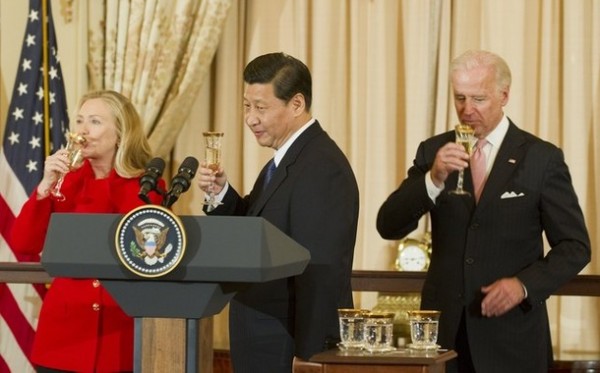 Today marks the official start of Spring. A major milestone for my Iron Horse family. The date has been marked in my calendar for many reasons. First, we'll experience the first total solar eclipse since November 3, 2013. This eclipse always bring a new moon so we'll also be channeling the spirit of renewal that comes with the season. I take this opportunity to celebrate the new beginning with meditation, yoga, a hike through the vineyard, and a conscious effort to not over schedule my days.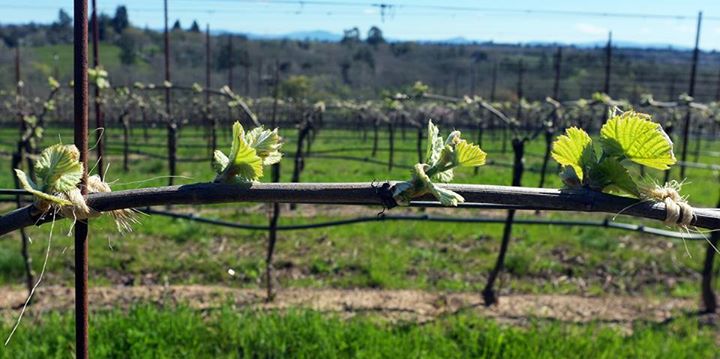 Second, the seasonal change marks a significant change in our activity out in the vineyards. Though I mentioned before that "season creep" has brought unusually warm temperatures earlier, the consistently warmer temps will now wake vines from their winter naps in a phenomenon we call "budbreak." We carefully monitor these sensitive, young buds to ensure evening frosts don't damage them. As flowering begins, Iron Horse growers manually train vines to grow optimally. With our guiding hand, grape clusters will get just the right amount of sunlight and air and we'll have conquered an important growing milestone.
Have a wonderful Spring Equinox and total solar eclipse. I look forward to seeing your bright faces in our Tasting Room to usher in this new season.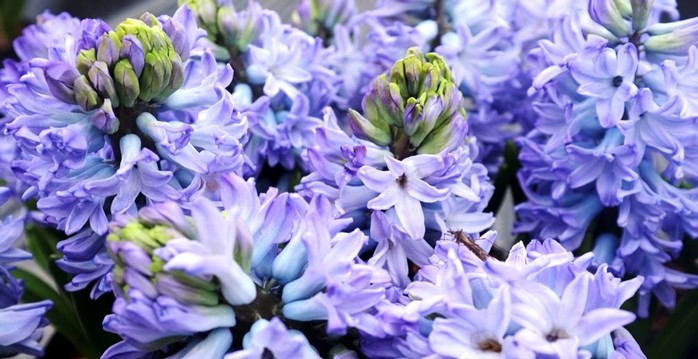 Spring, why are you so early? Gorgeous, clear, blue skies, sweet smelling plum blossoms filling the air, masses of daffodils, happy songbirds, asparagus and artichokes in the markets … spring is here and has been for quite a while. It has been a guilty pleasure; we need the rain, but it is hard to complain when two-thirds of the country is freezing.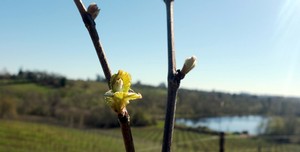 We had our first smattering of bud break in the vineyards on February 7. That's three weeks earlier than last year, which was two weeks earlier than the year before.
Some scientists call this "season creep", when spring comes earlier and earlier. The term is like "mission creep" when military action inexorably escalates into war. Or, "bracket creep", which our wholesale distributors use to describe gradual wine price increases.
Watch the roses. They are the sentinels at the end of the rows of the vines. It's concerning to see them pushing out leaves in February.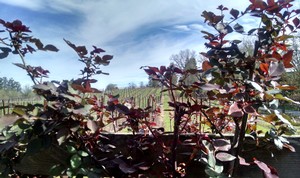 We simply have to accept that the phenology clock has started and we are going to have to keep up with Mother Nature.
Early bud break means our highly trained vineyard team is working like crazy to get the pruning done. It is much harder work when the vines start pushing because you have to be all the more careful not to knock off the buds.
Another danger of early bud break is a very long frost season. We are subject to frost as late as June 1 here in Green Valley.
Right now it is nice and cool, but much depends on the temperatures going forward. We could conceivably be picking for sparkling wine in July and for still wine in August.
Our extraordinarily premature and warm temperatures may be providing us with a rehearsal for future "normal" conditions. When is spring, anyway? Our calendar is just a construct. In the traditional lunar calendar, Chinese New Year is a spring festival.
As farmers, we need to adapt and each of us has to do what we can to lessen our collective negative impact on our atmosphere to slow and hopefully halt our drift toward an excessively erratic world.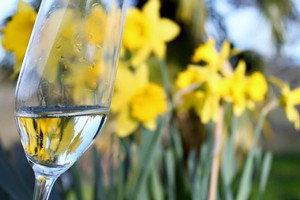 As for vintage 2015, we're focusing on the vines (instead of looking at the date on the calendar) and giving them what they need on their schedule, not ours. Whenever it falls, spring is a time for optimism. And, there is no reason to assume that the unknown will turn out poorly, which is yet another good reason to drink bubbly - the drink of optimists.

Happy Groundhog Day! We are happy that we can see the shadow from our flutes on the Iron Horse Tasting Bar meaning there is more winter on the way … hopefully rain.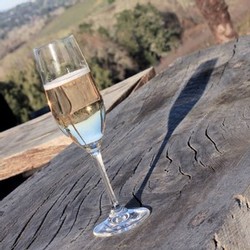 So far, 2015 is off to such a great start, beginning with the honor of having our 2010 Classic Vintage Brut served at the private reception for about 200 in the Governor's Office, celebrating Jerry Brown's inauguration to an unprecedented 4th term. This was at 11 o'clock in the morning, so the Brut was featured both "neat" and in mimosas with California OJ.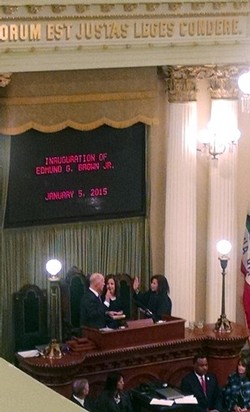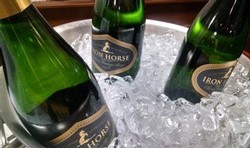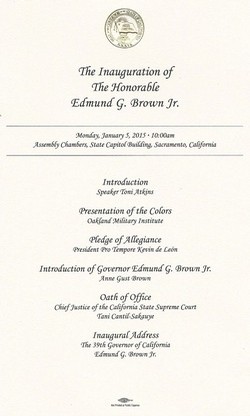 I am also thrilled to share with you these exciting photos of Iron Horse Ocean Reserve at the summit celebration for Santa Rosa, Sonoma County native Kevin Jorgenson and his climbing partner Tommy Caldwell after scaling the Dawn Wall of El Capitan - a feat that has earned them admiration and cheers from all over the world.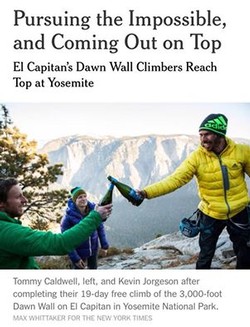 This is how we hope everyone feels when toasting with our bubbly ... on top of the world!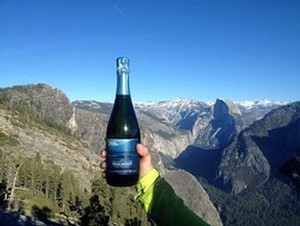 With all my very best,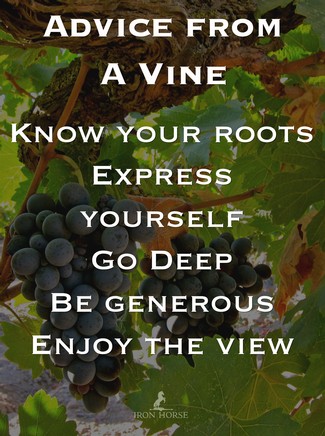 Dear Friends & Family,
I often say that we could legitimately change the name of our Wedding Cuvee and call it Love Potion … No. 10. Now that seems all the more appropriate given the #10 ranking in Wine Enthusiast's Top 100 Wines of the Year.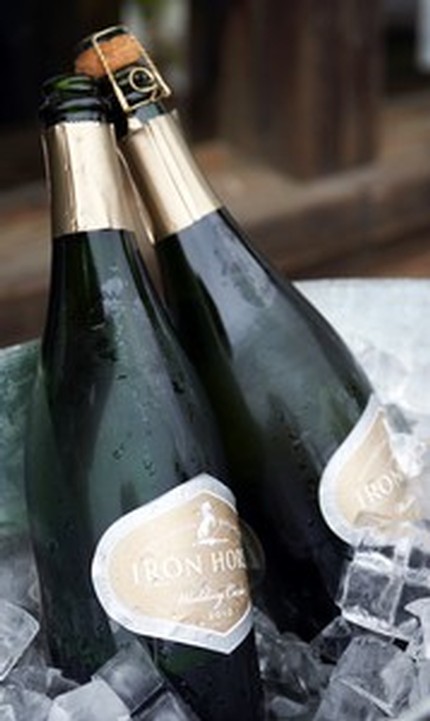 Much to my surprise, I have been named Winery CEO of the Year by the North Bay Business Journal, which covers Marin, Sonoma and Napa. Of course it takes a village. I call it Village Iron Horse and I am very proud to be a member of such an extraordinary group of people.

I rarely talk about the business of wine, but I thought the questionnaire they sent was interesting. For example, question #3: How have you and your business affected the wine industry?
I am very proud that we have gained growing recognition for the Green Valley AVA within the Russian River Valley and appreciation for top caliber American Sparkling Wines that sit at the same table as the finest Champagnes.
Just as France has Champagne, California has certain areas – the Central Coast, Carneros, Russian River (most specifically Green Valley) and Mendocino – that are ideal for growing the best grapes for bubbly. I really enjoy showing visitors how we make Sparklings – how labor intensive it is, how long we age our bubbles, the significance of making vintage vs. non-vintage, the beauty of being estate bottled (like small grower champagnes). The methodology is identical; the sole difference is that Chardonnay and Pinot Noir grown in Eperney taste different than Chardonnay and Pinot Noir grown in Sebastopol.
And this one: How healthy is the wine business, from what you see in your operations?
California's wine business is staged to grow on the world market primarily thanks to three straight excellent vintages in a row – 2012, 2013 and 2014.
Sparkling Wine sales are increasing on a level that we haven't seen since the turn of the Millennium, thanks in large part to Prosecco, which as a stepping stone I believe has led more people to think of bubbles as an everyday pleasure and not just for special occasions.
Pinot Noir is also very exciting. We practically dropped out of the Pinot world for about five years while my brother oversaw the replanting of our vineyards. We are very lucky to get back in when the vines are in their seventh leaf, with a great vintage and at a time of dynamic growth for the category.
Finally, What are the opportunities and challenges facing your business, and what have you been doing to take advantage of or mitigate them?
One of the greatest challenges facing the entire North Bay (and all Californians) is drought. We will prune with drought in mind again this winter to keep the crop level low, so the vines, if the worst comes to pass, will have the best chance of success.
A great opportunity is the power of Social Media. We have yet to conquer the Internet. Growing our on-lines sales is a major objective. It's an area I enjoy. I love being in personal contact with our customers.
We also benefit from the terrific increase in tourism to Sonoma County, bringing a greater influx of wine lovers to our Tasting Room. We continue to upgrade the experience here at our home place to capitalize on the increased traffic.
It is to our advantage that Pinot Noir is the fastest growing red wine varietal in American with the younger generation. Green Valley is considered the heart of Pinot country in Sonoma County and thanks to our re-plant we started producing a number of small production, single vineyard block Pinots that are our rising stars.
I will be very proud to accept this award next month on behalf of the entire Iron Horse family, whose passion and dedication shine through in our wines.
I am also very excited to report that we are getting some rain and to remind you that according to wine tasting pros this is the best time to come visit. There are fewer people and ours is a view for all seasons.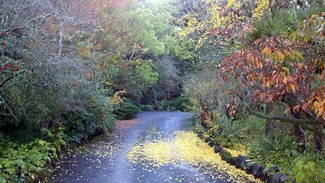 Please come taste with us and we will roll out the gingko leaf carpet for you.
With all best wishes for a wonderful Thanksgiving,