Iron Horse
Blog
Carnival is not a day, but a whole season in New Orleans, and who better to celebrate with than the Executive Chef at Commander's Palace. For the past 20 years, Commander's Palace has served our special production Commander's Cuvee at their iconic restaurant and we've enjoyed visiting our Chardonnays and Pinot Noirs at the renowned landmark for even longer. Tory McPhail graciously spared some precious moments during this busy time to explain what the festivities mean for New Orleanians and how the rest of us can invoke this spirit in our own homes with Creole dishes paired with Iron Horse.

We're feeling especially festive today following the Krewe of Cork's picture perfect parade. This wine-centric social club celebrates the fruit of the vine, food and fun. A group after our own hearts. So today especially, we honor their motto "T.G.I.C.D." (Thank Goodness It's Cork Day).





Tarin: The Carnival season started on January 6th and runs through February 9th, can you explain a bit about what the city looks like from your prime Commander's Palace location?
Tory: That's right, 12 Days after Christmas, on Twelfth Night, we kick off the fun with the Parade of the Sunny Phunny Phellows. They commandeer four street cars with an arsenal of alcohol and then run up and down the street car line from Charles Avenue down to Canal Street and back again in a Paul Revere style. This krewe heralds the coming of Mardi Gras through the most exclusive neighborhoods and from then we're off to the races.

Tarin: How do you prepare for this and for Mardi Gras in your restaurant?
Tory: This year Mardi Gras is on February 9th, so til then it's all about revelling in the Carnival spirit. There's fantastic music all over the city and tourists flooding in. I try to educate our servers about the season. Our restaurant plays a key role in perpetuating what this special time means to New Orleans.
Tarin: What's the ideal schedule for a tourist visiting during this period?
Tory: Tourists can ride the streetcar which connects the entire city together. They can walk around the Garden District and stroll by the mansions before stopping in Commander's Palace which is right in the middle of Mardi Gras parade routes. We provide an elegant lunch set up with our curated wine menu and as the parade starts up with the clatter of drums, we encourage guests to leverage our open container laws by diving in with a bourbon cocktails to go.

Tarin: What can a guest typically find on your menu during this season?
Tory: Our staff is rejuvenated after the holidays and ready to deliver on our twice daily menu changes. We update the offering for Carnival time and offer some of our signature dishes. This includes a King Cake for dessert. But we also do savory versions which can include seared foie gras toppings and vegetable purees that invoke the colors of Mardi Gras (purple, green, and gold). We call this Mardi Foie. Overall, we don't take ourselves seriously at all, instead we try to mirror the spirit of the city.

Tarin: Can you tell me about signature flavors and styles associated with New Orlean's Creole cooking?
Tory: I like to say that out of towners should understand that New Orleans food is not Cajun food. Cajun is country cooking established before the days of refrigeration when hunters needed to preserve meats with heavily salting and smoking. The resulting food was hearty and rustic. But New Orleans is a port town so from the beginning, we were a ground zero for trade. Cooks and chefs in town could visit a market daily for more diverse ingredients and Creole cooking emerged with more refined styles through equally flavorful.

Tarin: This tradition of daily market trips seems related to your current strategy of produce sourcing, can you explain that a little?
Tory: I took over as an executive chef 14 years ago and always wanted to make sure that our food screamed Louisiana. So it was important to me to source produce locally to provide a fantastic product on our menus. Because we're farmer driven, often working with groups who have been our partners for generations, we have a sous chef position dedicated to maintaining relationships with the guys out in the Bayou who provide resources like catfish. Dishes have authentic New Orleans roots which adds a lot of different dimensions of life and history. It's this understanding of the unique virtues of small producers and a reverence for multi generational businesses that drives us to continue our great relationship with Iron Horse every year.
Tarin: You have an award-winning sommelier in Dan Davis (@cpwineguy), how does wine come into play with your big, flavorful menu items?
Tory: I really enjoy wine and just as we want our food to provide an exciting bite each time, we want our wines to do the same thing. I like floral notes, wines with balanced acidity and a lot of ripe fruit, or a decent amount of oak or vanilla. It's important to me that the wines we chose tell the story of the vineyard, another reason that our philosophy integrates so well with the Iron Horse product.

Tarin: You pour our special production Commander's Cuvee and have been dear friends for many years. What about these bubbles pairs perfectly with your menus?
Tory: These bubbles go with anything. A lot of our food has serious spice to it or involves a lot of richness and butteriness. So the cuvee perfectly cuts through with the right amount of acidity and effervescence. It achieves this better than any other sparkling wine out there and our guests love enjoying it year after year.
Tarin: You have a classic dish you'd like to share with our readers who want to infuse the Carnival season spirit in their own kitchens. What's your secret recipe and what would you pair this with?
Tory: I've got a recipe "Crawfish Boil" Fried Chicken which goes wonderfully with sparkling wine, particularly Commander's Cuvee.

For the Chicken:
2 – 3 ½ - 4 lb chickens (8 pieces each)
2 quarts cold water
4 tablespoons Zataraines Crab Boil
3 cups flour (divided)
3 teaspoons salt (divided)
1 ½ teaspoons black pepper (divided)
1 teaspoon Creole seasoning
Combine the chicken, water and crab boil in a large pot and marinate chicken overnight or at least 16 hours.
Remove chicken from brine & pat the skin dry. Combine 1 cup flour, 1 teaspoon salt & ½ teaspoon black pepper and coat the chicken with the mixture. Place coated chicken on a sheet pan in a single layer and allow to sit in the refrigerator for at least 2 hours (this will help pull excess water from the chicken and create a crisper skin.)
Season 2 cups of flour with 2 tsp salt, 1 tsp black pepper, and 1 tsp Creole seasoning. Toss the chicken in the new flour mixture to coat liberally and shake off excess flour. Fry chicken at 350° for 12 – 14 minutes. Strain and season with more salt and pepper to taste.
For the Crab Boiled Vegetables:
3 celery ribs, cut in 1 ½ - 2 in pieces
3 ears of corn (leave on cob) cut into 1 inch thick rounds
2 small red onions (peeled) and cut into 8 pieces each through root top to bottom
4 med red potatoes cut into 4 pieces each
1 lemon cut into 8 wedges
1 orange cut into 8 wedges
1 cup Crystal hot sauce
2 tablespoons Zataraines crab boil
1 tablespoon salt
½ tablespoon black pepper
3 bay leaves
3 qts cold water
~
¼ cup lemon olive oil
1 bunch flat leaf parsley, roughly chopped
Combine all ingredients through bay leaves in a pot of water and marinate overnight in refrigerator.
Place pot on stove and bring to a boil over high heat. Then lower heat and simmer for 25 – 30 minutes or until potatoes are tender.
Strain vegetables and discard liquid. Place strained vegetables in a bowl and toss with ¼ cup of lemon olive oil and 1 bunch of roughly chopped flat leaf parsley. Season with salt and pepper to taste.
Place vegetables on a large serving platter and arrange the fried chicken over the top.
Serve with Iron Horse Commander's Palace Cuvee
We hope you enjoy celebrating Mardi Gras with this fantastic food and wine pairing. And we'd like to send a friendly shout out to our lovely Commander's Palace somm, Dan Davis, who is riding in the King Arthur Parade on Sunday. This is the largest krewe of the first parade weekend with over 1,000 riders but you can't miss Dan's winning smile and superb bead throwing skills….

"Many wine terms that are thrown around in the industry do cause some significant consternation." This was how my discussion began with wine industry expert Andrew McNamara, The Director of Fine Wine / Master Sommelier at Breakthru Beverage Florida. That seems to be an understatement after reviewing a flood of recent to not-so-recent articles about the failed mainstream command of industry verbiage.
If prose doesn't crystalize the "winespeak" issue for you, there are a host of somm cartoonists who have created visual satires. We'll share a few of Maryse Chevriere's most popular works in this blog via her inspired instagram account: @freshcutgardenhose.
The growing conflict is driven by the fact that the wine experience has become more casual, but at the same time the related language has failed to evolve along with it. With the consumer at the intersection of this disconnect, we dove into the roots of the seemingly impossible with some Iron Horse friends and experts.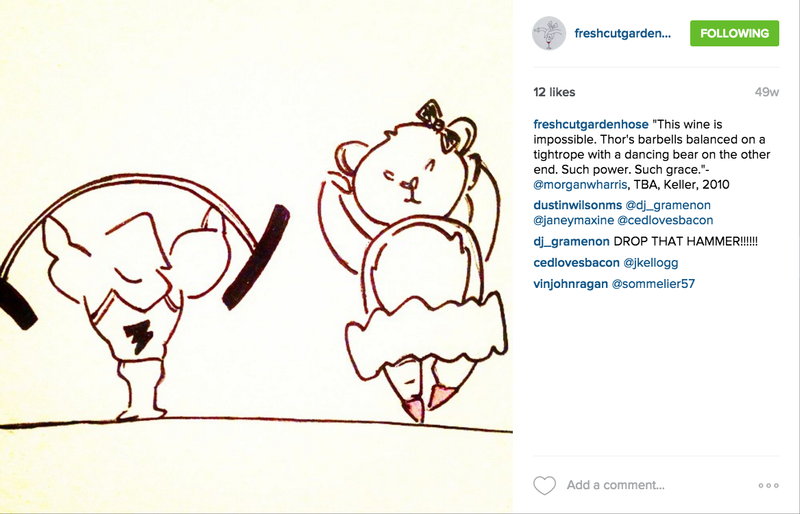 When you conduct a quick search, you'll find wine publications and mainstream periodicals alike reporting on a language breakdown along with countless "insider guides" trying to bring clarity. For example, The Drinks Business conducted a survey at the end of last year which revealed the top ten wine terms that customers are least likely to misunderstand when deciding which wines to buy. One in three don't understand what "tart" means as a descriptor. Just 23% of people polled understood the term "terrior" and only 20% of drinkers could define "legs."
The result is that 25% of wine drinkers found shopping for wine to be intimidating; a nightmare for the wine business. Andrew told me, "Niche terms certainly make wine less approachable than it should be. So the role of the wine expert is to make things as simple as possible." But he also noted that it helps for consumers to get themselves into the right learning environment. It's key to be able to pair learning about the term while actually tasting a wine with those specific characteristics.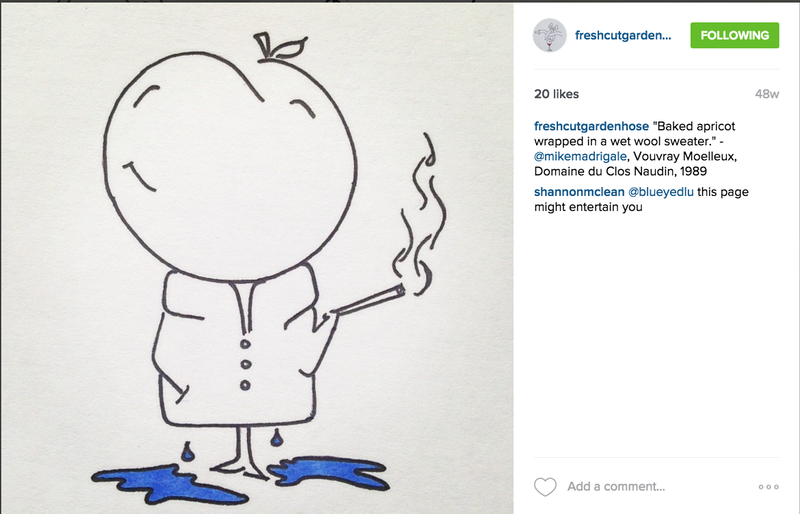 In The Drink's Business article "Top Misunderstood Wine Terms Revealed" their expert explains, "People want to learn more about wine and discover new tastes without being confused or awkward when buying it or talking about it with their friends." However in order to do this, we are saddled with a limited (and some argue antiquated) lexicon including words like "herbaceous, unctuous, and quaffable" (source). Master Sommelier, Lindsey Whipple, shared real word instances where customers grasped for their own termss to describe a sensory experience. She had one man try to describe "dry"by employing the word "wet" -- justifying his choice by describing a wine that made his mouth sweat.
In an effort to decode the "jargon", Wall Street Journal wine columnist Lettie Teague recently published "An Insider's Guide to Weird Wine Words." Her mission was to help bridge the gap between oenophiles and non-pros. Her guide includes words like creamy, dumb, foxy, lifted, reduced, and volatile. For now, it seems that quite a bit of effort is directed at translating rather than socializing new descriptors with greater mass appeal.
In addition to leveraging these existing language guides, expert Andrew McNamara pointed out that blossoming wine lovers should be patient. "We spend decades going through school, but how many classes did we take on how to taste or smell. We didn't pay any attention to it! So to go into wine and expect to understand it intuitively is naive. Understanding your senses takes time and practice." Of course, with wine, the practice part is fun!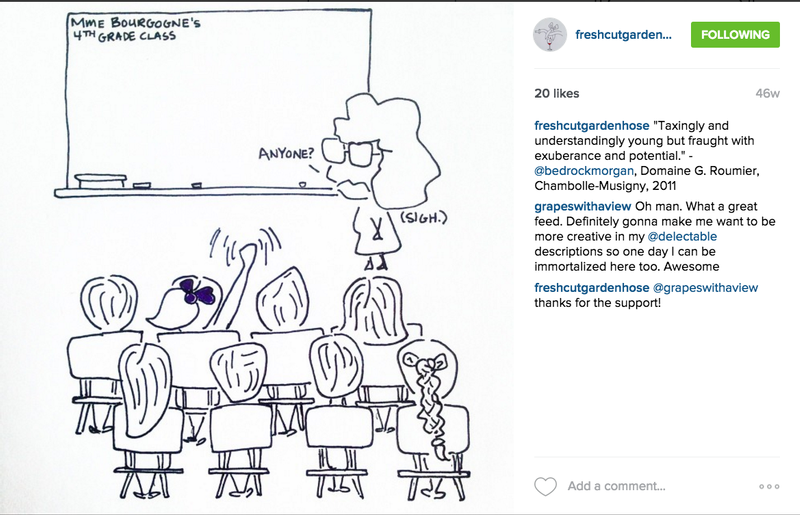 It seems that times may be a-changing. In fact, Lindsey Whipple regularly experiences signs of consumers pushing back on tradition and coming up with their own verbiage. Working in Las Vegas, an international dining hub, she's in a unique position to engage with new lingo auditioning for the mainstream. She hears people refer to wine as "slutty", when a drink is very open and out there, showing itself as a heavy hitter. Or she is told to bring a "baller wine" which conveys a desire for an instagram worthy showstopper. "Guests are definitely not using brash terms like 'Magnum Night' in San Francisco or New York, so there is also a regional component to this," said Lindsey. But who's to say they are not as or more helpful than words like hollow or vegetal?
It should be noted that both Andrew and Lindsey voted the term "legs" off the wine island.. Both citing the fact that few know (or think they know) what this refers to, so the meaning has become universally diluted. And Lindsey herself offered up a word to the "common core" - to be quickly rejected. At a blind tasting with "old guard" master somms, she referred to gewurztraminer as "hooker perfume", which based on the reactions of her colleagues might have to wait for the next generation….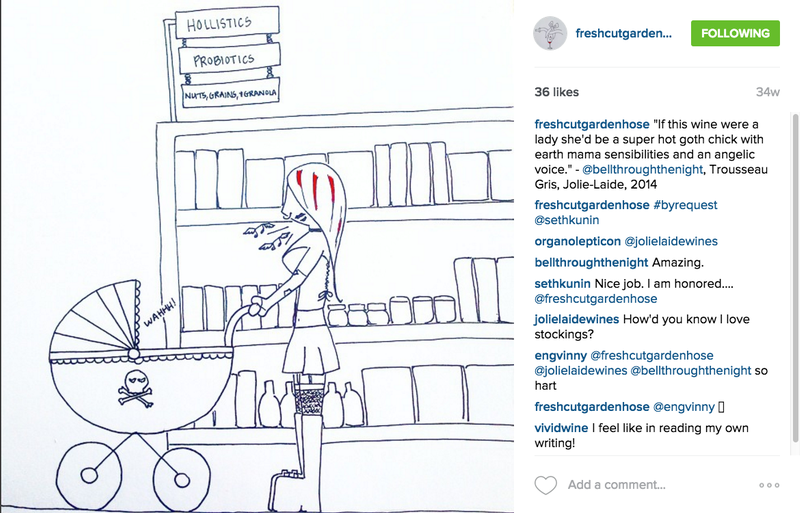 It has become my tradition to write a "State of the Winery" letter ... timed to the President's State of the Union (January 12) and Governor Brown's State of the State (January 21). The tradition commences with an enumeration of accomplishments:
The great success of Summit Cuvee, commemorating the unprecedented free climb of the Dawn Wall of El Capitan almost a year ago to the day.
Jerry Brown speaking at our Earth Day event.
The honor of Iron Horse being served for the toast at the State Department luncheon sealing a milestone climate agreement between the US and China in September.
These were some of our finest moments: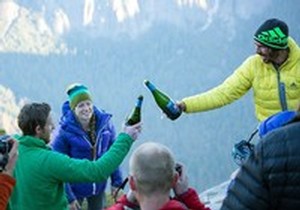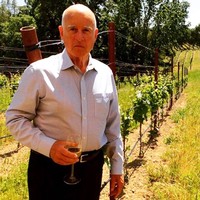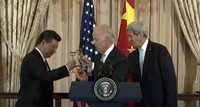 Never missing an opportunity to celebrate, I am very excited to announce the release of a special, one-time only bubbly called Cuvee 50, timed for the Super Bowl.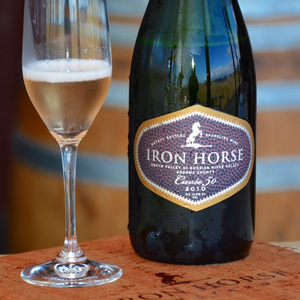 But, least you think this wine is just a label, I recommend you come to the Tasting Room and try it. The blend is 69% Chard, 31% Pinot Noir estate grown in Green Valley, vintage 2010, freshly disgorged after four plus years aging and finished with a unique dosage. This is an outstanding bubbly, brut level dry, which we feel is a must-bring to the Super Bowl parties you will be attending from now through February 7.
Insider tip: Like all of our limited production wines, Cuvee 50 first went out to our wine club members.
I am extremely proud Sonoma County is the wine destination partner for The Super Bowl. Our wines are being featured in the Sonoma Wine Lounge on Tuesday Feb 2 and Saturday Feb 6, promising a perfect opportunity to be at the heart of Super Bowl City sipping Iron Horse.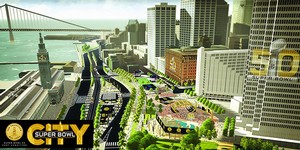 So, this is how we are kicking off the New Year ... along with rain, which is most welcome. After our rain dance we do our happy dance!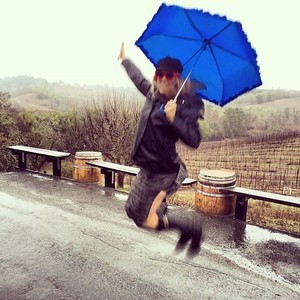 The storms have been fairly manageable. Only a few days of flooding here and there. Those days, can be a little challenging when the bridge is flooded ... like today. There's a plastic box nailed to the fence at the entrance with a map of how to come around the back. Please enjoy the adventure of a small detour. You will have earned a sip of wine when you arrive at the Tasting Bar.
Being flooded is nothing new to my parents who amazingly are celebrating the 40th anniversary of when they purchased Iron Horse. We plan to celebrate July Fourth Weekend because of the obvious tie between 1976 and 1776 ... with the added fun that the original Victorian, my parents' home at the heart of the property, was built in 1876. So, there's a theme and a certain kismet that we celebrated the official opening of the winery on my father's 50th birthday and the 40th anniversary of them finding this special place in the year of my mother's 85th.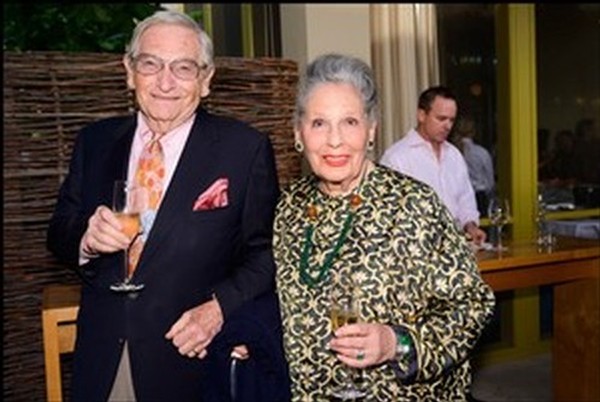 2016 also happens to be Winemaker David Munksgard's 20th anniversary at Iron Horse. We are going to have a cellar gathering on the actual anniversary of his first day here, but most exciting and impressive and gratifying to me is listening to David enthuse about the new base wines he is putting together for the 2015 Sparklings, which he says are stunning and our finest to date.
How lucky are we that it never grows old.
Happy 2016! The New Year comes with shiny new resolutions for many of us to improve body, mind, and spirit. Here's one that covers all the bases - drinking more Iron Horse! Whether it's red, white or bubbles, the latest scientific research points to a myriad of positive health benefits. We've catalogued the findings that will empower you to live your best year yet.

Let's not forget that mankind has been making and drinking wine since 6000 B.C. Ancient Egyptians employed wine as medicine. Roman cities boasted wine bars on every street. Hippocrates, the father of medicine, was prescribing red wine to aid digestion in 400 B.C. Fast forward to the 1850s and find our great grand parents choosing wine over water, citing alcohol's ability to kill bacteria.

In the last 30 years, the French have led the charge for daily wine intake (not surprising!). Their scientists were responsible for directing the current discourse related to wine's healthy attributes. They found that red wine could prevent heart disease while increasing levels of good cholesterol and antioxidants. Danish scientists then backed this up with studies that suggested moderate red wine drinking correlated to a lower death rate, a claim strengthened by the 2003 discovery of resveratrol (source). From this point on, the body of research pointing to positive health effects of moderate wine drinking has only grown.
Today, red wine's resveratrol still has everyone talking, especially as some say it can extend the human lifespan by 30% (source). No wonder wine industry experts point to a consistent growth line in the red wine sales category globally! Red wine's all star component could also help prevent dying from Alzheimer's disease, according to a Copenhagen study (source). Other reports show that moderate alcohol consumption is associated with a decreased risk of colon and kidney cancer along with non-Hodgkin lymphoma (source). And red wine tannins have been associated with heart disease prevention (source). All that with one glass a day? This could be your best resolution ever!

Bubbles should not be forgotten…. especially because recent studies suggest that a glass of bubbly could help prevent memory loss. This includes possible prevention of degenerative brain disorders like dementia. The pinot noir grapes used to create sparkling wine support proteins in the brain which are linked to storing memories. While they diminish naturally as your age, drinking sparkling apparently slows or prevents this process, while improving spatial memory (source).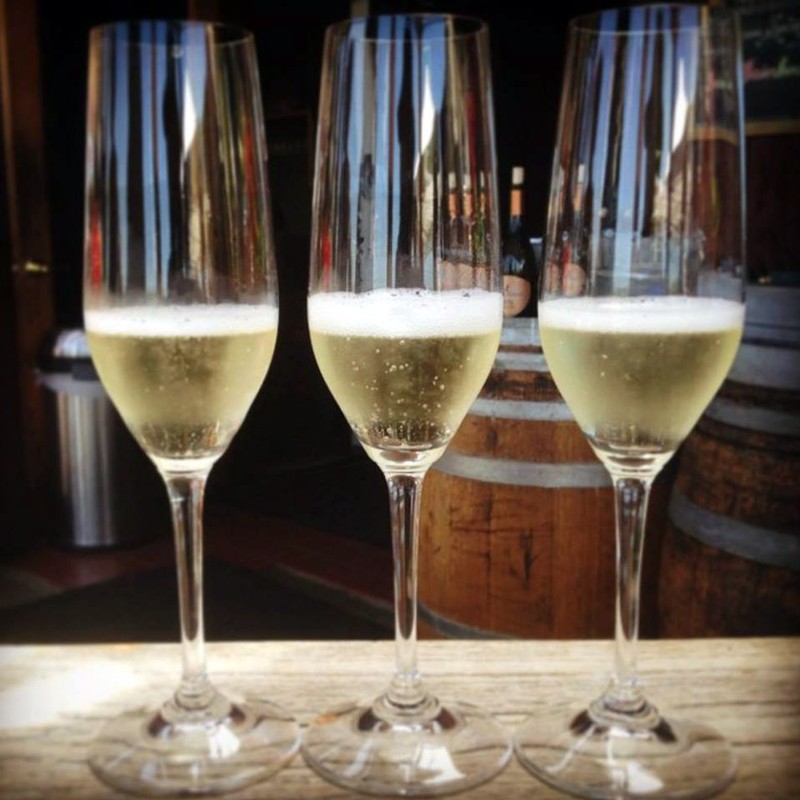 Of course, all of the doctors and scientists are clear about drinking in moderation. Like any medicine, alcohol can be a tonic if dosed properly. How lucky to produce a natural panacea which has the power to promote longevity and boost memory. And, so every day, we are happy to raise a glass .... to good health … and to good cheer, which may be the best medicine of all!

We were dreaming of a green Christmas this year and we got it. Thank you Santa! A near average amount of rain, bringing the hills back to life.
Even more importantly, we have snowpack to the Sierras.
The Sierra Nevada Snowpack currently stands at 105% of normal - the first time above average since 2012.
This is a remarkable milestone in a state where snow was virtually absent even at the highest elevations well into February last winter, and has been consistently far below average for four consecutive years. The early season storms in NorCal have been cold ones, creating a very healthy accumulation of snow across even in the middle elevation.
Think back to April 1 when Jerry Brown at Echo Summit in the Sierra Nevada Mountains, walking across dry grass, announced the first ever mandatory water cutbacks of 25%. The Governors of California have trekked to that spot for 65 years and this was the first time there was no snow.
Snowpack contributes about 30 percent of California's water supply. This season's first measurement was last Wednesday, December 30. The next will be April 1.
Meanwhile, back at the ranch, we recorded about seven inches of rain in December. The hills have greened-up. There's water running down the creek.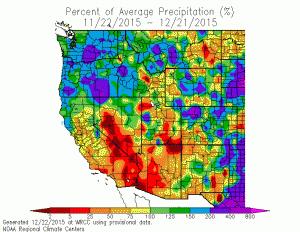 We actually had flooding for two days, closing off the main entrance to the winery. All visitors, tasters, workers, the office, tasting room team, FedEx trucks had to go around the back way – a solid 30 minute detour, two days before Christmas. It was hard not to complain. We need the water. And it is amazing how many intrepid tasters there are.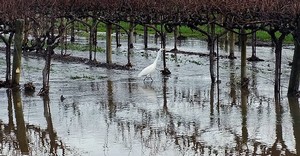 The week leading up to New Year's was old and dry with blue skies, puffy grey clouds and sometimes rainbows in our view.
We started pruning mid-month. We are pruning as if the drought will continue, deciding to err of the side of caution, though it means lowering our sights again in terms of crop sisze. The vineyard teams were given golf pencils with instructions that only shoots bigger than the pencil could be pruned down to two buds (meaning two shoots per position), anything smaller, would be pruned to one bud.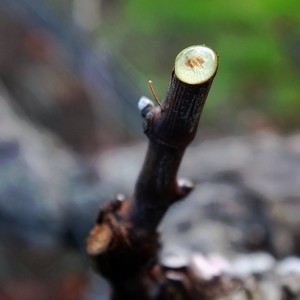 We are hoping for nice, steady, but not overwhelming rain in January. More specifically, we'd like for the storms to unfold with ideally a two-day lull between each one to allow the water to seep into the ground and not just rush off down the creek to the Ocean, please.
Wish for a good El Nino!


Happy Winter Solstice! The official start of winter. Meteorologists consider December 1 as the first day of winter, but the season's celestial start is tonight.
Though the entire day is "observed", solstice occurs at a specific time - the same time everywhere on Earth when the North Pole is tilted farthest from the sun.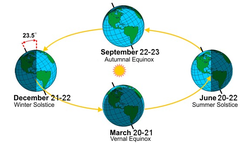 It is the shortest day of the year ... and the longest night.
This certainly deserves a toast!
Winter Solstice as a celebration goes back millennia. The most famous at Stonehenge, seemingly built for this specific astrological event as the stones are aligned on a sight-line that points directly to the winter solstice sunset.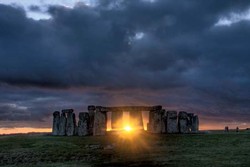 Ancient Romans celebrated with the Feast of Saturnalia - a festival that lasted seven days with banquets honoring Saturn, father of the gods. These Saturnalian banquets were held as far back at 217 BCE.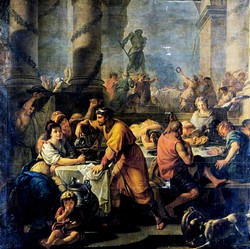 Pre-Christian Scandinavia celebrated the winter solstice with the Feast of Juul and the burning of a log, which became the traditional Yule log.
A perfect way to celebrate tonight is by cozying up with a wood burning fire (or lots of candles) and a glass or two of bubbly.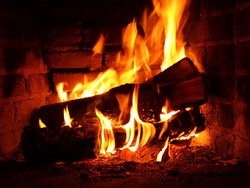 It is also a perfect occasion to say thank you for your role in making this such a gratifying year for us. Please know that we are toasting you and send our warmest wishes.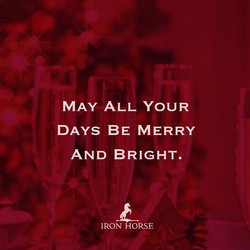 'Tis the season for gift guides, discount codes (insider tip: use code HOLLY for $10 shipping valid through 12/15 on three or more bottles) and predictions for the year ahead.

I know it's hard to believe, but 2016 is coming on fast. As a winery deeply rooted in our home place, we generally operate outside the trendy category, striving for classic, true to our vineyards, always in style, elegance and balance. But it is exciting to get a glimpse into the data based forecasts for where our cohorts are headed and we are tickled to find ourselves "ahead of the curve."
Since we're in the gift-giving mood, we've rounded up some of the stand out themes from our future gazing friends.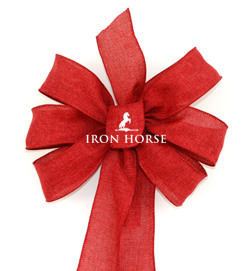 One such visionary is

Kimberly Charles

, founder of Charles Communications Associates, who provides perspective on volume (bookmark Kimblery's blog for access to her extremely valuable insights at

All the Swirl

). In our data focused chat, Kimberly explains that global wine consumption is up 5.3% and she estimates we'll enjoy 35 billion bottles in 2016. Yes that's billion with a

b

… with plenty of room to continue growing in the U.S (more on that growth

here). This is where the Millennials come in. They grew up watching their parents drink wine, see it as a daily pleasure, and according to a report from Canadian Investment Bank RBC Capital Markets, Millennials want premium bottles.
Trend spotter Andrew Freeman of AF & Co proclaims in his 2016 Trends Report that consumers are enjoying a case of "multiple personality disorder." In other words, we want the best of all worlds. We participate in wellness movements favoring moderation, then swing to indulgent experiences, sometimes in just a matter of hours.

Here are some trends to watch for in 2016 in the Food World:
Vegetables are the hero, especially amongst Millennials. People want less animal protein and support veggies as a "center of the plate component."
Hawaiian is the cuisine du-jour. It's the latest regional "New American" food in the spotlight.
The spicier, the better! Even desserts are getting the fiery treatment as data shows that embracing the heat is not only delicious, but healthy.
Table service at upscale restaurants livens up in a response to a Millennial demand to be entertained and get a peek at what's happening behind the scenes. Chefs themselves are getting in on the action upping the ante on engaging experiences.
Brunch becomes a main event. Even health nuts are relishing the opportunity to throw caution to the wind once a week during brunch, indulging in the carb heavy, over the top feast.

Now for the Beverage World:
Bubbles mania reigns. But we knew that! Sparkling Wine has captured the imagination of the public beyond celebrating special occasions. The growth of bubbles dwarfs that of still wines (see image). Restaurants are embracing this trend with expanded offerings. As Kimberly Charles declares, "There's is a virality to hearing the pop of a cork, you want to be part of it." We certainly agree! According to consumer products analyst Nik Modi at RBC Capital Markets, the rise in Sparkng Wine sales dwarfs still wine sales.

Note: In economists' terms, C0nsumer Value = the ratio of product price to product benefit
Stylistically, white wines are showing more restraint - lower alcohols, less oak, brighter acidity - a trend that's part of our core values at Iron Horse.
Chardonnay is America's #1 selling varietal, showing double digit growth. Even traditional red wine drinkers are exploring more white wines.
Coffee gets a modern makeover. New techniques and flavors create balanced and "treatful" beverages.
Instagram worthy embellished cocktails dominate. Think gold dusted flowers, sugar stirrers, designer straws, even perfectly smoked pork belly pieces. Andrew Freeman posed the very apropo question, "If we don't Instagram it -- did it even happen?" (By the way, we're on Instagram @IronHorseVyds)
The Bloody Mary is having a moment. Could there be a better way to recover after a late night sampling of our "Brilliant Bubbles Collection"? We don't think so! And none are more delicious than Diane's Bloody Marys featured at Michael Mina's Tailgate at Levi Stadium (mentioned on recent our Star Chef Spotlight in Michael Mina).
As we take stock of a fantastic year at Iron Horse, and give thanks for your great support and friendship, we are already looking forward to a new year of success and innovation in our continued pursuit of toast-worthy excellence.
We'd love to hear your delicious predictions for 2016. Chime in on social media and in the comments below!


Cheers!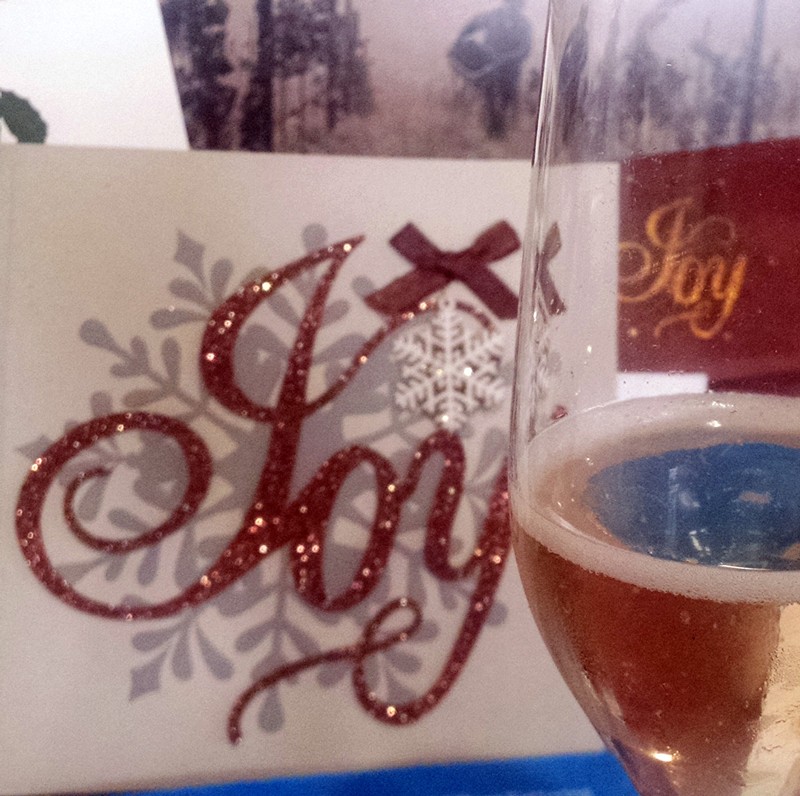 ****
Last month, we started a recurring blog series of dispatches from our Iron Horse Winemaker David Munksgard who thoughtfully selects his favorite bottles for the special circle of friends and fans in his "Winemaker's Choice Club". We're excited to share his December wine recommendations, perfectly timed as we dance into the holidays. Find out what our winemaker is drinking and thinking as we get a sparkling start to Christmas and New Year celebrations!
The final 2015 Winemakers Selection of the year includes the 2010 Cuvee M (sorry to say we're now sold out … just another reason to join the club, so you don't miss out in the future) and the 2012 Estate Pinot Noir.
2010 Cuvee M is made entirely from a single vineyard block called Block M, planted to Stony Hill Clone of Chardonnay. This wine has great meaning to me on a very personal level. In the winter of 1974, I was visiting my father-in-law in Napa. He arranged for a visit to Stony Hill Winery in the hills above Napa Valley. On that chilly, foggy, rainy day we were greeted by Stony Hill Winemaker Mike Chelini. This was my very first visit to a winery and Mike took his time and explained things in such a way as to not intimidate anyone. Heck, he even taught me how to swirl a glass of wine. We climbed on barrel stacks, tasting from them with a glass wine thief. That first winery experience could not have been better. And I fell in love with that specific clone of Chardonnay.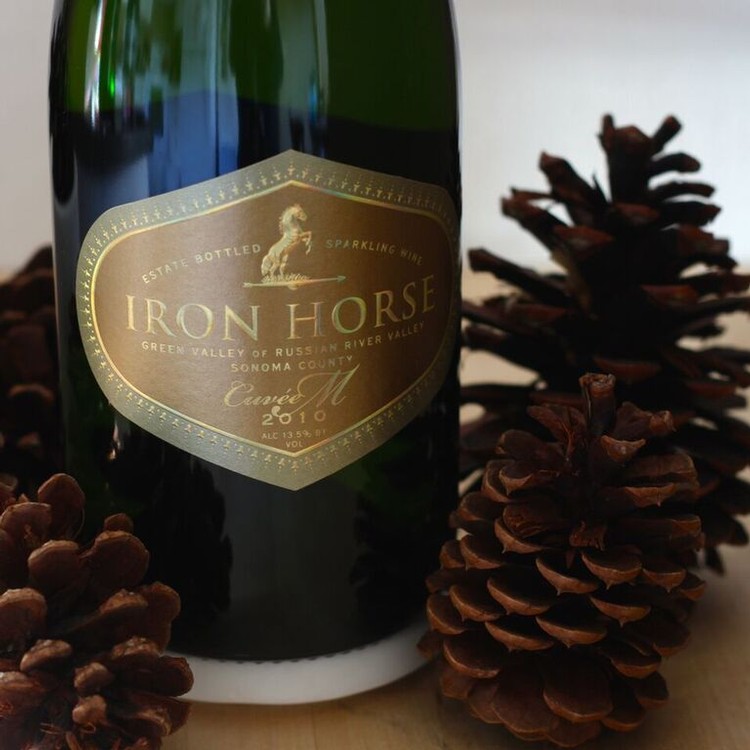 Twenty-two years later, I arrived at Iron Horse to be their new winemaker. I quickly learned that they had two blocks planted to the Stony Hill Clone; one was Block M. In 2010, I decided to pick block M early and use it for bubbly. The wine from this picking was so stunningly unique, it screamed to be bottled on its own.
Soon after, both blocks of Stony Hill were pulled out due to old age and replanted to Pinot Noir. Though I lost the vineyards of Stony Hill Clone, I still had the wine in time capsule fashion.
Stony Hill Clone to me has always been a benchmark, displaying lean citrus elements along with a signature of wet stone minerality. This is the only vintage we made of this wine. Total production was a mere 200 cases. Ready to impress now, this rarity will continue to gain in complexity well over the next eight to ten years with proper storage.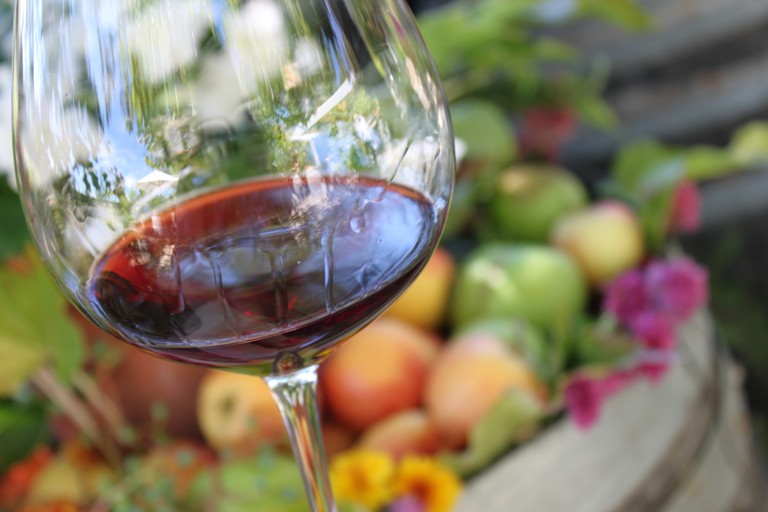 The 2012 Estate Pinot Noir is the still wine I chose for the December Club shipment. This wine's evolution has been fun to follow as it continues to gain complexity and supple structure. Enjoy with your holiday meals or stash it away for three to five more years to enjoy those dried rose petal and herbal tones that bottle age brings.
All my very best wishes,
David
We're starting a monthly blog series of dispatches from our Iron Horse Winemaker David Munksgard who thoughtfully selects his favorite bottles for the uniquely fanatical wine club members in his "Winemaker's Choice Club". We're excited to share his November wine recommendations, perfectly timed as much of the country is already bundling up for winter. Find out what our winemaker is drinking and thinking as we get a propitious start to Thanksgiving celebrations with the full moon on the 25th!
*******
For the November 2015 Winemaker's Selection I've chosen a Sparkler and a Pinot Noir.
The bubbly is the 2011 Winter's Cuvee. As I write, much of the country has received an early start to winter. The Northeast has just received its first snowfall, in some places, while the fall colors were still at their peak. The pictures I saw on the Weather Channel were amazing.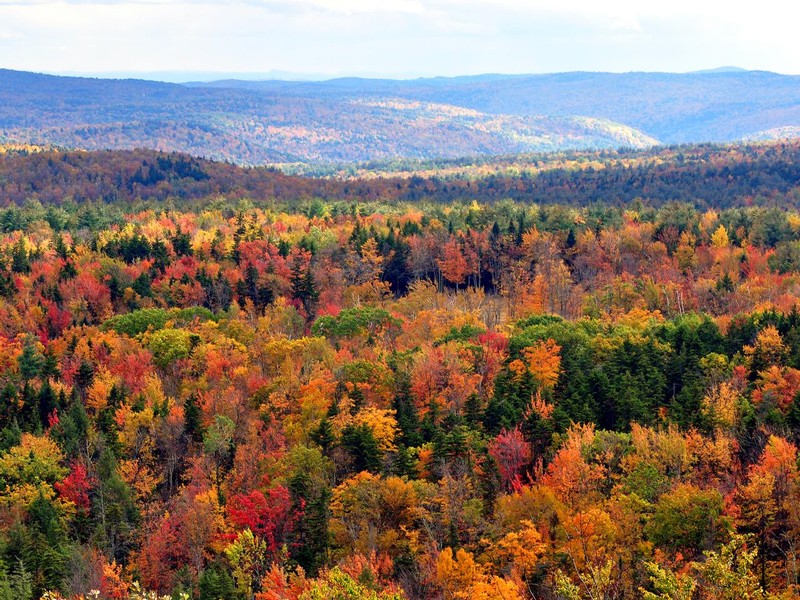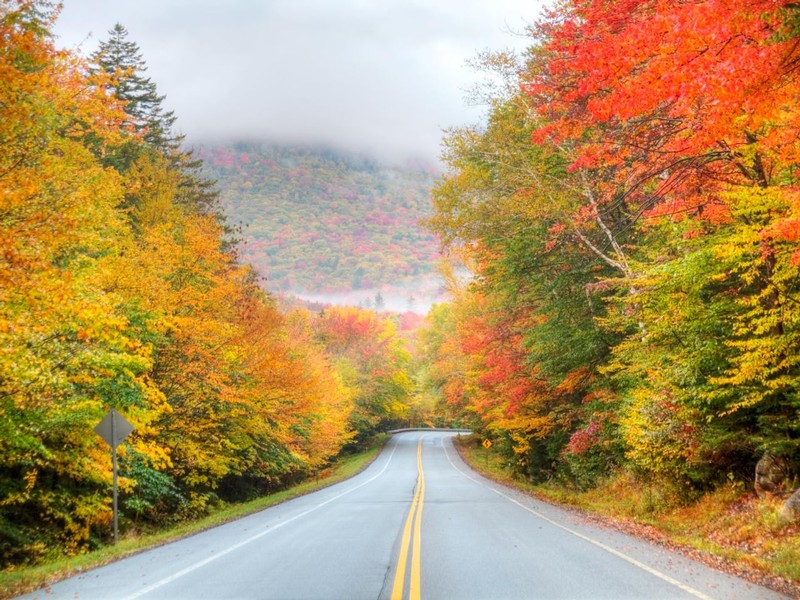 Winter's Cuvee is my vision of the perfect bubbly for cold weather sipping. The dosage for the 2011 Winter's Cuvee is unique. In order to give it a bit more of an aged tone, I made a sugar-wine syrup from 1980 Blanc de Blanc that was just disgorged off its fermentation lees (yeast). That along with a bit of estate 1987 Pinot Noir brandy gives this wine a toasty, yeasty creaminess that lingers deliciously in your mouth. Winter's Cuvee sells out very quickly every year. If you plan on doing any holiday celebrating that involves bubbly, you might want to place your orders for extra ASAP. The drinking window on this wine is from now for the next two years, if properly stored.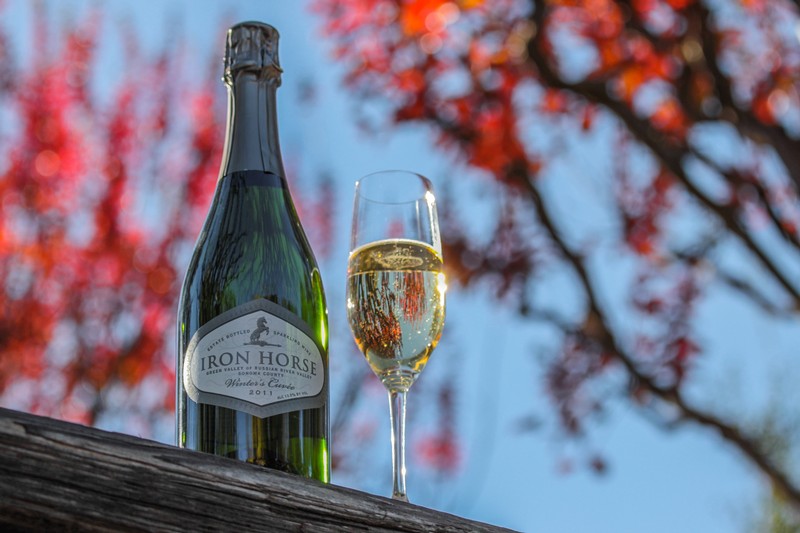 The still Pinot Noir in this shipment is the 2013 North Block. Comprised solely of the Calera Clone, this wine displays a bright red fruit focus that is extraordinary for a wine this young. Supple and brimming with ripe flavors, every sip demands yet another. Drinking window on this wine is now to the next four to five years (possibly much longer), again, if properly stored. I'm going to be enjoying some this winter, and then age the remainder for three years and try it again.
All my very best,
David

Thirty years ago this month (November 19th), Ronald Reagan and Mikhail Gorbachev met in Geneva, Switzerland for their first Summit Meeting. All of the historians agree that the two superpowers were poles apart until that moment when they clinked glasses with Iron Horse. It was amazing how quickly their relationship evolved. And for all these years, my family has taken complete credit for ending the Cold War.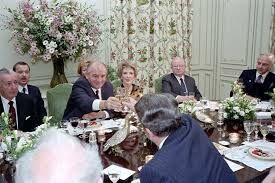 The Reagans hosted the Gorbachevs for dinner at Maison Saussure, a grey stone 18th century chateau on a 20 acre park about three miles from Geneva and just a few yards away from the lake. It was the residence of the Aga Kahn, who vacated it for the President and Mrs. Reagan.

The dinner was private. It started around 8 p.m. and was reportedly limited to just 16 people.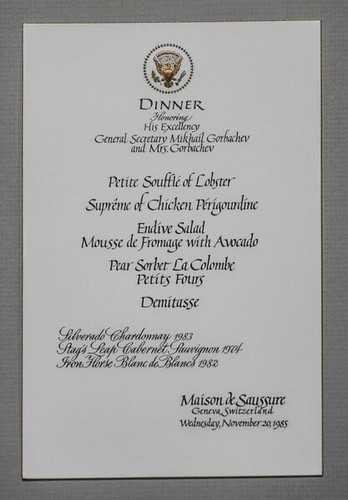 Recorded in the National Security Archive, the toasts which are now de-classified and available online, became the basis for the joint statement released the next day. Both sides emphasized that the Geneva meeting started something that would lead them to more significant steps in improving bilateral relations and the global situation, "with mutual understanding and a sense of responsibility," putting into text that a nuclear war cannot be won and must never be fought. See Document 24: Geneva Summit Memorandum of Conversation. November 20, 1985, 8:00-10:30 p.m. Dinner Hosted by President and Mrs. Reagan.
Reagan's Secretary of State George Schultz wrote in his memoire, "Nancy Reagan had orchestrated a wonderful dinner that night at Maison de Saussure. Both Reagan and Gorbachev were relaxed. They spoke with warmth in their toasts at the dinner table, and the toasts had real content. We then moved into the library for coffee."

"Arrangements for the next day were not at all settled. There would be a final ceremonial meeting at the International Press Center. The agreed statement, I thought, would shape up satisfactorily. But what would the leaders do? I said to the president and Gorbachev , 'You can't just sit there while a statement is being presented. You are the leaders. You each must say something.' I sensed reluctance. Each was hesitant, I surmised, to risk being seen on worldwide television while the other might level criticism. Agree to speak for three minutes each, along the lines of the toasts you gave at dinner,' I urged. They both knew they should speak, and each was looking for a little reassurance from the other."
Jack F. Matlock Jr. wrote in Reagan and Gorbachev, "Including private dinners [in the summit program] was built on the idea that the two leaders must not only respect each other but also like each other to accomplish [peace between the United States and Soviet Union]. It was also a signal to the bureaucracy that it was okay to be friends with the other side. We wanted to create an environment where representatives from the two sides could speak privately if we thought we had a problem rather than going to the press and having a big brouhaha. It helped reduce tensions, ultimately. Being friendly personally does not achieve everything, but it becomes a lot harder to achieve your common goals if you're not being friendly."

Matlock was the White House's senior coordinator of policy toward the Soviet Union and the one who rehearsed with Reagan prior to the Geneva Summit, playing the role of Gorbachev. He later became Ambassador to Moscow.
Iron Horse was chosen for this historic event by a Sacramento wine merchant named David Berkley, who knew the Reagans from their days in the Governor's Mansion. David became the unpaid, unsung wine advisor to the White House, consulting with the Social Secretary, the Chief Usher and the chef to pick wines to match a particular occasion, diplomatic goal and the richness of a sauce.
He recommended Iron Horse because of the quality of our wine (of course!), but also because it was perfectly "themed." The Reagan Administration paid as much attention to the "optics" as they did the issues and we fit in as an American winery, rooted in the town of Sebastopol, near the Russian River.
At the time, we were told that the wine selection had to be signed off by every member of Cabinet because it was considered such a high level diplomatic decision. And, for security reasons we were asked to ship the cases in unmarked boxes to Andrews Air Force Base.
I have always felt, though this is pure conjecture, that they chose our Blanc de Blancs because Ronald Reagan liked to wear the white hat.
The vintage served was 1983 when our first vintage of Sparkling was 1980. We were still so young. And this truly put us on the map.
It is noteworthy that the second Summit in Reykjavik, Iceland was declared a setback both by media of the day and historians … perhaps because Iron Horse was not deployed? But Iron Horse was brought back into play as the toasting wine at the State Dinner at the White House in 1987, which lead to the signing of the INF Treaty.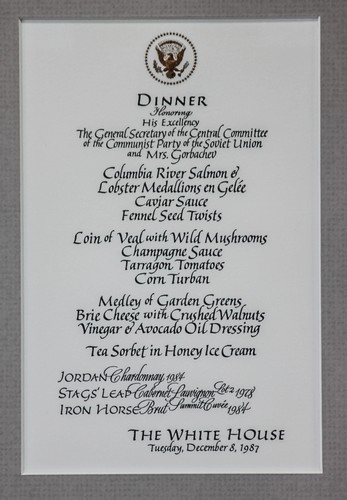 We now produce about 1,000 cases of Russian Cuvee a year commemorating what Time Magazine called one of the ten most significant events of the 20th century. To celebrate the 30th anniversary of the Geneva Summit, we are releasing for the first time, magnums of our Russian Cuvee and our Blanc de Blancs – only 40 cases are available of each.

Some people have suggested the way things are going today, we need to get back into the business of diplomacy with Russia. It does seem there are lessons to be learned from the Geneva Summit in terms of reestablishing contact after a period of tense relations between two world powers.




Here's a toast to getting Russia to the table again … with a glass.
******