Iron Horse
Blog
The Iron Horse "marketing " team is lean, to say the least, but we think big and are quick to move on a great idea. A new product launch becomes part of an illustrious and dynamic legacy. Standards are high, and family expectations are higher. So when Joy informed me that Iron Horse would be releasing a new gift item, I was intrigued. That curiosity grew to excitement when I discovered that item would be a saber. Shiny and beautiful but also useful and extremely efficient towards the end goal of unleashing delicious bubbles. An engraved saber that comes in a branded wood box is the perfect accompaniment to Iron Horse Sparkling Wines.
I jumped at the chance to understand why Joy selected this particular item to add to the family's special cache of Iron Horse offerings. Maybe because my wedding party sabered bottles to fuel a champagne tower at our reception or maybe because sabering is enjoying a pop culture renaissance .... either way, I dove in. Which required research. My mini investigation transformed me briefly into my AP World History student-self, this time with the joys of the internet and none of the dust of the library. The discoveries were as enchanting as the sunrise in Green Valley and as rooted in French history as the winemaking methods at Iron Horse.

The lore of sabering takes different turns depending on your source. Most agree it all starts with Napoleon. After the French Revolution of 1789, The Napoleonic Wars raged across Europe. Napoleon's soldiers mounted fast horses and dressed in lavish uniforms. Oil paintings depict young men in long cloaks with furs draped over broad shoulders. Most importantly, they were armed with rifles … and brass handled sabers. Early victories came easily for this force, who charged home through villages where revellers tossed them bottles of Champagne.
But it seems riding a horse while fumbling with a bottle secured with cork, wire cage and foil-wrapping didn't fit the dashing portrait of Napoleon's men. So they improvised, discovering that a quick stroke of a saber blade to the neck of the bottle both released the "drink of the stars" and did so in a decidedly heroic fashion. The upturned bottle with a dangerously sharp tip added to the overall vision of youthful brashness and celebration.

The "Widow" Clicquot makes an appearance in accounts of saber lore. This famous female Champagne house owner symbolises quite a bit for the women of Iron Horse (a story for another blog). But in this context, the story goes that the savvy business woman opened her mansion to Napoleon's officers and then armed them with her bottles on their way back into battle. Wishing to display gratitude, or perhaps hoping to capture the fancy of the wealthy lady, the young men would perform the saber ritual for her before racing back to the front lines. Swoon.
It is comforting to me that the best things through history seem to endure. And that is truly the case with sabering. I caught up with several Iron Horse friends who were happy to chat saber etiquette and procedure. Meet Master Sabreuse Catherine Fallis aka the Grape Goddess, Master Sommelier David Glancy founder of San Francisco Wine School, Brad Kinder of Kind Wines, who represents Iron Horse through Florida, and Petra Polakovicova, Wine Director at Epic Steak in San Francisco. All have a slightly different take on the art of the performance. But all share their concern for safety above all else.

David Glancy explained, "Sabering really started out as a quick and dirty tactic. You used a sword or knife or a blunt object to knock off the neck of a champagne bottle. It started with Napoleon's troops who employed this method very sloppily I'm sure. Sometimes it worked and sometimes it didn't." He told us that the key to the whole show is to get the champagne REALLY cold. Especially the neck. We're talking ice bath cold, completely submerged for at least an hour.
David emphasized this point saying, "Bottles DO explode. I've gotten very tiny shards of glass in my wrist and in my neck even from what seemed to be perfect sabering." Catherine Fallis is also a fanatic about the well-chilled, near-frozen temperature in her sabering performances. Our favorite Grape Goddess added that she prefers magnums, which are easier to take contact with along the seam to the lip. And she reminds us the sabering is an unright motion, not a downward "decapitation" (an appropo reference when speaking of the French Revolution).

Michael Rosati Photography
But if all goes well you can be assured that party goers will clamor for more. It seems to put a punctuation mark on the event. As Brad Kinder told us, "Bubbles are the beverage of celebration and nothing really kicks it off in a better way than sabering the bottle. It draws attention and is super cool especially for people who have never seen it before." He went on to say, "It's showmanship and that's what bubbles are all about. It's a perfect pairing." Do not try this at home, but Brad has been know to "saber" a bottle using the bottom of a wine glass. "The danger and the uncertainty of success adds to the fun. I've sabered many bottle but I always get an adrenalin rush."
Taking a risk on an innovative approach can be the most powerful strategy. If this YouTube video involving a golf ball doesn't make you jump out of your chair, I don't know what will.
However you decide to go about it, here are some performance and safety MUSTs which I gathered from our experts:

Pre-planning is key.

The bottle needs to be as cold as it can be before the wine turns to slush. That "tames" the bubbles. With a warm bottle, the cork is likely to fly out.

Wear protective eyewear, sunglasses are a dramatic, easy option.

Some experts recommend gloves. Our friend Catherine Fallis favors opera gloves for protection disguised as glamour.

Crowd control is a must. Select a safe space with a clear opening, set up something to aim for, and make sure people aren't in your path.

Aim at something soft which might absorb the impact … or the great outdoors.

Common sense should also lead you to remove the wire cage from the neck, to avoid a boomerang effect.

Taking off the cage is the most dangerous part - remember it has the power to take your finger off with it!

The maneuver is not about force … or even a sharp edge.

In fact, a butter knife will work.

They key is to run the saber along the seam of the bottle, hitting the neck at just the right angle.

A smooth, clean stroke works best.

Form is everything.
Petra Polakovicova presides in a well-known dining room and can attest to the celebratory vibe created by even a traditional pop of the cork. But she too is moved by the elevated experience of the sabering ritual. "Sabering adds drama. When you open bubbles with a sword, there's an anticipation. The anticipation of something really cool."
In victory, you deserve Champagne, in defeat, you need it. -Napoleon


Welcome to the family, Iron Horse saber, Sebastopol Edition.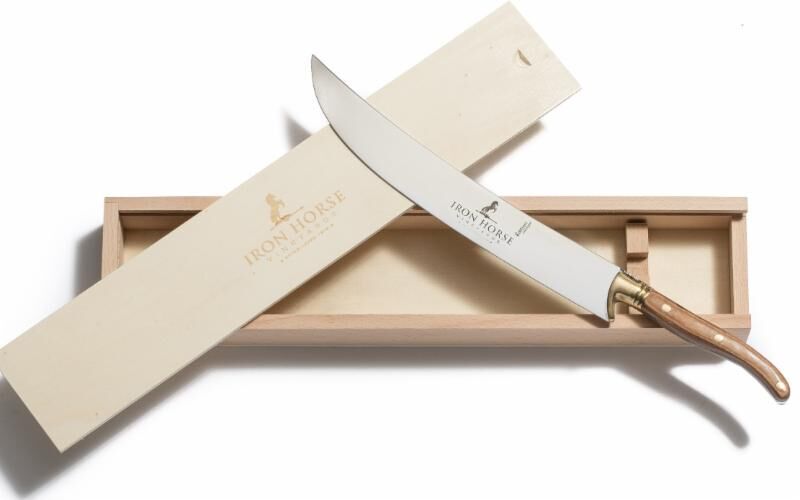 Another early harvest. Has it become the "new normal"? Our intrepid winemaker says he's not complaining. Well, maybe just a little. We asked David to provide a mid-September update on Vintage 2016. His reply came one end of summer morning; full of excitement, fearless curiosity, and a thrill for the fruits of the season that seems to grow richer each year. Before diving into his beautiful composition his quick aside summed it the season perfectly : "The Iron Horse harvest yields such a special feeling; it just gets to me. I wish I could bottle it to truly convey it". We would argue he does exactly that with each beautiful bottle.

2016 Harvest Update by David Munksgard
There are a few major questions every year during harvest:
My first concern about an early harvest is that the weather might be too warm if we are picking in the heat of full-on summer. A later start affords cooler fall conditions. Second, I fear finding overly-ripe or "sugared-up" grapes. Third, I focus on the readiness of my crew, our equipment, and the cellar. Are the tanks and barrels empty? Do we have all the yeast and bacteria we need? My last question is a more personal one. Am I ready for harvest; am I ready for the most important time of the year? And just like that, thoughts turn to action.

Almost as soon as we started harvesting on August 4th in "Sparkling Pinot Noir Block G," the fog returned and daytime temperatures became quite pleasant. Tasting the juice fresh off the press gave me my first real taste of the vintage. The muscles in my neck started to relax. The smells, the tastes, the sights of harvest all came rushing at me. Not everyone finds in life what they are meant to do. I have. This is it. Every year at the beginning of harvest I hope to have that confirming moment. If this one block, if this first day was representative of what was to come; then all is good with me. That day I recall glancing at Rigo, my cellarmaster. A confident smile came to his face signaling that he was ready along with the winery.
The pace of harvest for the first week and half was slow, finding blocks ready here and there with occasional days of no harvesting at all. This schedule troubles me. Once the game begins, I want myself and everyone on my team to stay focused. I remind myself that the vineyard crew has worked all year to get us to this moment and it's imperative that we stay in the harvest mindset. But before I could lament further, this year's harvest started to fall into a good, steady pace. The weather continued to be on our side as the weeks rolled by. Today, we have one block remaining; no hurry here, waiting for deeper, richer flavors that I expect from our Thomas Road Pinot Noir.
After the harvest of 2015, I asked Laurence and the vineyard crew to open up the canopy more in 2016 in the Hyde Old Wente blocks for our still wine Chardonnay. I wanted the grapes to look a certain way to heighten certain smells and flavors. I wanted them to be light straw in color and more translucent, which would give us more tropical scents and flavors in the wine. My hopes took shape as powerful action as the team mobilized to explore the potential pathway. Those blocks are vigorous and challenging to open up, so we bought a new vine hedger to remove some of the vine growth. We then hand removed leaves to bring the perfect amount of sunlight in direct contact with each cluster for a few hours each morning. A dream became a reality. Teamwork.

More experimentation came when the first grapes arrived. I was so pleased and excited that I changed plans on how we would handle the fruit. Instead of whole cluster pressing, we destemmed into the press where we held them soaking with the skins for three hours. The juice was so incredible. Over the next few days from the same blocks, we extended the skin-soaking from a few hours to overnight. This process extracts even more of those yummy tropical tones. So far, the fermentations are telling me that the plan was a good one.


Overall I'd describe this year as a simply beautiful harvest. Crop size (as I estimated pre-harvest in a previous blog post) is more than last year, less than big years like 2014 and 2013. Standouts? I'm pleased with everything. Every year there is an opportunity that arises and it's great when a well laid out plan comes together just right.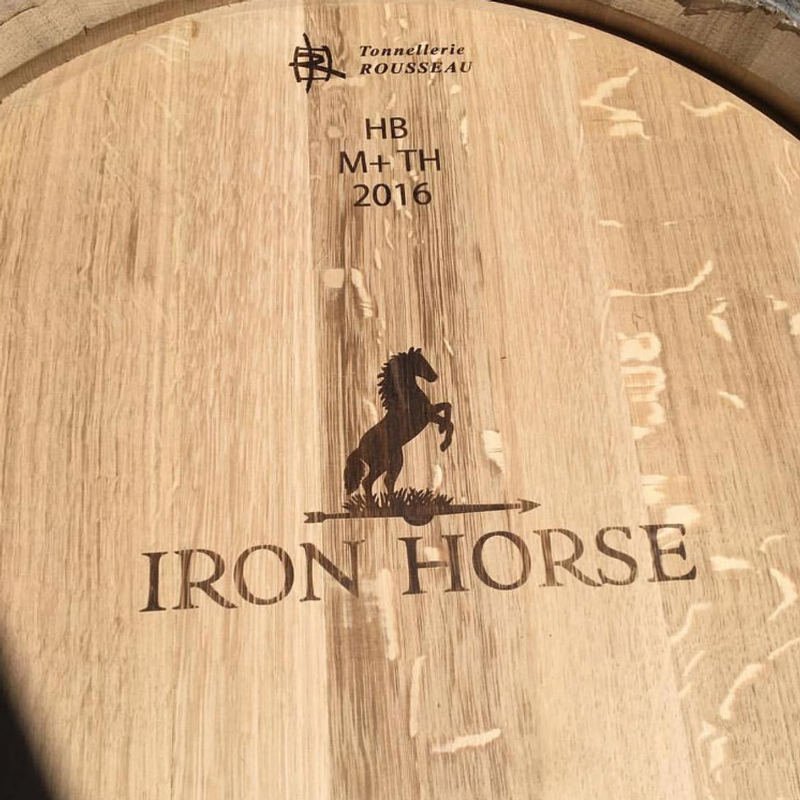 ####


We are extremely honored that Iron Horse Ocean Reserve Blanc de Blancs was the toasting wine at last night's State Department International Ocean Conference - Our Ocean, One Future. The conference hosted by John Kerry brought foreign ministers, NGO leaders, and philanthropists to Washington D.C.
The occasion celebrated President Obama's a new measure just enacted yesterday, designating the first marine national monument in the Atlantic Ocean. The act will protect fragile deep-sea ecosystems off the coast of New England as the "Northeast Canyons and Seamounts Marine National Monument."
Secretary Kerry had much to toast with our bubbles in hand. He also acknowledged an earlier milestone - President Obama's creation of the world's largest marine protected area off the coast of Hawaii, creating a safe zone for tuna, sea turtles and thousands of other species in an underwater national park twice the size of Texas.
"Over the past several decades, the nation has made great strides in its stewardship of the ocean, but the ocean faces new threats from varied uses, climate change, and related impacts. Through exploration, we continue to make new discoveries and improve our understanding of ocean ecosystems. In these waters, the Atlantic Ocean meets the continental shelf in a region of great abundance and diversity as well as stark geological relief. The waters are home to many species of deep-sea corals, fish, whales and other marine mammals." - President Obama

With so much history making policy, there was clearly increased pressure to celebrate in kind. Chief of Protocol Peter Selfridge and State Department Chef Jason Larkin (see our past Chef Spotlight here) combined their finely honed diplomatic and culinary skills to create an impactful experience addressing significant global issues through food and wine. The renowned American chef selected to concept the menu was none other than Rick Moonen, who describes himself as a "godfather" of the sustainable seas movement. The four course meal was paired with all Iron Horse wines, featuring Ocean Reserve at the start.
We had the opportunity to speak to Chef Moonen about his starring role and he told us how thrilled he was to be selected as the lead for such an important event and how excited he was to continue making a difference after 40 years of championing the ocean, "My goal was to showcase our resources which need to be protected, creating a menu that reinforces the message … and represents the best of our seafood."

When developing the progression of the culinary experience, his first instinct was to leverage the fruits of our vineyards, naturally gravitating to to our 2012 Oceans Reserve Blanc de Blancs for everything it strives to accomplish in the mission of saving our seas … and for it's refreshing zest and creamy, rich finish.
2012 Ocean Reserve was paired with Chef Moonen's Thai Green Papaya Salad with Toasted Peanuts to open up the dinner. From there, he selected our 2013 Rued Clone Chardonnay, to go with Alaskan Sable Fish and Chesapeake Oyster Chowder. For the entree,our 2013 Q Pinot Noir was served with True North Salmon with Olive Oil Crushed Potatoes and Garlic Caper Sauce. Chef Moonen determined the red wine's firm and dry finish was the ideal way to round out the meal.

The menu also gave Iron Horse some additional, unexpected recognition, with a short history of the winery. This is the first time Iron Horse has been acknowledged in print on the menu like this, highlighting that our wines have been served by five consecutive US Presidential Administrations. The blurb went on to describe us as "one of the finest family-owned wine properties in the country and the top American-owned, sparkling wine producer in Sonoma County, " touting our 260 acre reserve in the Green Valley AVA of the Russian River Valley and celebrating our limited edition Ocean Reserve which dedicates a percentage of sales to help establish marine protected areas and global sustainable fishing practices.

The acknowledgement was deeply appreciated by all of us in the Iron Horse family. We are so proud of the coveted role we get to play in such historic events. It is something we think about with each vintage and look forward forward to continuing this relationship, and representing our country with the fruits of our labors! So today we're raising a glass to the Obama Administration, innovative Chef Moonen, Chef Jason Larkin and the ocean. Cheers!
Find a complete recap of the evening with streaming event video and an overview of the recent eco-responsible governing HERE.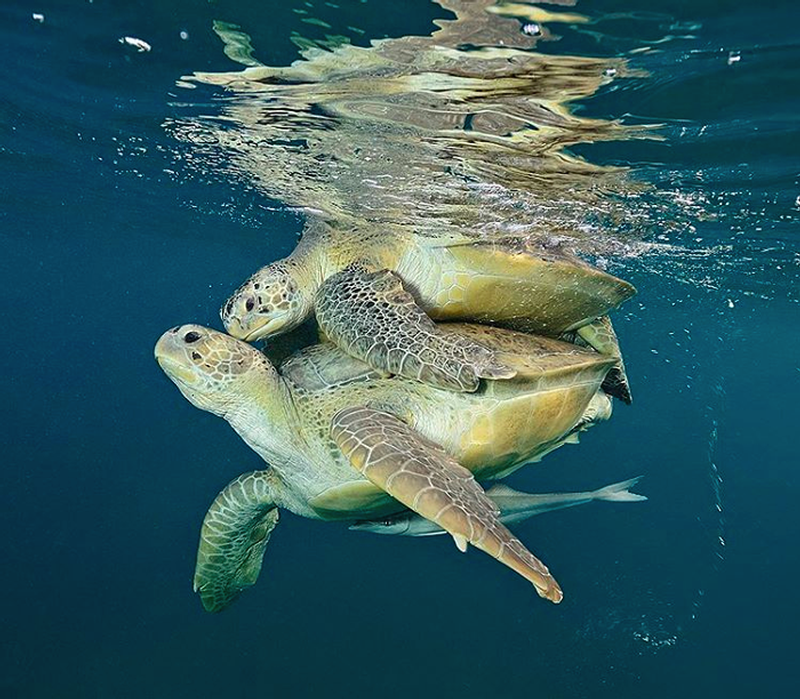 El Niño

was a big help to our long term water woes, but not the savior many had hoped (read our blog's past predictions for the

Great Wet Hope here

). Winter storms brought normal snowpack in the Sierra, but once the flurries stopped and the seasons changed, melt-off from the high country proved swift and disappointing.
The Department of Water Resources projects that the mountains produced about three quarters of normal runoff during the months of heaviest snowmelt. This shorts the rivers and reservoirs that typically provide a third of California's water, cementing a fifth year of historic drought for the Golden State (news coverage here). Now the Governor has used his executive powers to enact permanent measures, acknowledging that water conservation has to become a way of life.

"Permanent" turns out to be through January 17 when the state Water Resources Control Board can revise the regulations. For the next five months we are off mandatory water use management and onto voluntary cutbacks.
Instead of a statewide decree, cities and towns are now allowed to manage their individual conservation efforts. This measure acknowledges the obvious - that water, like every resource, is not naturally equally distributed statewide.
Back in 2015, the Governor mandated a 25% reduction in water use compared with a baseline of 2013, with the 411 water districts reporting monthly (full story from the Sacramento Bee here).
Post-El Nino, California officials feel we can afford a break in certain parts of the state, especially in the North. It has now been determined that we can ease off draconian, one size fits all measures. Local communities are empowered to decide their own conservation needs based on a three year stress test. Monthly reporting remains honoring a motto of "Trust, but verify."

Map of Official Monitoring Stations in the Delta region
In the first month on this "honor system," the state averaged 23% reduction. July's numbers will be released soon, concrete evidence of continued commitment to voluntary water frugality.
As an active observer of California Water Policy, I can't imagine anyone thought El Nino would provide a panacea for drought. Complete recovery requires several more years of "average" rainfall but it definitely was a boon here in Sonoma where soils were saturated and reservoirs refilled.
Long term, the Governor is right to plan for perpetual drought, which experts says is a very real possibility. Some anticipate a time when water may become more valuable than land, positing that land without water won't be worth much. Shocking.
Theories like these are motivating significant action on a large scale. In an extremely controversial move, Southern California's powerful Metropolitan Water District recently purchased 20,000 acres, scattered across five agricultural islands in the North's Sacramento-San Joaquin Delta.

Shown above, the area is called the "Delta" because it forms a triangle of roughly 1,000 miles of waterways from Antioch to Sacramento to Stockton and is the hub of California's water delivery network. Metropolitan says they were interested in purchasing the islands so they could restore natural wetlands habitat for plants and wildlife. Such restoration projects are required of water districts to offset the effects of their reservoirs, dams and canals. Two of the islands are in the path of Gov. Jerry Brown's plan to build two tunnels underneath the Delta. And owning the islands also grants Metropolitan senior rights to pump water out of the Delta.
Critics say the purchase was an old fashioned water grab. It was challenged in court, but allowed to go through (coverage here and more here).
This story is not without a happy update: Stanford researchers have detected a potential new water source in the Central Valley. Perhaps as much as three times more groundwater than previous estimates.
Previous studies only looked at depths of up to 1,000ft (300m). This one went deeper - and investigations show there's three times as much fresh water at 1,000–3,000ft (300–900m) below ground.
But the potential "windfall" comes with caveats. It is very deep thus prohibitively expensive to extract and could be salty. Drilling for it could lead to further land subsidence, already a major problem. And much of these hitherto unknown water sources happen to be close to oil and gas wells, which puts them at risk of being contaminated.

Shut-down desalinization plant in Marina, Cali image via NewsDeeply.com
The Central Valley is home to California's most productive farm belt, but the region's groundwater is so severely overdrafted that i

n some places that the land has been sinking two inches a month. Problems with subsidence started decades ago, but have been made worse by the current drought. With surface water so scarce, one study shows we are currently pumping water out of the ground at twice the rate that the aquifers can naturally recharge. At this rate, pulling more water out of the ground wouldn't help.
The scientists are not advocating the use of this new-found source … at least not just yet. As the old saying goes, "Don't count your chickens before they hatch."
It'll take a while to figure out how to tap those very deep aquifers … and how to replenish them. In the meantime, we need to approach this new source with caution. Premature efforts could pollute the precious water AND inadvertently poke the "sleeping bear" - a term my friend and fellow water policy wonk Phil Grosse uses to describe the network of fault lines underlying the state. But this is California, where imagination and ingenuity are two of our greatest resources in overcoming technical difficulties and ultimately sway public policy.
In a press release on this topic, the Stanford scientists were cautiously optimistic despite the proximity of the groundwater to a potentially hazardous oil and gas operation. But they noted that the contamination risks are great enough that we should be paying attention. We might need to use this water in a decade, so it's definitely worth protecting. Find further reading on this important finding here and here.
I believe science will move us forward in the long run and I remain hopeful that technology will yield a sustainable solution. But for now, I'm relying on good old fashioned conservation. My wish list includes more normal rainfall, ideally from Thanksgiving through February and preferably at night, like Camelot.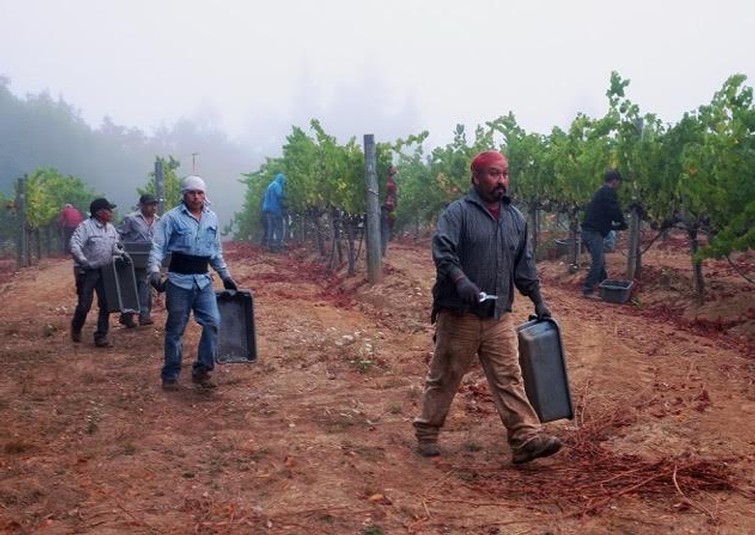 Last day of harvest 2016 for Sparkling at Iron Horse. Photo: Laurence Sterling
####
We're two weeks into Harvest 2016. So far it's been start, stop, start, stop, which is trying because once we get going, we far prefer to maintain momentum.
Looking out at the vineyards from the Tasting Room on top of the hill, you can see the crop on the vines looks good. We're figuring on a more substantial yield than last year, but not as big as 2014.

Quality is being determined with each passing day as the grapes accumulate flavor and arc to optimal ripeness. From here, it's all about taste.
We had yet another early start. Look back at the archive of our June Vintage Update and you'll see David's then shocking prediction that we could start picking August 1. Well, turns out he was right, yet again. Our first day was August 4. Same as last year. This is our third early harvest in a row.
One significant difference relates to water - Topic A in California. We were extremely lucky we had great winter rains, saturating the soils and filling the reservoirs. This is a big departure from the protracted drought conditions of the prior three vintages. (Another topic we have covered widely on our blog).
Early bud break was followed by intense heat, which shot us into a period of rapid growth before we were even done pruning.

June was cool and foggy, slowing things down, while creating its own demands. For the first time in years, the vines had access to groundwater. This major difference translated into fuller, more vigorous canopies which coupled with a humid spell increased the risk of disease.
Late rains and cloudy days of high humidity create the potential for early mildew. Our vineyard crew is extremely vigilant and nimble, but mildew won out in a few small pockets. Those affected areas received extra leaf pulling to increase air circulation and a "vine washing" to stop it from spreading. The combination of manual leaf pulling and the new vine hedger proved successful in combating crop loss.

A quick visit with David provided more clarity on the state of the vineyards heading into the second half of August.
Tarin: Any big surprises?
David: Mother Nature is full of surprises, but the way to keep up is daily, year round walks through the vineyards. The better you know each individual block, the better decisions you can make. No matter how well planned the vineyard, no matter how well tended, there will be spots of greater and lesser vigor. Our team strives to monitor each block separately and even specific blocks within the blocks.
So far, we have harvested:
G - Lower Pinot Noir for Sparkling
I - Pinot Noir for Sparkling
G - Upper Pinot Noir for Sparkling
F- Upper section Chardonnay for Sparkling
H 5 - Lower part Pinot Noir for Sparkling
E - Purple clusters only
The drone shot below from 6-2-16 covers all these areas - all were picked for bubbly.

This shows how we "hop scotch" strategically around the estate. We use a drone as a guide and then on the ground we even differentiate between specific clusters.
Below you can see how much "green thinning" is required by our teams at this stage. Green thinning involves manually dropping green grapes on the ground row by row. This action effectively guides the vines towards using all their energy on ripening only the most mature, promising fruit.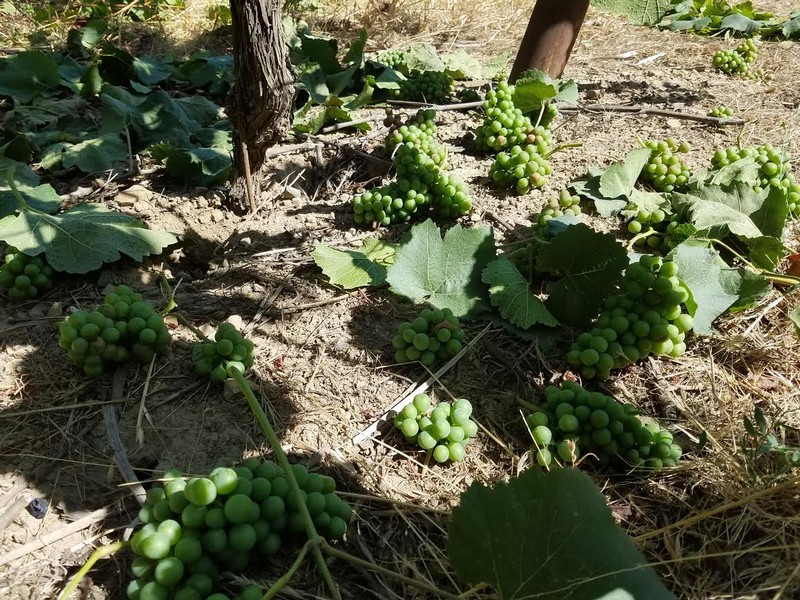 It's an impressive sight, which some might see as money on the ground, but which we feel is an investment in quality.
Tarin: What's your sense of the vintage?
David: Crop size, I think we are looking somewhere between the abundant 2014 and the paltry 2015. As for quality, it's way too soon to make comments. But I never shy away from an educated guess and it seems we are beginning to think that this could actually result in a great vintage.

We have every reason to be optimistic. Grapes that look like this can only make delicious wine!

#######
Harvest has begun at Iron Horse, early once again, and just as promising as ever. Like the old saying goes, we keep making new friends (and new vintages!) and treasure the old. And in that spirit, we're excited to share our annual blog-homage to many long-time Iron Horse friends recently honored by key wine industry publications.
Behind the scenes (or blog!) efforts involved fanning out across the country to catch up with some of the award winners now receiving 2016 accolades from Wine Spectator and Wine Enthusiast in all different categories of excellence. We're in the harvest state of mind right now and that colored our perspective as we "hand picked" the interviews. In some ways, we see each sommelier as a "farmer" each working tirelessly to grow their "crop" over the years, applying a signature "blend" of inputs which ultimately contribute to unique success. Their "terroir" includes hometown roots, global travel, renowned mentors, and years of tasting experiences. The resulting award winning program is a "special cuvee " all its own.
The quality and depth of our conversations with these innovators were as intriguing and pleasurable as a beautifully curated wine list. We hope you enjoy sharing in these moments as much as we did.

JAMIE HARDING
Award: Wine Spectator Grand Award for Murray Circle; SAUSALITO, CA

Notable and Quotables from the Judges' Write Up: Murray Circle was praised for its stellar cellar stocked with 12,000 bottles and more than 2,200 selections, anchored by California classics. Wine Director Jamie Harding told the judges, "It used to be rare when someone came in because of the wine program. Now it's a few times a week." The laid-back attitude at the restaurant pairs with vibrant cuisine and a "deep trove of classic wines at a wide range of prices." And Harding's Sommelier Selections page offers a curated window into his mind's eye. "I'm not pushing an agenda. If I were running a little restaurant in the Mission District I'd have a completely different list. We have a culture of pleasing the customer. If they want Zinfandel, I'll give them Zin."
Somm Reflections on the Honor: "It was our first time winning for this restaurant and for me as its wine director. The award is very satisfying and is the culmination of the work of the Master Somms who came before me. I was prepared very well by people like Dan O'Brien to drive the wine program in the direction I wanted to go, and it has been a goal for us to achieve this since I arrived in 2009 as a staff sommelier.
I'm born and raised in the Bay Area and as much as I love wines of the world, I feel a kinship with California wines. That respect is massively important for someone like me who serves international resort guests, they visit us and they want to try NorCal wines. My desire moving into my role was to build up that California producer list, build up the verticals. Hopefully that had something to do with us getting over the hump (to win!). One of the things Wine Spectator mentioned was our commitment and focus on California, vintage depth and the producers we work with - that's what moved the judges. I'm committed to smaller, younger winemakers who are defining a style."

Special Mention: Jamie took an interesting path into his current area of expertise, "I started out in the music business, I wanted to be a rock star." While he pursued the music world, he always had a bartending job and found himself an unlikely mentee of Jeff Kramer a wine director at Hawthorne Lane. "I tasted things I never tasted before, learned how to pair wines, and that's where I really got hooked." Thus the wine rock star was born. As he got deeper into the industry, he found inspiration in meeting the winemakers responsible for the vintages he enjoyed so much. "There's beauty, quality, and amazing people behind the wines. When you meet winemakers, they're very down to earth people. They want wine to be inclusive. I try to breathe that attitude into my style and my staff. I want to be approachable even in the fine dining setting. There's an improv performance art and a sales component to my job - it's a complex twist!"
Iron Horse Favorite: My wife and I have been up to the Iron Horse Vineyards and tasted everything. The quality top to bottom is phenomenal. The wine on my list always is Wedding Cuvee. It's probably the best California rose out there. It has a refined beautiful style with enough fruit coming through that you get the strawberry from the Pinot Noir and the crispness from the Chardonnay.
Must Try Summer Pairing for At-Home Chefs: "Our menu changes fairly often for seasonal and local reasons. Chef Justin Everett has a great relationship with local farmers and purveyors, he's always excited about what's coming in the backdoor and the new produce in season. It's fun because I'm always tasting food and pulling corks. Right now there's a scallop dish on our tasting menu with a heart of palm puree, spring peas, and house cured pancetta. The dish was hard to pair, it's an example of how a straightforward dish can be challenging and requires out of the box thinking. You could go with a Chardonnay, a Sauvignon Blanc or bubbles, depending on what creates that WOW moment for you.
MATT PRIDGEN
Award: Wine Enthusiast "America's 100 Best Wine Restaurants of 2016" Award for Underbelly; HOUSTON, TX

Notable and Quotables from the Judges' Write Up: Winner for the second year in a row, wine list crafter and Underbelly GM Matthew Pridgen is a stickler on one thing. He told Wine Enthusiast, "If a winery isn't family owned and operated, it won't find a home on 'Wine Herder.'" The edgy drinks list is a purist when it comes to producers but is decidedly avant garde when it comes to its aesthetic. The Underbelly partners are friends with sketch artists and they collaborated on signature menu cartoons which are updated every year. Matt explained, "We wanted it to be visually appealing and fun, we're all about fine dining in a casual atmosphere and we want the menu to reflect that. Most guests love the list, it's especially fun to present to a first timer who will read through the entire wine menu and laugh at the comics."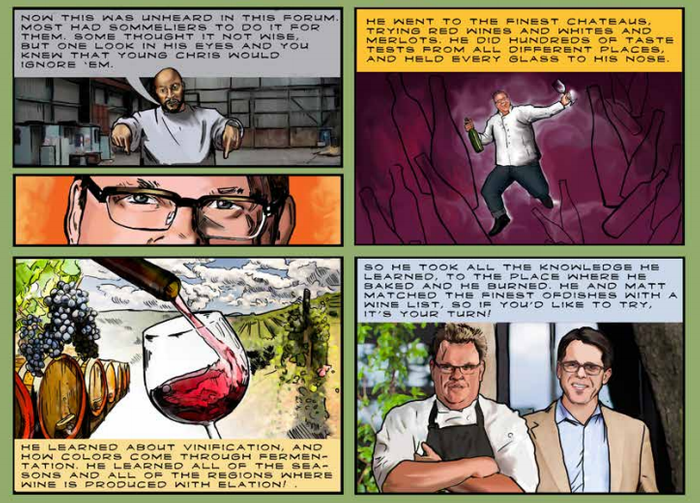 Somm Reflections on the Honor: "It's an incredibly huge honor. I've been in the wine business for quite some time, and at Underbelly for going on five years that we've been open. I was given complete control of the wine list with the parameters that we wanted something different and unique which was a little daunting because there are a lot of incredible wine lists across the country. The premise of the restaurant is locally sourced, everything in the kitchen comes from people we know. It made sense to model our wine list after the philosophy of the restaurant, so we only source wines from people who produce their own wines -- not big corporations or bank owned vineyards. Family owned and operated is our credo." The Houston native also benefits from the fact that access to good wine in Texas has gotten exponentially better over the past five to ten years.

Special Mention: For Matt, it's essential to put a face to the wine, "Personality is the thing that's making the wine and that has a lot to do with the outcome. For example, Joy is the wine she makes, she's bubbly, festive, fun and friendly which translates to her wines. Having been in the business for a long time you taste wines that are mass produced vs small. Smaller producers aren't just in it for the money to produce for the masses. It's a true labor of love and the required passion shows in their product. That weighs heavily on Underbelly's decision to focus on family owned only. And it shows across the board on our wine list. Every wine is there for a reason, nothing is just there. People who have a passion for their wines - their bottlings tend to be better with food."
Iron Horse Favorite: "I've known Joy for a long time. Iron Horse was one of my firsts visits in Sonoma when I went out there many years ago with a small group and was hosted to a full tour, tasting, and lunch with salmon and veggies out of the garden. She's an amazing person, and the wines are amazing." Right now Matt is pouring Wedding Cuvee, "For the weather right now (close to 100 every day!) and the food we're serving, it's versatile and fun to drink."
Must Try Summer Pairing for At-Home Chefs: For this time of summer Matt suggested a cantaloupe and bresaola (beef that has been dry cured and rubbed with spices), served with fresh herbs. He favors a rose to pair with the refreshing dish.
MICHAEL ENGELMANN
Award: Wine Spectator Grand Award for The Modern; NEW YORK, NY

Notable and Quotables from the Judges' Write Up: Wine Spectator did not hold back when describing the first time Grand Award Winner as "a culinary treasure in an iconic museum." As Michael explained, "There was really an ambition to take the restaurant to greater heights. I was like a kid in a candy store. I wanted to show the diversity of the wines I've served over the course of my career from California to Australia and beyond. I'm hoping we can offer the best wine program and have the best restaurant in New York. I want to be known in Japan and Europe and elsewhere as a world-class destination for food and wine."
Somm Reflections on the Honor: "There was an immediate rush of satisfaction. My team and I tripled the selection of wine in my two years at The Modern. A great amount of work was involved in achieving this award. I wanted to bring more of an international vision to the program. My tenure in Sydney exposed me to some of the greatest wines in the world, now The Modern carries hundreds of Australian wines along with legendary producers and vintages. I push to always be tasting more wine and discovering new favorites. I strive to represent the old and the new and the rising stars all on one menu. I want to accommodate any guest who walks in. We are located in NYC at the MOMA, the meeting place of the world, so it's my responsibility to be able to serve wine whether it's from California, Europe, or their native land."

Special Mentions: New York is not known for an excess of space. But Michael has unparalleled access to storage upstairs in the restaurant's "Wine Wall," a Eurocave wine cooling unit, and three floors below in former museum space for crates and offices. From physical space to mental space, Michael mentioned that The Modern is closing down for renovations for five weeks at the end of summer. The somm, who was born in France and has lived in England, California, Australia and now NYC, plans to take the the skies for more travel. He loves living in New York and the extraordinary wine community there, but looks forward to travelling and unplugging from email.
Iron Horse Favorite: "I lived in San Francisco and I would travel to Sonoma quite a bit, so I've had the pleasure of visiting Iron Horse in person. I think it's one of the most gorgeous places to start you day. Getting off the main highway and enjoying the outdoor tasting room - the natural beauty is overwhelming."
Must Try Summer Pairing for At-Home Chefs: Roasted Watermelon with Whipped Crème Fraîche and Caviar with rose, ideally Wedding Cuvee. Another one would be a glass of Meursault served with Roasted Lobster Potage with Pickled Garlic and Potatoes.
LULU MCALLISTER
Award: Wine Enthusiast "America's 100 Best Wine Restaurants of 2016" Award for Liholiho Yacht Club; SAN FRANCISCO, CA
Notable and Quotables from the Judges' Write Up: The former pop-up restaurant was lauded for "thrilling, modern food with a global, value conscious list." Wine Director Lulu McAllister separates the wine menu into classic "Old Friends" and emerging, unusual "New Friends." Described as a star somm by the magazine, Lulu explains she seeks to accommodate all levels of wine lovers, "Some people are curious and don't know a lot about wine, some people do know a lot about wine but are still curious, so I try to be sensitive to both of those progressions." She keeps things fresh by constantly tasting new wines, "I'm constantly juggling the space I have and trying to make room for the great things I'm finding. It's like the best kind of Tetris."

Somm Reflections on the Honor: "LihoLiho Yacht Club is one of the four restaurants where I oversee the wine. It's a very distinct menu with a unique flavors, textures, and colors that make pairing exciting. The expanding wine program considers wine from all across the world and is slowing moving into specific regions as I educate myself. The "Old Friends vs New Friends" approach is unique to my palette, but the general intention is to serve up classic styles and well known grape types from well known regions as well as newer options for when you want to depart from what you know and advance to more exotic grapes and styles, new products and concepts. It caters to what people want when they dine, sometimes you want something familiar and sometimes you want to escape and be adventurous. I try to remind the staff that for someone who is not used to tasting wine, any wine can be a new friend."
Special Mention: "I was surprised when we got a full page spread in the magazine. I was excited! And glad I didn't look like a total dork!" (Pictured with Chef Ravi Kapur) For Lulu, the honor hasn't really sunk in yet. "I actually recently got married, and I'm finding it's important to enjoy your milestones and accomplishments. But I'm also still pushing forward, I hope to continue to do things that people think are exciting and relevant."

Iron Horse Favorite: Lulu has many Iron Horse memories that she treasures. One of her first trips while studying at CIA was to Iron Horse Vineyards and she recalls enjoying lunch with Joy and her parents. Lulu told us she has hosted Joy for Magnum Monday as well - sounds like a perfect start to the week!
Must Try Summer Pairing for At-Home Chefs: Right now Lulu is loving roasted octopus. "It's easy to pair. For myself, I would probably choose a Sicilian rose. But the dish is friendly to a lot of styles, sparkling aromatic wines would be perfect."
ERIC HASTINGS
Award: Wine Spectator Grand Award for Jean-Georges; NEW YORK, NY

Notable and Quotables from the Judges' Write Up: This was the first time that Jean-Georges was awarded the Grand level mention. The write-up for the Trump Towers flagship was titled "A top dining destination elevates its wine list". "Historically, Jean-Georges was not really a wine restaurant, says Jean-Georges Restaurants Beverage Director Eric Hastings " But according to Wine Spectator, the current list of 1,100 selection is "perfectly attuned to the needs of the menu and the desires of the customers." They also note that "Hastings has engineered a portion of the list to be more eclectic and affordable - think boutique producers quietly putting out superb character wines, within the confines of certain regions." Cheers to that!
Somm Reflections on the Honor: I am very excited and proud of what we've accomplished as a wine team and a restaurant. We have won three Michelin stars, and four stars from New York Times, but it was thrilling to be able to add one more wine-specific feather to the Jean-Georges cap. This award is a collaboration amongst a lot of people, past and present, but it wasn't something we were seeking out. Our organization's goal is to be the best restaurant we can possibly be. We know Chef Jean-Georges puts out the best food and it is our mission to rise to the occasion of service and atmosphere. When I got the call from Wine Spectator's Ben O'Donnell, I was honestly a little surprised.
The Grand Award winners have traditionally boasted massive wine lists. But I had been working consciously over the past year and a half to build depth in vertical selections. I wanted to make sure I could get the best wine to people at the best price. The styles that tend to work best with Chef Jean-Georges are the Old World selections, so I tried to expand on that.

Special Mention: Eric explained that they're working with a deficit in the storage category telling us "Sometimes great wines don't make the list simply because I don't have anywhere to put them!" But you take the good with the bad in terms of location. He explained that being in NYC is one of his greatest assets, "It's the people around me and the availability of wine that you just can't get anywhere else on any level." He's also inspired by the increasingly educated nature of his guests. Eric explained that there are more educated wine consumers than they were 20 years ago, "They are talking about malolactic fermentation and minerality. People are branching out into wine regions that never would have year ago. It's a lot of fun and it gives us the opportunity to be more engaged which is important"
Iron Horse Favorite: Eric and Joy met at the awards dinner of the first Top Somm Final in 2010. "Afterwards, she gifted me with a wonderful magnum of 2006 vintage bubbly. Today, we serve the Iron Horse Pinot Noir and the Wedding Cuvee. And it's on the wine list at the hotel in every room. The Pinot specifically is delicious because of its Green Valley roots, a location which is becoming more universally heralded as a top region."
Must Try Summer Pairing for At-Home Chefs: One of Chef's great new dishes is nougatine hake with summer peas and ginger, it pairs beautifully with Grüner Veltliner.

ARTHUR HON
Award: Wine Enthusiast "America's 100 Best Wine Restaurants of 2016" Award for Sepia; CHICAGO, IL
Notable and Quotables from the Judges' Write Up: Specifically recognized by Wine Enthusiast for their excellent by-the-glass program, Sepia's deep and detailed list is the creation of Arthur Hon. They extoll Arthur for his "knowledge, enthusiasm, and experimentation which continues to have national impact."

Somm Reflections on the Honor: "The award was not planned in any way. It's such an honor and very special. This is our fourth year in a row as one of the best programs in the US. It started off very organically with a more creative and artistic perspective, but I had to make it more practical, acknowledging I'm working with someone else's money.
Overall, I believe the beverage list needs to match the culinary aspect of the restaurant. Chef Andrew has been here for over seven years and his instincts are very global, true "contemporary American". I spent my first few years getting to know his cooking style and understanding so many different flavors and components, which can be tricky with wines. Ultimately, I decided to match the breadth of the restaurant's direction and take the wine menu VERY global. My list represents 90% of the wine growing regions in the world. Within each country, there's a fairly good representation."
Arthur is also deeply connected to the restaurant's Chicago roots, "We're in the Mid-West and that has given me a sense of freedom. There are no regional wine favorites here, but we can get everything and have a much more balanced distribution of influences from East Coast, to West Coast, and European wines. It's also a top tier city that still offers more affordable living options. The budding food scene is supported by a vibrant urban population and all of these components serve as a solid foundation for a vibrant city with a younger crowd seeking adventurous dining experiences."

Special Mention: Arthur commented on his wine list price strategy, "Every successful wine program has to have a varied price point. You're running a business for someone else. You have the glamorous wine side of the business, but the other side is the numbers and my job is to combine the creative part and the financial aspect. Cost is very important. You can be very creative, and become too subjective and you forget about the patrons."
Iron Horse Favorite: "I've always been fascinated by the Wedding Cuvee. You can feel that it's coming from the New World genre, a playful interpretation of a California Sparkling made in the Blanc de Noirs style. It's unique and approachable with a soft texture. The name itself is very festive and Pinot Noir dominant. When I look back at the older vintages, say five years ago, they were actually "blanc" with very little color. And I've watched them grow into becoming rose. I'm also very impressed by Joy's willingness to hold back and age vintages until absolutely ready for release. To put perfection above earning is commendable. I admire Joy's efforts and wish all wineries could do the same!"
Must Try Summer Pairing for At-Home Chefs: "Summer means it's corn season in the Mid-West, which is very exciting. My favorite dish right now is a poached cod with grilled corn, pan roasted shishito peppers, corn puree and pickled veggies paired with a crisp, citrusy white wine." Sounds like Iron Horse Chardonnay, don't you think?
A discussion with our inimitable in-house Hospitality Director Dixie Bohlke illuminates plans to celebrate this summer's milestone, the Sterling family vision, the importance of small details in creating the extraordinary … and how to join the celebration with a new limited production bubbly.
Dixie pouring Iron Horse '76
As Joy shared in the previous blog, the Iron Horse family is warming up to celebrate the 40th anniversary of our first vintage.
First, the skinny on the summer soiree we have affectionately dubbed "The Spirit of '76"
Date: July 3, 2016
Time: 11AM - 2PM
Where: Iron Horse Vineyards
Festivities begin in the beautiful garden of the Sterlings' Victorian home. Then it's a short walk to the corral for lunch at noon.
Who: Friends, Family and Wine Club Members
Next the full bodied exploration behind the scenes setting up such an event ….
Why: We're honoring the vision of our founders which was nothing short of revolutionary when they purchased Iron Horse in 1976, the restoration of the Sterling's beautiful Victorian home built in 1876, and of course the all American spirit of 1776.
How: A reception in the garden of the Sterlings' home with the Caviar Cowboys serving California Osetra on buckwheat blini fresh off the griddle, a roving Oyster Girl shucking fresh Myagis from Tomales Bay and free flowing bubbly.
Such a special occasion calls for a special limited edition bubbly, naturally called "Spirit of '76", which we also be pouring in the Tasting Room for the holiday weekend and which is available on-line.
Joy and David came up with the idea of creating a special cuvee about three months ago. David picked the 2011 Blanc de Noirs in magnum for the base wine. Mark Berry designed the label. We have just 22 cases (132 magnums) and Joy says there's no better place in time to enjoy them especially in commemorative flutes with our logo, the rampant horse on a weathervane and the addition of "Est 1976".
Dixie perfected a cocktail called the Iron Horse 76, which we make with our own brandy called Audrey, distilled by Germain Robin using 1987 estate grown Pinot Noir.

Recipe:
1.5 oz Brandy*
3/4 oz Fresh, Strained Lemon Juice
1/4 oz Simple Syrup
1 bar spoon Apricot Preserve**
Shake ingredients (except sparkling) vigorously with ice, strain into a Pinot Noir style stemmed glass, slowly pour in the bubbly, garnish with a lemon twist.
*We use the Iron Horse Audrey Brandy (made from 1987 Iron Horse Estate Pinot Noir distilled by Germain Robin). Substitute with VSOP Cognac
**Dixie's homemade
Recipe Backstory:
Based on the classic French 75, made from gin or Cognac, Champagne, lemon juice, and sugar. It is also called a 75 Cocktail, or in French simply a Soixante Quinze (Seventy Five). The drink dates to World War I, and an early form was created in 1915 at the New York Bar in Paris—later Harry's New York Bar — by legendary barman Harry MacElhone, a defining figure in early 20th-century bartending. The combination was said to have such a kick that it felt like being shelled with the powerful French 75mm field gun.
Directions:
Shake ingredients (except sparkling) vigorously with ice, strain into a Pinot Noir style stemmed glass, top with bubbly, garnish with a lemon twist.
Old labels
Back to the event….
After the one hour reception, the party moves to an old, redwood, 1920s corral led by "Uncle Sam" and a 20 person brass band called The Hub Bub Club. Here, the party decor includes gorgeous vineyard views, deep red roses growing on the fence of the Corral, red and white geraniums in pots sitting on top of old wine barrels, and scattered hay bales covered in the stars and stripes.
The menu includes everything you'd want for a July 4th celebration: lobster rolls, bison burgers, fried chicken, an unbelievably delicious potato salad.
Always thinking ahead to dessert, back in mid-May we delivered flat upon flat of local Sonoma cherries to our favorite Patisserie Angelica for classic cherry pie.
Naturally, the wine theme is red, white and bubbly.
Thematic Extra-Credit: Dixie has collaborated with Joy and the Sterling family to perfect the day's theme, bountiful food, and run of show but then she has taken it a step further with a fashion show in an homage to 1776, 1876 and 1976 with five fashion models showing costumes from each era. The models in this "Fashion Show with a Fashion Statement Honoring Three Centuries" will appear at various times throughout the day to show off the beautiful vintage clothes and mingle with guests. The background music will waft sounds of San Francisco circa 1976.
A sweet note and some final thoughts ….
One of the pleasures of staging this fete has been reminiscing about the early days, going through old photographs and compiling a time capsule exhibit of memorabilia, including decades of winemaker dinners and White House menus featuring Iron Horse wines.
In the words of the supremely talented Hospitality Director Dixie Bohlke, this summer soiree honors "the fulfilment of what Audrey and Barry Sterling's dream was then and what it has become."
Dixie notes that this event carries as truly special feeling for her. Her planning has been driven by a desire to property recognize the vision of the founders that would ultimately shape so much. But most importantly, acknowledge that their vision and "revolutionary" spirit has determined the way forward for the vineyard.
As we celebrate the past with the Spirit of '76 Cuvee, we also toast to the future. "It's going to be an incredibly special time capsule for Audrey and Barry, but they are also moving ahead to the future. When you look around to the new planting, you can see that. " For all the history and the pleasures of nostalgia, Iron Horse is an exciting and dynamic place.
Couldn't agree more.
What else does a party need once you have identified the theme, the venue, the food, the wines … as the ultimate party planner will tell you, it's the people who make the party. So we raise a glass to our guests! Happy Spirit of '76.


##########

Audrey & Barry Sterling are full partners in everything they do. Iron Horse is their vision.
They first saw Iron Horse in a driving rainstorm in 1976 with the vineyard development only partially completed. There was no winery.

Image Above: Winery Then
​

Image Above: Winery Now
And the 19th century carpenter gothic house was dramatically listing to one side.

Image Above: Victorian Then

Image Above: Victorian Now
Nevertheless, after a taste of wines made from Iron Horse grapes, they knew their search had ended and a dream begun.
This is Barry with his first tractor

And Audrey, ever the gracious chatelaine

It is hard to remember how pioneering it was to put down roots in western Sonoma County in the mid-70s. Even the UC Davis Agricultural Extension advised against investing in an area prone to frost. But the Sterlings knew the quality of cool climate Chardonnay and Pinot Noir from living in France in the 1960s and Audrey was familiar with the area from childhood summers on the Russian River.
They heard about Iron Horse at a dinner party and while few had identified the region as ideal for wine growing, went on an immediate tour, and in Audrey's words "That was it." Here is how they remember the day in a brief video clip.
That was the moment that a vision took flight, marrying founders to the land and triggering the foundational labor which truly great wine demands - building a 54 acre foot reservoir for frost protection, rehabilitating the vineyards and restoring their new home. The first vintage of Estate Chardonnay was produced in 1978. 1979 marked the first vintage of Estate Pinot Noir and the official opening of the winery. The first Sparkling Wines were vintage 1980.

In 1983, the name on the application for federal recognition of Green Valley as an American Viticultural Area (AVA) was Audrey Sterling with her attorney of record, Barry H. Sterling. Here's a second clip of them reflecting on the significance of Green Valley.
These were out of the box thinkers driven by a belief in their future as vintners and informed by their time in France. "We were among the first to do that (define our area precisely), doing any AVA was something very new for California. It was rather an exciting time. I think we forget about how unusual that was because of how ordinary it is today." Barry explains further, "Everyone knows the exact detailed lines that are drawn in France, so we knew that was an important step forward." In bringing this procedure to Green Valley, they were setting their roots down in an unshakable way that has become status quo throughout the state.
The pioneering spirit of Iron Horse continues to permeate every decision going forward. The family has gone on to develop several industry leading partnerships. The richness of their wines take on added meaning as so many of the bottlings are specially developed to commemorate major moments in family, national and world history.
Iron Horse has been served at the White House for 30 years, beginning with the historic Reagan-Gorbachev Summit Meetings ending the Cold War, and most recently at the White House LGTB reception June 9, 2016.
The winery produces a very special, limited production vintage Blanc de Blancs, called Ocean Reserve. This began with an equally special friendship which Audrey Sterling originally developed with National Geographic Chairman Emeritus Gil Grosvenor. Iron Horse contributes $4 bottle to National Geographic's Ocean Initiative to help establish marine protected area and reduce over fishing.
As we celebrate their 40th vintage, we honor all the micro moments that led the Sterlings to this place. Iron Horse has elevated their sparklings and still wines to live at the intersection of history and politics and family lore. Something so good and so rare must be celebrated. Stay tuned for our next blog on our July 3rd summer soiree to mark the important milestone.

The nature of our business is completely dependent on, well, nature! And though we're just now approaching summer, the vines are already filled out and we have blocks with completed set – cues points to yet another very early harvest, which amazingly will be our 40th vintage.
Our winemaker David Munksgard shocked me this morning, advising we could possibly start picking August 1. But he cautioned that's just a time frame, not an exact date. "Some of what I do here is science. Most is what I call practicing my craft. The rest is instinct, good hunches, what my gut tells me." And being ready, come what may.
Our start date for harvest has been inching ahead for the past several vintages:
2015, August 4

2014, August 8

2013, August 21

2012, August 30
So far, the set looks very good. "Set" refers to how the fruit sets behind the blossoms. A good set means we have a shot at a healthy sized crop which is extremely welcome news – our livelihood depends on it. Of course a lot can happen between the lip and the sip, but the ideal would be a nice steady even summer, i.e. cool, foggy mornings with the sun finally poking out at about 11am – not too hot, not too cold, but just right.

Keeping up with Mother Nature is a full time job. Shoot thinning is a perfect example. Laurence Sterling has acquired a hedger tool to assist in letting just the right amount of filtered sunlight to get to the grapes. He calls this a "Goldilocks solution" to a higher quality outcome.
Meanwhile, David has started flying his drone looking for variation in shoot density. Some blocks are beautifully consistent; others have uneven pockets. When you walk a vineyard, you walk so slowly that you simply do not see the gradual change in canopy density. If you could just jump up 200 feet and look down you'd see the difference. Now we can!

Our heroic drone helped detect unwanted gaps in the vineyard canopy in a Chardonnay block up on the highest most westerly part of the estate. A seasoned winemaker's hunch pointed to a likely culprit, but that experienced guess was substantiated by drone shots, showing a signature pattern associated with a vineyard fungus called Eutypa. This is a common disease, which delays shoot emergence in spring, affected shoots that eventually do grow have dwarfed, chlorotic leaves.
The drone shot clearly shows missing vines neatly aligned "within the row" suggesting something was being spread vine to vine. If it was a root pest or flying bug, the disturbance in the vines would not be as "neat and inline." Once properly diagnosed, the vineyard crew descended upon the cause to cure it and Laurence has ordered replacement vines to fill in those gaps in the Thomas Road Vineyard.
Today our bird's eye views show a healthy and strong vineyard.

Even after 40 years, this is a completely new view for us. And the pictures, besides being informative, are just plain cool.
Speaking of cool, we are experiencing our signature summer cool, foggy weather with the sun just beginning to poke through at 11am, validating Mark Twain's famous quote: "The coldest winter I ever spent was summer in San Francisco." A word to wise when coming to taste with us is definitely dress in layers.

As summer beckons, our thoughts naturally turn to love. This is high season for Wedding Cuvee aka Love Potion, a sure fire way to help newlyweds live deliciously ever after.
We recommend taking our bottles of Wedding Cuvee into the big day in a big way. Jeroboams of our most romantic bubbly can be engraved with the names of the bride and groom and the wedding date. Have the bridal party sign the bottle with a metallic pen, then send us the empty and we'll re-cork and re-foil it (note: not re-fill) to make a beautiful keepsake.
Rainbow Cuvee adds another level of meaning as we celebrate the nuptials of every American and marriage equality. This year marks the one year anniversary of the landmark Supreme Court "love wins" ruling and we are extremely honored that the Obama Administration served Iron Horse at the White House LGBT reception June 9.




#######

My new favorite word is florilegium.



flor·i·le·gi·um





 (flôr′ə-lē′jē-əm)





n. pl. flor·i·le·gi·a (-jē-ə)





[New Latin flōrilegium, flower-gathering (translation of Greek anthologion, flower-gathering, anthology), from Latinflōrilegus, gathering flowers : flōs, flōr-, flower; see flower + legere, to gather; see leg- in Indo-European roots.]
A collection of botanical drawings and paintings depicting the plants of an area, focusing on their beauty. The artful science of florilegia flourished from the 17th century to the late 19th century, portraying special selections of rare and exotic plants from far afield. The modern florilegium seeks to record the plants from within a particular garden or place.
My friend Maralee Beck, visiting from Los Angeles, recommended we start compiling an Iron Horse florilegium after going on a garden tour with my father and being enthralled by his stories. "He knows the provenance of every flower and tree and when each was planted." she said. "It will be a wonderful record."

So, today the project gets underway. The beginning may be a little haphazard, but it will evolve and it seems most auspicious to begin on the eve of May's Full Moon which happens to be called the Flower Moon because so many plants are peaking right now. In the end, I hope to have an inventory of what's in bloom as well as a catalogue of the various plants whose lives are rich with history here.
The early results follow …
First the vines. Iron Horse is a series of gentle, rolling hills covered in Chardonnay and Pinot Noir.

The official start of the wine growing season is bud break … then we have bloom. This year's bloom started the first week of May, about the same time as last year. The flowers are tiny, off-white and have a very subtle scent individually, but cumulatively contribute to a faint sweetness in the breeze. The grapes set behind the flowers.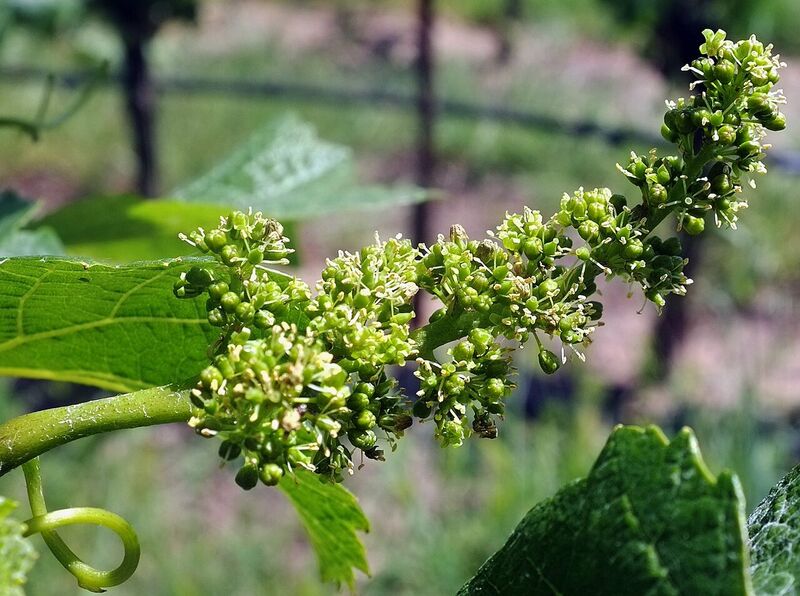 Most spectacular right now are the
roses
along the road leading up to the winery. My mother's favorite, the
Cecile Brunners
, are like giant fountains of pale pink. These have been propagated by my father from one bush he planted 40 years ago in front of an old potting shed. Now they crown the fence along the Chardonnay vineyards. I count 70 of these beauties in a quarter mile.

Interspersed are white JFKs, tall red Mister Lincolns and Peace Roses, the most popular rose in the world which, commemorating the founding of the United Nations in San Francisco in 1945. (My mother attended the ceremonies at the War Memorial Opera House as a highschooler and sat in the last seat in the last row. I was honored to attend the 70th anniversary celebrations last year at the Fairmont Hotel, where the charter was drafted, and at City Hall, where I met Malala Yousafzai, the Pakistani schoolgirl awardd the Nobel Peace Prize for standing up the Taliban and defending her right to education.

My mind (and legs!) climb the hill to the colonnades of alternating palm and olive trees that lead to the winery, which my brother dubbed Palmolive Drive.
The olives trees along the drive are in bloom. These are Mission Olives, planted 40 years ago. We make our own olive oil, just enough for personal consumption.

Sauntering along this road I soak in the statuesque beauty of my surroundings. The entrance is still awe inspiring no matter how many times I've pass through it. And it's a respect I share with our many guests who walk or drive along this corridor. We hosted a sit down dinner for 500 people at one continuous table a quarter mile long down this drive for the Sonoma County Barrel Auction in 1987. There were six chefs, three on each side, each with their own cooking station and wait staff to prepare and serve the meal for 83 guests. Obviously you couldn't cross sides, so the servers walked out single file and turned like cadets to set down the plates for each course. There were rolling toasts that started at one end and traveled down the entire length of the table like a wave.
The palms now stand 50 feet tall and like stately pillars are the defining architecture of our place. But they were completely laughable the first spring (circa 1977) when the daffodils were taller than the trees. Most of them are Washingtonians. They can reach an awesome 100 feet. They were very popular in Victorian times (when my parents' home was built) as an exotic and a sign of establishment.

In 2010, when then Chairman of the National Geographic Society Gil Grosvenor spoke at our annual Earth Day event, Palmolive Drive became an outdoor gallery with poster size National Geographic magazine covers lining the way … and a small fleet of bamboo bicycles people could test ride up and down the drive.
There are a number of other palms around the property … some we can't identify. Back in the 1970s and 80s people would advertise in the Santa Rosa Press Democrat that they had mature palms for the taking, if you could provide the labor to pull them out of the ground and transport them. So, my father would go to those homes with a couple of guys from the vineyard crew and pick them up. My parents are incurable collectors and we are now extremely wealthy in palms. My informal inventory puts us at about 100 and counting. A recent addition is a beautiful Lady Palm that my parents purchased for their 63rd wedding anniversary, now flourishing amid the dahlias near their home.
A second, perpendicular row of palms lead to my parents home. There you see Smoke Trees showing off their puffy, billowy, pink smoke-like flowers ...

interspersed with pomegranates also in bloom. Just as it says in the Songs of Solomon: "Let us go early to the vineyards to see if the vines have budded, if their blossoms have opened, and if the pomegranates are in bloom— there I will give you my love." I think of the pomegranate as my father's fruit, because we get them in October for his birthday.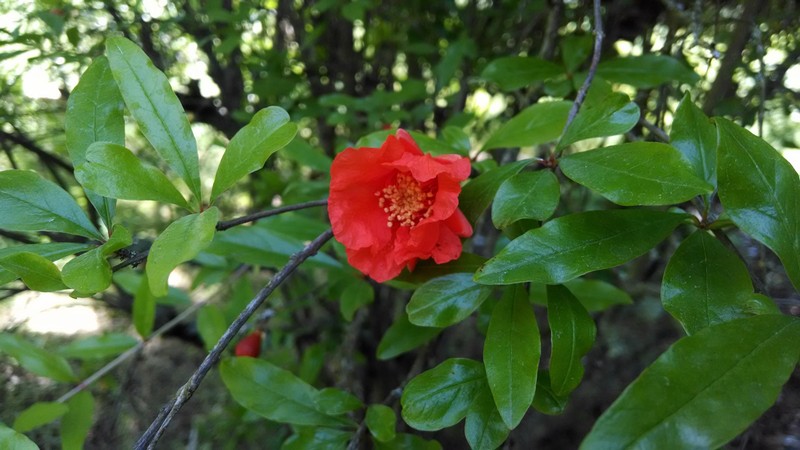 While the palms and the roses tend to steal the show, there are many more co-stars that deserve recognition. Around the winery, some of the stand-out specimens include:
Red Hot Pokers aka "Torch Lilies" - drought tolerant, grow on their own without much care, thrive in our Gold Ridge soil and, best of all, are very alluring to hummingbirds. My father loves them. "They are delightful" he says, "Like beacons of light. That's why you put them at entrances because they are welcoming."

Lavandin – not true lavender, it's a hybrid. The smell is very different - woody, spicy-green, more pungent than sweet. It has larger leaves, longer stems, and larger, more vibrantly colored flowers, pointed at the tip. More of a landscaping plant in cool regions, great attraction for bees and butterflies.

Daisies: The origin of the word Daisy is the Anglo Saxon for day's eye because they open at dawn. It symbolizes new beginnings and in the "language of flowers means loyal love and "I will never tell". They are also skillful in attracting butterflies.

They will be done blooming very shortly and replaced with yellow marigolds and then in August with zinnias, grown from seed in the hothouse.
I hope you enjoyed meandering with me. The busy ecosystem at Iron Horse doubles as our home. Three generations live on the estate. The walk from my house to the winery is the best in the country. And while I love all seasons here, there's something magical about the vivacity of spring striving for our affection under May's moon. I hope you're inspired to visit and experience the natural beauty for yourself.
Next month brings a whole new crop of blooms … and another moon to toast. In the meantime, cheers to the Full Flower Moon.