Iron Horse
Blog

I am so happy to send you some beautiful postcards from Harvest 2018.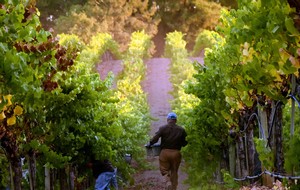 We have been going at a lovely, steady pace since August 15, driven by nice, "normal" weather – no heat spikes, cool nights, foggy mornings and the sun peeking out on cue.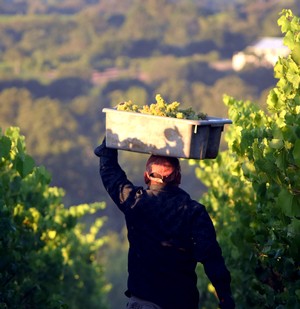 Our yield is up 29% over last year and the flavors even more delicious. We should be done by the end of the week.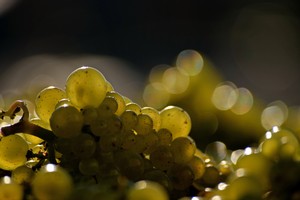 I was thrilled to be a delegate at the Global Climate Summit hosted by Jerry Brown last week in San Francisco. It was a who's who of the environmental world and included an adjunct Ag event here in Sonoma, which got down to the nitty gritty of "climate-smart farming".
We had two days of panel discussions, networking and vineyard, dairy and ranch visits to share best practices for rebuilding carbon in the soil lost over decades of tillage. Discussions also focused on increasing water holding capacity and enhancing yields to feed 9 billion people by 2050. The big takeaway was the growing global recognition that carbon sequestration in natural and working lands is necessary (if largely unknown and untapped) to meet the goals of the Paris Agreement.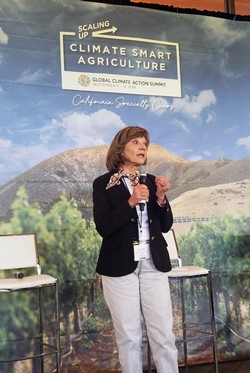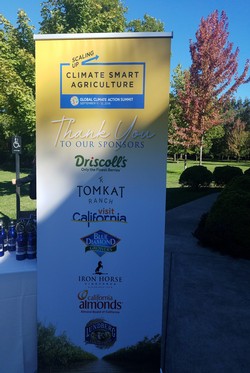 California Secretary of Food and Agriculture Karen Ross announced the Global Soil Health Challenge in partnership with France (and the Netherlands now joining in), calling on the world's leaders to promote the development of healthy soils within their own geographies and report on their progress a year from now at the 2019 UN Climate Summit in New York.
It was a special honor that Iron Horse 2014 Ocean Reserve Blanc de Blancs was the toasting wine at the Summit Dinner prepared by Alice Waters.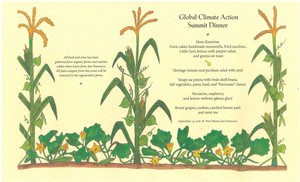 All of the food and the wines came from within a three hour radius of San Francisco. The food compost from the event went to regenerative farms.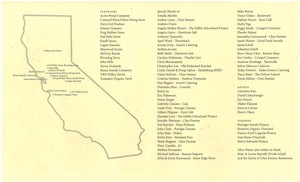 It takes a village.
Back home, we are introducing a new, elevated tasting experience here at Iron Horse this week, called "Under the Palms". This is a private, seated tasting for two to four guests (Yes. You get to sit down!) at a beautifully set table under the palms, facing our gorgeous view , where you can see the individual vineyard blocks while tasting the corresponding wines.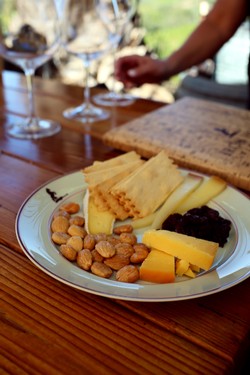 The private tasting includes tête de cuveée bubblies, like LD and Joy! served in a special flute, older vintages of Chardonnay and Pinot Noir, rare gems we don't pour in the Tasting Room and a delicious cheese plate curated by Doralice Handal, whose selections are renown though out Sonoma County. Please click here for more information and to make reservations.
And, we have just released the 2014 vintage of Harvest Moon, a beautiful vintage rose, perfectly timed for the autumn equinox on September 22, included in our September Wine Club shipments.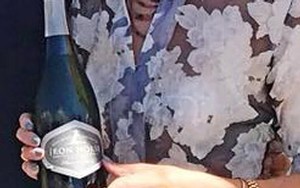 I hope you will join my family and me in a special toast to vintage 2018.
With all our very best wishes,

Dear Friends and Family, These are the Dog Days,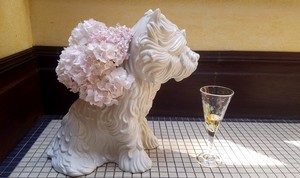 which at Iron Horse means we have verasion in the vineyards.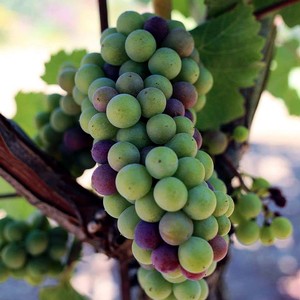 Verasion is the onset of ripening, when the grapes turn color. My brother says verasion is like popcorn. It starts with just one … then several … and then the color is popping out all over.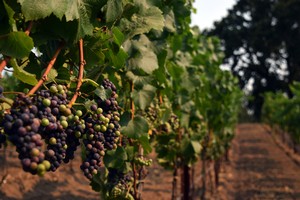 Veraison is often a bit faster in young blocks. Also note that shoots are becoming "woody". Just 1-2 weeks ago that shoot was green. The vines are signaling that harvest is near.
With Chardonnay, the skins become translucent, so that a backlit berry will reveal the seeds within.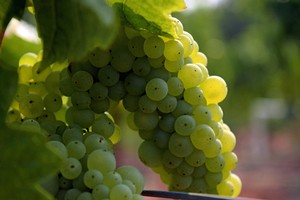 Other indicators include a delicious crop of wild blackberries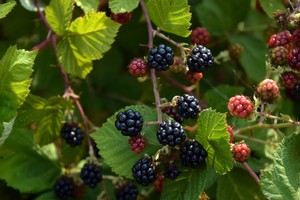 Naked Ladies starting to appear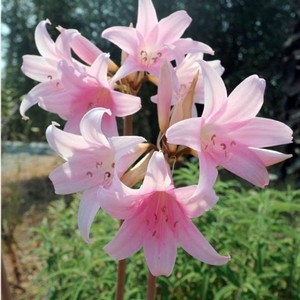 We are extraordinary wealthy in squash blossoms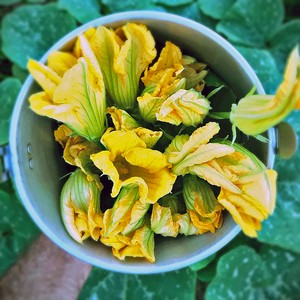 And Queen Anne's Lace
I am extremely proud to report our 2010 Brut LDreceived an outstanding 94 point review from Wine Spectator: "Sleek and luxurious, with floral, brioche and baked apple aromas that open to rich and complex Asian pear, spiced nut, ginger and cinnamon flavors that linger on the long finish. Drink now through 2021." Thank you Tim Fish!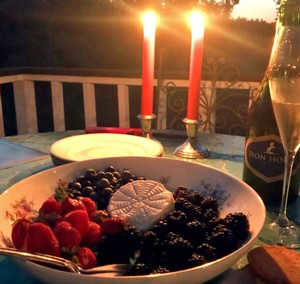 Try it with berries, ricotta cheese and candlelight.
Our hearts are with our neighbors to the North. We can see a shifting, thin layer of smoke on the horizon - a constant reminder of how very lucky we are. Thank you firefighters!
With all my very best,


Dear Friends and Family, The world is coming to San Francisco for a global environmental summit convened by Jerry Brown in September and Iron Horse will be the toasting wine for 600 dignitaries at the opening night dinner prepared by Alice Waters.
The ambition is to pick up the momentum set by the Paris Agreement and launch greater worldwide commitments. I couldn't be more proud of our Governor and our state for taking the lead.
A propos the Governor, I thought you'd get a kick out of this selfie from last week in Sacramento: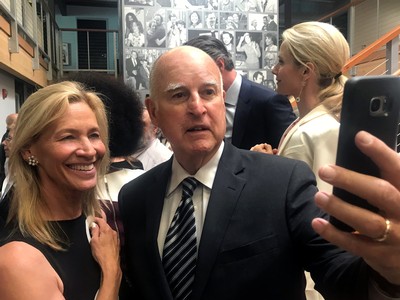 I am also very happy to report that we have set in the vineyards and it looks very good this year.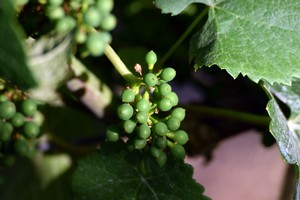 Set is when the grapes form behind the blossoms after the flowers blow away, determining crop yield. Now we are training the vine shoots upwards through the wires, pulling off lateral growth and excess leaves, and suckering the unwanted shoots at the base of the trunk - all by hand.
This is when the vineyard crew really shines. I was very happy to see Dora Arreola supervising the work on our Thomas Road Vineyard, pictured here with our foreman Victor Arreola (no relation).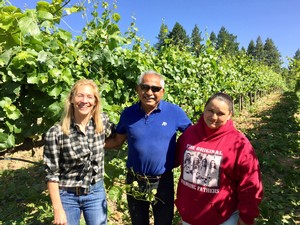 The goal is to direct all of the vines' energy to the grapes, creating a canopy to protect the fruit from the sun and provide for good air flow.
Our Winemaker David Munksgard walks the vineyards every morning. He says being immersed in the sheer beauty of the place is kind of a spiritual experience that inspires his winemaking. Plus, he says, the vines like to have visitors. And I love knowing we have a special guardian keeping watch.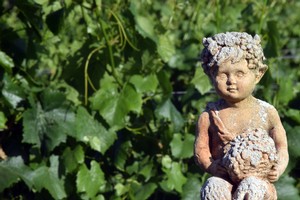 You can't help but feel protective of the baby clusters and want to cheer them on to size up beautifully and develop all the deliciousness they can achieve.
In the winery, we have laid down the bubblies for 2017, including the Wedding Cuvee which we will enjoy in three plus years … and magnums of Joy! to be disgorged in 2030.
And, it is so gratifying to see Iron Horse listed as the top two of the "Best Summer Sparklings" in the current issue of Wine & Spirits Magazine.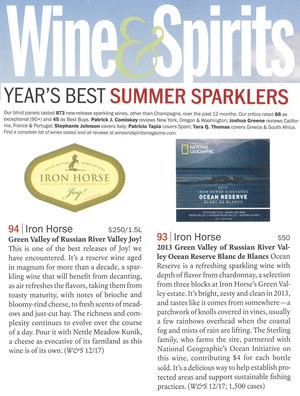 I hope you enjoyed a wonderful Father's Day. Of course, around here, every day is Father's Day and Mother's Day!
Sending all best wishes,
as always,


Sometimes the best tasting notes are just one word - simple, declarative and easy to grasp, like "Wowzah!", which is how our Winemaker David Munksgard describes our just released 2010 Brut LD. This is our first release of an LD in four years.
LD stands for Late Disgorged, aged longer on the yeast in the bottle and our designation for tête de cuvee or top of the line bubbly. It's a play on Bollinger's RD or Récemment Dégorgée (recently disgorged), which is trademarked.
This is our first LD in four years, freshly disgorged just this month, after lavishly aging for seven years en tirage. Only about 500 cases were produced.
The longer the wine is aged on the yeast in the bottle, the smaller the bubbles, so the mouthfeel is soft, elegant, rich and creamy – like drinking a cloud. You will taste and feel the quality with the first sip. It should just effervesce away in your mouth.
From clouds to rainbows, we are also celebrating the release of our 2014 Rainbow Cuvee, just in time for Pride Month.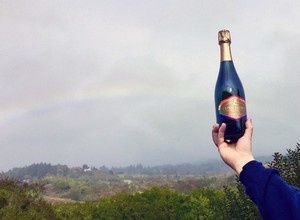 This year, the Rainbow is a vibrant and exciting Blanc de Blancs - 100% Chardonnay, vintage 2014. This is our toast to diversity. Total production 300 cases.
We are getting our first crops of strawberries.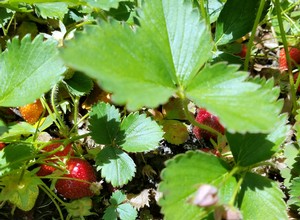 And I am closing in on my ambition to fill every vase in my house with roses.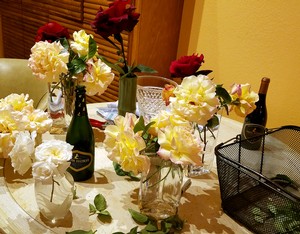 I am especially happy to report that Joy! has been awarded 93 points in Wine Advocate and 94 in Wine & Spirits Magazine, to appear in their Best Summer Sparklers issue.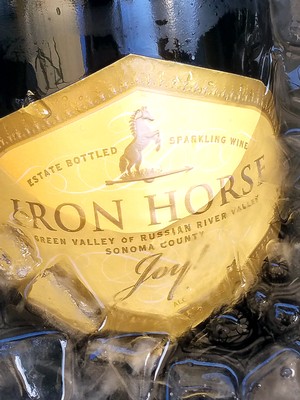 Our 2015 Home Block Pinot Noir received a 92-point rating in Wine Enthusiast. In this case, the wine description is much more poetic: "Sublime in mint and forest floor tones, this is a seductively robust wine that's rich and rewarding on the palate but never loses its sense of balance and place." We call this "Home Block" because it is adjacent to my parents' home. It is most sheltered of our vineyard sites. And, this is where my niece Justine is getting married next month.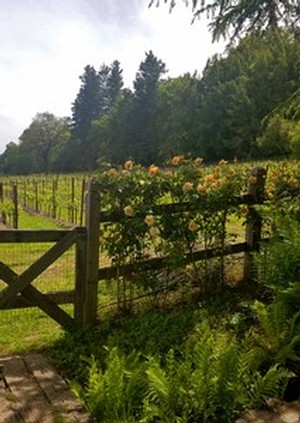 As you can imagine, my father is working very hard to get the garden in "leaf perfect" condition for her. We all love the groom and really can't wait to have a big, beautiful party.
Cheers to love!

There is nothing quite like spring at Iron Horse. Even five inches of rain in a 30-hour continuous downpour couldn't put a damper on it.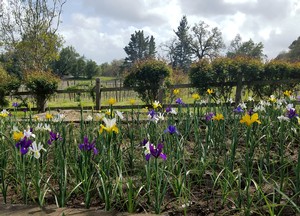 It was a crazy storm - a "pineapple express", thankfully not that intense, but unrelenting, turning us into Island Iron Horse.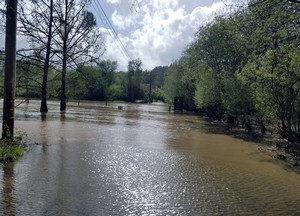 Cazadero got seven inches. San Francisco recorded the biggest one day of rain since the Gold Rush. Yosemite flooded and closed.
Undaunted, our Winemaker David Munksgard and I sat down to taste our about to be released 2014 Rainbow Cuvee, which is a Blanc de Blancs this year, and our 2010 Brut LD, our first LD in four years. We had a great conversation about the future and what better thing to do, even if the creek is rising. Both bubblies are being disgorged and labeled and will make their debut in our May Wine Club shipment.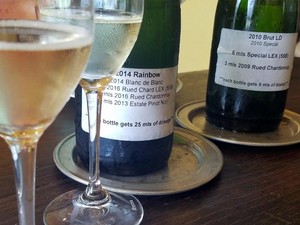 We were flooded at the main entrance all weekend, but it was a great relief to see that the iris and most importantly the vines had stood up to the storm.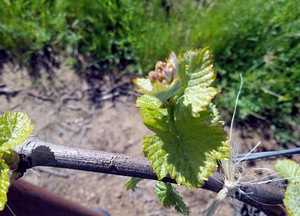 Fortunately, nothing deters our wonderful fans and club members. I am very proud of the intrepid tasters who made the trek around the back way onto the property, especially for our first Oyster Sunday of the season.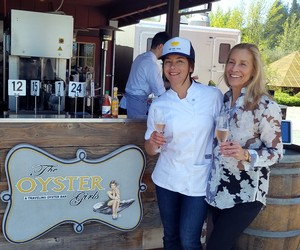 This year, The Oyster Girls are offering freshly shucked, raw and barbecued oysters, cooked shrimp and a caviar tasting. The dates are every Sunday through October from 12 noon to 4 pm (or until they run out). Please, please, please make advance reservations for tasting.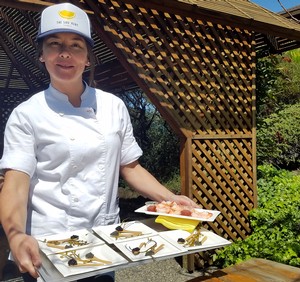 Sometimes it can be an adventure coming to Iron Horse, but always worth it. I firmly believe the beauty of the place is part of our special terroir. The grapes know they are growing in a gorgeous spot and are not to make anything less than the most delicious, memorable and pleasurable wines.
All of us in the Iron Horse family hope you will come visit and drink in the view.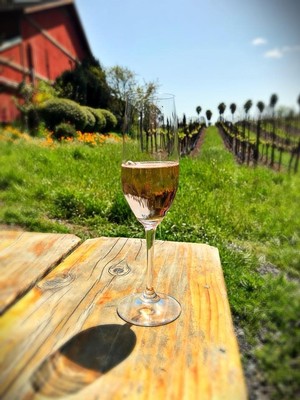 Photo: Rob Akins
With all my very best,


Dear Friends and Family, Happy daylight saving! By some accounts, the brainchild of Benjamin Franklin, while living in Paris, the idea was to turn forward the clocks to take advantage of the extra hour of sunlight to save energy, which in those days meant candle wax. Since then, it has gone through many enactments, adjustments, and repeals. Today is the 100th anniversary of the current practice, observed in about 70 countries, including the US except for Hawaii, parts of Arizona and now possibly Florida. It marks the unofficial start of spring and the equally unofficial release of the new vintage of Iron Horse Spring Rose.
The official debut of Spring Rose is March 21, but patience is not our strong suit. It is in our wine club shipment going out this week.
I am happy to report we are very close to bud break and finishing up pruning. We've tested the frost protection system and have a good amount of water (knock on wood). We've been lucky to have a cold spell, which has thank fully slowed things down a bit. If you look closely, you can see a dusting of snow on Mt. St. Helena.
Here you can see a drop of sap at a fresh cut point, where the new growth will be.
Everything crossed for a great vintage.
ICYMI, I want to share with you a very nice story about an environmental restoration effort to re-oak wine country in the wake of the fires. It's a volunteer operation, spearheaded by the California Native Plant Society, with more than 1,000 neighbors who collected acorns. So many people signed up to gather, box, and mail in acorns from the North Bay that it briefly crashed the Plant Society's server. (Source: Sonoma County Gazette http://sonomacountynurseries.com/articles/restoring-oak-trees-after-the-sonoma-county-wildfires). Now those acorns are sprouting. Once they grow into oak seedlings, they can be planted in the ground and will be given out to residents and landowners to replace an estimated at 50 square miles of oaks.
We pride ourselves on our oaks here at Iron Horse. They are as much a part of the Sonoma landscape as the vineyards.
Finally, we have a new Joy! It has become our pattern to release a different Joy! every six months. This bottling is a blend - 68% Pinot Noir 32% Chardonnay, whereas last fall's Joy! was a Blanc de Blancs. Both are vintage 2004. This new, spring Joy! is aged six months longer and disgorged last week, after 13 years en tirage. A total of 360 bottles produced, exclusively magnums. Delicious! If I do say so myself.
I hope we will have the pleasure of welcoming you here at Iron Horse this spring. Remember, the Oyster Girls are back for our weekly Oyster Sundays beginning April 8 through October. Please make reservations to partake.
One benefit to daylight saving time is that wine o'clock comes an hour early today. So, I say, cheers to that!
With all my very best,


I am very excited to announce the milestone release of our 10th vintage of Ocean Reserve Blanc de Blancs, created in partnership with National Geographic.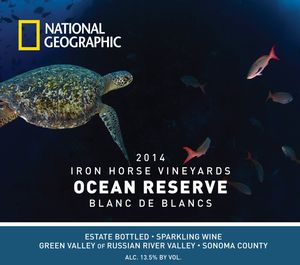 We chose the ocean as our focus because the ocean is the engine of our micro-climate, creating the fog that allows us to make Sparkling Wines of our quality and deliciousness. Production averages 1,000 cases each year, with $4 bottle sold going to National Geographic's Ocean Initiative, helping establish marine protected areas and supporting sustainable fishing around the globe.
Our connection to National Geographic is thanks to a fortuitous meeting when my mother met Gil Grosvenor, then Chairman of the Board and the last family member to run the Society (a direct descendent of Alexander Graham Bell). They were tablemates at a Leakey Foundation lunch for the Louis Leakey centennial at the Field Museum in Chicago, discovered they share the same birthday … day and year, and a friendship was born.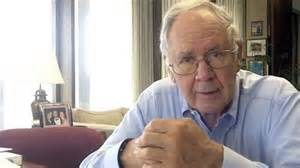 In 2006, we celebrated "their" 75th birthday at a gala in Washington D.C. Naturally, Gil was the honoree, but he was so charming he made my mother feel it was her celebration as well, wishing her happy birthday from the stage and sending flowers down to her at our table.
The Society helped us launch our annual Earth Day event in 2007 and in 2008 Gil did us the honor of being the keynote speaker written up here.
He was such a good sport. We didn't have a lectern for him and his notes went flying off into the vineyards in the wind. That fall, Gil spoke at the 40th anniversary of the Leakey Foundation in San Francisco and again had to brave the elements. It was pouring and somehow Gil missed the ride from his hotel. Thank goodness, he is intrepid and, though thoroughly drenched, found his way to the auditorium in time to introduce Jane Goodall. It's amazing he ever took my phone call again.
The following year, we released our first vintage of Ocean Reserve. Barton Seaver, Explorer in Residence at the time, came to Iron Horse to design the cuvee with our Winemaker. Here is a great video of the process from the archives.
That first vintage had three different labels, all released at the same time, so you never knew which one you'd pull out of a case.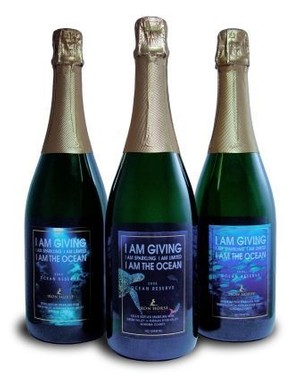 We were honored to add the National Geographic logo on a new label with the beautiful orcas in celebration of the Society's 125th anniversary.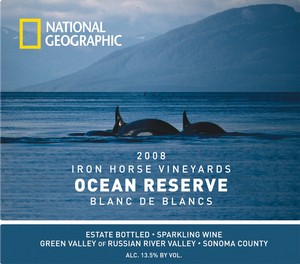 And to have our wines featured at the 125th Anniversary Gala.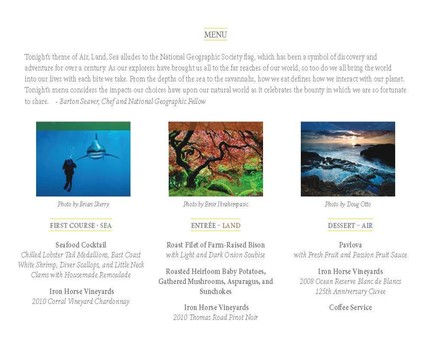 Ocean Reserve was served at two International Oceans Conferences hosted by the State Department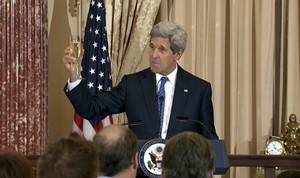 and was the toasting wine when Tommy Caldwell and Kevin Jorgensen free-climbed the Dawn Wall of El Capitan in January 2015.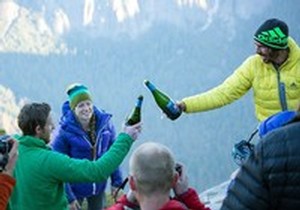 Now we are going back to that sweet turtle on the label. I hope you will join us in helping protect the ocean, one delicious sip at a time.
Cheers!


January has two full moons and the first one is tonight.
How perfect that we are starting the New Year with the encouragement of the full moon. It's the Wolf Moon … so, if there ever was a night to howl at the moon, this is it. Moonrise will be 6:32p PST Monday January 1, 2018. Perfect time to pop a cork.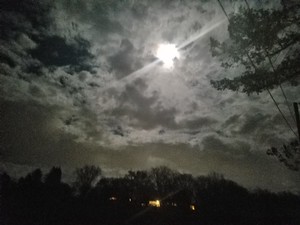 You might also want to plan ahead for the Blue Moon, which you know is rare, occurring January 31.
Peering into our crystal ball, we at Iron Horse predict another very fast year, which is why it is so important that we stop and acknowledge every chance we can.
In reflection, my biggest take away from 2017 was : Don't take anything or anyone for granted.
As you can imagine, the highlight of my year was seeing the mountain gorillas in Uganda in June. It was amazing to be allowed to enter their camp even for an hour.
The most heartening experience of the year was how the wine community came together in the fires. Who knew we have so many heroes!
So, with that in mind, my family and I raise our glass to say thank you and cheers. I wish that everything you wish for comes true.


Dear Friends and Family,
I got my first taste of the 2017 vintage and am thrilled to report that it is absolutely delicious. There is no doubt that we have taken our wines up another notch … or two, especially our Blanc de Blancs and Chardonnays.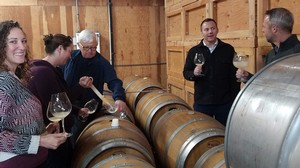 I was very excited to get to do a little barrel tasting. 'Tis the season and one of the most fun things we do in the winery.
For example, showing our latest innovation, taking precision farming to the next level, we tasted two "sister" Chardonnay barrels, both from the same vineyard block - one that will go into Sparkling and the other into still wine. The decision was made based on a drone image. The block in question is the one that looks like a heart (if you ask me and David) … or a dog's head (if you ask our Assistant Winemaker Megan Hill). The grapes for the still wine all came from that upper third of the "heart" that has more foliage … and the grapes for the Sparkling from the lower part with fewer leaves. Fascinating and delectable
We also tasted what will be our first single vineyard block bubbly – one of our favorites for Blanc de Blancs, dubbed Reflection because it lies down by the pond/reservoir, casting a beautiful reflection in the water. I am excited about it because it is already impossible to put down - you just want to keep sipping it, and because it highlights who we are as grower/producers.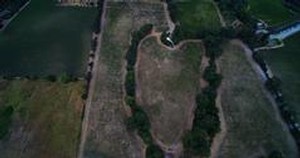 On a personal note, I am very proud to have been re-appointed by Governor Jerry Brown to a second term to the state Food and Agriculture Board. Serving on that board is one of the greatest things I do and as a result. I had the privilege of being included in a Salon Dinner on Climate Change honoring the Governor and First lady, hosted by Craig and Julie McNamara. Craig is stepping down as the President of the Board, so this was especially meaningful as his farewell dinner and it turned out to be sadly prescient of the fires in Southern California.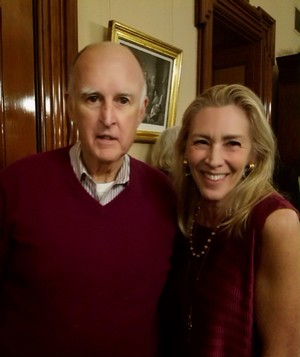 A salon dinner, I learned, is one where there is one conversation for the whole table with the host as moderator. The key takeaway from the discussion was recognizing that climate change is not something off in the future, but happening now, which really hit home when the Governor announced a state of emergency the very next day because of the firestorms in Ventura.
The menu was a completely "no waste" dinner.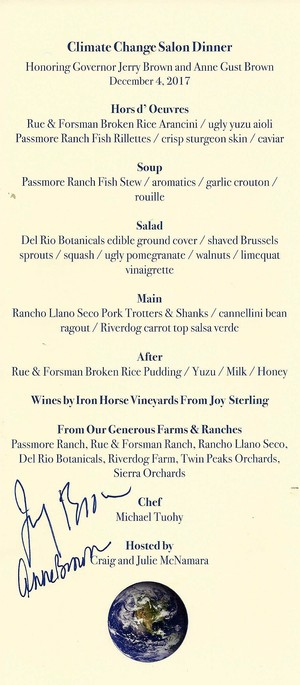 The wines were 2004 Joy! Blanc de Blancs, 2015 Heritage Chardonnay and 2015 Thomas Road Pinot Noir.
Our hearts go out to our friends in Southern California. We here in Wine Country empathize completely. We are learning that the fire season is no longer a few months in the summer. We could find ourselves firefighting at Christmas. I love the Governor's seriousness and determination to minimize the dangers and am completely on board to do everything I can to be part of the solution.
Finally, a reminder that December 21 is the Winter Solstice, the longest night of the year and certainly a toast worthy event. I'm thinking 2013 Winter's Cuvee … because sometimes the obvious is simply the right thing to do.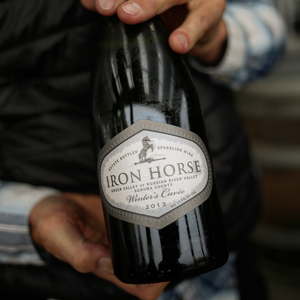 Winter's is the richest of our bubblies. Part of what makes it so special is the dosage, or finishing element, which includes a splash of the Audrey brandy. Named for my mother, made from Iron Horse estate 1987 Pinot Noir, and distilled by Germain Robin, only one barrel was produced. It is perfect for a long chilly night when you feel like cozying up with some bubbles.
Around here, every season is the season of love.
Sending you all best wishes,


Dear Friends and Family,
We feel we dodged a bullet from the fires this past week, which puts us front and center to contribute. One of our ways of helping is with the release of a special cuvee called Gratitude – a limited production 2012 vintage rosé with $5 a bottle sold going to The Redwood Empire Food Bank.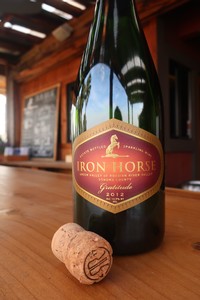 Photo: Shana Ray Bull
As you know, making a special cuvee is one of the things Iron Horse does best. Gratitude is a rosé based on freshly disgorged 2012 blend of 76% Pinot Noir and 24% Chardonnay, laid down spring of 2013, four plus years en tirage … and given a unique dosage. Winery retail is $65/bottle. Total production 500 cases.
To be honest, we planned this cuvee months ago … before Harvey, Irma, Maria, Las Vegas and the fires.
We certainly had no idea it would be so timely.
Back in May, the Tasting Room team said they wanted a rosé for Thanksgiving. Our Winemaker David Munksgard is the master of the special cuvee. So, we came up with Gratitude.
Mark Berry designed the label, which is of course gorgeous.
We are funneling all of our contributions to The Redwood Empire Food Bank, currently providing critical food to evacuation centers and shelters for our neighbors displaced by fires … while working to ensure that those who needed food assistance before the fires are still able to access their help.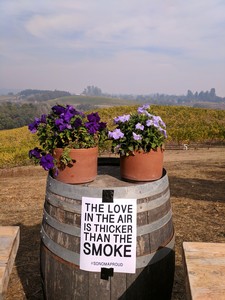 Photo: Jon Strachan
Our Tasting Room is open. There will be no tasting fee through at least the end of the month. And a portion of the proceeds from the Tasting Room and on-line sales will go to the Food Bank.
With all our very best,