Iron Horse
Blog
Another early harvest. Has it become the "new normal"? Our intrepid winemaker says he's not complaining. Well, maybe just a little. We asked David to provide a mid-September update on Vintage 2016. His reply came one end of summer morning; full of excitement, fearless curiosity, and a thrill for the fruits of the season that seems to grow richer each year. Before diving into his beautiful composition his quick aside summed it the season perfectly : "The Iron Horse harvest yields such a special feeling; it just gets to me. I wish I could bottle it to truly convey it". We would argue he does exactly that with each beautiful bottle.

2016 Harvest Update by David Munksgard
There are a few major questions every year during harvest:
My first concern about an early harvest is that the weather might be too warm if we are picking in the heat of full-on summer. A later start affords cooler fall conditions. Second, I fear finding overly-ripe or "sugared-up" grapes. Third, I focus on the readiness of my crew, our equipment, and the cellar. Are the tanks and barrels empty? Do we have all the yeast and bacteria we need? My last question is a more personal one. Am I ready for harvest; am I ready for the most important time of the year? And just like that, thoughts turn to action.

Almost as soon as we started harvesting on August 4th in "Sparkling Pinot Noir Block G," the fog returned and daytime temperatures became quite pleasant. Tasting the juice fresh off the press gave me my first real taste of the vintage. The muscles in my neck started to relax. The smells, the tastes, the sights of harvest all came rushing at me. Not everyone finds in life what they are meant to do. I have. This is it. Every year at the beginning of harvest I hope to have that confirming moment. If this one block, if this first day was representative of what was to come; then all is good with me. That day I recall glancing at Rigo, my cellarmaster. A confident smile came to his face signaling that he was ready along with the winery.
The pace of harvest for the first week and half was slow, finding blocks ready here and there with occasional days of no harvesting at all. This schedule troubles me. Once the game begins, I want myself and everyone on my team to stay focused. I remind myself that the vineyard crew has worked all year to get us to this moment and it's imperative that we stay in the harvest mindset. But before I could lament further, this year's harvest started to fall into a good, steady pace. The weather continued to be on our side as the weeks rolled by. Today, we have one block remaining; no hurry here, waiting for deeper, richer flavors that I expect from our Thomas Road Pinot Noir.
After the harvest of 2015, I asked Laurence and the vineyard crew to open up the canopy more in 2016 in the Hyde Old Wente blocks for our still wine Chardonnay. I wanted the grapes to look a certain way to heighten certain smells and flavors. I wanted them to be light straw in color and more translucent, which would give us more tropical scents and flavors in the wine. My hopes took shape as powerful action as the team mobilized to explore the potential pathway. Those blocks are vigorous and challenging to open up, so we bought a new vine hedger to remove some of the vine growth. We then hand removed leaves to bring the perfect amount of sunlight in direct contact with each cluster for a few hours each morning. A dream became a reality. Teamwork.

More experimentation came when the first grapes arrived. I was so pleased and excited that I changed plans on how we would handle the fruit. Instead of whole cluster pressing, we destemmed into the press where we held them soaking with the skins for three hours. The juice was so incredible. Over the next few days from the same blocks, we extended the skin-soaking from a few hours to overnight. This process extracts even more of those yummy tropical tones. So far, the fermentations are telling me that the plan was a good one.


Overall I'd describe this year as a simply beautiful harvest. Crop size (as I estimated pre-harvest in a previous blog post) is more than last year, less than big years like 2014 and 2013. Standouts? I'm pleased with everything. Every year there is an opportunity that arises and it's great when a well laid out plan comes together just right.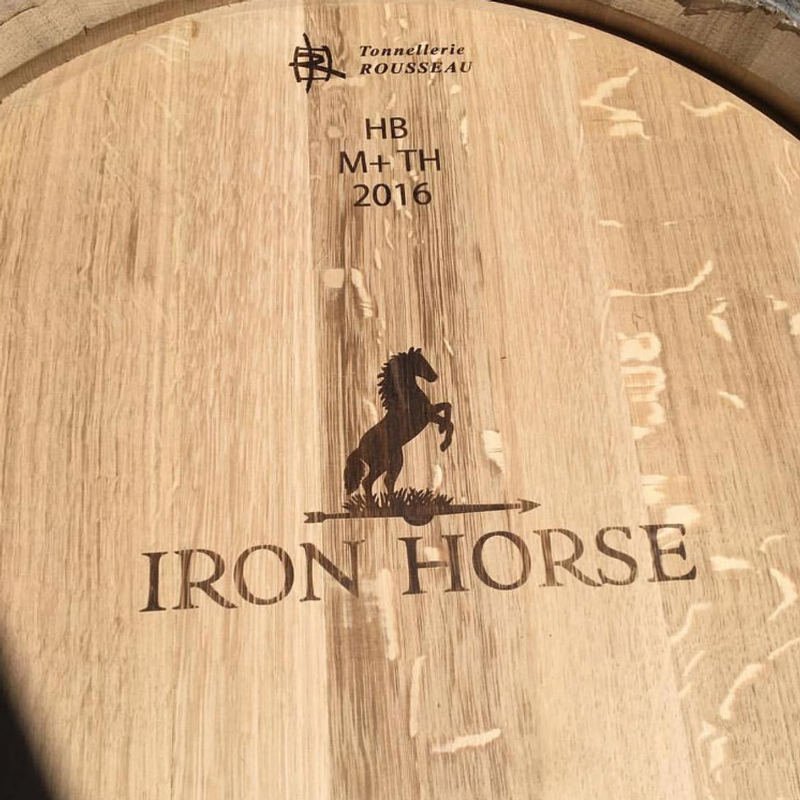 ####


We are extremely honored that Iron Horse Ocean Reserve Blanc de Blancs was the toasting wine at last night's State Department International Ocean Conference - Our Ocean, One Future. The conference hosted by John Kerry brought foreign ministers, NGO leaders, and philanthropists to Washington D.C.
The occasion celebrated President Obama's a new measure just enacted yesterday, designating the first marine national monument in the Atlantic Ocean. The act will protect fragile deep-sea ecosystems off the coast of New England as the "Northeast Canyons and Seamounts Marine National Monument."
Secretary Kerry had much to toast with our bubbles in hand. He also acknowledged an earlier milestone - President Obama's creation of the world's largest marine protected area off the coast of Hawaii, creating a safe zone for tuna, sea turtles and thousands of other species in an underwater national park twice the size of Texas.
"Over the past several decades, the nation has made great strides in its stewardship of the ocean, but the ocean faces new threats from varied uses, climate change, and related impacts. Through exploration, we continue to make new discoveries and improve our understanding of ocean ecosystems. In these waters, the Atlantic Ocean meets the continental shelf in a region of great abundance and diversity as well as stark geological relief. The waters are home to many species of deep-sea corals, fish, whales and other marine mammals." - President Obama

With so much history making policy, there was clearly increased pressure to celebrate in kind. Chief of Protocol Peter Selfridge and State Department Chef Jason Larkin (see our past Chef Spotlight here) combined their finely honed diplomatic and culinary skills to create an impactful experience addressing significant global issues through food and wine. The renowned American chef selected to concept the menu was none other than Rick Moonen, who describes himself as a "godfather" of the sustainable seas movement. The four course meal was paired with all Iron Horse wines, featuring Ocean Reserve at the start.
We had the opportunity to speak to Chef Moonen about his starring role and he told us how thrilled he was to be selected as the lead for such an important event and how excited he was to continue making a difference after 40 years of championing the ocean, "My goal was to showcase our resources which need to be protected, creating a menu that reinforces the message … and represents the best of our seafood."

When developing the progression of the culinary experience, his first instinct was to leverage the fruits of our vineyards, naturally gravitating to to our 2012 Oceans Reserve Blanc de Blancs for everything it strives to accomplish in the mission of saving our seas … and for it's refreshing zest and creamy, rich finish.
2012 Ocean Reserve was paired with Chef Moonen's Thai Green Papaya Salad with Toasted Peanuts to open up the dinner. From there, he selected our 2013 Rued Clone Chardonnay, to go with Alaskan Sable Fish and Chesapeake Oyster Chowder. For the entree,our 2013 Q Pinot Noir was served with True North Salmon with Olive Oil Crushed Potatoes and Garlic Caper Sauce. Chef Moonen determined the red wine's firm and dry finish was the ideal way to round out the meal.

The menu also gave Iron Horse some additional, unexpected recognition, with a short history of the winery. This is the first time Iron Horse has been acknowledged in print on the menu like this, highlighting that our wines have been served by five consecutive US Presidential Administrations. The blurb went on to describe us as "one of the finest family-owned wine properties in the country and the top American-owned, sparkling wine producer in Sonoma County, " touting our 260 acre reserve in the Green Valley AVA of the Russian River Valley and celebrating our limited edition Ocean Reserve which dedicates a percentage of sales to help establish marine protected areas and global sustainable fishing practices.

The acknowledgement was deeply appreciated by all of us in the Iron Horse family. We are so proud of the coveted role we get to play in such historic events. It is something we think about with each vintage and look forward forward to continuing this relationship, and representing our country with the fruits of our labors! So today we're raising a glass to the Obama Administration, innovative Chef Moonen, Chef Jason Larkin and the ocean. Cheers!
Find a complete recap of the evening with streaming event video and an overview of the recent eco-responsible governing HERE.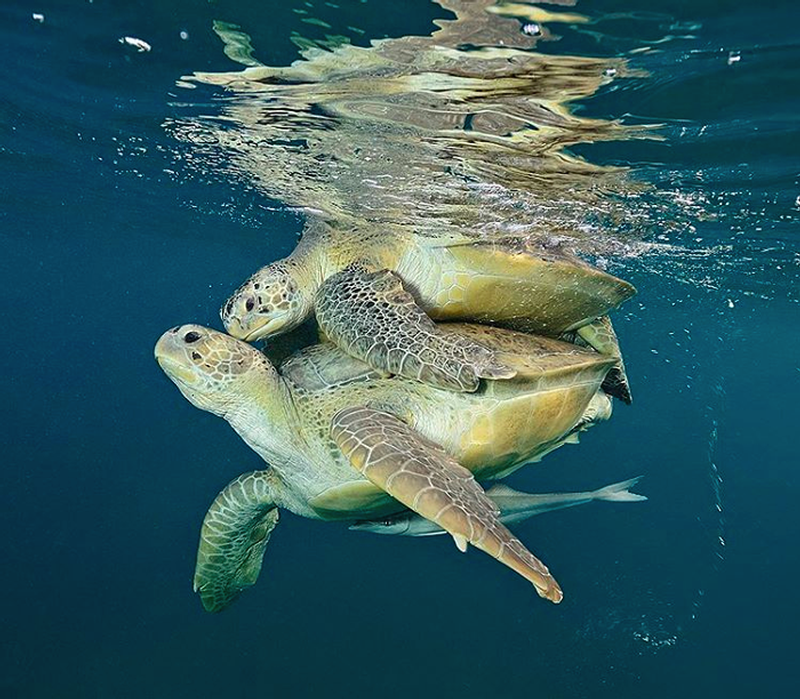 El Niño

was a big help to our long term water woes, but not the savior many had hoped (read our blog's past predictions for the

Great Wet Hope here

). Winter storms brought normal snowpack in the Sierra, but once the flurries stopped and the seasons changed, melt-off from the high country proved swift and disappointing.
The Department of Water Resources projects that the mountains produced about three quarters of normal runoff during the months of heaviest snowmelt. This shorts the rivers and reservoirs that typically provide a third of California's water, cementing a fifth year of historic drought for the Golden State (news coverage here). Now the Governor has used his executive powers to enact permanent measures, acknowledging that water conservation has to become a way of life.

"Permanent" turns out to be through January 17 when the state Water Resources Control Board can revise the regulations. For the next five months we are off mandatory water use management and onto voluntary cutbacks.
Instead of a statewide decree, cities and towns are now allowed to manage their individual conservation efforts. This measure acknowledges the obvious - that water, like every resource, is not naturally equally distributed statewide.
Back in 2015, the Governor mandated a 25% reduction in water use compared with a baseline of 2013, with the 411 water districts reporting monthly (full story from the Sacramento Bee here).
Post-El Nino, California officials feel we can afford a break in certain parts of the state, especially in the North. It has now been determined that we can ease off draconian, one size fits all measures. Local communities are empowered to decide their own conservation needs based on a three year stress test. Monthly reporting remains honoring a motto of "Trust, but verify."

Map of Official Monitoring Stations in the Delta region
In the first month on this "honor system," the state averaged 23% reduction. July's numbers will be released soon, concrete evidence of continued commitment to voluntary water frugality.
As an active observer of California Water Policy, I can't imagine anyone thought El Nino would provide a panacea for drought. Complete recovery requires several more years of "average" rainfall but it definitely was a boon here in Sonoma where soils were saturated and reservoirs refilled.
Long term, the Governor is right to plan for perpetual drought, which experts says is a very real possibility. Some anticipate a time when water may become more valuable than land, positing that land without water won't be worth much. Shocking.
Theories like these are motivating significant action on a large scale. In an extremely controversial move, Southern California's powerful Metropolitan Water District recently purchased 20,000 acres, scattered across five agricultural islands in the North's Sacramento-San Joaquin Delta.

Shown above, the area is called the "Delta" because it forms a triangle of roughly 1,000 miles of waterways from Antioch to Sacramento to Stockton and is the hub of California's water delivery network. Metropolitan says they were interested in purchasing the islands so they could restore natural wetlands habitat for plants and wildlife. Such restoration projects are required of water districts to offset the effects of their reservoirs, dams and canals. Two of the islands are in the path of Gov. Jerry Brown's plan to build two tunnels underneath the Delta. And owning the islands also grants Metropolitan senior rights to pump water out of the Delta.
Critics say the purchase was an old fashioned water grab. It was challenged in court, but allowed to go through (coverage here and more here).
This story is not without a happy update: Stanford researchers have detected a potential new water source in the Central Valley. Perhaps as much as three times more groundwater than previous estimates.
Previous studies only looked at depths of up to 1,000ft (300m). This one went deeper - and investigations show there's three times as much fresh water at 1,000–3,000ft (300–900m) below ground.
But the potential "windfall" comes with caveats. It is very deep thus prohibitively expensive to extract and could be salty. Drilling for it could lead to further land subsidence, already a major problem. And much of these hitherto unknown water sources happen to be close to oil and gas wells, which puts them at risk of being contaminated.

Shut-down desalinization plant in Marina, Cali image via NewsDeeply.com
The Central Valley is home to California's most productive farm belt, but the region's groundwater is so severely overdrafted that i

n some places that the land has been sinking two inches a month. Problems with subsidence started decades ago, but have been made worse by the current drought. With surface water so scarce, one study shows we are currently pumping water out of the ground at twice the rate that the aquifers can naturally recharge. At this rate, pulling more water out of the ground wouldn't help.
The scientists are not advocating the use of this new-found source … at least not just yet. As the old saying goes, "Don't count your chickens before they hatch."
It'll take a while to figure out how to tap those very deep aquifers … and how to replenish them. In the meantime, we need to approach this new source with caution. Premature efforts could pollute the precious water AND inadvertently poke the "sleeping bear" - a term my friend and fellow water policy wonk Phil Grosse uses to describe the network of fault lines underlying the state. But this is California, where imagination and ingenuity are two of our greatest resources in overcoming technical difficulties and ultimately sway public policy.
In a press release on this topic, the Stanford scientists were cautiously optimistic despite the proximity of the groundwater to a potentially hazardous oil and gas operation. But they noted that the contamination risks are great enough that we should be paying attention. We might need to use this water in a decade, so it's definitely worth protecting. Find further reading on this important finding here and here.
I believe science will move us forward in the long run and I remain hopeful that technology will yield a sustainable solution. But for now, I'm relying on good old fashioned conservation. My wish list includes more normal rainfall, ideally from Thanksgiving through February and preferably at night, like Camelot.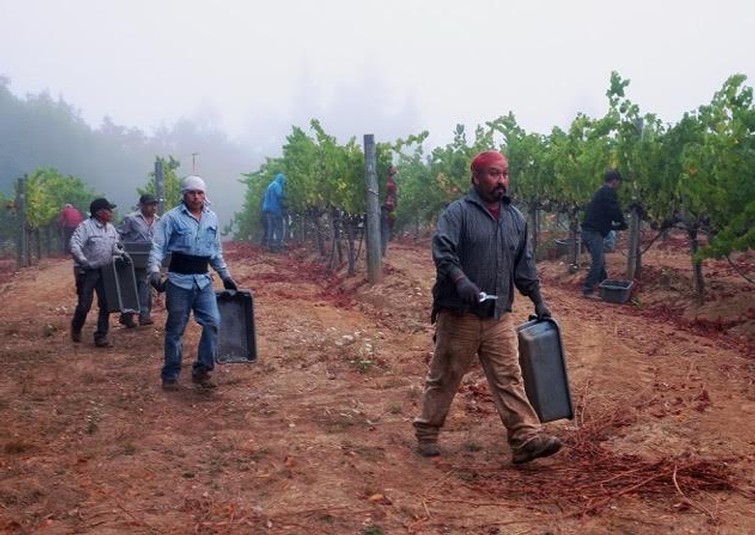 Last day of harvest 2016 for Sparkling at Iron Horse. Photo: Laurence Sterling
####