Iron Horse
Blog

My new favorite word is florilegium.



flor·i·le·gi·um





 (flôr′ə-lē′jē-əm)





n. pl. flor·i·le·gi·a (-jē-ə)





[New Latin flōrilegium, flower-gathering (translation of Greek anthologion, flower-gathering, anthology), from Latinflōrilegus, gathering flowers : flōs, flōr-, flower; see flower + legere, to gather; see leg- in Indo-European roots.]
A collection of botanical drawings and paintings depicting the plants of an area, focusing on their beauty. The artful science of florilegia flourished from the 17th century to the late 19th century, portraying special selections of rare and exotic plants from far afield. The modern florilegium seeks to record the plants from within a particular garden or place.
My friend Maralee Beck, visiting from Los Angeles, recommended we start compiling an Iron Horse florilegium after going on a garden tour with my father and being enthralled by his stories. "He knows the provenance of every flower and tree and when each was planted." she said. "It will be a wonderful record."

So, today the project gets underway. The beginning may be a little haphazard, but it will evolve and it seems most auspicious to begin on the eve of May's Full Moon which happens to be called the Flower Moon because so many plants are peaking right now. In the end, I hope to have an inventory of what's in bloom as well as a catalogue of the various plants whose lives are rich with history here.
The early results follow …
First the vines. Iron Horse is a series of gentle, rolling hills covered in Chardonnay and Pinot Noir.

The official start of the wine growing season is bud break … then we have bloom. This year's bloom started the first week of May, about the same time as last year. The flowers are tiny, off-white and have a very subtle scent individually, but cumulatively contribute to a faint sweetness in the breeze. The grapes set behind the flowers.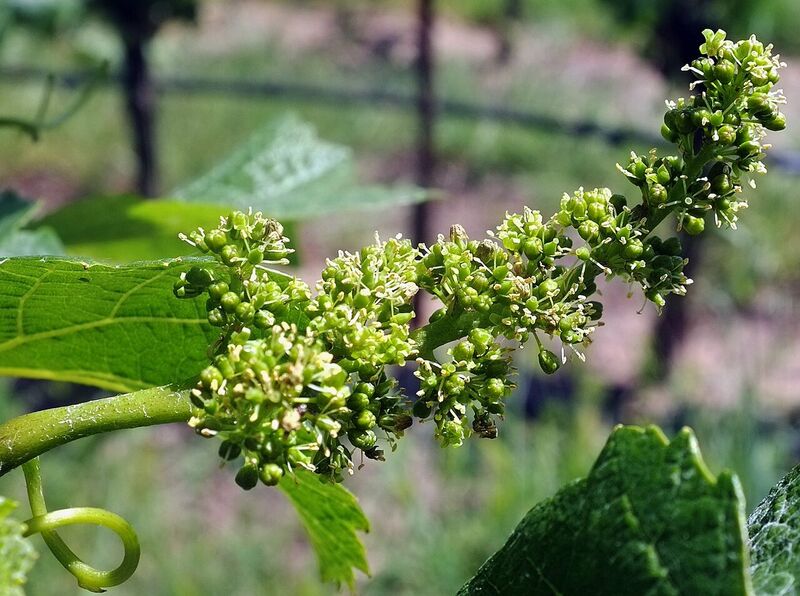 Most spectacular right now are the
roses
along the road leading up to the winery. My mother's favorite, the
Cecile Brunners
, are like giant fountains of pale pink. These have been propagated by my father from one bush he planted 40 years ago in front of an old potting shed. Now they crown the fence along the Chardonnay vineyards. I count 70 of these beauties in a quarter mile.

Interspersed are white JFKs, tall red Mister Lincolns and Peace Roses, the most popular rose in the world which, commemorating the founding of the United Nations in San Francisco in 1945. (My mother attended the ceremonies at the War Memorial Opera House as a highschooler and sat in the last seat in the last row. I was honored to attend the 70th anniversary celebrations last year at the Fairmont Hotel, where the charter was drafted, and at City Hall, where I met Malala Yousafzai, the Pakistani schoolgirl awardd the Nobel Peace Prize for standing up the Taliban and defending her right to education.

My mind (and legs!) climb the hill to the colonnades of alternating palm and olive trees that lead to the winery, which my brother dubbed Palmolive Drive.
The olives trees along the drive are in bloom. These are Mission Olives, planted 40 years ago. We make our own olive oil, just enough for personal consumption.

Sauntering along this road I soak in the statuesque beauty of my surroundings. The entrance is still awe inspiring no matter how many times I've pass through it. And it's a respect I share with our many guests who walk or drive along this corridor. We hosted a sit down dinner for 500 people at one continuous table a quarter mile long down this drive for the Sonoma County Barrel Auction in 1987. There were six chefs, three on each side, each with their own cooking station and wait staff to prepare and serve the meal for 83 guests. Obviously you couldn't cross sides, so the servers walked out single file and turned like cadets to set down the plates for each course. There were rolling toasts that started at one end and traveled down the entire length of the table like a wave.
The palms now stand 50 feet tall and like stately pillars are the defining architecture of our place. But they were completely laughable the first spring (circa 1977) when the daffodils were taller than the trees. Most of them are Washingtonians. They can reach an awesome 100 feet. They were very popular in Victorian times (when my parents' home was built) as an exotic and a sign of establishment.

In 2010, when then Chairman of the National Geographic Society Gil Grosvenor spoke at our annual Earth Day event, Palmolive Drive became an outdoor gallery with poster size National Geographic magazine covers lining the way … and a small fleet of bamboo bicycles people could test ride up and down the drive.
There are a number of other palms around the property … some we can't identify. Back in the 1970s and 80s people would advertise in the Santa Rosa Press Democrat that they had mature palms for the taking, if you could provide the labor to pull them out of the ground and transport them. So, my father would go to those homes with a couple of guys from the vineyard crew and pick them up. My parents are incurable collectors and we are now extremely wealthy in palms. My informal inventory puts us at about 100 and counting. A recent addition is a beautiful Lady Palm that my parents purchased for their 63rd wedding anniversary, now flourishing amid the dahlias near their home.
A second, perpendicular row of palms lead to my parents home. There you see Smoke Trees showing off their puffy, billowy, pink smoke-like flowers ...

interspersed with pomegranates also in bloom. Just as it says in the Songs of Solomon: "Let us go early to the vineyards to see if the vines have budded, if their blossoms have opened, and if the pomegranates are in bloom— there I will give you my love." I think of the pomegranate as my father's fruit, because we get them in October for his birthday.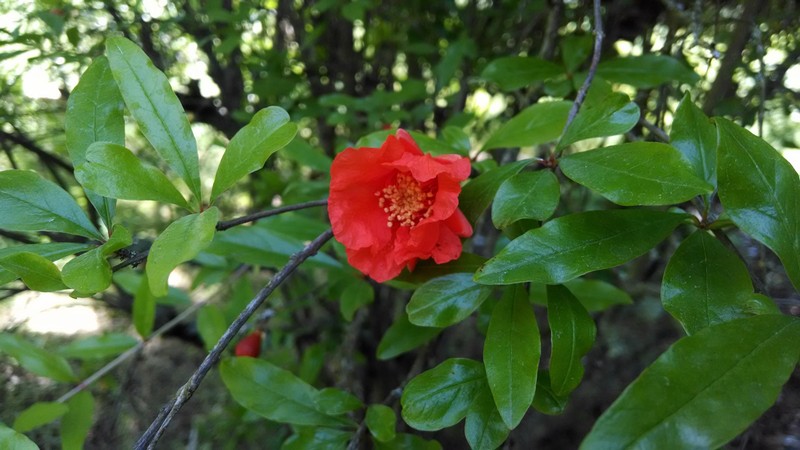 While the palms and the roses tend to steal the show, there are many more co-stars that deserve recognition. Around the winery, some of the stand-out specimens include:
Red Hot Pokers aka "Torch Lilies" - drought tolerant, grow on their own without much care, thrive in our Gold Ridge soil and, best of all, are very alluring to hummingbirds. My father loves them. "They are delightful" he says, "Like beacons of light. That's why you put them at entrances because they are welcoming."

Lavandin – not true lavender, it's a hybrid. The smell is very different - woody, spicy-green, more pungent than sweet. It has larger leaves, longer stems, and larger, more vibrantly colored flowers, pointed at the tip. More of a landscaping plant in cool regions, great attraction for bees and butterflies.

Daisies: The origin of the word Daisy is the Anglo Saxon for day's eye because they open at dawn. It symbolizes new beginnings and in the "language of flowers means loyal love and "I will never tell". They are also skillful in attracting butterflies.

They will be done blooming very shortly and replaced with yellow marigolds and then in August with zinnias, grown from seed in the hothouse.
I hope you enjoyed meandering with me. The busy ecosystem at Iron Horse doubles as our home. Three generations live on the estate. The walk from my house to the winery is the best in the country. And while I love all seasons here, there's something magical about the vivacity of spring striving for our affection under May's moon. I hope you're inspired to visit and experience the natural beauty for yourself.
Next month brings a whole new crop of blooms … and another moon to toast. In the meantime, cheers to the Full Flower Moon.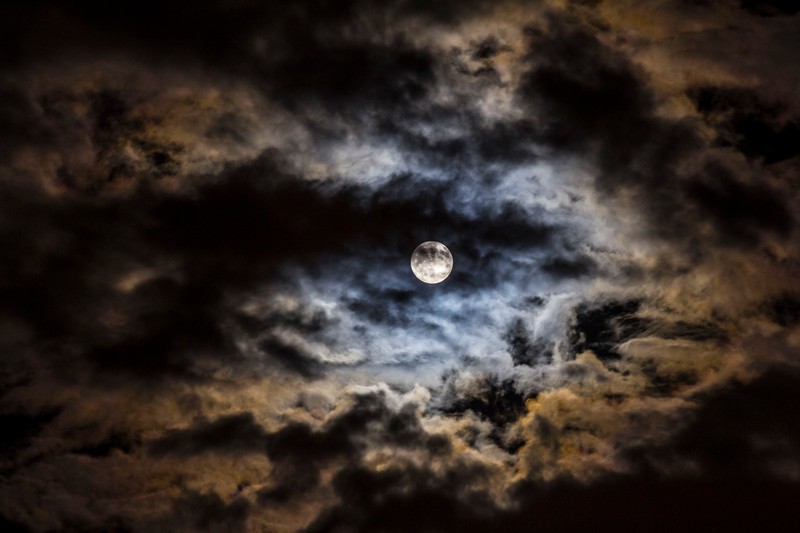 Happy 85th Birthday and Happy Mother's Day to Iron Horse Co-founder Audrey Sterling
My plan was to interview my mother for this blog, but she succinctly declined. So, I decided I would create my own narrative of her storied personal and professional life. Audrey Sterling's varied talents and experiences have built a strong model worthy of exploration (Note - I may not be the most objective of biographers. Find my many declarations of love & admiration for my mother in past Iron Horse blogs here and in a Wine.com feature here, to name a few). So when I take a look at her greatest accomplishments and courageously attempt to celebrate a woman who epitomizes elegance, I find inspiration and lessons learned from life's many crossroads. Take a walk with me down memory lane as I strive to adequately celebrate Audrey Sterling's 85th Birthday ahead of Mother's Day this Sunday.
Naturally, I would love to think that I am her greatest accomplishment. However, I know better. I think her greatest accomplishment is a life beautifully lived - arguably the most coveted goal known to mankind touted by great thinkers and doers from Aristotle to Eleanor Roosevelt (read my mother's bio below).

She looks so regal, but do not be fooled, She is wickedly funny and fun to be with.
The most important turning point in her life gave her an amazing command of strength. She was in a terrible car accident when she was a teenager, injuring her leg to the extent the surgeons didn't think she would walk again. Her tenacity powered her recovery and she overcame, but she has lived with constant pain ever since – not that she ever lets anyone see it.
Her most significant act of rebellion was marrying my father.

My parents epitomize the wisdom that two are better than one. I have seen their relationship dynamics shift back and forth over the years. Sometimes, my father is the stronger of the two; other times, my mother takes the lead. From my observation, that fluid balance is the key to their 64 years of marriage.
Our family lived in France for many years. My mother is the only person I know who has studied each and every gallery in the Louvre, room by room, floor by floor. Her appreciation for great art as well as the art of Mother Nature has formed the core of her personal inspiration as co-founder of our brand.
Iron Horse is famed for my mother's gracious hospitality. I have watched her attention to detail create magical and unforgettable experiences for countless visitors to the vineyard. Her signature style goes beyond the physical, imprinting on the hearts of minds of people as they reflect on a single afternoon with her decades later. Some of her key entertaining tips are:
1. Everyone who comes into our home is an honored guest.
2. Our welcome drink is a glass of bubbly.
3. She always sets a beautiful and engaging table, with the most gorgeous linens and china, collected over decades traveling the world, glimmering wine glasses (of course), fresh flowers, and candles - the whole nine yards. Sometimes it's formal; other times whimsical, but invariably thoughtful to make every occasion special.
4. She never lets couples sit next to other, unless they are newlyweds, so everyone had a chance to meet new people. Her cunning is to mix it up a bit.
For me, it's a point of considerable pride that my mother is a fourth generation Californian and a native San Franciscan. She went to Lowell High School, Mills College and then transferred to Stanford.

My mother is unequivocally a feminist. When she was Fair Employment Practices Commissioner for the State of California (see bio below), there was an issue before the board about the safety of the workers on the Golden Gate Bridge. My mother was the only woman on the board and when she challenged the Bridge Authority, the managers thought she would back down if they asked her to see the conditions for herself, so of course she accepted the dare, went to the top of the bridge - some 750 feet in the air above the traffic, and it was they who backed down.
Our Iron Horse heroine is also an adventurer. There are so many tales to recount - safaris in Africa, Chinese New Year in Hong Kong, sailing the Nile, taking a midnight train from Moscow to St. Petersburg in the early 70s, touring the ruins of Allepo. She never missed a chance to see the exotic contradiction of countries like India which offered both glamor and squalor during her travels in the 1980s. She tells of a "sunset cruise" in a police boat off the coast of Viet Nam and driving to a remote "gem of a temple" outside Angor Wat located inconveniently in a mine field in what was clearly rebel territory in the 90s. Another escapade that jumps to mind, though close to home, is the day we sailed under the Golden Gate on the USS Potomac, FDR's yacht, fighting the wind to get to the bow. I was worried she was going to blow over, but look at the expression on her face!

My mother's birthday is today - Cinco de Mayo. So we always tease her that the entire country of Mexico is having a fiesta for her. Mother's Day is right around the corner, though this is not my mother's favorite holiday. She feels every day is Mother's Day.
Every day I look in the mirror and pray that I will become more like my mother. I love you Mommy. Happy Birthday and Happy Mother's Day … today and every day!
Audrey Sterling Biography:
Audrey Sterling is the grande dame, warm hostess and soothing presence who makes everything naturally elegant at Iron Horse. She is a native-born San Franciscan. After meeting at Stanford University, she married Barry Sterling. Soon a daughter, Joy, and son, Laurence, were born.
In 1963 she accepted an appointment by Governor Edmund "Pat" Brown to serve as a California Fair Employment Practice Commissioner. She spent almost four years working to eliminate discrimination in employment and housing.
The family moved to France in 1967, which sparked the idea of someday living on a vineyard, growing grapes and making wine. The vision was always a "Chateau" model with all estate grown fruit, producing 30,000 cases of wine.
They first saw Iron Horse in a driving rainstorm in 1976. The vineyard development was only partially completed, there was no winery and the 19th century carpenter gothic house was listing dramatically. Nevertheless, after a taste of wines made from Iron Horse grapes, they knew the search was over and a dream began.
Audrey developed and ran Iron Horse while Barry, joining her on long weekends, continued his Southern California law practice for the next 10 years until he completely retired from the law. In those early years, Audrey called Barry her "cash crop" - something every winery needs! Never an idle observer, Audrey did whatever was needed at the bare-bones operation. The Iron Horse vineyard was restored, the winery built, offices established, and a strategic travel offensive for wine promotion launched.
She was an early member of the board of the Sonoma County Wineries Association, chairing the annual Sonoma Showcase for several years. She also served on the boards of the Sonoma-Marin Fair, the Sonoma County Harvest Fair, the Advisory Council for the Sonoma State School of Wine Business and the Advisory Council for the Green Music Center at Sonoma State University. She and Barry were among the founding members of the American Institute of Wine & Food along with Julia Child. When Green Valley became a federally recognized AVA in December 1983 (simultaneously with Russian River Valley becoming an AVA), the name on the application was Audrey M. Sterling. Her attorney of record, Barry H. Sterling.
#####

We believe in the power of special ingredients at Iron Horse. Each bottle is infused with their essence. It is deeply gratifying that friends and family appreciate the intangible draw of our bubbles, Chardonnays and Pinot Noirs. For some, the journey to understanding the Iron Horse mystique ends with enjoying a glass or two. There's certainly no better place to begin and end! But for others, it's intriguing to get to know the truth behind this seemingly effortless deliciousness. With winemaker David Munksgard as a guide, we are delighted to introduce you to some of the wonderful people who are the hands on contributors to our success.

David starts out so many days walking the vineyards as we've frequently chronicled on the blog. But our focus rarely zooms out past him in that moment. Widen the frame of that morning scene and you see the vineyard team hard at work, including Vineyard Foreman Manuel Briano kneeling in front of the vines with a young protege at his side - a learning moment while shoot trimming , carefully removing unwanted growth from the vine with a decisive nudge of the thumb. Their genuine interest is written all over their faces.

The Vineyard Team, which reports to Laurence Sterling, is an integral part of our magic. Some might call them "behind the scenes," but as David explains and all of us know, "they are front and center and the foundation upon which growth happens." We rely on team members like Manuel, to bring natural coaching skills into play. Manuel was a talented amateur baseball player whose team spirit extends into the vineyards.

Many on Team Iron Horse were farmers in their native country of Mexico where they gained an innate understanding of agriculture and love of the land. They work hard, tinker until something's fixed and draw upon wisdom from within. As David shares, "they really care and take great pride in what they do." This is undeniably evident in the work of Jose Puga who is the Grounds Manager reporting to Chief Gardener Barry Sterling. He keeps Iron Horse looking so beautiful and maintenance efforts are massive. Besides the signature flower, fruit, and vegetable gardens, Iron Horse is a 260 acre reserve and grounds like these demand constant attention. It's second nature for Jose who started working with Barry Sterling when he was just 17 years old (Note: Jose Pugo and Manuel Briano also run the frost protection system which we referenced in our Spring 2016 Vineyard Update Blog - photo of the system at the close of the blog).

David was particularly moved by the all-for-one ethic of the winery crew during his 20th anniversary celebrations at Iron Horse. It was then that he realized the true value of "extended family". We simply can't do this without them. I understand their skill sets and appreciate how fortunate we are. It almost made me embarrassed to be recognized in front of them." Many on his team have been with Iron Horse for decades, some since the beginning, "We probably have the most experienced riddler in North America. Jose Luis Briano (Manuel's brother) has been here since 1984, which is a testament to both him and to Iron Horse."
Cellar Master Rigoberto Moreno Rojas aka Rigo (below), a veteran of 28 vintages here, was the first to shake David's hand when he started at Iron Horse. David calls him The General. "Rigo and I talk about what we want to accomplish and he'll step in to explain, why we can't physically do that but THIS is what we can do and then he makes it happen. The Cellar Master is a key player in every winery and someone to be taken very seriously. It is a coveted position. He or she has to know absolutely everything about the winery. And we are in excellent hands with ours."

To continue raising the bar, requires ever more meticulous, rigorous, detailed work in the vineyard and the cellars. It's getting harder each year for Vineyard Manager Victor Arreola to recruit and keep the highly trained and dedicated people we need. Young farmers are becoming more rare. And there's a concern that the knowledge is not passing passed on.
"This is such a talented crew and I absolutely love these people," says David. It's an honor to see them with their families and taking so much joy in what they do. It seems like the light is always shining on them."

His closing remarks are the inspiration for the spirit of this grateful blog post. "There's something about this place that gets me. Iron Horse has allowed me to live my dreams and convey the beauty of the place. And these are the people who will just do anything we ask to make it happen. They are the ingredient X in our wines.