Iron Horse
Blog
Every morning, our winemaker David Munksgard takes a purposeful walk through the vineyards. After yesterday's sunrise rounds, I gave him a cross country call to get a snapshot of conditions at Iron Horse going into the Spring Equinox this Sunday. When I hung up, I could almost feel that early morning chill from my office in sun drenched Miami.

"It was very foggy but it burned off early. We're going to hit the 70s today." This year, seasonal updates come with an understandable preoccupation with water following the four year long drought. Spring 2016 is finally here with signs of El Nino's positive (mostly) benevolent role.
David continued with a report that the

reservoir on the estate is full

. "It's a happy thing." He went on to explain that soil wise, all of our vineyards are saturated or at "field capacity." Should rain continue next week, run off will start feeding the aquifers. The California water czar says we're still technically in a drought and we'll continue water rationing despite these high rain levels. David added, "We just forgot what normal looked like." But very importantly, there are

no vines in standing water

- one of the great benefits of having our vineyards on gentle rolling hills as vine just don't like wet feet. There are unusual areas of standing water in the floodplain, but none in planted areas and no erosion thanks to Laurence Sterling's work to fortify ground cover.

Above - the happy full pond. Below - drone eyes on the flooding.

The full pond is critical for frost protection. The vines have woken up as you see in the photos
sprinkled throughout the blog. During this phase and this time of year, temperatures can easily slip into freezing range in the late night or early morning. To protect the new buds, we pump precious water from the reservoir through underground pipes up and down the hills to six foot tall sprinklers strategically positioned throughout the vineyard.

As soon as the temperature drops into the danger zone, alarms go off at the homes of two of our foremen, who in the dark and cold of night, prime the pumps and turn on the sprinklers to create a protective igloo-like effect around the buds. Our two heroes, Jose Puga and Manuel Briano, then stay up well past sunrise to monitor the situation until we are certain it is warm enough to turn off the water.


The coldest parts of the vineyard are in the low lying areas. As David explains, cold air falls and runs like a river down our hills, "puddling" in lower parts of the estate.
For the next two weeks, almost all of David's cellar crew will be pruning with the vineyard team. "We do this every year to help get caught up. This is an early year - another early year, he says. And no one gets to wear just one hat at Iron Horse.

Leaving David to his morning routine, I sync up with Iron Horse CEO Joy Sterling. She is engaged in a number of community environmental action groups and a fountain of knowledge on the topic of the drought. For many reasons, Joy eats/sleeps/breathes updates on the slow recovery (my pet theory is that she has about a thousand different google alerts and may sleep a mere two hours per night). At the March 3rd California Department of Food and Agriculture Board Meeting, she was particularly downcast after a dour presentation by the State Water Board. February was so dry, the Headlines in the Sacramento Bee and the San Francisco Chronicle condemned El Nino for being a dud. Then came the March Miracle.
On the evening of March 5, El Nino rode in fast and furious on 40 mph winds. By Sunday morning, the bridge was flooded, blocking the front entrance of Iron Horse for two days, "I'm proud to say we still had a dozen intrepid guests who made the trek around the back road, showing yet again that bubbles make a rainy day better."

Joy explains that as far as she's concerned, winter can now gently yield to spring. She confesses she grew tired of the rain, no matter how much we need it. She also noted how technology has changed the experience of a natural event. Social media lets us tell people if we're opened or closed and how to navigate the back roads. David's drone shows us views of the flooding we have never seen before. "I was most taken by aerials of this very impressive, wide swath of water rushing down what's normally a road … but the vineyards completely in the clear," she says. As David explains, vines can actually suffocate in standing water.

As of today, water levels are at 95% of average which we haven't seen in four years. The next snowpack report is April 1, and Joy predicts it will be excellent, "Snow in the mountains is our best form of water storage."
More encouraging news came in today from a great friend of Iron Horse, and one of Joy's key sources, Phil Grosse, who helps keep us up to date on all things water related - this time with an Los Angeles Times article with the heartening headline: "Dramatic images show El Nino beginning to rescue California from its drought."



The piece concedes it is still too early to declare the drought over, especially since the rains have been concentrated in Northern California. But even a good dent is great! We don't need to resolve four years of drought in one month. A dent seems perfectly fine.
The imagery of progress is a beautiful thing. The spring tidings are more hopeful than ever at Iron Horse.


The allure of buried treasure beguiles us as children. We trudge through our backyards guided by maps which point us to the spot marked X. Ah! The excitement of discovering something hidden.
This is an experience which eludes most of us as adults. That was, until our cellar master discovered a cache of long forgotten, unlabeled magnums of Sparkling Wine from various vintages going back 10-15 years. A treasure trove of beautifully aged bubbly - 30 cases of this, 40 cases of that, from seven vintages and 13 different base wines. The first vintage of Joy! was a 1991, which we released in spring of 2007.
Today, the Joy! project is in full bloom. The new release, vintage 2003, makes its debut Friday, March 18th (details about Release Day Joy! at the vineyard here). Shop it here.

To sip this wine is to experience the magic of 12 years aging in contact with the yeast before disgorging. As winemaker David Munksgard explains, it takes a full 12 years for the wine's alcohol and acid to have the time to dissolve the goodness inside the yeast's mitochondria (break out those biology textbooks!). Once released, those "goodies" (amino acids, proteins, and fatty acids) achieve two things, both hallmarks of truly beautiful bubbles. They contribute to the umami experience and the fatty acids coat the bubbles which making the perfect, pin point, tiny orbs that accumulate at the surface of the glass creating a "foam cap" or crown. The result is an especially creamy texture and nutty, brioche aromas.
I wish I could say that we planned Joy!, but I do feel it is to our credit that we hold onto these magnums for so long. As everyone in business knows, the most expensive thing you can do is hold onto inventory.
There is no doubt in my mind that longer aging is the key to creating the greatest California Sparklings, second only to vineyard site. The longer the time en tirage, the smaller the bubbles, leading to richer, creamier and more elegant wine. Top quality bubbly is so much about texture, which can only come from extended time on the lees. When you are drinking a tete de cuvee, like Joy!, you should not even have to swallow. It should just effervesce away in your mouth. (See our blog post on The Science behind the Magic, October 2015).
David says that he doesn't know of any other California producers nor many French houses making this kind of time investment. (Maybe we should change the name of the wine to Patience?) That said, we urge you to be completely spontaneous in drinking Joy! We've already held onto to it long enough and David is always quick to remind us that even the most special wines are not made to be revered, but shared and enjoyed.

Here are his tasting notes:
"By nose, yeast and toasted hazelnut lead the way to grapefruit and baked apple scents with a hint of ginger. By mouth, your first impression is more sensual than taste. Full, rich and yet youthful and bright all at once. The most perfect lemon curd; creamy richness with freshness and bright finish. It is lush and refined like a silky ribbon."
How can you resist?


It has been four long, thirsty years since we have had any Joy! to share. That was the 1999 vintage, which won a near perfect 98 point score in Wine Enthusiast, 93 Points from Robert Parker and 93 points from Wine & Spirits.
The reviews were spectacular:
"Graceful and refined, with crisp apple and yeasty lemon aromas that lead to complex flavors of toasted almond, ginger and spicy mineral. Finishes with pinpoint crispness."
"Drink now!"
"Light gold in the glass with aromas of wet stones, lemon, and roasted nuts, this wine tastes of bright apple, lemon, buttered toast, long finish. Wonderful acidity. One of the finest made in California"
"A deft blend of richness and delicacy, offering mature aromas of spiced apple, almond and cinnamon, with opulent flavors of toasty crème brûlée, laced with notes of mineral and ginger. Great length."
We were greatly honored when it was served to the Queen of England at a State Dinner at the Ambassador's residence in London, Winfield House, in 2011.
Fortunately, the four year "drought" has been worth the wait! The current release is 70% Pinot Noir and 30% Chardonnay. The disgorging date (day/month/year) is on the back of each bottle.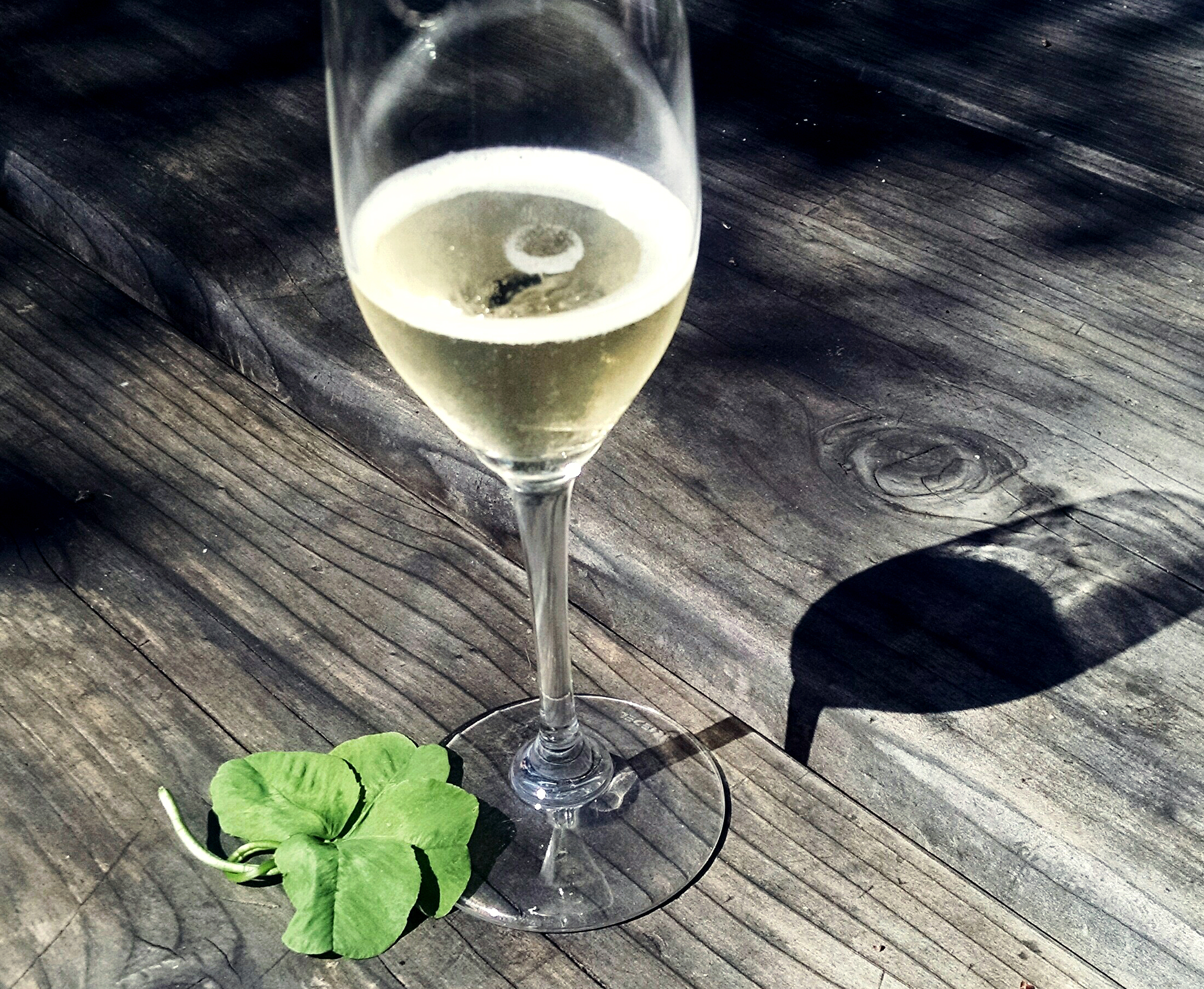 Spring forth and enjoy!

Never missing a reason to celebrate, today I raise a glass to International Women's Day. #IWD2016. The theme this year is parity: 50-50 by 2030, which inspired internet sleuthing to ascertain how the wine world (and agriculture generally) is fairing vis a vis parity.

we've come a long way baby!
Most visible are the women whose names are on the bottle: Gina Gallo, Delia Viader, Merry Edwards, Kathleen Heitz Myers, Marimar Torres (Marimar Estate), Katherine Hall, Beth Nichols (Far Niente), Beth Novak Milliken (Spottswood), yours truly (Iron Horse), Cristina Mariani-May (Castello Banfi), and most famous of all, Barbe-Nicole Clicquot (biography of the Veuve Clicquot is a must read).
A recent Women Winemakers of California study called "How Many Women" shows that 29% of the lead winemakers in Napa are women, but statewide, the average is just 9.8%. There's clearly room for growth.

Barrie Sterling in the vineyards - Vintage 2014
We can point to some key pioneers who may help the global community reach a glorious tipping point of parity. For example, the most powerful wine buyer on the planet is a woman. Annette Alvarez-Peters is responsible for more than $1 billion worth in wine sales every year in over 300 Costco stores across the country. Costco is the sixth largest retailer in the US and number seven in the world.
We are fabulously wealthy in women wine writers and influencers - Esther Mobley of San Francisco Chronicle, Virginie Boone of Wine Enthusiast, Peg Melnick and Michelle Anna Jordan of The Press Democrat, radio personality Ziggy Eschliman, TV star Leslie Sbrocco, Karen MacNeil author of the Wine Bible, Sarah Schneider of Sunset Magazine, Adrienne Shubin, The Rich Life (On a Budget) blogger, Jo Diaz and Twitter stars Amy Lieberfarb, #SonomaChat, Nannette Eaton, @Wine Harlots and our very own social media maven Shana Ray Bull ... to name just a few locally based here in Northern California.
The growing stature of women in wine is a no brainer for many reasons. Selling wine is a natural fit as it is fundamentally a relationship business. There is a long and marvelous history of women at the forefront, like the aforementioned Veuve Clicquot. An additional advantage is that women naturally are better tasters because we are generally endowed with more taste buds then men. Can't argue with the science. (http://www.nataliemaclean.com/blog/women-wine-tasting/)

Pinot Harvest
One area where we are weak is at the upper echelon of the major wine and spirits distribution companies. As big as they are, they are also family businesses, which puts an interesting slant on the question of why there isn't a woman of my generation running any one of them. Where are the daughters and the granddaughters? I guess they don't want to, which perhaps says something about the distribution end of the business.
Vineyard and cellar work are physically demanding, but no harder than being a firefighter. In the vineyards, 25% of the workers are women. My parents recall that many of the harvest crews they hired in the '70s included women, often young mothers who brought their little children to work. In fact, my mother set up an ad-hoc daycare, hiring our foreman's teenage daughter to watch over the children and read to them in English.
Today's vineyard workers are a different generation. Rightly so, the pay scale is rising and will continue to rise to ensure we have qualified, highly trained teams to bring our products literally to fruition. The demanding nature of this work in no way discriminates against women, especially in the judgement and professionalism required to bring in the best grapes.
My personal experience is atypical in that I am without doubt the luckiest person walking. Just read my bio. I have had every conceivable advantage. As I always say, the first smartest thing I ever did was pick my parents. But I feel very strongly that the wine and food world along with agriculture in general ARE and SHOULD BE very attractive for women.

My advice to young women entering the wine world is to start in a winery tasting room, wine retail store, or a country club, golf club or yacht club. Constantly put yourself in a position to be tasting new, exciting and diverse wines. Join or create a tasting group. I strongly support the Sommelier Guild primarily because of their commitment to mentorship.
For additional perspective, we reflected on this day with three women I admire: Karen Ross, California State Secretary of Agriculture, Helene Dillard, Dean of the College of Agriculture and Environmental Sciences at UC Davis, Anita Cook Motard, who (full disclosure) heads Strategic Account Sales for our Texas distributor, Glazer's Wholesale Co and serves on the advisory board for Women of the Vine, each recently interviewed by our ace blogger Tarin Teno. These women are leaders who have accomplished great success. Their end goals are diverse, but the common theme in each interview is the importance of a network.

Three Cheers for our Three Interviewees!
*****
Karen Ross, California State Secretary of Agriculture
Tell us a bit about your professional path to this point: I grew up on a farm in Nebraska and spent my early years fighting my place in agribusiness. But as an adult, each job I took brought me back closer to that world (Note: prior to Secretary Ross' appointment to the California Department of Food and Agriculture, she was chief of staff for US Agriculture Secretary Tom Vilsack and also served as President of the California Association of Winegrape Growers from 1996-2009). It all came full circle when I was able to buy out my dad's share of our farm. There's a connectivity to nature that you can't deny, it reflects the seasons of our lives and the lessons of hard work.
Who is your role model?: My dad was the most influential force in my life. He was all about positive thinking and instilled the belief that you can achieve anything you want. He was raised by a strong female, my grandmother, who ran the business on the farm in his childhood years.
Give us a snapshot of where we are in the parity struggle from where you sit: Today, the vast majority of people working on agricultural matters in Sacramento are women. I surmise that this over 50% skew has to do with women deftly grasping the issues and having strong communication skills. But while there has been a large transformation in the group working as advocates in the capital, the legislative body has changed more slowly. The elected bodies are still not 50-50 despite the fact that Governor Brown's governing body is quite diverse.
What is your proudest accomplishment to date?: The creation of the California Sustainable Wine Growing Program. We brought the wine community together and set the tone for other farming communities like the almond growers. I'm also proud to have been part of children's wellness initiatives, particularly the Let's Move partnership with the First Lady.
What woman (in any field, in history or thriving today) do you most admire?: It would be really easy for me to say Mother Theresa because of the compassion with which she lived.. I believe in a principle which drove her - if we don't take care of the weakest link in our chain, we will have nothing.
What advice do you have for young women who are interested in food, wine and agriculture?: I get to spend a lot of time with young people n high school and college across the state. I see so many women getting involved, there is definitely a renaissance of interest at the intersection of agriculture, food, and the environment. I encourage this injection of energy, which is at our foundation. Agriculture has always been innovative; the wine industry is a great example of that. This new generation, of women and men, have a passion for a larger mission of being connected to our natural resources and producing what humanity needs as our populations expand. I tell them to explore their interests; You just have to be willing to work hard.
******
Helene Dillard, Dean of the College of Agriculture and Environmental Sciences at UC Davis
Tell us a bit about your professional path to this point: I grew up in California, born and raised in San Francisco. At an early age - I knew I wanted to be a biologist but wasn't able to pinpoint what I wanted to do within that. So I went to UC Berkeley as an undergrad and majored in biology of natural resources where I gravitated towards agriculture. It was in a Ph.D. program at UC Davis that I found my passion in soil and plant pathology (and a Ph.D. to add to her M.S. degree in soil science). I was fortunate to land a professorial job at Cornell. I had a 50% research and 50% extension assignment and kept very busy with the plant diseases in the North East for 30 years. I was chosen for many leadership positions during my time there and before I knew it, I was recruited for the position of Dean of the College of Agricultural and Environmental Sciences at UC Davis in January 2014.
Who is your role model?: I owe my success to my parents who identified my childhood interest in science. I received things like chemistry sets at Christmas. Though my parents weren't traditionally wealthy, they were rich in understanding and they pushed to foster my early proclivities. I remember looking through that first microscope at onion skins and being captivated.
Give us a snapshot of where we are in the parity struggle from where you sit: UC Davis is a premier branch of the California State University System. The average grade for incoming freshman last fall was 4.0. There are four undergraduate colleges. The College of Agriculture has an enrollment of 7,000 students - 69% are female … and we are growing. The trend is quite interesting and I often wonder what was the tipping point.. It's something that we're looking to evaluate with more data points. As educators, we're also interested in maintaining a balance as is important in any ecosystem. We want to make sure that we're nurturing young men as well as low income, first generation, and minority students. I'm proud to say we're doing well with that last contingent. 50% of UC Davis students receive financial aid.
What advice do you have for young women who are interested in food, wine and agriculture?: Today at UC Davis, the competitive pressure is intense. As Dean, one of the things I do at orientation is encourage kids to enjoy their education and learn about what experiences to prioritize. It's more important to get to the finish line and be able to contribute to the world than submitting to an A+ obsession. (We tell their parents the same thing!)
******
Anita Cook Motard, Strategic Accounts, Glazer's Wholesale Co., Women of the Vine Advisory Board, Founder CHEERS
Tell us a bit about your professional path to this point: I started with Glazers as a spirits sales rep but quickly moved to wine which I deemed to be more "safe" for a woman and required fewer late nights. After four years in that role, I was promoted to sales team manager which created mixed emotions for me. Few women had occupied that position and I was nervous about overseeing friends. I took the job but had no one to guide me. I was on my own, working my way up through management.
Who is your role model?: I sadly can't point to an influential woman who impacted my career. There are some men, bosses who directed me professionally, but women in high up roles just didn't exist.
Give us a snapshot of where we are in the parity struggle from where you sit: I feel very strongly about the importance of mentorship in early career moments, and have taken a leadership role for women's causes internally at Glazer's. I spoke with our Senior Vice President of Human Resources about starting a women's group with a mission to champion diversity and inclusion. And from that conversation, CHEERS was founded. CHEERS joins a number of business resource groups within the company and is focused on connecting hardworking women while empowering them to educate, respect, and support each other. We host panel discussions with major influencers and are looking to formalize the mentoring program by this time next year. It's our top priority.
What advice do you have for young women who are interested in food, wine and agriculture?: The industry was in a different place when I was building my career. I encourage women to connect and support each other through informal check-ins whether it involves lunch dates or bubbles. As a woman in a leadership role, it's my responsibility to fill the void and encourage women who have the will to work their way through the ranks.

And so, a toast on this International Women's Day, March 8, 2016 - ideally with Iron Horse 2011 Brut X (for the X chromosome!), honoring the pioneering spirit of the women who have made significant inroads for future generations, celebrating progress and cheering the continued momentum to achieve parity. It's our responsibility, and joy, to be part of the movement.


#####