Iron Horse
Blog

Dear Friends & Family,
Vintage 2014 is in barrel and the fermentations underway. The year will be noted for drought, earthquake and wild fires. And yet, the grapes that went into the press were wonderfully delicious.
My brother Laurence wisely pruned to the drought, specifically to reduce how much leaf canopy and grapes each vine had to grow and mature. This was a gut call made last December … before we knew that this would be another severe drought year.
It was an early harvest. Everything started early. It's as though we bracketed the growing season and moved it ahead three weeks, beginning with bud break. Even now the theme is following through with camellias in boom at my parents' house that normally don't come out until Thanksgiving.
Usually, during harvest, there is a fairly predictable order of when each block and variety will get picked, based on our history of 38 years at Iron Horse. This year, that orderliness flew out the window. This meant more sampling, more rows to walk, and the need for turn on a dime flexibility in moving around the vineyard crews. This is a vintage when being estate bottled made all the difference.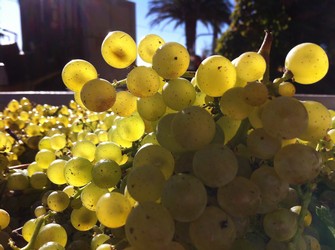 Drought years can produce grapes that require extra care with fermentations and that seems to be holding true. Fortunately, our winemaker's strong suit is coaxing "grumpy" yeast to cooperate.
So, how are the wines? It is still too early for a definitive answer as the fermentations aren't done, but I am optimistic this will stand with 2012 and 2013 as our third straight excellent vintage in a row.
Right now, my current new personal favorite of our Chardonnays is our 2012 Native Yeast. Wine Enthusiast has given it a 93 point rating. Total production of this single vineyard Chardonnay is 250 cases. I love it with anything to do with fresh fall corn – corn chowder, corn bread, and succotash.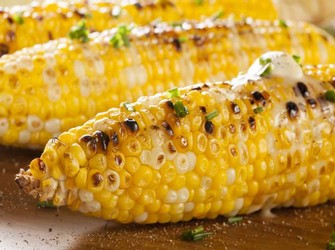 My family joins me in wishing you and yours our very best. Please pray for rain for us ... gentle, easy, light, but steady rain ... preferably at night, like Camelot.
Joy

July is always full of anticipation. We are bottling the wines from 2013 and gearing up for harvest. The early betting is on a good-sized crop and on an early crush. It's exciting to think that this could be our third excellent vintage in a row.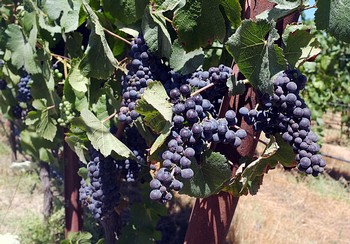 As usual we are later than most, which is a good thing, in that we hope to have a nice, long growing season. So far so great, though a lot can happen between the lip and the sip. Please wish us luck!
In the meantime, the lavender harvest is truly excellent.

And the blackberries perfectly delicious. I love dropping two or three or five in a glass of bubbly.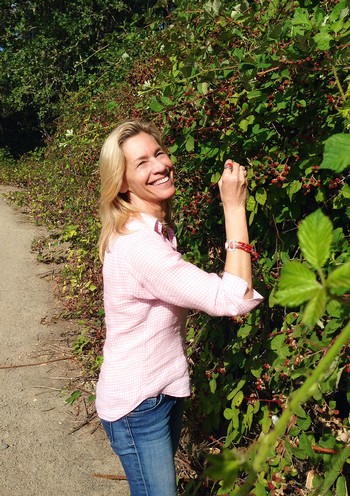 As you know, we have always carried the flag for Green Valley, our special growing area, which lies entirely within the Russian River Valley. The name on the application for recognition as an AVA (American Viticultural Area) was my mother, Audrey M. Sterling and her attorney of record was my father Barry H. Sterling. They had such great vision. This was 1983, simultaneous with Russian River filing for AVA status.
I feel extremely proud that the Russian River winegrowers are now starting to define themselves as a group of four "neighborhoods" - Sebastopol Hills, Green Valley, Laguna Ridge and the Middle Reach. Only Green Valley has set federally recognized boundaries. The others are loosely defined to not step on anyone's toes. As you might imagine, trying to delineate the Laguna Ridge from the Middle Reach can get neighbors to arguing. But I am fascinated with the results of comparing and contrasting soil types, how the fogs moves, harvest dates, and flavor profiles.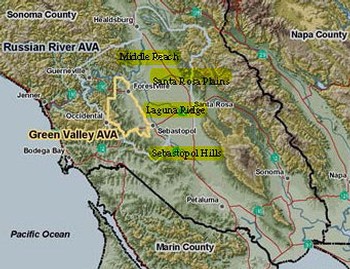 Here's a link to an excellent article on the wines "way out west" including Iron Horse that is well worth reading: http://bit.ly/1jZOjX8.
I hope your calendar is full of many upcoming opportunities to celebrate. We have a Super Moon on August 10, which is reason enough to pop a cork!
With all my best wishes,


I am very proud to announce the release of a new, limited edition, vintage Sparkling Wine called Rainbow Cuvée, available at the winery and on our website.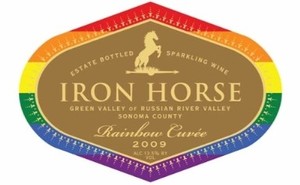 It's meant for everyone who believes in love, justice and equality … and, nothing says marriage quite like a gorgeous bottle of bubbles.
The wine is vintage 2009 Blanc de Blancs - 100% estate Chardonnay, aged three-plus years en tirage. The dosage, or finishing element, makes it unique. Only 250 cases were produced.
Dosage is the final ingredient to go in the bottle before the cork. It is syrup made of wine and sugar. How much is added to the bottle sets the degree of sweetness to dryness of the Sparkling. The composition of the dosage sets the style, like a spice or seasoning.
It never ceases to amaze me how a few milliliters can change the color, bouquet, weight, flavors and finish. Rainbow Cuvée is certainly one of the most delicious we have ever produced.
The release date coincides with rainbow season in the vineyards. We are told Iron Horse has more rainbows per square inch than anywhere else.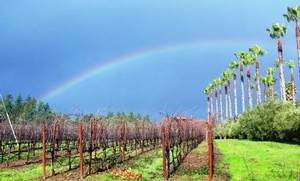 Stylistically, "Rainbow" is bright and exciting, dry, surprisingly rich, made for celebration.
The label design is by Mark Berry of Akins Berry Communications. The winery retail price is $58/bottle, available at the Iron Horse Tasting Room and on-line.