Iron Horse
Blog

Dear Friends and Family, These are the Dog Days,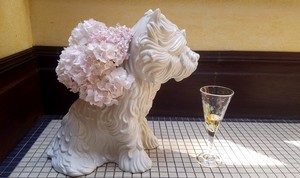 which at Iron Horse means we have verasion in the vineyards.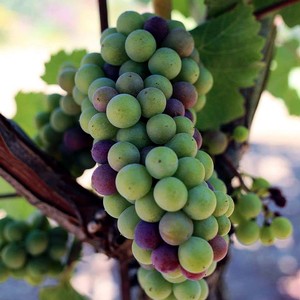 Verasion is the onset of ripening, when the grapes turn color. My brother says verasion is like popcorn. It starts with just one … then several … and then the color is popping out all over.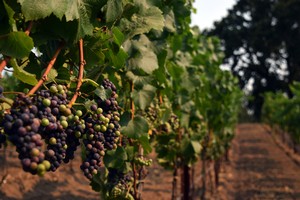 Veraison is often a bit faster in young blocks. Also note that shoots are becoming "woody". Just 1-2 weeks ago that shoot was green. The vines are signaling that harvest is near.
With Chardonnay, the skins become translucent, so that a backlit berry will reveal the seeds within.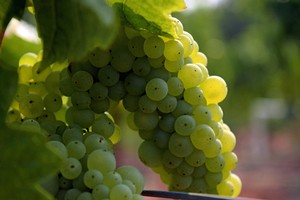 Other indicators include a delicious crop of wild blackberries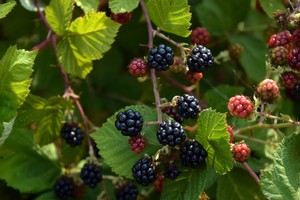 Naked Ladies starting to appear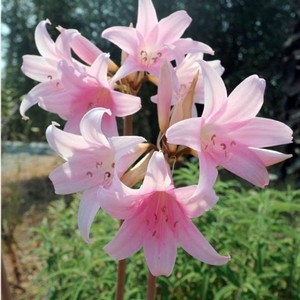 We are extraordinary wealthy in squash blossoms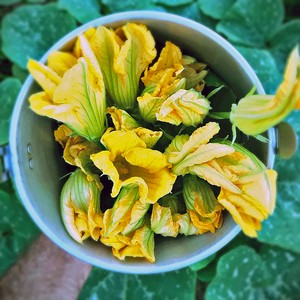 And Queen Anne's Lace
I am extremely proud to report our 2010 Brut LDreceived an outstanding 94 point review from Wine Spectator: "Sleek and luxurious, with floral, brioche and baked apple aromas that open to rich and complex Asian pear, spiced nut, ginger and cinnamon flavors that linger on the long finish. Drink now through 2021." Thank you Tim Fish!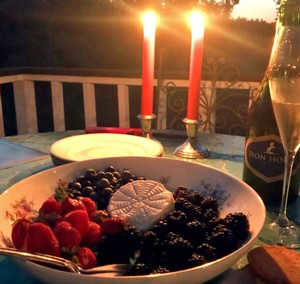 Try it with berries, ricotta cheese and candlelight.
Our hearts are with our neighbors to the North. We can see a shifting, thin layer of smoke on the horizon - a constant reminder of how very lucky we are. Thank you firefighters!
With all my very best,


Dear Friends and Family, The world is coming to San Francisco for a global environmental summit convened by Jerry Brown in September and Iron Horse will be the toasting wine for 600 dignitaries at the opening night dinner prepared by Alice Waters.
The ambition is to pick up the momentum set by the Paris Agreement and launch greater worldwide commitments. I couldn't be more proud of our Governor and our state for taking the lead.
A propos the Governor, I thought you'd get a kick out of this selfie from last week in Sacramento: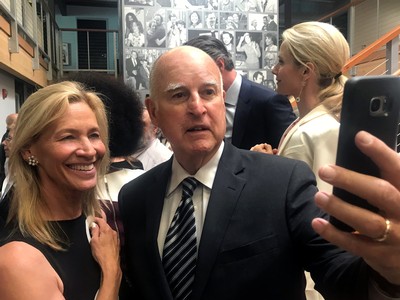 I am also very happy to report that we have set in the vineyards and it looks very good this year.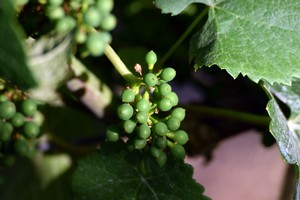 Set is when the grapes form behind the blossoms after the flowers blow away, determining crop yield. Now we are training the vine shoots upwards through the wires, pulling off lateral growth and excess leaves, and suckering the unwanted shoots at the base of the trunk - all by hand.
This is when the vineyard crew really shines. I was very happy to see Dora Arreola supervising the work on our Thomas Road Vineyard, pictured here with our foreman Victor Arreola (no relation).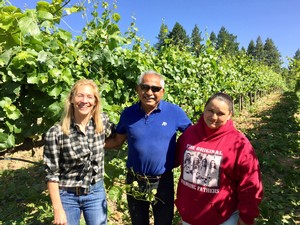 The goal is to direct all of the vines' energy to the grapes, creating a canopy to protect the fruit from the sun and provide for good air flow.
Our Winemaker David Munksgard walks the vineyards every morning. He says being immersed in the sheer beauty of the place is kind of a spiritual experience that inspires his winemaking. Plus, he says, the vines like to have visitors. And I love knowing we have a special guardian keeping watch.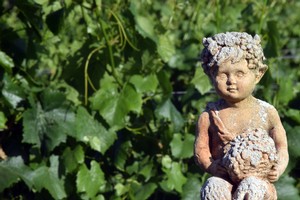 You can't help but feel protective of the baby clusters and want to cheer them on to size up beautifully and develop all the deliciousness they can achieve.
In the winery, we have laid down the bubblies for 2017, including the Wedding Cuvee which we will enjoy in three plus years … and magnums of Joy! to be disgorged in 2030.
And, it is so gratifying to see Iron Horse listed as the top two of the "Best Summer Sparklings" in the current issue of Wine & Spirits Magazine.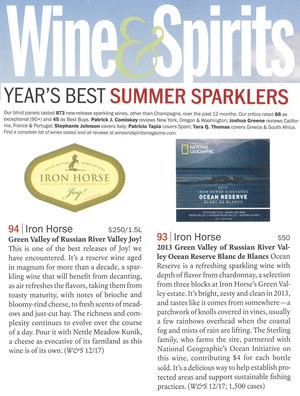 I hope you enjoyed a wonderful Father's Day. Of course, around here, every day is Father's Day and Mother's Day!
Sending all best wishes,
as always,



Hey June 🎵,
l am very proud to be flying to London for the prestigious Decanter Magazine "Exploration of International Sparkling Wines" - initially a PR and marketing dream, now tragically a point of pride in defiance of terror.

My heart goes out to the families and loved ones of the victims from Saturday's attacks. As the Brits say: Keep calm and carry on.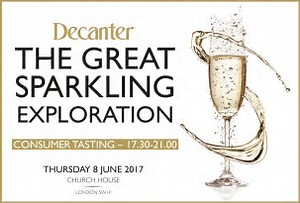 You can click here to see the catalog. Iron Horse and Schramsberg are the two American producers.
By my way of thinking, once in London, I am half way to Africa. So, I am going to see our cousins, the mountain gorillas in Uganda. It is thrilling to get a notification from the airline that says: "Your flight to Entebbe is approaching ..."

I am told it will be a very emotional experience - primate to primate. Gorillas are, after all, family. We will be tracking them on foot from a base camp in Bwindi Impenetrable Forest. There are just 600 left in the wild.

Also very exciting, our Estate Chardonnay, Pinot Noir and 2013 Ocean Reserve Blanc de Blancs are being featured at National Geographic's Explorers Symposium in Washington DC.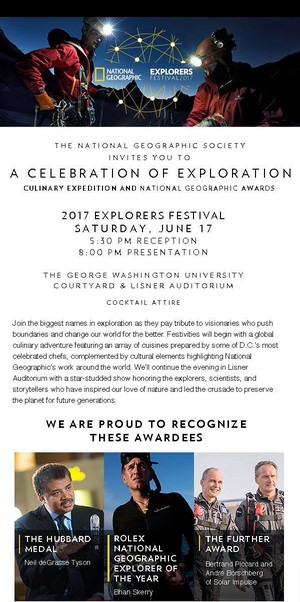 Here at home, we've had bloom ... and now grapes, which over the course of summer will size up and become filled with delicious flavors.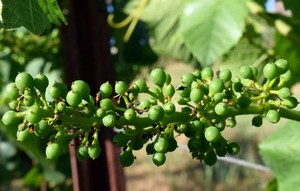 photo: LG Sterling

We are bottling the 2016 Sparklings to be laid down for the next three, four and in the case of Joy! at least 12 years en tirage. In the meantime, we are releasing our first wine from vintage 2016 - our very delicious 2016 UnOaked Chardonnay.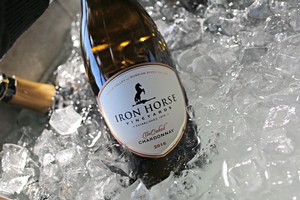 photo: Shana Bull
The timing couldn't be better as we have been sold out of the prior vintage for months.
We have some fun events coming up:
World Oceans Day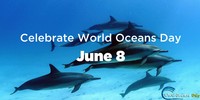 They say the ocean deserves its own day; we at Iron Horse like to add that the ocean deserves its own bubbly! Please join us in a toast with our 2013 Ocean Reserve Blanc de Blancs. We are offering a complimentary tasting for everyone who comes to the Tasting Room wearing blue on June 8. Remember, we are "by appointment" for tours and tastings.
Ocean Reserve is a special limited production Sparkling Wine created in partnership with National Geographic. $4/bottle goes to help restore the ocean's health and abundance.

Summer of Love Garden Party, exclusively for Wine Club Members


Please join us Sunday August 6 for our annual Wine Club garden party at the home of Iron Horse co-founders Audrey & Barry Sterling. This year we are celebrating the 50th anniversary of the Summer of Love, so be sure to wear flowers in your hair. 11a to 1p. Limited to 60 guests. Club Members price $50/person.
Share the love (and a glass or two of 2013 Wedding Cuvee) with Audrey & Barry as they celebrate their 65th wedding anniversary. Click here for more details.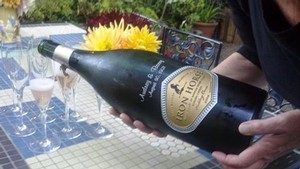 A very special toast! And all best wishes,



Greetings from thoroughly drenched Green Valley. We have received 22 inches of rain since January 1. Green Valley Creek which bisects the vineyard is a tributary of the Russian River and that whole swath of the estate is in a 100 year floodplain.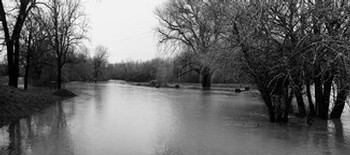 Photo: LG Sterling
For several days you couldn't see the tops of the posts on the bridge. We call that doing our part to replenish the aquifers.
Of course we need the rain. A year ago, 43 percent of the state was gripped by "exceptional drought". Now that figure is two percent. (Source: US Drought Monitor) And after 40 years here at Iron Horse we are seasoned at riding out a wet winter.
We are very lucky that our vineyards are hillside and our sandy soils drain easily. The rainbows have been inspiring. But we are going to have to hustle to get the pruning done before bud break.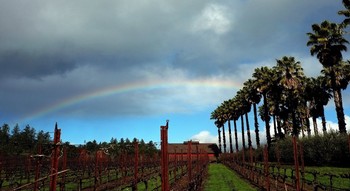 Photo: LG Sterling
January is the traditional time to report on the state of the winery and I am proud to convey that the state of the winery is strong - a soggy mess after what has seemed like boundless rain from the start, but gamely moving forward.

There are some things about 2016 I would be very happy to repeat. Number #1, our many successes as a vineyard, winery, business and family. I am privileged to get to work with an exceptional team. And, last year, in some areas, we surprised ourselves.

I smile when I think about how smoothly we transitioned to tastings by appointment on the weekends. The response surpassed all expectations. We had the pleasure of welcoming 33,000 guests here last year and the San Francisco Chronicle named us one of the top 50 Tastings Rooms in Napa & Sonoma.

Now we ask that you please make reservations on weekdays too. It truly elevates the experience. Please look at the reservation program to see how easy it is.
Some of my fondest memories of 2016 involve toasting with "Cuvee 50" for Super Bowl 50 in San Francisco, which now feels so far back in time, and "Spirit of 76" celebrating the 40th Anniversary of when my parents acquired Iron Horse in 1976.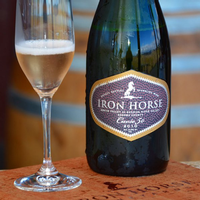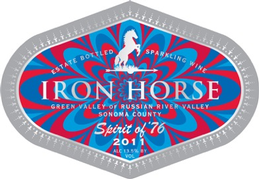 Both were one time only, limited production bubblies, never to be replicated.
2016 was in no way an easy vintage. The crop was low and there was so much uneven ripening that in many blocks we picked just half the crop - strictly the mature fruit, and then went back two three days later to pick the rest once it too had fully ripened. The resulting wines have set a new bar for us and the year will always stand out as our 40th harvest at Iron Horse.
From the beginning the goal has been to strive for the highest quality, so it is especially gratifying to see Iron Horse in the current issue of Wine Enthusiast at the same table with the very best in the world.
Looking forward, the next release of Joy! is Friday March 17, St. Patrick's Day. It's bound to be a lucky day. This will be our third time hosting a Joy! Release Tasting. So far they have been very successful. There is no doubt that the first one, last March got the most excitement because we had been out of Joy! (Joy!less) for three years. Still, the November release did extremely well and received a near perfect 98 point rating. The November Joy! was 50% Pinot and 50% Chardonnay. I say "was" because as of last night we had 18 magnums left. The upcoming Joy! is the same vintage - 2003, but Blanc de Blancs and aged six months longer. Please make reservations here.

I am also very excited about how our Earth Day event is evolving.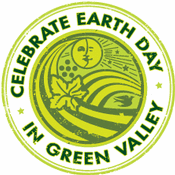 The theme is the future of food.
The participating wineries are DeLoach Vineyards, Dutton-Goldfield Winery, Freeman Vineyard and Winery, Hartford Family Winery, Iron Horse Vineyards, Lynmar Estate, Marimar Estate, Rubin Family of Wines.
The keynote speaker is California Secretary of Agriculture Karen Ross.
Acclaimed San Francisco Chef Traci Des Jardins is on board to showcase the "Impossible Burger", made entirely from plants, served it at the Paris Climate Change Conference as tartare.
Ronstadt Generations will perform live, honoring the family's musical traditions with the Southwestern and Mexican songs of their heritage blended with original material. Special guest: Linda Ronstadt.
Imperfect Produce is providing a beautiful display of "ugly" produce as crudités.
We have enlisted Copia, a mobile app that helps businesses and events connect excess edible food to feed communities in need, instantly.
I hope you will be able to join in. Net proceeds will benefit Sustainable Conservation, a non-profit organization uniting people to solve California's toughest environmental challenges, chosen by Secretary Ross to be the beneficiary.

Finally, Gung Hay Fat Choy. Saturday is Chinese New Year. And naturally we are pouring our Year of the Rooster Cuvee in the Tasting Room.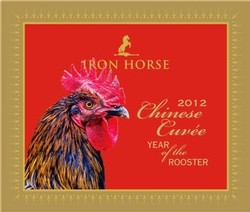 Please come join us in a toast.
Harvest has begun at Iron Horse, early once again, and just as promising as ever. Like the old saying goes, we keep making new friends (and new vintages!) and treasure the old. And in that spirit, we're excited to share our annual blog-homage to many long-time Iron Horse friends recently honored by key wine industry publications.
Behind the scenes (or blog!) efforts involved fanning out across the country to catch up with some of the award winners now receiving 2016 accolades from Wine Spectator and Wine Enthusiast in all different categories of excellence. We're in the harvest state of mind right now and that colored our perspective as we "hand picked" the interviews. In some ways, we see each sommelier as a "farmer" each working tirelessly to grow their "crop" over the years, applying a signature "blend" of inputs which ultimately contribute to unique success. Their "terroir" includes hometown roots, global travel, renowned mentors, and years of tasting experiences. The resulting award winning program is a "special cuvee " all its own.
The quality and depth of our conversations with these innovators were as intriguing and pleasurable as a beautifully curated wine list. We hope you enjoy sharing in these moments as much as we did.

JAMIE HARDING
Award: Wine Spectator Grand Award for Murray Circle; SAUSALITO, CA

Notable and Quotables from the Judges' Write Up: Murray Circle was praised for its stellar cellar stocked with 12,000 bottles and more than 2,200 selections, anchored by California classics. Wine Director Jamie Harding told the judges, "It used to be rare when someone came in because of the wine program. Now it's a few times a week." The laid-back attitude at the restaurant pairs with vibrant cuisine and a "deep trove of classic wines at a wide range of prices." And Harding's Sommelier Selections page offers a curated window into his mind's eye. "I'm not pushing an agenda. If I were running a little restaurant in the Mission District I'd have a completely different list. We have a culture of pleasing the customer. If they want Zinfandel, I'll give them Zin."
Somm Reflections on the Honor: "It was our first time winning for this restaurant and for me as its wine director. The award is very satisfying and is the culmination of the work of the Master Somms who came before me. I was prepared very well by people like Dan O'Brien to drive the wine program in the direction I wanted to go, and it has been a goal for us to achieve this since I arrived in 2009 as a staff sommelier.
I'm born and raised in the Bay Area and as much as I love wines of the world, I feel a kinship with California wines. That respect is massively important for someone like me who serves international resort guests, they visit us and they want to try NorCal wines. My desire moving into my role was to build up that California producer list, build up the verticals. Hopefully that had something to do with us getting over the hump (to win!). One of the things Wine Spectator mentioned was our commitment and focus on California, vintage depth and the producers we work with - that's what moved the judges. I'm committed to smaller, younger winemakers who are defining a style."

Special Mention: Jamie took an interesting path into his current area of expertise, "I started out in the music business, I wanted to be a rock star." While he pursued the music world, he always had a bartending job and found himself an unlikely mentee of Jeff Kramer a wine director at Hawthorne Lane. "I tasted things I never tasted before, learned how to pair wines, and that's where I really got hooked." Thus the wine rock star was born. As he got deeper into the industry, he found inspiration in meeting the winemakers responsible for the vintages he enjoyed so much. "There's beauty, quality, and amazing people behind the wines. When you meet winemakers, they're very down to earth people. They want wine to be inclusive. I try to breathe that attitude into my style and my staff. I want to be approachable even in the fine dining setting. There's an improv performance art and a sales component to my job - it's a complex twist!"
Iron Horse Favorite: My wife and I have been up to the Iron Horse Vineyards and tasted everything. The quality top to bottom is phenomenal. The wine on my list always is Wedding Cuvee. It's probably the best California rose out there. It has a refined beautiful style with enough fruit coming through that you get the strawberry from the Pinot Noir and the crispness from the Chardonnay.
Must Try Summer Pairing for At-Home Chefs: "Our menu changes fairly often for seasonal and local reasons. Chef Justin Everett has a great relationship with local farmers and purveyors, he's always excited about what's coming in the backdoor and the new produce in season. It's fun because I'm always tasting food and pulling corks. Right now there's a scallop dish on our tasting menu with a heart of palm puree, spring peas, and house cured pancetta. The dish was hard to pair, it's an example of how a straightforward dish can be challenging and requires out of the box thinking. You could go with a Chardonnay, a Sauvignon Blanc or bubbles, depending on what creates that WOW moment for you.
MATT PRIDGEN
Award: Wine Enthusiast "America's 100 Best Wine Restaurants of 2016" Award for Underbelly; HOUSTON, TX

Notable and Quotables from the Judges' Write Up: Winner for the second year in a row, wine list crafter and Underbelly GM Matthew Pridgen is a stickler on one thing. He told Wine Enthusiast, "If a winery isn't family owned and operated, it won't find a home on 'Wine Herder.'" The edgy drinks list is a purist when it comes to producers but is decidedly avant garde when it comes to its aesthetic. The Underbelly partners are friends with sketch artists and they collaborated on signature menu cartoons which are updated every year. Matt explained, "We wanted it to be visually appealing and fun, we're all about fine dining in a casual atmosphere and we want the menu to reflect that. Most guests love the list, it's especially fun to present to a first timer who will read through the entire wine menu and laugh at the comics."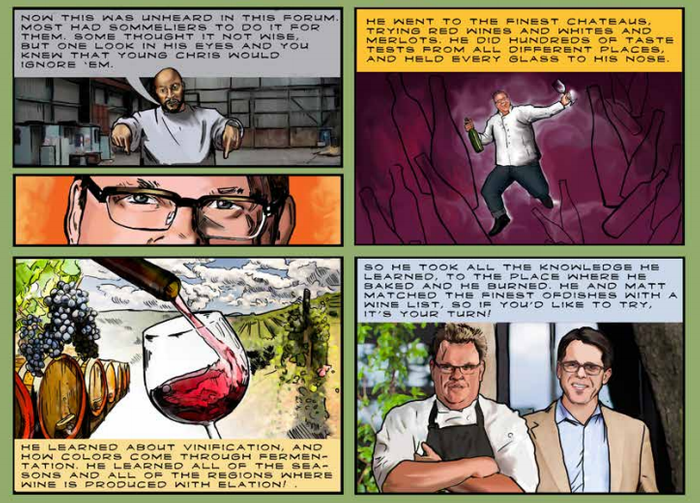 Somm Reflections on the Honor: "It's an incredibly huge honor. I've been in the wine business for quite some time, and at Underbelly for going on five years that we've been open. I was given complete control of the wine list with the parameters that we wanted something different and unique which was a little daunting because there are a lot of incredible wine lists across the country. The premise of the restaurant is locally sourced, everything in the kitchen comes from people we know. It made sense to model our wine list after the philosophy of the restaurant, so we only source wines from people who produce their own wines -- not big corporations or bank owned vineyards. Family owned and operated is our credo." The Houston native also benefits from the fact that access to good wine in Texas has gotten exponentially better over the past five to ten years.

Special Mention: For Matt, it's essential to put a face to the wine, "Personality is the thing that's making the wine and that has a lot to do with the outcome. For example, Joy is the wine she makes, she's bubbly, festive, fun and friendly which translates to her wines. Having been in the business for a long time you taste wines that are mass produced vs small. Smaller producers aren't just in it for the money to produce for the masses. It's a true labor of love and the required passion shows in their product. That weighs heavily on Underbelly's decision to focus on family owned only. And it shows across the board on our wine list. Every wine is there for a reason, nothing is just there. People who have a passion for their wines - their bottlings tend to be better with food."
Iron Horse Favorite: "I've known Joy for a long time. Iron Horse was one of my firsts visits in Sonoma when I went out there many years ago with a small group and was hosted to a full tour, tasting, and lunch with salmon and veggies out of the garden. She's an amazing person, and the wines are amazing." Right now Matt is pouring Wedding Cuvee, "For the weather right now (close to 100 every day!) and the food we're serving, it's versatile and fun to drink."
Must Try Summer Pairing for At-Home Chefs: For this time of summer Matt suggested a cantaloupe and bresaola (beef that has been dry cured and rubbed with spices), served with fresh herbs. He favors a rose to pair with the refreshing dish.
MICHAEL ENGELMANN
Award: Wine Spectator Grand Award for The Modern; NEW YORK, NY

Notable and Quotables from the Judges' Write Up: Wine Spectator did not hold back when describing the first time Grand Award Winner as "a culinary treasure in an iconic museum." As Michael explained, "There was really an ambition to take the restaurant to greater heights. I was like a kid in a candy store. I wanted to show the diversity of the wines I've served over the course of my career from California to Australia and beyond. I'm hoping we can offer the best wine program and have the best restaurant in New York. I want to be known in Japan and Europe and elsewhere as a world-class destination for food and wine."
Somm Reflections on the Honor: "There was an immediate rush of satisfaction. My team and I tripled the selection of wine in my two years at The Modern. A great amount of work was involved in achieving this award. I wanted to bring more of an international vision to the program. My tenure in Sydney exposed me to some of the greatest wines in the world, now The Modern carries hundreds of Australian wines along with legendary producers and vintages. I push to always be tasting more wine and discovering new favorites. I strive to represent the old and the new and the rising stars all on one menu. I want to accommodate any guest who walks in. We are located in NYC at the MOMA, the meeting place of the world, so it's my responsibility to be able to serve wine whether it's from California, Europe, or their native land."

Special Mentions: New York is not known for an excess of space. But Michael has unparalleled access to storage upstairs in the restaurant's "Wine Wall," a Eurocave wine cooling unit, and three floors below in former museum space for crates and offices. From physical space to mental space, Michael mentioned that The Modern is closing down for renovations for five weeks at the end of summer. The somm, who was born in France and has lived in England, California, Australia and now NYC, plans to take the the skies for more travel. He loves living in New York and the extraordinary wine community there, but looks forward to travelling and unplugging from email.
Iron Horse Favorite: "I lived in San Francisco and I would travel to Sonoma quite a bit, so I've had the pleasure of visiting Iron Horse in person. I think it's one of the most gorgeous places to start you day. Getting off the main highway and enjoying the outdoor tasting room - the natural beauty is overwhelming."
Must Try Summer Pairing for At-Home Chefs: Roasted Watermelon with Whipped Crème Fraîche and Caviar with rose, ideally Wedding Cuvee. Another one would be a glass of Meursault served with Roasted Lobster Potage with Pickled Garlic and Potatoes.
LULU MCALLISTER
Award: Wine Enthusiast "America's 100 Best Wine Restaurants of 2016" Award for Liholiho Yacht Club; SAN FRANCISCO, CA
Notable and Quotables from the Judges' Write Up: The former pop-up restaurant was lauded for "thrilling, modern food with a global, value conscious list." Wine Director Lulu McAllister separates the wine menu into classic "Old Friends" and emerging, unusual "New Friends." Described as a star somm by the magazine, Lulu explains she seeks to accommodate all levels of wine lovers, "Some people are curious and don't know a lot about wine, some people do know a lot about wine but are still curious, so I try to be sensitive to both of those progressions." She keeps things fresh by constantly tasting new wines, "I'm constantly juggling the space I have and trying to make room for the great things I'm finding. It's like the best kind of Tetris."

Somm Reflections on the Honor: "LihoLiho Yacht Club is one of the four restaurants where I oversee the wine. It's a very distinct menu with a unique flavors, textures, and colors that make pairing exciting. The expanding wine program considers wine from all across the world and is slowing moving into specific regions as I educate myself. The "Old Friends vs New Friends" approach is unique to my palette, but the general intention is to serve up classic styles and well known grape types from well known regions as well as newer options for when you want to depart from what you know and advance to more exotic grapes and styles, new products and concepts. It caters to what people want when they dine, sometimes you want something familiar and sometimes you want to escape and be adventurous. I try to remind the staff that for someone who is not used to tasting wine, any wine can be a new friend."
Special Mention: "I was surprised when we got a full page spread in the magazine. I was excited! And glad I didn't look like a total dork!" (Pictured with Chef Ravi Kapur) For Lulu, the honor hasn't really sunk in yet. "I actually recently got married, and I'm finding it's important to enjoy your milestones and accomplishments. But I'm also still pushing forward, I hope to continue to do things that people think are exciting and relevant."

Iron Horse Favorite: Lulu has many Iron Horse memories that she treasures. One of her first trips while studying at CIA was to Iron Horse Vineyards and she recalls enjoying lunch with Joy and her parents. Lulu told us she has hosted Joy for Magnum Monday as well - sounds like a perfect start to the week!
Must Try Summer Pairing for At-Home Chefs: Right now Lulu is loving roasted octopus. "It's easy to pair. For myself, I would probably choose a Sicilian rose. But the dish is friendly to a lot of styles, sparkling aromatic wines would be perfect."
ERIC HASTINGS
Award: Wine Spectator Grand Award for Jean-Georges; NEW YORK, NY

Notable and Quotables from the Judges' Write Up: This was the first time that Jean-Georges was awarded the Grand level mention. The write-up for the Trump Towers flagship was titled "A top dining destination elevates its wine list". "Historically, Jean-Georges was not really a wine restaurant, says Jean-Georges Restaurants Beverage Director Eric Hastings " But according to Wine Spectator, the current list of 1,100 selection is "perfectly attuned to the needs of the menu and the desires of the customers." They also note that "Hastings has engineered a portion of the list to be more eclectic and affordable - think boutique producers quietly putting out superb character wines, within the confines of certain regions." Cheers to that!
Somm Reflections on the Honor: I am very excited and proud of what we've accomplished as a wine team and a restaurant. We have won three Michelin stars, and four stars from New York Times, but it was thrilling to be able to add one more wine-specific feather to the Jean-Georges cap. This award is a collaboration amongst a lot of people, past and present, but it wasn't something we were seeking out. Our organization's goal is to be the best restaurant we can possibly be. We know Chef Jean-Georges puts out the best food and it is our mission to rise to the occasion of service and atmosphere. When I got the call from Wine Spectator's Ben O'Donnell, I was honestly a little surprised.
The Grand Award winners have traditionally boasted massive wine lists. But I had been working consciously over the past year and a half to build depth in vertical selections. I wanted to make sure I could get the best wine to people at the best price. The styles that tend to work best with Chef Jean-Georges are the Old World selections, so I tried to expand on that.

Special Mention: Eric explained that they're working with a deficit in the storage category telling us "Sometimes great wines don't make the list simply because I don't have anywhere to put them!" But you take the good with the bad in terms of location. He explained that being in NYC is one of his greatest assets, "It's the people around me and the availability of wine that you just can't get anywhere else on any level." He's also inspired by the increasingly educated nature of his guests. Eric explained that there are more educated wine consumers than they were 20 years ago, "They are talking about malolactic fermentation and minerality. People are branching out into wine regions that never would have year ago. It's a lot of fun and it gives us the opportunity to be more engaged which is important"
Iron Horse Favorite: Eric and Joy met at the awards dinner of the first Top Somm Final in 2010. "Afterwards, she gifted me with a wonderful magnum of 2006 vintage bubbly. Today, we serve the Iron Horse Pinot Noir and the Wedding Cuvee. And it's on the wine list at the hotel in every room. The Pinot specifically is delicious because of its Green Valley roots, a location which is becoming more universally heralded as a top region."
Must Try Summer Pairing for At-Home Chefs: One of Chef's great new dishes is nougatine hake with summer peas and ginger, it pairs beautifully with Grüner Veltliner.

ARTHUR HON
Award: Wine Enthusiast "America's 100 Best Wine Restaurants of 2016" Award for Sepia; CHICAGO, IL
Notable and Quotables from the Judges' Write Up: Specifically recognized by Wine Enthusiast for their excellent by-the-glass program, Sepia's deep and detailed list is the creation of Arthur Hon. They extoll Arthur for his "knowledge, enthusiasm, and experimentation which continues to have national impact."

Somm Reflections on the Honor: "The award was not planned in any way. It's such an honor and very special. This is our fourth year in a row as one of the best programs in the US. It started off very organically with a more creative and artistic perspective, but I had to make it more practical, acknowledging I'm working with someone else's money.
Overall, I believe the beverage list needs to match the culinary aspect of the restaurant. Chef Andrew has been here for over seven years and his instincts are very global, true "contemporary American". I spent my first few years getting to know his cooking style and understanding so many different flavors and components, which can be tricky with wines. Ultimately, I decided to match the breadth of the restaurant's direction and take the wine menu VERY global. My list represents 90% of the wine growing regions in the world. Within each country, there's a fairly good representation."
Arthur is also deeply connected to the restaurant's Chicago roots, "We're in the Mid-West and that has given me a sense of freedom. There are no regional wine favorites here, but we can get everything and have a much more balanced distribution of influences from East Coast, to West Coast, and European wines. It's also a top tier city that still offers more affordable living options. The budding food scene is supported by a vibrant urban population and all of these components serve as a solid foundation for a vibrant city with a younger crowd seeking adventurous dining experiences."

Special Mention: Arthur commented on his wine list price strategy, "Every successful wine program has to have a varied price point. You're running a business for someone else. You have the glamorous wine side of the business, but the other side is the numbers and my job is to combine the creative part and the financial aspect. Cost is very important. You can be very creative, and become too subjective and you forget about the patrons."
Iron Horse Favorite: "I've always been fascinated by the Wedding Cuvee. You can feel that it's coming from the New World genre, a playful interpretation of a California Sparkling made in the Blanc de Noirs style. It's unique and approachable with a soft texture. The name itself is very festive and Pinot Noir dominant. When I look back at the older vintages, say five years ago, they were actually "blanc" with very little color. And I've watched them grow into becoming rose. I'm also very impressed by Joy's willingness to hold back and age vintages until absolutely ready for release. To put perfection above earning is commendable. I admire Joy's efforts and wish all wineries could do the same!"
Must Try Summer Pairing for At-Home Chefs: "Summer means it's corn season in the Mid-West, which is very exciting. My favorite dish right now is a poached cod with grilled corn, pan roasted shishito peppers, corn puree and pickled veggies paired with a crisp, citrusy white wine." Sounds like Iron Horse Chardonnay, don't you think?

We believe in the power of special ingredients at Iron Horse. Each bottle is infused with their essence. It is deeply gratifying that friends and family appreciate the intangible draw of our bubbles, Chardonnays and Pinot Noirs. For some, the journey to understanding the Iron Horse mystique ends with enjoying a glass or two. There's certainly no better place to begin and end! But for others, it's intriguing to get to know the truth behind this seemingly effortless deliciousness. With winemaker David Munksgard as a guide, we are delighted to introduce you to some of the wonderful people who are the hands on contributors to our success.

David starts out so many days walking the vineyards as we've frequently chronicled on the blog. But our focus rarely zooms out past him in that moment. Widen the frame of that morning scene and you see the vineyard team hard at work, including Vineyard Foreman Manuel Briano kneeling in front of the vines with a young protege at his side - a learning moment while shoot trimming , carefully removing unwanted growth from the vine with a decisive nudge of the thumb. Their genuine interest is written all over their faces.

The Vineyard Team, which reports to Laurence Sterling, is an integral part of our magic. Some might call them "behind the scenes," but as David explains and all of us know, "they are front and center and the foundation upon which growth happens." We rely on team members like Manuel, to bring natural coaching skills into play. Manuel was a talented amateur baseball player whose team spirit extends into the vineyards.

Many on Team Iron Horse were farmers in their native country of Mexico where they gained an innate understanding of agriculture and love of the land. They work hard, tinker until something's fixed and draw upon wisdom from within. As David shares, "they really care and take great pride in what they do." This is undeniably evident in the work of Jose Puga who is the Grounds Manager reporting to Chief Gardener Barry Sterling. He keeps Iron Horse looking so beautiful and maintenance efforts are massive. Besides the signature flower, fruit, and vegetable gardens, Iron Horse is a 260 acre reserve and grounds like these demand constant attention. It's second nature for Jose who started working with Barry Sterling when he was just 17 years old (Note: Jose Pugo and Manuel Briano also run the frost protection system which we referenced in our Spring 2016 Vineyard Update Blog - photo of the system at the close of the blog).

David was particularly moved by the all-for-one ethic of the winery crew during his 20th anniversary celebrations at Iron Horse. It was then that he realized the true value of "extended family". We simply can't do this without them. I understand their skill sets and appreciate how fortunate we are. It almost made me embarrassed to be recognized in front of them." Many on his team have been with Iron Horse for decades, some since the beginning, "We probably have the most experienced riddler in North America. Jose Luis Briano (Manuel's brother) has been here since 1984, which is a testament to both him and to Iron Horse."
Cellar Master Rigoberto Moreno Rojas aka Rigo (below), a veteran of 28 vintages here, was the first to shake David's hand when he started at Iron Horse. David calls him The General. "Rigo and I talk about what we want to accomplish and he'll step in to explain, why we can't physically do that but THIS is what we can do and then he makes it happen. The Cellar Master is a key player in every winery and someone to be taken very seriously. It is a coveted position. He or she has to know absolutely everything about the winery. And we are in excellent hands with ours."

To continue raising the bar, requires ever more meticulous, rigorous, detailed work in the vineyard and the cellars. It's getting harder each year for Vineyard Manager Victor Arreola to recruit and keep the highly trained and dedicated people we need. Young farmers are becoming more rare. And there's a concern that the knowledge is not passing passed on.
"This is such a talented crew and I absolutely love these people," says David. It's an honor to see them with their families and taking so much joy in what they do. It seems like the light is always shining on them."

His closing remarks are the inspiration for the spirit of this grateful blog post. "There's something about this place that gets me. Iron Horse has allowed me to live my dreams and convey the beauty of the place. And these are the people who will just do anything we ask to make it happen. They are the ingredient X in our wines.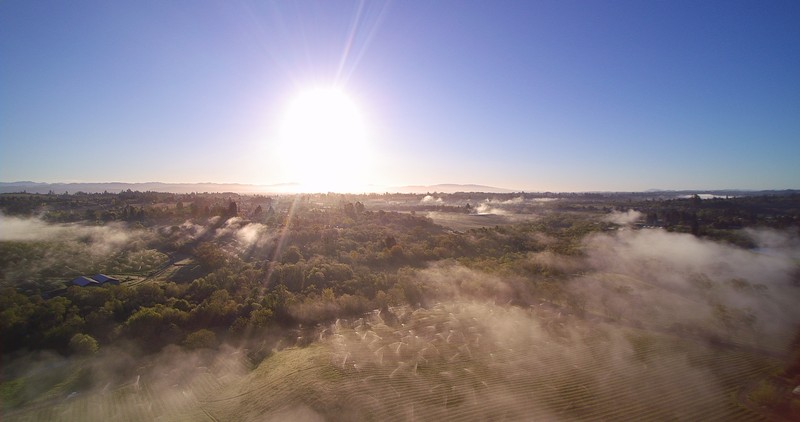 'Tis the season for gift guides, discount codes (insider tip: use code HOLLY for $10 shipping valid through 12/15 on three or more bottles) and predictions for the year ahead.

I know it's hard to believe, but 2016 is coming on fast. As a winery deeply rooted in our home place, we generally operate outside the trendy category, striving for classic, true to our vineyards, always in style, elegance and balance. But it is exciting to get a glimpse into the data based forecasts for where our cohorts are headed and we are tickled to find ourselves "ahead of the curve."
Since we're in the gift-giving mood, we've rounded up some of the stand out themes from our future gazing friends.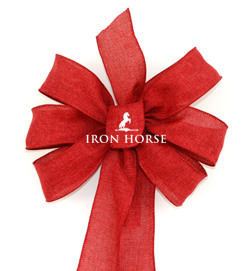 One such visionary is

Kimberly Charles

, founder of Charles Communications Associates, who provides perspective on volume (bookmark Kimblery's blog for access to her extremely valuable insights at

All the Swirl

). In our data focused chat, Kimberly explains that global wine consumption is up 5.3% and she estimates we'll enjoy 35 billion bottles in 2016. Yes that's billion with a

b

… with plenty of room to continue growing in the U.S (more on that growth

here). This is where the Millennials come in. They grew up watching their parents drink wine, see it as a daily pleasure, and according to a report from Canadian Investment Bank RBC Capital Markets, Millennials want premium bottles.
Trend spotter Andrew Freeman of AF & Co proclaims in his 2016 Trends Report that consumers are enjoying a case of "multiple personality disorder." In other words, we want the best of all worlds. We participate in wellness movements favoring moderation, then swing to indulgent experiences, sometimes in just a matter of hours.

Here are some trends to watch for in 2016 in the Food World:
Vegetables are the hero, especially amongst Millennials. People want less animal protein and support veggies as a "center of the plate component."
Hawaiian is the cuisine du-jour. It's the latest regional "New American" food in the spotlight.
The spicier, the better! Even desserts are getting the fiery treatment as data shows that embracing the heat is not only delicious, but healthy.
Table service at upscale restaurants livens up in a response to a Millennial demand to be entertained and get a peek at what's happening behind the scenes. Chefs themselves are getting in on the action upping the ante on engaging experiences.
Brunch becomes a main event. Even health nuts are relishing the opportunity to throw caution to the wind once a week during brunch, indulging in the carb heavy, over the top feast.

Now for the Beverage World:
Bubbles mania reigns. But we knew that! Sparkling Wine has captured the imagination of the public beyond celebrating special occasions. The growth of bubbles dwarfs that of still wines (see image). Restaurants are embracing this trend with expanded offerings. As Kimberly Charles declares, "There's is a virality to hearing the pop of a cork, you want to be part of it." We certainly agree! According to consumer products analyst Nik Modi at RBC Capital Markets, the rise in Sparkng Wine sales dwarfs still wine sales.

Note: In economists' terms, C0nsumer Value = the ratio of product price to product benefit
Stylistically, white wines are showing more restraint - lower alcohols, less oak, brighter acidity - a trend that's part of our core values at Iron Horse.
Chardonnay is America's #1 selling varietal, showing double digit growth. Even traditional red wine drinkers are exploring more white wines.
Coffee gets a modern makeover. New techniques and flavors create balanced and "treatful" beverages.
Instagram worthy embellished cocktails dominate. Think gold dusted flowers, sugar stirrers, designer straws, even perfectly smoked pork belly pieces. Andrew Freeman posed the very apropo question, "If we don't Instagram it -- did it even happen?" (By the way, we're on Instagram @IronHorseVyds)
The Bloody Mary is having a moment. Could there be a better way to recover after a late night sampling of our "Brilliant Bubbles Collection"? We don't think so! And none are more delicious than Diane's Bloody Marys featured at Michael Mina's Tailgate at Levi Stadium (mentioned on recent our Star Chef Spotlight in Michael Mina).
As we take stock of a fantastic year at Iron Horse, and give thanks for your great support and friendship, we are already looking forward to a new year of success and innovation in our continued pursuit of toast-worthy excellence.
We'd love to hear your delicious predictions for 2016. Chime in on social media and in the comments below!


Cheers!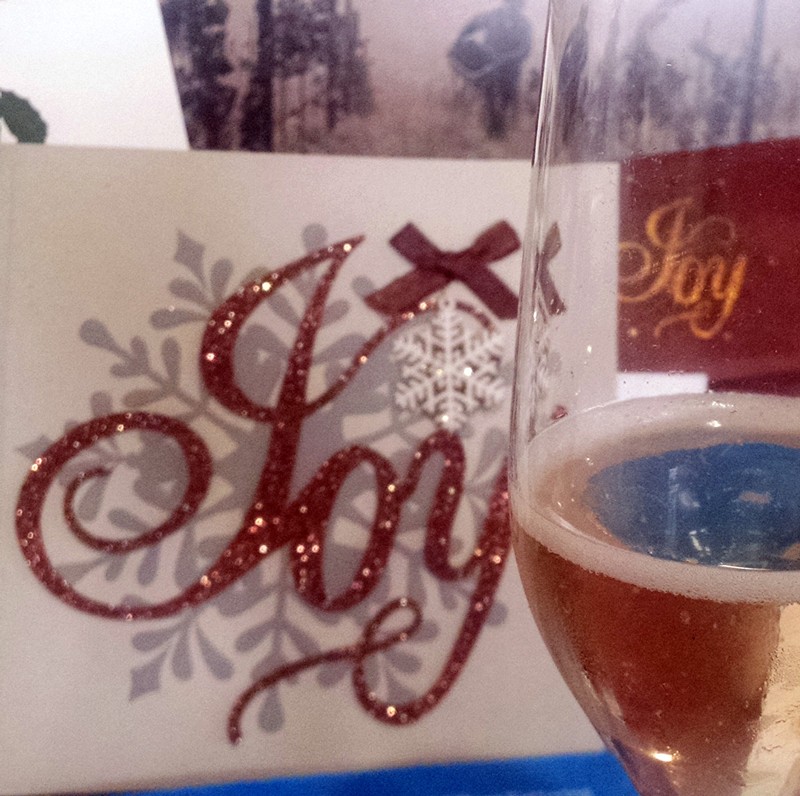 ****

At Iron Horse, we wear our Pride on our sleeve…. and on our bottles, celebrating diversity with our 2010 Rainbow Cuvee. This second vintage of the vibrant, limited production bubbly delivers the celebratory experience that so perfectly pairs with this 45th anniversary of San Francisco Pride in our urban backyard ... and at the White House annual LGBT reception held June 24.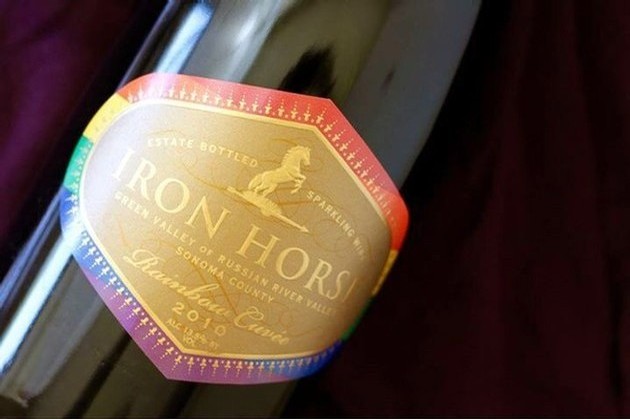 We are honored to be recognized as one of the top 6 most gay friendly winery in California.
On Saturday June 27, radio host Joel Riddell will be broadcasting live at the heart of the San Francisco festivities on Talk Radio 910 including a pre-taped interview about Iron Horse and the creation of Rainbow Cuvee. Stay tuned for more information on how to listen in.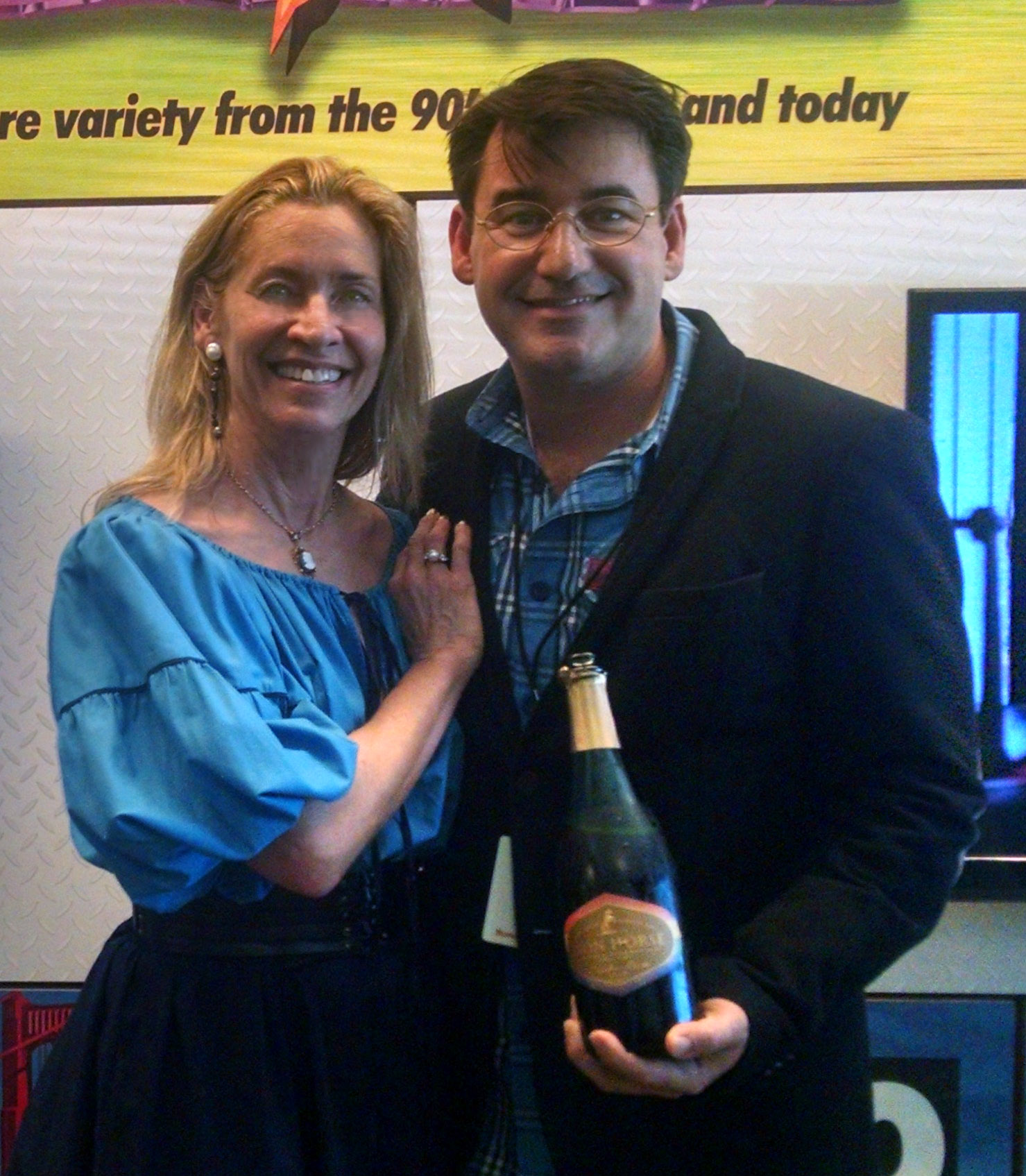 San Francisco Pride occurs on June 27 - 28. The theme this year is "Equality without Exception".
Here are some insider tips if you're planning to attend.
1. Wear sunscreen.
2. Get to the parade early … it's usually five people deep along the route.
3. Use Uber or take the bus. Do not try to park down there.
4. Obey the rules on nudity. (There aren't any!)
5. Best bar for people watching, Twin Peaks at Castro and Market. It's all glass and has a balcony.
6. Tune in to Dining Around with Joel Riddell on Saturday 1-3pm on iHeartRadio, Talk Station 910, KKSF.
7. For after the parade on Sunday, go to Disco Daddy at the SF Eagle. It will be the closest you can get to the spirit of "old Pride". Sylvester, Dianna Ross, Grace Jones and the Village People will be channeled. $5 at the door, this is the best deal on Pride Day and walking distance from the parade.
8. Go see City Hall light up at night in the rainbow colors.
9. Get up to date on the "Alphabet Soup". It's not LGBT anymore. The latest is LGBTQQIA, which stands for Lesbian, Gay, Bisexual, Transgender, Queer, Questioning, Intersex and Ally. By the way, Iron Horse is an ally.
10. Make sure you have your Rainbow Cuvee chilling at home. You'll be ready for it when you get done.
The idea of Rainbow Cuvee is thanks to our friend and Direct to Consumer expert, Sonyia Grabski, inspired by the beauty of Gay Pride Flags fluttering in a June breeze.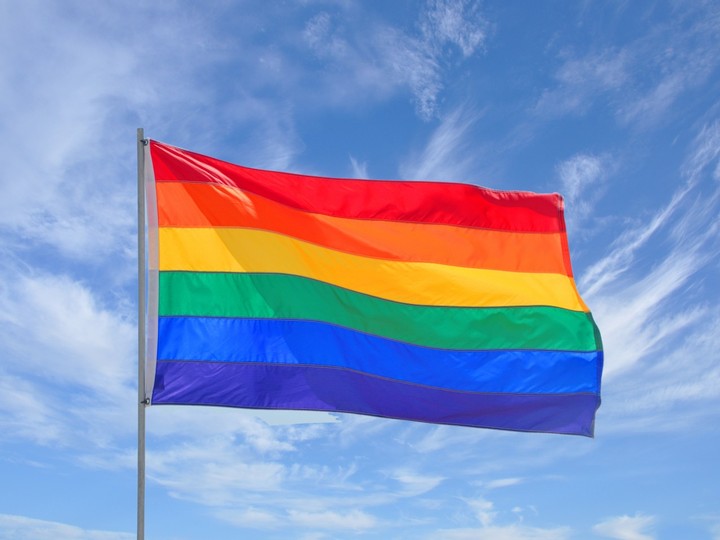 The strong symbol and graphic direction provided the official colors which were carefully integrated with the Iron Horse brand by our label designer Mark Berry.
Mark presented six design variations to start the process. And in playing around with print techniques, our team discovered the option of an iridescent foil on the rainbow border. This element adds the festive and dynamic feeling that we wanted to convey the delicious flavors within and the larger message of our times.
For an insight into the design process, check out these interesting photos, showing the embossed base colors and the final foil stage.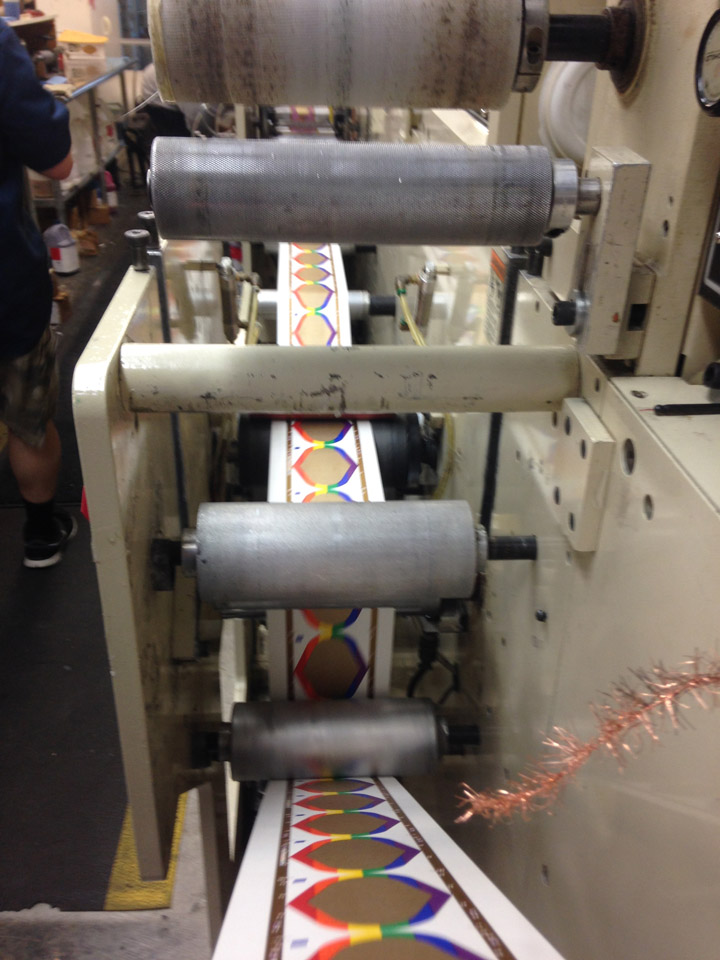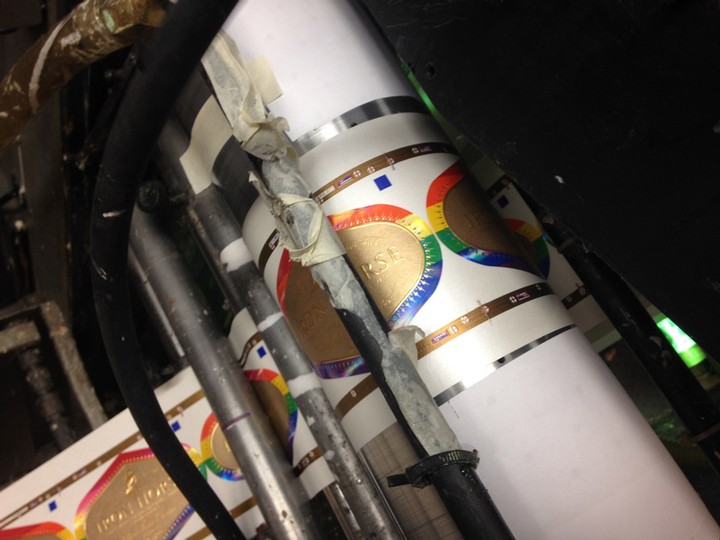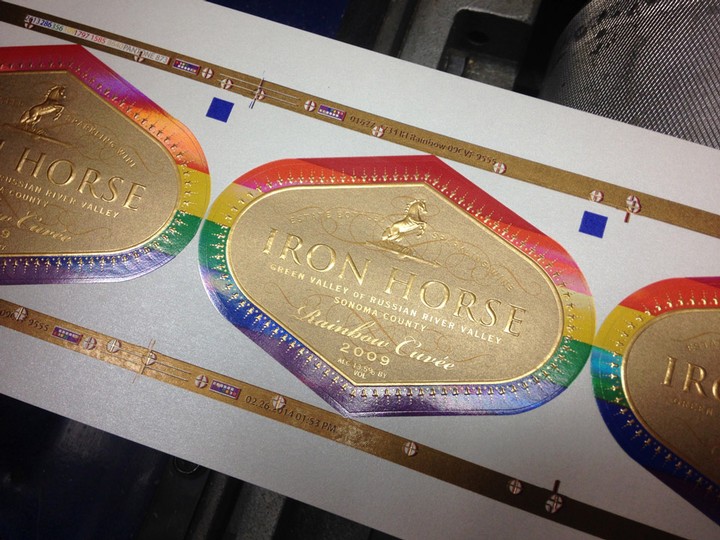 Supplemental Reading for those who like a little FAQ FUN:
The Betsy Ross of the Rainbow Flag was San Francisco designer Gilbert Baker. It was first unfurled in 1978 at the Gay Freedom Day Parade. Legend has it that Baker was inspired by Judy Garland singing "Over the Rainbow" and the Stonewall riots that happened in New York shortly after Garland's death.
The world's largest Pride celebration is in Sao Paulo, Brazil.
It's important to remember how much has changed in just the last decade … and exciting to celebrate that we are at a major tipping point in the march towards marriage equality, when the strength of national support has raised hopes of a Supreme Court ruling on the rights of same-sex couples to marry across the country.
Here's to the freedom of being yourself!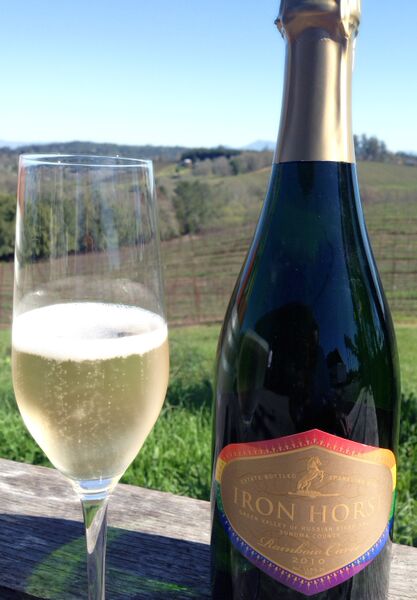 Wine is fashion in many ways. There are clear trends.
Right now, bubbles are "in". And we are enjoying every minute of it!

According to Tim Fish in the upcoming June 15 issue of Wine Spectator:
"This is an exciting moment for California bubbly. Sales have jumped in recent years, and the state's producers continue to push the envelope on quality, developing new niche bottlings while preserving their reputation for value."

The consumption figures above from the California Wine Institute are are real through 2013. We then continued upward with our "expert extrapolation" that we will cross the 20,000,000 case mark this year.
This surge has several contributors. One is Prosecco. For many, that fruity, user-friendly Italian wine is a gateway to more complex bubbles.
Another is the mass appreciation for handcrafted, small batch drinks across the board in categories like wine, beer, cider, and spirits. Two representative examples are limited edition Iron Horse cuvees:

2010 Summit Cuvee

&

2010 Rainbow Cuvee

.
Summit Cuvee commemorates the unprecedented free-climb of the Dawn Wall of El Capitan in Yosemite National Park, California - the realization of a dream and an inspiration. Only 300 cases have been produced.
Rainbow Cuvee celebrates marriage equality. This is our second vintage of this special, small production bubbly. We are very proud that the inaugural release was served at the White House LGBT reception last June. Total production is just 250 cases.

Rosés are a special niche. Ours is very striking, both in color and taste. It's a dark rose, bottled in clear glass. Originally awarded 93 points by Robert Parker, the 2007 vintage now has six plus years less aging. The most recent disgorging is 5/4/15.
Serious fans increasingly call for ultra brut or no dosage, like our Brut X, which is a 500 case production.
Most exciting to me is the breadth of interesting bubblies today. Not just Grande Marques, and even beyond Grower Champagne, the next "big thing", according to Wine & Spirits Magazine is "Somm Sparklings."
Wine & Spirit's Associate Publisher Samantha Groseth has this to say on the topic:
"Some of the most interesting intelligence we gather from our Annual Restaurant Poll comes in the wines that most excite sommeliers. In 2015, we heard a lot of chatter about sparkling wine, and not just grower Champagne — sparkling wine is on the minds' of America's sommeliers, whether it's from the Loire, California, Finger Lakes, Italy or Jura."
Iron Horse was included in this category at the debut Somm Sparkling Table at Wine & Spirits' annual Top of the List Tasting. A true honor. There were about a dozen to taste, right next to the Grand Central Oyster Bar station - Herman Wiener Blanc de Blancs no dosage, from the Finger Lakes, which is poured by the glass at NoMad, Gruet from New Mexico, Raventos, Domaines de la Berjorie and Baumard, both cremants de Loire, Murgo Etna Rosso, from Sicily, that was very unusual, Banfi, La Marca Prosecco and La Spinetta Moscato d'Asti.
It was Iron Horse and Roederer Estate from California. Ours was certainly the most fun table at the tasting.





Going back to Tim Fish's article in Spectator, Tim makes the point that the bubbly business is increasingly year-round:
"Many people think of bubbly in connection to Christmas and New Year's Eve, but it's also enjoyable as a summer drink. Sparkling wine has always been about summer for me."
My family and I are very proud that Iron Horse ranks among Tim's personal favorites on his blog.
IRON HORSE 2010 Classic Vintage Brut, Green Valley of Russian River Valley, $42. 91 points. Supple and richly styled, with tart apple and spiced hazelnut aromas leading to Meyer lemon, brioche and zesty cinnamon flavors.

IRON HORSE 2010 Russian Cuvee, Green Valley of Russian River Valley, $42. 90 points. A plush style, with a lingering hint of sweetness balanced by solid acidity. Offers accents of ripe Meyer lemon, toasted cinnamon and almond brioche

IRON HORSE 2010 Wedding Cuvee, Green Valley of Russian River Valley, $42. 91 points. A serious bubbly but fun to drink with lively and floral raspberry flavors.

More and more people now think about bubbly as a wine … to be enjoyed year round with food. As we like to say here at Iron Horse: #notjustforbreakfastanymore.

It's not every day I start off the week with an Iron Horse "shout out" from the Office of the First Lady. I'm proud to announce that our wine - 2007 Russian River Cuvee - will be poured at Tuesday evening's State Dinner for the Prime Minister of Japan.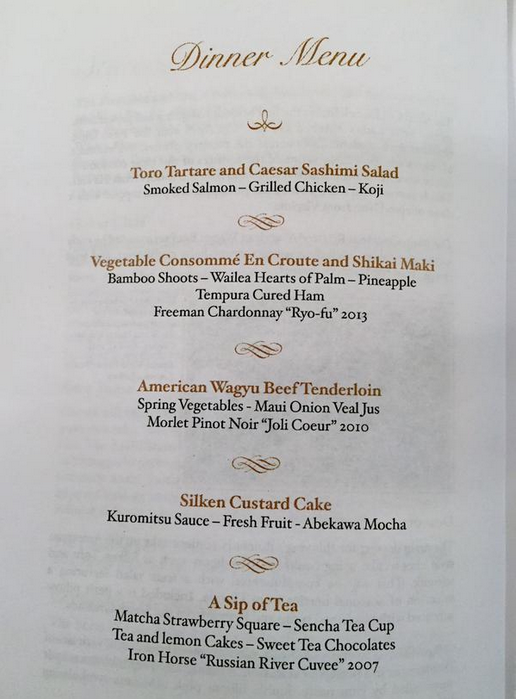 As I'm sure you know, an invitation to a White House state dinner is one of Washington's most sought-after "tickets". VIP guests resplendent in black tie and designer gowns dine on an impeccably concepted four-course meal served by America's most famous kitchen.
The news that Iron Horse has a ticket as a featured VIP beverage came during an 11AM EST press preview for the State Dinner, led by Michelle Obama (ending speculation over which "patriotic tasting wine" would be chosen). Find the menu announcement here. The guest chef is Masaharu Morimoto. The tables will be decorated with cherry blossoms that symbolize the friendship between the US and Japan … and each place setting will have a set of red lacquered chopsticks.
The First Lady unveiled the menu along with the Obama state china service which she had a hand in designing. The china introduces a special blue inspired by the waters of Hawaii being called "Kailua blue" and the service was made by Pickard China, of Antioch, Illinois. The President was born in Hawaii and Illinois is the First Lady's home state. Find the Architectural Digest spotlight on the china here.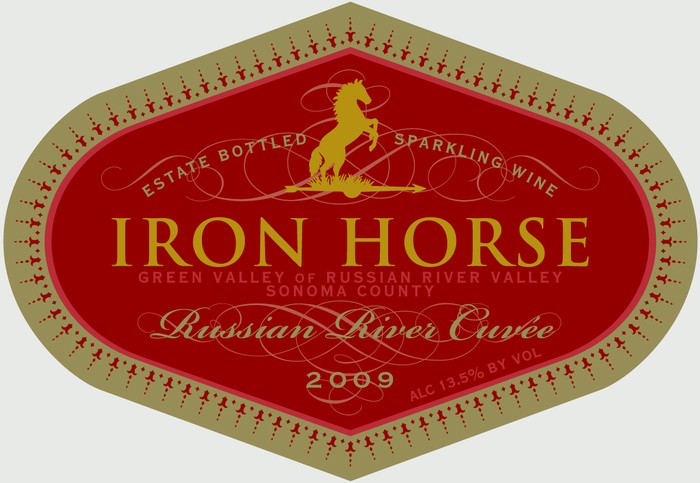 Iron Horse is "at home" in the elegant State Dining Room during this Obama administration which has been selective with their schedule of State Dinners. They've hosted the fewest since the Truman administration, which seems to assign each event heightened historical significance. Our wine was served at the State Dinner for India in November 2009 (It paired wonderfully with the post-meal Beyoncé performance!) as well as the State Dinner for David Cameron in March 2012. Traditionally, Iron Horse is served as the toasting wine, at the end of the meal.

The Iron Horse relationship with the Obamas continues our vineyard's tradition of strong White House relations. Iron Horse has been a favorite going back 30 years and five consecutive Presidential Administrations. Something we're very proud of. Stay tuned as we continue to chronicle all exciting elements of this soiree - from the bubbles to the fashion & entertainment - with the hashtag #IronHorseintheWhiteHouse