Iron Horse
Blog

Dear Friends and Family, These are the Dog Days,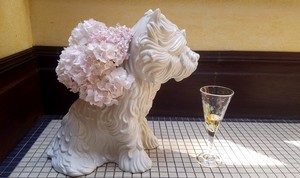 which at Iron Horse means we have verasion in the vineyards.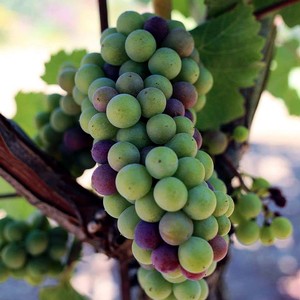 Verasion is the onset of ripening, when the grapes turn color. My brother says verasion is like popcorn. It starts with just one … then several … and then the color is popping out all over.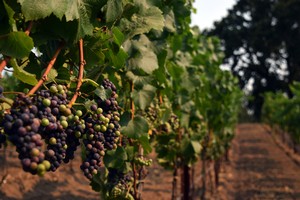 Veraison is often a bit faster in young blocks. Also note that shoots are becoming "woody". Just 1-2 weeks ago that shoot was green. The vines are signaling that harvest is near.
With Chardonnay, the skins become translucent, so that a backlit berry will reveal the seeds within.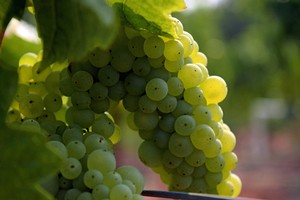 Other indicators include a delicious crop of wild blackberries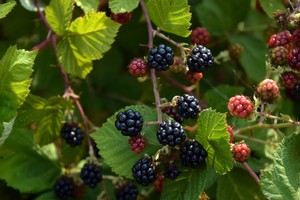 Naked Ladies starting to appear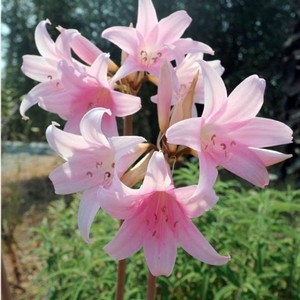 We are extraordinary wealthy in squash blossoms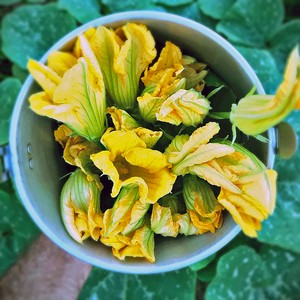 And Queen Anne's Lace
I am extremely proud to report our 2010 Brut LDreceived an outstanding 94 point review from Wine Spectator: "Sleek and luxurious, with floral, brioche and baked apple aromas that open to rich and complex Asian pear, spiced nut, ginger and cinnamon flavors that linger on the long finish. Drink now through 2021." Thank you Tim Fish!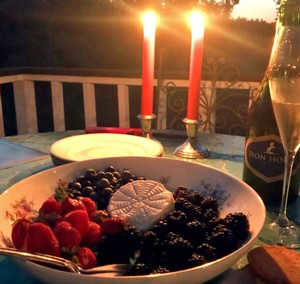 Try it with berries, ricotta cheese and candlelight.
Our hearts are with our neighbors to the North. We can see a shifting, thin layer of smoke on the horizon - a constant reminder of how very lucky we are. Thank you firefighters!
With all my very best,


Sometimes the best tasting notes are just one word - simple, declarative and easy to grasp, like "Wowzah!", which is how our Winemaker David Munksgard describes our just released 2010 Brut LD. This is our first release of an LD in four years.
LD stands for Late Disgorged, aged longer on the yeast in the bottle and our designation for tête de cuvee or top of the line bubbly. It's a play on Bollinger's RD or Récemment Dégorgée (recently disgorged), which is trademarked.
This is our first LD in four years, freshly disgorged just this month, after lavishly aging for seven years en tirage. Only about 500 cases were produced.
The longer the wine is aged on the yeast in the bottle, the smaller the bubbles, so the mouthfeel is soft, elegant, rich and creamy – like drinking a cloud. You will taste and feel the quality with the first sip. It should just effervesce away in your mouth.
From clouds to rainbows, we are also celebrating the release of our 2014 Rainbow Cuvee, just in time for Pride Month.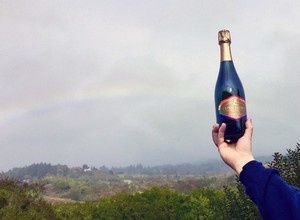 This year, the Rainbow is a vibrant and exciting Blanc de Blancs - 100% Chardonnay, vintage 2014. This is our toast to diversity. Total production 300 cases.
We are getting our first crops of strawberries.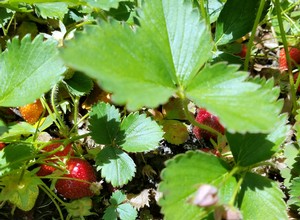 And I am closing in on my ambition to fill every vase in my house with roses.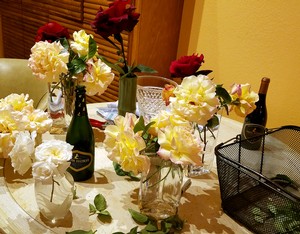 I am especially happy to report that Joy! has been awarded 93 points in Wine Advocate and 94 in Wine & Spirits Magazine, to appear in their Best Summer Sparklers issue.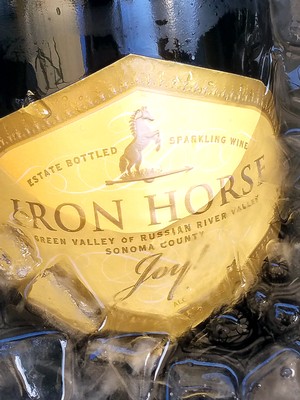 Our 2015 Home Block Pinot Noir received a 92-point rating in Wine Enthusiast. In this case, the wine description is much more poetic: "Sublime in mint and forest floor tones, this is a seductively robust wine that's rich and rewarding on the palate but never loses its sense of balance and place." We call this "Home Block" because it is adjacent to my parents' home. It is most sheltered of our vineyard sites. And, this is where my niece Justine is getting married next month.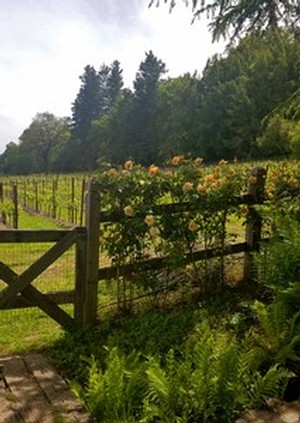 As you can imagine, my father is working very hard to get the garden in "leaf perfect" condition for her. We all love the groom and really can't wait to have a big, beautiful party.
Cheers to love!

There is nothing quite like spring at Iron Horse. Even five inches of rain in a 30-hour continuous downpour couldn't put a damper on it.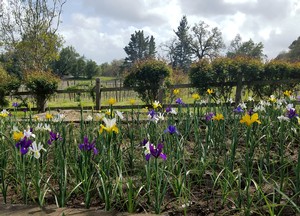 It was a crazy storm - a "pineapple express", thankfully not that intense, but unrelenting, turning us into Island Iron Horse.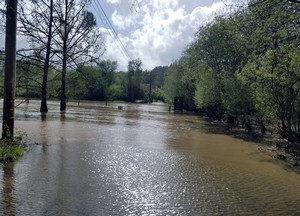 Cazadero got seven inches. San Francisco recorded the biggest one day of rain since the Gold Rush. Yosemite flooded and closed.
Undaunted, our Winemaker David Munksgard and I sat down to taste our about to be released 2014 Rainbow Cuvee, which is a Blanc de Blancs this year, and our 2010 Brut LD, our first LD in four years. We had a great conversation about the future and what better thing to do, even if the creek is rising. Both bubblies are being disgorged and labeled and will make their debut in our May Wine Club shipment.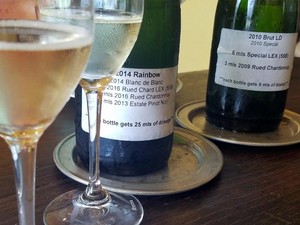 We were flooded at the main entrance all weekend, but it was a great relief to see that the iris and most importantly the vines had stood up to the storm.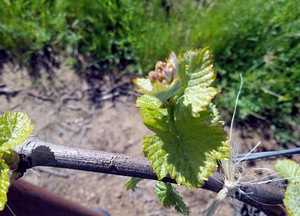 Fortunately, nothing deters our wonderful fans and club members. I am very proud of the intrepid tasters who made the trek around the back way onto the property, especially for our first Oyster Sunday of the season.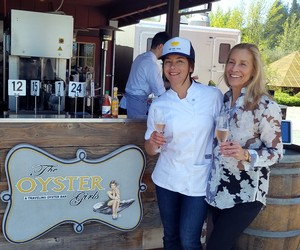 This year, The Oyster Girls are offering freshly shucked, raw and barbecued oysters, cooked shrimp and a caviar tasting. The dates are every Sunday through October from 12 noon to 4 pm (or until they run out). Please, please, please make advance reservations for tasting.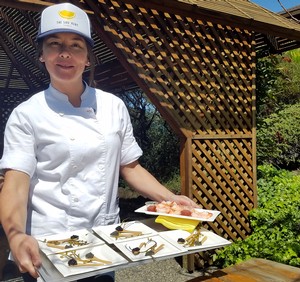 Sometimes it can be an adventure coming to Iron Horse, but always worth it. I firmly believe the beauty of the place is part of our special terroir. The grapes know they are growing in a gorgeous spot and are not to make anything less than the most delicious, memorable and pleasurable wines.
All of us in the Iron Horse family hope you will come visit and drink in the view.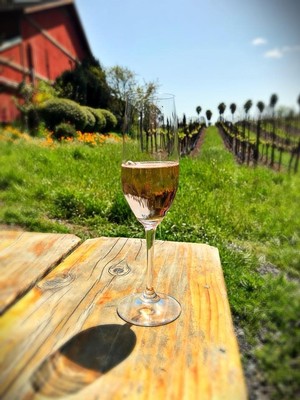 Photo: Rob Akins
With all my very best,


With so much happening around us, there is something very centering about focusing on harvest.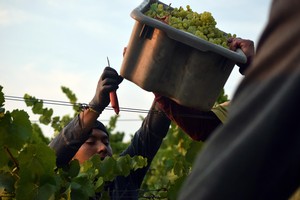 Photo: David Munksgard
All the fruit for Sparkling and Pinot Noir has now been picked. We will probably be done by the end of this week, which seems very early, but remember, our harvest started on August 4 for bubbly, so, that's a month … and this weekend's heatwave accelerated everything.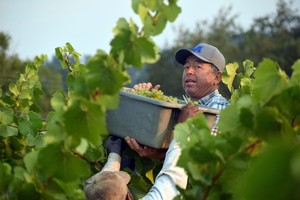 Photo: David Munksgard
So far, Vintage 2017 is all about extremes – even just speaking climatically, we went from extreme drought to record rain fall to record breaking heat. This weekend is certainly one for the record books. It was 106 degrees in San Francisco Friday. 70 degrees here on Saturday at 5am. That never happens.
Extremes always lead to more work. And I could not be more proud of our vineyard and winery crews. This is the first vintage for our new Assistant Winemaker Megan Hill. It has certainly been challenging, but her smile speaks volumes.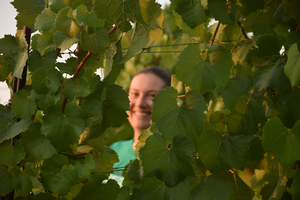 Photo: David Munksgard
It's hard to pry a quality assessment of the vintage out of my brother Laurence and our winemaker David, but I spied a hint on a sample of Chardonnay free run juice. The labels says "F-Low" (for the lower part of block F on the Estate) – "the beginning of a great BdeB (Blanc de Blancs)."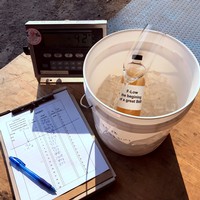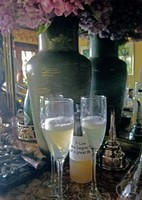 Photo: LG Sterling
Free run juice straight out of the press also makes a delicious Sparkling cocktail, which you can only have here at Iron Horse and only this time of year. We call it the "Sterlini".
One of my favorite though little-known quotes is from (I believe) JFK, talking about something he learned playing touch football, "When you see blue sky, go for it."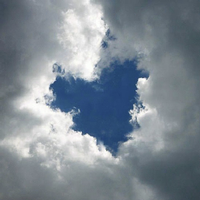 In that spirit, Happy Labor Day! I hope you are celebrating with the fruits of our labor and join us in sending all of our positive energy to our many friends and my cousins Rand and Pamela in Houston.
As harvest draws near, the excitement grows and grows; not just with me as the winemaker, but with everyone here at the winery.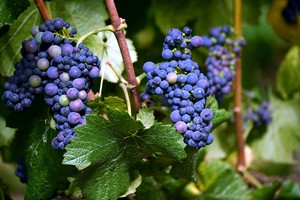 Photo: Elieen Vasko
You know harvest is nigh when we have veraison, i.e. when the grapes start taking on the color you see at harvest. Pinot Noir starts off green, then turns purple. Chardonnay starts off green, then turns a pretty, translucent, straw gold.
Photo: David Munksgard
Other early indicators include the Naked Ladies ...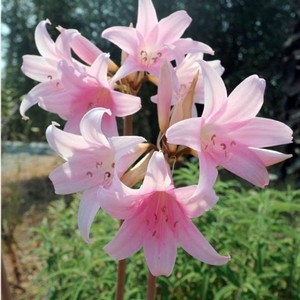 Photo: LG Sterling
... and the onsalught of squash.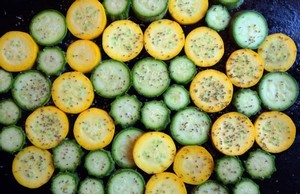 Photo: LG Sterling
Here in wine country, vineyards are everywhere. Even if you are not involved in the wine world, it is hard not to feel the anticipation. My neighbor, a senior airline pilot, noticed the changing color of the grapes on his daily commute, prompting him to knock on my door to ask when I thought harvest might begin this year.
On Wednesday (July 26) we did our very first vineyard grape samples. This is when we randomly pick a cluster here and a cluster there, then mash them up in a bucket. The juice is then tested for Brix, or percent sugar. Based on this sample and general observations, I'm holding by my prediction that we'll start the second (or possibly third) week in August.
All the winter rain along with late spring rain gave our vines a huge gulp of water. The vines reacted by growing more leaves than I've ever seen in my career. Too many leaves cause shading of the grapes as well as raising the humidity in the fruit zone - conditions perfect for mildew and bunch rot. I want beautiful, fully mature grapes that are free of those ugly things. The best option is to remove that excess foliage, open up the fruit zone and allow fresh air in. This is done by vine hedging mechanically as well as removing lateral growth and individual leaves by hand. It's a "bunch" of work, but so worth it. The vineyards are looking really good. The crew has been working very hard; they are my heroes.
Wish us luck!
David Munksgard, Winemaker

The nature of our business is completely dependent on, well, nature! And though we're just now approaching summer, the vines are already filled out and we have blocks with completed set – cues points to yet another very early harvest, which amazingly will be our 40th vintage.
Our winemaker David Munksgard shocked me this morning, advising we could possibly start picking August 1. But he cautioned that's just a time frame, not an exact date. "Some of what I do here is science. Most is what I call practicing my craft. The rest is instinct, good hunches, what my gut tells me." And being ready, come what may.
Our start date for harvest has been inching ahead for the past several vintages:
2015, August 4

2014, August 8

2013, August 21

2012, August 30
So far, the set looks very good. "Set" refers to how the fruit sets behind the blossoms. A good set means we have a shot at a healthy sized crop which is extremely welcome news – our livelihood depends on it. Of course a lot can happen between the lip and the sip, but the ideal would be a nice steady even summer, i.e. cool, foggy mornings with the sun finally poking out at about 11am – not too hot, not too cold, but just right.

Keeping up with Mother Nature is a full time job. Shoot thinning is a perfect example. Laurence Sterling has acquired a hedger tool to assist in letting just the right amount of filtered sunlight to get to the grapes. He calls this a "Goldilocks solution" to a higher quality outcome.
Meanwhile, David has started flying his drone looking for variation in shoot density. Some blocks are beautifully consistent; others have uneven pockets. When you walk a vineyard, you walk so slowly that you simply do not see the gradual change in canopy density. If you could just jump up 200 feet and look down you'd see the difference. Now we can!

Our heroic drone helped detect unwanted gaps in the vineyard canopy in a Chardonnay block up on the highest most westerly part of the estate. A seasoned winemaker's hunch pointed to a likely culprit, but that experienced guess was substantiated by drone shots, showing a signature pattern associated with a vineyard fungus called Eutypa. This is a common disease, which delays shoot emergence in spring, affected shoots that eventually do grow have dwarfed, chlorotic leaves.
The drone shot clearly shows missing vines neatly aligned "within the row" suggesting something was being spread vine to vine. If it was a root pest or flying bug, the disturbance in the vines would not be as "neat and inline." Once properly diagnosed, the vineyard crew descended upon the cause to cure it and Laurence has ordered replacement vines to fill in those gaps in the Thomas Road Vineyard.
Today our bird's eye views show a healthy and strong vineyard.

Even after 40 years, this is a completely new view for us. And the pictures, besides being informative, are just plain cool.
Speaking of cool, we are experiencing our signature summer cool, foggy weather with the sun just beginning to poke through at 11am, validating Mark Twain's famous quote: "The coldest winter I ever spent was summer in San Francisco." A word to wise when coming to taste with us is definitely dress in layers.

As summer beckons, our thoughts naturally turn to love. This is high season for Wedding Cuvee aka Love Potion, a sure fire way to help newlyweds live deliciously ever after.
We recommend taking our bottles of Wedding Cuvee into the big day in a big way. Jeroboams of our most romantic bubbly can be engraved with the names of the bride and groom and the wedding date. Have the bridal party sign the bottle with a metallic pen, then send us the empty and we'll re-cork and re-foil it (note: not re-fill) to make a beautiful keepsake.
Rainbow Cuvee adds another level of meaning as we celebrate the nuptials of every American and marriage equality. This year marks the one year anniversary of the landmark Supreme Court "love wins" ruling and we are extremely honored that the Obama Administration served Iron Horse at the White House LGBT reception June 9.




#######

We believe in the power of special ingredients at Iron Horse. Each bottle is infused with their essence. It is deeply gratifying that friends and family appreciate the intangible draw of our bubbles, Chardonnays and Pinot Noirs. For some, the journey to understanding the Iron Horse mystique ends with enjoying a glass or two. There's certainly no better place to begin and end! But for others, it's intriguing to get to know the truth behind this seemingly effortless deliciousness. With winemaker David Munksgard as a guide, we are delighted to introduce you to some of the wonderful people who are the hands on contributors to our success.

David starts out so many days walking the vineyards as we've frequently chronicled on the blog. But our focus rarely zooms out past him in that moment. Widen the frame of that morning scene and you see the vineyard team hard at work, including Vineyard Foreman Manuel Briano kneeling in front of the vines with a young protege at his side - a learning moment while shoot trimming , carefully removing unwanted growth from the vine with a decisive nudge of the thumb. Their genuine interest is written all over their faces.

The Vineyard Team, which reports to Laurence Sterling, is an integral part of our magic. Some might call them "behind the scenes," but as David explains and all of us know, "they are front and center and the foundation upon which growth happens." We rely on team members like Manuel, to bring natural coaching skills into play. Manuel was a talented amateur baseball player whose team spirit extends into the vineyards.

Many on Team Iron Horse were farmers in their native country of Mexico where they gained an innate understanding of agriculture and love of the land. They work hard, tinker until something's fixed and draw upon wisdom from within. As David shares, "they really care and take great pride in what they do." This is undeniably evident in the work of Jose Puga who is the Grounds Manager reporting to Chief Gardener Barry Sterling. He keeps Iron Horse looking so beautiful and maintenance efforts are massive. Besides the signature flower, fruit, and vegetable gardens, Iron Horse is a 260 acre reserve and grounds like these demand constant attention. It's second nature for Jose who started working with Barry Sterling when he was just 17 years old (Note: Jose Pugo and Manuel Briano also run the frost protection system which we referenced in our Spring 2016 Vineyard Update Blog - photo of the system at the close of the blog).

David was particularly moved by the all-for-one ethic of the winery crew during his 20th anniversary celebrations at Iron Horse. It was then that he realized the true value of "extended family". We simply can't do this without them. I understand their skill sets and appreciate how fortunate we are. It almost made me embarrassed to be recognized in front of them." Many on his team have been with Iron Horse for decades, some since the beginning, "We probably have the most experienced riddler in North America. Jose Luis Briano (Manuel's brother) has been here since 1984, which is a testament to both him and to Iron Horse."
Cellar Master Rigoberto Moreno Rojas aka Rigo (below), a veteran of 28 vintages here, was the first to shake David's hand when he started at Iron Horse. David calls him The General. "Rigo and I talk about what we want to accomplish and he'll step in to explain, why we can't physically do that but THIS is what we can do and then he makes it happen. The Cellar Master is a key player in every winery and someone to be taken very seriously. It is a coveted position. He or she has to know absolutely everything about the winery. And we are in excellent hands with ours."

To continue raising the bar, requires ever more meticulous, rigorous, detailed work in the vineyard and the cellars. It's getting harder each year for Vineyard Manager Victor Arreola to recruit and keep the highly trained and dedicated people we need. Young farmers are becoming more rare. And there's a concern that the knowledge is not passing passed on.
"This is such a talented crew and I absolutely love these people," says David. It's an honor to see them with their families and taking so much joy in what they do. It seems like the light is always shining on them."

His closing remarks are the inspiration for the spirit of this grateful blog post. "There's something about this place that gets me. Iron Horse has allowed me to live my dreams and convey the beauty of the place. And these are the people who will just do anything we ask to make it happen. They are the ingredient X in our wines.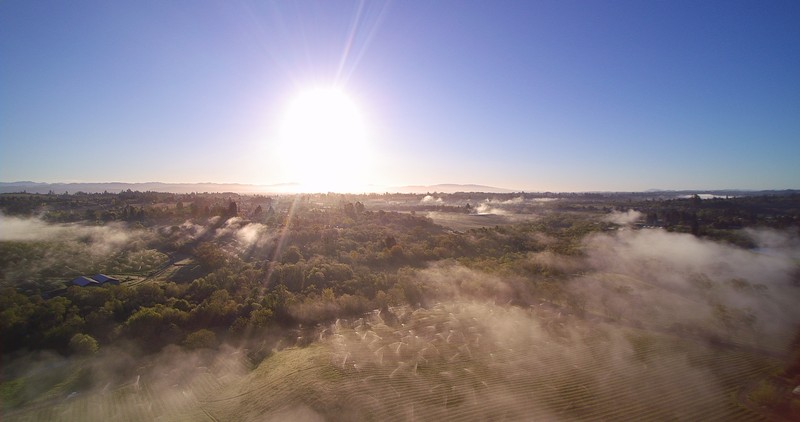 The allure of buried treasure beguiles us as children. We trudge through our backyards guided by maps which point us to the spot marked X. Ah! The excitement of discovering something hidden.
This is an experience which eludes most of us as adults. That was, until our cellar master discovered a cache of long forgotten, unlabeled magnums of Sparkling Wine from various vintages going back 10-15 years. A treasure trove of beautifully aged bubbly - 30 cases of this, 40 cases of that, from seven vintages and 13 different base wines. The first vintage of Joy! was a 1991, which we released in spring of 2007.
Today, the Joy! project is in full bloom. The new release, vintage 2003, makes its debut Friday, March 18th (details about Release Day Joy! at the vineyard here). Shop it here.

To sip this wine is to experience the magic of 12 years aging in contact with the yeast before disgorging. As winemaker David Munksgard explains, it takes a full 12 years for the wine's alcohol and acid to have the time to dissolve the goodness inside the yeast's mitochondria (break out those biology textbooks!). Once released, those "goodies" (amino acids, proteins, and fatty acids) achieve two things, both hallmarks of truly beautiful bubbles. They contribute to the umami experience and the fatty acids coat the bubbles which making the perfect, pin point, tiny orbs that accumulate at the surface of the glass creating a "foam cap" or crown. The result is an especially creamy texture and nutty, brioche aromas.
I wish I could say that we planned Joy!, but I do feel it is to our credit that we hold onto these magnums for so long. As everyone in business knows, the most expensive thing you can do is hold onto inventory.
There is no doubt in my mind that longer aging is the key to creating the greatest California Sparklings, second only to vineyard site. The longer the time en tirage, the smaller the bubbles, leading to richer, creamier and more elegant wine. Top quality bubbly is so much about texture, which can only come from extended time on the lees. When you are drinking a tete de cuvee, like Joy!, you should not even have to swallow. It should just effervesce away in your mouth. (See our blog post on The Science behind the Magic, October 2015).
David says that he doesn't know of any other California producers nor many French houses making this kind of time investment. (Maybe we should change the name of the wine to Patience?) That said, we urge you to be completely spontaneous in drinking Joy! We've already held onto to it long enough and David is always quick to remind us that even the most special wines are not made to be revered, but shared and enjoyed.

Here are his tasting notes:
"By nose, yeast and toasted hazelnut lead the way to grapefruit and baked apple scents with a hint of ginger. By mouth, your first impression is more sensual than taste. Full, rich and yet youthful and bright all at once. The most perfect lemon curd; creamy richness with freshness and bright finish. It is lush and refined like a silky ribbon."
How can you resist?


It has been four long, thirsty years since we have had any Joy! to share. That was the 1999 vintage, which won a near perfect 98 point score in Wine Enthusiast, 93 Points from Robert Parker and 93 points from Wine & Spirits.
The reviews were spectacular:
"Graceful and refined, with crisp apple and yeasty lemon aromas that lead to complex flavors of toasted almond, ginger and spicy mineral. Finishes with pinpoint crispness."
"Drink now!"
"Light gold in the glass with aromas of wet stones, lemon, and roasted nuts, this wine tastes of bright apple, lemon, buttered toast, long finish. Wonderful acidity. One of the finest made in California"
"A deft blend of richness and delicacy, offering mature aromas of spiced apple, almond and cinnamon, with opulent flavors of toasty crème brûlée, laced with notes of mineral and ginger. Great length."
We were greatly honored when it was served to the Queen of England at a State Dinner at the Ambassador's residence in London, Winfield House, in 2011.
Fortunately, the four year "drought" has been worth the wait! The current release is 70% Pinot Noir and 30% Chardonnay. The disgorging date (day/month/year) is on the back of each bottle.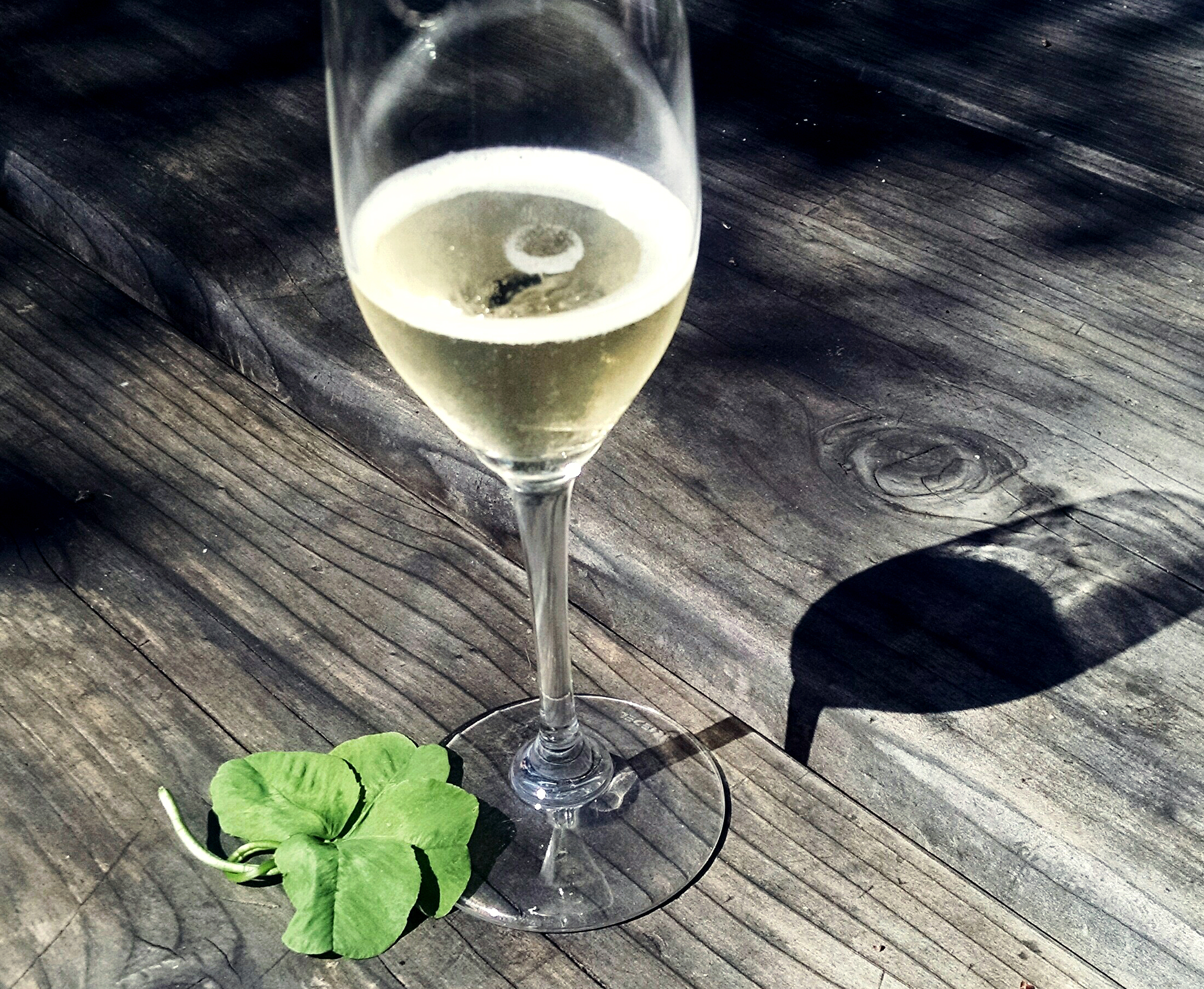 Spring forth and enjoy!
This year's harvest offered a bunch of "firsts" for the Iron Horse team and provided challenges for expert wine growers like the Sterling Family and winemaker David Munksgard. Each harvest offers its own hurdles and opportunities to recommit to a vineyard philosophy of garnering exceptional flavors. But as the 2015 harvest comes to a close, it's apparent that this year was uniquely challenging for several reasons.
To learn more about the unprecedented growing conditions and harvesting game plan that define the vintage, I snagged some precious time with David, the 35 year "veteran of the vines" who teamed with Laurence Sterling to employ methods that traditionally are only seen in the finest wine chateaus in France.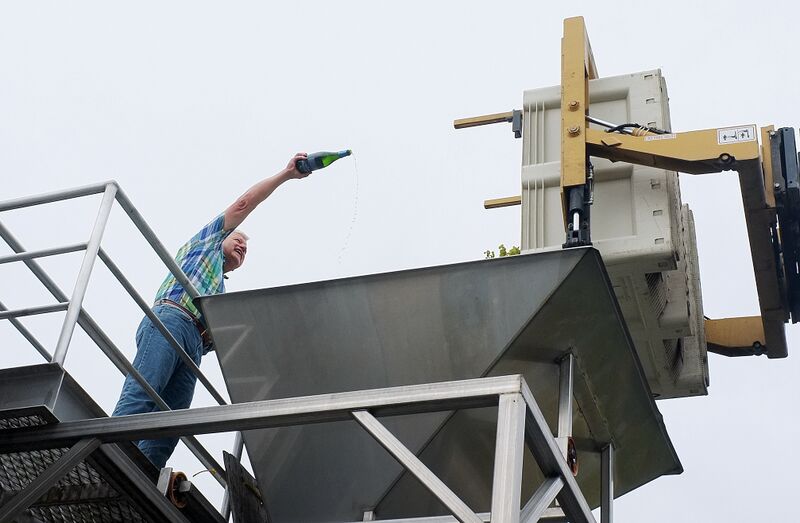 Tarin: Where are we with harvest? Close to wrapping up?
David: We will finish this week.
Tarin: Is it appropriate to say that this year's harvest calendar was anything but expected?
David: Yes, it was completely mixed up. The normal progression would be to start by picking Pinot Noir for Sparkling, followed by Chardonnay for Sparkling. Then we'd move to Chardonnay grapes for still wines and finish with Pinot Noir for still. This year, we started with Pinot Noir for Sparkling but then jumping all over the place from there. We're actually wrapping up with sparkling. In my 35 year career, I have never seen a harvest like this. That doesn't mean it's bad. It simply means that it's challenging. You really needed to be IN the vineyard to observe and judge the ripening vine by vine, day by day, so that you could improvise a game plan to take advantage of a constantly changing situation.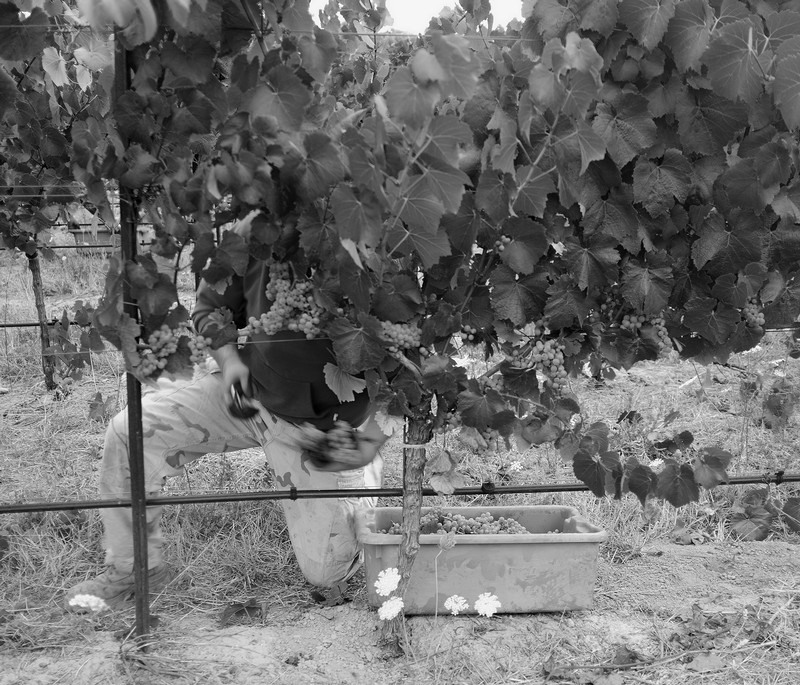 Tarin: Explain some of the hurdles you experienced upon starting the harvest.
David: Compared to the previous three bountiful years, this crop was sadly very light. Additionally when we assessed the grape vines, rather than finding uniformity, we found Pinot Noir vines where half the grapes were green and half were purple. Knowing that it was going to be a smaller harvest, we had to work with this diversity and not just cut those green grapes and let them drop to the ground. Essentially, we had to pick each vine twice. Laurence and I were clear with the vineyard team about which shades of purple were ripe for picking. It was the only way we could protect our ability to make the highest quality wine.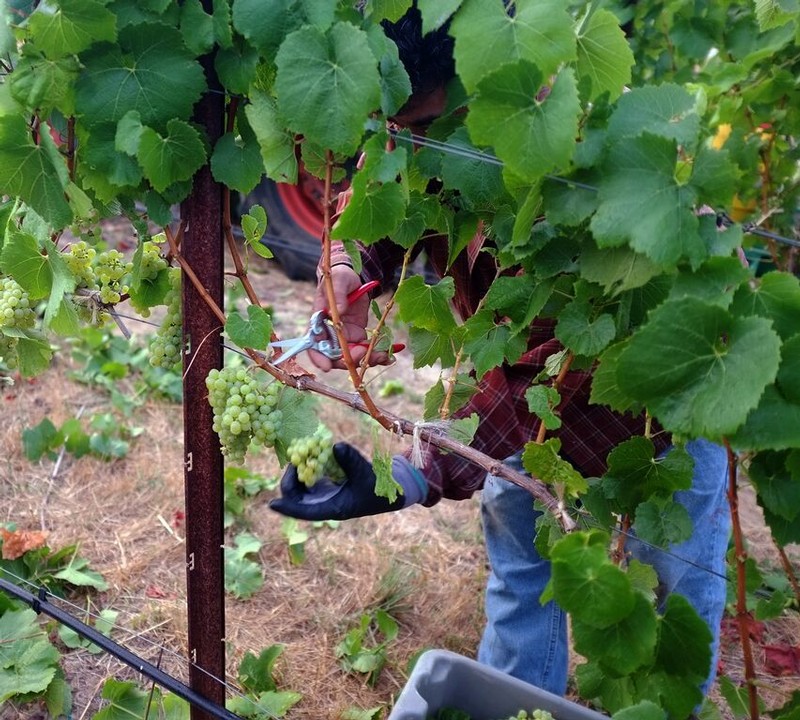 Tarin: How do you describe the vintage?
David: Challenging! But it is so satisfying to work with people who can all agree on the solution even when it is the more difficult path. Sure, we could have waited until the average analysis of the vineyard was what we needed, but the truth is that we would never have been able to make an amazing product by picking under-ripe or overripe fruit and let it even out in the press. We simply can't do things like that with our commitment to excellence. We have to protect the reputation of the winery and if that means working twice as hard and incurring the cost, then we will. In the end, we devised a way to make really great wines in a difficult vintage.
Tarin: How does this harvest compare with last year?
David: Last year, harvest was delivered to us with a ribbon. But I think the wines are going to be on par with the last couple of excellent vintages.
Tarin: We're hearing that quantity is down … but quality is high?
David: Quality is not high because the crop is small - the quality is simply there thanks to what Iron Horse does in the vineyards.
Currently we have only six wines available to taste. The rest are still fermenting. But they are clearly equal to the past few great vintages. Honestly, this was kind of shocking. Based on what we had to go through, I was expecting the results wouldn't be so great. I am extremely happy to be surprised.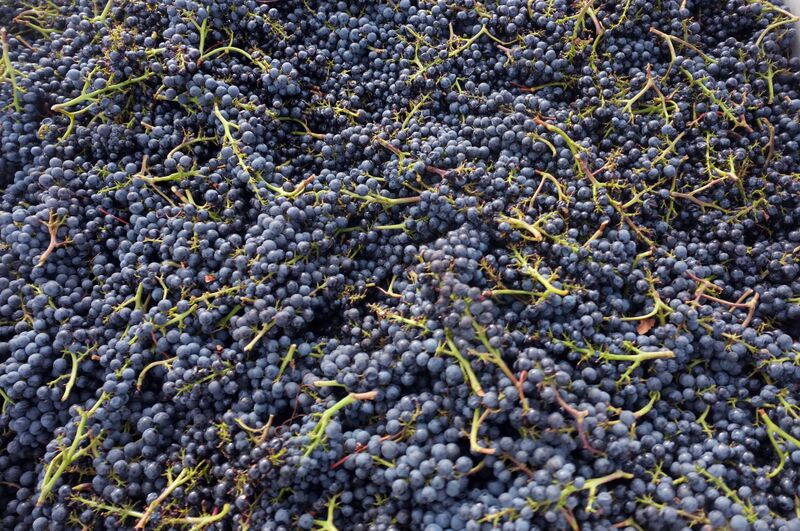 Tarin: Weather was clearly a driving factor, describe the weather starting with that nice rain in December 2014…. then what?
David: Nice and promising ... then extreme, protracted drought. Luckily we have a reservoir on the property, which the Sterlings had the foresight to build in the 70s. We use recycled water which Laurence and the vineyard crew carefully allocated to keep the vines in really great shape. We never got to a place where I was nervous about the vines holding up until the grapes were mature.
We didn't have as much fog as we normally have. There was a time where the harvest was faster than normal - the sugars were rising quickly, but then we dropped into moderate weather with cool nights. For the most part, the weather was cooperative with cooler conditions that envelope the grapes through the night until mid morning and allowed the crew to pick until 10-11am.
However at the very end, we had a few days of 100+ heat. By then, the few remaining blocks could be completely picked before the day got too hot. We only had one very small block that suffered a slight bit from the high temperatures. It was our last block of Pinot Noir for still wine, our harvest crew culled out clusters that had raisined.
Tarin: What has the long growing season meant?
David: When we started bud break, it was ridiculously early - two weeks ahead of last year, which was three weeks ahead of 2013. Then we went into a period of cool almost cold weather and that stopped the clock. The vine is only active when the average daytime temps are above 60 degrees, if it doesn't meet that, the vine goes into a dormant, slumber state. So essentially, the early spring didn't count. In the absence of a consistent rise in temperatures, we got the cluster to cluster variation which was so challenging. All the historically important and reliable timelines got stopped and re-started repeatedly. That interruption of the normal cycle in the vineyard led to uneven ripening and us picking the same vines repeatedly.
Tarin: What are your great take aways from this harvest?
David: I've always heard that the great vineyards in France make exceptional wines even in a difficult vintage, while lesser chateaus often miss the mark under distress. What it boils down to is the commitment on the part of those great wineries. Iron Horse has that passion and dedication. As Laurence says, "It has to MEAN something when we put 'Estate Grown.'" on our labels.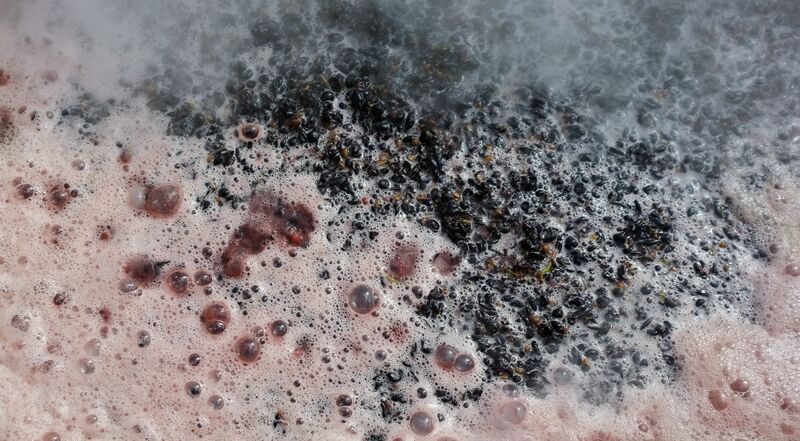 Tarin: Now, tell us about your new drone! We LOVE this video shot recently. How are you using the drone in the vineyard?
David: I initially used a small drone with a 1-2 megapixel camera to take some vineyard photos. At the time, I of course knew the property was beautiful but I didn't know it was that beautiful! I ultimately upgraded to a big drone with a large high def camera and I've been blown away at the view from 400 feet.
From a practice perspective, the benefits are untapped. Years ago, we would do an annual flight over the vineyard for infrared insights into the foliage conditions in different sections. With the drone, we can do this much more frequently and at lower cost.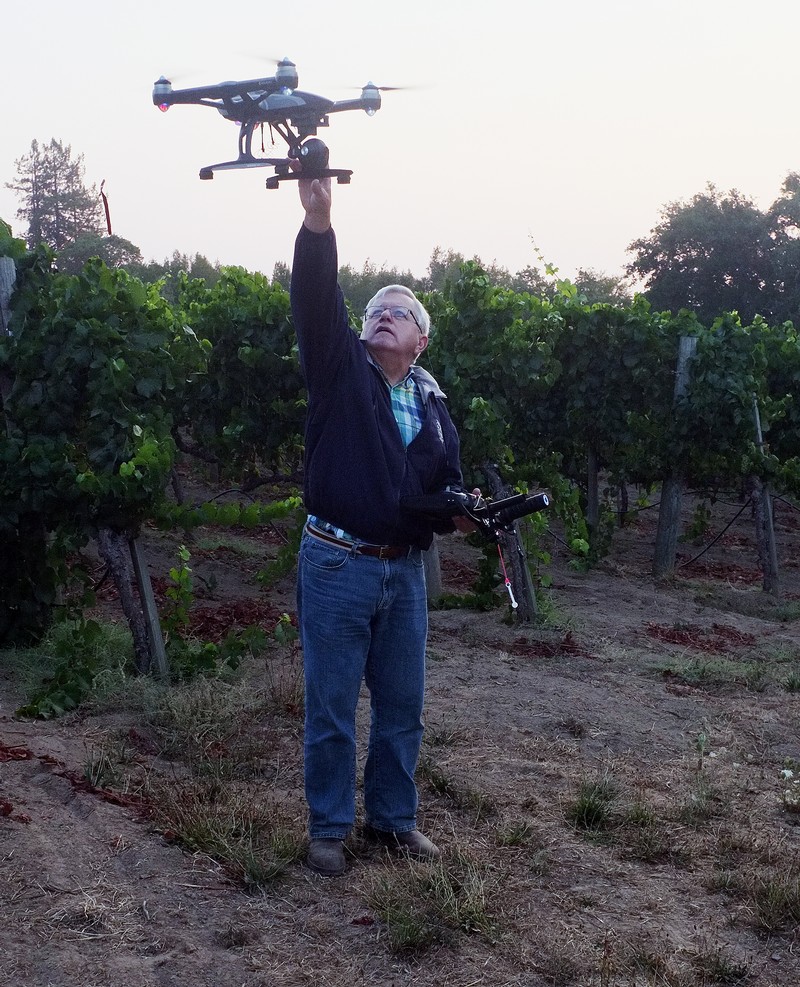 Tarin: How has it helped with the harvest?
David: I got this drone a couple weeks into harvest, but next year I plan on getting it up there weeks before we start picking to look around with a hawk's perspective. These flights will serve to help us identify which vines need more emitters (more water). It also has the potential to pinpoint differences in the canopy. Once something out of the ordinary catches your eye, you can walk out to that spot and see what's going on. I'm sure this drone can be used to make a better bottle of wine.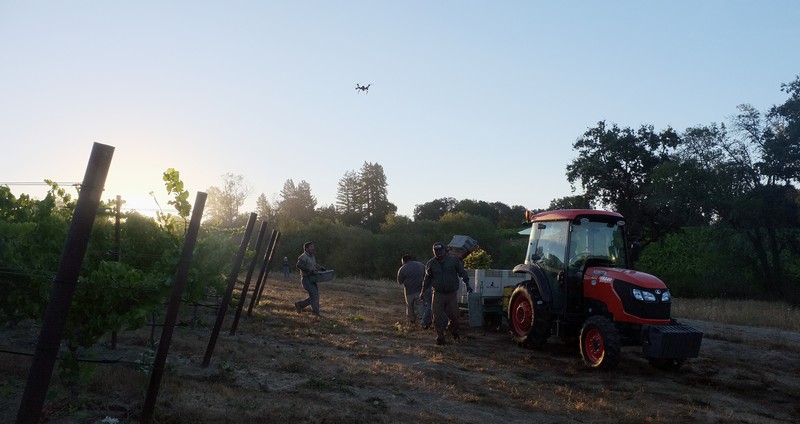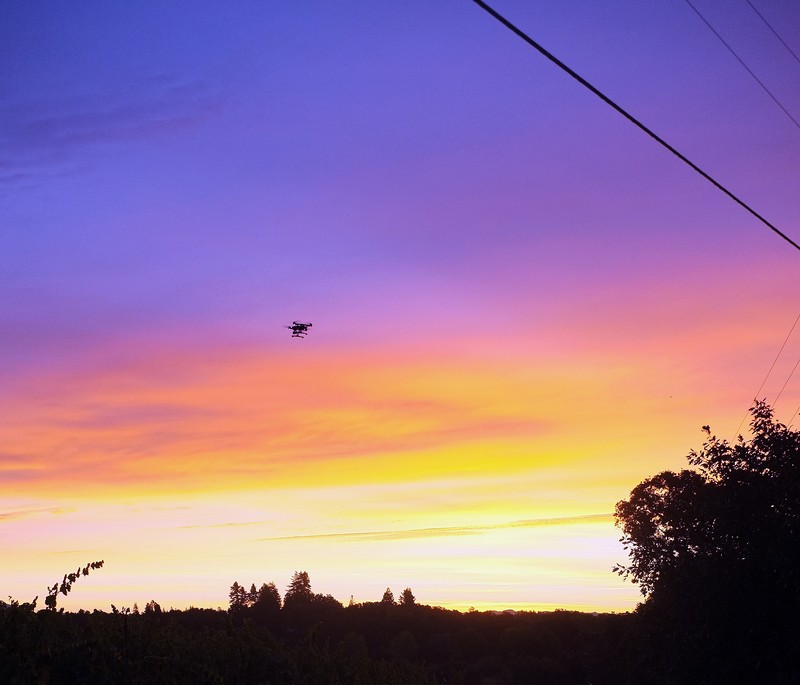 Tarin: When will we be able to taste the wines of 2015?
David: The Sterling family tradition has been to get together around Thanksgiving to taste the new vintage. Generally, November-December is when you get your first good sense of quality ie depth of character and complexity of flavors.
And as winemaker I taste the wines continuously as they develop.
As a finished product, the Chardonnays will be released in two years, the Pinot Noir in three and most of the bubbles in 2019.
###


Winemaking at Iron Horse is a passion and brimming with romance. It's a family effort spanning three generations. Winemaker David Munksgard (pictured below in his "mad scientist" lab) has been a part of the vineyard family for the past 20 years. He plays a leading role in determining the outcome of exceptional Iron Horse wines and bubbly.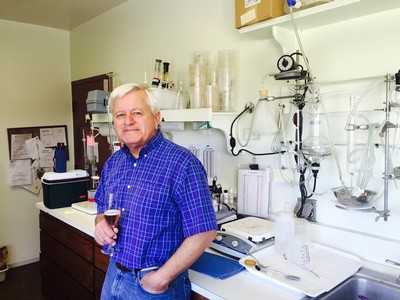 I had the pleasure of touring the property with David one sunny afternoon in Green Valley. The first thing that sticks out is David's emphasis on the importance of the "place." After an ebullient hello and a pop of Wedding Cuvee to celebrate my recent marriage, he informed me that the Iron Horse estate has the most sought after land for growing Chardonnay and Pinot Noir in all of California.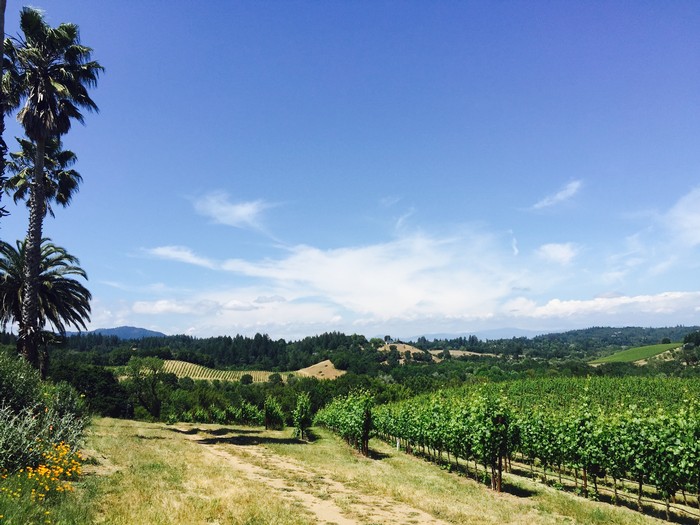 The unique conditions - cool nights and nearby ocean influences, make each of the exclusively estate bottled wines rich with the special flavors, specific to the vineyard and never the result of "recipe winemaking." Don't get him started on his "special sauce" or his tireless drive for balance, quality, and class in a bottle.
David starts out every day in a personal paradise. He arrives in the vineyards at 6AM and conducts a sunrise walk through. The winemaking process is about getting on an intimate level with the grapes from beginning of their life cycle 'til the wine is corked and "laid down" to age. David even admits to whispering motivational words to grapes. And when he returns to his "desk" -- this delicious view below awaits him....
His efforts are grounded in the superior vineyard farming style implemented by Partner and Director of Operations Laurence Sterling. The vineyard has been slowly replanted over the past eight years by 10-15 acre increments. In certain blocks, the row direction was changed to get the most even sunlight with computer generated simulations guiding the proper orientation.
Laurence's responsible farming has had ripple effects beyond superb wine, even the creek which cuts across the property has begun spawning salmon again. I'm not surprised to see this commitment to doing what's right pop up again and again. As a keen Iron Horse observer, this pervades all decision making, regardless of just how challenging it might be.
David's roots are on the East Coast, where European wine is the template. Burgundian wines and French style sparklings are his jumping off point - a style that matches the Sterlings' love of French tastes/culture based on their history as past French residents! The combined French influence is evident in Iron Horse wines, especially as they age. Flavors also originate from the site and from his deep understanding of his audience - the Iron Horse fans. He works with team members in blind tastings and solicits consumer feedback from visitors at the tasting room to facilitate consistent improvement and innovation.
To better understand the sparkling winemaking process, David walked me through pivotal points which illuminated the intense work, oversight, time and patience required:
Step 1: August is dedicated to hand picking pinot noir for sparkling, followed by chardonnay. Each vineyard block is kept separate until blending time.
Step 2: Fermentation.
Step 3: In February, David starts assessing blend options. He plays with the blends based on smell, visuals, and of course tastes. He consults the team through "blending sessions" and notes that he has to separate from his own preferences at this point. His priority is to determine proper taste for the different occasion and label. (Note - David's toughest critic is his wife whose all time favorite Iron Horse Sparkling is Russian Cuvee)
Step 4: After the sparkling blends are chosen, they're put into stainless steel then refrigerated to
force crystals to form so they won't form in the bottle. You'll find these "cold stabilization" tanks with ice on the sides!
Step 5: Seven days before bottling day, he grows a yeast culture. One day before bottling, he adds sugar. The product is bottled for the secondary fermentation creating bubbles and then aged for three to eight and even 15 years for the future magnums of Joy!
Step 6: The riddling process and disgorging process remove the spent yeast. At this point, a dose of David's "special sauce" is added - this secret ingredient determines the degree of sweetness to dryness and sets the style of each of the Iron Horse bubblies.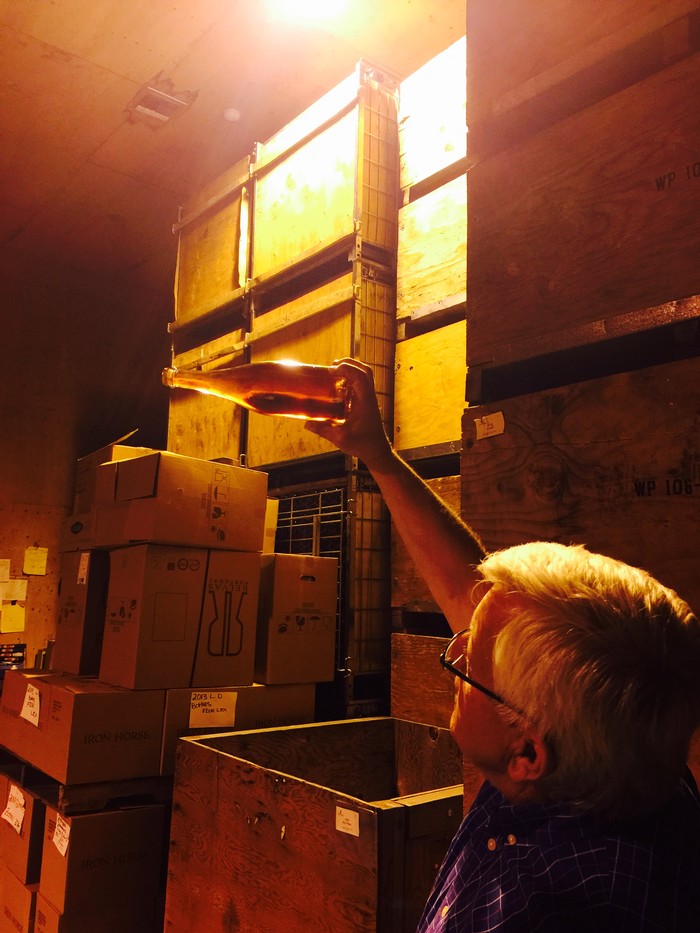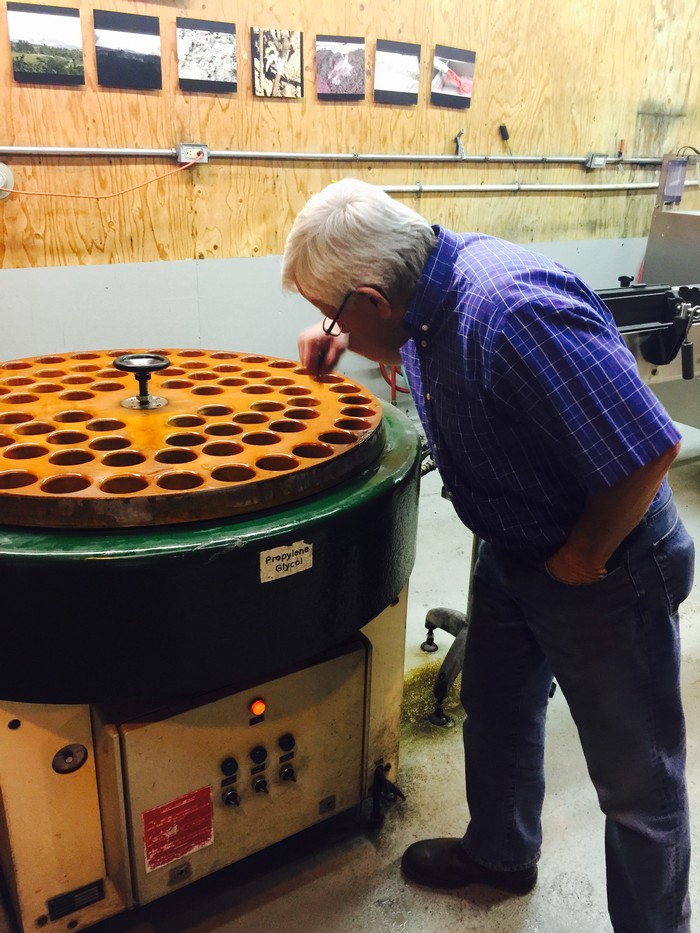 Fun Fact! Even the Iron Horse corks have been specially curated. The vineyard partners with one family in Portugal - David says they're the best in the business! Signature cork shown off below by the wonderful Wine Club Manager Kevin Vanderhoff.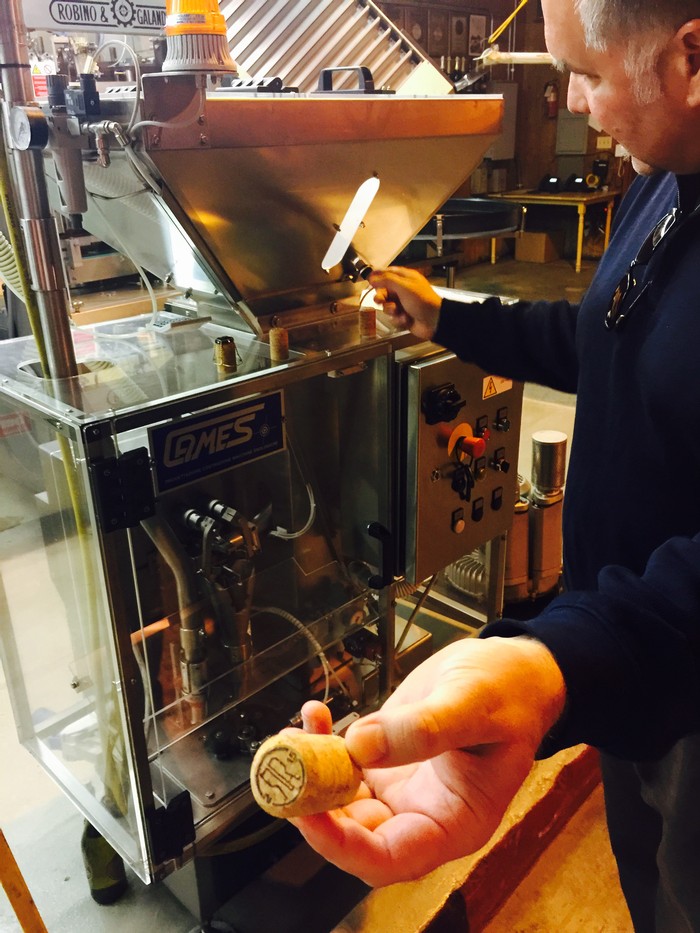 If you ask David to name his favorite bottling - you won't find an easy answer. His passion for all of his creations drives the Winemaker's Choice Club option where David selects his two favorite bottles each month to answer the question of "what's the winemaker drinking." Sometimes he'll spotlight "hidden gems" which he and the cellar master might stumble upon by accident in some forgotten corner … a discovery prospect which I found very romantic!
He does make a few recommendations:
Summit Cuvee, commemorating the history making free climb by two brave climbers and Iron Horse friends in Yosemite in January. Some have called it his "masterpiece," the special sauce (aka liqueur de dosage) is a deliciously distinctive flavor with notes of caramelized cream soda like.
Russian Cuvee, the "ideal toasting" sparkling, always at the ready, chilling in his fridge at home.
Ocean Reserve, made in partnership with National Geographic. $4 a bottle goes to National Geographic's Ocean Initiative to help establish marine protected areas and support sustainable fishing.
And Summer's Cuvee, a limited production, seasonal pop that he dreamed about for years before actually developing. The new vintage has just been released!
Pictured below... bottles always line his desk and the Tasting Room shelves just outside.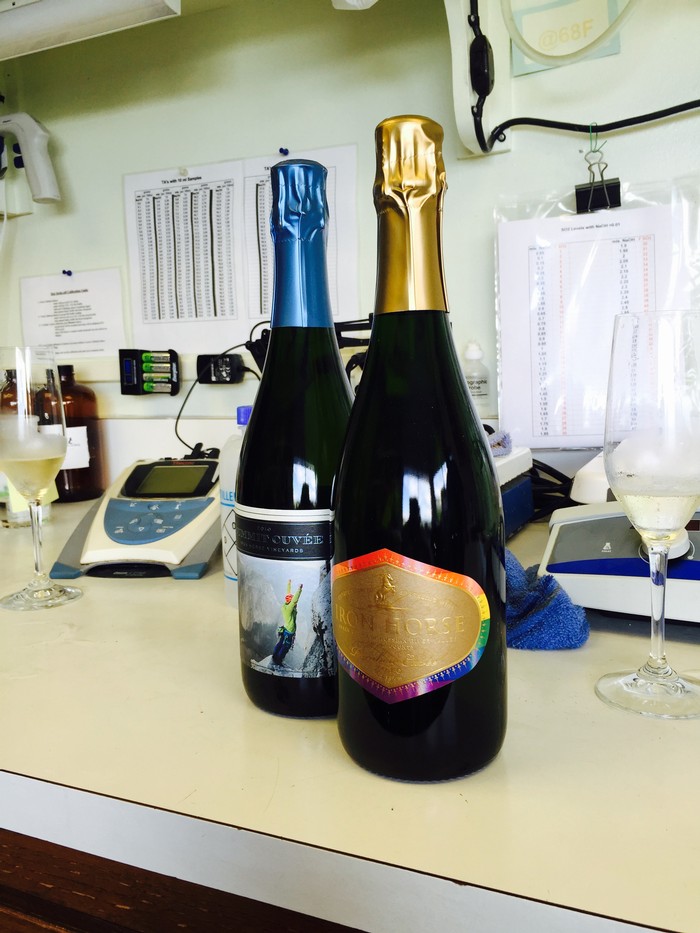 He also enjoys working with longtime Iron Horse special partners, like Charlie Palmer, Michael Mina, Commander's Palace, and Disney where Iron Horse is the official wine in the theme parks and on board their cruise ships. These friends have a long standing trust in the irresistible allure of the vineyard flavors and David's winemaking prowess.
David, a poetic and gentle soul at his core, explained sweetly "You want to fall in love with the wine." This reflects our winemaker's self-assigned mission to create the perfect sip which anchors you into a memory and an experience. He speaks about overhearing brides in the Tasting Room reminiscing about Wedding Cuvee on their special day and is filled with emotion. That's what he works for. That pairing of a beautiful moment in time punctuated by the specially crafted and perfectly corresponding bubbles.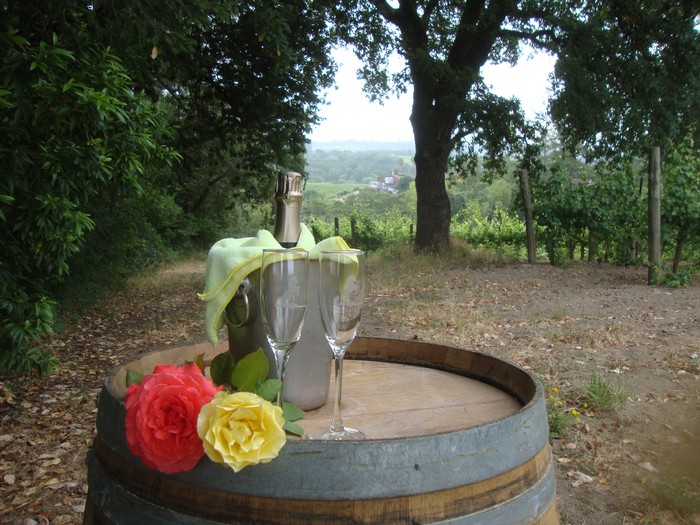 For more fun with David, Iron Horse offers very special "Truck Tours" of the vineyard on Mondays, by appointment only. And I must warn you that these tours are becoming legendary at Iron Horse. A recent "Truck Tour" resulted in a proposal and a pop of a champagne cork with David as a co-conspirator.
He began a private tour with a glass of bubbly & an unsuspecting future bride accompanied by her prince charming. David led the couple to a barrel conveniently placed in his favorite area of the vineyard where he strategically stopped the truck to point out the beautiful view of the winery - handed off a bottle of Wedding Cuvee - and stepped aside for the magic proposal to occur in the glow of fizzing Iron Horse bubbles. I think it goes without saying . . . she said YES.
Book your own romantic memories by clicking here . . .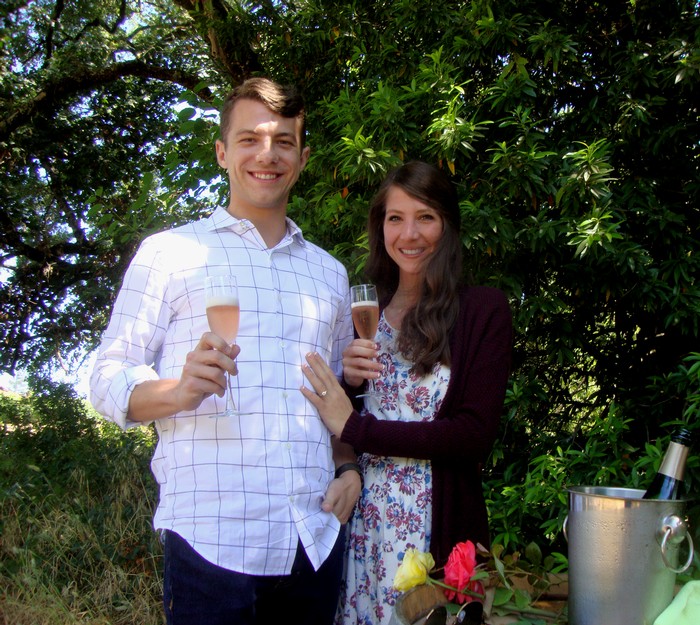 -Interview with D. Munksgard as told to Tarin Teno