Iron Horse
Blog

Dear Friends and Family,
Thank you for the outpouring of concern, for my parents and for the entire Iron Horse family. Thankfully, we are all fine and pulling together as kith and kin. We are so very lucky and appreciative to have so much love around us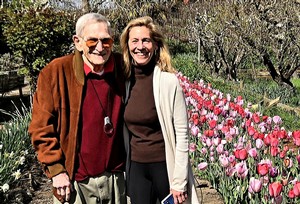 ... even at a six foot distance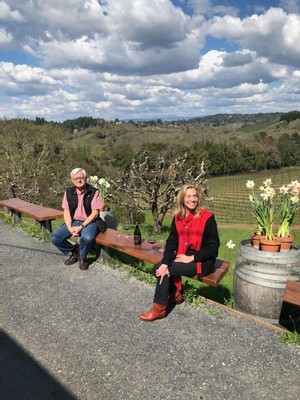 Right now, we are thinking of you and yours and hope you are all OK. We know so many of you, personally, from the wonderful times spent in our Tasting Room … and feel especially close to you right now … as the on-line orders are fluttering in. Your thoughtfulness is like a rainbow – appropriately on this first day of spring.
Like so many, we're doing our best so we can continue to be part of all your moments - big and small - for years to come. We are very lucky that wine is considered essential, as an agricultural product. As Thomas Jefferson said: "Wine is a necessity."
I hope you'll consider sending Iron Horse as a gift when you want to be "there", but you can't physically be there. And, stock up for yourselves. We are offering $1 shipping on six bottles or more. The shipping discount will show up at check out.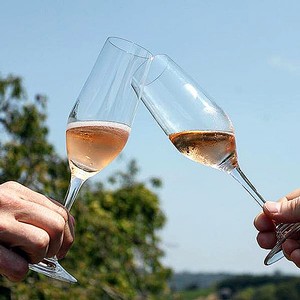 Thank you for your great, ongoing support and, most importantly, your closeness to us in heart.


Dear Friends and Family, This is a time for optimism, a steady hand and doing everything we can to help protect the community.
Here at Iron Horse, we have changed our protocol to clinking glasses instead of shaking hands.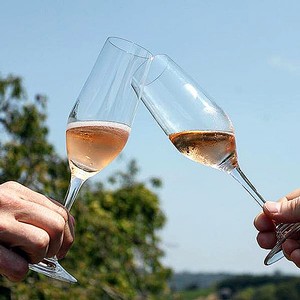 Following the Governor's announcement, we have closed our Tasting Room. Our wines are still available for purchase and pick up here at the winery from 8a to 4p; we are just not offering tastings. The best, easiest, safest and most helpful option available 24/7 is to order online. We are offering $1 shipping on six bottles or more. Please clicke here.
We know not everyone can stay home, and we owe a big debt of gratitude to our doctors, nurses, and caregivers, first responders, everyone in essential services, the unbelievably great people working in the grocery stores and pharmacies. Thank you!
I also want to share the view from the winery with you. It will still be here when this is over.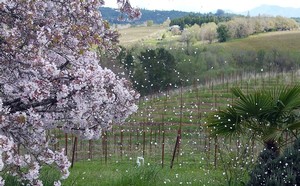 Wishing you and yours all our very best during this crazy, unprecedented time.


Dear Friends and Family,
Happy Chinese New Year, celebrating the "Year of the Rat".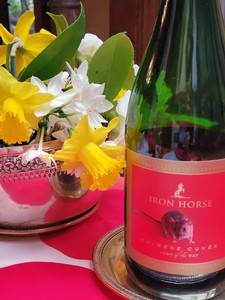 The Rat is the first sign in the 12-animal cycle of Chinese Astrology, a portent of new beginnings. Rats are said to be clever and wise, symbols of wealth and abundance. Rat years include 1924, 1936, 1948 , 1960, 1972, 1984, 1996, 2008, 2020, making this is the perfect gift for anyone expecting a baby (Us! My eldest niece Justine is due this summer) … and for those celebrating a milestone birthday, like turning 60 (namely, our brilliant, handsome label designer Mark Berry).
Here is a line up of our Chinese New Year labels of the past five years.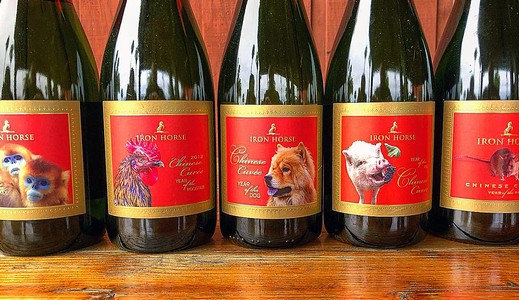 The endearing creature on this year's label, a Key Largo woodrat (Neotoma floridana), is sadly endangered. Fewer than 250 adults are left in the wild. This "studio portrait" is part of National Geographic's Photo Ark, created by photographer Joel Sartore ( Click here for more information), a biblical effort to document 12,000 species before they disappear and to get people to care, even about a little rat, while there's still time. We are very proud that licensing the photo for our label helps the cause.
Yesterday, one of our wonderful Wine Club members told us the origin story of the Chinese Zodiac that he learned as a child. It's a story of a great race, deciding which animals made it into the 12 year cycle, and in what order. The animals had to cross a river, so the Ox had the advantage, but the clever rat jumped on the Ox's back and once across, jumped ahead to be the first. The Ox is second.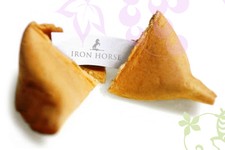 We are pouring "Rat" in our tasting room. Please make a reservation (or order online).
Wishing you great prosperity and double happiness!


After a very long, cold, very wet winter, I have decided to start chronicling the gardens again ... and wines releases, starting today. I firmly believe the beauty of our place is integral to our terroire. The vineyards are the gardens. The gardens are the vineyards. They are of one piece.
Sunday April 21, 2019
This is an absolutely perfect time of year at Iron Horse, especially this year, after all the rain. Just driving here on the Gravenstein Highway (aka Hwy 116) with the apples in bloom is a pleasure.
My father planted this cherry in front of the winery our first spring, 1976 – before the winery was even built. It is a favorite Instagram backdrop, but with a very limited window of opportunity.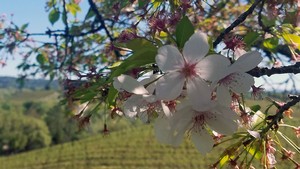 This was yesterday (Saturday) afternoon behind my parents' home. The profusion of calla lilies has been amazing. And, the roses are about to burst.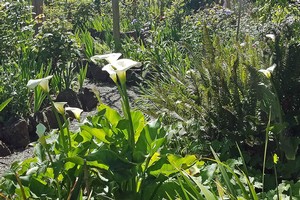 One of my greatest pleasures is walking in this garden with my father and watching it evolve.
I picked these shots because they convey a very special space in time and tell the story behind our wines in this shipment. I am firmly convinced that the beauty of the place is part and parcel of our terroir for the grapes and all the beauty that grows here. The grapes know they are in a perfect spot and they are not going to disappoint.
We are featuring three beautiful wines in our May Wine Club Shipment:
2015 Rainbow Cuvee - Our toast to diversity. We are relasing the new vintage May 9, so you can have it on hand Pride Month. 400 cases.
2016 Native Yeast Chardonnay - The grapes for this wine come from the furthest knoll behind the bottle in this photo. 220 cases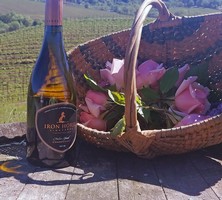 2016 Home Block Pinot Noir - Small production, from this beautifully sheltered, three-acre site, behind the iris bed, planted to the Calera Clone. 250 cases.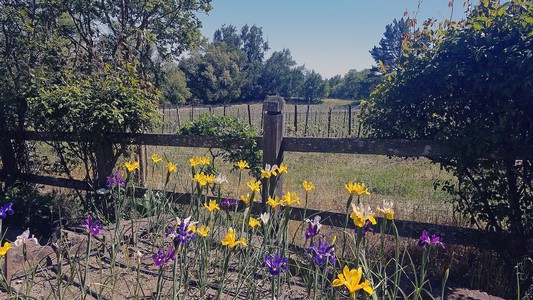 I hope you are planning to come visit. Our Under the Palms Tastings are now underway. This is a new experience for you to enjoy Wednesdays through Fridays - a private, seated tasting, twice daily, for two to four guests, at a "ringside" table, under the palms, facing our gorgeous view, where you can see the individual vineyard blocks while tasting the corresponding wines, with cheese. And, yes. You get to sit down!
Please make reservations here.
Brace yourself. Memorial Day is coming.
With all my very best,


Dear Friends and Family, The world is coming to San Francisco for a global environmental summit convened by Jerry Brown in September and Iron Horse will be the toasting wine for 600 dignitaries at the opening night dinner prepared by Alice Waters.
The ambition is to pick up the momentum set by the Paris Agreement and launch greater worldwide commitments. I couldn't be more proud of our Governor and our state for taking the lead.
A propos the Governor, I thought you'd get a kick out of this selfie from last week in Sacramento: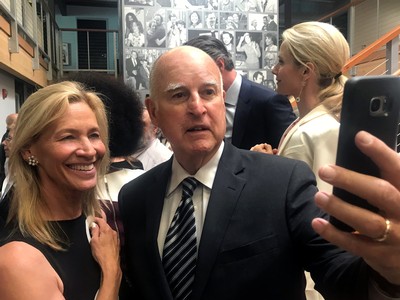 I am also very happy to report that we have set in the vineyards and it looks very good this year.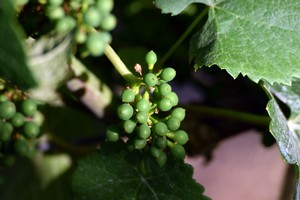 Set is when the grapes form behind the blossoms after the flowers blow away, determining crop yield. Now we are training the vine shoots upwards through the wires, pulling off lateral growth and excess leaves, and suckering the unwanted shoots at the base of the trunk - all by hand.
This is when the vineyard crew really shines. I was very happy to see Dora Arreola supervising the work on our Thomas Road Vineyard, pictured here with our foreman Victor Arreola (no relation).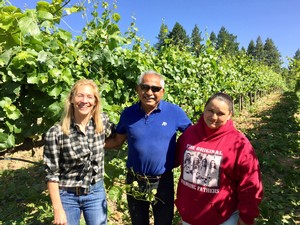 The goal is to direct all of the vines' energy to the grapes, creating a canopy to protect the fruit from the sun and provide for good air flow.
Our Winemaker David Munksgard walks the vineyards every morning. He says being immersed in the sheer beauty of the place is kind of a spiritual experience that inspires his winemaking. Plus, he says, the vines like to have visitors. And I love knowing we have a special guardian keeping watch.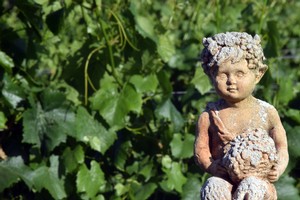 You can't help but feel protective of the baby clusters and want to cheer them on to size up beautifully and develop all the deliciousness they can achieve.
In the winery, we have laid down the bubblies for 2017, including the Wedding Cuvee which we will enjoy in three plus years … and magnums of Joy! to be disgorged in 2030.
And, it is so gratifying to see Iron Horse listed as the top two of the "Best Summer Sparklings" in the current issue of Wine & Spirits Magazine.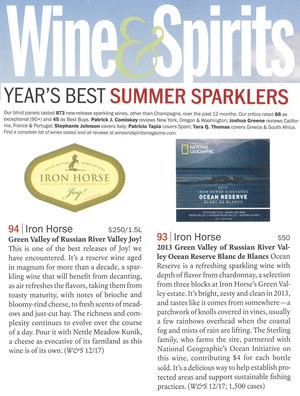 I hope you enjoyed a wonderful Father's Day. Of course, around here, every day is Father's Day and Mother's Day!
Sending all best wishes,
as always,


Sometimes the best tasting notes are just one word - simple, declarative and easy to grasp, like "Wowzah!", which is how our Winemaker David Munksgard describes our just released 2010 Brut LD. This is our first release of an LD in four years.
LD stands for Late Disgorged, aged longer on the yeast in the bottle and our designation for tête de cuvee or top of the line bubbly. It's a play on Bollinger's RD or Récemment Dégorgée (recently disgorged), which is trademarked.
This is our first LD in four years, freshly disgorged just this month, after lavishly aging for seven years en tirage. Only about 500 cases were produced.
The longer the wine is aged on the yeast in the bottle, the smaller the bubbles, so the mouthfeel is soft, elegant, rich and creamy – like drinking a cloud. You will taste and feel the quality with the first sip. It should just effervesce away in your mouth.
From clouds to rainbows, we are also celebrating the release of our 2014 Rainbow Cuvee, just in time for Pride Month.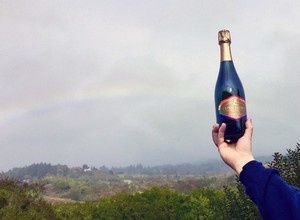 This year, the Rainbow is a vibrant and exciting Blanc de Blancs - 100% Chardonnay, vintage 2014. This is our toast to diversity. Total production 300 cases.
We are getting our first crops of strawberries.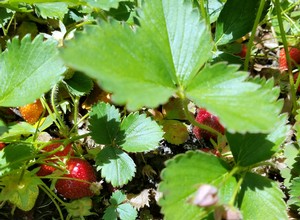 And I am closing in on my ambition to fill every vase in my house with roses.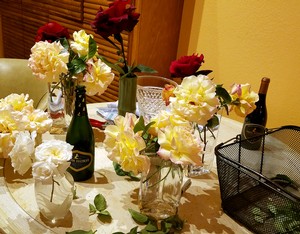 I am especially happy to report that Joy! has been awarded 93 points in Wine Advocate and 94 in Wine & Spirits Magazine, to appear in their Best Summer Sparklers issue.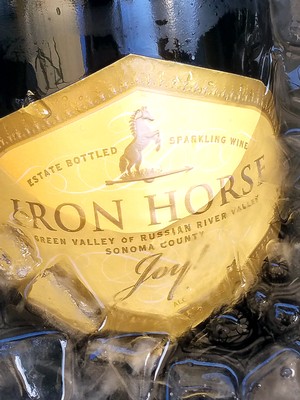 Our 2015 Home Block Pinot Noir received a 92-point rating in Wine Enthusiast. In this case, the wine description is much more poetic: "Sublime in mint and forest floor tones, this is a seductively robust wine that's rich and rewarding on the palate but never loses its sense of balance and place." We call this "Home Block" because it is adjacent to my parents' home. It is most sheltered of our vineyard sites. And, this is where my niece Justine is getting married next month.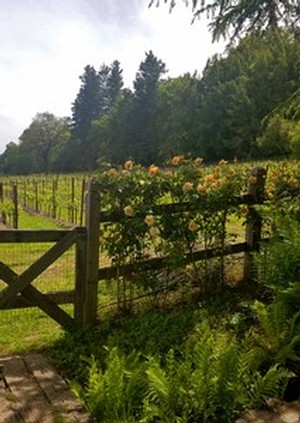 As you can imagine, my father is working very hard to get the garden in "leaf perfect" condition for her. We all love the groom and really can't wait to have a big, beautiful party.
Cheers to love!


Hey June 🎵,
l am very proud to be flying to London for the prestigious Decanter Magazine "Exploration of International Sparkling Wines" - initially a PR and marketing dream, now tragically a point of pride in defiance of terror.

My heart goes out to the families and loved ones of the victims from Saturday's attacks. As the Brits say: Keep calm and carry on.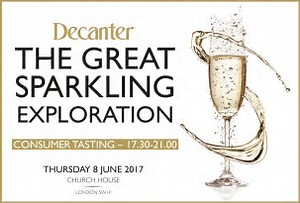 You can click here to see the catalog. Iron Horse and Schramsberg are the two American producers.
By my way of thinking, once in London, I am half way to Africa. So, I am going to see our cousins, the mountain gorillas in Uganda. It is thrilling to get a notification from the airline that says: "Your flight to Entebbe is approaching ..."

I am told it will be a very emotional experience - primate to primate. Gorillas are, after all, family. We will be tracking them on foot from a base camp in Bwindi Impenetrable Forest. There are just 600 left in the wild.

Also very exciting, our Estate Chardonnay, Pinot Noir and 2013 Ocean Reserve Blanc de Blancs are being featured at National Geographic's Explorers Symposium in Washington DC.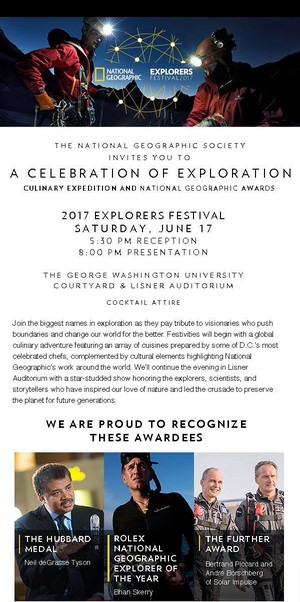 Here at home, we've had bloom ... and now grapes, which over the course of summer will size up and become filled with delicious flavors.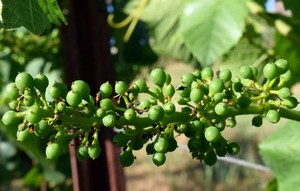 photo: LG Sterling

We are bottling the 2016 Sparklings to be laid down for the next three, four and in the case of Joy! at least 12 years en tirage. In the meantime, we are releasing our first wine from vintage 2016 - our very delicious 2016 UnOaked Chardonnay.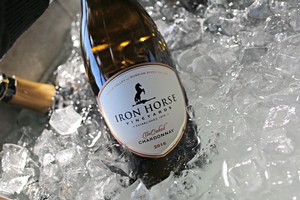 photo: Shana Bull
The timing couldn't be better as we have been sold out of the prior vintage for months.
We have some fun events coming up:
World Oceans Day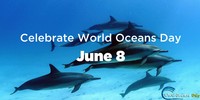 They say the ocean deserves its own day; we at Iron Horse like to add that the ocean deserves its own bubbly! Please join us in a toast with our 2013 Ocean Reserve Blanc de Blancs. We are offering a complimentary tasting for everyone who comes to the Tasting Room wearing blue on June 8. Remember, we are "by appointment" for tours and tastings.
Ocean Reserve is a special limited production Sparkling Wine created in partnership with National Geographic. $4/bottle goes to help restore the ocean's health and abundance.

Summer of Love Garden Party, exclusively for Wine Club Members


Please join us Sunday August 6 for our annual Wine Club garden party at the home of Iron Horse co-founders Audrey & Barry Sterling. This year we are celebrating the 50th anniversary of the Summer of Love, so be sure to wear flowers in your hair. 11a to 1p. Limited to 60 guests. Club Members price $50/person.
Share the love (and a glass or two of 2013 Wedding Cuvee) with Audrey & Barry as they celebrate their 65th wedding anniversary. Click here for more details.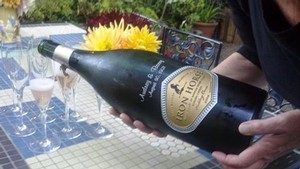 A very special toast! And all best wishes,



Greetings from thoroughly drenched Green Valley. We have received 22 inches of rain since January 1. Green Valley Creek which bisects the vineyard is a tributary of the Russian River and that whole swath of the estate is in a 100 year floodplain.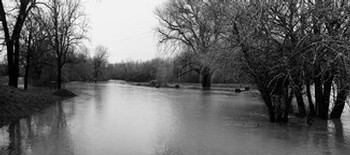 Photo: LG Sterling
For several days you couldn't see the tops of the posts on the bridge. We call that doing our part to replenish the aquifers.
Of course we need the rain. A year ago, 43 percent of the state was gripped by "exceptional drought". Now that figure is two percent. (Source: US Drought Monitor) And after 40 years here at Iron Horse we are seasoned at riding out a wet winter.
We are very lucky that our vineyards are hillside and our sandy soils drain easily. The rainbows have been inspiring. But we are going to have to hustle to get the pruning done before bud break.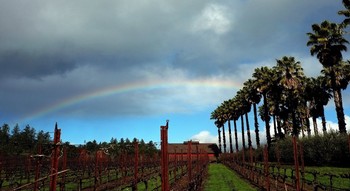 Photo: LG Sterling
January is the traditional time to report on the state of the winery and I am proud to convey that the state of the winery is strong - a soggy mess after what has seemed like boundless rain from the start, but gamely moving forward.

There are some things about 2016 I would be very happy to repeat. Number #1, our many successes as a vineyard, winery, business and family. I am privileged to get to work with an exceptional team. And, last year, in some areas, we surprised ourselves.

I smile when I think about how smoothly we transitioned to tastings by appointment on the weekends. The response surpassed all expectations. We had the pleasure of welcoming 33,000 guests here last year and the San Francisco Chronicle named us one of the top 50 Tastings Rooms in Napa & Sonoma.

Now we ask that you please make reservations on weekdays too. It truly elevates the experience. Please look at the reservation program to see how easy it is.
Some of my fondest memories of 2016 involve toasting with "Cuvee 50" for Super Bowl 50 in San Francisco, which now feels so far back in time, and "Spirit of 76" celebrating the 40th Anniversary of when my parents acquired Iron Horse in 1976.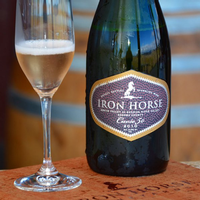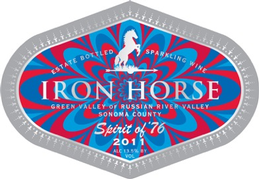 Both were one time only, limited production bubblies, never to be replicated.
2016 was in no way an easy vintage. The crop was low and there was so much uneven ripening that in many blocks we picked just half the crop - strictly the mature fruit, and then went back two three days later to pick the rest once it too had fully ripened. The resulting wines have set a new bar for us and the year will always stand out as our 40th harvest at Iron Horse.
From the beginning the goal has been to strive for the highest quality, so it is especially gratifying to see Iron Horse in the current issue of Wine Enthusiast at the same table with the very best in the world.
Looking forward, the next release of Joy! is Friday March 17, St. Patrick's Day. It's bound to be a lucky day. This will be our third time hosting a Joy! Release Tasting. So far they have been very successful. There is no doubt that the first one, last March got the most excitement because we had been out of Joy! (Joy!less) for three years. Still, the November release did extremely well and received a near perfect 98 point rating. The November Joy! was 50% Pinot and 50% Chardonnay. I say "was" because as of last night we had 18 magnums left. The upcoming Joy! is the same vintage - 2003, but Blanc de Blancs and aged six months longer. Please make reservations here.

I am also very excited about how our Earth Day event is evolving.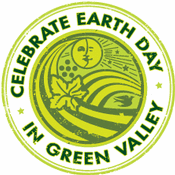 The theme is the future of food.
The participating wineries are DeLoach Vineyards, Dutton-Goldfield Winery, Freeman Vineyard and Winery, Hartford Family Winery, Iron Horse Vineyards, Lynmar Estate, Marimar Estate, Rubin Family of Wines.
The keynote speaker is California Secretary of Agriculture Karen Ross.
Acclaimed San Francisco Chef Traci Des Jardins is on board to showcase the "Impossible Burger", made entirely from plants, served it at the Paris Climate Change Conference as tartare.
Ronstadt Generations will perform live, honoring the family's musical traditions with the Southwestern and Mexican songs of their heritage blended with original material. Special guest: Linda Ronstadt.
Imperfect Produce is providing a beautiful display of "ugly" produce as crudités.
We have enlisted Copia, a mobile app that helps businesses and events connect excess edible food to feed communities in need, instantly.
I hope you will be able to join in. Net proceeds will benefit Sustainable Conservation, a non-profit organization uniting people to solve California's toughest environmental challenges, chosen by Secretary Ross to be the beneficiary.

Finally, Gung Hay Fat Choy. Saturday is Chinese New Year. And naturally we are pouring our Year of the Rooster Cuvee in the Tasting Room.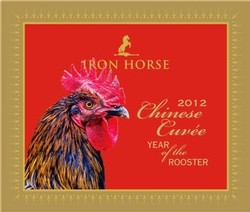 Please come join us in a toast.
A discussion with our inimitable in-house Hospitality Director Dixie Bohlke illuminates plans to celebrate this summer's milestone, the Sterling family vision, the importance of small details in creating the extraordinary … and how to join the celebration with a new limited production bubbly.
Dixie pouring Iron Horse '76
As Joy shared in the previous blog, the Iron Horse family is warming up to celebrate the 40th anniversary of our first vintage.
First, the skinny on the summer soiree we have affectionately dubbed "The Spirit of '76"
Date: July 3, 2016
Time: 11AM - 2PM
Where: Iron Horse Vineyards
Festivities begin in the beautiful garden of the Sterlings' Victorian home. Then it's a short walk to the corral for lunch at noon.
Who: Friends, Family and Wine Club Members
Next the full bodied exploration behind the scenes setting up such an event ….
Why: We're honoring the vision of our founders which was nothing short of revolutionary when they purchased Iron Horse in 1976, the restoration of the Sterling's beautiful Victorian home built in 1876, and of course the all American spirit of 1776.
How: A reception in the garden of the Sterlings' home with the Caviar Cowboys serving California Osetra on buckwheat blini fresh off the griddle, a roving Oyster Girl shucking fresh Myagis from Tomales Bay and free flowing bubbly.
Such a special occasion calls for a special limited edition bubbly, naturally called "Spirit of '76", which we also be pouring in the Tasting Room for the holiday weekend and which is available on-line.
Joy and David came up with the idea of creating a special cuvee about three months ago. David picked the 2011 Blanc de Noirs in magnum for the base wine. Mark Berry designed the label. We have just 22 cases (132 magnums) and Joy says there's no better place in time to enjoy them especially in commemorative flutes with our logo, the rampant horse on a weathervane and the addition of "Est 1976".
Dixie perfected a cocktail called the Iron Horse 76, which we make with our own brandy called Audrey, distilled by Germain Robin using 1987 estate grown Pinot Noir.

Recipe:
1.5 oz Brandy*
3/4 oz Fresh, Strained Lemon Juice
1/4 oz Simple Syrup
1 bar spoon Apricot Preserve**
Shake ingredients (except sparkling) vigorously with ice, strain into a Pinot Noir style stemmed glass, slowly pour in the bubbly, garnish with a lemon twist.
*We use the Iron Horse Audrey Brandy (made from 1987 Iron Horse Estate Pinot Noir distilled by Germain Robin). Substitute with VSOP Cognac
**Dixie's homemade
Recipe Backstory:
Based on the classic French 75, made from gin or Cognac, Champagne, lemon juice, and sugar. It is also called a 75 Cocktail, or in French simply a Soixante Quinze (Seventy Five). The drink dates to World War I, and an early form was created in 1915 at the New York Bar in Paris—later Harry's New York Bar — by legendary barman Harry MacElhone, a defining figure in early 20th-century bartending. The combination was said to have such a kick that it felt like being shelled with the powerful French 75mm field gun.
Directions:
Shake ingredients (except sparkling) vigorously with ice, strain into a Pinot Noir style stemmed glass, top with bubbly, garnish with a lemon twist.
Old labels
Back to the event….
After the one hour reception, the party moves to an old, redwood, 1920s corral led by "Uncle Sam" and a 20 person brass band called The Hub Bub Club. Here, the party decor includes gorgeous vineyard views, deep red roses growing on the fence of the Corral, red and white geraniums in pots sitting on top of old wine barrels, and scattered hay bales covered in the stars and stripes.
The menu includes everything you'd want for a July 4th celebration: lobster rolls, bison burgers, fried chicken, an unbelievably delicious potato salad.
Always thinking ahead to dessert, back in mid-May we delivered flat upon flat of local Sonoma cherries to our favorite Patisserie Angelica for classic cherry pie.
Naturally, the wine theme is red, white and bubbly.
Thematic Extra-Credit: Dixie has collaborated with Joy and the Sterling family to perfect the day's theme, bountiful food, and run of show but then she has taken it a step further with a fashion show in an homage to 1776, 1876 and 1976 with five fashion models showing costumes from each era. The models in this "Fashion Show with a Fashion Statement Honoring Three Centuries" will appear at various times throughout the day to show off the beautiful vintage clothes and mingle with guests. The background music will waft sounds of San Francisco circa 1976.
A sweet note and some final thoughts ….
One of the pleasures of staging this fete has been reminiscing about the early days, going through old photographs and compiling a time capsule exhibit of memorabilia, including decades of winemaker dinners and White House menus featuring Iron Horse wines.
In the words of the supremely talented Hospitality Director Dixie Bohlke, this summer soiree honors "the fulfilment of what Audrey and Barry Sterling's dream was then and what it has become."
Dixie notes that this event carries as truly special feeling for her. Her planning has been driven by a desire to property recognize the vision of the founders that would ultimately shape so much. But most importantly, acknowledge that their vision and "revolutionary" spirit has determined the way forward for the vineyard.
As we celebrate the past with the Spirit of '76 Cuvee, we also toast to the future. "It's going to be an incredibly special time capsule for Audrey and Barry, but they are also moving ahead to the future. When you look around to the new planting, you can see that. " For all the history and the pleasures of nostalgia, Iron Horse is an exciting and dynamic place.
Couldn't agree more.
What else does a party need once you have identified the theme, the venue, the food, the wines … as the ultimate party planner will tell you, it's the people who make the party. So we raise a glass to our guests! Happy Spirit of '76.


##########

The vineyards look gorgeous. It is raining pink petals at my house from wild climbing roses some 30 feet high, giving new meaning to April showers.

The poppies around the Tasting Room hold special meaning. I remember casting wild flower seeds on walks with my father that first spring after my parents purchased Iron Horse in 1976.
There is no doubt in my mind that the beauty of the estate is very much part of our terroir. In fact, better than words or pictures, the wines capture it best.

I am very proud that our 2013 crop of Pinots received 94 to 90 point reviews in Wine Enthusiast:
94 Points - 2013 Deer Gate
94 Points - 2013 Winery Block
93 Points - 2013 Home Block
93 Points - 2013 Thomas Road
92 Points - 2013 Estate Pinot Noir
90 Points - 2013 "Q"
Thinking ever so slightly ahead, I hope you are properly provisioned for April 22, which promises to be the most celebrated day on the planet. It is Earth Day, the first night of Passover, a full moon AND a Friday. The day miraculously spans an amazing range of subjects we care about deeply.
Earth Day is an international holiday with billions of participants, and one of my favorite celebrations. For newbies to green Iron Horse festivities, see coverage of past celebrations here.
Earth Day 2016 will be one to remember on a global scale. President Barack Obama and Chinese President Xi Jinping have agreed to sign the Paris Climate Accord at an official ceremony at the United Nations in New York on April 22.


How fitting to toast with our vintage Ocean Reserve Blanc de Blancs. The special edition Sparkling was created in partnership with National Geographic to help establish marine protected areas and support sustainable fishing. $4 per bottle sold goes to National Geographic's Ocean Initiative.
Turning to Passover, we acknowledge the central role wine plays throughout the evening where it is required four times during the Seder. For those of you who still think Manischewitz is de rigeur, my family traditionally serves Pinot Noir. The blessing over the "fruit of the vine" is one we all know by heart. There's a chalice for the prophet Elijah, plus the 10 teaspoons of wine we each spill out of our glasses into a saucer as a sacrifice to ward off the 10 biblical plagues that God inflicted on Egypt to secure the release of the Israelites from slavery as explained in the Book of Exodus.

I think we can all agree these are calamities ... though we did pray for flooding during the harshest points of the California drought :
The Nile turning to blood
Infestation of frogs
Lice
Flies
Death of livestock
Boils
Thunder & hail
Locusts
Darkness
Smiting of the first born
Pharaoh capitulated after the tenth plague, and then changed his mind, portrayed to the utmost of your imagination in Cecil B. DeMille's Ten Commandments with Charlton Heston as Moses in one of the greatest moments in movie history.
This is my third year hosting Passover at my house. I will borrow my father's annotated Haggadah, a silver chalice from my grandmother that we fill with wine for Elijah, and a blue velvet matzo cover embroidered by my great grandmother when she was eight years old, shortly after sailing to America from Odessa.
In a break with tradition, I am planning on serving Russian Cuvee. Bubbles will pair beautifully with classic Passover dishes like smoked salmon, matzo ball soup, potato latkes with crème fraiche and apple sauce, fried artichokes … even brisket. After all, Passover is a celebration – a celebration of freedom against oppression. And I feel Elijah will enjoy bubbly for a change.
The night will not conclude before celebrating the full moon – the pink moon, to be exact. Nothing befits a full moon like bubbles. And a "pink moon" naturally calls for a gorgeous pale rosé like our Wedding Cuvée. This is the most romantic of our Sparklings, the one we are best known for. I describe it as dangerously easy to drink.

I am a major advocate of toasting the full moon. It unites us.
So, to recap, we will be raising a glass for Earth Day, at least four for Passover, culminating with a late night toast to the full moon.


With so much to celebrate, I just hope none of us will have to wake up too early on the 23rd.