Iron Horse
Blog

Dear Friends and Family,
Thank you for the outpouring of concern, for my parents and for the entire Iron Horse family. Thankfully, we are all fine and pulling together as kith and kin. We are so very lucky and appreciative to have so much love around us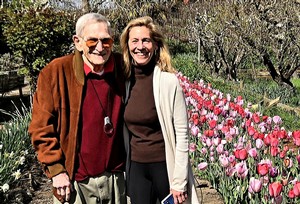 ... even at a six foot distance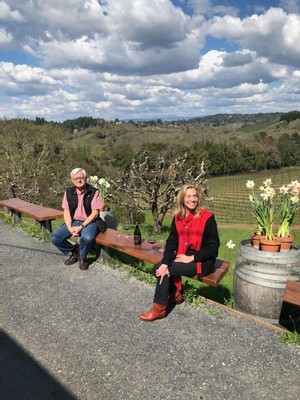 Right now, we are thinking of you and yours and hope you are all OK. We know so many of you, personally, from the wonderful times spent in our Tasting Room … and feel especially close to you right now … as the on-line orders are fluttering in. Your thoughtfulness is like a rainbow – appropriately on this first day of spring.
Like so many, we're doing our best so we can continue to be part of all your moments - big and small - for years to come. We are very lucky that wine is considered essential, as an agricultural product. As Thomas Jefferson said: "Wine is a necessity."
I hope you'll consider sending Iron Horse as a gift when you want to be "there", but you can't physically be there. And, stock up for yourselves. We are offering $1 shipping on six bottles or more. The shipping discount will show up at check out.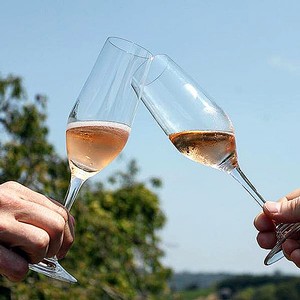 Thank you for your great, ongoing support and, most importantly, your closeness to us in heart.


Dear Friends and Family, This is a time for optimism, a steady hand and doing everything we can to help protect the community.
Here at Iron Horse, we have changed our protocol to clinking glasses instead of shaking hands.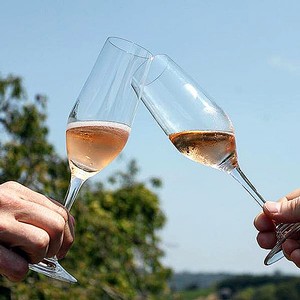 Following the Governor's announcement, we have closed our Tasting Room. Our wines are still available for purchase and pick up here at the winery from 8a to 4p; we are just not offering tastings. The best, easiest, safest and most helpful option available 24/7 is to order online. We are offering $1 shipping on six bottles or more. Please clicke here.
We know not everyone can stay home, and we owe a big debt of gratitude to our doctors, nurses, and caregivers, first responders, everyone in essential services, the unbelievably great people working in the grocery stores and pharmacies. Thank you!
I also want to share the view from the winery with you. It will still be here when this is over.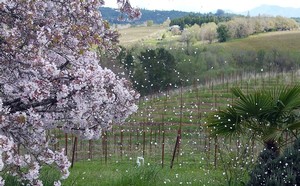 Wishing you and yours all our very best during this crazy, unprecedented time.


Dear Friends and Family, The world is coming to San Francisco for a global environmental summit convened by Jerry Brown in September and Iron Horse will be the toasting wine for 600 dignitaries at the opening night dinner prepared by Alice Waters.
The ambition is to pick up the momentum set by the Paris Agreement and launch greater worldwide commitments. I couldn't be more proud of our Governor and our state for taking the lead.
A propos the Governor, I thought you'd get a kick out of this selfie from last week in Sacramento: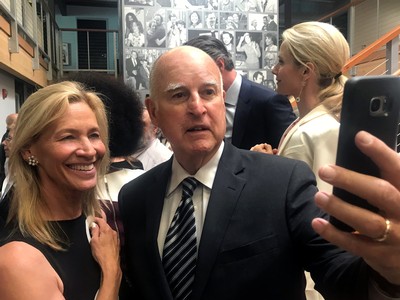 I am also very happy to report that we have set in the vineyards and it looks very good this year.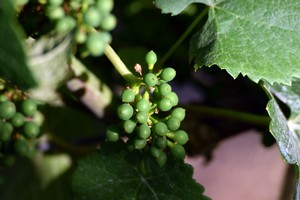 Set is when the grapes form behind the blossoms after the flowers blow away, determining crop yield. Now we are training the vine shoots upwards through the wires, pulling off lateral growth and excess leaves, and suckering the unwanted shoots at the base of the trunk - all by hand.
This is when the vineyard crew really shines. I was very happy to see Dora Arreola supervising the work on our Thomas Road Vineyard, pictured here with our foreman Victor Arreola (no relation).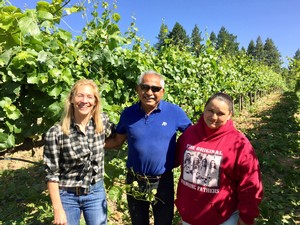 The goal is to direct all of the vines' energy to the grapes, creating a canopy to protect the fruit from the sun and provide for good air flow.
Our Winemaker David Munksgard walks the vineyards every morning. He says being immersed in the sheer beauty of the place is kind of a spiritual experience that inspires his winemaking. Plus, he says, the vines like to have visitors. And I love knowing we have a special guardian keeping watch.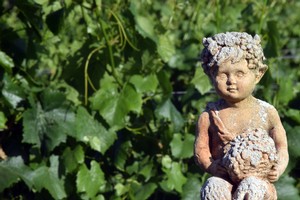 You can't help but feel protective of the baby clusters and want to cheer them on to size up beautifully and develop all the deliciousness they can achieve.
In the winery, we have laid down the bubblies for 2017, including the Wedding Cuvee which we will enjoy in three plus years … and magnums of Joy! to be disgorged in 2030.
And, it is so gratifying to see Iron Horse listed as the top two of the "Best Summer Sparklings" in the current issue of Wine & Spirits Magazine.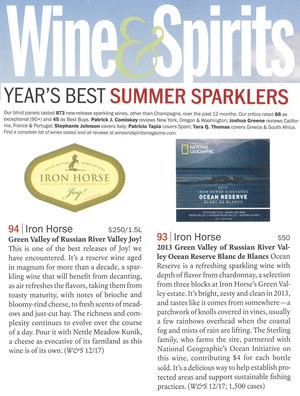 I hope you enjoyed a wonderful Father's Day. Of course, around here, every day is Father's Day and Mother's Day!
Sending all best wishes,
as always,



Hey June 🎵,
l am very proud to be flying to London for the prestigious Decanter Magazine "Exploration of International Sparkling Wines" - initially a PR and marketing dream, now tragically a point of pride in defiance of terror.

My heart goes out to the families and loved ones of the victims from Saturday's attacks. As the Brits say: Keep calm and carry on.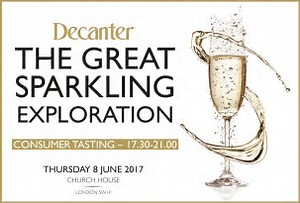 You can click here to see the catalog. Iron Horse and Schramsberg are the two American producers.
By my way of thinking, once in London, I am half way to Africa. So, I am going to see our cousins, the mountain gorillas in Uganda. It is thrilling to get a notification from the airline that says: "Your flight to Entebbe is approaching ..."

I am told it will be a very emotional experience - primate to primate. Gorillas are, after all, family. We will be tracking them on foot from a base camp in Bwindi Impenetrable Forest. There are just 600 left in the wild.

Also very exciting, our Estate Chardonnay, Pinot Noir and 2013 Ocean Reserve Blanc de Blancs are being featured at National Geographic's Explorers Symposium in Washington DC.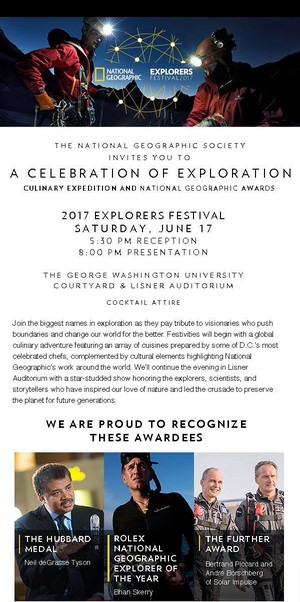 Here at home, we've had bloom ... and now grapes, which over the course of summer will size up and become filled with delicious flavors.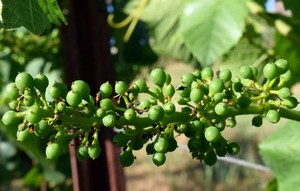 photo: LG Sterling

We are bottling the 2016 Sparklings to be laid down for the next three, four and in the case of Joy! at least 12 years en tirage. In the meantime, we are releasing our first wine from vintage 2016 - our very delicious 2016 UnOaked Chardonnay.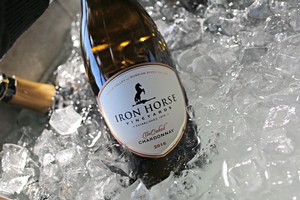 photo: Shana Bull
The timing couldn't be better as we have been sold out of the prior vintage for months.
We have some fun events coming up:
World Oceans Day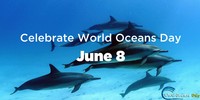 They say the ocean deserves its own day; we at Iron Horse like to add that the ocean deserves its own bubbly! Please join us in a toast with our 2013 Ocean Reserve Blanc de Blancs. We are offering a complimentary tasting for everyone who comes to the Tasting Room wearing blue on June 8. Remember, we are "by appointment" for tours and tastings.
Ocean Reserve is a special limited production Sparkling Wine created in partnership with National Geographic. $4/bottle goes to help restore the ocean's health and abundance.

Summer of Love Garden Party, exclusively for Wine Club Members


Please join us Sunday August 6 for our annual Wine Club garden party at the home of Iron Horse co-founders Audrey & Barry Sterling. This year we are celebrating the 50th anniversary of the Summer of Love, so be sure to wear flowers in your hair. 11a to 1p. Limited to 60 guests. Club Members price $50/person.
Share the love (and a glass or two of 2013 Wedding Cuvee) with Audrey & Barry as they celebrate their 65th wedding anniversary. Click here for more details.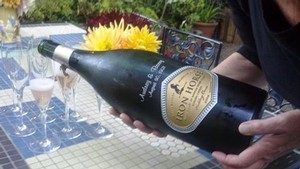 A very special toast! And all best wishes,

Harvest has begun at Iron Horse, early once again, and just as promising as ever. Like the old saying goes, we keep making new friends (and new vintages!) and treasure the old. And in that spirit, we're excited to share our annual blog-homage to many long-time Iron Horse friends recently honored by key wine industry publications.
Behind the scenes (or blog!) efforts involved fanning out across the country to catch up with some of the award winners now receiving 2016 accolades from Wine Spectator and Wine Enthusiast in all different categories of excellence. We're in the harvest state of mind right now and that colored our perspective as we "hand picked" the interviews. In some ways, we see each sommelier as a "farmer" each working tirelessly to grow their "crop" over the years, applying a signature "blend" of inputs which ultimately contribute to unique success. Their "terroir" includes hometown roots, global travel, renowned mentors, and years of tasting experiences. The resulting award winning program is a "special cuvee " all its own.
The quality and depth of our conversations with these innovators were as intriguing and pleasurable as a beautifully curated wine list. We hope you enjoy sharing in these moments as much as we did.

JAMIE HARDING
Award: Wine Spectator Grand Award for Murray Circle; SAUSALITO, CA

Notable and Quotables from the Judges' Write Up: Murray Circle was praised for its stellar cellar stocked with 12,000 bottles and more than 2,200 selections, anchored by California classics. Wine Director Jamie Harding told the judges, "It used to be rare when someone came in because of the wine program. Now it's a few times a week." The laid-back attitude at the restaurant pairs with vibrant cuisine and a "deep trove of classic wines at a wide range of prices." And Harding's Sommelier Selections page offers a curated window into his mind's eye. "I'm not pushing an agenda. If I were running a little restaurant in the Mission District I'd have a completely different list. We have a culture of pleasing the customer. If they want Zinfandel, I'll give them Zin."
Somm Reflections on the Honor: "It was our first time winning for this restaurant and for me as its wine director. The award is very satisfying and is the culmination of the work of the Master Somms who came before me. I was prepared very well by people like Dan O'Brien to drive the wine program in the direction I wanted to go, and it has been a goal for us to achieve this since I arrived in 2009 as a staff sommelier.
I'm born and raised in the Bay Area and as much as I love wines of the world, I feel a kinship with California wines. That respect is massively important for someone like me who serves international resort guests, they visit us and they want to try NorCal wines. My desire moving into my role was to build up that California producer list, build up the verticals. Hopefully that had something to do with us getting over the hump (to win!). One of the things Wine Spectator mentioned was our commitment and focus on California, vintage depth and the producers we work with - that's what moved the judges. I'm committed to smaller, younger winemakers who are defining a style."

Special Mention: Jamie took an interesting path into his current area of expertise, "I started out in the music business, I wanted to be a rock star." While he pursued the music world, he always had a bartending job and found himself an unlikely mentee of Jeff Kramer a wine director at Hawthorne Lane. "I tasted things I never tasted before, learned how to pair wines, and that's where I really got hooked." Thus the wine rock star was born. As he got deeper into the industry, he found inspiration in meeting the winemakers responsible for the vintages he enjoyed so much. "There's beauty, quality, and amazing people behind the wines. When you meet winemakers, they're very down to earth people. They want wine to be inclusive. I try to breathe that attitude into my style and my staff. I want to be approachable even in the fine dining setting. There's an improv performance art and a sales component to my job - it's a complex twist!"
Iron Horse Favorite: My wife and I have been up to the Iron Horse Vineyards and tasted everything. The quality top to bottom is phenomenal. The wine on my list always is Wedding Cuvee. It's probably the best California rose out there. It has a refined beautiful style with enough fruit coming through that you get the strawberry from the Pinot Noir and the crispness from the Chardonnay.
Must Try Summer Pairing for At-Home Chefs: "Our menu changes fairly often for seasonal and local reasons. Chef Justin Everett has a great relationship with local farmers and purveyors, he's always excited about what's coming in the backdoor and the new produce in season. It's fun because I'm always tasting food and pulling corks. Right now there's a scallop dish on our tasting menu with a heart of palm puree, spring peas, and house cured pancetta. The dish was hard to pair, it's an example of how a straightforward dish can be challenging and requires out of the box thinking. You could go with a Chardonnay, a Sauvignon Blanc or bubbles, depending on what creates that WOW moment for you.
MATT PRIDGEN
Award: Wine Enthusiast "America's 100 Best Wine Restaurants of 2016" Award for Underbelly; HOUSTON, TX

Notable and Quotables from the Judges' Write Up: Winner for the second year in a row, wine list crafter and Underbelly GM Matthew Pridgen is a stickler on one thing. He told Wine Enthusiast, "If a winery isn't family owned and operated, it won't find a home on 'Wine Herder.'" The edgy drinks list is a purist when it comes to producers but is decidedly avant garde when it comes to its aesthetic. The Underbelly partners are friends with sketch artists and they collaborated on signature menu cartoons which are updated every year. Matt explained, "We wanted it to be visually appealing and fun, we're all about fine dining in a casual atmosphere and we want the menu to reflect that. Most guests love the list, it's especially fun to present to a first timer who will read through the entire wine menu and laugh at the comics."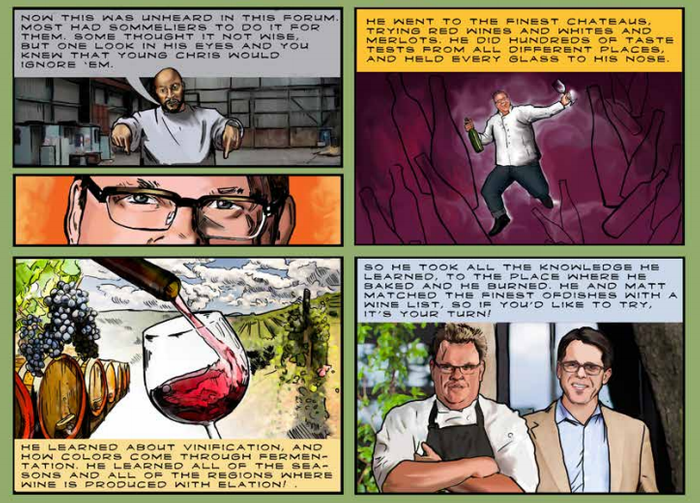 Somm Reflections on the Honor: "It's an incredibly huge honor. I've been in the wine business for quite some time, and at Underbelly for going on five years that we've been open. I was given complete control of the wine list with the parameters that we wanted something different and unique which was a little daunting because there are a lot of incredible wine lists across the country. The premise of the restaurant is locally sourced, everything in the kitchen comes from people we know. It made sense to model our wine list after the philosophy of the restaurant, so we only source wines from people who produce their own wines -- not big corporations or bank owned vineyards. Family owned and operated is our credo." The Houston native also benefits from the fact that access to good wine in Texas has gotten exponentially better over the past five to ten years.

Special Mention: For Matt, it's essential to put a face to the wine, "Personality is the thing that's making the wine and that has a lot to do with the outcome. For example, Joy is the wine she makes, she's bubbly, festive, fun and friendly which translates to her wines. Having been in the business for a long time you taste wines that are mass produced vs small. Smaller producers aren't just in it for the money to produce for the masses. It's a true labor of love and the required passion shows in their product. That weighs heavily on Underbelly's decision to focus on family owned only. And it shows across the board on our wine list. Every wine is there for a reason, nothing is just there. People who have a passion for their wines - their bottlings tend to be better with food."
Iron Horse Favorite: "I've known Joy for a long time. Iron Horse was one of my firsts visits in Sonoma when I went out there many years ago with a small group and was hosted to a full tour, tasting, and lunch with salmon and veggies out of the garden. She's an amazing person, and the wines are amazing." Right now Matt is pouring Wedding Cuvee, "For the weather right now (close to 100 every day!) and the food we're serving, it's versatile and fun to drink."
Must Try Summer Pairing for At-Home Chefs: For this time of summer Matt suggested a cantaloupe and bresaola (beef that has been dry cured and rubbed with spices), served with fresh herbs. He favors a rose to pair with the refreshing dish.
MICHAEL ENGELMANN
Award: Wine Spectator Grand Award for The Modern; NEW YORK, NY

Notable and Quotables from the Judges' Write Up: Wine Spectator did not hold back when describing the first time Grand Award Winner as "a culinary treasure in an iconic museum." As Michael explained, "There was really an ambition to take the restaurant to greater heights. I was like a kid in a candy store. I wanted to show the diversity of the wines I've served over the course of my career from California to Australia and beyond. I'm hoping we can offer the best wine program and have the best restaurant in New York. I want to be known in Japan and Europe and elsewhere as a world-class destination for food and wine."
Somm Reflections on the Honor: "There was an immediate rush of satisfaction. My team and I tripled the selection of wine in my two years at The Modern. A great amount of work was involved in achieving this award. I wanted to bring more of an international vision to the program. My tenure in Sydney exposed me to some of the greatest wines in the world, now The Modern carries hundreds of Australian wines along with legendary producers and vintages. I push to always be tasting more wine and discovering new favorites. I strive to represent the old and the new and the rising stars all on one menu. I want to accommodate any guest who walks in. We are located in NYC at the MOMA, the meeting place of the world, so it's my responsibility to be able to serve wine whether it's from California, Europe, or their native land."

Special Mentions: New York is not known for an excess of space. But Michael has unparalleled access to storage upstairs in the restaurant's "Wine Wall," a Eurocave wine cooling unit, and three floors below in former museum space for crates and offices. From physical space to mental space, Michael mentioned that The Modern is closing down for renovations for five weeks at the end of summer. The somm, who was born in France and has lived in England, California, Australia and now NYC, plans to take the the skies for more travel. He loves living in New York and the extraordinary wine community there, but looks forward to travelling and unplugging from email.
Iron Horse Favorite: "I lived in San Francisco and I would travel to Sonoma quite a bit, so I've had the pleasure of visiting Iron Horse in person. I think it's one of the most gorgeous places to start you day. Getting off the main highway and enjoying the outdoor tasting room - the natural beauty is overwhelming."
Must Try Summer Pairing for At-Home Chefs: Roasted Watermelon with Whipped Crème Fraîche and Caviar with rose, ideally Wedding Cuvee. Another one would be a glass of Meursault served with Roasted Lobster Potage with Pickled Garlic and Potatoes.
LULU MCALLISTER
Award: Wine Enthusiast "America's 100 Best Wine Restaurants of 2016" Award for Liholiho Yacht Club; SAN FRANCISCO, CA
Notable and Quotables from the Judges' Write Up: The former pop-up restaurant was lauded for "thrilling, modern food with a global, value conscious list." Wine Director Lulu McAllister separates the wine menu into classic "Old Friends" and emerging, unusual "New Friends." Described as a star somm by the magazine, Lulu explains she seeks to accommodate all levels of wine lovers, "Some people are curious and don't know a lot about wine, some people do know a lot about wine but are still curious, so I try to be sensitive to both of those progressions." She keeps things fresh by constantly tasting new wines, "I'm constantly juggling the space I have and trying to make room for the great things I'm finding. It's like the best kind of Tetris."

Somm Reflections on the Honor: "LihoLiho Yacht Club is one of the four restaurants where I oversee the wine. It's a very distinct menu with a unique flavors, textures, and colors that make pairing exciting. The expanding wine program considers wine from all across the world and is slowing moving into specific regions as I educate myself. The "Old Friends vs New Friends" approach is unique to my palette, but the general intention is to serve up classic styles and well known grape types from well known regions as well as newer options for when you want to depart from what you know and advance to more exotic grapes and styles, new products and concepts. It caters to what people want when they dine, sometimes you want something familiar and sometimes you want to escape and be adventurous. I try to remind the staff that for someone who is not used to tasting wine, any wine can be a new friend."
Special Mention: "I was surprised when we got a full page spread in the magazine. I was excited! And glad I didn't look like a total dork!" (Pictured with Chef Ravi Kapur) For Lulu, the honor hasn't really sunk in yet. "I actually recently got married, and I'm finding it's important to enjoy your milestones and accomplishments. But I'm also still pushing forward, I hope to continue to do things that people think are exciting and relevant."

Iron Horse Favorite: Lulu has many Iron Horse memories that she treasures. One of her first trips while studying at CIA was to Iron Horse Vineyards and she recalls enjoying lunch with Joy and her parents. Lulu told us she has hosted Joy for Magnum Monday as well - sounds like a perfect start to the week!
Must Try Summer Pairing for At-Home Chefs: Right now Lulu is loving roasted octopus. "It's easy to pair. For myself, I would probably choose a Sicilian rose. But the dish is friendly to a lot of styles, sparkling aromatic wines would be perfect."
ERIC HASTINGS
Award: Wine Spectator Grand Award for Jean-Georges; NEW YORK, NY

Notable and Quotables from the Judges' Write Up: This was the first time that Jean-Georges was awarded the Grand level mention. The write-up for the Trump Towers flagship was titled "A top dining destination elevates its wine list". "Historically, Jean-Georges was not really a wine restaurant, says Jean-Georges Restaurants Beverage Director Eric Hastings " But according to Wine Spectator, the current list of 1,100 selection is "perfectly attuned to the needs of the menu and the desires of the customers." They also note that "Hastings has engineered a portion of the list to be more eclectic and affordable - think boutique producers quietly putting out superb character wines, within the confines of certain regions." Cheers to that!
Somm Reflections on the Honor: I am very excited and proud of what we've accomplished as a wine team and a restaurant. We have won three Michelin stars, and four stars from New York Times, but it was thrilling to be able to add one more wine-specific feather to the Jean-Georges cap. This award is a collaboration amongst a lot of people, past and present, but it wasn't something we were seeking out. Our organization's goal is to be the best restaurant we can possibly be. We know Chef Jean-Georges puts out the best food and it is our mission to rise to the occasion of service and atmosphere. When I got the call from Wine Spectator's Ben O'Donnell, I was honestly a little surprised.
The Grand Award winners have traditionally boasted massive wine lists. But I had been working consciously over the past year and a half to build depth in vertical selections. I wanted to make sure I could get the best wine to people at the best price. The styles that tend to work best with Chef Jean-Georges are the Old World selections, so I tried to expand on that.

Special Mention: Eric explained that they're working with a deficit in the storage category telling us "Sometimes great wines don't make the list simply because I don't have anywhere to put them!" But you take the good with the bad in terms of location. He explained that being in NYC is one of his greatest assets, "It's the people around me and the availability of wine that you just can't get anywhere else on any level." He's also inspired by the increasingly educated nature of his guests. Eric explained that there are more educated wine consumers than they were 20 years ago, "They are talking about malolactic fermentation and minerality. People are branching out into wine regions that never would have year ago. It's a lot of fun and it gives us the opportunity to be more engaged which is important"
Iron Horse Favorite: Eric and Joy met at the awards dinner of the first Top Somm Final in 2010. "Afterwards, she gifted me with a wonderful magnum of 2006 vintage bubbly. Today, we serve the Iron Horse Pinot Noir and the Wedding Cuvee. And it's on the wine list at the hotel in every room. The Pinot specifically is delicious because of its Green Valley roots, a location which is becoming more universally heralded as a top region."
Must Try Summer Pairing for At-Home Chefs: One of Chef's great new dishes is nougatine hake with summer peas and ginger, it pairs beautifully with Grüner Veltliner.

ARTHUR HON
Award: Wine Enthusiast "America's 100 Best Wine Restaurants of 2016" Award for Sepia; CHICAGO, IL
Notable and Quotables from the Judges' Write Up: Specifically recognized by Wine Enthusiast for their excellent by-the-glass program, Sepia's deep and detailed list is the creation of Arthur Hon. They extoll Arthur for his "knowledge, enthusiasm, and experimentation which continues to have national impact."

Somm Reflections on the Honor: "The award was not planned in any way. It's such an honor and very special. This is our fourth year in a row as one of the best programs in the US. It started off very organically with a more creative and artistic perspective, but I had to make it more practical, acknowledging I'm working with someone else's money.
Overall, I believe the beverage list needs to match the culinary aspect of the restaurant. Chef Andrew has been here for over seven years and his instincts are very global, true "contemporary American". I spent my first few years getting to know his cooking style and understanding so many different flavors and components, which can be tricky with wines. Ultimately, I decided to match the breadth of the restaurant's direction and take the wine menu VERY global. My list represents 90% of the wine growing regions in the world. Within each country, there's a fairly good representation."
Arthur is also deeply connected to the restaurant's Chicago roots, "We're in the Mid-West and that has given me a sense of freedom. There are no regional wine favorites here, but we can get everything and have a much more balanced distribution of influences from East Coast, to West Coast, and European wines. It's also a top tier city that still offers more affordable living options. The budding food scene is supported by a vibrant urban population and all of these components serve as a solid foundation for a vibrant city with a younger crowd seeking adventurous dining experiences."

Special Mention: Arthur commented on his wine list price strategy, "Every successful wine program has to have a varied price point. You're running a business for someone else. You have the glamorous wine side of the business, but the other side is the numbers and my job is to combine the creative part and the financial aspect. Cost is very important. You can be very creative, and become too subjective and you forget about the patrons."
Iron Horse Favorite: "I've always been fascinated by the Wedding Cuvee. You can feel that it's coming from the New World genre, a playful interpretation of a California Sparkling made in the Blanc de Noirs style. It's unique and approachable with a soft texture. The name itself is very festive and Pinot Noir dominant. When I look back at the older vintages, say five years ago, they were actually "blanc" with very little color. And I've watched them grow into becoming rose. I'm also very impressed by Joy's willingness to hold back and age vintages until absolutely ready for release. To put perfection above earning is commendable. I admire Joy's efforts and wish all wineries could do the same!"
Must Try Summer Pairing for At-Home Chefs: "Summer means it's corn season in the Mid-West, which is very exciting. My favorite dish right now is a poached cod with grilled corn, pan roasted shishito peppers, corn puree and pickled veggies paired with a crisp, citrusy white wine." Sounds like Iron Horse Chardonnay, don't you think?
A discussion with our inimitable in-house Hospitality Director Dixie Bohlke illuminates plans to celebrate this summer's milestone, the Sterling family vision, the importance of small details in creating the extraordinary … and how to join the celebration with a new limited production bubbly.
Dixie pouring Iron Horse '76
As Joy shared in the previous blog, the Iron Horse family is warming up to celebrate the 40th anniversary of our first vintage.
First, the skinny on the summer soiree we have affectionately dubbed "The Spirit of '76"
Date: July 3, 2016
Time: 11AM - 2PM
Where: Iron Horse Vineyards
Festivities begin in the beautiful garden of the Sterlings' Victorian home. Then it's a short walk to the corral for lunch at noon.
Who: Friends, Family and Wine Club Members
Next the full bodied exploration behind the scenes setting up such an event ….
Why: We're honoring the vision of our founders which was nothing short of revolutionary when they purchased Iron Horse in 1976, the restoration of the Sterling's beautiful Victorian home built in 1876, and of course the all American spirit of 1776.
How: A reception in the garden of the Sterlings' home with the Caviar Cowboys serving California Osetra on buckwheat blini fresh off the griddle, a roving Oyster Girl shucking fresh Myagis from Tomales Bay and free flowing bubbly.
Such a special occasion calls for a special limited edition bubbly, naturally called "Spirit of '76", which we also be pouring in the Tasting Room for the holiday weekend and which is available on-line.
Joy and David came up with the idea of creating a special cuvee about three months ago. David picked the 2011 Blanc de Noirs in magnum for the base wine. Mark Berry designed the label. We have just 22 cases (132 magnums) and Joy says there's no better place in time to enjoy them especially in commemorative flutes with our logo, the rampant horse on a weathervane and the addition of "Est 1976".
Dixie perfected a cocktail called the Iron Horse 76, which we make with our own brandy called Audrey, distilled by Germain Robin using 1987 estate grown Pinot Noir.

Recipe:
1.5 oz Brandy*
3/4 oz Fresh, Strained Lemon Juice
1/4 oz Simple Syrup
1 bar spoon Apricot Preserve**
Shake ingredients (except sparkling) vigorously with ice, strain into a Pinot Noir style stemmed glass, slowly pour in the bubbly, garnish with a lemon twist.
*We use the Iron Horse Audrey Brandy (made from 1987 Iron Horse Estate Pinot Noir distilled by Germain Robin). Substitute with VSOP Cognac
**Dixie's homemade
Recipe Backstory:
Based on the classic French 75, made from gin or Cognac, Champagne, lemon juice, and sugar. It is also called a 75 Cocktail, or in French simply a Soixante Quinze (Seventy Five). The drink dates to World War I, and an early form was created in 1915 at the New York Bar in Paris—later Harry's New York Bar — by legendary barman Harry MacElhone, a defining figure in early 20th-century bartending. The combination was said to have such a kick that it felt like being shelled with the powerful French 75mm field gun.
Directions:
Shake ingredients (except sparkling) vigorously with ice, strain into a Pinot Noir style stemmed glass, top with bubbly, garnish with a lemon twist.
Old labels
Back to the event….
After the one hour reception, the party moves to an old, redwood, 1920s corral led by "Uncle Sam" and a 20 person brass band called The Hub Bub Club. Here, the party decor includes gorgeous vineyard views, deep red roses growing on the fence of the Corral, red and white geraniums in pots sitting on top of old wine barrels, and scattered hay bales covered in the stars and stripes.
The menu includes everything you'd want for a July 4th celebration: lobster rolls, bison burgers, fried chicken, an unbelievably delicious potato salad.
Always thinking ahead to dessert, back in mid-May we delivered flat upon flat of local Sonoma cherries to our favorite Patisserie Angelica for classic cherry pie.
Naturally, the wine theme is red, white and bubbly.
Thematic Extra-Credit: Dixie has collaborated with Joy and the Sterling family to perfect the day's theme, bountiful food, and run of show but then she has taken it a step further with a fashion show in an homage to 1776, 1876 and 1976 with five fashion models showing costumes from each era. The models in this "Fashion Show with a Fashion Statement Honoring Three Centuries" will appear at various times throughout the day to show off the beautiful vintage clothes and mingle with guests. The background music will waft sounds of San Francisco circa 1976.
A sweet note and some final thoughts ….
One of the pleasures of staging this fete has been reminiscing about the early days, going through old photographs and compiling a time capsule exhibit of memorabilia, including decades of winemaker dinners and White House menus featuring Iron Horse wines.
In the words of the supremely talented Hospitality Director Dixie Bohlke, this summer soiree honors "the fulfilment of what Audrey and Barry Sterling's dream was then and what it has become."
Dixie notes that this event carries as truly special feeling for her. Her planning has been driven by a desire to property recognize the vision of the founders that would ultimately shape so much. But most importantly, acknowledge that their vision and "revolutionary" spirit has determined the way forward for the vineyard.
As we celebrate the past with the Spirit of '76 Cuvee, we also toast to the future. "It's going to be an incredibly special time capsule for Audrey and Barry, but they are also moving ahead to the future. When you look around to the new planting, you can see that. " For all the history and the pleasures of nostalgia, Iron Horse is an exciting and dynamic place.
Couldn't agree more.
What else does a party need once you have identified the theme, the venue, the food, the wines … as the ultimate party planner will tell you, it's the people who make the party. So we raise a glass to our guests! Happy Spirit of '76.


##########

We believe in the power of special ingredients at Iron Horse. Each bottle is infused with their essence. It is deeply gratifying that friends and family appreciate the intangible draw of our bubbles, Chardonnays and Pinot Noirs. For some, the journey to understanding the Iron Horse mystique ends with enjoying a glass or two. There's certainly no better place to begin and end! But for others, it's intriguing to get to know the truth behind this seemingly effortless deliciousness. With winemaker David Munksgard as a guide, we are delighted to introduce you to some of the wonderful people who are the hands on contributors to our success.

David starts out so many days walking the vineyards as we've frequently chronicled on the blog. But our focus rarely zooms out past him in that moment. Widen the frame of that morning scene and you see the vineyard team hard at work, including Vineyard Foreman Manuel Briano kneeling in front of the vines with a young protege at his side - a learning moment while shoot trimming , carefully removing unwanted growth from the vine with a decisive nudge of the thumb. Their genuine interest is written all over their faces.

The Vineyard Team, which reports to Laurence Sterling, is an integral part of our magic. Some might call them "behind the scenes," but as David explains and all of us know, "they are front and center and the foundation upon which growth happens." We rely on team members like Manuel, to bring natural coaching skills into play. Manuel was a talented amateur baseball player whose team spirit extends into the vineyards.

Many on Team Iron Horse were farmers in their native country of Mexico where they gained an innate understanding of agriculture and love of the land. They work hard, tinker until something's fixed and draw upon wisdom from within. As David shares, "they really care and take great pride in what they do." This is undeniably evident in the work of Jose Puga who is the Grounds Manager reporting to Chief Gardener Barry Sterling. He keeps Iron Horse looking so beautiful and maintenance efforts are massive. Besides the signature flower, fruit, and vegetable gardens, Iron Horse is a 260 acre reserve and grounds like these demand constant attention. It's second nature for Jose who started working with Barry Sterling when he was just 17 years old (Note: Jose Pugo and Manuel Briano also run the frost protection system which we referenced in our Spring 2016 Vineyard Update Blog - photo of the system at the close of the blog).

David was particularly moved by the all-for-one ethic of the winery crew during his 20th anniversary celebrations at Iron Horse. It was then that he realized the true value of "extended family". We simply can't do this without them. I understand their skill sets and appreciate how fortunate we are. It almost made me embarrassed to be recognized in front of them." Many on his team have been with Iron Horse for decades, some since the beginning, "We probably have the most experienced riddler in North America. Jose Luis Briano (Manuel's brother) has been here since 1984, which is a testament to both him and to Iron Horse."
Cellar Master Rigoberto Moreno Rojas aka Rigo (below), a veteran of 28 vintages here, was the first to shake David's hand when he started at Iron Horse. David calls him The General. "Rigo and I talk about what we want to accomplish and he'll step in to explain, why we can't physically do that but THIS is what we can do and then he makes it happen. The Cellar Master is a key player in every winery and someone to be taken very seriously. It is a coveted position. He or she has to know absolutely everything about the winery. And we are in excellent hands with ours."

To continue raising the bar, requires ever more meticulous, rigorous, detailed work in the vineyard and the cellars. It's getting harder each year for Vineyard Manager Victor Arreola to recruit and keep the highly trained and dedicated people we need. Young farmers are becoming more rare. And there's a concern that the knowledge is not passing passed on.
"This is such a talented crew and I absolutely love these people," says David. It's an honor to see them with their families and taking so much joy in what they do. It seems like the light is always shining on them."

His closing remarks are the inspiration for the spirit of this grateful blog post. "There's something about this place that gets me. Iron Horse has allowed me to live my dreams and convey the beauty of the place. And these are the people who will just do anything we ask to make it happen. They are the ingredient X in our wines.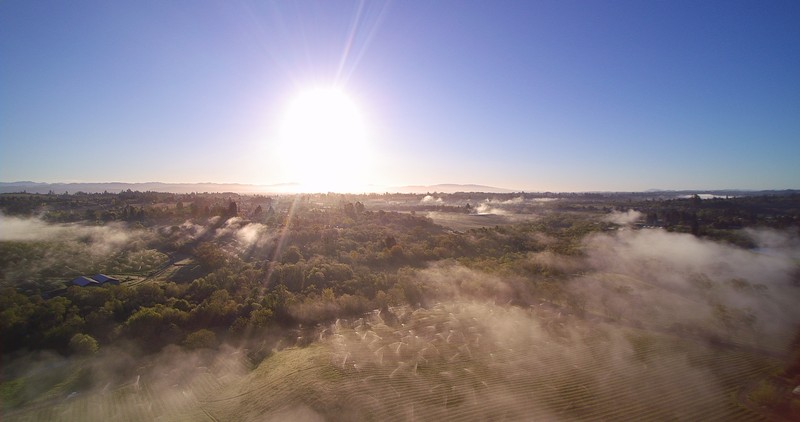 The allure of buried treasure beguiles us as children. We trudge through our backyards guided by maps which point us to the spot marked X. Ah! The excitement of discovering something hidden.
This is an experience which eludes most of us as adults. That was, until our cellar master discovered a cache of long forgotten, unlabeled magnums of Sparkling Wine from various vintages going back 10-15 years. A treasure trove of beautifully aged bubbly - 30 cases of this, 40 cases of that, from seven vintages and 13 different base wines. The first vintage of Joy! was a 1991, which we released in spring of 2007.
Today, the Joy! project is in full bloom. The new release, vintage 2003, makes its debut Friday, March 18th (details about Release Day Joy! at the vineyard here). Shop it here.

To sip this wine is to experience the magic of 12 years aging in contact with the yeast before disgorging. As winemaker David Munksgard explains, it takes a full 12 years for the wine's alcohol and acid to have the time to dissolve the goodness inside the yeast's mitochondria (break out those biology textbooks!). Once released, those "goodies" (amino acids, proteins, and fatty acids) achieve two things, both hallmarks of truly beautiful bubbles. They contribute to the umami experience and the fatty acids coat the bubbles which making the perfect, pin point, tiny orbs that accumulate at the surface of the glass creating a "foam cap" or crown. The result is an especially creamy texture and nutty, brioche aromas.
I wish I could say that we planned Joy!, but I do feel it is to our credit that we hold onto these magnums for so long. As everyone in business knows, the most expensive thing you can do is hold onto inventory.
There is no doubt in my mind that longer aging is the key to creating the greatest California Sparklings, second only to vineyard site. The longer the time en tirage, the smaller the bubbles, leading to richer, creamier and more elegant wine. Top quality bubbly is so much about texture, which can only come from extended time on the lees. When you are drinking a tete de cuvee, like Joy!, you should not even have to swallow. It should just effervesce away in your mouth. (See our blog post on The Science behind the Magic, October 2015).
David says that he doesn't know of any other California producers nor many French houses making this kind of time investment. (Maybe we should change the name of the wine to Patience?) That said, we urge you to be completely spontaneous in drinking Joy! We've already held onto to it long enough and David is always quick to remind us that even the most special wines are not made to be revered, but shared and enjoyed.

Here are his tasting notes:
"By nose, yeast and toasted hazelnut lead the way to grapefruit and baked apple scents with a hint of ginger. By mouth, your first impression is more sensual than taste. Full, rich and yet youthful and bright all at once. The most perfect lemon curd; creamy richness with freshness and bright finish. It is lush and refined like a silky ribbon."
How can you resist?


It has been four long, thirsty years since we have had any Joy! to share. That was the 1999 vintage, which won a near perfect 98 point score in Wine Enthusiast, 93 Points from Robert Parker and 93 points from Wine & Spirits.
The reviews were spectacular:
"Graceful and refined, with crisp apple and yeasty lemon aromas that lead to complex flavors of toasted almond, ginger and spicy mineral. Finishes with pinpoint crispness."
"Drink now!"
"Light gold in the glass with aromas of wet stones, lemon, and roasted nuts, this wine tastes of bright apple, lemon, buttered toast, long finish. Wonderful acidity. One of the finest made in California"
"A deft blend of richness and delicacy, offering mature aromas of spiced apple, almond and cinnamon, with opulent flavors of toasty crème brûlée, laced with notes of mineral and ginger. Great length."
We were greatly honored when it was served to the Queen of England at a State Dinner at the Ambassador's residence in London, Winfield House, in 2011.
Fortunately, the four year "drought" has been worth the wait! The current release is 70% Pinot Noir and 30% Chardonnay. The disgorging date (day/month/year) is on the back of each bottle.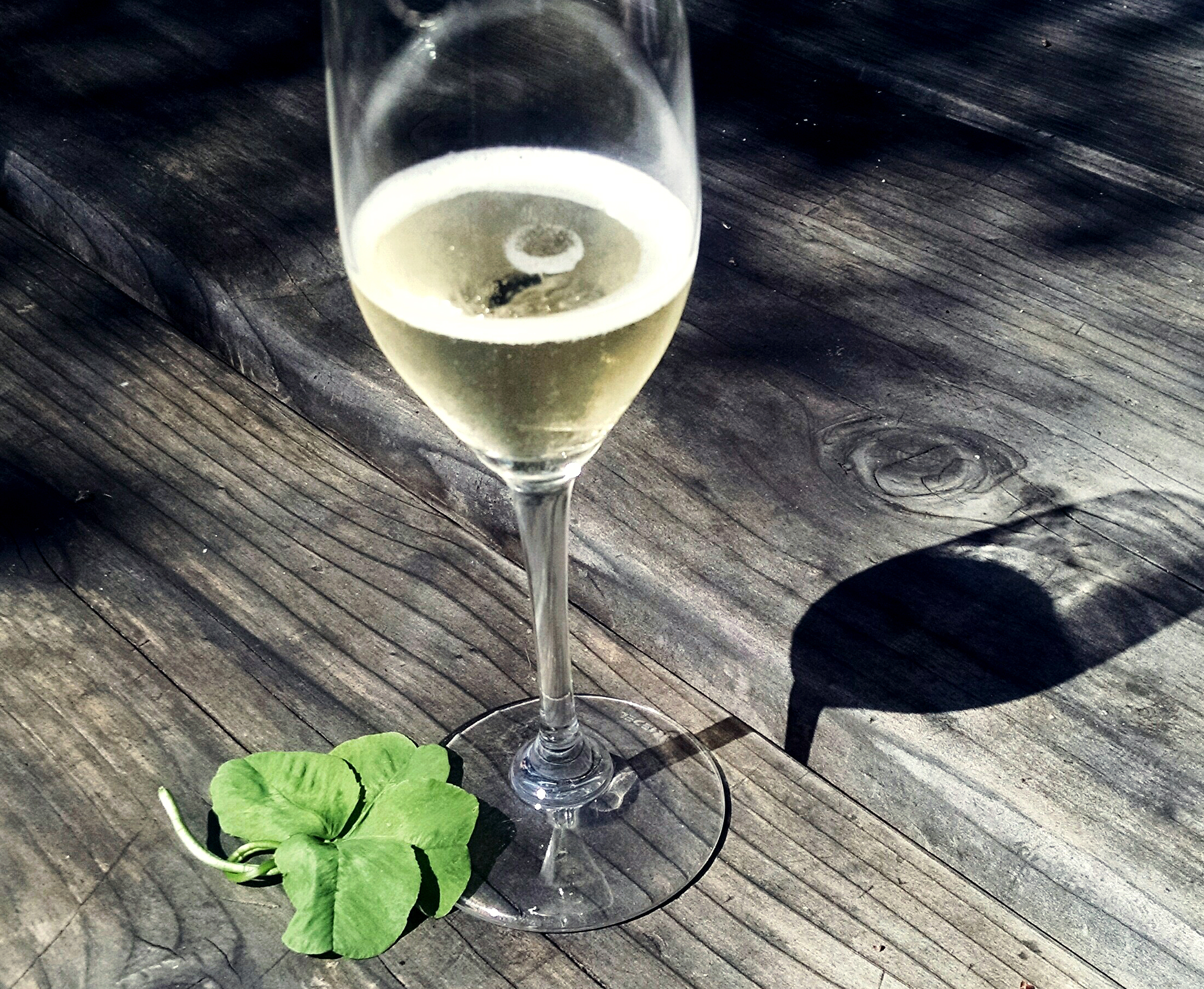 Spring forth and enjoy!

Never missing a reason to celebrate, today I raise a glass to International Women's Day. #IWD2016. The theme this year is parity: 50-50 by 2030, which inspired internet sleuthing to ascertain how the wine world (and agriculture generally) is fairing vis a vis parity.

we've come a long way baby!
Most visible are the women whose names are on the bottle: Gina Gallo, Delia Viader, Merry Edwards, Kathleen Heitz Myers, Marimar Torres (Marimar Estate), Katherine Hall, Beth Nichols (Far Niente), Beth Novak Milliken (Spottswood), yours truly (Iron Horse), Cristina Mariani-May (Castello Banfi), and most famous of all, Barbe-Nicole Clicquot (biography of the Veuve Clicquot is a must read).
A recent Women Winemakers of California study called "How Many Women" shows that 29% of the lead winemakers in Napa are women, but statewide, the average is just 9.8%. There's clearly room for growth.

Barrie Sterling in the vineyards - Vintage 2014
We can point to some key pioneers who may help the global community reach a glorious tipping point of parity. For example, the most powerful wine buyer on the planet is a woman. Annette Alvarez-Peters is responsible for more than $1 billion worth in wine sales every year in over 300 Costco stores across the country. Costco is the sixth largest retailer in the US and number seven in the world.
We are fabulously wealthy in women wine writers and influencers - Esther Mobley of San Francisco Chronicle, Virginie Boone of Wine Enthusiast, Peg Melnick and Michelle Anna Jordan of The Press Democrat, radio personality Ziggy Eschliman, TV star Leslie Sbrocco, Karen MacNeil author of the Wine Bible, Sarah Schneider of Sunset Magazine, Adrienne Shubin, The Rich Life (On a Budget) blogger, Jo Diaz and Twitter stars Amy Lieberfarb, #SonomaChat, Nannette Eaton, @Wine Harlots and our very own social media maven Shana Ray Bull ... to name just a few locally based here in Northern California.
The growing stature of women in wine is a no brainer for many reasons. Selling wine is a natural fit as it is fundamentally a relationship business. There is a long and marvelous history of women at the forefront, like the aforementioned Veuve Clicquot. An additional advantage is that women naturally are better tasters because we are generally endowed with more taste buds then men. Can't argue with the science. (http://www.nataliemaclean.com/blog/women-wine-tasting/)

Pinot Harvest
One area where we are weak is at the upper echelon of the major wine and spirits distribution companies. As big as they are, they are also family businesses, which puts an interesting slant on the question of why there isn't a woman of my generation running any one of them. Where are the daughters and the granddaughters? I guess they don't want to, which perhaps says something about the distribution end of the business.
Vineyard and cellar work are physically demanding, but no harder than being a firefighter. In the vineyards, 25% of the workers are women. My parents recall that many of the harvest crews they hired in the '70s included women, often young mothers who brought their little children to work. In fact, my mother set up an ad-hoc daycare, hiring our foreman's teenage daughter to watch over the children and read to them in English.
Today's vineyard workers are a different generation. Rightly so, the pay scale is rising and will continue to rise to ensure we have qualified, highly trained teams to bring our products literally to fruition. The demanding nature of this work in no way discriminates against women, especially in the judgement and professionalism required to bring in the best grapes.
My personal experience is atypical in that I am without doubt the luckiest person walking. Just read my bio. I have had every conceivable advantage. As I always say, the first smartest thing I ever did was pick my parents. But I feel very strongly that the wine and food world along with agriculture in general ARE and SHOULD BE very attractive for women.

My advice to young women entering the wine world is to start in a winery tasting room, wine retail store, or a country club, golf club or yacht club. Constantly put yourself in a position to be tasting new, exciting and diverse wines. Join or create a tasting group. I strongly support the Sommelier Guild primarily because of their commitment to mentorship.
For additional perspective, we reflected on this day with three women I admire: Karen Ross, California State Secretary of Agriculture, Helene Dillard, Dean of the College of Agriculture and Environmental Sciences at UC Davis, Anita Cook Motard, who (full disclosure) heads Strategic Account Sales for our Texas distributor, Glazer's Wholesale Co and serves on the advisory board for Women of the Vine, each recently interviewed by our ace blogger Tarin Teno. These women are leaders who have accomplished great success. Their end goals are diverse, but the common theme in each interview is the importance of a network.

Three Cheers for our Three Interviewees!
*****
Karen Ross, California State Secretary of Agriculture
Tell us a bit about your professional path to this point: I grew up on a farm in Nebraska and spent my early years fighting my place in agribusiness. But as an adult, each job I took brought me back closer to that world (Note: prior to Secretary Ross' appointment to the California Department of Food and Agriculture, she was chief of staff for US Agriculture Secretary Tom Vilsack and also served as President of the California Association of Winegrape Growers from 1996-2009). It all came full circle when I was able to buy out my dad's share of our farm. There's a connectivity to nature that you can't deny, it reflects the seasons of our lives and the lessons of hard work.
Who is your role model?: My dad was the most influential force in my life. He was all about positive thinking and instilled the belief that you can achieve anything you want. He was raised by a strong female, my grandmother, who ran the business on the farm in his childhood years.
Give us a snapshot of where we are in the parity struggle from where you sit: Today, the vast majority of people working on agricultural matters in Sacramento are women. I surmise that this over 50% skew has to do with women deftly grasping the issues and having strong communication skills. But while there has been a large transformation in the group working as advocates in the capital, the legislative body has changed more slowly. The elected bodies are still not 50-50 despite the fact that Governor Brown's governing body is quite diverse.
What is your proudest accomplishment to date?: The creation of the California Sustainable Wine Growing Program. We brought the wine community together and set the tone for other farming communities like the almond growers. I'm also proud to have been part of children's wellness initiatives, particularly the Let's Move partnership with the First Lady.
What woman (in any field, in history or thriving today) do you most admire?: It would be really easy for me to say Mother Theresa because of the compassion with which she lived.. I believe in a principle which drove her - if we don't take care of the weakest link in our chain, we will have nothing.
What advice do you have for young women who are interested in food, wine and agriculture?: I get to spend a lot of time with young people n high school and college across the state. I see so many women getting involved, there is definitely a renaissance of interest at the intersection of agriculture, food, and the environment. I encourage this injection of energy, which is at our foundation. Agriculture has always been innovative; the wine industry is a great example of that. This new generation, of women and men, have a passion for a larger mission of being connected to our natural resources and producing what humanity needs as our populations expand. I tell them to explore their interests; You just have to be willing to work hard.
******
Helene Dillard, Dean of the College of Agriculture and Environmental Sciences at UC Davis
Tell us a bit about your professional path to this point: I grew up in California, born and raised in San Francisco. At an early age - I knew I wanted to be a biologist but wasn't able to pinpoint what I wanted to do within that. So I went to UC Berkeley as an undergrad and majored in biology of natural resources where I gravitated towards agriculture. It was in a Ph.D. program at UC Davis that I found my passion in soil and plant pathology (and a Ph.D. to add to her M.S. degree in soil science). I was fortunate to land a professorial job at Cornell. I had a 50% research and 50% extension assignment and kept very busy with the plant diseases in the North East for 30 years. I was chosen for many leadership positions during my time there and before I knew it, I was recruited for the position of Dean of the College of Agricultural and Environmental Sciences at UC Davis in January 2014.
Who is your role model?: I owe my success to my parents who identified my childhood interest in science. I received things like chemistry sets at Christmas. Though my parents weren't traditionally wealthy, they were rich in understanding and they pushed to foster my early proclivities. I remember looking through that first microscope at onion skins and being captivated.
Give us a snapshot of where we are in the parity struggle from where you sit: UC Davis is a premier branch of the California State University System. The average grade for incoming freshman last fall was 4.0. There are four undergraduate colleges. The College of Agriculture has an enrollment of 7,000 students - 69% are female … and we are growing. The trend is quite interesting and I often wonder what was the tipping point.. It's something that we're looking to evaluate with more data points. As educators, we're also interested in maintaining a balance as is important in any ecosystem. We want to make sure that we're nurturing young men as well as low income, first generation, and minority students. I'm proud to say we're doing well with that last contingent. 50% of UC Davis students receive financial aid.
What advice do you have for young women who are interested in food, wine and agriculture?: Today at UC Davis, the competitive pressure is intense. As Dean, one of the things I do at orientation is encourage kids to enjoy their education and learn about what experiences to prioritize. It's more important to get to the finish line and be able to contribute to the world than submitting to an A+ obsession. (We tell their parents the same thing!)
******
Anita Cook Motard, Strategic Accounts, Glazer's Wholesale Co., Women of the Vine Advisory Board, Founder CHEERS
Tell us a bit about your professional path to this point: I started with Glazers as a spirits sales rep but quickly moved to wine which I deemed to be more "safe" for a woman and required fewer late nights. After four years in that role, I was promoted to sales team manager which created mixed emotions for me. Few women had occupied that position and I was nervous about overseeing friends. I took the job but had no one to guide me. I was on my own, working my way up through management.
Who is your role model?: I sadly can't point to an influential woman who impacted my career. There are some men, bosses who directed me professionally, but women in high up roles just didn't exist.
Give us a snapshot of where we are in the parity struggle from where you sit: I feel very strongly about the importance of mentorship in early career moments, and have taken a leadership role for women's causes internally at Glazer's. I spoke with our Senior Vice President of Human Resources about starting a women's group with a mission to champion diversity and inclusion. And from that conversation, CHEERS was founded. CHEERS joins a number of business resource groups within the company and is focused on connecting hardworking women while empowering them to educate, respect, and support each other. We host panel discussions with major influencers and are looking to formalize the mentoring program by this time next year. It's our top priority.
What advice do you have for young women who are interested in food, wine and agriculture?: The industry was in a different place when I was building my career. I encourage women to connect and support each other through informal check-ins whether it involves lunch dates or bubbles. As a woman in a leadership role, it's my responsibility to fill the void and encourage women who have the will to work their way through the ranks.

And so, a toast on this International Women's Day, March 8, 2016 - ideally with Iron Horse 2011 Brut X (for the X chromosome!), honoring the pioneering spirit of the women who have made significant inroads for future generations, celebrating progress and cheering the continued momentum to achieve parity. It's our responsibility, and joy, to be part of the movement.


#####
It's officially fall! And with that comes Football Season. To explore the art of tailgating and the role bubbles play in the quintessentially American fete, we caught up with our longtime friend Michael Mina. The rockstar restaurateur pours our special production Michael Mina Cuvee at his many beautiful restaurants across the country and has been in the headlines as he launches the second year of his famous tailgate hosted in the new Levi's Stadium. Learn from the master about the art of grazing this season and how to match up signature seasonal dishes with your favorite Iron Horse bottles…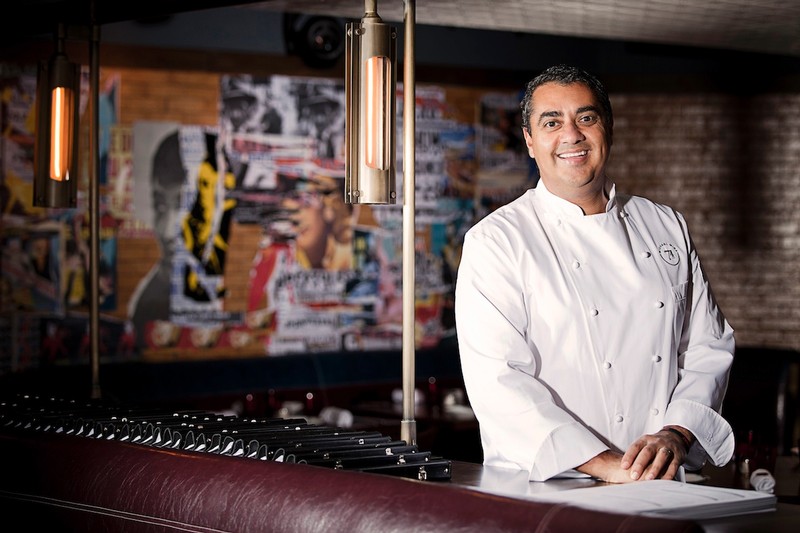 Tarin: Tell us about your tailgating venture with the 49ers and what inspired you to pursue it.
Michael Mina: Part of why I moved to San Francisco was because I'm a huge fan of the 49ers. I've been a season ticket holder for decades and I've had the good fortune of getting to know the forces from the team who dominate both the field and the behind-the-scenes business. So when the organization was building their new Levi's Stadium, they knew they wanted to leverage my 20+ years of tailgating experience to launch a Bourbon Steak / pub inspired venture with me to appeal to the demographic of the stadium.
Tarin: And so the plans got into motion. What came next?
Michael Mina: When we looked at the drawings of the restaurant space, there was a weird area next to it that remained empty. I suggested we move into that area to execute a tailgate. It was then that the tailgate proposal was concepted. I suggested we run a membership only tailgate event and use the space for catering during the off season. We intended to target a couple hundred members and just have some fun with it.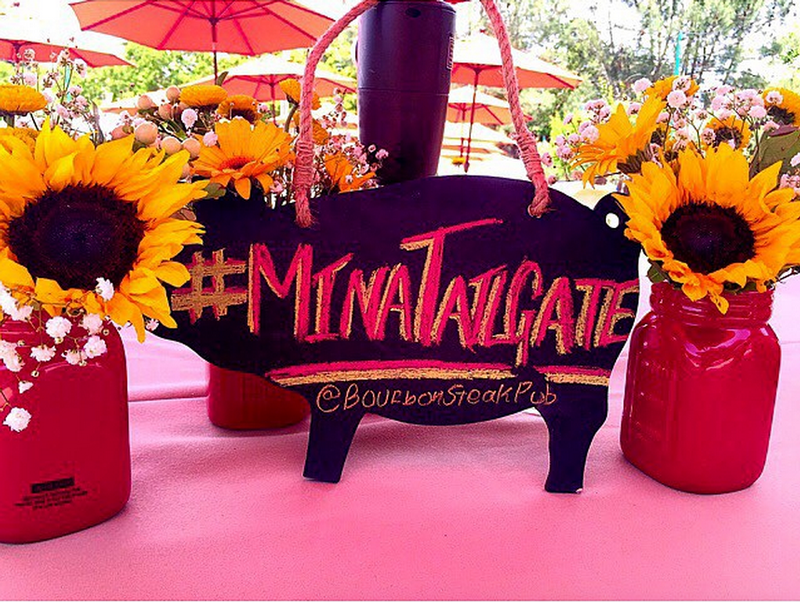 Tarin: Clearly, the organization considered your proposal a culinary touchdown. Tell us a bit more about how the tailgate has become the spectacle that it is today.
Michael Mina: One of the key elements of the event is that we invite outside chefs to help make each tailgate a unique and over the top experience. We also built a rotisserie that holds an entire cow - 1200 lbs and each game we roast a Skywalker Ranch Wagyu animal. We have massive pots that can hold literally tons of water and over 200 lobsters. We keep within the spirit of the tailgate but offer a range of fine dining to walk around stations. Guests can select from 12 composed dishes and 20 other items throughout the space as they explore the inside or outdoor seating options. Members spend their time watching the 80 screens and working through their food and drink options.
Tarin: This is very obviously a passion project for you.
Michael Mina: Absolutely. I don't really get too fanatic about anything except the 49ers. It's the one time I get really crazy. I'm definitely responsible for whooping up the crowd.
Tarin: Any fun behind the scenes scoop on the players themselves? Are they fans of yours?
Michael Mina: I have a lot of favorite players on the team and the feelings are reciprocal. There's a private tunnel for players to easily access our tailgate after the game. Players like Kaepernick, Eric Reid, Vernon Davis are frequent guest. And last weekend NaVorro Bowman requested tuna tartare he'd had at one of my restaurants in Miami. So I do take requests from VIPs, especially the new coach who is a serious foodie and in the restaurant all the time.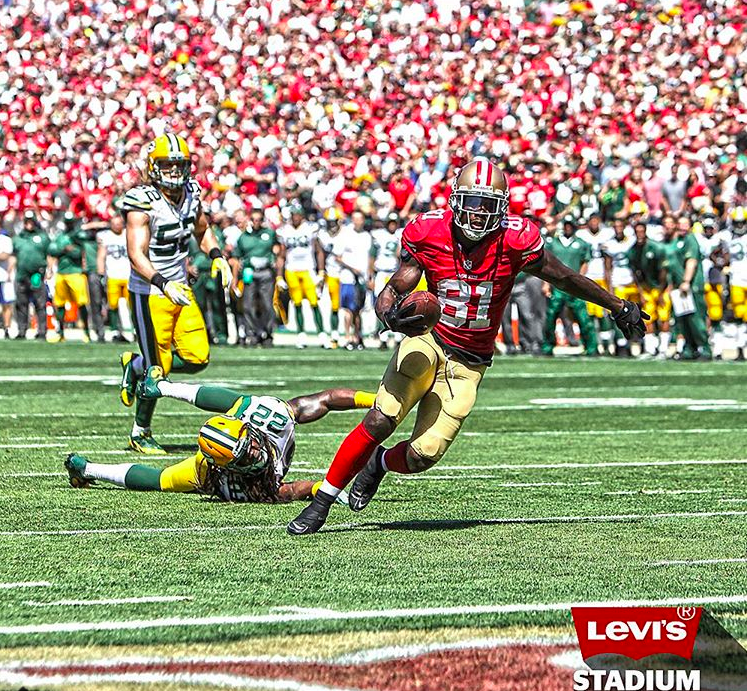 Tarin: What did you have planned for the game against the Green Bay Packers?
Michael Mina: That game will let us explore what football is all about. We got really cheesy. For example, we had a couple of fondue fountains where we offered black truffle cheddar and some classics with everything you could ever need to dip from wagyu cow, to brats, beautifully grilled vegetables, and sourdough bread.
Tarin: Which celeb chef are you really excited about collaborating with as you look down the schedule.
Michael Mina: I found out that one of my friends, Chef Todd English, is from Atlanta so he'll be on hand to execute a crazy Southern BBQ spread with me. He just sent me the menu and I'm looking forward to some classic Georgia style BBQ. I'm hoping that Joy Sterling will come pour for that game! It's been fun to learn new things about my friends as well as the cities that they come from.
Tarin: For our readers who can't make it out to the Bourbon Steak tailgate extravaganza, what do you recommend for football fans who are throwing a football watching party at home?
Michael Mina:
I like to theme it off of the team that we're playing against. I select cocktails and beers that work within that frame.

It's important that you don't just think about the dishes that come from that region or city - I like to take products that come from that state in general. And always stay within the spirit of tailgate while diversify outside of only smoked or BBQed items.

Especially when outside, I like to have a pot of something ready to do like a braised soup or chili.

And considering timing! Take the slow approach of doing one thing at a time. Grill some steak and slice it up on the spot. Then do what's next. Don't try to make it a meal all at one time - should be about grazing and drinking.

Tarin: What about wine pairings? Do bubbles come into play?
Michael Mina: Of course bubbles come into play! That's how every great tailgate should start. A glass of champagne and a bloody mary! My wife runs a bloody mary bar with her own unique recipes she's going to bottle and sell as part of her new company.
Tarin: Iron Horse is honored to have a wonderful friendship with you. And we'd like to explain to our blog readers how Michael Mina Cuvee came about. Joy wanted to remind you that we started 20 vintages (or shall we say football seasons) ago!
Michael Mina: Has it been that long?? Yes, we've been connected to Joy and Iron Horse for 20 years. And about 11 years ago, the label officially changed to Michael Mina Cuvee in honor of the launch of my Michael Mina restaurant.
Michael Mina: Now a question for Joy -- does she remember the first dish I paired with the bubbles?
Tarin: I'll have to ask her, in the meantime please tell the readers!
Michael Mina: When we first got the cuvee, we paired it with my new Caviar Parfait. The crispness of the cuvee cut through the rich flavors of the creme fraiche and salmon, but the richness also paired wonderfully with the overall dish. It's still my favorite all-time pairing.
Tarin: What makes Iron Horse special for you?
Michael Mina: It's delicious to sip. But it also pairs really well with food. That's what makes these bubbles a go-to year after year - they're very versatile.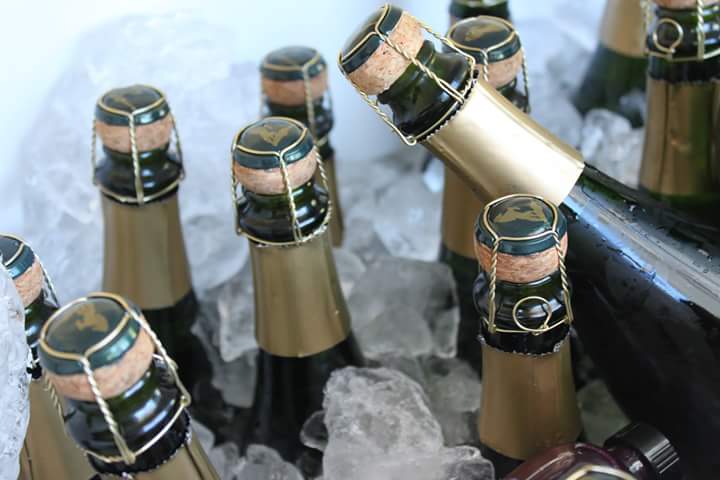 Tarin: I know Super Bowl 50 is a ways off but it will be played at Levi's Stadium. Are you excited and how are you going to tackle that momentous day at the tailgate?
Michael Mina: I have a gut feeling that the 49ers will be on the field that day each year because I'm a true fan. If we ARE there this year, I made a bet with my son that I'll get a team inspired tattoo. So I'm scared but I'll take the bet.For the tailgate, we're working with the NFL on their week long takeover of the stadium.
Tarin: Promise us that you'll share a sneak peek when you know more!
Michael Mina: Of course! More to come.
*****