Iron Horse
Blog

Dear Friends and Family,
Thank you for the outpouring of concern, for my parents and for the entire Iron Horse family. Thankfully, we are all fine and pulling together as kith and kin. We are so very lucky and appreciative to have so much love around us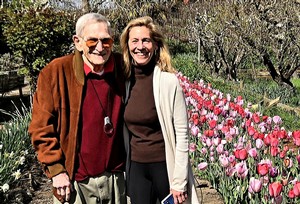 ... even at a six foot distance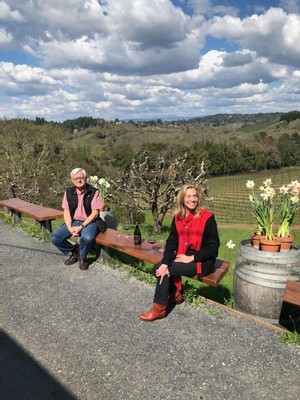 Right now, we are thinking of you and yours and hope you are all OK. We know so many of you, personally, from the wonderful times spent in our Tasting Room … and feel especially close to you right now … as the on-line orders are fluttering in. Your thoughtfulness is like a rainbow – appropriately on this first day of spring.
Like so many, we're doing our best so we can continue to be part of all your moments - big and small - for years to come. We are very lucky that wine is considered essential, as an agricultural product. As Thomas Jefferson said: "Wine is a necessity."
I hope you'll consider sending Iron Horse as a gift when you want to be "there", but you can't physically be there. And, stock up for yourselves. We are offering $1 shipping on six bottles or more. The shipping discount will show up at check out.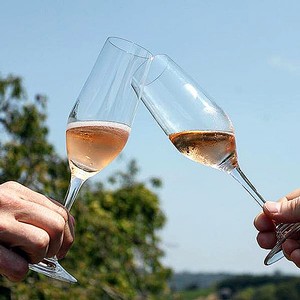 Thank you for your great, ongoing support and, most importantly, your closeness to us in heart.


Dear Friends and Family, This is a time for optimism, a steady hand and doing everything we can to help protect the community.
Here at Iron Horse, we have changed our protocol to clinking glasses instead of shaking hands.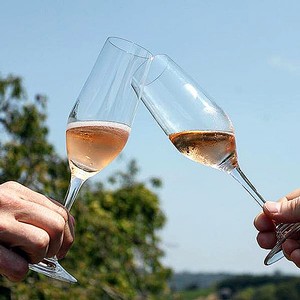 Following the Governor's announcement, we have closed our Tasting Room. Our wines are still available for purchase and pick up here at the winery from 8a to 4p; we are just not offering tastings. The best, easiest, safest and most helpful option available 24/7 is to order online. We are offering $1 shipping on six bottles or more. Please clicke here.
We know not everyone can stay home, and we owe a big debt of gratitude to our doctors, nurses, and caregivers, first responders, everyone in essential services, the unbelievably great people working in the grocery stores and pharmacies. Thank you!
I also want to share the view from the winery with you. It will still be here when this is over.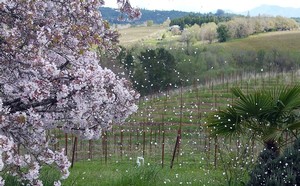 Wishing you and yours all our very best during this crazy, unprecedented time.


Dear Friends and Family,
Happy Chinese New Year, celebrating the "Year of the Rat".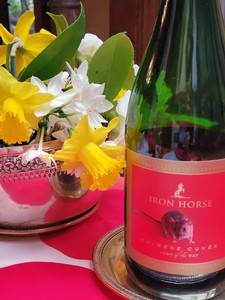 The Rat is the first sign in the 12-animal cycle of Chinese Astrology, a portent of new beginnings. Rats are said to be clever and wise, symbols of wealth and abundance. Rat years include 1924, 1936, 1948 , 1960, 1972, 1984, 1996, 2008, 2020, making this is the perfect gift for anyone expecting a baby (Us! My eldest niece Justine is due this summer) … and for those celebrating a milestone birthday, like turning 60 (namely, our brilliant, handsome label designer Mark Berry).
Here is a line up of our Chinese New Year labels of the past five years.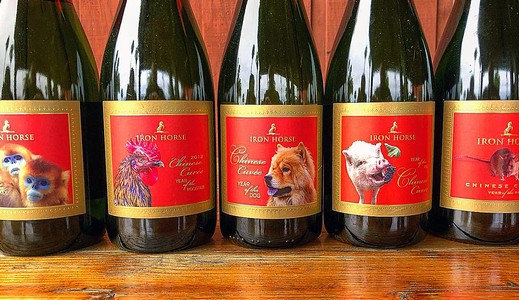 The endearing creature on this year's label, a Key Largo woodrat (Neotoma floridana), is sadly endangered. Fewer than 250 adults are left in the wild. This "studio portrait" is part of National Geographic's Photo Ark, created by photographer Joel Sartore ( Click here for more information), a biblical effort to document 12,000 species before they disappear and to get people to care, even about a little rat, while there's still time. We are very proud that licensing the photo for our label helps the cause.
Yesterday, one of our wonderful Wine Club members told us the origin story of the Chinese Zodiac that he learned as a child. It's a story of a great race, deciding which animals made it into the 12 year cycle, and in what order. The animals had to cross a river, so the Ox had the advantage, but the clever rat jumped on the Ox's back and once across, jumped ahead to be the first. The Ox is second.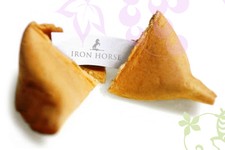 We are pouring "Rat" in our tasting room. Please make a reservation (or order online).
Wishing you great prosperity and double happiness!


After a very long, cold, very wet winter, I have decided to start chronicling the gardens again ... and wines releases, starting today. I firmly believe the beauty of our place is integral to our terroire. The vineyards are the gardens. The gardens are the vineyards. They are of one piece.
Sunday April 21, 2019
This is an absolutely perfect time of year at Iron Horse, especially this year, after all the rain. Just driving here on the Gravenstein Highway (aka Hwy 116) with the apples in bloom is a pleasure.
My father planted this cherry in front of the winery our first spring, 1976 – before the winery was even built. It is a favorite Instagram backdrop, but with a very limited window of opportunity.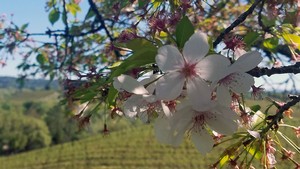 This was yesterday (Saturday) afternoon behind my parents' home. The profusion of calla lilies has been amazing. And, the roses are about to burst.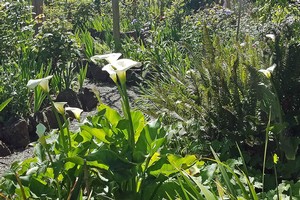 One of my greatest pleasures is walking in this garden with my father and watching it evolve.
I picked these shots because they convey a very special space in time and tell the story behind our wines in this shipment. I am firmly convinced that the beauty of the place is part and parcel of our terroir for the grapes and all the beauty that grows here. The grapes know they are in a perfect spot and they are not going to disappoint.
We are featuring three beautiful wines in our May Wine Club Shipment:
2015 Rainbow Cuvee - Our toast to diversity. We are relasing the new vintage May 9, so you can have it on hand Pride Month. 400 cases.
2016 Native Yeast Chardonnay - The grapes for this wine come from the furthest knoll behind the bottle in this photo. 220 cases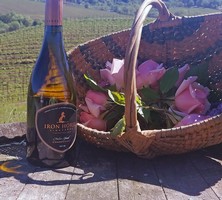 2016 Home Block Pinot Noir - Small production, from this beautifully sheltered, three-acre site, behind the iris bed, planted to the Calera Clone. 250 cases.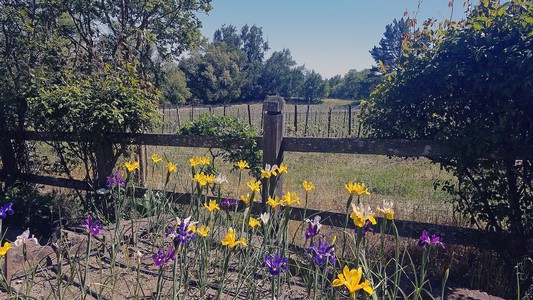 I hope you are planning to come visit. Our Under the Palms Tastings are now underway. This is a new experience for you to enjoy Wednesdays through Fridays - a private, seated tasting, twice daily, for two to four guests, at a "ringside" table, under the palms, facing our gorgeous view, where you can see the individual vineyard blocks while tasting the corresponding wines, with cheese. And, yes. You get to sit down!
Please make reservations here.
Brace yourself. Memorial Day is coming.
With all my very best,


Dear Friends and Family, These are the Dog Days,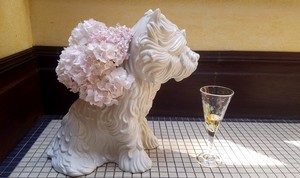 which at Iron Horse means we have verasion in the vineyards.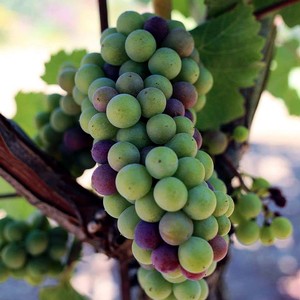 Verasion is the onset of ripening, when the grapes turn color. My brother says verasion is like popcorn. It starts with just one … then several … and then the color is popping out all over.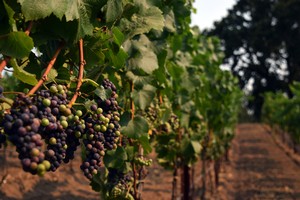 Veraison is often a bit faster in young blocks. Also note that shoots are becoming "woody". Just 1-2 weeks ago that shoot was green. The vines are signaling that harvest is near.
With Chardonnay, the skins become translucent, so that a backlit berry will reveal the seeds within.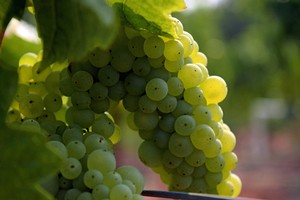 Other indicators include a delicious crop of wild blackberries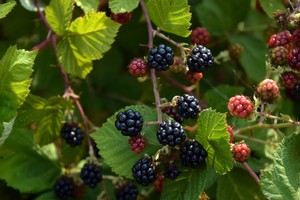 Naked Ladies starting to appear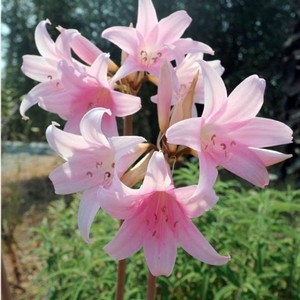 We are extraordinary wealthy in squash blossoms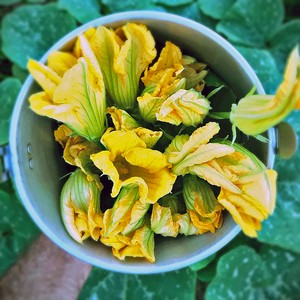 And Queen Anne's Lace
I am extremely proud to report our 2010 Brut LDreceived an outstanding 94 point review from Wine Spectator: "Sleek and luxurious, with floral, brioche and baked apple aromas that open to rich and complex Asian pear, spiced nut, ginger and cinnamon flavors that linger on the long finish. Drink now through 2021." Thank you Tim Fish!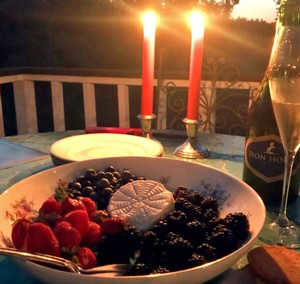 Try it with berries, ricotta cheese and candlelight.
Our hearts are with our neighbors to the North. We can see a shifting, thin layer of smoke on the horizon - a constant reminder of how very lucky we are. Thank you firefighters!
With all my very best,


Dear Friends and Family, The world is coming to San Francisco for a global environmental summit convened by Jerry Brown in September and Iron Horse will be the toasting wine for 600 dignitaries at the opening night dinner prepared by Alice Waters.
The ambition is to pick up the momentum set by the Paris Agreement and launch greater worldwide commitments. I couldn't be more proud of our Governor and our state for taking the lead.
A propos the Governor, I thought you'd get a kick out of this selfie from last week in Sacramento: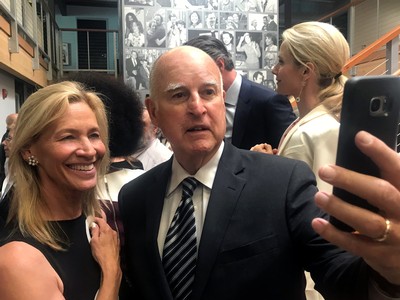 I am also very happy to report that we have set in the vineyards and it looks very good this year.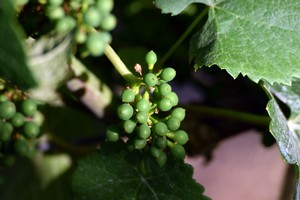 Set is when the grapes form behind the blossoms after the flowers blow away, determining crop yield. Now we are training the vine shoots upwards through the wires, pulling off lateral growth and excess leaves, and suckering the unwanted shoots at the base of the trunk - all by hand.
This is when the vineyard crew really shines. I was very happy to see Dora Arreola supervising the work on our Thomas Road Vineyard, pictured here with our foreman Victor Arreola (no relation).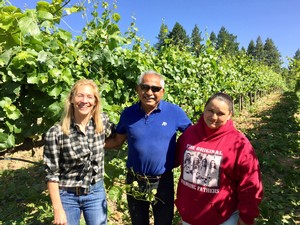 The goal is to direct all of the vines' energy to the grapes, creating a canopy to protect the fruit from the sun and provide for good air flow.
Our Winemaker David Munksgard walks the vineyards every morning. He says being immersed in the sheer beauty of the place is kind of a spiritual experience that inspires his winemaking. Plus, he says, the vines like to have visitors. And I love knowing we have a special guardian keeping watch.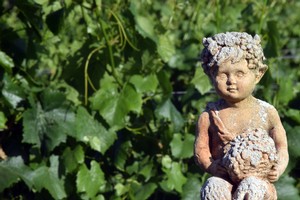 You can't help but feel protective of the baby clusters and want to cheer them on to size up beautifully and develop all the deliciousness they can achieve.
In the winery, we have laid down the bubblies for 2017, including the Wedding Cuvee which we will enjoy in three plus years … and magnums of Joy! to be disgorged in 2030.
And, it is so gratifying to see Iron Horse listed as the top two of the "Best Summer Sparklings" in the current issue of Wine & Spirits Magazine.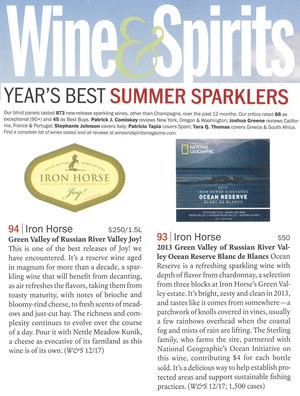 I hope you enjoyed a wonderful Father's Day. Of course, around here, every day is Father's Day and Mother's Day!
Sending all best wishes,
as always,


Sometimes the best tasting notes are just one word - simple, declarative and easy to grasp, like "Wowzah!", which is how our Winemaker David Munksgard describes our just released 2010 Brut LD. This is our first release of an LD in four years.
LD stands for Late Disgorged, aged longer on the yeast in the bottle and our designation for tête de cuvee or top of the line bubbly. It's a play on Bollinger's RD or Récemment Dégorgée (recently disgorged), which is trademarked.
This is our first LD in four years, freshly disgorged just this month, after lavishly aging for seven years en tirage. Only about 500 cases were produced.
The longer the wine is aged on the yeast in the bottle, the smaller the bubbles, so the mouthfeel is soft, elegant, rich and creamy – like drinking a cloud. You will taste and feel the quality with the first sip. It should just effervesce away in your mouth.
From clouds to rainbows, we are also celebrating the release of our 2014 Rainbow Cuvee, just in time for Pride Month.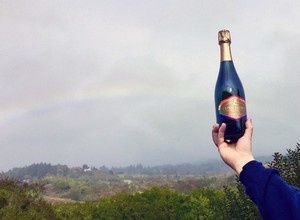 This year, the Rainbow is a vibrant and exciting Blanc de Blancs - 100% Chardonnay, vintage 2014. This is our toast to diversity. Total production 300 cases.
We are getting our first crops of strawberries.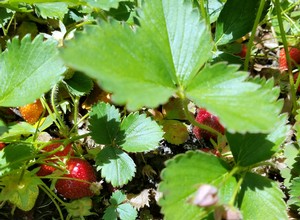 And I am closing in on my ambition to fill every vase in my house with roses.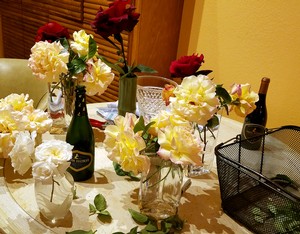 I am especially happy to report that Joy! has been awarded 93 points in Wine Advocate and 94 in Wine & Spirits Magazine, to appear in their Best Summer Sparklers issue.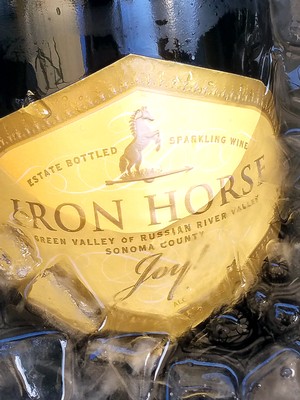 Our 2015 Home Block Pinot Noir received a 92-point rating in Wine Enthusiast. In this case, the wine description is much more poetic: "Sublime in mint and forest floor tones, this is a seductively robust wine that's rich and rewarding on the palate but never loses its sense of balance and place." We call this "Home Block" because it is adjacent to my parents' home. It is most sheltered of our vineyard sites. And, this is where my niece Justine is getting married next month.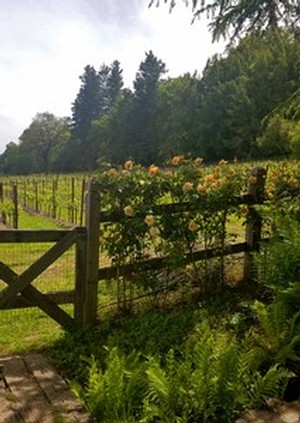 As you can imagine, my father is working very hard to get the garden in "leaf perfect" condition for her. We all love the groom and really can't wait to have a big, beautiful party.
Cheers to love!

There is nothing quite like spring at Iron Horse. Even five inches of rain in a 30-hour continuous downpour couldn't put a damper on it.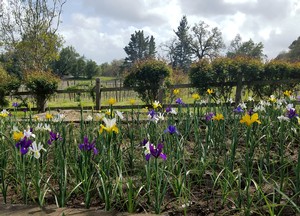 It was a crazy storm - a "pineapple express", thankfully not that intense, but unrelenting, turning us into Island Iron Horse.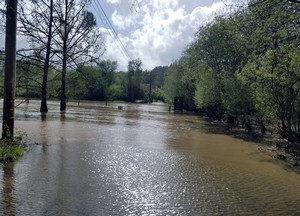 Cazadero got seven inches. San Francisco recorded the biggest one day of rain since the Gold Rush. Yosemite flooded and closed.
Undaunted, our Winemaker David Munksgard and I sat down to taste our about to be released 2014 Rainbow Cuvee, which is a Blanc de Blancs this year, and our 2010 Brut LD, our first LD in four years. We had a great conversation about the future and what better thing to do, even if the creek is rising. Both bubblies are being disgorged and labeled and will make their debut in our May Wine Club shipment.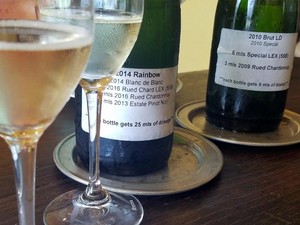 We were flooded at the main entrance all weekend, but it was a great relief to see that the iris and most importantly the vines had stood up to the storm.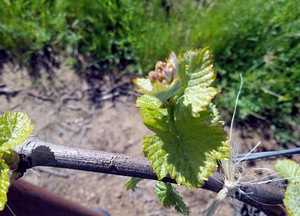 Fortunately, nothing deters our wonderful fans and club members. I am very proud of the intrepid tasters who made the trek around the back way onto the property, especially for our first Oyster Sunday of the season.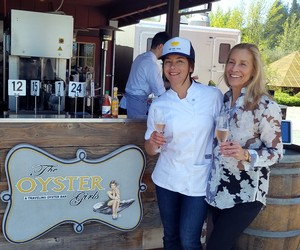 This year, The Oyster Girls are offering freshly shucked, raw and barbecued oysters, cooked shrimp and a caviar tasting. The dates are every Sunday through October from 12 noon to 4 pm (or until they run out). Please, please, please make advance reservations for tasting.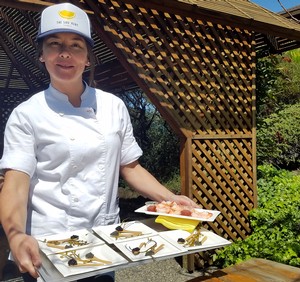 Sometimes it can be an adventure coming to Iron Horse, but always worth it. I firmly believe the beauty of the place is part of our special terroir. The grapes know they are growing in a gorgeous spot and are not to make anything less than the most delicious, memorable and pleasurable wines.
All of us in the Iron Horse family hope you will come visit and drink in the view.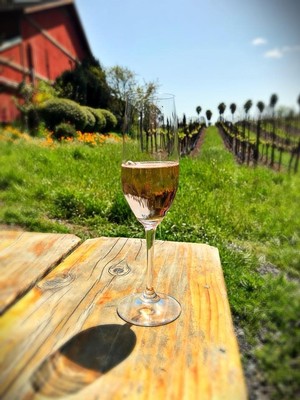 Photo: Rob Akins
With all my very best,


Dear Friends and Family, Happy daylight saving! By some accounts, the brainchild of Benjamin Franklin, while living in Paris, the idea was to turn forward the clocks to take advantage of the extra hour of sunlight to save energy, which in those days meant candle wax. Since then, it has gone through many enactments, adjustments, and repeals. Today is the 100th anniversary of the current practice, observed in about 70 countries, including the US except for Hawaii, parts of Arizona and now possibly Florida. It marks the unofficial start of spring and the equally unofficial release of the new vintage of Iron Horse Spring Rose.
The official debut of Spring Rose is March 21, but patience is not our strong suit. It is in our wine club shipment going out this week.
I am happy to report we are very close to bud break and finishing up pruning. We've tested the frost protection system and have a good amount of water (knock on wood). We've been lucky to have a cold spell, which has thank fully slowed things down a bit. If you look closely, you can see a dusting of snow on Mt. St. Helena.
Here you can see a drop of sap at a fresh cut point, where the new growth will be.
Everything crossed for a great vintage.
ICYMI, I want to share with you a very nice story about an environmental restoration effort to re-oak wine country in the wake of the fires. It's a volunteer operation, spearheaded by the California Native Plant Society, with more than 1,000 neighbors who collected acorns. So many people signed up to gather, box, and mail in acorns from the North Bay that it briefly crashed the Plant Society's server. (Source: Sonoma County Gazette http://sonomacountynurseries.com/articles/restoring-oak-trees-after-the-sonoma-county-wildfires). Now those acorns are sprouting. Once they grow into oak seedlings, they can be planted in the ground and will be given out to residents and landowners to replace an estimated at 50 square miles of oaks.
We pride ourselves on our oaks here at Iron Horse. They are as much a part of the Sonoma landscape as the vineyards.
Finally, we have a new Joy! It has become our pattern to release a different Joy! every six months. This bottling is a blend - 68% Pinot Noir 32% Chardonnay, whereas last fall's Joy! was a Blanc de Blancs. Both are vintage 2004. This new, spring Joy! is aged six months longer and disgorged last week, after 13 years en tirage. A total of 360 bottles produced, exclusively magnums. Delicious! If I do say so myself.
I hope we will have the pleasure of welcoming you here at Iron Horse this spring. Remember, the Oyster Girls are back for our weekly Oyster Sundays beginning April 8 through October. Please make reservations to partake.
One benefit to daylight saving time is that wine o'clock comes an hour early today. So, I say, cheers to that!
With all my very best,


With so much happening around us, there is something very centering about focusing on harvest.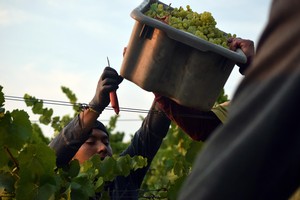 Photo: David Munksgard
All the fruit for Sparkling and Pinot Noir has now been picked. We will probably be done by the end of this week, which seems very early, but remember, our harvest started on August 4 for bubbly, so, that's a month … and this weekend's heatwave accelerated everything.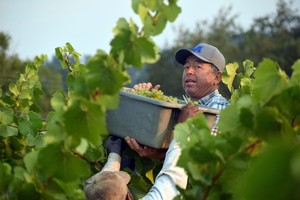 Photo: David Munksgard
So far, Vintage 2017 is all about extremes – even just speaking climatically, we went from extreme drought to record rain fall to record breaking heat. This weekend is certainly one for the record books. It was 106 degrees in San Francisco Friday. 70 degrees here on Saturday at 5am. That never happens.
Extremes always lead to more work. And I could not be more proud of our vineyard and winery crews. This is the first vintage for our new Assistant Winemaker Megan Hill. It has certainly been challenging, but her smile speaks volumes.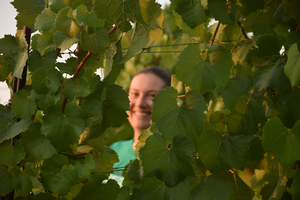 Photo: David Munksgard
It's hard to pry a quality assessment of the vintage out of my brother Laurence and our winemaker David, but I spied a hint on a sample of Chardonnay free run juice. The labels says "F-Low" (for the lower part of block F on the Estate) – "the beginning of a great BdeB (Blanc de Blancs)."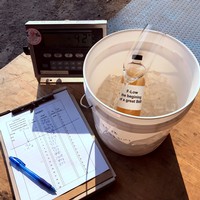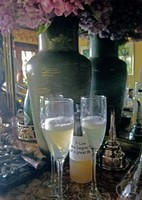 Photo: LG Sterling
Free run juice straight out of the press also makes a delicious Sparkling cocktail, which you can only have here at Iron Horse and only this time of year. We call it the "Sterlini".
One of my favorite though little-known quotes is from (I believe) JFK, talking about something he learned playing touch football, "When you see blue sky, go for it."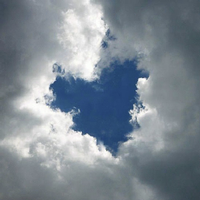 In that spirit, Happy Labor Day! I hope you are celebrating with the fruits of our labor and join us in sending all of our positive energy to our many friends and my cousins Rand and Pamela in Houston.