Iron Horse
Blog
A discussion with our inimitable in-house Hospitality Director Dixie Bohlke illuminates plans to celebrate this summer's milestone, the Sterling family vision, the importance of small details in creating the extraordinary … and how to join the celebration with a new limited production bubbly.
Dixie pouring Iron Horse '76
As Joy shared in the previous blog, the Iron Horse family is warming up to celebrate the 40th anniversary of our first vintage.
First, the skinny on the summer soiree we have affectionately dubbed "The Spirit of '76"
Date: July 3, 2016
Time: 11AM - 2PM
Where: Iron Horse Vineyards
Festivities begin in the beautiful garden of the Sterlings' Victorian home. Then it's a short walk to the corral for lunch at noon.
Who: Friends, Family and Wine Club Members
Next the full bodied exploration behind the scenes setting up such an event ….
Why: We're honoring the vision of our founders which was nothing short of revolutionary when they purchased Iron Horse in 1976, the restoration of the Sterling's beautiful Victorian home built in 1876, and of course the all American spirit of 1776.
How: A reception in the garden of the Sterlings' home with the Caviar Cowboys serving California Osetra on buckwheat blini fresh off the griddle, a roving Oyster Girl shucking fresh Myagis from Tomales Bay and free flowing bubbly.
Such a special occasion calls for a special limited edition bubbly, naturally called "Spirit of '76", which we also be pouring in the Tasting Room for the holiday weekend and which is available on-line.
Joy and David came up with the idea of creating a special cuvee about three months ago. David picked the 2011 Blanc de Noirs in magnum for the base wine. Mark Berry designed the label. We have just 22 cases (132 magnums) and Joy says there's no better place in time to enjoy them especially in commemorative flutes with our logo, the rampant horse on a weathervane and the addition of "Est 1976".
Dixie perfected a cocktail called the Iron Horse 76, which we make with our own brandy called Audrey, distilled by Germain Robin using 1987 estate grown Pinot Noir.

Recipe:
1.5 oz Brandy*
3/4 oz Fresh, Strained Lemon Juice
1/4 oz Simple Syrup
1 bar spoon Apricot Preserve**
Shake ingredients (except sparkling) vigorously with ice, strain into a Pinot Noir style stemmed glass, slowly pour in the bubbly, garnish with a lemon twist.
*We use the Iron Horse Audrey Brandy (made from 1987 Iron Horse Estate Pinot Noir distilled by Germain Robin). Substitute with VSOP Cognac
**Dixie's homemade
Recipe Backstory:
Based on the classic French 75, made from gin or Cognac, Champagne, lemon juice, and sugar. It is also called a 75 Cocktail, or in French simply a Soixante Quinze (Seventy Five). The drink dates to World War I, and an early form was created in 1915 at the New York Bar in Paris—later Harry's New York Bar — by legendary barman Harry MacElhone, a defining figure in early 20th-century bartending. The combination was said to have such a kick that it felt like being shelled with the powerful French 75mm field gun.
Directions:
Shake ingredients (except sparkling) vigorously with ice, strain into a Pinot Noir style stemmed glass, top with bubbly, garnish with a lemon twist.
Old labels
Back to the event….
After the one hour reception, the party moves to an old, redwood, 1920s corral led by "Uncle Sam" and a 20 person brass band called The Hub Bub Club. Here, the party decor includes gorgeous vineyard views, deep red roses growing on the fence of the Corral, red and white geraniums in pots sitting on top of old wine barrels, and scattered hay bales covered in the stars and stripes.
The menu includes everything you'd want for a July 4th celebration: lobster rolls, bison burgers, fried chicken, an unbelievably delicious potato salad.
Always thinking ahead to dessert, back in mid-May we delivered flat upon flat of local Sonoma cherries to our favorite Patisserie Angelica for classic cherry pie.
Naturally, the wine theme is red, white and bubbly.
Thematic Extra-Credit: Dixie has collaborated with Joy and the Sterling family to perfect the day's theme, bountiful food, and run of show but then she has taken it a step further with a fashion show in an homage to 1776, 1876 and 1976 with five fashion models showing costumes from each era. The models in this "Fashion Show with a Fashion Statement Honoring Three Centuries" will appear at various times throughout the day to show off the beautiful vintage clothes and mingle with guests. The background music will waft sounds of San Francisco circa 1976.
A sweet note and some final thoughts ….
One of the pleasures of staging this fete has been reminiscing about the early days, going through old photographs and compiling a time capsule exhibit of memorabilia, including decades of winemaker dinners and White House menus featuring Iron Horse wines.
In the words of the supremely talented Hospitality Director Dixie Bohlke, this summer soiree honors "the fulfilment of what Audrey and Barry Sterling's dream was then and what it has become."
Dixie notes that this event carries as truly special feeling for her. Her planning has been driven by a desire to property recognize the vision of the founders that would ultimately shape so much. But most importantly, acknowledge that their vision and "revolutionary" spirit has determined the way forward for the vineyard.
As we celebrate the past with the Spirit of '76 Cuvee, we also toast to the future. "It's going to be an incredibly special time capsule for Audrey and Barry, but they are also moving ahead to the future. When you look around to the new planting, you can see that. " For all the history and the pleasures of nostalgia, Iron Horse is an exciting and dynamic place.
Couldn't agree more.
What else does a party need once you have identified the theme, the venue, the food, the wines … as the ultimate party planner will tell you, it's the people who make the party. So we raise a glass to our guests! Happy Spirit of '76.


##########

This quintessential Tuscan dish is said to have originated in Etruscan times when fowl was cooked over an open hearth while being flattened with a heavy stone to insure even cooking. The result is a crispy yet succulent chicken fragrant with the aromatic herbs rosemary and sage. Serve with Iron Horse 2012 Estate Chardonnay or our 2012 Native Yeast Chardonnay.
This recipe is courtesy pf Deborah Dal Fovo and Relish Culinary Adventures in Healdsburg.
Both the Iron Horse Estate Chardonnay and the Iron Horse Native Yeast have been awarded a 93 point rating in Wine Enthusiast. Chardonnay's lemony character makes it a perfect pairing with this dish.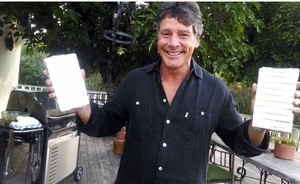 Ingredients
2 terracotta or red clay bricks washed and air dried, wrapped in 2 layers of heavy aluminum foil
1 young frying chicken, 3 to 4 pounds, preferably free-range
¾ cup quality extra virgin olive oil
2 cloves garlic, crushed and peeled
¼ cup fresh rosemary needles
¼ cup fresh sage leaves
Kosher or sea salt and freshly ground pepper to taste
Ask the butcher to remove the backbone of the chicken, trim and cut it in half. Then, chop off the knuckle from each drumstick and the tip of each wing and lightly pound each partially boned chicken half with a flat disk meat pounder or the flat blade of a chef's knife to flatten.
At home, rinse the chicken halves under cold running water and dry well with a kitchen towel.
Place the chicken in the olive oil marinade for 2 to 4 hours for best flavor, turning occasionally.
Prepare a charcoal grill with hot coals. Remove the chicken halves from marinade and generously season with salt and pepper on both sides. Place the chicken halves on the hot grill and cover each with a foil-covered brick to weigh them down. Cook for about 25 minutes until golden brown and crispy. Use a kitchen mitt to remove the bricks. Turn the chicken halves on the grill and replace the bricks on top. Cook for about 25 more minutes or until juices run clear when the upper chicken leg is pierced with a sharp knife.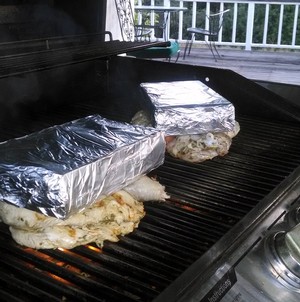 Transfer to a serving platter, lightly tent with foil and let rest for 5 to 10 minutes. Quarter the bird and serve with the Iron Horse Chardonnay.
Enjoy!