Iron Horse
Blog

Dear Friends and Family,
Thank you for the outpouring of concern, for my parents and for the entire Iron Horse family. Thankfully, we are all fine and pulling together as kith and kin. We are so very lucky and appreciative to have so much love around us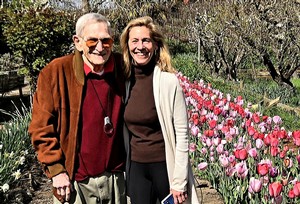 ... even at a six foot distance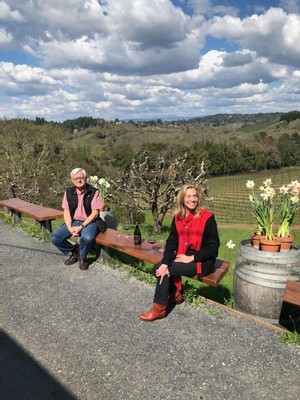 Right now, we are thinking of you and yours and hope you are all OK. We know so many of you, personally, from the wonderful times spent in our Tasting Room … and feel especially close to you right now … as the on-line orders are fluttering in. Your thoughtfulness is like a rainbow – appropriately on this first day of spring.
Like so many, we're doing our best so we can continue to be part of all your moments - big and small - for years to come. We are very lucky that wine is considered essential, as an agricultural product. As Thomas Jefferson said: "Wine is a necessity."
I hope you'll consider sending Iron Horse as a gift when you want to be "there", but you can't physically be there. And, stock up for yourselves. We are offering $1 shipping on six bottles or more. The shipping discount will show up at check out.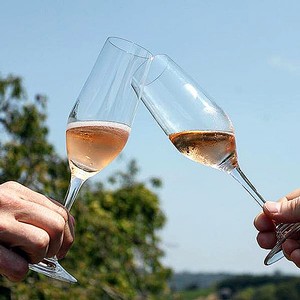 Thank you for your great, ongoing support and, most importantly, your closeness to us in heart.


Dear Friends and Family, This is a time for optimism, a steady hand and doing everything we can to help protect the community.
Here at Iron Horse, we have changed our protocol to clinking glasses instead of shaking hands.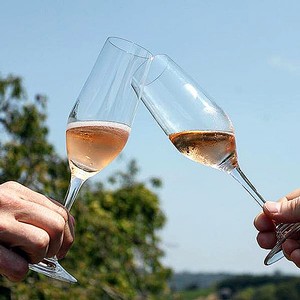 Following the Governor's announcement, we have closed our Tasting Room. Our wines are still available for purchase and pick up here at the winery from 8a to 4p; we are just not offering tastings. The best, easiest, safest and most helpful option available 24/7 is to order online. We are offering $1 shipping on six bottles or more. Please clicke here.
We know not everyone can stay home, and we owe a big debt of gratitude to our doctors, nurses, and caregivers, first responders, everyone in essential services, the unbelievably great people working in the grocery stores and pharmacies. Thank you!
I also want to share the view from the winery with you. It will still be here when this is over.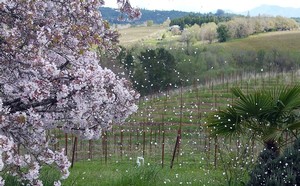 Wishing you and yours all our very best during this crazy, unprecedented time.


Dear Friends and Family, These are the Dog Days,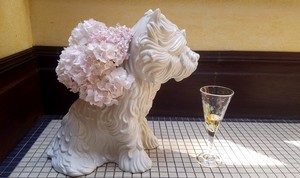 which at Iron Horse means we have verasion in the vineyards.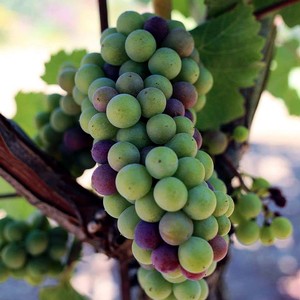 Verasion is the onset of ripening, when the grapes turn color. My brother says verasion is like popcorn. It starts with just one … then several … and then the color is popping out all over.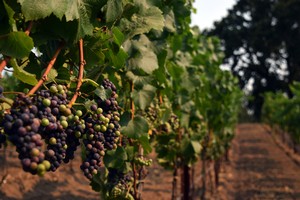 Veraison is often a bit faster in young blocks. Also note that shoots are becoming "woody". Just 1-2 weeks ago that shoot was green. The vines are signaling that harvest is near.
With Chardonnay, the skins become translucent, so that a backlit berry will reveal the seeds within.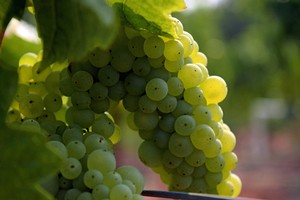 Other indicators include a delicious crop of wild blackberries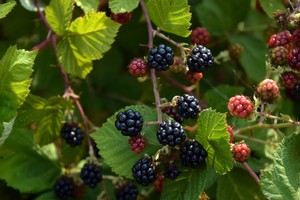 Naked Ladies starting to appear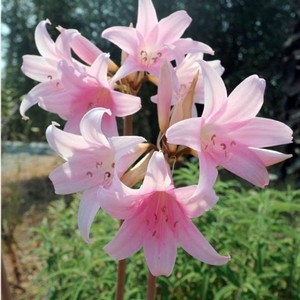 We are extraordinary wealthy in squash blossoms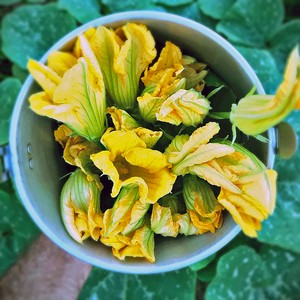 And Queen Anne's Lace
I am extremely proud to report our 2010 Brut LDreceived an outstanding 94 point review from Wine Spectator: "Sleek and luxurious, with floral, brioche and baked apple aromas that open to rich and complex Asian pear, spiced nut, ginger and cinnamon flavors that linger on the long finish. Drink now through 2021." Thank you Tim Fish!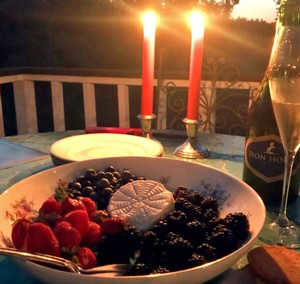 Try it with berries, ricotta cheese and candlelight.
Our hearts are with our neighbors to the North. We can see a shifting, thin layer of smoke on the horizon - a constant reminder of how very lucky we are. Thank you firefighters!
With all my very best,


Dear Friends and Family, The world is coming to San Francisco for a global environmental summit convened by Jerry Brown in September and Iron Horse will be the toasting wine for 600 dignitaries at the opening night dinner prepared by Alice Waters.
The ambition is to pick up the momentum set by the Paris Agreement and launch greater worldwide commitments. I couldn't be more proud of our Governor and our state for taking the lead.
A propos the Governor, I thought you'd get a kick out of this selfie from last week in Sacramento: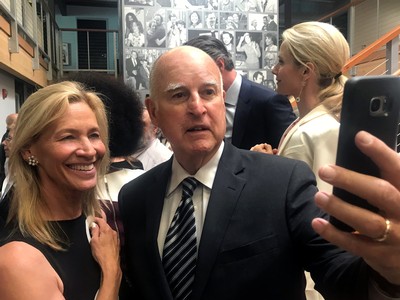 I am also very happy to report that we have set in the vineyards and it looks very good this year.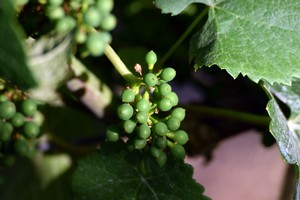 Set is when the grapes form behind the blossoms after the flowers blow away, determining crop yield. Now we are training the vine shoots upwards through the wires, pulling off lateral growth and excess leaves, and suckering the unwanted shoots at the base of the trunk - all by hand.
This is when the vineyard crew really shines. I was very happy to see Dora Arreola supervising the work on our Thomas Road Vineyard, pictured here with our foreman Victor Arreola (no relation).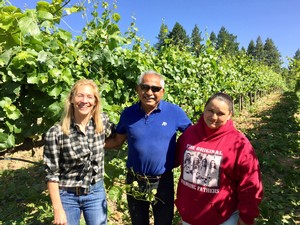 The goal is to direct all of the vines' energy to the grapes, creating a canopy to protect the fruit from the sun and provide for good air flow.
Our Winemaker David Munksgard walks the vineyards every morning. He says being immersed in the sheer beauty of the place is kind of a spiritual experience that inspires his winemaking. Plus, he says, the vines like to have visitors. And I love knowing we have a special guardian keeping watch.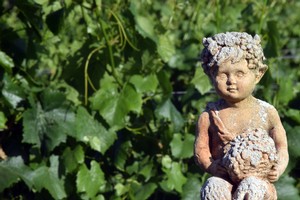 You can't help but feel protective of the baby clusters and want to cheer them on to size up beautifully and develop all the deliciousness they can achieve.
In the winery, we have laid down the bubblies for 2017, including the Wedding Cuvee which we will enjoy in three plus years … and magnums of Joy! to be disgorged in 2030.
And, it is so gratifying to see Iron Horse listed as the top two of the "Best Summer Sparklings" in the current issue of Wine & Spirits Magazine.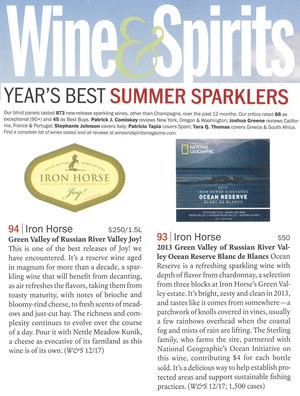 I hope you enjoyed a wonderful Father's Day. Of course, around here, every day is Father's Day and Mother's Day!
Sending all best wishes,
as always,


There is nothing quite like spring at Iron Horse. Even five inches of rain in a 30-hour continuous downpour couldn't put a damper on it.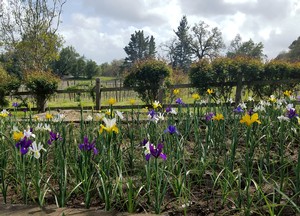 It was a crazy storm - a "pineapple express", thankfully not that intense, but unrelenting, turning us into Island Iron Horse.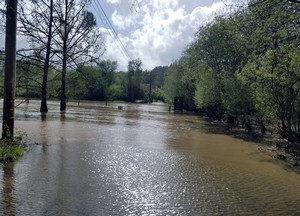 Cazadero got seven inches. San Francisco recorded the biggest one day of rain since the Gold Rush. Yosemite flooded and closed.
Undaunted, our Winemaker David Munksgard and I sat down to taste our about to be released 2014 Rainbow Cuvee, which is a Blanc de Blancs this year, and our 2010 Brut LD, our first LD in four years. We had a great conversation about the future and what better thing to do, even if the creek is rising. Both bubblies are being disgorged and labeled and will make their debut in our May Wine Club shipment.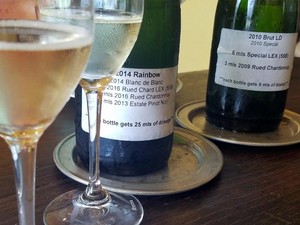 We were flooded at the main entrance all weekend, but it was a great relief to see that the iris and most importantly the vines had stood up to the storm.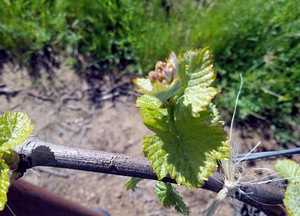 Fortunately, nothing deters our wonderful fans and club members. I am very proud of the intrepid tasters who made the trek around the back way onto the property, especially for our first Oyster Sunday of the season.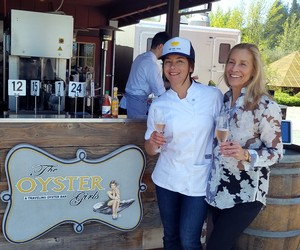 This year, The Oyster Girls are offering freshly shucked, raw and barbecued oysters, cooked shrimp and a caviar tasting. The dates are every Sunday through October from 12 noon to 4 pm (or until they run out). Please, please, please make advance reservations for tasting.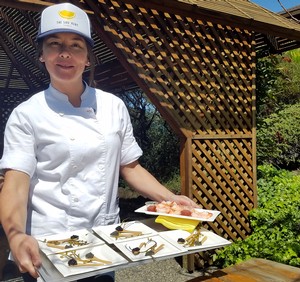 Sometimes it can be an adventure coming to Iron Horse, but always worth it. I firmly believe the beauty of the place is part of our special terroir. The grapes know they are growing in a gorgeous spot and are not to make anything less than the most delicious, memorable and pleasurable wines.
All of us in the Iron Horse family hope you will come visit and drink in the view.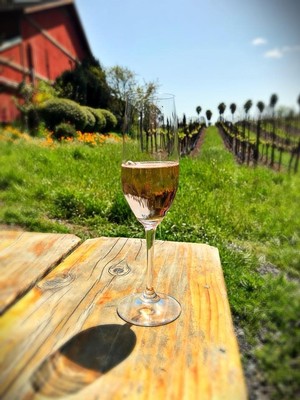 Photo: Rob Akins
With all my very best,


Dear Friends and Family, Happy daylight saving! By some accounts, the brainchild of Benjamin Franklin, while living in Paris, the idea was to turn forward the clocks to take advantage of the extra hour of sunlight to save energy, which in those days meant candle wax. Since then, it has gone through many enactments, adjustments, and repeals. Today is the 100th anniversary of the current practice, observed in about 70 countries, including the US except for Hawaii, parts of Arizona and now possibly Florida. It marks the unofficial start of spring and the equally unofficial release of the new vintage of Iron Horse Spring Rose.
The official debut of Spring Rose is March 21, but patience is not our strong suit. It is in our wine club shipment going out this week.
I am happy to report we are very close to bud break and finishing up pruning. We've tested the frost protection system and have a good amount of water (knock on wood). We've been lucky to have a cold spell, which has thank fully slowed things down a bit. If you look closely, you can see a dusting of snow on Mt. St. Helena.
Here you can see a drop of sap at a fresh cut point, where the new growth will be.
Everything crossed for a great vintage.
ICYMI, I want to share with you a very nice story about an environmental restoration effort to re-oak wine country in the wake of the fires. It's a volunteer operation, spearheaded by the California Native Plant Society, with more than 1,000 neighbors who collected acorns. So many people signed up to gather, box, and mail in acorns from the North Bay that it briefly crashed the Plant Society's server. (Source: Sonoma County Gazette http://sonomacountynurseries.com/articles/restoring-oak-trees-after-the-sonoma-county-wildfires). Now those acorns are sprouting. Once they grow into oak seedlings, they can be planted in the ground and will be given out to residents and landowners to replace an estimated at 50 square miles of oaks.
We pride ourselves on our oaks here at Iron Horse. They are as much a part of the Sonoma landscape as the vineyards.
Finally, we have a new Joy! It has become our pattern to release a different Joy! every six months. This bottling is a blend - 68% Pinot Noir 32% Chardonnay, whereas last fall's Joy! was a Blanc de Blancs. Both are vintage 2004. This new, spring Joy! is aged six months longer and disgorged last week, after 13 years en tirage. A total of 360 bottles produced, exclusively magnums. Delicious! If I do say so myself.
I hope we will have the pleasure of welcoming you here at Iron Horse this spring. Remember, the Oyster Girls are back for our weekly Oyster Sundays beginning April 8 through October. Please make reservations to partake.
One benefit to daylight saving time is that wine o'clock comes an hour early today. So, I say, cheers to that!
With all my very best,


With so much happening around us, there is something very centering about focusing on harvest.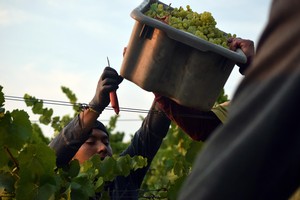 Photo: David Munksgard
All the fruit for Sparkling and Pinot Noir has now been picked. We will probably be done by the end of this week, which seems very early, but remember, our harvest started on August 4 for bubbly, so, that's a month … and this weekend's heatwave accelerated everything.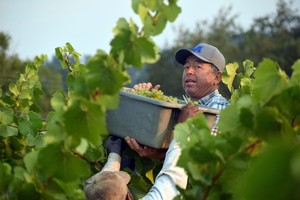 Photo: David Munksgard
So far, Vintage 2017 is all about extremes – even just speaking climatically, we went from extreme drought to record rain fall to record breaking heat. This weekend is certainly one for the record books. It was 106 degrees in San Francisco Friday. 70 degrees here on Saturday at 5am. That never happens.
Extremes always lead to more work. And I could not be more proud of our vineyard and winery crews. This is the first vintage for our new Assistant Winemaker Megan Hill. It has certainly been challenging, but her smile speaks volumes.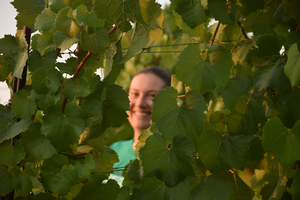 Photo: David Munksgard
It's hard to pry a quality assessment of the vintage out of my brother Laurence and our winemaker David, but I spied a hint on a sample of Chardonnay free run juice. The labels says "F-Low" (for the lower part of block F on the Estate) – "the beginning of a great BdeB (Blanc de Blancs)."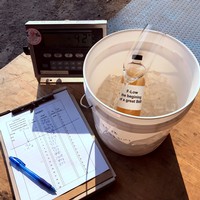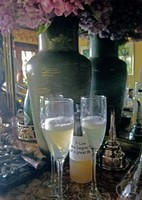 Photo: LG Sterling
Free run juice straight out of the press also makes a delicious Sparkling cocktail, which you can only have here at Iron Horse and only this time of year. We call it the "Sterlini".
One of my favorite though little-known quotes is from (I believe) JFK, talking about something he learned playing touch football, "When you see blue sky, go for it."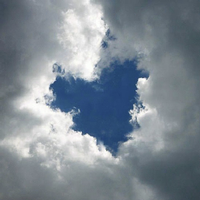 In that spirit, Happy Labor Day! I hope you are celebrating with the fruits of our labor and join us in sending all of our positive energy to our many friends and my cousins Rand and Pamela in Houston.
As harvest draws near, the excitement grows and grows; not just with me as the winemaker, but with everyone here at the winery.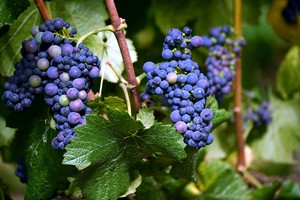 Photo: Elieen Vasko
You know harvest is nigh when we have veraison, i.e. when the grapes start taking on the color you see at harvest. Pinot Noir starts off green, then turns purple. Chardonnay starts off green, then turns a pretty, translucent, straw gold.
Photo: David Munksgard
Other early indicators include the Naked Ladies ...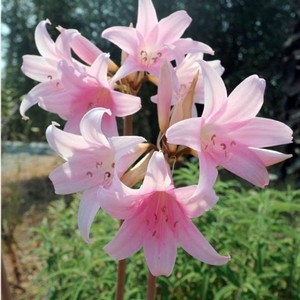 Photo: LG Sterling
... and the onsalught of squash.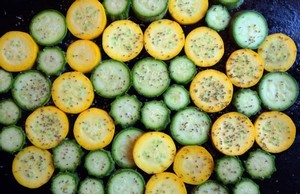 Photo: LG Sterling
Here in wine country, vineyards are everywhere. Even if you are not involved in the wine world, it is hard not to feel the anticipation. My neighbor, a senior airline pilot, noticed the changing color of the grapes on his daily commute, prompting him to knock on my door to ask when I thought harvest might begin this year.
On Wednesday (July 26) we did our very first vineyard grape samples. This is when we randomly pick a cluster here and a cluster there, then mash them up in a bucket. The juice is then tested for Brix, or percent sugar. Based on this sample and general observations, I'm holding by my prediction that we'll start the second (or possibly third) week in August.
All the winter rain along with late spring rain gave our vines a huge gulp of water. The vines reacted by growing more leaves than I've ever seen in my career. Too many leaves cause shading of the grapes as well as raising the humidity in the fruit zone - conditions perfect for mildew and bunch rot. I want beautiful, fully mature grapes that are free of those ugly things. The best option is to remove that excess foliage, open up the fruit zone and allow fresh air in. This is done by vine hedging mechanically as well as removing lateral growth and individual leaves by hand. It's a "bunch" of work, but so worth it. The vineyards are looking really good. The crew has been working very hard; they are my heroes.
Wish us luck!
David Munksgard, Winemaker


Greetings from thoroughly drenched Green Valley. We have received 22 inches of rain since January 1. Green Valley Creek which bisects the vineyard is a tributary of the Russian River and that whole swath of the estate is in a 100 year floodplain.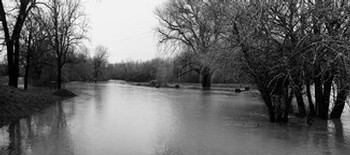 Photo: LG Sterling
For several days you couldn't see the tops of the posts on the bridge. We call that doing our part to replenish the aquifers.
Of course we need the rain. A year ago, 43 percent of the state was gripped by "exceptional drought". Now that figure is two percent. (Source: US Drought Monitor) And after 40 years here at Iron Horse we are seasoned at riding out a wet winter.
We are very lucky that our vineyards are hillside and our sandy soils drain easily. The rainbows have been inspiring. But we are going to have to hustle to get the pruning done before bud break.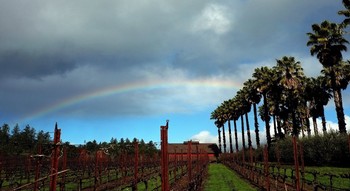 Photo: LG Sterling
January is the traditional time to report on the state of the winery and I am proud to convey that the state of the winery is strong - a soggy mess after what has seemed like boundless rain from the start, but gamely moving forward.

There are some things about 2016 I would be very happy to repeat. Number #1, our many successes as a vineyard, winery, business and family. I am privileged to get to work with an exceptional team. And, last year, in some areas, we surprised ourselves.

I smile when I think about how smoothly we transitioned to tastings by appointment on the weekends. The response surpassed all expectations. We had the pleasure of welcoming 33,000 guests here last year and the San Francisco Chronicle named us one of the top 50 Tastings Rooms in Napa & Sonoma.

Now we ask that you please make reservations on weekdays too. It truly elevates the experience. Please look at the reservation program to see how easy it is.
Some of my fondest memories of 2016 involve toasting with "Cuvee 50" for Super Bowl 50 in San Francisco, which now feels so far back in time, and "Spirit of 76" celebrating the 40th Anniversary of when my parents acquired Iron Horse in 1976.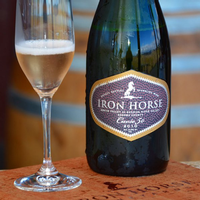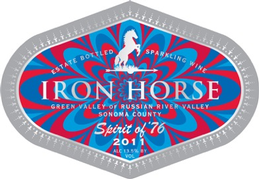 Both were one time only, limited production bubblies, never to be replicated.
2016 was in no way an easy vintage. The crop was low and there was so much uneven ripening that in many blocks we picked just half the crop - strictly the mature fruit, and then went back two three days later to pick the rest once it too had fully ripened. The resulting wines have set a new bar for us and the year will always stand out as our 40th harvest at Iron Horse.
From the beginning the goal has been to strive for the highest quality, so it is especially gratifying to see Iron Horse in the current issue of Wine Enthusiast at the same table with the very best in the world.
Looking forward, the next release of Joy! is Friday March 17, St. Patrick's Day. It's bound to be a lucky day. This will be our third time hosting a Joy! Release Tasting. So far they have been very successful. There is no doubt that the first one, last March got the most excitement because we had been out of Joy! (Joy!less) for three years. Still, the November release did extremely well and received a near perfect 98 point rating. The November Joy! was 50% Pinot and 50% Chardonnay. I say "was" because as of last night we had 18 magnums left. The upcoming Joy! is the same vintage - 2003, but Blanc de Blancs and aged six months longer. Please make reservations here.

I am also very excited about how our Earth Day event is evolving.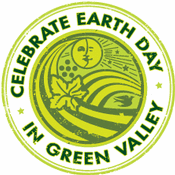 The theme is the future of food.
The participating wineries are DeLoach Vineyards, Dutton-Goldfield Winery, Freeman Vineyard and Winery, Hartford Family Winery, Iron Horse Vineyards, Lynmar Estate, Marimar Estate, Rubin Family of Wines.
The keynote speaker is California Secretary of Agriculture Karen Ross.
Acclaimed San Francisco Chef Traci Des Jardins is on board to showcase the "Impossible Burger", made entirely from plants, served it at the Paris Climate Change Conference as tartare.
Ronstadt Generations will perform live, honoring the family's musical traditions with the Southwestern and Mexican songs of their heritage blended with original material. Special guest: Linda Ronstadt.
Imperfect Produce is providing a beautiful display of "ugly" produce as crudités.
We have enlisted Copia, a mobile app that helps businesses and events connect excess edible food to feed communities in need, instantly.
I hope you will be able to join in. Net proceeds will benefit Sustainable Conservation, a non-profit organization uniting people to solve California's toughest environmental challenges, chosen by Secretary Ross to be the beneficiary.

Finally, Gung Hay Fat Choy. Saturday is Chinese New Year. And naturally we are pouring our Year of the Rooster Cuvee in the Tasting Room.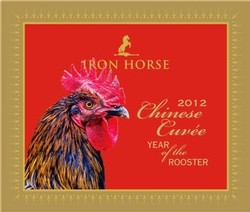 Please come join us in a toast.

El Niño

was a big help to our long term water woes, but not the savior many had hoped (read our blog's past predictions for the

Great Wet Hope here

). Winter storms brought normal snowpack in the Sierra, but once the flurries stopped and the seasons changed, melt-off from the high country proved swift and disappointing.
The Department of Water Resources projects that the mountains produced about three quarters of normal runoff during the months of heaviest snowmelt. This shorts the rivers and reservoirs that typically provide a third of California's water, cementing a fifth year of historic drought for the Golden State (news coverage here). Now the Governor has used his executive powers to enact permanent measures, acknowledging that water conservation has to become a way of life.

"Permanent" turns out to be through January 17 when the state Water Resources Control Board can revise the regulations. For the next five months we are off mandatory water use management and onto voluntary cutbacks.
Instead of a statewide decree, cities and towns are now allowed to manage their individual conservation efforts. This measure acknowledges the obvious - that water, like every resource, is not naturally equally distributed statewide.
Back in 2015, the Governor mandated a 25% reduction in water use compared with a baseline of 2013, with the 411 water districts reporting monthly (full story from the Sacramento Bee here).
Post-El Nino, California officials feel we can afford a break in certain parts of the state, especially in the North. It has now been determined that we can ease off draconian, one size fits all measures. Local communities are empowered to decide their own conservation needs based on a three year stress test. Monthly reporting remains honoring a motto of "Trust, but verify."

Map of Official Monitoring Stations in the Delta region
In the first month on this "honor system," the state averaged 23% reduction. July's numbers will be released soon, concrete evidence of continued commitment to voluntary water frugality.
As an active observer of California Water Policy, I can't imagine anyone thought El Nino would provide a panacea for drought. Complete recovery requires several more years of "average" rainfall but it definitely was a boon here in Sonoma where soils were saturated and reservoirs refilled.
Long term, the Governor is right to plan for perpetual drought, which experts says is a very real possibility. Some anticipate a time when water may become more valuable than land, positing that land without water won't be worth much. Shocking.
Theories like these are motivating significant action on a large scale. In an extremely controversial move, Southern California's powerful Metropolitan Water District recently purchased 20,000 acres, scattered across five agricultural islands in the North's Sacramento-San Joaquin Delta.

Shown above, the area is called the "Delta" because it forms a triangle of roughly 1,000 miles of waterways from Antioch to Sacramento to Stockton and is the hub of California's water delivery network. Metropolitan says they were interested in purchasing the islands so they could restore natural wetlands habitat for plants and wildlife. Such restoration projects are required of water districts to offset the effects of their reservoirs, dams and canals. Two of the islands are in the path of Gov. Jerry Brown's plan to build two tunnels underneath the Delta. And owning the islands also grants Metropolitan senior rights to pump water out of the Delta.
Critics say the purchase was an old fashioned water grab. It was challenged in court, but allowed to go through (coverage here and more here).
This story is not without a happy update: Stanford researchers have detected a potential new water source in the Central Valley. Perhaps as much as three times more groundwater than previous estimates.
Previous studies only looked at depths of up to 1,000ft (300m). This one went deeper - and investigations show there's three times as much fresh water at 1,000–3,000ft (300–900m) below ground.
But the potential "windfall" comes with caveats. It is very deep thus prohibitively expensive to extract and could be salty. Drilling for it could lead to further land subsidence, already a major problem. And much of these hitherto unknown water sources happen to be close to oil and gas wells, which puts them at risk of being contaminated.

Shut-down desalinization plant in Marina, Cali image via NewsDeeply.com
The Central Valley is home to California's most productive farm belt, but the region's groundwater is so severely overdrafted that i

n some places that the land has been sinking two inches a month. Problems with subsidence started decades ago, but have been made worse by the current drought. With surface water so scarce, one study shows we are currently pumping water out of the ground at twice the rate that the aquifers can naturally recharge. At this rate, pulling more water out of the ground wouldn't help.
The scientists are not advocating the use of this new-found source … at least not just yet. As the old saying goes, "Don't count your chickens before they hatch."
It'll take a while to figure out how to tap those very deep aquifers … and how to replenish them. In the meantime, we need to approach this new source with caution. Premature efforts could pollute the precious water AND inadvertently poke the "sleeping bear" - a term my friend and fellow water policy wonk Phil Grosse uses to describe the network of fault lines underlying the state. But this is California, where imagination and ingenuity are two of our greatest resources in overcoming technical difficulties and ultimately sway public policy.
In a press release on this topic, the Stanford scientists were cautiously optimistic despite the proximity of the groundwater to a potentially hazardous oil and gas operation. But they noted that the contamination risks are great enough that we should be paying attention. We might need to use this water in a decade, so it's definitely worth protecting. Find further reading on this important finding here and here.
I believe science will move us forward in the long run and I remain hopeful that technology will yield a sustainable solution. But for now, I'm relying on good old fashioned conservation. My wish list includes more normal rainfall, ideally from Thanksgiving through February and preferably at night, like Camelot.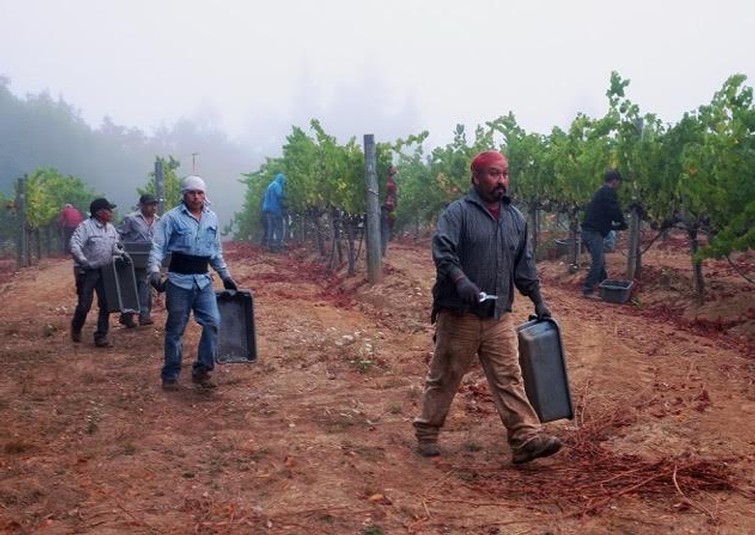 Last day of harvest 2016 for Sparkling at Iron Horse. Photo: Laurence Sterling
####