Iron Horse
Blog
The Iron Horse "marketing " team is lean, to say the least, but we think big and are quick to move on a great idea. A new product launch becomes part of an illustrious and dynamic legacy. Standards are high, and family expectations are higher. So when Joy informed me that Iron Horse would be releasing a new gift item, I was intrigued. That curiosity grew to excitement when I discovered that item would be a saber. Shiny and beautiful but also useful and extremely efficient towards the end goal of unleashing delicious bubbles. An engraved saber that comes in a branded wood box is the perfect accompaniment to Iron Horse Sparkling Wines.
I jumped at the chance to understand why Joy selected this particular item to add to the family's special cache of Iron Horse offerings. Maybe because my wedding party sabered bottles to fuel a champagne tower at our reception or maybe because sabering is enjoying a pop culture renaissance .... either way, I dove in. Which required research. My mini investigation transformed me briefly into my AP World History student-self, this time with the joys of the internet and none of the dust of the library. The discoveries were as enchanting as the sunrise in Green Valley and as rooted in French history as the winemaking methods at Iron Horse.

The lore of sabering takes different turns depending on your source. Most agree it all starts with Napoleon. After the French Revolution of 1789, The Napoleonic Wars raged across Europe. Napoleon's soldiers mounted fast horses and dressed in lavish uniforms. Oil paintings depict young men in long cloaks with furs draped over broad shoulders. Most importantly, they were armed with rifles … and brass handled sabers. Early victories came easily for this force, who charged home through villages where revellers tossed them bottles of Champagne.
But it seems riding a horse while fumbling with a bottle secured with cork, wire cage and foil-wrapping didn't fit the dashing portrait of Napoleon's men. So they improvised, discovering that a quick stroke of a saber blade to the neck of the bottle both released the "drink of the stars" and did so in a decidedly heroic fashion. The upturned bottle with a dangerously sharp tip added to the overall vision of youthful brashness and celebration.

The "Widow" Clicquot makes an appearance in accounts of saber lore. This famous female Champagne house owner symbolises quite a bit for the women of Iron Horse (a story for another blog). But in this context, the story goes that the savvy business woman opened her mansion to Napoleon's officers and then armed them with her bottles on their way back into battle. Wishing to display gratitude, or perhaps hoping to capture the fancy of the wealthy lady, the young men would perform the saber ritual for her before racing back to the front lines. Swoon.
It is comforting to me that the best things through history seem to endure. And that is truly the case with sabering. I caught up with several Iron Horse friends who were happy to chat saber etiquette and procedure. Meet Master Sabreuse Catherine Fallis aka the Grape Goddess, Master Sommelier David Glancy founder of San Francisco Wine School, Brad Kinder of Kind Wines, who represents Iron Horse through Florida, and Petra Polakovicova, Wine Director at Epic Steak in San Francisco. All have a slightly different take on the art of the performance. But all share their concern for safety above all else.

David Glancy explained, "Sabering really started out as a quick and dirty tactic. You used a sword or knife or a blunt object to knock off the neck of a champagne bottle. It started with Napoleon's troops who employed this method very sloppily I'm sure. Sometimes it worked and sometimes it didn't." He told us that the key to the whole show is to get the champagne REALLY cold. Especially the neck. We're talking ice bath cold, completely submerged for at least an hour.
David emphasized this point saying, "Bottles DO explode. I've gotten very tiny shards of glass in my wrist and in my neck even from what seemed to be perfect sabering." Catherine Fallis is also a fanatic about the well-chilled, near-frozen temperature in her sabering performances. Our favorite Grape Goddess added that she prefers magnums, which are easier to take contact with along the seam to the lip. And she reminds us the sabering is an unright motion, not a downward "decapitation" (an appropo reference when speaking of the French Revolution).

Michael Rosati Photography
But if all goes well you can be assured that party goers will clamor for more. It seems to put a punctuation mark on the event. As Brad Kinder told us, "Bubbles are the beverage of celebration and nothing really kicks it off in a better way than sabering the bottle. It draws attention and is super cool especially for people who have never seen it before." He went on to say, "It's showmanship and that's what bubbles are all about. It's a perfect pairing." Do not try this at home, but Brad has been know to "saber" a bottle using the bottom of a wine glass. "The danger and the uncertainty of success adds to the fun. I've sabered many bottle but I always get an adrenalin rush."
Taking a risk on an innovative approach can be the most powerful strategy. If this YouTube video involving a golf ball doesn't make you jump out of your chair, I don't know what will.
However you decide to go about it, here are some performance and safety MUSTs which I gathered from our experts:

Pre-planning is key.

The bottle needs to be as cold as it can be before the wine turns to slush. That "tames" the bubbles. With a warm bottle, the cork is likely to fly out.

Wear protective eyewear, sunglasses are a dramatic, easy option.

Some experts recommend gloves. Our friend Catherine Fallis favors opera gloves for protection disguised as glamour.

Crowd control is a must. Select a safe space with a clear opening, set up something to aim for, and make sure people aren't in your path.

Aim at something soft which might absorb the impact … or the great outdoors.

Common sense should also lead you to remove the wire cage from the neck, to avoid a boomerang effect.

Taking off the cage is the most dangerous part - remember it has the power to take your finger off with it!

The maneuver is not about force … or even a sharp edge.

In fact, a butter knife will work.

They key is to run the saber along the seam of the bottle, hitting the neck at just the right angle.

A smooth, clean stroke works best.

Form is everything.
Petra Polakovicova presides in a well-known dining room and can attest to the celebratory vibe created by even a traditional pop of the cork. But she too is moved by the elevated experience of the sabering ritual. "Sabering adds drama. When you open bubbles with a sword, there's an anticipation. The anticipation of something really cool."
In victory, you deserve Champagne, in defeat, you need it. -Napoleon


Welcome to the family, Iron Horse saber, Sebastopol Edition.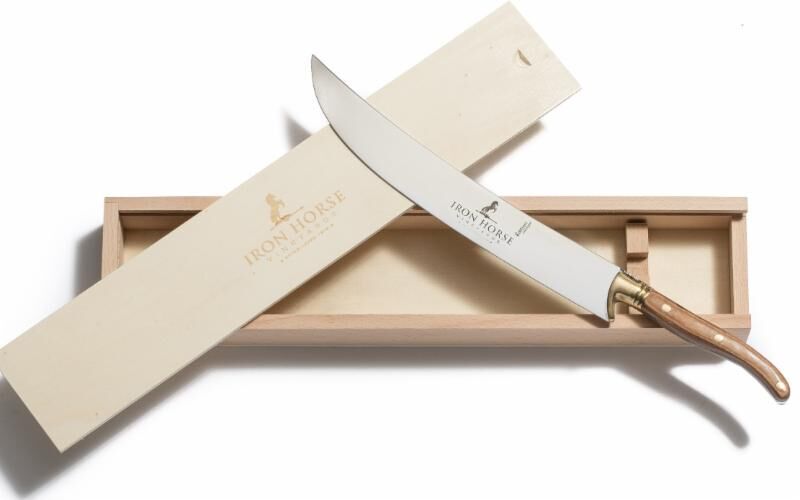 We're two weeks into Harvest 2016. So far it's been start, stop, start, stop, which is trying because once we get going, we far prefer to maintain momentum.
Looking out at the vineyards from the Tasting Room on top of the hill, you can see the crop on the vines looks good. We're figuring on a more substantial yield than last year, but not as big as 2014.

Quality is being determined with each passing day as the grapes accumulate flavor and arc to optimal ripeness. From here, it's all about taste.
We had yet another early start. Look back at the archive of our June Vintage Update and you'll see David's then shocking prediction that we could start picking August 1. Well, turns out he was right, yet again. Our first day was August 4. Same as last year. This is our third early harvest in a row.
One significant difference relates to water - Topic A in California. We were extremely lucky we had great winter rains, saturating the soils and filling the reservoirs. This is a big departure from the protracted drought conditions of the prior three vintages. (Another topic we have covered widely on our blog).
Early bud break was followed by intense heat, which shot us into a period of rapid growth before we were even done pruning.

June was cool and foggy, slowing things down, while creating its own demands. For the first time in years, the vines had access to groundwater. This major difference translated into fuller, more vigorous canopies which coupled with a humid spell increased the risk of disease.
Late rains and cloudy days of high humidity create the potential for early mildew. Our vineyard crew is extremely vigilant and nimble, but mildew won out in a few small pockets. Those affected areas received extra leaf pulling to increase air circulation and a "vine washing" to stop it from spreading. The combination of manual leaf pulling and the new vine hedger proved successful in combating crop loss.

A quick visit with David provided more clarity on the state of the vineyards heading into the second half of August.
Tarin: Any big surprises?
David: Mother Nature is full of surprises, but the way to keep up is daily, year round walks through the vineyards. The better you know each individual block, the better decisions you can make. No matter how well planned the vineyard, no matter how well tended, there will be spots of greater and lesser vigor. Our team strives to monitor each block separately and even specific blocks within the blocks.
So far, we have harvested:
G - Lower Pinot Noir for Sparkling
I - Pinot Noir for Sparkling
G - Upper Pinot Noir for Sparkling
F- Upper section Chardonnay for Sparkling
H 5 - Lower part Pinot Noir for Sparkling
E - Purple clusters only
The drone shot below from 6-2-16 covers all these areas - all were picked for bubbly.

This shows how we "hop scotch" strategically around the estate. We use a drone as a guide and then on the ground we even differentiate between specific clusters.
Below you can see how much "green thinning" is required by our teams at this stage. Green thinning involves manually dropping green grapes on the ground row by row. This action effectively guides the vines towards using all their energy on ripening only the most mature, promising fruit.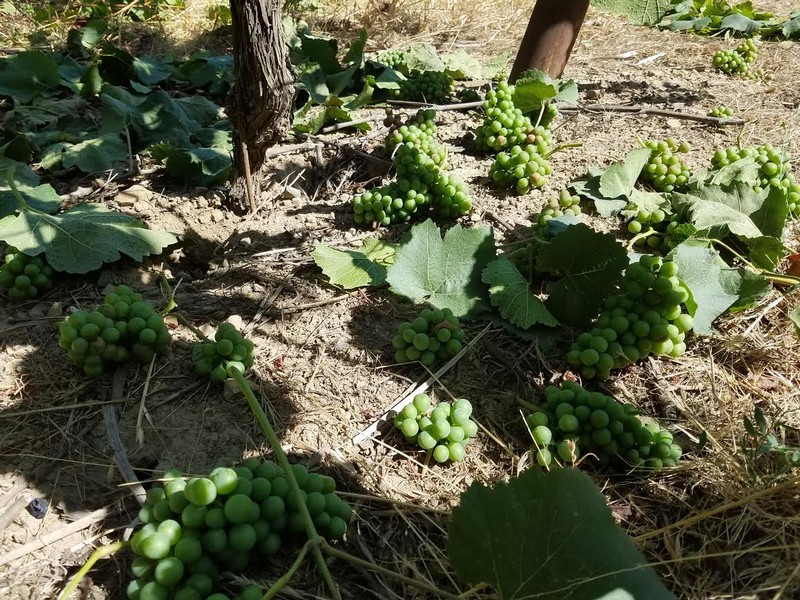 It's an impressive sight, which some might see as money on the ground, but which we feel is an investment in quality.
Tarin: What's your sense of the vintage?
David: Crop size, I think we are looking somewhere between the abundant 2014 and the paltry 2015. As for quality, it's way too soon to make comments. But I never shy away from an educated guess and it seems we are beginning to think that this could actually result in a great vintage.

We have every reason to be optimistic. Grapes that look like this can only make delicious wine!

#######
Harvest has begun at Iron Horse, early once again, and just as promising as ever. Like the old saying goes, we keep making new friends (and new vintages!) and treasure the old. And in that spirit, we're excited to share our annual blog-homage to many long-time Iron Horse friends recently honored by key wine industry publications.
Behind the scenes (or blog!) efforts involved fanning out across the country to catch up with some of the award winners now receiving 2016 accolades from Wine Spectator and Wine Enthusiast in all different categories of excellence. We're in the harvest state of mind right now and that colored our perspective as we "hand picked" the interviews. In some ways, we see each sommelier as a "farmer" each working tirelessly to grow their "crop" over the years, applying a signature "blend" of inputs which ultimately contribute to unique success. Their "terroir" includes hometown roots, global travel, renowned mentors, and years of tasting experiences. The resulting award winning program is a "special cuvee " all its own.
The quality and depth of our conversations with these innovators were as intriguing and pleasurable as a beautifully curated wine list. We hope you enjoy sharing in these moments as much as we did.

JAMIE HARDING
Award: Wine Spectator Grand Award for Murray Circle; SAUSALITO, CA

Notable and Quotables from the Judges' Write Up: Murray Circle was praised for its stellar cellar stocked with 12,000 bottles and more than 2,200 selections, anchored by California classics. Wine Director Jamie Harding told the judges, "It used to be rare when someone came in because of the wine program. Now it's a few times a week." The laid-back attitude at the restaurant pairs with vibrant cuisine and a "deep trove of classic wines at a wide range of prices." And Harding's Sommelier Selections page offers a curated window into his mind's eye. "I'm not pushing an agenda. If I were running a little restaurant in the Mission District I'd have a completely different list. We have a culture of pleasing the customer. If they want Zinfandel, I'll give them Zin."
Somm Reflections on the Honor: "It was our first time winning for this restaurant and for me as its wine director. The award is very satisfying and is the culmination of the work of the Master Somms who came before me. I was prepared very well by people like Dan O'Brien to drive the wine program in the direction I wanted to go, and it has been a goal for us to achieve this since I arrived in 2009 as a staff sommelier.
I'm born and raised in the Bay Area and as much as I love wines of the world, I feel a kinship with California wines. That respect is massively important for someone like me who serves international resort guests, they visit us and they want to try NorCal wines. My desire moving into my role was to build up that California producer list, build up the verticals. Hopefully that had something to do with us getting over the hump (to win!). One of the things Wine Spectator mentioned was our commitment and focus on California, vintage depth and the producers we work with - that's what moved the judges. I'm committed to smaller, younger winemakers who are defining a style."

Special Mention: Jamie took an interesting path into his current area of expertise, "I started out in the music business, I wanted to be a rock star." While he pursued the music world, he always had a bartending job and found himself an unlikely mentee of Jeff Kramer a wine director at Hawthorne Lane. "I tasted things I never tasted before, learned how to pair wines, and that's where I really got hooked." Thus the wine rock star was born. As he got deeper into the industry, he found inspiration in meeting the winemakers responsible for the vintages he enjoyed so much. "There's beauty, quality, and amazing people behind the wines. When you meet winemakers, they're very down to earth people. They want wine to be inclusive. I try to breathe that attitude into my style and my staff. I want to be approachable even in the fine dining setting. There's an improv performance art and a sales component to my job - it's a complex twist!"
Iron Horse Favorite: My wife and I have been up to the Iron Horse Vineyards and tasted everything. The quality top to bottom is phenomenal. The wine on my list always is Wedding Cuvee. It's probably the best California rose out there. It has a refined beautiful style with enough fruit coming through that you get the strawberry from the Pinot Noir and the crispness from the Chardonnay.
Must Try Summer Pairing for At-Home Chefs: "Our menu changes fairly often for seasonal and local reasons. Chef Justin Everett has a great relationship with local farmers and purveyors, he's always excited about what's coming in the backdoor and the new produce in season. It's fun because I'm always tasting food and pulling corks. Right now there's a scallop dish on our tasting menu with a heart of palm puree, spring peas, and house cured pancetta. The dish was hard to pair, it's an example of how a straightforward dish can be challenging and requires out of the box thinking. You could go with a Chardonnay, a Sauvignon Blanc or bubbles, depending on what creates that WOW moment for you.
MATT PRIDGEN
Award: Wine Enthusiast "America's 100 Best Wine Restaurants of 2016" Award for Underbelly; HOUSTON, TX

Notable and Quotables from the Judges' Write Up: Winner for the second year in a row, wine list crafter and Underbelly GM Matthew Pridgen is a stickler on one thing. He told Wine Enthusiast, "If a winery isn't family owned and operated, it won't find a home on 'Wine Herder.'" The edgy drinks list is a purist when it comes to producers but is decidedly avant garde when it comes to its aesthetic. The Underbelly partners are friends with sketch artists and they collaborated on signature menu cartoons which are updated every year. Matt explained, "We wanted it to be visually appealing and fun, we're all about fine dining in a casual atmosphere and we want the menu to reflect that. Most guests love the list, it's especially fun to present to a first timer who will read through the entire wine menu and laugh at the comics."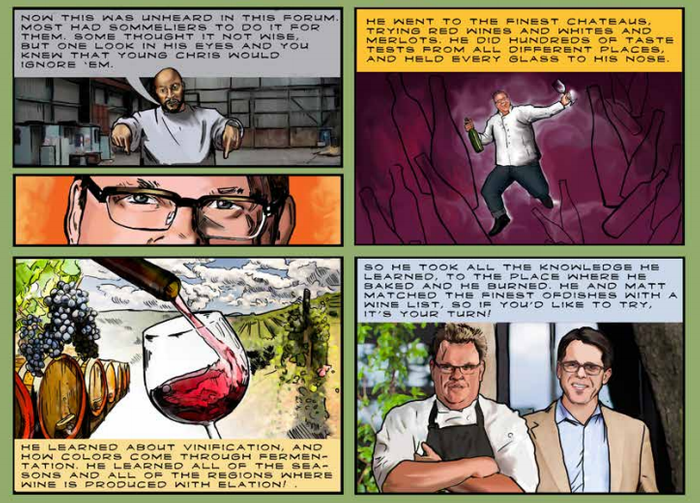 Somm Reflections on the Honor: "It's an incredibly huge honor. I've been in the wine business for quite some time, and at Underbelly for going on five years that we've been open. I was given complete control of the wine list with the parameters that we wanted something different and unique which was a little daunting because there are a lot of incredible wine lists across the country. The premise of the restaurant is locally sourced, everything in the kitchen comes from people we know. It made sense to model our wine list after the philosophy of the restaurant, so we only source wines from people who produce their own wines -- not big corporations or bank owned vineyards. Family owned and operated is our credo." The Houston native also benefits from the fact that access to good wine in Texas has gotten exponentially better over the past five to ten years.

Special Mention: For Matt, it's essential to put a face to the wine, "Personality is the thing that's making the wine and that has a lot to do with the outcome. For example, Joy is the wine she makes, she's bubbly, festive, fun and friendly which translates to her wines. Having been in the business for a long time you taste wines that are mass produced vs small. Smaller producers aren't just in it for the money to produce for the masses. It's a true labor of love and the required passion shows in their product. That weighs heavily on Underbelly's decision to focus on family owned only. And it shows across the board on our wine list. Every wine is there for a reason, nothing is just there. People who have a passion for their wines - their bottlings tend to be better with food."
Iron Horse Favorite: "I've known Joy for a long time. Iron Horse was one of my firsts visits in Sonoma when I went out there many years ago with a small group and was hosted to a full tour, tasting, and lunch with salmon and veggies out of the garden. She's an amazing person, and the wines are amazing." Right now Matt is pouring Wedding Cuvee, "For the weather right now (close to 100 every day!) and the food we're serving, it's versatile and fun to drink."
Must Try Summer Pairing for At-Home Chefs: For this time of summer Matt suggested a cantaloupe and bresaola (beef that has been dry cured and rubbed with spices), served with fresh herbs. He favors a rose to pair with the refreshing dish.
MICHAEL ENGELMANN
Award: Wine Spectator Grand Award for The Modern; NEW YORK, NY

Notable and Quotables from the Judges' Write Up: Wine Spectator did not hold back when describing the first time Grand Award Winner as "a culinary treasure in an iconic museum." As Michael explained, "There was really an ambition to take the restaurant to greater heights. I was like a kid in a candy store. I wanted to show the diversity of the wines I've served over the course of my career from California to Australia and beyond. I'm hoping we can offer the best wine program and have the best restaurant in New York. I want to be known in Japan and Europe and elsewhere as a world-class destination for food and wine."
Somm Reflections on the Honor: "There was an immediate rush of satisfaction. My team and I tripled the selection of wine in my two years at The Modern. A great amount of work was involved in achieving this award. I wanted to bring more of an international vision to the program. My tenure in Sydney exposed me to some of the greatest wines in the world, now The Modern carries hundreds of Australian wines along with legendary producers and vintages. I push to always be tasting more wine and discovering new favorites. I strive to represent the old and the new and the rising stars all on one menu. I want to accommodate any guest who walks in. We are located in NYC at the MOMA, the meeting place of the world, so it's my responsibility to be able to serve wine whether it's from California, Europe, or their native land."

Special Mentions: New York is not known for an excess of space. But Michael has unparalleled access to storage upstairs in the restaurant's "Wine Wall," a Eurocave wine cooling unit, and three floors below in former museum space for crates and offices. From physical space to mental space, Michael mentioned that The Modern is closing down for renovations for five weeks at the end of summer. The somm, who was born in France and has lived in England, California, Australia and now NYC, plans to take the the skies for more travel. He loves living in New York and the extraordinary wine community there, but looks forward to travelling and unplugging from email.
Iron Horse Favorite: "I lived in San Francisco and I would travel to Sonoma quite a bit, so I've had the pleasure of visiting Iron Horse in person. I think it's one of the most gorgeous places to start you day. Getting off the main highway and enjoying the outdoor tasting room - the natural beauty is overwhelming."
Must Try Summer Pairing for At-Home Chefs: Roasted Watermelon with Whipped Crème Fraîche and Caviar with rose, ideally Wedding Cuvee. Another one would be a glass of Meursault served with Roasted Lobster Potage with Pickled Garlic and Potatoes.
LULU MCALLISTER
Award: Wine Enthusiast "America's 100 Best Wine Restaurants of 2016" Award for Liholiho Yacht Club; SAN FRANCISCO, CA
Notable and Quotables from the Judges' Write Up: The former pop-up restaurant was lauded for "thrilling, modern food with a global, value conscious list." Wine Director Lulu McAllister separates the wine menu into classic "Old Friends" and emerging, unusual "New Friends." Described as a star somm by the magazine, Lulu explains she seeks to accommodate all levels of wine lovers, "Some people are curious and don't know a lot about wine, some people do know a lot about wine but are still curious, so I try to be sensitive to both of those progressions." She keeps things fresh by constantly tasting new wines, "I'm constantly juggling the space I have and trying to make room for the great things I'm finding. It's like the best kind of Tetris."

Somm Reflections on the Honor: "LihoLiho Yacht Club is one of the four restaurants where I oversee the wine. It's a very distinct menu with a unique flavors, textures, and colors that make pairing exciting. The expanding wine program considers wine from all across the world and is slowing moving into specific regions as I educate myself. The "Old Friends vs New Friends" approach is unique to my palette, but the general intention is to serve up classic styles and well known grape types from well known regions as well as newer options for when you want to depart from what you know and advance to more exotic grapes and styles, new products and concepts. It caters to what people want when they dine, sometimes you want something familiar and sometimes you want to escape and be adventurous. I try to remind the staff that for someone who is not used to tasting wine, any wine can be a new friend."
Special Mention: "I was surprised when we got a full page spread in the magazine. I was excited! And glad I didn't look like a total dork!" (Pictured with Chef Ravi Kapur) For Lulu, the honor hasn't really sunk in yet. "I actually recently got married, and I'm finding it's important to enjoy your milestones and accomplishments. But I'm also still pushing forward, I hope to continue to do things that people think are exciting and relevant."

Iron Horse Favorite: Lulu has many Iron Horse memories that she treasures. One of her first trips while studying at CIA was to Iron Horse Vineyards and she recalls enjoying lunch with Joy and her parents. Lulu told us she has hosted Joy for Magnum Monday as well - sounds like a perfect start to the week!
Must Try Summer Pairing for At-Home Chefs: Right now Lulu is loving roasted octopus. "It's easy to pair. For myself, I would probably choose a Sicilian rose. But the dish is friendly to a lot of styles, sparkling aromatic wines would be perfect."
ERIC HASTINGS
Award: Wine Spectator Grand Award for Jean-Georges; NEW YORK, NY

Notable and Quotables from the Judges' Write Up: This was the first time that Jean-Georges was awarded the Grand level mention. The write-up for the Trump Towers flagship was titled "A top dining destination elevates its wine list". "Historically, Jean-Georges was not really a wine restaurant, says Jean-Georges Restaurants Beverage Director Eric Hastings " But according to Wine Spectator, the current list of 1,100 selection is "perfectly attuned to the needs of the menu and the desires of the customers." They also note that "Hastings has engineered a portion of the list to be more eclectic and affordable - think boutique producers quietly putting out superb character wines, within the confines of certain regions." Cheers to that!
Somm Reflections on the Honor: I am very excited and proud of what we've accomplished as a wine team and a restaurant. We have won three Michelin stars, and four stars from New York Times, but it was thrilling to be able to add one more wine-specific feather to the Jean-Georges cap. This award is a collaboration amongst a lot of people, past and present, but it wasn't something we were seeking out. Our organization's goal is to be the best restaurant we can possibly be. We know Chef Jean-Georges puts out the best food and it is our mission to rise to the occasion of service and atmosphere. When I got the call from Wine Spectator's Ben O'Donnell, I was honestly a little surprised.
The Grand Award winners have traditionally boasted massive wine lists. But I had been working consciously over the past year and a half to build depth in vertical selections. I wanted to make sure I could get the best wine to people at the best price. The styles that tend to work best with Chef Jean-Georges are the Old World selections, so I tried to expand on that.

Special Mention: Eric explained that they're working with a deficit in the storage category telling us "Sometimes great wines don't make the list simply because I don't have anywhere to put them!" But you take the good with the bad in terms of location. He explained that being in NYC is one of his greatest assets, "It's the people around me and the availability of wine that you just can't get anywhere else on any level." He's also inspired by the increasingly educated nature of his guests. Eric explained that there are more educated wine consumers than they were 20 years ago, "They are talking about malolactic fermentation and minerality. People are branching out into wine regions that never would have year ago. It's a lot of fun and it gives us the opportunity to be more engaged which is important"
Iron Horse Favorite: Eric and Joy met at the awards dinner of the first Top Somm Final in 2010. "Afterwards, she gifted me with a wonderful magnum of 2006 vintage bubbly. Today, we serve the Iron Horse Pinot Noir and the Wedding Cuvee. And it's on the wine list at the hotel in every room. The Pinot specifically is delicious because of its Green Valley roots, a location which is becoming more universally heralded as a top region."
Must Try Summer Pairing for At-Home Chefs: One of Chef's great new dishes is nougatine hake with summer peas and ginger, it pairs beautifully with Grüner Veltliner.

ARTHUR HON
Award: Wine Enthusiast "America's 100 Best Wine Restaurants of 2016" Award for Sepia; CHICAGO, IL
Notable and Quotables from the Judges' Write Up: Specifically recognized by Wine Enthusiast for their excellent by-the-glass program, Sepia's deep and detailed list is the creation of Arthur Hon. They extoll Arthur for his "knowledge, enthusiasm, and experimentation which continues to have national impact."

Somm Reflections on the Honor: "The award was not planned in any way. It's such an honor and very special. This is our fourth year in a row as one of the best programs in the US. It started off very organically with a more creative and artistic perspective, but I had to make it more practical, acknowledging I'm working with someone else's money.
Overall, I believe the beverage list needs to match the culinary aspect of the restaurant. Chef Andrew has been here for over seven years and his instincts are very global, true "contemporary American". I spent my first few years getting to know his cooking style and understanding so many different flavors and components, which can be tricky with wines. Ultimately, I decided to match the breadth of the restaurant's direction and take the wine menu VERY global. My list represents 90% of the wine growing regions in the world. Within each country, there's a fairly good representation."
Arthur is also deeply connected to the restaurant's Chicago roots, "We're in the Mid-West and that has given me a sense of freedom. There are no regional wine favorites here, but we can get everything and have a much more balanced distribution of influences from East Coast, to West Coast, and European wines. It's also a top tier city that still offers more affordable living options. The budding food scene is supported by a vibrant urban population and all of these components serve as a solid foundation for a vibrant city with a younger crowd seeking adventurous dining experiences."

Special Mention: Arthur commented on his wine list price strategy, "Every successful wine program has to have a varied price point. You're running a business for someone else. You have the glamorous wine side of the business, but the other side is the numbers and my job is to combine the creative part and the financial aspect. Cost is very important. You can be very creative, and become too subjective and you forget about the patrons."
Iron Horse Favorite: "I've always been fascinated by the Wedding Cuvee. You can feel that it's coming from the New World genre, a playful interpretation of a California Sparkling made in the Blanc de Noirs style. It's unique and approachable with a soft texture. The name itself is very festive and Pinot Noir dominant. When I look back at the older vintages, say five years ago, they were actually "blanc" with very little color. And I've watched them grow into becoming rose. I'm also very impressed by Joy's willingness to hold back and age vintages until absolutely ready for release. To put perfection above earning is commendable. I admire Joy's efforts and wish all wineries could do the same!"
Must Try Summer Pairing for At-Home Chefs: "Summer means it's corn season in the Mid-West, which is very exciting. My favorite dish right now is a poached cod with grilled corn, pan roasted shishito peppers, corn puree and pickled veggies paired with a crisp, citrusy white wine." Sounds like Iron Horse Chardonnay, don't you think?
A discussion with our inimitable in-house Hospitality Director Dixie Bohlke illuminates plans to celebrate this summer's milestone, the Sterling family vision, the importance of small details in creating the extraordinary … and how to join the celebration with a new limited production bubbly.
Dixie pouring Iron Horse '76
As Joy shared in the previous blog, the Iron Horse family is warming up to celebrate the 40th anniversary of our first vintage.
First, the skinny on the summer soiree we have affectionately dubbed "The Spirit of '76"
Date: July 3, 2016
Time: 11AM - 2PM
Where: Iron Horse Vineyards
Festivities begin in the beautiful garden of the Sterlings' Victorian home. Then it's a short walk to the corral for lunch at noon.
Who: Friends, Family and Wine Club Members
Next the full bodied exploration behind the scenes setting up such an event ….
Why: We're honoring the vision of our founders which was nothing short of revolutionary when they purchased Iron Horse in 1976, the restoration of the Sterling's beautiful Victorian home built in 1876, and of course the all American spirit of 1776.
How: A reception in the garden of the Sterlings' home with the Caviar Cowboys serving California Osetra on buckwheat blini fresh off the griddle, a roving Oyster Girl shucking fresh Myagis from Tomales Bay and free flowing bubbly.
Such a special occasion calls for a special limited edition bubbly, naturally called "Spirit of '76", which we also be pouring in the Tasting Room for the holiday weekend and which is available on-line.
Joy and David came up with the idea of creating a special cuvee about three months ago. David picked the 2011 Blanc de Noirs in magnum for the base wine. Mark Berry designed the label. We have just 22 cases (132 magnums) and Joy says there's no better place in time to enjoy them especially in commemorative flutes with our logo, the rampant horse on a weathervane and the addition of "Est 1976".
Dixie perfected a cocktail called the Iron Horse 76, which we make with our own brandy called Audrey, distilled by Germain Robin using 1987 estate grown Pinot Noir.

Recipe:
1.5 oz Brandy*
3/4 oz Fresh, Strained Lemon Juice
1/4 oz Simple Syrup
1 bar spoon Apricot Preserve**
Shake ingredients (except sparkling) vigorously with ice, strain into a Pinot Noir style stemmed glass, slowly pour in the bubbly, garnish with a lemon twist.
*We use the Iron Horse Audrey Brandy (made from 1987 Iron Horse Estate Pinot Noir distilled by Germain Robin). Substitute with VSOP Cognac
**Dixie's homemade
Recipe Backstory:
Based on the classic French 75, made from gin or Cognac, Champagne, lemon juice, and sugar. It is also called a 75 Cocktail, or in French simply a Soixante Quinze (Seventy Five). The drink dates to World War I, and an early form was created in 1915 at the New York Bar in Paris—later Harry's New York Bar — by legendary barman Harry MacElhone, a defining figure in early 20th-century bartending. The combination was said to have such a kick that it felt like being shelled with the powerful French 75mm field gun.
Directions:
Shake ingredients (except sparkling) vigorously with ice, strain into a Pinot Noir style stemmed glass, top with bubbly, garnish with a lemon twist.
Old labels
Back to the event….
After the one hour reception, the party moves to an old, redwood, 1920s corral led by "Uncle Sam" and a 20 person brass band called The Hub Bub Club. Here, the party decor includes gorgeous vineyard views, deep red roses growing on the fence of the Corral, red and white geraniums in pots sitting on top of old wine barrels, and scattered hay bales covered in the stars and stripes.
The menu includes everything you'd want for a July 4th celebration: lobster rolls, bison burgers, fried chicken, an unbelievably delicious potato salad.
Always thinking ahead to dessert, back in mid-May we delivered flat upon flat of local Sonoma cherries to our favorite Patisserie Angelica for classic cherry pie.
Naturally, the wine theme is red, white and bubbly.
Thematic Extra-Credit: Dixie has collaborated with Joy and the Sterling family to perfect the day's theme, bountiful food, and run of show but then she has taken it a step further with a fashion show in an homage to 1776, 1876 and 1976 with five fashion models showing costumes from each era. The models in this "Fashion Show with a Fashion Statement Honoring Three Centuries" will appear at various times throughout the day to show off the beautiful vintage clothes and mingle with guests. The background music will waft sounds of San Francisco circa 1976.
A sweet note and some final thoughts ….
One of the pleasures of staging this fete has been reminiscing about the early days, going through old photographs and compiling a time capsule exhibit of memorabilia, including decades of winemaker dinners and White House menus featuring Iron Horse wines.
In the words of the supremely talented Hospitality Director Dixie Bohlke, this summer soiree honors "the fulfilment of what Audrey and Barry Sterling's dream was then and what it has become."
Dixie notes that this event carries as truly special feeling for her. Her planning has been driven by a desire to property recognize the vision of the founders that would ultimately shape so much. But most importantly, acknowledge that their vision and "revolutionary" spirit has determined the way forward for the vineyard.
As we celebrate the past with the Spirit of '76 Cuvee, we also toast to the future. "It's going to be an incredibly special time capsule for Audrey and Barry, but they are also moving ahead to the future. When you look around to the new planting, you can see that. " For all the history and the pleasures of nostalgia, Iron Horse is an exciting and dynamic place.
Couldn't agree more.
What else does a party need once you have identified the theme, the venue, the food, the wines … as the ultimate party planner will tell you, it's the people who make the party. So we raise a glass to our guests! Happy Spirit of '76.


##########

We believe in the power of special ingredients at Iron Horse. Each bottle is infused with their essence. It is deeply gratifying that friends and family appreciate the intangible draw of our bubbles, Chardonnays and Pinot Noirs. For some, the journey to understanding the Iron Horse mystique ends with enjoying a glass or two. There's certainly no better place to begin and end! But for others, it's intriguing to get to know the truth behind this seemingly effortless deliciousness. With winemaker David Munksgard as a guide, we are delighted to introduce you to some of the wonderful people who are the hands on contributors to our success.

David starts out so many days walking the vineyards as we've frequently chronicled on the blog. But our focus rarely zooms out past him in that moment. Widen the frame of that morning scene and you see the vineyard team hard at work, including Vineyard Foreman Manuel Briano kneeling in front of the vines with a young protege at his side - a learning moment while shoot trimming , carefully removing unwanted growth from the vine with a decisive nudge of the thumb. Their genuine interest is written all over their faces.

The Vineyard Team, which reports to Laurence Sterling, is an integral part of our magic. Some might call them "behind the scenes," but as David explains and all of us know, "they are front and center and the foundation upon which growth happens." We rely on team members like Manuel, to bring natural coaching skills into play. Manuel was a talented amateur baseball player whose team spirit extends into the vineyards.

Many on Team Iron Horse were farmers in their native country of Mexico where they gained an innate understanding of agriculture and love of the land. They work hard, tinker until something's fixed and draw upon wisdom from within. As David shares, "they really care and take great pride in what they do." This is undeniably evident in the work of Jose Puga who is the Grounds Manager reporting to Chief Gardener Barry Sterling. He keeps Iron Horse looking so beautiful and maintenance efforts are massive. Besides the signature flower, fruit, and vegetable gardens, Iron Horse is a 260 acre reserve and grounds like these demand constant attention. It's second nature for Jose who started working with Barry Sterling when he was just 17 years old (Note: Jose Pugo and Manuel Briano also run the frost protection system which we referenced in our Spring 2016 Vineyard Update Blog - photo of the system at the close of the blog).

David was particularly moved by the all-for-one ethic of the winery crew during his 20th anniversary celebrations at Iron Horse. It was then that he realized the true value of "extended family". We simply can't do this without them. I understand their skill sets and appreciate how fortunate we are. It almost made me embarrassed to be recognized in front of them." Many on his team have been with Iron Horse for decades, some since the beginning, "We probably have the most experienced riddler in North America. Jose Luis Briano (Manuel's brother) has been here since 1984, which is a testament to both him and to Iron Horse."
Cellar Master Rigoberto Moreno Rojas aka Rigo (below), a veteran of 28 vintages here, was the first to shake David's hand when he started at Iron Horse. David calls him The General. "Rigo and I talk about what we want to accomplish and he'll step in to explain, why we can't physically do that but THIS is what we can do and then he makes it happen. The Cellar Master is a key player in every winery and someone to be taken very seriously. It is a coveted position. He or she has to know absolutely everything about the winery. And we are in excellent hands with ours."

To continue raising the bar, requires ever more meticulous, rigorous, detailed work in the vineyard and the cellars. It's getting harder each year for Vineyard Manager Victor Arreola to recruit and keep the highly trained and dedicated people we need. Young farmers are becoming more rare. And there's a concern that the knowledge is not passing passed on.
"This is such a talented crew and I absolutely love these people," says David. It's an honor to see them with their families and taking so much joy in what they do. It seems like the light is always shining on them."

His closing remarks are the inspiration for the spirit of this grateful blog post. "There's something about this place that gets me. Iron Horse has allowed me to live my dreams and convey the beauty of the place. And these are the people who will just do anything we ask to make it happen. They are the ingredient X in our wines.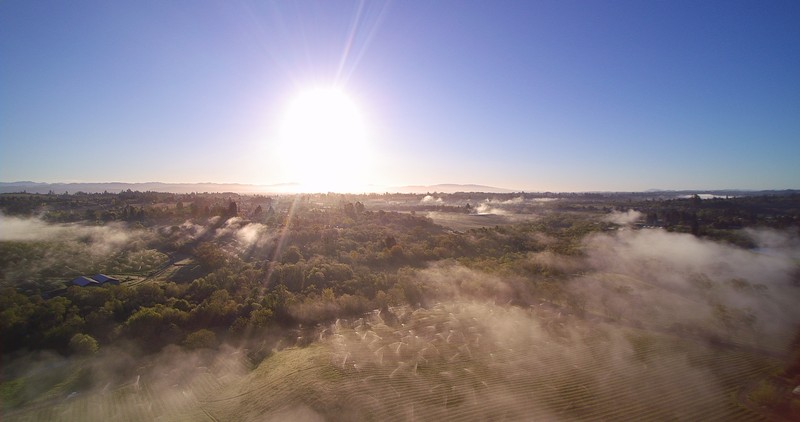 Every morning, our winemaker David Munksgard takes a purposeful walk through the vineyards. After yesterday's sunrise rounds, I gave him a cross country call to get a snapshot of conditions at Iron Horse going into the Spring Equinox this Sunday. When I hung up, I could almost feel that early morning chill from my office in sun drenched Miami.

"It was very foggy but it burned off early. We're going to hit the 70s today." This year, seasonal updates come with an understandable preoccupation with water following the four year long drought. Spring 2016 is finally here with signs of El Nino's positive (mostly) benevolent role.
David continued with a report that the

reservoir on the estate is full

. "It's a happy thing." He went on to explain that soil wise, all of our vineyards are saturated or at "field capacity." Should rain continue next week, run off will start feeding the aquifers. The California water czar says we're still technically in a drought and we'll continue water rationing despite these high rain levels. David added, "We just forgot what normal looked like." But very importantly, there are

no vines in standing water

- one of the great benefits of having our vineyards on gentle rolling hills as vine just don't like wet feet. There are unusual areas of standing water in the floodplain, but none in planted areas and no erosion thanks to Laurence Sterling's work to fortify ground cover.

Above - the happy full pond. Below - drone eyes on the flooding.

The full pond is critical for frost protection. The vines have woken up as you see in the photos
sprinkled throughout the blog. During this phase and this time of year, temperatures can easily slip into freezing range in the late night or early morning. To protect the new buds, we pump precious water from the reservoir through underground pipes up and down the hills to six foot tall sprinklers strategically positioned throughout the vineyard.

As soon as the temperature drops into the danger zone, alarms go off at the homes of two of our foremen, who in the dark and cold of night, prime the pumps and turn on the sprinklers to create a protective igloo-like effect around the buds. Our two heroes, Jose Puga and Manuel Briano, then stay up well past sunrise to monitor the situation until we are certain it is warm enough to turn off the water.


The coldest parts of the vineyard are in the low lying areas. As David explains, cold air falls and runs like a river down our hills, "puddling" in lower parts of the estate.
For the next two weeks, almost all of David's cellar crew will be pruning with the vineyard team. "We do this every year to help get caught up. This is an early year - another early year, he says. And no one gets to wear just one hat at Iron Horse.

Leaving David to his morning routine, I sync up with Iron Horse CEO Joy Sterling. She is engaged in a number of community environmental action groups and a fountain of knowledge on the topic of the drought. For many reasons, Joy eats/sleeps/breathes updates on the slow recovery (my pet theory is that she has about a thousand different google alerts and may sleep a mere two hours per night). At the March 3rd California Department of Food and Agriculture Board Meeting, she was particularly downcast after a dour presentation by the State Water Board. February was so dry, the Headlines in the Sacramento Bee and the San Francisco Chronicle condemned El Nino for being a dud. Then came the March Miracle.
On the evening of March 5, El Nino rode in fast and furious on 40 mph winds. By Sunday morning, the bridge was flooded, blocking the front entrance of Iron Horse for two days, "I'm proud to say we still had a dozen intrepid guests who made the trek around the back road, showing yet again that bubbles make a rainy day better."

Joy explains that as far as she's concerned, winter can now gently yield to spring. She confesses she grew tired of the rain, no matter how much we need it. She also noted how technology has changed the experience of a natural event. Social media lets us tell people if we're opened or closed and how to navigate the back roads. David's drone shows us views of the flooding we have never seen before. "I was most taken by aerials of this very impressive, wide swath of water rushing down what's normally a road … but the vineyards completely in the clear," she says. As David explains, vines can actually suffocate in standing water.

As of today, water levels are at 95% of average which we haven't seen in four years. The next snowpack report is April 1, and Joy predicts it will be excellent, "Snow in the mountains is our best form of water storage."
More encouraging news came in today from a great friend of Iron Horse, and one of Joy's key sources, Phil Grosse, who helps keep us up to date on all things water related - this time with an Los Angeles Times article with the heartening headline: "Dramatic images show El Nino beginning to rescue California from its drought."



The piece concedes it is still too early to declare the drought over, especially since the rains have been concentrated in Northern California. But even a good dent is great! We don't need to resolve four years of drought in one month. A dent seems perfectly fine.
The imagery of progress is a beautiful thing. The spring tidings are more hopeful than ever at Iron Horse.

There's so much to love at Iron Horse this month. Our Valentine's Day Blog expounded on perfect food and wine pairings and today we're honoring another pairing that's near and dear to our hearts as the marriage of Winemaker David Munksgard and Iron Horse Vineyards marks its 20th anniversary.
The match was brokered by Iron Horse co-founder Barry Sterling all those years ago and ushered in an era of perpetual momentum at Iron Horse. David remembers it as a moment of kismet. And the magic continues.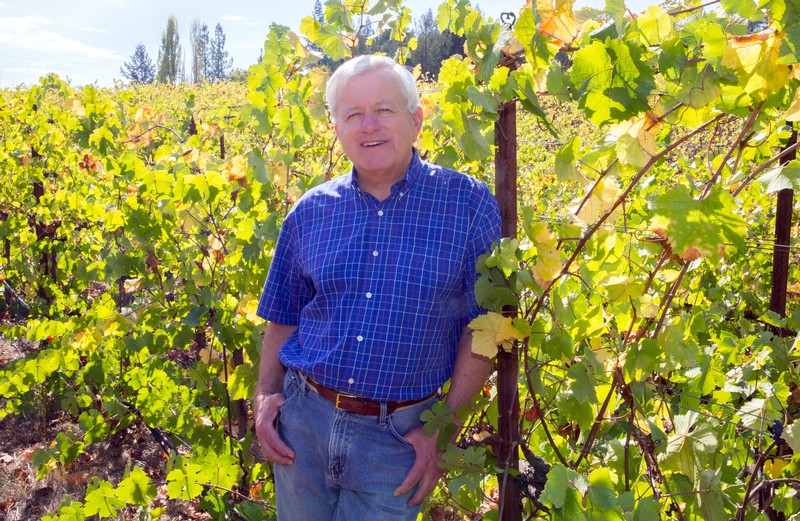 Two decades in one role is a rarity. But for David, it hasn't eliminated the element of freshness. "In many way, it's like I just got here," he says. "With each vintage, the excitement of taking on something new and all the challenges that come with a new adventure are still energizing."
The key is his continued curiosity. David has more questions now than he did in his first year of making sparkling wines in 1982 at Chateau St. Jean. His track record of excellence is linked to his humility and his openness to new and improved methodologies.
When asked about his proudest Iron Horse moment, he didn't hesitate. He immediately reflected on this past harvest, which presented challenges he'd never before encountered. Find the complete 2015 fall harvest recap blog here. David fought for every grape this year with Laurence's support and the vineyard team's dedication. "I don't know of another winery that could have pulled something like that off. It goes back to being an Estate Winery. The word "Estate" means you can pull off extraordinary efforts when a vintage isn't delivered to you with a ribbon on it."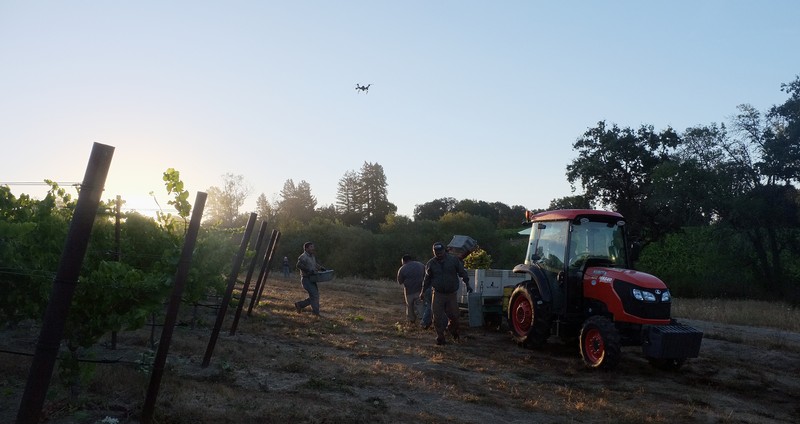 David has a very romantic connection to his craft and he loves interacting with fans in our Tasting Room who gush over stories of engagements and marriages that have been celebrated with bottles of Iron Horse. "Wine is incredibly romantic. So much poetry has been written about wine and I understand why."
So, as we celebrate David, we take a moment to celebrate this gracious gentleman whose work is an exercise in balance, finesse and elegant restraint."Winemaking is all about tiny, nuanced differences," he says.
On David's first day, he promised Joy that every vintage would be better than the last. And he has been true to his word. When I asked him about his favorite vintage, he didn't dare chose one. "I don't live in the past, but in the future. I'm always most excited about the wines we haven't bottled yet. I have a lot of plans for the next harvest."

David has just completed assembling the 2015 blends. There's a special excitement around the 2015 Winery Block Pinot Noir and how the wine from that Single Vineyard on the Estate has evolved as the vines themselves mature.
He is also in the midst of disgorging 2003 Joy! A project which has occupied David's imagination for years. The new vintage gets released March 17 (event details are here).

Please join us in raising a flute to David and drink in the passion that he infuses into each bottle. "For those of us fortunate enough to be making wine, it is not that we should be winemakers, we simply MUST be winemakers. Nothing else will satisfy that need to craft; to imprint onto and into our wines what we feel and see when we walk the vineyard and dream of what it might be."


Lucky us!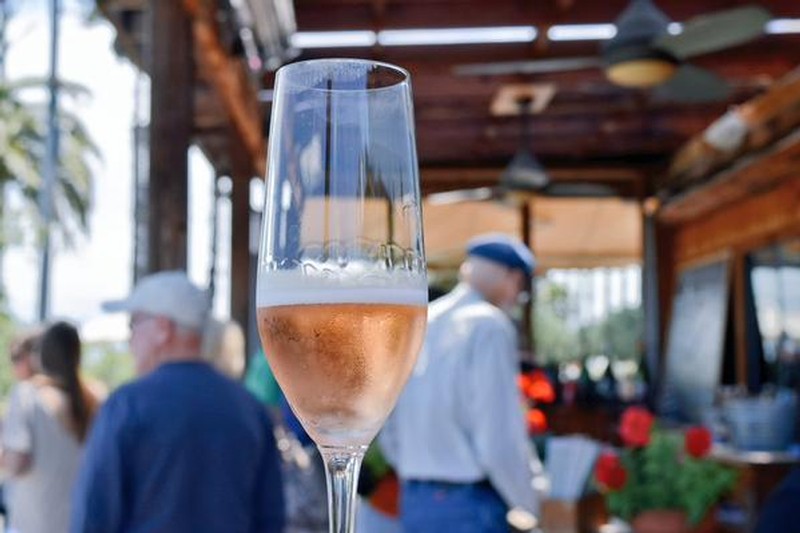 When something is meant to be, it comes easily. Effortless, perfect pairings are on our mind this Valentine's Day. Since matching people is decidedly more challenging than picking the ideal Iron Horse bottle for a magical moment - say a sip of sparkling with a sumptuous bite, we're taking on the latter in a display of our affection for you. So, as you embark upon the all-consuming act of kindling love new or tried and true this Valentine's Day, Iron Horse & our team of expert friends are here to provide fuel for your sensory expression of devotion.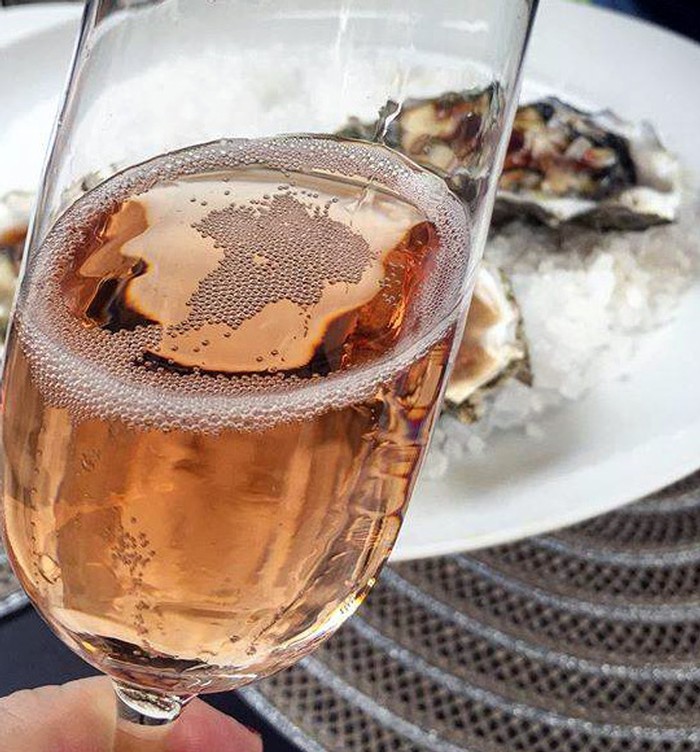 Leslie Sbrocco, co-founder of WineToday.com was nothing short of poetic when we called her up to chat about the topic. The expert whose resume includes a James Beard Award, three Emmy's and three Taste Awards, was travelling to a Today Show segment touting Valentine's wine menu suggestions when she told us, "It's very easy to fall in love with Iron Horse wines that's for sure." From there we were off to the races., " I'm sure many a romance has been started and nurtured over bottles of Iron Horse bubbles." When Leslie thinks of this holiday, she always thinks about bubbles first, specifically rosé bubbly. (In fact, our expert has honored her love of rosé bubbles with a tattoo!).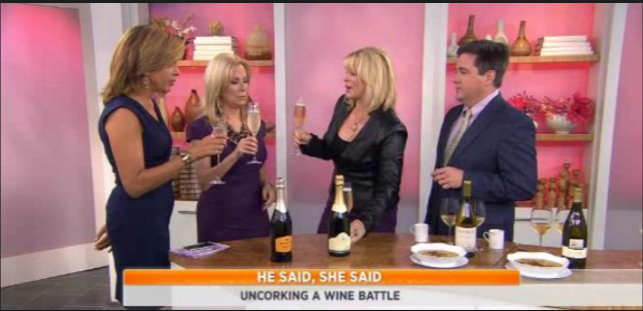 Leslie says she would start her evening with our 2008 Brut Rose, which is bold and exciting and surprisingly dry. In terms of food pairings, she is a big fan of potato chips and popcorn. "I recommend styling a playful popcorn bar. Pop up your favorite popcorn and pour on truffle oil with sea salt and cracked pepper. This goes beautifully with the Rose or the 2012 Wedding Cuvee. If you want spicy, add peanut oil and paprika. I've even tried Espelette peppers from my recent trip to Basque country." An enticing, spicy spread to woo your lover.
When Leslie thinks in terms of preparing a main course, the Iron Horse UnOaked Chardonnay (lovingly described as "naked chardonnay") is a very easy match for food. Our winemaker agrees. In fact, David's affinity for this new vintage feels a lot like new love. Anyone who goes to visit him after a trip to our tasting room has heard him describe the 2014 production as our best ever. Leslie advises something as simple as picking up a whole roast chicken at the market and preparing a quick and easy Dijon sauce as an accompaniment. You won't break a sweat…. until you want to of course!
And chocolate. There must be chocolate! How can one avoid its allure?? Leslie certainly goes in for the kill when guiding this denouement to the Valentine's Day experience. "Iron Horse's 2012 Estate Pinot Noir pairs with darker chocolate because it's fruity and not overly tanic, a role taken care of bythe chocolate." She suggests a more bittersweet style with higher cacao concentration. She would personally select our Rose which can hold up against this richness. A creative pairing on her recent trip to Sydney led to her final dessert suggestion. "Everyone knows about chocolate dipped strawberries during this season. But I recently had seedless red and green grapes coated in dark chocolate and white respectively. The green grapes with white chocolate goes extremely well with Chardonnay." Go ahead, be bold!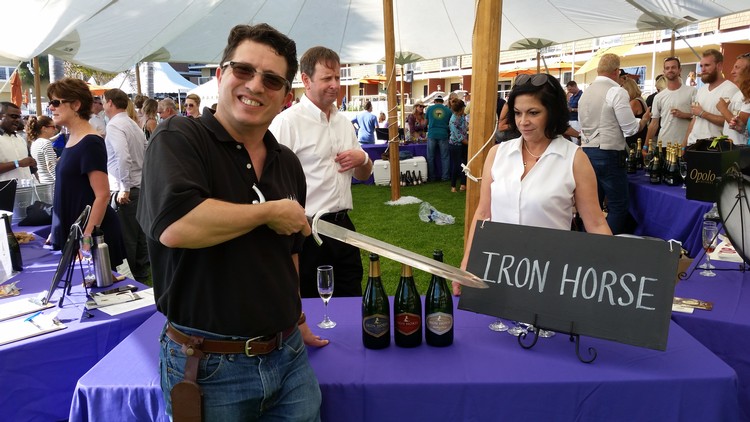 Our next expert, David Glancy of San Francisco Wine School, explained his take on St. Valentine celebrations. His trick for readers exploring their own pairing selection is to keep things simple. When chosen properly, the perfection of your pairing (and your date!) should be the standout. For the wine, he regularly declares something we feel passionate about as well -- "Sparkling is NEVER wrong!" He recommends crafting a sparkling tasting which can progress along with your meal. This starts with our 2012 Wedding Cuvee which is pale golden rosé and dangerously easy to drink, next onto our 2008 Brut Rosé, and finally onto a more mature vintage, like Iron Horse 2000 Brut LD. For those looking to stick with just one option through the meal, he agrees with Leslie on the point that Brut Rosé is phenomenally versatile.
When David thinks about a main course, he turns to our UnOaked Chardonnay as well. Due to the crispness of a wine that's all about the purity of the fruit rather than the "smack of oak" as Leslie described it, he would recommend pairing a medium weight food with some creamy components. This could be anything from a brie cheese or a cream sauce. Or he would advise a second angle which is to look for fresh and crisp things to match. "Oysters on a half shell or a progression into a baked oysters and oysters Rockefeller would be great here. In fact any type of shellfish is appropriate - the in-season Dungeness crab would be a fantastic way to go." The Iron Horse 2012 Estate Pinot Noir has a unique finish thanks to the col, foggy climate in our Green Valley. According to David, this distinctive, delicious and versatile red would go well with fish, poultry, and meat. "Salmon is a sure thing. Seared Ahi tuna could also stand up, , especially with a pepper crust. And the bright acidity of the wine could cut through the fattiness of a duck dish. Choose a sauce with red fruit and the Pinot will pop."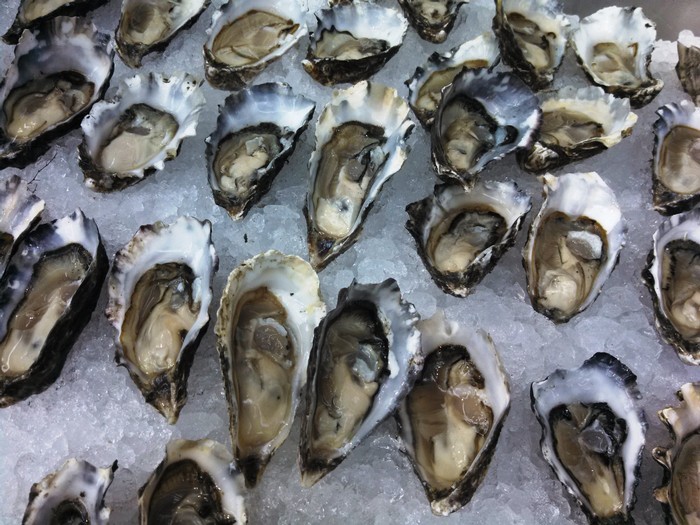 To wrap up his expert guidance, David advises not to discount the power of an experiential theme. He once had a lovely lunch in the Iron Horse gazebo featuring tomatoes sourced from Barry Sterling's renowned vegetable garden, served with our Chardonnay. "The match didn't necessarily follow any of the food pairing theories that we teach, but it was that fresh crisp cool climate California Chardonnay with a succulent and slightly acidic tomato that pulled me in, amidst the beautiful setting." We encourage you to mine your past experiences, replicate a moment ripe with nostalgia. The result, though perhaps not "by the book" has the potential to seduce.
And trust us on the sparkling.
Go get em Tiger!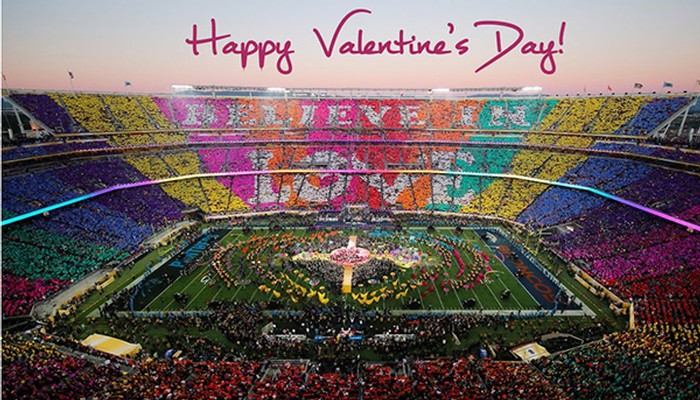 *****
Chinese New Year, the Year of the Monkey, starts February 8. The festivities continue for 15 days. San Francisco's Chinese New Year parade, the biggest and oldest in the U.S., is February 20. Delicious food is the centerpiece of Chinese celebrations, so we were especially happy to get to chat with our special chef friend Ming Tsai, who gifted us with a recipe for his delicious and very lucky pot stickers. (See below.)

The Monkey is the ninth animal in the 12 year cycle. People born in the Year of the Monkey are characterised as lively, quick-witted, curious, innovative and mischievous. In addition, their gentleness and honesty bring them an everlasting love.
To celebrate, Iron Horse has created a special production of Year of the Monkey Cuvee. $5 a bottle goes to the Leakey Foundation to help protect the natural habitats of primates like the Golden Snub Nosed Monkey featured on the label.
It is a perfect birthday present year long for people born in the Year of the Monkey and as a good luck gift for parents expecting babies this year.

And here to help us understand more about the time honored Chinese New Year celebrations is Chef Ming Tsai, famed restaurateur and culinary visionary born in the Year of the Dragon. Read on for our complete interview.
You're a very special chef friend for Iron Horse. We're very proud that our Year of the Dragon was featured on your February 2014 menu for the State Department lunch with the former VP Xi of China. Can you recount any specific memories about the toast that day and what it meant for you to be part of it?

It was an amazing day. To be able to cook for the now President Xi and Vice President Biden was a great honor. My father was there along with my wife and he was tickled pink that cooking could bring a man so far. Biden and Hillary Clinton thanked me personally for the meal, Hillary believed that negotiations went better because of the thoughtful menu and the bonding ritual of coming together over a delicious meal. It was this positive experience which provided the impetus to create the now famous "Chef's Core" at the State Department, Hillary saw the merit in leveraging American chefs as diplomatic aids.
I was able to meet all three leaders at the end of the meal. Because I speak Chinese, I greeted President Xi in his language. My 3-4 minute conversation had to be translated for Hillary and Biden and touched on my philosophy as a chef. I was humbled and amazed that he took time with me.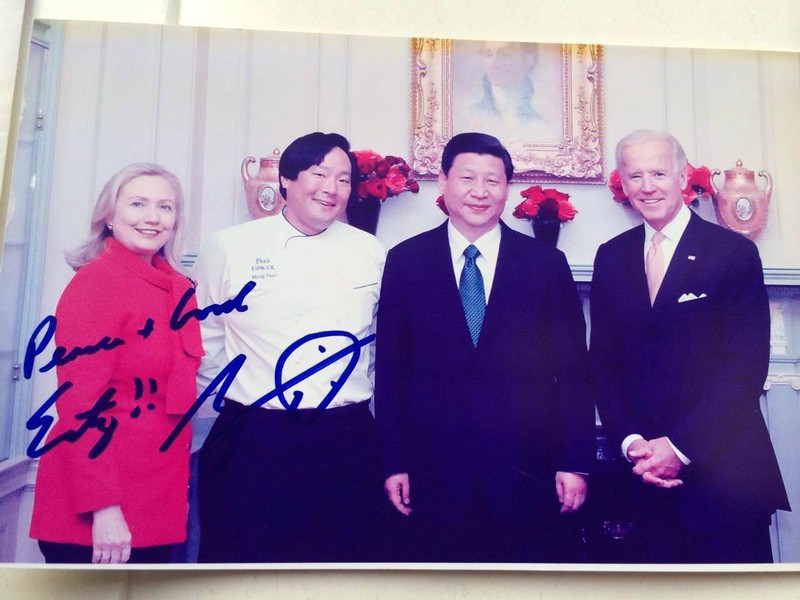 So, in addition to a career highlight, you could call this the unofficial kick off of the Chef Core!
Yes, and I'm proud to have been at the forefront of the ongoing program. The State Department recruits chefs who understand the culture of the visiting diplomats. For my part in this first dinner, I brought my understanding of Chinese preferences. Protein like duck along with hot soups are a favorite, so I took the opportunity to weave in those elements. I also served an interpretation of my signature butter fish using soy marinated butter instead of miso which is a Japanese ingredient.
Tell me a little bit about your background and what inspired you to dive into this business as a restaurateur and renowned chef.
I've cooked my whole life. I had a natural love for food which grew during summers in Paris while I was in college. I immersed myself in French cuisine & pastry and immediately decided I had to merge French with Chinese food. For me, these are the two master cuisines of the world which have been around for the longest time. From then on, I explored a blend of these two top techniques.
This appreciation of French production techniques is a natural point of intersection with Iron Horse!
That's true. It's part of why I appreciate the Iron Horse bubbles, they're made in the US but with a French style.
You have a TV show called "Simply Ming" which airs in Boston, do you have any other interesting projects that you're currently working on?
One cool project I'm working on is called FoodyDirect. It is a web based food delivery service offering regional favorites from over 100 different restaurants, delis, and bakeries. You literally get Blue Ginger food sent to your home with simple instructions on how to finish it off. I'm excited because FoodyDirect is now offering my signature butter fish dish which goes out goes out authentically from my hands in my kitchen. We're also serving our pot stickers especially for the Chinese New Year, they bring good luck.
Chinese New Year is fast approaching. How do the menus that you concept reflect Chinese New Year celebrations at your restaurants?
We'll prepare a couple special dishes and always include dumplings. The proper dumpling has a crescent shape and is said to bring prosperity. Some families hide a coin in a dumpling, the lucky bite promises an exceptionally great year. We'll have a "whole fish" dish at Blue Dragon. Wholeness is a major theme at this holiday, it signifies completeness into the New Year. Especially with fish, have to keep a good head and tail, it suggests a great beginning and end.
How integral are bubbles in marking calendar milestones? How do your guests react to the popping of a cork in your dining rooms?
Chinese are just learning how to drink wine and I think they'll learn as I did - that champagne is great for everything - breakfast lunch and dinner! It's unfortunate that many think it's only appropriate at special occasions, it should be enjoyed every day. It seamlessly cuts through fat like french fries or tempura on my menu. And the well made Iron Horse Blanc de Blancs hold up against some serious food very well.
It's clear that you're passionate about wine as a perfect compliment to the food portion of a celebratory meal, what will you be drinking tonight at your Chinese New Year celebration?
Iron Horse is a staple, they don't make a bad champagne. I'll be popping the special production Year of the Monkey Cuvee. After cooking all day at Super Bowl 50, it will be the perfect way to unwind with family and lots of dumplings.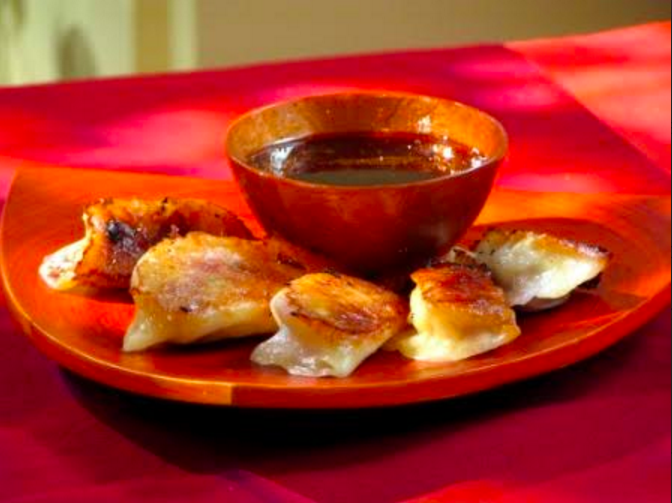 Can you provide some guidance on a Chinese New Year inspired recipe that Iron Horse readers can create in their own home with Year of the Monkey Cuvee?
Pork and Apple Pot Stickers with Dim Sum Dipper
Makes 20 to 25 pot stickers
Filling
½ pound ground pork, (not too lean)
4 tablespoons butter, softened
1 green apple, peeled, finely diced
2 tablespoons finely chopped fresh ginger
1 ½ tablespoons finely chopped garlic
1 tablespoon sambal oelek
2 tablespoon naturally brewed soy sauce
1 tablespoon toasted sesame oil
1 egg, lightly beaten
1 ½ teaspoons salt
Purchased Pot-Sticker Wrappers
2 tablespoons canola oil
Dim Sum Dipper*
1. To make the filling, combine the pork and the butter in a large bowl. Knead the butter into the pork until it is fully incorporated. Add the apple, ginger, garlic, sambal, soy sauce, sesame oil, egg and salt to the pork and mix.
2. To fill the pot stickers, place about ½ tablespoon of the filling in the center of each wrapper. Avoid getting filling on the edges of the wrapper, which would prevent proper sealing. Fold each wrapper in half to form a half-moon shape. Seal the top center of each dumpling by pressing between the fingers and, starting at the center, make 3 pleats, working toward the bottom right. Repeat, working toward the bottom left corner. Press the dumplings down gently on the work surface to flatten the bottoms.
3. Heat a large non-stick skillet over high heat. Add the oil and swirl to coat. When the oil shimmers, add the pot stickers, flattened bottoms down, in rows of five and cook in batches without disturbing until brown, about 6 minutes. Add about ½ cup of water and immediately cover to avoid splattering. Lift the cover and make sure about 1/8 inch of water remains in the pan; if not, add a bit more. Steam until the pot stickers are puffy, yet firm and the water has evaporated, 8-10 minutes. If the water evaporates before the pot stickers are done, add more in ¼ cup increments. If the pot stickers seem done but water remains in the pan, drain it and return the pan to the stove top.
4. Continue to cook over high heat to allow the pot stickers to recrisp on the bottom, 2 to 3 minutes. Transfer the pot stickers to a platter and serve with the dipping sauce.
*Dim Sum Dipper
Makes about 1 cup
1/3 cup soy sauce
1/3 cup rice wine vinegar
1/3 cup scallions, green parts only, sliced 1/8 inch thick
1 tablespoon toasted sesame oil
1 tablespoon sambal oelek
In a medium bowl, combine the soy sauce, vinegar, scallions, sesame oil and sambal oelek. Stir to blend and use or store.
******
Are you curious about your birth year in the Chinese zodiac?
The Chinese animal zodiac is a repeating cycle of 12 years, each year is represented by an animal and its reputed attributes. In order, the 12 animals are: Rat, Ox, Tiger, Rabbit, Dragon, Snake, Horse, Goat, Monkey, Rooster, Dog, Pig.



The Iron Horse family wishes you a great Year of the Monkey filled with with happiness, bright colors, beautiful blossoms, the excitement of fireworks and, of course, delicious food and wine. Gung Hay Fat Choy!
Carnival is not a day, but a whole season in New Orleans, and who better to celebrate with than the Executive Chef at Commander's Palace. For the past 20 years, Commander's Palace has served our special production Commander's Cuvee at their iconic restaurant and we've enjoyed visiting our Chardonnays and Pinot Noirs at the renowned landmark for even longer. Tory McPhail graciously spared some precious moments during this busy time to explain what the festivities mean for New Orleanians and how the rest of us can invoke this spirit in our own homes with Creole dishes paired with Iron Horse.

We're feeling especially festive today following the Krewe of Cork's picture perfect parade. This wine-centric social club celebrates the fruit of the vine, food and fun. A group after our own hearts. So today especially, we honor their motto "T.G.I.C.D." (Thank Goodness It's Cork Day).





Tarin: The Carnival season started on January 6th and runs through February 9th, can you explain a bit about what the city looks like from your prime Commander's Palace location?
Tory: That's right, 12 Days after Christmas, on Twelfth Night, we kick off the fun with the Parade of the Sunny Phunny Phellows. They commandeer four street cars with an arsenal of alcohol and then run up and down the street car line from Charles Avenue down to Canal Street and back again in a Paul Revere style. This krewe heralds the coming of Mardi Gras through the most exclusive neighborhoods and from then we're off to the races.

Tarin: How do you prepare for this and for Mardi Gras in your restaurant?
Tory: This year Mardi Gras is on February 9th, so til then it's all about revelling in the Carnival spirit. There's fantastic music all over the city and tourists flooding in. I try to educate our servers about the season. Our restaurant plays a key role in perpetuating what this special time means to New Orleans.
Tarin: What's the ideal schedule for a tourist visiting during this period?
Tory: Tourists can ride the streetcar which connects the entire city together. They can walk around the Garden District and stroll by the mansions before stopping in Commander's Palace which is right in the middle of Mardi Gras parade routes. We provide an elegant lunch set up with our curated wine menu and as the parade starts up with the clatter of drums, we encourage guests to leverage our open container laws by diving in with a bourbon cocktails to go.

Tarin: What can a guest typically find on your menu during this season?
Tory: Our staff is rejuvenated after the holidays and ready to deliver on our twice daily menu changes. We update the offering for Carnival time and offer some of our signature dishes. This includes a King Cake for dessert. But we also do savory versions which can include seared foie gras toppings and vegetable purees that invoke the colors of Mardi Gras (purple, green, and gold). We call this Mardi Foie. Overall, we don't take ourselves seriously at all, instead we try to mirror the spirit of the city.

Tarin: Can you tell me about signature flavors and styles associated with New Orlean's Creole cooking?
Tory: I like to say that out of towners should understand that New Orleans food is not Cajun food. Cajun is country cooking established before the days of refrigeration when hunters needed to preserve meats with heavily salting and smoking. The resulting food was hearty and rustic. But New Orleans is a port town so from the beginning, we were a ground zero for trade. Cooks and chefs in town could visit a market daily for more diverse ingredients and Creole cooking emerged with more refined styles through equally flavorful.

Tarin: This tradition of daily market trips seems related to your current strategy of produce sourcing, can you explain that a little?
Tory: I took over as an executive chef 14 years ago and always wanted to make sure that our food screamed Louisiana. So it was important to me to source produce locally to provide a fantastic product on our menus. Because we're farmer driven, often working with groups who have been our partners for generations, we have a sous chef position dedicated to maintaining relationships with the guys out in the Bayou who provide resources like catfish. Dishes have authentic New Orleans roots which adds a lot of different dimensions of life and history. It's this understanding of the unique virtues of small producers and a reverence for multi generational businesses that drives us to continue our great relationship with Iron Horse every year.
Tarin: You have an award-winning sommelier in Dan Davis (@cpwineguy), how does wine come into play with your big, flavorful menu items?
Tory: I really enjoy wine and just as we want our food to provide an exciting bite each time, we want our wines to do the same thing. I like floral notes, wines with balanced acidity and a lot of ripe fruit, or a decent amount of oak or vanilla. It's important to me that the wines we chose tell the story of the vineyard, another reason that our philosophy integrates so well with the Iron Horse product.

Tarin: You pour our special production Commander's Cuvee and have been dear friends for many years. What about these bubbles pairs perfectly with your menus?
Tory: These bubbles go with anything. A lot of our food has serious spice to it or involves a lot of richness and butteriness. So the cuvee perfectly cuts through with the right amount of acidity and effervescence. It achieves this better than any other sparkling wine out there and our guests love enjoying it year after year.
Tarin: You have a classic dish you'd like to share with our readers who want to infuse the Carnival season spirit in their own kitchens. What's your secret recipe and what would you pair this with?
Tory: I've got a recipe "Crawfish Boil" Fried Chicken which goes wonderfully with sparkling wine, particularly Commander's Cuvee.

For the Chicken:
2 – 3 ½ - 4 lb chickens (8 pieces each)
2 quarts cold water
4 tablespoons Zataraines Crab Boil
3 cups flour (divided)
3 teaspoons salt (divided)
1 ½ teaspoons black pepper (divided)
1 teaspoon Creole seasoning
Combine the chicken, water and crab boil in a large pot and marinate chicken overnight or at least 16 hours.
Remove chicken from brine & pat the skin dry. Combine 1 cup flour, 1 teaspoon salt & ½ teaspoon black pepper and coat the chicken with the mixture. Place coated chicken on a sheet pan in a single layer and allow to sit in the refrigerator for at least 2 hours (this will help pull excess water from the chicken and create a crisper skin.)
Season 2 cups of flour with 2 tsp salt, 1 tsp black pepper, and 1 tsp Creole seasoning. Toss the chicken in the new flour mixture to coat liberally and shake off excess flour. Fry chicken at 350° for 12 – 14 minutes. Strain and season with more salt and pepper to taste.
For the Crab Boiled Vegetables:
3 celery ribs, cut in 1 ½ - 2 in pieces
3 ears of corn (leave on cob) cut into 1 inch thick rounds
2 small red onions (peeled) and cut into 8 pieces each through root top to bottom
4 med red potatoes cut into 4 pieces each
1 lemon cut into 8 wedges
1 orange cut into 8 wedges
1 cup Crystal hot sauce
2 tablespoons Zataraines crab boil
1 tablespoon salt
½ tablespoon black pepper
3 bay leaves
3 qts cold water
~
¼ cup lemon olive oil
1 bunch flat leaf parsley, roughly chopped
Combine all ingredients through bay leaves in a pot of water and marinate overnight in refrigerator.
Place pot on stove and bring to a boil over high heat. Then lower heat and simmer for 25 – 30 minutes or until potatoes are tender.
Strain vegetables and discard liquid. Place strained vegetables in a bowl and toss with ¼ cup of lemon olive oil and 1 bunch of roughly chopped flat leaf parsley. Season with salt and pepper to taste.
Place vegetables on a large serving platter and arrange the fried chicken over the top.
Serve with Iron Horse Commander's Palace Cuvee
We hope you enjoy celebrating Mardi Gras with this fantastic food and wine pairing. And we'd like to send a friendly shout out to our lovely Commander's Palace somm, Dan Davis, who is riding in the King Arthur Parade on Sunday. This is the largest krewe of the first parade weekend with over 1,000 riders but you can't miss Dan's winning smile and superb bead throwing skills….