Iron Horse
Blog

Everything costs water:
It takes about 30 – 35 gallons of water to make a glass of wine

56 gallons for a latte to go

400 gallons to grow the cotton for a T-shirt

6230 gallons a week to maintain a 100' x 100' lawn
Think about the possible tradeoffs. According to one calculation, if you pulled out a thousand square feet of lawn, you could enjoy an additional three bottles of wine a week and come out even in your water footprint.
I have heard several friends complain that they can't possibly cut back any more than they already have. City dwellers resent the farmers. Some farmers feel they are being pitted against the environmentalists. The fact is, we are all in this together. We each have to do our utmost.
Here is a snapshot of our water use – in the vineyards, the winery and our personal lives. Bear in mind, Iron Horse is our business and it is also our home. We have three generations living on the property (in three homes), plus two of our foremen in separate houses with their families.

We have five wells, which supply the houses and a 45-acre foot reservoir that my parents built when they purchased the vineyard in 1976. The reservoir is fed primarily by rainwater, Green Valley Creek (a tributary of the Russian River), and highly treated waste-water from nearby Forestville.

Our rights to Green Valley Creek are called "licensed" water rights. The main license goes back to 1975. A smaller one goes back to 1948. These are limited rights. We can take no more than 86 acre-feet during the season (November to June) at a rate of less than 5 cubic feet per second (cfs, or 2,245 gal/min), assuming there is enough water in the creek for both us and the fish.
It is a great source of pride that the Department of Fish and Wildlife has spotted Coho salmon in Green Valley Creek for the first time in 20 years.

The reservoir gets recharged with recycled water upon request. Our agreement is to take 20 acre feet, and have an option for 20 more. Last year we received 30 plus acre feet; the year before about 12.
Frost protection and irrigation efforts are powered by the reservoir. These actions benefit 1) the vineyard 2) the orchard and flower garden at my parents' house and 3) the summer vegetable garden behind my house.

The most significant water usage is associated with frost protection in the vineyard. Last year's weather spared us from excessive water use, we activated the frost protection system only four times. One of the worst years was 2008 when ice was hanging from the vines.
We use conventional overhead sprinklers for vineyard frost protection. We can't use wind machines like you see on flatland vineyards in Napa nor smudge pots like citrus growers because our property is a series of rolling hills. Our proximity to the ocean makes us vulnerable to frost as late as June 1. The stakes are high for us; not frost protecting could expose us to losing a third of our crop.
Overhead sprinklers deliver water at a rate of roughly one-quarter to one-third of an inch per hour. So far this season, we have turned on the sprinklers four times - about 13 hours total.
In the winery, our major water usage is for 1) cleaning tanks, barrels, picking bins and the presses during harvest and 2) power washing the floors. We pride ourselves on maintaining an immaculate facility. All of our grey water goes through the storm drains to the reservoir. We do not use detergents.

In our homes, even farmers take Navy showers.
Every vineyard's water use varies, just like fine wine, with the climate, the soil and the lay of the land. I would rate our water use at 94 points on a 100 point scale. We can always do better.
The point is, we live in a watery world. It takes/costs water to do everything. An economist will tell you that if water was given its real monetary value, we wouldn't have a problem. The market would even itself out naturally.
Except that

water is a right

, like air. The state has assigned relief funds for rural communities where the wells have gone dry. Food banks are gearing up for added demand in the summer as land is fallowed, resulting in job loss. In November 2014, California Secretary of Agriculture Karen Ross launched a campaign to raise 200 million pounds of food for food banks by the end of the year.
As with just about everything, I think we want/need to strike a balance.
For additional information on water and agriculture, I highly recommend the Public Policy Institute of California's "Water for Farms

" briefing that just came out and that CDFA posted on their Planting Seeds blog. Their report provides accurate statistics and comes from a well-respected, non-partisan organization.
Find the personal water footprint calculator from National Geographic here

.
And consider this final water conservation tip –

old wine barrels are great for harvesting rain water

.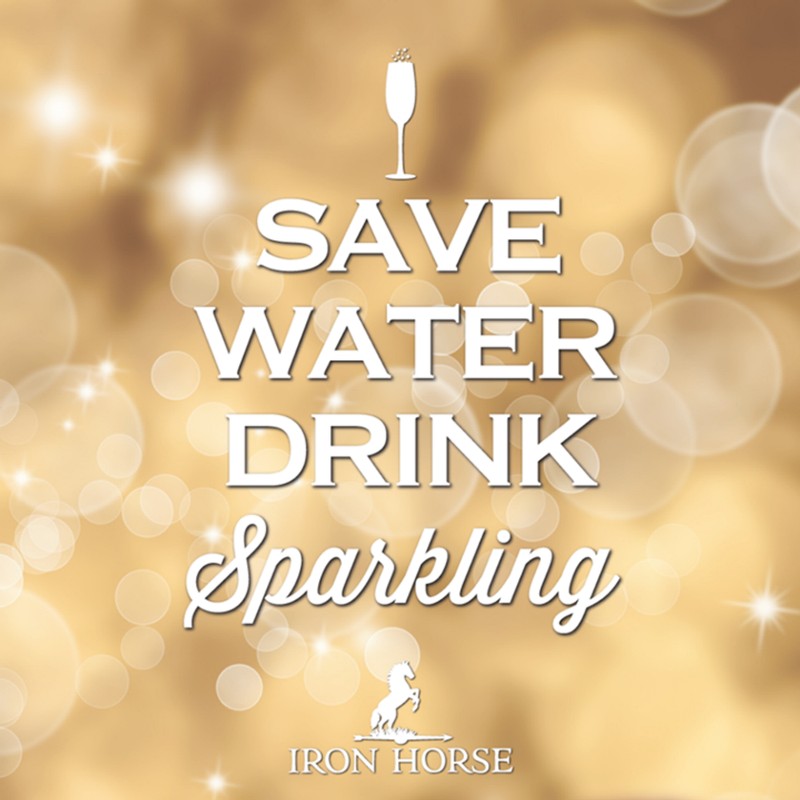 Welcome to the first installment of our Star Chef Blog Series. Over the next few months, we'll be sharing Q&As with our most special friends who serve custom Iron Horse cuvees in their restaurants. In honor of Easter & Passover, and with the spirit of renewal that comes with Spring, we've interviewed Iron Horse's great friend Charlie Palmer for a fresh take on a classic.
Starting with New York City's Aureole, Charlie now owns 14 restaurants around the country, two hotels in the heart of California's wine country and The Mystic Hotel in San Francisco. Our friendship with Charlie Palmer is as rich as his culinary creations and shines through in the delicious Aureole Cuvee. The current release is our 20th vintage of making this unique, limited production bubbly.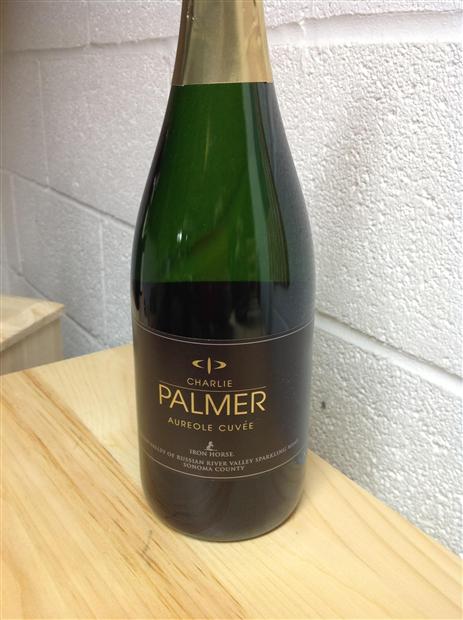 When we called Charlie up one early Spring day, we challenged him to walk us through a seasonally appropriate food pairing for our sparkling wine and Pinot Noirs. The season is right for the Sonoma County baby lamb or ham and our Pinot Noirs just received stellar ratings by the editors at Wine Enthusiast which will appear in the June 2015 issue. Here's what we learned...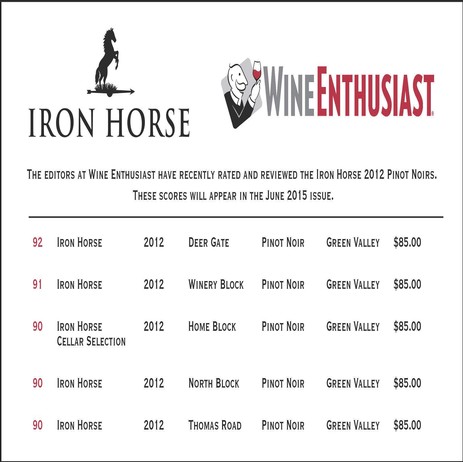 IRON HORSE INTERVIEW WITH CHARLIE PALMER:
Iron Horse: What drew you to develop a partnership with Iron Horse?
Charlie Palmer

: We started with Iron Horse years ago. My team of wine directors and sommeliers aimed to develop a sparkling wine that was both "food friendly" and could be an aperitif. The

Aureole Cuvee

is just that. We offer restaurant guests a small coup glass as they peruse the cocktail menu. Just 3 ozs of bubbles triggers that feeling of celebration and serves as a palette starter, but you can certainly drink it through the entire meal.
Iron Horse

: What flavors make the Aureole Cuvee a menu go-to for you?
Charlie Palmer: It's about freshness and balance. It was important that the sparkling wine bring good acidity to compliment richer foods with higher fat content.
Iron Horse: Spring has sprung at our vineyards. What celebratory sparkling creations are you preparing for Easter and Passover celebrations at your restaurant?
Charlie Palmer: When you think of Easter and Passover, you think of brunch. Our brunch menus at a few of the restaurants will offer a seasonal sparkling wine cocktail which will include 6 oz of the Aureole Cuvee, a few drops of pomegranate syrup to get a blush pink coloring, pomegranate seeds, and half an ounce of absynth.
Iron Horse: What's on the menu for the main course?
Charlie Palmer: When I was a kid we always had a big, roast ham for Easter. It brings salty, rich flavors that are perfect for pairing with Iron Horse Pinot Noir. The fatty, smokiness of the cured ham is perfect for balancing the Pinot Noir flavors which bring fruitiness and acidity up front. Lamb dishes would also work wonderfully.
Iron Horse: You mention Pinot Noirs, ours were recently honored with excellent ratings awarded by Wine Enthusiast. What makes this Iron Horse red stand out?
Charlie Palmer: When people think about Iron Horse - they think about sparkling. But the Pinots have some of the most interesting terrior make-ups. Green Valley Pinot is different from other areas because of its indigenous vegetal overtone which makes them more interesting than some of the bigger fruit bombs from Sonoma Coast and Russian River. They have great depth and finesse that are more Burgundian in style than others you see from California.
Iron Horse: Finally, how do you conclude an Easter or Passover meal?
Charlie Palmer: I'm not big on sweet wines or Ports. More than anything else I like the idea of closing the meal with dessert and sparkling wine, especially fruit desserts. I would recommend poached green peaches with deconstructed crumble and Aureole Cuvee. This has good acidity and effervescence from the sparkling wine in the poaching liquid.

For more information about Charlie Palmer's current projects visit charliepalmer.com. Find shop our full selection of Iron Horse Sparkling Wine on our website.

I had the pleasure of meeting with U.S. Ambassador to China, Max Baucus, and his wife, Melodee Hanes while they were visiting Napa Valley last Friday. Over a sinfully delicious pizza lunch, I joined fellow industry leaders to brainstorm ways to increase California wine exports to China.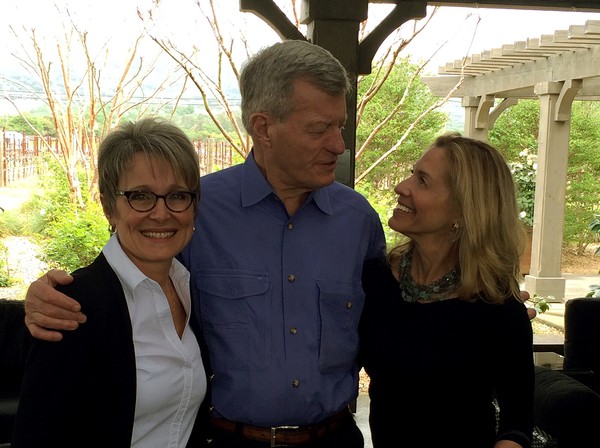 Wine Institute sponsored this roundtable luncheon with exporting vintners active in the China market. I participated as a representative of both Iron Horse Vineyard & Sonoma County and I joined colleagues including Michael Parr representing Wente Family Vineyards and Richard Grey from E&J Gallo. The event was hosted by Delicato Family Vineyards CEO Chris Indelicato, at Black Stallion Winery in Napa.
Our challenge was simple - to

rechart a course towards a successful exporting relationship with China

after austerity campaigns led to a 7% decline in California wine exports in 2014. With

China representing the world's largest red wine drinking nation

, the mission is certainly worthy.
Four next steps emerged from the roundtable discussion:
Build partnerships with tourism boards, i.e. Visit California and Sonoma County Tourism Bureau, to bring more Chinese tourists to wine country.

Pitch strategic partnerships with Disney about featuring California wines when Shanghai Disneyland opens in 2016.

Ambassador Baucus and his wife graciously offered to host a dinner in Beijing featuring California wine and agricultural products in the Fall.

Optimize Wine Institute's education program in China to build awareness of California as home to premium wines.
As a California wine ambassador and family vineyard owner, I am thrilled to be part of restarting these great business relationships. We have extensive experience exporting to China since we launched our trade with the country in 2011 via a special Chinese "Year of the Dragon" Cuvee. The wine was a major hit with buyers and was notably served at a 2012 State Department luncheon honoring then Chinese Vice President Xi Jinping hosted by Hillary Clinton & Joe Biden. We continue to develop special cuvee offerings for our Chinese audience and look forward to increased collaboration with our global Iron Horse Family.
For more information, find the fill Wine Institute press release on 2014 California wine exports here: http://bit.ly/1HstTg9