Iron Horse
Blog

Happy 85th Birthday and Happy Mother's Day to Iron Horse Co-founder Audrey Sterling
My plan was to interview my mother for this blog, but she succinctly declined. So, I decided I would create my own narrative of her storied personal and professional life. Audrey Sterling's varied talents and experiences have built a strong model worthy of exploration (Note - I may not be the most objective of biographers. Find my many declarations of love & admiration for my mother in past Iron Horse blogs here and in a Wine.com feature here, to name a few). So when I take a look at her greatest accomplishments and courageously attempt to celebrate a woman who epitomizes elegance, I find inspiration and lessons learned from life's many crossroads. Take a walk with me down memory lane as I strive to adequately celebrate Audrey Sterling's 85th Birthday ahead of Mother's Day this Sunday.
Naturally, I would love to think that I am her greatest accomplishment. However, I know better. I think her greatest accomplishment is a life beautifully lived - arguably the most coveted goal known to mankind touted by great thinkers and doers from Aristotle to Eleanor Roosevelt (read my mother's bio below).

She looks so regal, but do not be fooled, She is wickedly funny and fun to be with.
The most important turning point in her life gave her an amazing command of strength. She was in a terrible car accident when she was a teenager, injuring her leg to the extent the surgeons didn't think she would walk again. Her tenacity powered her recovery and she overcame, but she has lived with constant pain ever since – not that she ever lets anyone see it.
Her most significant act of rebellion was marrying my father.

My parents epitomize the wisdom that two are better than one. I have seen their relationship dynamics shift back and forth over the years. Sometimes, my father is the stronger of the two; other times, my mother takes the lead. From my observation, that fluid balance is the key to their 64 years of marriage.
Our family lived in France for many years. My mother is the only person I know who has studied each and every gallery in the Louvre, room by room, floor by floor. Her appreciation for great art as well as the art of Mother Nature has formed the core of her personal inspiration as co-founder of our brand.
Iron Horse is famed for my mother's gracious hospitality. I have watched her attention to detail create magical and unforgettable experiences for countless visitors to the vineyard. Her signature style goes beyond the physical, imprinting on the hearts of minds of people as they reflect on a single afternoon with her decades later. Some of her key entertaining tips are:
1. Everyone who comes into our home is an honored guest.
2. Our welcome drink is a glass of bubbly.
3. She always sets a beautiful and engaging table, with the most gorgeous linens and china, collected over decades traveling the world, glimmering wine glasses (of course), fresh flowers, and candles - the whole nine yards. Sometimes it's formal; other times whimsical, but invariably thoughtful to make every occasion special.
4. She never lets couples sit next to other, unless they are newlyweds, so everyone had a chance to meet new people. Her cunning is to mix it up a bit.
For me, it's a point of considerable pride that my mother is a fourth generation Californian and a native San Franciscan. She went to Lowell High School, Mills College and then transferred to Stanford.

My mother is unequivocally a feminist. When she was Fair Employment Practices Commissioner for the State of California (see bio below), there was an issue before the board about the safety of the workers on the Golden Gate Bridge. My mother was the only woman on the board and when she challenged the Bridge Authority, the managers thought she would back down if they asked her to see the conditions for herself, so of course she accepted the dare, went to the top of the bridge - some 750 feet in the air above the traffic, and it was they who backed down.
Our Iron Horse heroine is also an adventurer. There are so many tales to recount - safaris in Africa, Chinese New Year in Hong Kong, sailing the Nile, taking a midnight train from Moscow to St. Petersburg in the early 70s, touring the ruins of Allepo. She never missed a chance to see the exotic contradiction of countries like India which offered both glamor and squalor during her travels in the 1980s. She tells of a "sunset cruise" in a police boat off the coast of Viet Nam and driving to a remote "gem of a temple" outside Angor Wat located inconveniently in a mine field in what was clearly rebel territory in the 90s. Another escapade that jumps to mind, though close to home, is the day we sailed under the Golden Gate on the USS Potomac, FDR's yacht, fighting the wind to get to the bow. I was worried she was going to blow over, but look at the expression on her face!

My mother's birthday is today - Cinco de Mayo. So we always tease her that the entire country of Mexico is having a fiesta for her. Mother's Day is right around the corner, though this is not my mother's favorite holiday. She feels every day is Mother's Day.
Every day I look in the mirror and pray that I will become more like my mother. I love you Mommy. Happy Birthday and Happy Mother's Day … today and every day!
Audrey Sterling Biography:
Audrey Sterling is the grande dame, warm hostess and soothing presence who makes everything naturally elegant at Iron Horse. She is a native-born San Franciscan. After meeting at Stanford University, she married Barry Sterling. Soon a daughter, Joy, and son, Laurence, were born.
In 1963 she accepted an appointment by Governor Edmund "Pat" Brown to serve as a California Fair Employment Practice Commissioner. She spent almost four years working to eliminate discrimination in employment and housing.
The family moved to France in 1967, which sparked the idea of someday living on a vineyard, growing grapes and making wine. The vision was always a "Chateau" model with all estate grown fruit, producing 30,000 cases of wine.
They first saw Iron Horse in a driving rainstorm in 1976. The vineyard development was only partially completed, there was no winery and the 19th century carpenter gothic house was listing dramatically. Nevertheless, after a taste of wines made from Iron Horse grapes, they knew the search was over and a dream began.
Audrey developed and ran Iron Horse while Barry, joining her on long weekends, continued his Southern California law practice for the next 10 years until he completely retired from the law. In those early years, Audrey called Barry her "cash crop" - something every winery needs! Never an idle observer, Audrey did whatever was needed at the bare-bones operation. The Iron Horse vineyard was restored, the winery built, offices established, and a strategic travel offensive for wine promotion launched.
She was an early member of the board of the Sonoma County Wineries Association, chairing the annual Sonoma Showcase for several years. She also served on the boards of the Sonoma-Marin Fair, the Sonoma County Harvest Fair, the Advisory Council for the Sonoma State School of Wine Business and the Advisory Council for the Green Music Center at Sonoma State University. She and Barry were among the founding members of the American Institute of Wine & Food along with Julia Child. When Green Valley became a federally recognized AVA in December 1983 (simultaneously with Russian River Valley becoming an AVA), the name on the application was Audrey M. Sterling. Her attorney of record, Barry H. Sterling.
#####

We believe in the power of special ingredients at Iron Horse. Each bottle is infused with their essence. It is deeply gratifying that friends and family appreciate the intangible draw of our bubbles, Chardonnays and Pinot Noirs. For some, the journey to understanding the Iron Horse mystique ends with enjoying a glass or two. There's certainly no better place to begin and end! But for others, it's intriguing to get to know the truth behind this seemingly effortless deliciousness. With winemaker David Munksgard as a guide, we are delighted to introduce you to some of the wonderful people who are the hands on contributors to our success.

David starts out so many days walking the vineyards as we've frequently chronicled on the blog. But our focus rarely zooms out past him in that moment. Widen the frame of that morning scene and you see the vineyard team hard at work, including Vineyard Foreman Manuel Briano kneeling in front of the vines with a young protege at his side - a learning moment while shoot trimming , carefully removing unwanted growth from the vine with a decisive nudge of the thumb. Their genuine interest is written all over their faces.

The Vineyard Team, which reports to Laurence Sterling, is an integral part of our magic. Some might call them "behind the scenes," but as David explains and all of us know, "they are front and center and the foundation upon which growth happens." We rely on team members like Manuel, to bring natural coaching skills into play. Manuel was a talented amateur baseball player whose team spirit extends into the vineyards.

Many on Team Iron Horse were farmers in their native country of Mexico where they gained an innate understanding of agriculture and love of the land. They work hard, tinker until something's fixed and draw upon wisdom from within. As David shares, "they really care and take great pride in what they do." This is undeniably evident in the work of Jose Puga who is the Grounds Manager reporting to Chief Gardener Barry Sterling. He keeps Iron Horse looking so beautiful and maintenance efforts are massive. Besides the signature flower, fruit, and vegetable gardens, Iron Horse is a 260 acre reserve and grounds like these demand constant attention. It's second nature for Jose who started working with Barry Sterling when he was just 17 years old (Note: Jose Pugo and Manuel Briano also run the frost protection system which we referenced in our Spring 2016 Vineyard Update Blog - photo of the system at the close of the blog).

David was particularly moved by the all-for-one ethic of the winery crew during his 20th anniversary celebrations at Iron Horse. It was then that he realized the true value of "extended family". We simply can't do this without them. I understand their skill sets and appreciate how fortunate we are. It almost made me embarrassed to be recognized in front of them." Many on his team have been with Iron Horse for decades, some since the beginning, "We probably have the most experienced riddler in North America. Jose Luis Briano (Manuel's brother) has been here since 1984, which is a testament to both him and to Iron Horse."
Cellar Master Rigoberto Moreno Rojas aka Rigo (below), a veteran of 28 vintages here, was the first to shake David's hand when he started at Iron Horse. David calls him The General. "Rigo and I talk about what we want to accomplish and he'll step in to explain, why we can't physically do that but THIS is what we can do and then he makes it happen. The Cellar Master is a key player in every winery and someone to be taken very seriously. It is a coveted position. He or she has to know absolutely everything about the winery. And we are in excellent hands with ours."

To continue raising the bar, requires ever more meticulous, rigorous, detailed work in the vineyard and the cellars. It's getting harder each year for Vineyard Manager Victor Arreola to recruit and keep the highly trained and dedicated people we need. Young farmers are becoming more rare. And there's a concern that the knowledge is not passing passed on.
"This is such a talented crew and I absolutely love these people," says David. It's an honor to see them with their families and taking so much joy in what they do. It seems like the light is always shining on them."

His closing remarks are the inspiration for the spirit of this grateful blog post. "There's something about this place that gets me. Iron Horse has allowed me to live my dreams and convey the beauty of the place. And these are the people who will just do anything we ask to make it happen. They are the ingredient X in our wines.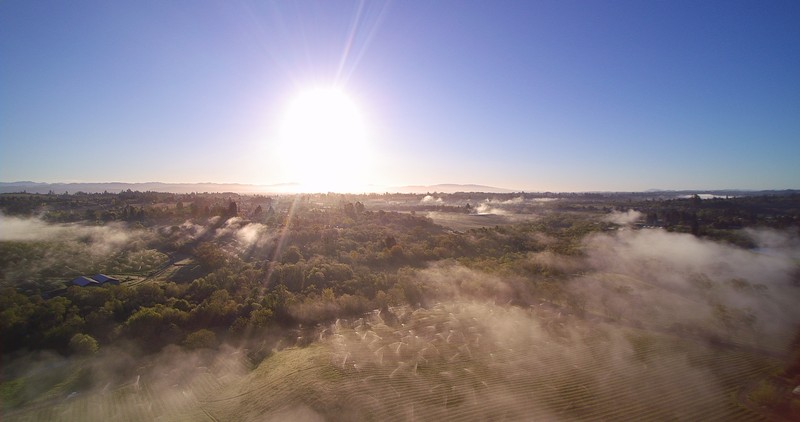 The vineyards look gorgeous. It is raining pink petals at my house from wild climbing roses some 30 feet high, giving new meaning to April showers.

The poppies around the Tasting Room hold special meaning. I remember casting wild flower seeds on walks with my father that first spring after my parents purchased Iron Horse in 1976.
There is no doubt in my mind that the beauty of the estate is very much part of our terroir. In fact, better than words or pictures, the wines capture it best.

I am very proud that our 2013 crop of Pinots received 94 to 90 point reviews in Wine Enthusiast:
94 Points - 2013 Deer Gate
94 Points - 2013 Winery Block
93 Points - 2013 Home Block
93 Points - 2013 Thomas Road
92 Points - 2013 Estate Pinot Noir
90 Points - 2013 "Q"
Thinking ever so slightly ahead, I hope you are properly provisioned for April 22, which promises to be the most celebrated day on the planet. It is Earth Day, the first night of Passover, a full moon AND a Friday. The day miraculously spans an amazing range of subjects we care about deeply.
Earth Day is an international holiday with billions of participants, and one of my favorite celebrations. For newbies to green Iron Horse festivities, see coverage of past celebrations here.
Earth Day 2016 will be one to remember on a global scale. President Barack Obama and Chinese President Xi Jinping have agreed to sign the Paris Climate Accord at an official ceremony at the United Nations in New York on April 22.


How fitting to toast with our vintage Ocean Reserve Blanc de Blancs. The special edition Sparkling was created in partnership with National Geographic to help establish marine protected areas and support sustainable fishing. $4 per bottle sold goes to National Geographic's Ocean Initiative.
Turning to Passover, we acknowledge the central role wine plays throughout the evening where it is required four times during the Seder. For those of you who still think Manischewitz is de rigeur, my family traditionally serves Pinot Noir. The blessing over the "fruit of the vine" is one we all know by heart. There's a chalice for the prophet Elijah, plus the 10 teaspoons of wine we each spill out of our glasses into a saucer as a sacrifice to ward off the 10 biblical plagues that God inflicted on Egypt to secure the release of the Israelites from slavery as explained in the Book of Exodus.

I think we can all agree these are calamities ... though we did pray for flooding during the harshest points of the California drought :
The Nile turning to blood
Infestation of frogs
Lice
Flies
Death of livestock
Boils
Thunder & hail
Locusts
Darkness
Smiting of the first born
Pharaoh capitulated after the tenth plague, and then changed his mind, portrayed to the utmost of your imagination in Cecil B. DeMille's Ten Commandments with Charlton Heston as Moses in one of the greatest moments in movie history.
This is my third year hosting Passover at my house. I will borrow my father's annotated Haggadah, a silver chalice from my grandmother that we fill with wine for Elijah, and a blue velvet matzo cover embroidered by my great grandmother when she was eight years old, shortly after sailing to America from Odessa.
In a break with tradition, I am planning on serving Russian Cuvee. Bubbles will pair beautifully with classic Passover dishes like smoked salmon, matzo ball soup, potato latkes with crème fraiche and apple sauce, fried artichokes … even brisket. After all, Passover is a celebration – a celebration of freedom against oppression. And I feel Elijah will enjoy bubbly for a change.
The night will not conclude before celebrating the full moon – the pink moon, to be exact. Nothing befits a full moon like bubbles. And a "pink moon" naturally calls for a gorgeous pale rosé like our Wedding Cuvée. This is the most romantic of our Sparklings, the one we are best known for. I describe it as dangerously easy to drink.

I am a major advocate of toasting the full moon. It unites us.
So, to recap, we will be raising a glass for Earth Day, at least four for Passover, culminating with a late night toast to the full moon.


With so much to celebrate, I just hope none of us will have to wake up too early on the 23rd.
Every morning, our winemaker David Munksgard takes a purposeful walk through the vineyards. After yesterday's sunrise rounds, I gave him a cross country call to get a snapshot of conditions at Iron Horse going into the Spring Equinox this Sunday. When I hung up, I could almost feel that early morning chill from my office in sun drenched Miami.

"It was very foggy but it burned off early. We're going to hit the 70s today." This year, seasonal updates come with an understandable preoccupation with water following the four year long drought. Spring 2016 is finally here with signs of El Nino's positive (mostly) benevolent role.
David continued with a report that the

reservoir on the estate is full

. "It's a happy thing." He went on to explain that soil wise, all of our vineyards are saturated or at "field capacity." Should rain continue next week, run off will start feeding the aquifers. The California water czar says we're still technically in a drought and we'll continue water rationing despite these high rain levels. David added, "We just forgot what normal looked like." But very importantly, there are

no vines in standing water

- one of the great benefits of having our vineyards on gentle rolling hills as vine just don't like wet feet. There are unusual areas of standing water in the floodplain, but none in planted areas and no erosion thanks to Laurence Sterling's work to fortify ground cover.

Above - the happy full pond. Below - drone eyes on the flooding.

The full pond is critical for frost protection. The vines have woken up as you see in the photos
sprinkled throughout the blog. During this phase and this time of year, temperatures can easily slip into freezing range in the late night or early morning. To protect the new buds, we pump precious water from the reservoir through underground pipes up and down the hills to six foot tall sprinklers strategically positioned throughout the vineyard.

As soon as the temperature drops into the danger zone, alarms go off at the homes of two of our foremen, who in the dark and cold of night, prime the pumps and turn on the sprinklers to create a protective igloo-like effect around the buds. Our two heroes, Jose Puga and Manuel Briano, then stay up well past sunrise to monitor the situation until we are certain it is warm enough to turn off the water.


The coldest parts of the vineyard are in the low lying areas. As David explains, cold air falls and runs like a river down our hills, "puddling" in lower parts of the estate.
For the next two weeks, almost all of David's cellar crew will be pruning with the vineyard team. "We do this every year to help get caught up. This is an early year - another early year, he says. And no one gets to wear just one hat at Iron Horse.

Leaving David to his morning routine, I sync up with Iron Horse CEO Joy Sterling. She is engaged in a number of community environmental action groups and a fountain of knowledge on the topic of the drought. For many reasons, Joy eats/sleeps/breathes updates on the slow recovery (my pet theory is that she has about a thousand different google alerts and may sleep a mere two hours per night). At the March 3rd California Department of Food and Agriculture Board Meeting, she was particularly downcast after a dour presentation by the State Water Board. February was so dry, the Headlines in the Sacramento Bee and the San Francisco Chronicle condemned El Nino for being a dud. Then came the March Miracle.
On the evening of March 5, El Nino rode in fast and furious on 40 mph winds. By Sunday morning, the bridge was flooded, blocking the front entrance of Iron Horse for two days, "I'm proud to say we still had a dozen intrepid guests who made the trek around the back road, showing yet again that bubbles make a rainy day better."

Joy explains that as far as she's concerned, winter can now gently yield to spring. She confesses she grew tired of the rain, no matter how much we need it. She also noted how technology has changed the experience of a natural event. Social media lets us tell people if we're opened or closed and how to navigate the back roads. David's drone shows us views of the flooding we have never seen before. "I was most taken by aerials of this very impressive, wide swath of water rushing down what's normally a road … but the vineyards completely in the clear," she says. As David explains, vines can actually suffocate in standing water.

As of today, water levels are at 95% of average which we haven't seen in four years. The next snowpack report is April 1, and Joy predicts it will be excellent, "Snow in the mountains is our best form of water storage."
More encouraging news came in today from a great friend of Iron Horse, and one of Joy's key sources, Phil Grosse, who helps keep us up to date on all things water related - this time with an Los Angeles Times article with the heartening headline: "Dramatic images show El Nino beginning to rescue California from its drought."



The piece concedes it is still too early to declare the drought over, especially since the rains have been concentrated in Northern California. But even a good dent is great! We don't need to resolve four years of drought in one month. A dent seems perfectly fine.
The imagery of progress is a beautiful thing. The spring tidings are more hopeful than ever at Iron Horse.


The allure of buried treasure beguiles us as children. We trudge through our backyards guided by maps which point us to the spot marked X. Ah! The excitement of discovering something hidden.
This is an experience which eludes most of us as adults. That was, until our cellar master discovered a cache of long forgotten, unlabeled magnums of Sparkling Wine from various vintages going back 10-15 years. A treasure trove of beautifully aged bubbly - 30 cases of this, 40 cases of that, from seven vintages and 13 different base wines. The first vintage of Joy! was a 1991, which we released in spring of 2007.
Today, the Joy! project is in full bloom. The new release, vintage 2003, makes its debut Friday, March 18th (details about Release Day Joy! at the vineyard here). Shop it here.

To sip this wine is to experience the magic of 12 years aging in contact with the yeast before disgorging. As winemaker David Munksgard explains, it takes a full 12 years for the wine's alcohol and acid to have the time to dissolve the goodness inside the yeast's mitochondria (break out those biology textbooks!). Once released, those "goodies" (amino acids, proteins, and fatty acids) achieve two things, both hallmarks of truly beautiful bubbles. They contribute to the umami experience and the fatty acids coat the bubbles which making the perfect, pin point, tiny orbs that accumulate at the surface of the glass creating a "foam cap" or crown. The result is an especially creamy texture and nutty, brioche aromas.
I wish I could say that we planned Joy!, but I do feel it is to our credit that we hold onto these magnums for so long. As everyone in business knows, the most expensive thing you can do is hold onto inventory.
There is no doubt in my mind that longer aging is the key to creating the greatest California Sparklings, second only to vineyard site. The longer the time en tirage, the smaller the bubbles, leading to richer, creamier and more elegant wine. Top quality bubbly is so much about texture, which can only come from extended time on the lees. When you are drinking a tete de cuvee, like Joy!, you should not even have to swallow. It should just effervesce away in your mouth. (See our blog post on The Science behind the Magic, October 2015).
David says that he doesn't know of any other California producers nor many French houses making this kind of time investment. (Maybe we should change the name of the wine to Patience?) That said, we urge you to be completely spontaneous in drinking Joy! We've already held onto to it long enough and David is always quick to remind us that even the most special wines are not made to be revered, but shared and enjoyed.

Here are his tasting notes:
"By nose, yeast and toasted hazelnut lead the way to grapefruit and baked apple scents with a hint of ginger. By mouth, your first impression is more sensual than taste. Full, rich and yet youthful and bright all at once. The most perfect lemon curd; creamy richness with freshness and bright finish. It is lush and refined like a silky ribbon."
How can you resist?


It has been four long, thirsty years since we have had any Joy! to share. That was the 1999 vintage, which won a near perfect 98 point score in Wine Enthusiast, 93 Points from Robert Parker and 93 points from Wine & Spirits.
The reviews were spectacular:
"Graceful and refined, with crisp apple and yeasty lemon aromas that lead to complex flavors of toasted almond, ginger and spicy mineral. Finishes with pinpoint crispness."
"Drink now!"
"Light gold in the glass with aromas of wet stones, lemon, and roasted nuts, this wine tastes of bright apple, lemon, buttered toast, long finish. Wonderful acidity. One of the finest made in California"
"A deft blend of richness and delicacy, offering mature aromas of spiced apple, almond and cinnamon, with opulent flavors of toasty crème brûlée, laced with notes of mineral and ginger. Great length."
We were greatly honored when it was served to the Queen of England at a State Dinner at the Ambassador's residence in London, Winfield House, in 2011.
Fortunately, the four year "drought" has been worth the wait! The current release is 70% Pinot Noir and 30% Chardonnay. The disgorging date (day/month/year) is on the back of each bottle.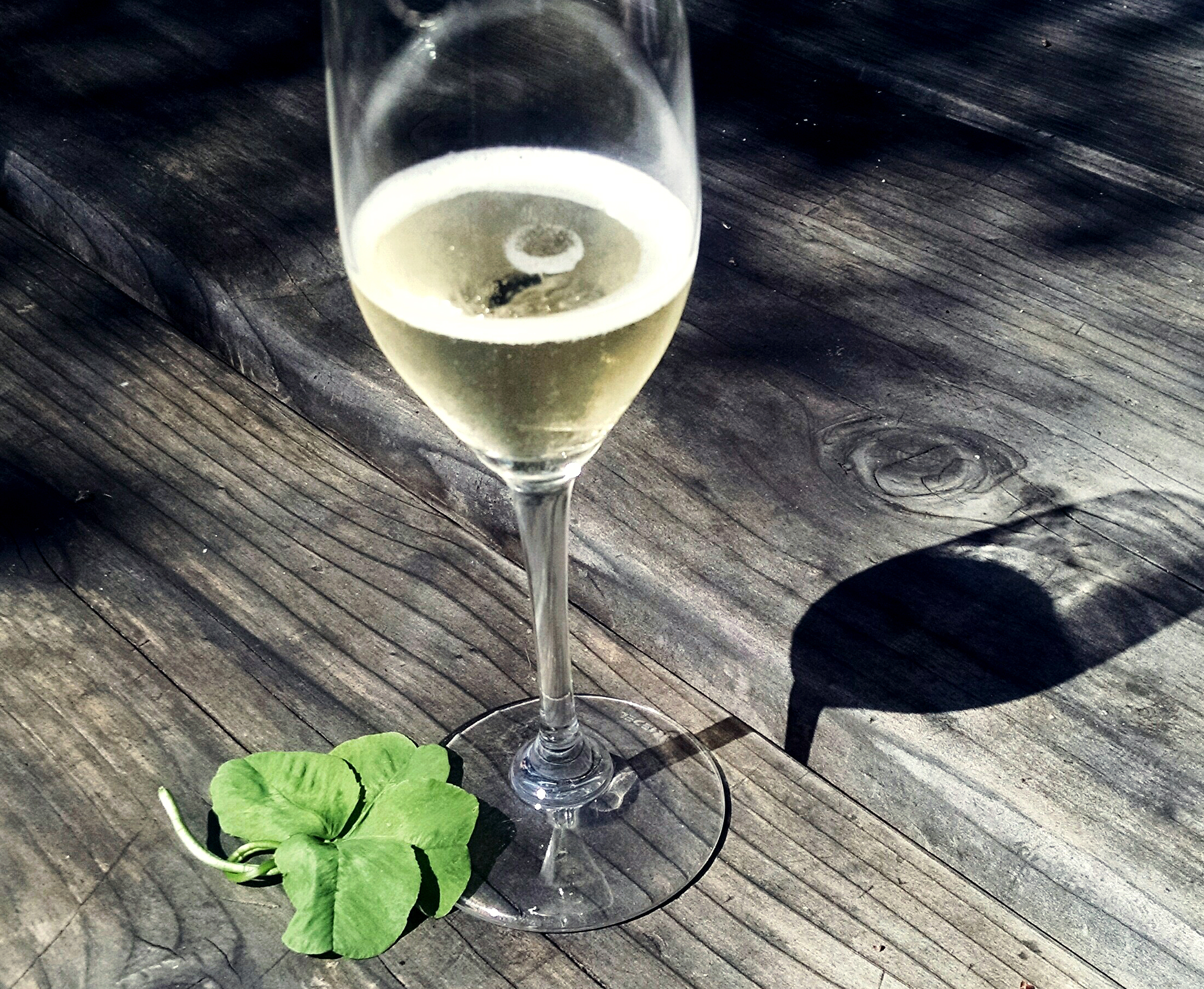 Spring forth and enjoy!

Never missing a reason to celebrate, today I raise a glass to International Women's Day. #IWD2016. The theme this year is parity: 50-50 by 2030, which inspired internet sleuthing to ascertain how the wine world (and agriculture generally) is fairing vis a vis parity.

we've come a long way baby!
Most visible are the women whose names are on the bottle: Gina Gallo, Delia Viader, Merry Edwards, Kathleen Heitz Myers, Marimar Torres (Marimar Estate), Katherine Hall, Beth Nichols (Far Niente), Beth Novak Milliken (Spottswood), yours truly (Iron Horse), Cristina Mariani-May (Castello Banfi), and most famous of all, Barbe-Nicole Clicquot (biography of the Veuve Clicquot is a must read).
A recent Women Winemakers of California study called "How Many Women" shows that 29% of the lead winemakers in Napa are women, but statewide, the average is just 9.8%. There's clearly room for growth.

Barrie Sterling in the vineyards - Vintage 2014
We can point to some key pioneers who may help the global community reach a glorious tipping point of parity. For example, the most powerful wine buyer on the planet is a woman. Annette Alvarez-Peters is responsible for more than $1 billion worth in wine sales every year in over 300 Costco stores across the country. Costco is the sixth largest retailer in the US and number seven in the world.
We are fabulously wealthy in women wine writers and influencers - Esther Mobley of San Francisco Chronicle, Virginie Boone of Wine Enthusiast, Peg Melnick and Michelle Anna Jordan of The Press Democrat, radio personality Ziggy Eschliman, TV star Leslie Sbrocco, Karen MacNeil author of the Wine Bible, Sarah Schneider of Sunset Magazine, Adrienne Shubin, The Rich Life (On a Budget) blogger, Jo Diaz and Twitter stars Amy Lieberfarb, #SonomaChat, Nannette Eaton, @Wine Harlots and our very own social media maven Shana Ray Bull ... to name just a few locally based here in Northern California.
The growing stature of women in wine is a no brainer for many reasons. Selling wine is a natural fit as it is fundamentally a relationship business. There is a long and marvelous history of women at the forefront, like the aforementioned Veuve Clicquot. An additional advantage is that women naturally are better tasters because we are generally endowed with more taste buds then men. Can't argue with the science. (http://www.nataliemaclean.com/blog/women-wine-tasting/)

Pinot Harvest
One area where we are weak is at the upper echelon of the major wine and spirits distribution companies. As big as they are, they are also family businesses, which puts an interesting slant on the question of why there isn't a woman of my generation running any one of them. Where are the daughters and the granddaughters? I guess they don't want to, which perhaps says something about the distribution end of the business.
Vineyard and cellar work are physically demanding, but no harder than being a firefighter. In the vineyards, 25% of the workers are women. My parents recall that many of the harvest crews they hired in the '70s included women, often young mothers who brought their little children to work. In fact, my mother set up an ad-hoc daycare, hiring our foreman's teenage daughter to watch over the children and read to them in English.
Today's vineyard workers are a different generation. Rightly so, the pay scale is rising and will continue to rise to ensure we have qualified, highly trained teams to bring our products literally to fruition. The demanding nature of this work in no way discriminates against women, especially in the judgement and professionalism required to bring in the best grapes.
My personal experience is atypical in that I am without doubt the luckiest person walking. Just read my bio. I have had every conceivable advantage. As I always say, the first smartest thing I ever did was pick my parents. But I feel very strongly that the wine and food world along with agriculture in general ARE and SHOULD BE very attractive for women.

My advice to young women entering the wine world is to start in a winery tasting room, wine retail store, or a country club, golf club or yacht club. Constantly put yourself in a position to be tasting new, exciting and diverse wines. Join or create a tasting group. I strongly support the Sommelier Guild primarily because of their commitment to mentorship.
For additional perspective, we reflected on this day with three women I admire: Karen Ross, California State Secretary of Agriculture, Helene Dillard, Dean of the College of Agriculture and Environmental Sciences at UC Davis, Anita Cook Motard, who (full disclosure) heads Strategic Account Sales for our Texas distributor, Glazer's Wholesale Co and serves on the advisory board for Women of the Vine, each recently interviewed by our ace blogger Tarin Teno. These women are leaders who have accomplished great success. Their end goals are diverse, but the common theme in each interview is the importance of a network.

Three Cheers for our Three Interviewees!
*****
Karen Ross, California State Secretary of Agriculture
Tell us a bit about your professional path to this point: I grew up on a farm in Nebraska and spent my early years fighting my place in agribusiness. But as an adult, each job I took brought me back closer to that world (Note: prior to Secretary Ross' appointment to the California Department of Food and Agriculture, she was chief of staff for US Agriculture Secretary Tom Vilsack and also served as President of the California Association of Winegrape Growers from 1996-2009). It all came full circle when I was able to buy out my dad's share of our farm. There's a connectivity to nature that you can't deny, it reflects the seasons of our lives and the lessons of hard work.
Who is your role model?: My dad was the most influential force in my life. He was all about positive thinking and instilled the belief that you can achieve anything you want. He was raised by a strong female, my grandmother, who ran the business on the farm in his childhood years.
Give us a snapshot of where we are in the parity struggle from where you sit: Today, the vast majority of people working on agricultural matters in Sacramento are women. I surmise that this over 50% skew has to do with women deftly grasping the issues and having strong communication skills. But while there has been a large transformation in the group working as advocates in the capital, the legislative body has changed more slowly. The elected bodies are still not 50-50 despite the fact that Governor Brown's governing body is quite diverse.
What is your proudest accomplishment to date?: The creation of the California Sustainable Wine Growing Program. We brought the wine community together and set the tone for other farming communities like the almond growers. I'm also proud to have been part of children's wellness initiatives, particularly the Let's Move partnership with the First Lady.
What woman (in any field, in history or thriving today) do you most admire?: It would be really easy for me to say Mother Theresa because of the compassion with which she lived.. I believe in a principle which drove her - if we don't take care of the weakest link in our chain, we will have nothing.
What advice do you have for young women who are interested in food, wine and agriculture?: I get to spend a lot of time with young people n high school and college across the state. I see so many women getting involved, there is definitely a renaissance of interest at the intersection of agriculture, food, and the environment. I encourage this injection of energy, which is at our foundation. Agriculture has always been innovative; the wine industry is a great example of that. This new generation, of women and men, have a passion for a larger mission of being connected to our natural resources and producing what humanity needs as our populations expand. I tell them to explore their interests; You just have to be willing to work hard.
******
Helene Dillard, Dean of the College of Agriculture and Environmental Sciences at UC Davis
Tell us a bit about your professional path to this point: I grew up in California, born and raised in San Francisco. At an early age - I knew I wanted to be a biologist but wasn't able to pinpoint what I wanted to do within that. So I went to UC Berkeley as an undergrad and majored in biology of natural resources where I gravitated towards agriculture. It was in a Ph.D. program at UC Davis that I found my passion in soil and plant pathology (and a Ph.D. to add to her M.S. degree in soil science). I was fortunate to land a professorial job at Cornell. I had a 50% research and 50% extension assignment and kept very busy with the plant diseases in the North East for 30 years. I was chosen for many leadership positions during my time there and before I knew it, I was recruited for the position of Dean of the College of Agricultural and Environmental Sciences at UC Davis in January 2014.
Who is your role model?: I owe my success to my parents who identified my childhood interest in science. I received things like chemistry sets at Christmas. Though my parents weren't traditionally wealthy, they were rich in understanding and they pushed to foster my early proclivities. I remember looking through that first microscope at onion skins and being captivated.
Give us a snapshot of where we are in the parity struggle from where you sit: UC Davis is a premier branch of the California State University System. The average grade for incoming freshman last fall was 4.0. There are four undergraduate colleges. The College of Agriculture has an enrollment of 7,000 students - 69% are female … and we are growing. The trend is quite interesting and I often wonder what was the tipping point.. It's something that we're looking to evaluate with more data points. As educators, we're also interested in maintaining a balance as is important in any ecosystem. We want to make sure that we're nurturing young men as well as low income, first generation, and minority students. I'm proud to say we're doing well with that last contingent. 50% of UC Davis students receive financial aid.
What advice do you have for young women who are interested in food, wine and agriculture?: Today at UC Davis, the competitive pressure is intense. As Dean, one of the things I do at orientation is encourage kids to enjoy their education and learn about what experiences to prioritize. It's more important to get to the finish line and be able to contribute to the world than submitting to an A+ obsession. (We tell their parents the same thing!)
******
Anita Cook Motard, Strategic Accounts, Glazer's Wholesale Co., Women of the Vine Advisory Board, Founder CHEERS
Tell us a bit about your professional path to this point: I started with Glazers as a spirits sales rep but quickly moved to wine which I deemed to be more "safe" for a woman and required fewer late nights. After four years in that role, I was promoted to sales team manager which created mixed emotions for me. Few women had occupied that position and I was nervous about overseeing friends. I took the job but had no one to guide me. I was on my own, working my way up through management.
Who is your role model?: I sadly can't point to an influential woman who impacted my career. There are some men, bosses who directed me professionally, but women in high up roles just didn't exist.
Give us a snapshot of where we are in the parity struggle from where you sit: I feel very strongly about the importance of mentorship in early career moments, and have taken a leadership role for women's causes internally at Glazer's. I spoke with our Senior Vice President of Human Resources about starting a women's group with a mission to champion diversity and inclusion. And from that conversation, CHEERS was founded. CHEERS joins a number of business resource groups within the company and is focused on connecting hardworking women while empowering them to educate, respect, and support each other. We host panel discussions with major influencers and are looking to formalize the mentoring program by this time next year. It's our top priority.
What advice do you have for young women who are interested in food, wine and agriculture?: The industry was in a different place when I was building my career. I encourage women to connect and support each other through informal check-ins whether it involves lunch dates or bubbles. As a woman in a leadership role, it's my responsibility to fill the void and encourage women who have the will to work their way through the ranks.

And so, a toast on this International Women's Day, March 8, 2016 - ideally with Iron Horse 2011 Brut X (for the X chromosome!), honoring the pioneering spirit of the women who have made significant inroads for future generations, celebrating progress and cheering the continued momentum to achieve parity. It's our responsibility, and joy, to be part of the movement.


#####

Leap Day is upon us. For members of the Leap Year Baby Society, this extra day is an existential threat to annual birthday celebrations. To all those born on February 29, we toast and thank you for restoring balance to our seasons.
For us, balance is key … in wine as in nature. In that ongoing pursuit, Iron Horse Ranch & Vineyards General Manager Laurence Sterling is engaged in restoring Green Valley Creek, which bisects the Estate. As you'll read in his recap below, there has been a "leap forward" thanks to a rich pool of experts. Because of this commitment to balance and conservation, we find ourselves the happy beneficiaries of one of Mother Nature's sweetest gifts. Our open windows at night bring in the enchanting chorus of singing frogs living in "harmony" along the creek.

@CASeaGrant
For a number of years The California Department of Fish and Wildlife and the National Marine Fisheries Service have been engaged in a complex effort to restore Coho Salmon and Steelhead Trout in the Russian River and its tributaries, including Green Valley Creek that runs through Iron Horse. Their plan has been to recover, recover, hatch and release thousands of carefully selected fish, many of which were released at our bridge. But, as Kermit the Frog pointed out so presciently, "it's not easy being green." Obviously the drought, which is far from over, hasn't helped. Another problem has been decades of human interference with the riparian habitat, some good and some not so good.
Pic from April 15, 2015 @CASeaGrant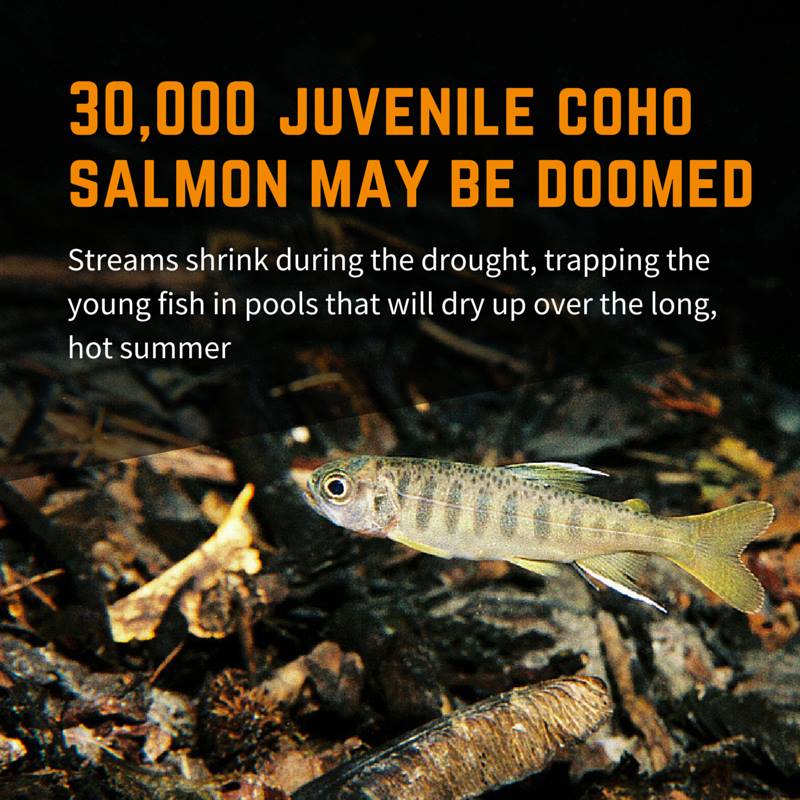 In 2014 a senior biologist from California Department of Fish and Wildlife came by with some aides. They had been going through old files and found a picture of a dam on the creek that might be interfering with the fishes' migration and asked if they could look for it. They found a dam. Not the same one as in the picture, but nonetheless a significant impediment. Our vineyard team was able to get it raised, which has helped, but it is still a problem and has to be removed.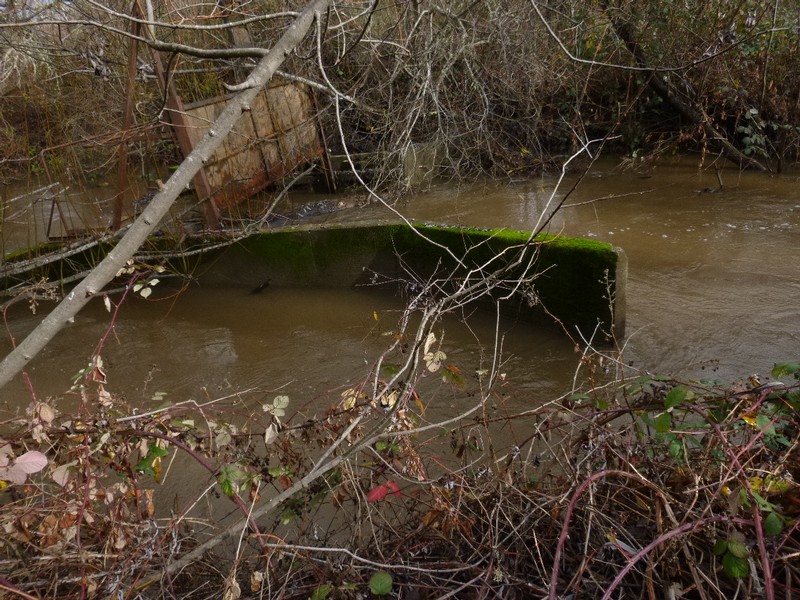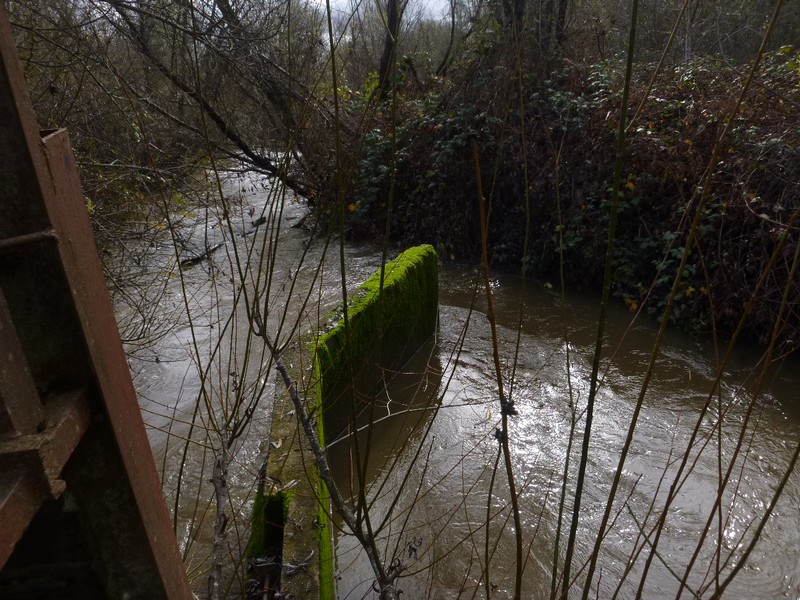 The next problem is what happens when it does rain. When the flows are too fast the juvenile fish can often be swept out to the river and then eaten by the Sea Bass. So we've now met with a number of CDFW and the Gold Ridge Resources Conservation District biologists, engineers, project managers and even a Johns Hopkins trained Senior Fluvial Geo-morphologist (she studies how rivers and creeks change and can be changed) to begin a four to five year plan, starting with removal of the dam and then progressing with the creation of an off-channel fish habitat in our floodplain. The goals are to make it easier for the fish to pass through Iron Horse on their way up and down the creek, and to improve their chances of surviving. Execution isn't easy, but if successful we may also be able to harness some of the seasonal flooding, which now is simply wasted water.

@CASeaGrant
The next project is to see if we can restore an old storage pond once known as Duck Lake (a bit of an exaggeration) which is now overgrown with willows and other vegetation for possible storm water storage to feed various pools in the summer and keep the water temperature cool enough for the health of the fish.
Our hope is to go beyond being 'fish friendly.' We can't return the creek to what it was before the Gold Rush. There are too many roads, bridges, culverts, artificial lakes and reservoirs to think we'll be able to go back to some golden age. But with proper aforethought, design, and execution; it may be that not too long from now our creek will be vibrant and alive.

@CASeaGrant
For more information about the University of California SeaGrant monitoring program, check out their webpage here. You'll find an in depth explanation of their scientific methodology including information on the PIT tag technology which allows us to so carefully monitor the return of adult fish in the Russian River basin. Scroll to the bottom of the page for an archive of of related news pieces on this topic which ran in the Press Democrat in years past. This collection of news stories effectively establishes the chronology of the problem as well as the strategies employed to address it. Please reach out for ways you can help. And, Happy Leap Day!
There's so much to love at Iron Horse this month. Our Valentine's Day Blog expounded on perfect food and wine pairings and today we're honoring another pairing that's near and dear to our hearts as the marriage of Winemaker David Munksgard and Iron Horse Vineyards marks its 20th anniversary.
The match was brokered by Iron Horse co-founder Barry Sterling all those years ago and ushered in an era of perpetual momentum at Iron Horse. David remembers it as a moment of kismet. And the magic continues.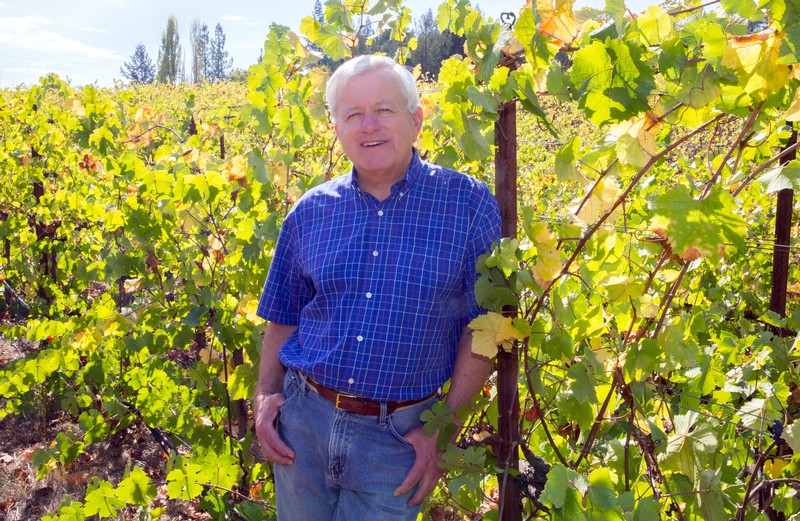 Two decades in one role is a rarity. But for David, it hasn't eliminated the element of freshness. "In many way, it's like I just got here," he says. "With each vintage, the excitement of taking on something new and all the challenges that come with a new adventure are still energizing."
The key is his continued curiosity. David has more questions now than he did in his first year of making sparkling wines in 1982 at Chateau St. Jean. His track record of excellence is linked to his humility and his openness to new and improved methodologies.
When asked about his proudest Iron Horse moment, he didn't hesitate. He immediately reflected on this past harvest, which presented challenges he'd never before encountered. Find the complete 2015 fall harvest recap blog here. David fought for every grape this year with Laurence's support and the vineyard team's dedication. "I don't know of another winery that could have pulled something like that off. It goes back to being an Estate Winery. The word "Estate" means you can pull off extraordinary efforts when a vintage isn't delivered to you with a ribbon on it."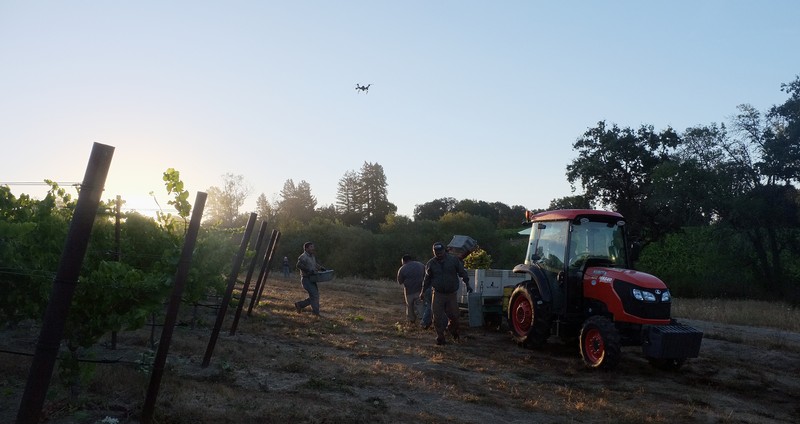 David has a very romantic connection to his craft and he loves interacting with fans in our Tasting Room who gush over stories of engagements and marriages that have been celebrated with bottles of Iron Horse. "Wine is incredibly romantic. So much poetry has been written about wine and I understand why."
So, as we celebrate David, we take a moment to celebrate this gracious gentleman whose work is an exercise in balance, finesse and elegant restraint."Winemaking is all about tiny, nuanced differences," he says.
On David's first day, he promised Joy that every vintage would be better than the last. And he has been true to his word. When I asked him about his favorite vintage, he didn't dare chose one. "I don't live in the past, but in the future. I'm always most excited about the wines we haven't bottled yet. I have a lot of plans for the next harvest."

David has just completed assembling the 2015 blends. There's a special excitement around the 2015 Winery Block Pinot Noir and how the wine from that Single Vineyard on the Estate has evolved as the vines themselves mature.
He is also in the midst of disgorging 2003 Joy! A project which has occupied David's imagination for years. The new vintage gets released March 17 (event details are here).

Please join us in raising a flute to David and drink in the passion that he infuses into each bottle. "For those of us fortunate enough to be making wine, it is not that we should be winemakers, we simply MUST be winemakers. Nothing else will satisfy that need to craft; to imprint onto and into our wines what we feel and see when we walk the vineyard and dream of what it might be."


Lucky us!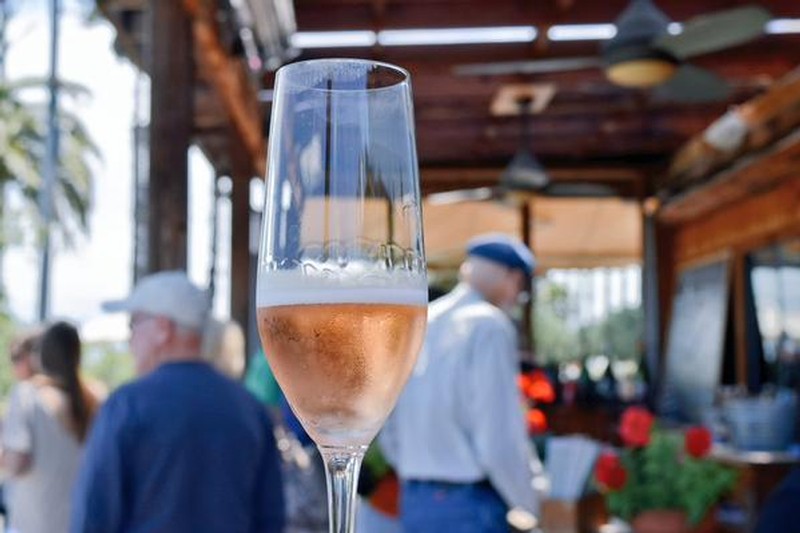 When something is meant to be, it comes easily. Effortless, perfect pairings are on our mind this Valentine's Day. Since matching people is decidedly more challenging than picking the ideal Iron Horse bottle for a magical moment - say a sip of sparkling with a sumptuous bite, we're taking on the latter in a display of our affection for you. So, as you embark upon the all-consuming act of kindling love new or tried and true this Valentine's Day, Iron Horse & our team of expert friends are here to provide fuel for your sensory expression of devotion.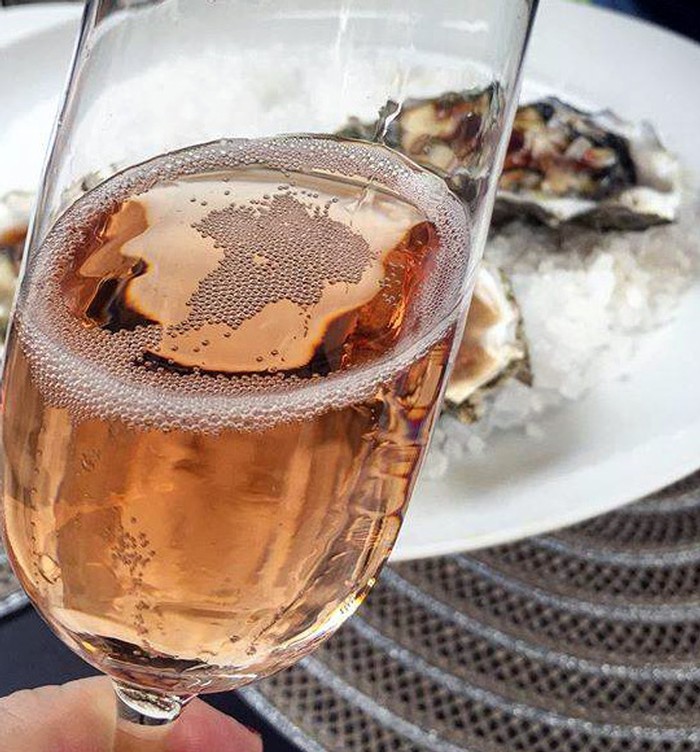 Leslie Sbrocco, co-founder of WineToday.com was nothing short of poetic when we called her up to chat about the topic. The expert whose resume includes a James Beard Award, three Emmy's and three Taste Awards, was travelling to a Today Show segment touting Valentine's wine menu suggestions when she told us, "It's very easy to fall in love with Iron Horse wines that's for sure." From there we were off to the races., " I'm sure many a romance has been started and nurtured over bottles of Iron Horse bubbles." When Leslie thinks of this holiday, she always thinks about bubbles first, specifically rosé bubbly. (In fact, our expert has honored her love of rosé bubbles with a tattoo!).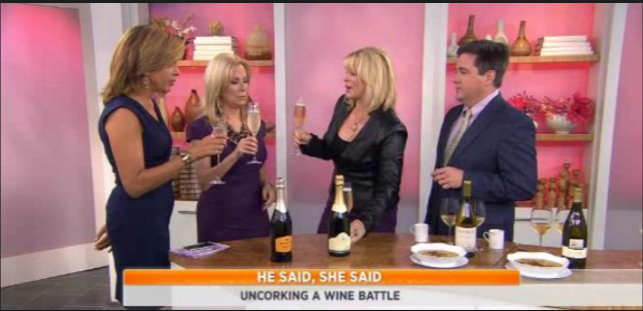 Leslie says she would start her evening with our 2008 Brut Rose, which is bold and exciting and surprisingly dry. In terms of food pairings, she is a big fan of potato chips and popcorn. "I recommend styling a playful popcorn bar. Pop up your favorite popcorn and pour on truffle oil with sea salt and cracked pepper. This goes beautifully with the Rose or the 2012 Wedding Cuvee. If you want spicy, add peanut oil and paprika. I've even tried Espelette peppers from my recent trip to Basque country." An enticing, spicy spread to woo your lover.
When Leslie thinks in terms of preparing a main course, the Iron Horse UnOaked Chardonnay (lovingly described as "naked chardonnay") is a very easy match for food. Our winemaker agrees. In fact, David's affinity for this new vintage feels a lot like new love. Anyone who goes to visit him after a trip to our tasting room has heard him describe the 2014 production as our best ever. Leslie advises something as simple as picking up a whole roast chicken at the market and preparing a quick and easy Dijon sauce as an accompaniment. You won't break a sweat…. until you want to of course!
And chocolate. There must be chocolate! How can one avoid its allure?? Leslie certainly goes in for the kill when guiding this denouement to the Valentine's Day experience. "Iron Horse's 2012 Estate Pinot Noir pairs with darker chocolate because it's fruity and not overly tanic, a role taken care of bythe chocolate." She suggests a more bittersweet style with higher cacao concentration. She would personally select our Rose which can hold up against this richness. A creative pairing on her recent trip to Sydney led to her final dessert suggestion. "Everyone knows about chocolate dipped strawberries during this season. But I recently had seedless red and green grapes coated in dark chocolate and white respectively. The green grapes with white chocolate goes extremely well with Chardonnay." Go ahead, be bold!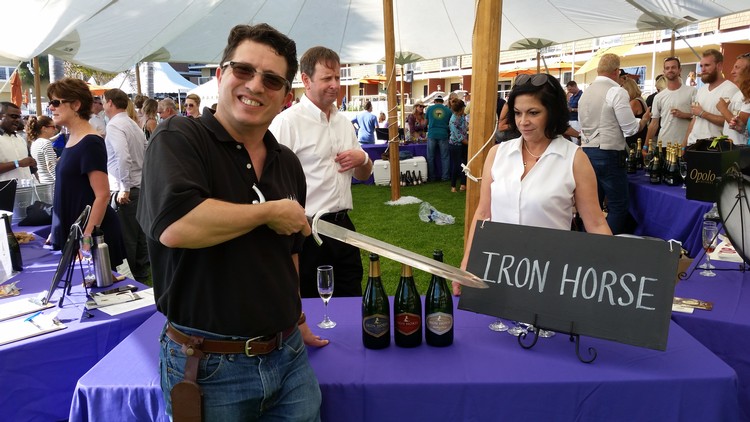 Our next expert, David Glancy of San Francisco Wine School, explained his take on St. Valentine celebrations. His trick for readers exploring their own pairing selection is to keep things simple. When chosen properly, the perfection of your pairing (and your date!) should be the standout. For the wine, he regularly declares something we feel passionate about as well -- "Sparkling is NEVER wrong!" He recommends crafting a sparkling tasting which can progress along with your meal. This starts with our 2012 Wedding Cuvee which is pale golden rosé and dangerously easy to drink, next onto our 2008 Brut Rosé, and finally onto a more mature vintage, like Iron Horse 2000 Brut LD. For those looking to stick with just one option through the meal, he agrees with Leslie on the point that Brut Rosé is phenomenally versatile.
When David thinks about a main course, he turns to our UnOaked Chardonnay as well. Due to the crispness of a wine that's all about the purity of the fruit rather than the "smack of oak" as Leslie described it, he would recommend pairing a medium weight food with some creamy components. This could be anything from a brie cheese or a cream sauce. Or he would advise a second angle which is to look for fresh and crisp things to match. "Oysters on a half shell or a progression into a baked oysters and oysters Rockefeller would be great here. In fact any type of shellfish is appropriate - the in-season Dungeness crab would be a fantastic way to go." The Iron Horse 2012 Estate Pinot Noir has a unique finish thanks to the col, foggy climate in our Green Valley. According to David, this distinctive, delicious and versatile red would go well with fish, poultry, and meat. "Salmon is a sure thing. Seared Ahi tuna could also stand up, , especially with a pepper crust. And the bright acidity of the wine could cut through the fattiness of a duck dish. Choose a sauce with red fruit and the Pinot will pop."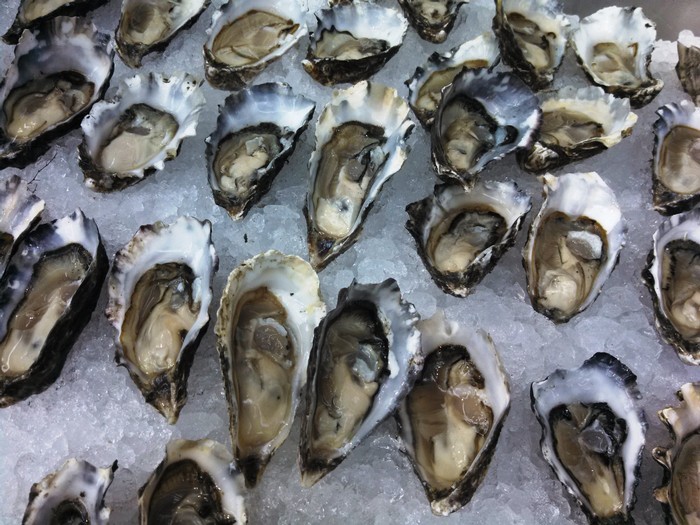 To wrap up his expert guidance, David advises not to discount the power of an experiential theme. He once had a lovely lunch in the Iron Horse gazebo featuring tomatoes sourced from Barry Sterling's renowned vegetable garden, served with our Chardonnay. "The match didn't necessarily follow any of the food pairing theories that we teach, but it was that fresh crisp cool climate California Chardonnay with a succulent and slightly acidic tomato that pulled me in, amidst the beautiful setting." We encourage you to mine your past experiences, replicate a moment ripe with nostalgia. The result, though perhaps not "by the book" has the potential to seduce.
And trust us on the sparkling.
Go get em Tiger!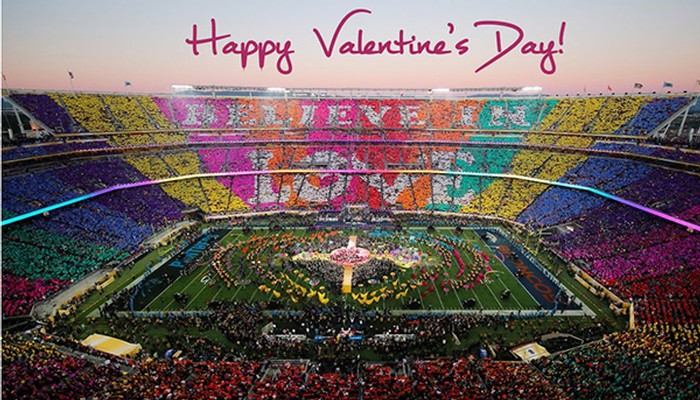 *****
Chinese New Year, the Year of the Monkey, starts February 8. The festivities continue for 15 days. San Francisco's Chinese New Year parade, the biggest and oldest in the U.S., is February 20. Delicious food is the centerpiece of Chinese celebrations, so we were especially happy to get to chat with our special chef friend Ming Tsai, who gifted us with a recipe for his delicious and very lucky pot stickers. (See below.)

The Monkey is the ninth animal in the 12 year cycle. People born in the Year of the Monkey are characterised as lively, quick-witted, curious, innovative and mischievous. In addition, their gentleness and honesty bring them an everlasting love.
To celebrate, Iron Horse has created a special production of Year of the Monkey Cuvee. $5 a bottle goes to the Leakey Foundation to help protect the natural habitats of primates like the Golden Snub Nosed Monkey featured on the label.
It is a perfect birthday present year long for people born in the Year of the Monkey and as a good luck gift for parents expecting babies this year.

And here to help us understand more about the time honored Chinese New Year celebrations is Chef Ming Tsai, famed restaurateur and culinary visionary born in the Year of the Dragon. Read on for our complete interview.
You're a very special chef friend for Iron Horse. We're very proud that our Year of the Dragon was featured on your February 2014 menu for the State Department lunch with the former VP Xi of China. Can you recount any specific memories about the toast that day and what it meant for you to be part of it?

It was an amazing day. To be able to cook for the now President Xi and Vice President Biden was a great honor. My father was there along with my wife and he was tickled pink that cooking could bring a man so far. Biden and Hillary Clinton thanked me personally for the meal, Hillary believed that negotiations went better because of the thoughtful menu and the bonding ritual of coming together over a delicious meal. It was this positive experience which provided the impetus to create the now famous "Chef's Core" at the State Department, Hillary saw the merit in leveraging American chefs as diplomatic aids.
I was able to meet all three leaders at the end of the meal. Because I speak Chinese, I greeted President Xi in his language. My 3-4 minute conversation had to be translated for Hillary and Biden and touched on my philosophy as a chef. I was humbled and amazed that he took time with me.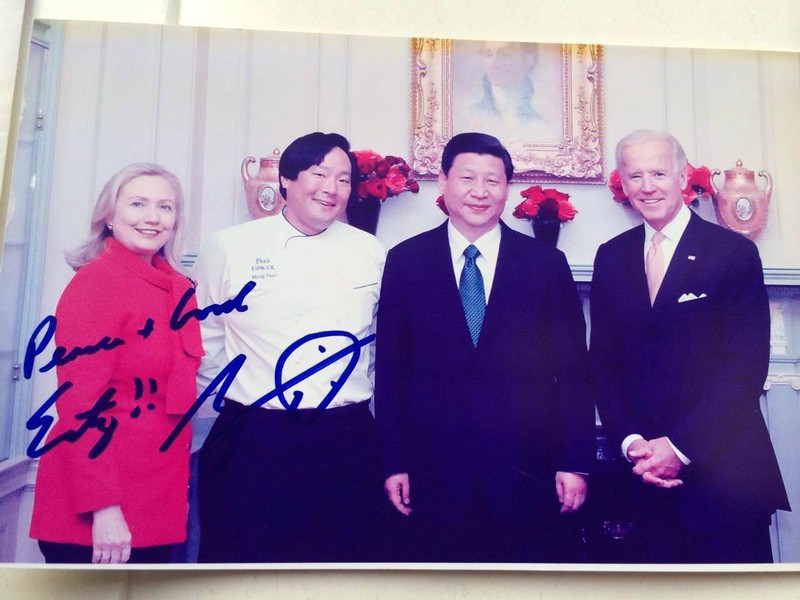 So, in addition to a career highlight, you could call this the unofficial kick off of the Chef Core!
Yes, and I'm proud to have been at the forefront of the ongoing program. The State Department recruits chefs who understand the culture of the visiting diplomats. For my part in this first dinner, I brought my understanding of Chinese preferences. Protein like duck along with hot soups are a favorite, so I took the opportunity to weave in those elements. I also served an interpretation of my signature butter fish using soy marinated butter instead of miso which is a Japanese ingredient.
Tell me a little bit about your background and what inspired you to dive into this business as a restaurateur and renowned chef.
I've cooked my whole life. I had a natural love for food which grew during summers in Paris while I was in college. I immersed myself in French cuisine & pastry and immediately decided I had to merge French with Chinese food. For me, these are the two master cuisines of the world which have been around for the longest time. From then on, I explored a blend of these two top techniques.
This appreciation of French production techniques is a natural point of intersection with Iron Horse!
That's true. It's part of why I appreciate the Iron Horse bubbles, they're made in the US but with a French style.
You have a TV show called "Simply Ming" which airs in Boston, do you have any other interesting projects that you're currently working on?
One cool project I'm working on is called FoodyDirect. It is a web based food delivery service offering regional favorites from over 100 different restaurants, delis, and bakeries. You literally get Blue Ginger food sent to your home with simple instructions on how to finish it off. I'm excited because FoodyDirect is now offering my signature butter fish dish which goes out goes out authentically from my hands in my kitchen. We're also serving our pot stickers especially for the Chinese New Year, they bring good luck.
Chinese New Year is fast approaching. How do the menus that you concept reflect Chinese New Year celebrations at your restaurants?
We'll prepare a couple special dishes and always include dumplings. The proper dumpling has a crescent shape and is said to bring prosperity. Some families hide a coin in a dumpling, the lucky bite promises an exceptionally great year. We'll have a "whole fish" dish at Blue Dragon. Wholeness is a major theme at this holiday, it signifies completeness into the New Year. Especially with fish, have to keep a good head and tail, it suggests a great beginning and end.
How integral are bubbles in marking calendar milestones? How do your guests react to the popping of a cork in your dining rooms?
Chinese are just learning how to drink wine and I think they'll learn as I did - that champagne is great for everything - breakfast lunch and dinner! It's unfortunate that many think it's only appropriate at special occasions, it should be enjoyed every day. It seamlessly cuts through fat like french fries or tempura on my menu. And the well made Iron Horse Blanc de Blancs hold up against some serious food very well.
It's clear that you're passionate about wine as a perfect compliment to the food portion of a celebratory meal, what will you be drinking tonight at your Chinese New Year celebration?
Iron Horse is a staple, they don't make a bad champagne. I'll be popping the special production Year of the Monkey Cuvee. After cooking all day at Super Bowl 50, it will be the perfect way to unwind with family and lots of dumplings.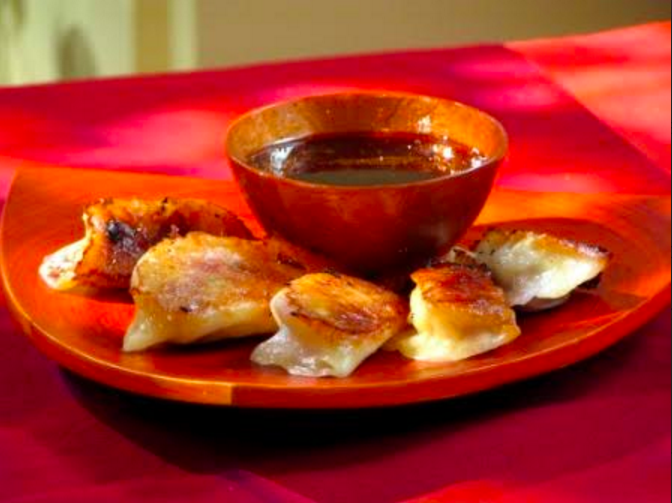 Can you provide some guidance on a Chinese New Year inspired recipe that Iron Horse readers can create in their own home with Year of the Monkey Cuvee?
Pork and Apple Pot Stickers with Dim Sum Dipper
Makes 20 to 25 pot stickers
Filling
½ pound ground pork, (not too lean)
4 tablespoons butter, softened
1 green apple, peeled, finely diced
2 tablespoons finely chopped fresh ginger
1 ½ tablespoons finely chopped garlic
1 tablespoon sambal oelek
2 tablespoon naturally brewed soy sauce
1 tablespoon toasted sesame oil
1 egg, lightly beaten
1 ½ teaspoons salt
Purchased Pot-Sticker Wrappers
2 tablespoons canola oil
Dim Sum Dipper*
1. To make the filling, combine the pork and the butter in a large bowl. Knead the butter into the pork until it is fully incorporated. Add the apple, ginger, garlic, sambal, soy sauce, sesame oil, egg and salt to the pork and mix.
2. To fill the pot stickers, place about ½ tablespoon of the filling in the center of each wrapper. Avoid getting filling on the edges of the wrapper, which would prevent proper sealing. Fold each wrapper in half to form a half-moon shape. Seal the top center of each dumpling by pressing between the fingers and, starting at the center, make 3 pleats, working toward the bottom right. Repeat, working toward the bottom left corner. Press the dumplings down gently on the work surface to flatten the bottoms.
3. Heat a large non-stick skillet over high heat. Add the oil and swirl to coat. When the oil shimmers, add the pot stickers, flattened bottoms down, in rows of five and cook in batches without disturbing until brown, about 6 minutes. Add about ½ cup of water and immediately cover to avoid splattering. Lift the cover and make sure about 1/8 inch of water remains in the pan; if not, add a bit more. Steam until the pot stickers are puffy, yet firm and the water has evaporated, 8-10 minutes. If the water evaporates before the pot stickers are done, add more in ¼ cup increments. If the pot stickers seem done but water remains in the pan, drain it and return the pan to the stove top.
4. Continue to cook over high heat to allow the pot stickers to recrisp on the bottom, 2 to 3 minutes. Transfer the pot stickers to a platter and serve with the dipping sauce.
*Dim Sum Dipper
Makes about 1 cup
1/3 cup soy sauce
1/3 cup rice wine vinegar
1/3 cup scallions, green parts only, sliced 1/8 inch thick
1 tablespoon toasted sesame oil
1 tablespoon sambal oelek
In a medium bowl, combine the soy sauce, vinegar, scallions, sesame oil and sambal oelek. Stir to blend and use or store.
******
Are you curious about your birth year in the Chinese zodiac?
The Chinese animal zodiac is a repeating cycle of 12 years, each year is represented by an animal and its reputed attributes. In order, the 12 animals are: Rat, Ox, Tiger, Rabbit, Dragon, Snake, Horse, Goat, Monkey, Rooster, Dog, Pig.



The Iron Horse family wishes you a great Year of the Monkey filled with with happiness, bright colors, beautiful blossoms, the excitement of fireworks and, of course, delicious food and wine. Gung Hay Fat Choy!