Iron Horse
Blog

Dear Friends and Family,
Happy Chinese New Year, celebrating the "Year of the Rat".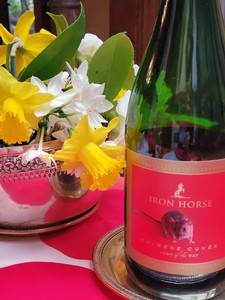 The Rat is the first sign in the 12-animal cycle of Chinese Astrology, a portent of new beginnings. Rats are said to be clever and wise, symbols of wealth and abundance. Rat years include 1924, 1936, 1948 , 1960, 1972, 1984, 1996, 2008, 2020, making this is the perfect gift for anyone expecting a baby (Us! My eldest niece Justine is due this summer) … and for those celebrating a milestone birthday, like turning 60 (namely, our brilliant, handsome label designer Mark Berry).
Here is a line up of our Chinese New Year labels of the past five years.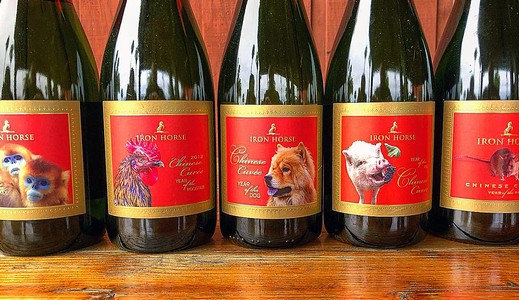 The endearing creature on this year's label, a Key Largo woodrat (Neotoma floridana), is sadly endangered. Fewer than 250 adults are left in the wild. This "studio portrait" is part of National Geographic's Photo Ark, created by photographer Joel Sartore ( Click here for more information), a biblical effort to document 12,000 species before they disappear and to get people to care, even about a little rat, while there's still time. We are very proud that licensing the photo for our label helps the cause.
Yesterday, one of our wonderful Wine Club members told us the origin story of the Chinese Zodiac that he learned as a child. It's a story of a great race, deciding which animals made it into the 12 year cycle, and in what order. The animals had to cross a river, so the Ox had the advantage, but the clever rat jumped on the Ox's back and once across, jumped ahead to be the first. The Ox is second.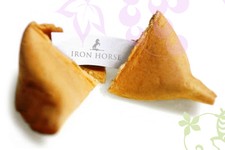 We are pouring "Rat" in our tasting room. Please make a reservation (or order online).
Wishing you great prosperity and double happiness!


After a very long, cold, very wet winter, I have decided to start chronicling the gardens again ... and wines releases, starting today. I firmly believe the beauty of our place is integral to our terroire. The vineyards are the gardens. The gardens are the vineyards. They are of one piece.
Sunday April 21, 2019
This is an absolutely perfect time of year at Iron Horse, especially this year, after all the rain. Just driving here on the Gravenstein Highway (aka Hwy 116) with the apples in bloom is a pleasure.
My father planted this cherry in front of the winery our first spring, 1976 – before the winery was even built. It is a favorite Instagram backdrop, but with a very limited window of opportunity.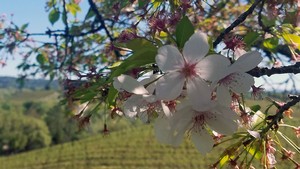 This was yesterday (Saturday) afternoon behind my parents' home. The profusion of calla lilies has been amazing. And, the roses are about to burst.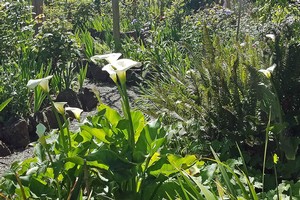 One of my greatest pleasures is walking in this garden with my father and watching it evolve.
I picked these shots because they convey a very special space in time and tell the story behind our wines in this shipment. I am firmly convinced that the beauty of the place is part and parcel of our terroir for the grapes and all the beauty that grows here. The grapes know they are in a perfect spot and they are not going to disappoint.
We are featuring three beautiful wines in our May Wine Club Shipment:
2015 Rainbow Cuvee - Our toast to diversity. We are relasing the new vintage May 9, so you can have it on hand Pride Month. 400 cases.
2016 Native Yeast Chardonnay - The grapes for this wine come from the furthest knoll behind the bottle in this photo. 220 cases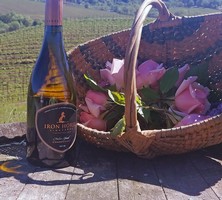 2016 Home Block Pinot Noir - Small production, from this beautifully sheltered, three-acre site, behind the iris bed, planted to the Calera Clone. 250 cases.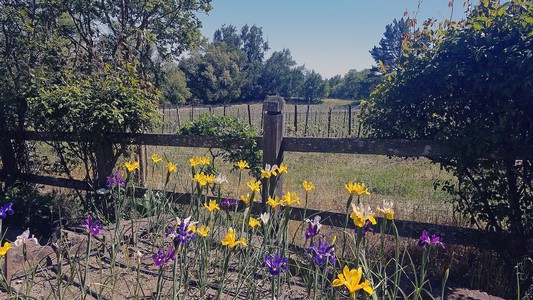 I hope you are planning to come visit. Our Under the Palms Tastings are now underway. This is a new experience for you to enjoy Wednesdays through Fridays - a private, seated tasting, twice daily, for two to four guests, at a "ringside" table, under the palms, facing our gorgeous view, where you can see the individual vineyard blocks while tasting the corresponding wines, with cheese. And, yes. You get to sit down!
Please make reservations here.
Brace yourself. Memorial Day is coming.
With all my very best,


Dear Friends and Family, These are the Dog Days,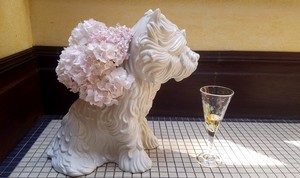 which at Iron Horse means we have verasion in the vineyards.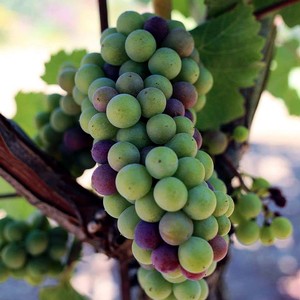 Verasion is the onset of ripening, when the grapes turn color. My brother says verasion is like popcorn. It starts with just one … then several … and then the color is popping out all over.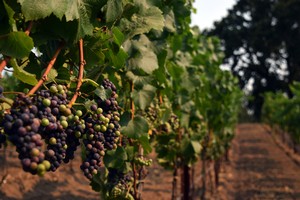 Veraison is often a bit faster in young blocks. Also note that shoots are becoming "woody". Just 1-2 weeks ago that shoot was green. The vines are signaling that harvest is near.
With Chardonnay, the skins become translucent, so that a backlit berry will reveal the seeds within.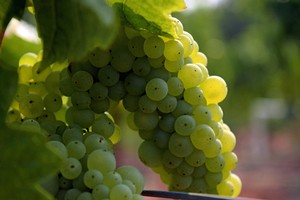 Other indicators include a delicious crop of wild blackberries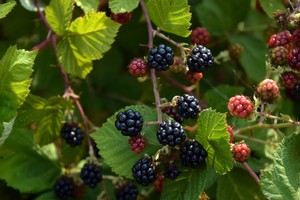 Naked Ladies starting to appear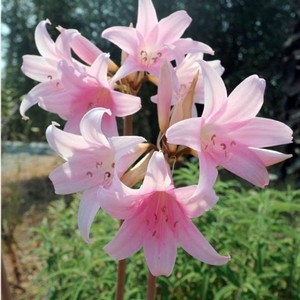 We are extraordinary wealthy in squash blossoms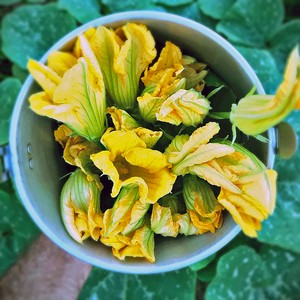 And Queen Anne's Lace
I am extremely proud to report our 2010 Brut LDreceived an outstanding 94 point review from Wine Spectator: "Sleek and luxurious, with floral, brioche and baked apple aromas that open to rich and complex Asian pear, spiced nut, ginger and cinnamon flavors that linger on the long finish. Drink now through 2021." Thank you Tim Fish!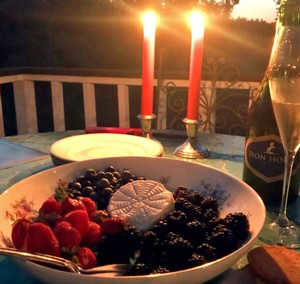 Try it with berries, ricotta cheese and candlelight.
Our hearts are with our neighbors to the North. We can see a shifting, thin layer of smoke on the horizon - a constant reminder of how very lucky we are. Thank you firefighters!
With all my very best,


There is nothing quite like spring at Iron Horse. Even five inches of rain in a 30-hour continuous downpour couldn't put a damper on it.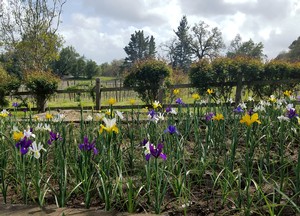 It was a crazy storm - a "pineapple express", thankfully not that intense, but unrelenting, turning us into Island Iron Horse.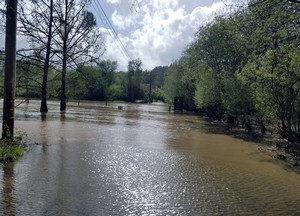 Cazadero got seven inches. San Francisco recorded the biggest one day of rain since the Gold Rush. Yosemite flooded and closed.
Undaunted, our Winemaker David Munksgard and I sat down to taste our about to be released 2014 Rainbow Cuvee, which is a Blanc de Blancs this year, and our 2010 Brut LD, our first LD in four years. We had a great conversation about the future and what better thing to do, even if the creek is rising. Both bubblies are being disgorged and labeled and will make their debut in our May Wine Club shipment.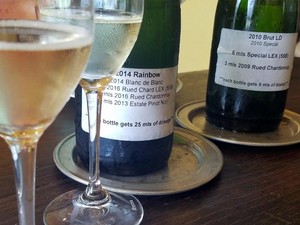 We were flooded at the main entrance all weekend, but it was a great relief to see that the iris and most importantly the vines had stood up to the storm.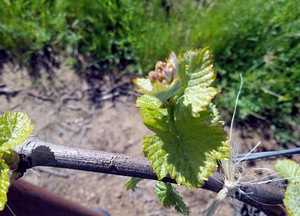 Fortunately, nothing deters our wonderful fans and club members. I am very proud of the intrepid tasters who made the trek around the back way onto the property, especially for our first Oyster Sunday of the season.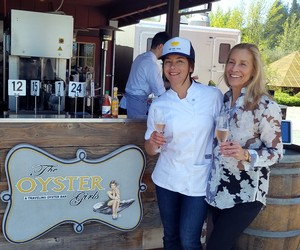 This year, The Oyster Girls are offering freshly shucked, raw and barbecued oysters, cooked shrimp and a caviar tasting. The dates are every Sunday through October from 12 noon to 4 pm (or until they run out). Please, please, please make advance reservations for tasting.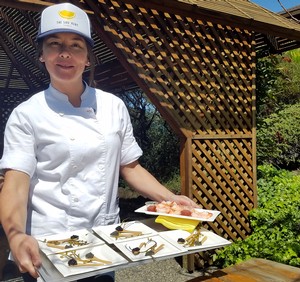 Sometimes it can be an adventure coming to Iron Horse, but always worth it. I firmly believe the beauty of the place is part of our special terroir. The grapes know they are growing in a gorgeous spot and are not to make anything less than the most delicious, memorable and pleasurable wines.
All of us in the Iron Horse family hope you will come visit and drink in the view.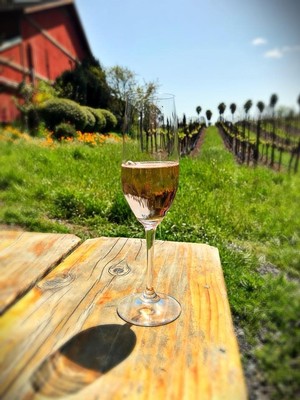 Photo: Rob Akins
With all my very best,



Greetings from thoroughly drenched Green Valley. We have received 22 inches of rain since January 1. Green Valley Creek which bisects the vineyard is a tributary of the Russian River and that whole swath of the estate is in a 100 year floodplain.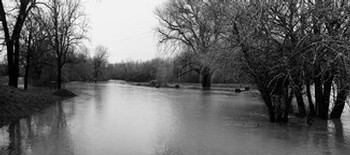 Photo: LG Sterling
For several days you couldn't see the tops of the posts on the bridge. We call that doing our part to replenish the aquifers.
Of course we need the rain. A year ago, 43 percent of the state was gripped by "exceptional drought". Now that figure is two percent. (Source: US Drought Monitor) And after 40 years here at Iron Horse we are seasoned at riding out a wet winter.
We are very lucky that our vineyards are hillside and our sandy soils drain easily. The rainbows have been inspiring. But we are going to have to hustle to get the pruning done before bud break.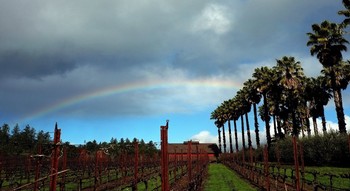 Photo: LG Sterling
January is the traditional time to report on the state of the winery and I am proud to convey that the state of the winery is strong - a soggy mess after what has seemed like boundless rain from the start, but gamely moving forward.

There are some things about 2016 I would be very happy to repeat. Number #1, our many successes as a vineyard, winery, business and family. I am privileged to get to work with an exceptional team. And, last year, in some areas, we surprised ourselves.

I smile when I think about how smoothly we transitioned to tastings by appointment on the weekends. The response surpassed all expectations. We had the pleasure of welcoming 33,000 guests here last year and the San Francisco Chronicle named us one of the top 50 Tastings Rooms in Napa & Sonoma.

Now we ask that you please make reservations on weekdays too. It truly elevates the experience. Please look at the reservation program to see how easy it is.
Some of my fondest memories of 2016 involve toasting with "Cuvee 50" for Super Bowl 50 in San Francisco, which now feels so far back in time, and "Spirit of 76" celebrating the 40th Anniversary of when my parents acquired Iron Horse in 1976.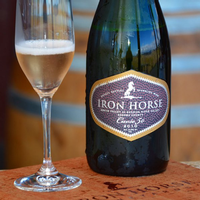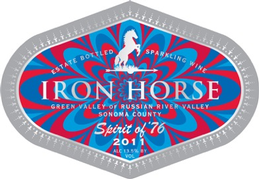 Both were one time only, limited production bubblies, never to be replicated.
2016 was in no way an easy vintage. The crop was low and there was so much uneven ripening that in many blocks we picked just half the crop - strictly the mature fruit, and then went back two three days later to pick the rest once it too had fully ripened. The resulting wines have set a new bar for us and the year will always stand out as our 40th harvest at Iron Horse.
From the beginning the goal has been to strive for the highest quality, so it is especially gratifying to see Iron Horse in the current issue of Wine Enthusiast at the same table with the very best in the world.
Looking forward, the next release of Joy! is Friday March 17, St. Patrick's Day. It's bound to be a lucky day. This will be our third time hosting a Joy! Release Tasting. So far they have been very successful. There is no doubt that the first one, last March got the most excitement because we had been out of Joy! (Joy!less) for three years. Still, the November release did extremely well and received a near perfect 98 point rating. The November Joy! was 50% Pinot and 50% Chardonnay. I say "was" because as of last night we had 18 magnums left. The upcoming Joy! is the same vintage - 2003, but Blanc de Blancs and aged six months longer. Please make reservations here.

I am also very excited about how our Earth Day event is evolving.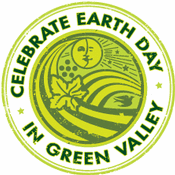 The theme is the future of food.
The participating wineries are DeLoach Vineyards, Dutton-Goldfield Winery, Freeman Vineyard and Winery, Hartford Family Winery, Iron Horse Vineyards, Lynmar Estate, Marimar Estate, Rubin Family of Wines.
The keynote speaker is California Secretary of Agriculture Karen Ross.
Acclaimed San Francisco Chef Traci Des Jardins is on board to showcase the "Impossible Burger", made entirely from plants, served it at the Paris Climate Change Conference as tartare.
Ronstadt Generations will perform live, honoring the family's musical traditions with the Southwestern and Mexican songs of their heritage blended with original material. Special guest: Linda Ronstadt.
Imperfect Produce is providing a beautiful display of "ugly" produce as crudités.
We have enlisted Copia, a mobile app that helps businesses and events connect excess edible food to feed communities in need, instantly.
I hope you will be able to join in. Net proceeds will benefit Sustainable Conservation, a non-profit organization uniting people to solve California's toughest environmental challenges, chosen by Secretary Ross to be the beneficiary.

Finally, Gung Hay Fat Choy. Saturday is Chinese New Year. And naturally we are pouring our Year of the Rooster Cuvee in the Tasting Room.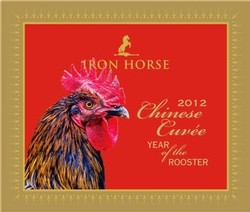 Please come join us in a toast.
A discussion with our inimitable in-house Hospitality Director Dixie Bohlke illuminates plans to celebrate this summer's milestone, the Sterling family vision, the importance of small details in creating the extraordinary … and how to join the celebration with a new limited production bubbly.
Dixie pouring Iron Horse '76
As Joy shared in the previous blog, the Iron Horse family is warming up to celebrate the 40th anniversary of our first vintage.
First, the skinny on the summer soiree we have affectionately dubbed "The Spirit of '76"
Date: July 3, 2016
Time: 11AM - 2PM
Where: Iron Horse Vineyards
Festivities begin in the beautiful garden of the Sterlings' Victorian home. Then it's a short walk to the corral for lunch at noon.
Who: Friends, Family and Wine Club Members
Next the full bodied exploration behind the scenes setting up such an event ….
Why: We're honoring the vision of our founders which was nothing short of revolutionary when they purchased Iron Horse in 1976, the restoration of the Sterling's beautiful Victorian home built in 1876, and of course the all American spirit of 1776.
How: A reception in the garden of the Sterlings' home with the Caviar Cowboys serving California Osetra on buckwheat blini fresh off the griddle, a roving Oyster Girl shucking fresh Myagis from Tomales Bay and free flowing bubbly.
Such a special occasion calls for a special limited edition bubbly, naturally called "Spirit of '76", which we also be pouring in the Tasting Room for the holiday weekend and which is available on-line.
Joy and David came up with the idea of creating a special cuvee about three months ago. David picked the 2011 Blanc de Noirs in magnum for the base wine. Mark Berry designed the label. We have just 22 cases (132 magnums) and Joy says there's no better place in time to enjoy them especially in commemorative flutes with our logo, the rampant horse on a weathervane and the addition of "Est 1976".
Dixie perfected a cocktail called the Iron Horse 76, which we make with our own brandy called Audrey, distilled by Germain Robin using 1987 estate grown Pinot Noir.

Recipe:
1.5 oz Brandy*
3/4 oz Fresh, Strained Lemon Juice
1/4 oz Simple Syrup
1 bar spoon Apricot Preserve**
Shake ingredients (except sparkling) vigorously with ice, strain into a Pinot Noir style stemmed glass, slowly pour in the bubbly, garnish with a lemon twist.
*We use the Iron Horse Audrey Brandy (made from 1987 Iron Horse Estate Pinot Noir distilled by Germain Robin). Substitute with VSOP Cognac
**Dixie's homemade
Recipe Backstory:
Based on the classic French 75, made from gin or Cognac, Champagne, lemon juice, and sugar. It is also called a 75 Cocktail, or in French simply a Soixante Quinze (Seventy Five). The drink dates to World War I, and an early form was created in 1915 at the New York Bar in Paris—later Harry's New York Bar — by legendary barman Harry MacElhone, a defining figure in early 20th-century bartending. The combination was said to have such a kick that it felt like being shelled with the powerful French 75mm field gun.
Directions:
Shake ingredients (except sparkling) vigorously with ice, strain into a Pinot Noir style stemmed glass, top with bubbly, garnish with a lemon twist.
Old labels
Back to the event….
After the one hour reception, the party moves to an old, redwood, 1920s corral led by "Uncle Sam" and a 20 person brass band called The Hub Bub Club. Here, the party decor includes gorgeous vineyard views, deep red roses growing on the fence of the Corral, red and white geraniums in pots sitting on top of old wine barrels, and scattered hay bales covered in the stars and stripes.
The menu includes everything you'd want for a July 4th celebration: lobster rolls, bison burgers, fried chicken, an unbelievably delicious potato salad.
Always thinking ahead to dessert, back in mid-May we delivered flat upon flat of local Sonoma cherries to our favorite Patisserie Angelica for classic cherry pie.
Naturally, the wine theme is red, white and bubbly.
Thematic Extra-Credit: Dixie has collaborated with Joy and the Sterling family to perfect the day's theme, bountiful food, and run of show but then she has taken it a step further with a fashion show in an homage to 1776, 1876 and 1976 with five fashion models showing costumes from each era. The models in this "Fashion Show with a Fashion Statement Honoring Three Centuries" will appear at various times throughout the day to show off the beautiful vintage clothes and mingle with guests. The background music will waft sounds of San Francisco circa 1976.
A sweet note and some final thoughts ….
One of the pleasures of staging this fete has been reminiscing about the early days, going through old photographs and compiling a time capsule exhibit of memorabilia, including decades of winemaker dinners and White House menus featuring Iron Horse wines.
In the words of the supremely talented Hospitality Director Dixie Bohlke, this summer soiree honors "the fulfilment of what Audrey and Barry Sterling's dream was then and what it has become."
Dixie notes that this event carries as truly special feeling for her. Her planning has been driven by a desire to property recognize the vision of the founders that would ultimately shape so much. But most importantly, acknowledge that their vision and "revolutionary" spirit has determined the way forward for the vineyard.
As we celebrate the past with the Spirit of '76 Cuvee, we also toast to the future. "It's going to be an incredibly special time capsule for Audrey and Barry, but they are also moving ahead to the future. When you look around to the new planting, you can see that. " For all the history and the pleasures of nostalgia, Iron Horse is an exciting and dynamic place.
Couldn't agree more.
What else does a party need once you have identified the theme, the venue, the food, the wines … as the ultimate party planner will tell you, it's the people who make the party. So we raise a glass to our guests! Happy Spirit of '76.


##########

The allure of buried treasure beguiles us as children. We trudge through our backyards guided by maps which point us to the spot marked X. Ah! The excitement of discovering something hidden.
This is an experience which eludes most of us as adults. That was, until our cellar master discovered a cache of long forgotten, unlabeled magnums of Sparkling Wine from various vintages going back 10-15 years. A treasure trove of beautifully aged bubbly - 30 cases of this, 40 cases of that, from seven vintages and 13 different base wines. The first vintage of Joy! was a 1991, which we released in spring of 2007.
Today, the Joy! project is in full bloom. The new release, vintage 2003, makes its debut Friday, March 18th (details about Release Day Joy! at the vineyard here). Shop it here.

To sip this wine is to experience the magic of 12 years aging in contact with the yeast before disgorging. As winemaker David Munksgard explains, it takes a full 12 years for the wine's alcohol and acid to have the time to dissolve the goodness inside the yeast's mitochondria (break out those biology textbooks!). Once released, those "goodies" (amino acids, proteins, and fatty acids) achieve two things, both hallmarks of truly beautiful bubbles. They contribute to the umami experience and the fatty acids coat the bubbles which making the perfect, pin point, tiny orbs that accumulate at the surface of the glass creating a "foam cap" or crown. The result is an especially creamy texture and nutty, brioche aromas.
I wish I could say that we planned Joy!, but I do feel it is to our credit that we hold onto these magnums for so long. As everyone in business knows, the most expensive thing you can do is hold onto inventory.
There is no doubt in my mind that longer aging is the key to creating the greatest California Sparklings, second only to vineyard site. The longer the time en tirage, the smaller the bubbles, leading to richer, creamier and more elegant wine. Top quality bubbly is so much about texture, which can only come from extended time on the lees. When you are drinking a tete de cuvee, like Joy!, you should not even have to swallow. It should just effervesce away in your mouth. (See our blog post on The Science behind the Magic, October 2015).
David says that he doesn't know of any other California producers nor many French houses making this kind of time investment. (Maybe we should change the name of the wine to Patience?) That said, we urge you to be completely spontaneous in drinking Joy! We've already held onto to it long enough and David is always quick to remind us that even the most special wines are not made to be revered, but shared and enjoyed.

Here are his tasting notes:
"By nose, yeast and toasted hazelnut lead the way to grapefruit and baked apple scents with a hint of ginger. By mouth, your first impression is more sensual than taste. Full, rich and yet youthful and bright all at once. The most perfect lemon curd; creamy richness with freshness and bright finish. It is lush and refined like a silky ribbon."
How can you resist?


It has been four long, thirsty years since we have had any Joy! to share. That was the 1999 vintage, which won a near perfect 98 point score in Wine Enthusiast, 93 Points from Robert Parker and 93 points from Wine & Spirits.
The reviews were spectacular:
"Graceful and refined, with crisp apple and yeasty lemon aromas that lead to complex flavors of toasted almond, ginger and spicy mineral. Finishes with pinpoint crispness."
"Drink now!"
"Light gold in the glass with aromas of wet stones, lemon, and roasted nuts, this wine tastes of bright apple, lemon, buttered toast, long finish. Wonderful acidity. One of the finest made in California"
"A deft blend of richness and delicacy, offering mature aromas of spiced apple, almond and cinnamon, with opulent flavors of toasty crème brûlée, laced with notes of mineral and ginger. Great length."
We were greatly honored when it was served to the Queen of England at a State Dinner at the Ambassador's residence in London, Winfield House, in 2011.
Fortunately, the four year "drought" has been worth the wait! The current release is 70% Pinot Noir and 30% Chardonnay. The disgorging date (day/month/year) is on the back of each bottle.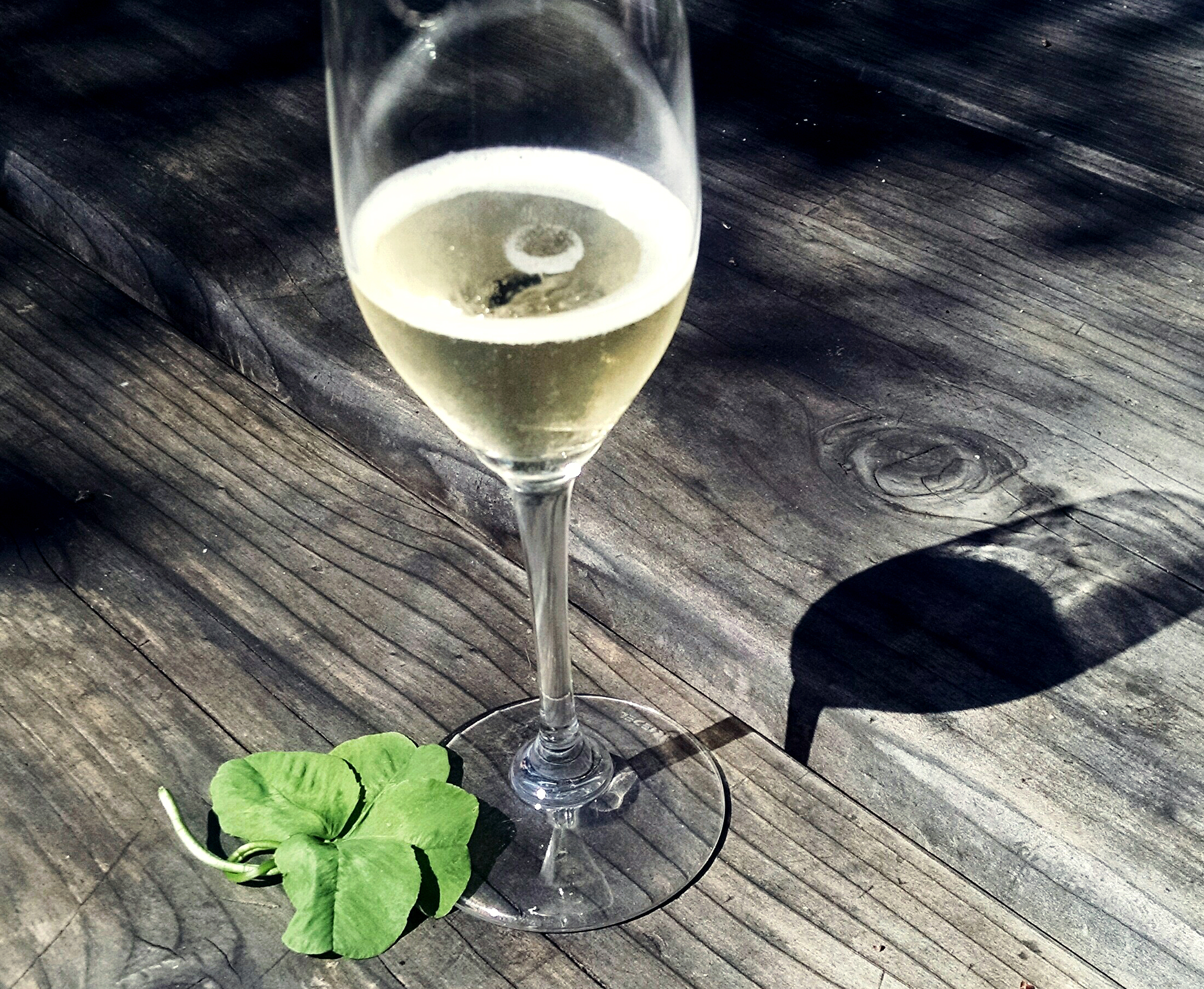 Spring forth and enjoy!

Thirty years ago this month (November 19th), Ronald Reagan and Mikhail Gorbachev met in Geneva, Switzerland for their first Summit Meeting. All of the historians agree that the two superpowers were poles apart until that moment when they clinked glasses with Iron Horse. It was amazing how quickly their relationship evolved. And for all these years, my family has taken complete credit for ending the Cold War.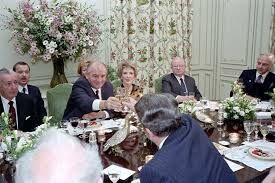 The Reagans hosted the Gorbachevs for dinner at Maison Saussure, a grey stone 18th century chateau on a 20 acre park about three miles from Geneva and just a few yards away from the lake. It was the residence of the Aga Kahn, who vacated it for the President and Mrs. Reagan.

The dinner was private. It started around 8 p.m. and was reportedly limited to just 16 people.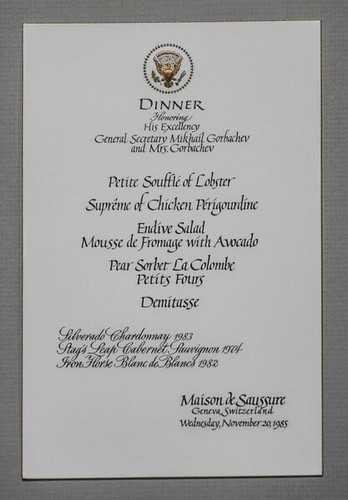 Recorded in the National Security Archive, the toasts which are now de-classified and available online, became the basis for the joint statement released the next day. Both sides emphasized that the Geneva meeting started something that would lead them to more significant steps in improving bilateral relations and the global situation, "with mutual understanding and a sense of responsibility," putting into text that a nuclear war cannot be won and must never be fought. See Document 24: Geneva Summit Memorandum of Conversation. November 20, 1985, 8:00-10:30 p.m. Dinner Hosted by President and Mrs. Reagan.
Reagan's Secretary of State George Schultz wrote in his memoire, "Nancy Reagan had orchestrated a wonderful dinner that night at Maison de Saussure. Both Reagan and Gorbachev were relaxed. They spoke with warmth in their toasts at the dinner table, and the toasts had real content. We then moved into the library for coffee."

"Arrangements for the next day were not at all settled. There would be a final ceremonial meeting at the International Press Center. The agreed statement, I thought, would shape up satisfactorily. But what would the leaders do? I said to the president and Gorbachev , 'You can't just sit there while a statement is being presented. You are the leaders. You each must say something.' I sensed reluctance. Each was hesitant, I surmised, to risk being seen on worldwide television while the other might level criticism. Agree to speak for three minutes each, along the lines of the toasts you gave at dinner,' I urged. They both knew they should speak, and each was looking for a little reassurance from the other."
Jack F. Matlock Jr. wrote in Reagan and Gorbachev, "Including private dinners [in the summit program] was built on the idea that the two leaders must not only respect each other but also like each other to accomplish [peace between the United States and Soviet Union]. It was also a signal to the bureaucracy that it was okay to be friends with the other side. We wanted to create an environment where representatives from the two sides could speak privately if we thought we had a problem rather than going to the press and having a big brouhaha. It helped reduce tensions, ultimately. Being friendly personally does not achieve everything, but it becomes a lot harder to achieve your common goals if you're not being friendly."

Matlock was the White House's senior coordinator of policy toward the Soviet Union and the one who rehearsed with Reagan prior to the Geneva Summit, playing the role of Gorbachev. He later became Ambassador to Moscow.
Iron Horse was chosen for this historic event by a Sacramento wine merchant named David Berkley, who knew the Reagans from their days in the Governor's Mansion. David became the unpaid, unsung wine advisor to the White House, consulting with the Social Secretary, the Chief Usher and the chef to pick wines to match a particular occasion, diplomatic goal and the richness of a sauce.
He recommended Iron Horse because of the quality of our wine (of course!), but also because it was perfectly "themed." The Reagan Administration paid as much attention to the "optics" as they did the issues and we fit in as an American winery, rooted in the town of Sebastopol, near the Russian River.
At the time, we were told that the wine selection had to be signed off by every member of Cabinet because it was considered such a high level diplomatic decision. And, for security reasons we were asked to ship the cases in unmarked boxes to Andrews Air Force Base.
I have always felt, though this is pure conjecture, that they chose our Blanc de Blancs because Ronald Reagan liked to wear the white hat.
The vintage served was 1983 when our first vintage of Sparkling was 1980. We were still so young. And this truly put us on the map.
It is noteworthy that the second Summit in Reykjavik, Iceland was declared a setback both by media of the day and historians … perhaps because Iron Horse was not deployed? But Iron Horse was brought back into play as the toasting wine at the State Dinner at the White House in 1987, which lead to the signing of the INF Treaty.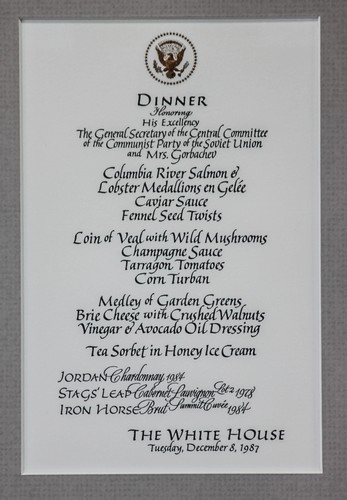 We now produce about 1,000 cases of Russian Cuvee a year commemorating what Time Magazine called one of the ten most significant events of the 20th century. To celebrate the 30th anniversary of the Geneva Summit, we are releasing for the first time, magnums of our Russian Cuvee and our Blanc de Blancs – only 40 cases are available of each.

Some people have suggested the way things are going today, we need to get back into the business of diplomacy with Russia. It does seem there are lessons to be learned from the Geneva Summit in terms of reestablishing contact after a period of tense relations between two world powers.




Here's a toast to getting Russia to the table again … with a glass.
******
It's officially fall! And with that comes Football Season. To explore the art of tailgating and the role bubbles play in the quintessentially American fete, we caught up with our longtime friend Michael Mina. The rockstar restaurateur pours our special production Michael Mina Cuvee at his many beautiful restaurants across the country and has been in the headlines as he launches the second year of his famous tailgate hosted in the new Levi's Stadium. Learn from the master about the art of grazing this season and how to match up signature seasonal dishes with your favorite Iron Horse bottles…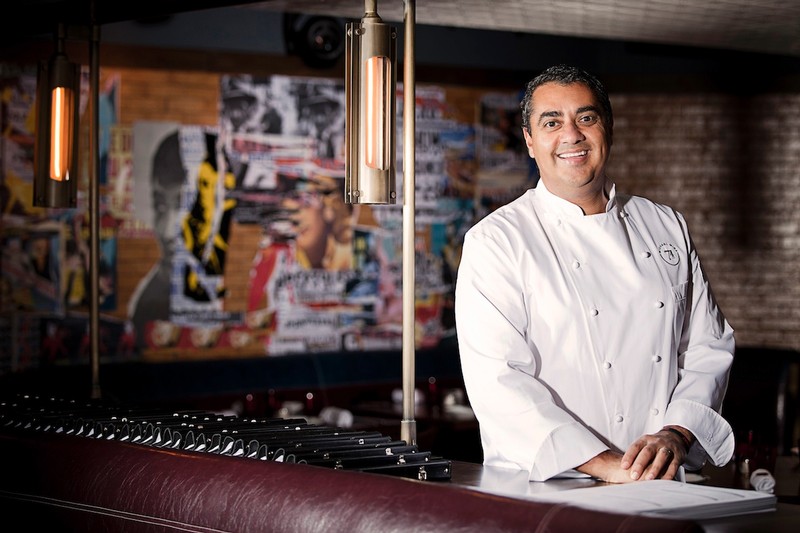 Tarin: Tell us about your tailgating venture with the 49ers and what inspired you to pursue it.
Michael Mina: Part of why I moved to San Francisco was because I'm a huge fan of the 49ers. I've been a season ticket holder for decades and I've had the good fortune of getting to know the forces from the team who dominate both the field and the behind-the-scenes business. So when the organization was building their new Levi's Stadium, they knew they wanted to leverage my 20+ years of tailgating experience to launch a Bourbon Steak / pub inspired venture with me to appeal to the demographic of the stadium.
Tarin: And so the plans got into motion. What came next?
Michael Mina: When we looked at the drawings of the restaurant space, there was a weird area next to it that remained empty. I suggested we move into that area to execute a tailgate. It was then that the tailgate proposal was concepted. I suggested we run a membership only tailgate event and use the space for catering during the off season. We intended to target a couple hundred members and just have some fun with it.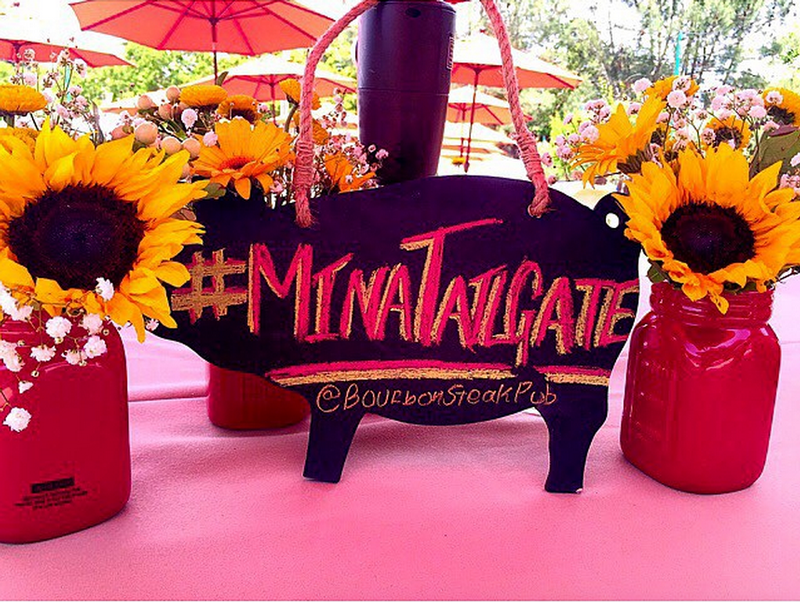 Tarin: Clearly, the organization considered your proposal a culinary touchdown. Tell us a bit more about how the tailgate has become the spectacle that it is today.
Michael Mina: One of the key elements of the event is that we invite outside chefs to help make each tailgate a unique and over the top experience. We also built a rotisserie that holds an entire cow - 1200 lbs and each game we roast a Skywalker Ranch Wagyu animal. We have massive pots that can hold literally tons of water and over 200 lobsters. We keep within the spirit of the tailgate but offer a range of fine dining to walk around stations. Guests can select from 12 composed dishes and 20 other items throughout the space as they explore the inside or outdoor seating options. Members spend their time watching the 80 screens and working through their food and drink options.
Tarin: This is very obviously a passion project for you.
Michael Mina: Absolutely. I don't really get too fanatic about anything except the 49ers. It's the one time I get really crazy. I'm definitely responsible for whooping up the crowd.
Tarin: Any fun behind the scenes scoop on the players themselves? Are they fans of yours?
Michael Mina: I have a lot of favorite players on the team and the feelings are reciprocal. There's a private tunnel for players to easily access our tailgate after the game. Players like Kaepernick, Eric Reid, Vernon Davis are frequent guest. And last weekend NaVorro Bowman requested tuna tartare he'd had at one of my restaurants in Miami. So I do take requests from VIPs, especially the new coach who is a serious foodie and in the restaurant all the time.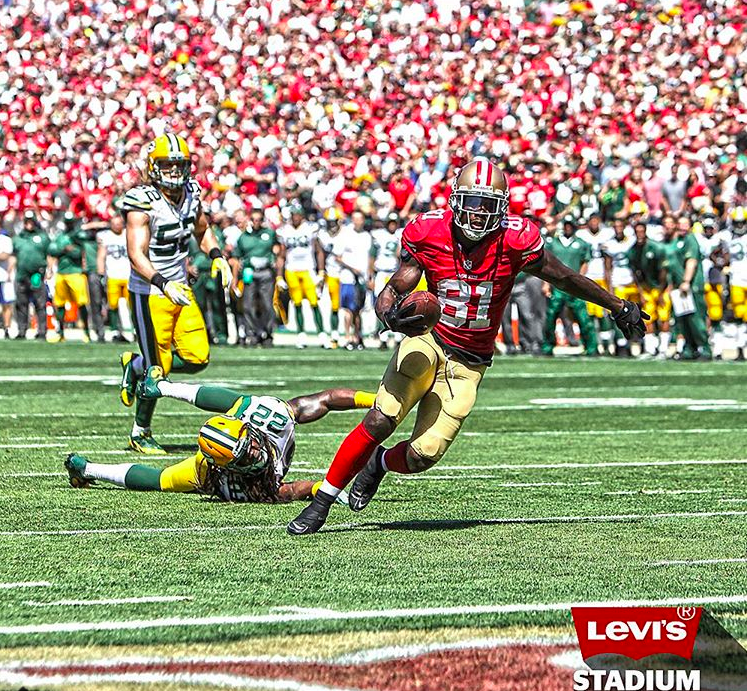 Tarin: What did you have planned for the game against the Green Bay Packers?
Michael Mina: That game will let us explore what football is all about. We got really cheesy. For example, we had a couple of fondue fountains where we offered black truffle cheddar and some classics with everything you could ever need to dip from wagyu cow, to brats, beautifully grilled vegetables, and sourdough bread.
Tarin: Which celeb chef are you really excited about collaborating with as you look down the schedule.
Michael Mina: I found out that one of my friends, Chef Todd English, is from Atlanta so he'll be on hand to execute a crazy Southern BBQ spread with me. He just sent me the menu and I'm looking forward to some classic Georgia style BBQ. I'm hoping that Joy Sterling will come pour for that game! It's been fun to learn new things about my friends as well as the cities that they come from.
Tarin: For our readers who can't make it out to the Bourbon Steak tailgate extravaganza, what do you recommend for football fans who are throwing a football watching party at home?
Michael Mina:
I like to theme it off of the team that we're playing against. I select cocktails and beers that work within that frame.

It's important that you don't just think about the dishes that come from that region or city - I like to take products that come from that state in general. And always stay within the spirit of tailgate while diversify outside of only smoked or BBQed items.

Especially when outside, I like to have a pot of something ready to do like a braised soup or chili.

And considering timing! Take the slow approach of doing one thing at a time. Grill some steak and slice it up on the spot. Then do what's next. Don't try to make it a meal all at one time - should be about grazing and drinking.

Tarin: What about wine pairings? Do bubbles come into play?
Michael Mina: Of course bubbles come into play! That's how every great tailgate should start. A glass of champagne and a bloody mary! My wife runs a bloody mary bar with her own unique recipes she's going to bottle and sell as part of her new company.
Tarin: Iron Horse is honored to have a wonderful friendship with you. And we'd like to explain to our blog readers how Michael Mina Cuvee came about. Joy wanted to remind you that we started 20 vintages (or shall we say football seasons) ago!
Michael Mina: Has it been that long?? Yes, we've been connected to Joy and Iron Horse for 20 years. And about 11 years ago, the label officially changed to Michael Mina Cuvee in honor of the launch of my Michael Mina restaurant.
Michael Mina: Now a question for Joy -- does she remember the first dish I paired with the bubbles?
Tarin: I'll have to ask her, in the meantime please tell the readers!
Michael Mina: When we first got the cuvee, we paired it with my new Caviar Parfait. The crispness of the cuvee cut through the rich flavors of the creme fraiche and salmon, but the richness also paired wonderfully with the overall dish. It's still my favorite all-time pairing.
Tarin: What makes Iron Horse special for you?
Michael Mina: It's delicious to sip. But it also pairs really well with food. That's what makes these bubbles a go-to year after year - they're very versatile.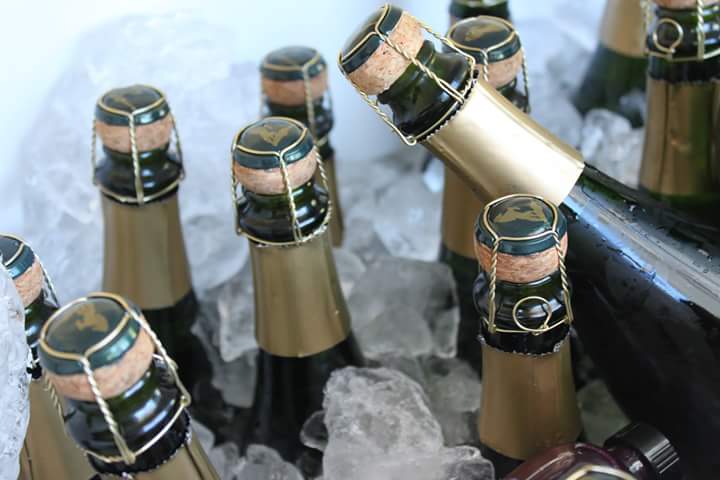 Tarin: I know Super Bowl 50 is a ways off but it will be played at Levi's Stadium. Are you excited and how are you going to tackle that momentous day at the tailgate?
Michael Mina: I have a gut feeling that the 49ers will be on the field that day each year because I'm a true fan. If we ARE there this year, I made a bet with my son that I'll get a team inspired tattoo. So I'm scared but I'll take the bet.For the tailgate, we're working with the NFL on their week long takeover of the stadium.
Tarin: Promise us that you'll share a sneak peek when you know more!
Michael Mina: Of course! More to come.
*****
Winemaking at Iron Horse is a passion and brimming with romance. It's a family effort spanning three generations. Winemaker David Munksgard (pictured below in his "mad scientist" lab) has been a part of the vineyard family for the past 20 years. He plays a leading role in determining the outcome of exceptional Iron Horse wines and bubbly.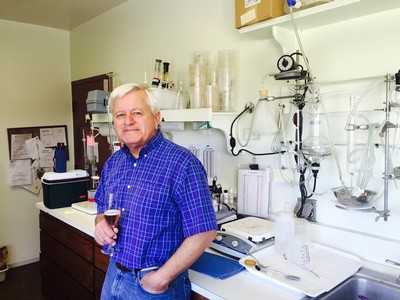 I had the pleasure of touring the property with David one sunny afternoon in Green Valley. The first thing that sticks out is David's emphasis on the importance of the "place." After an ebullient hello and a pop of Wedding Cuvee to celebrate my recent marriage, he informed me that the Iron Horse estate has the most sought after land for growing Chardonnay and Pinot Noir in all of California.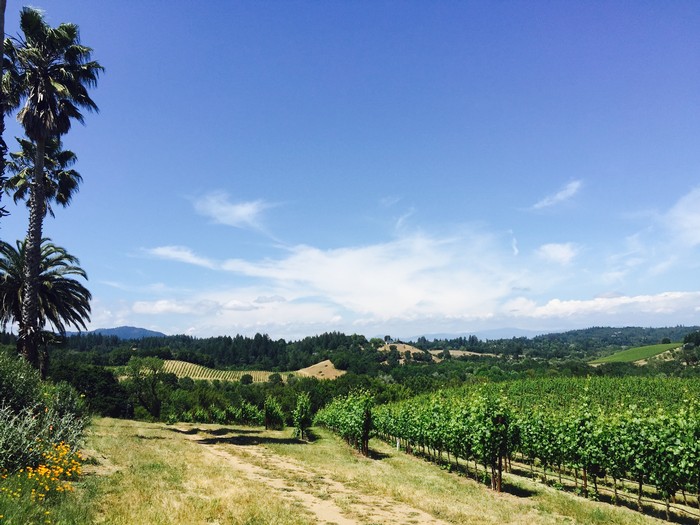 The unique conditions - cool nights and nearby ocean influences, make each of the exclusively estate bottled wines rich with the special flavors, specific to the vineyard and never the result of "recipe winemaking." Don't get him started on his "special sauce" or his tireless drive for balance, quality, and class in a bottle.
David starts out every day in a personal paradise. He arrives in the vineyards at 6AM and conducts a sunrise walk through. The winemaking process is about getting on an intimate level with the grapes from beginning of their life cycle 'til the wine is corked and "laid down" to age. David even admits to whispering motivational words to grapes. And when he returns to his "desk" -- this delicious view below awaits him....
His efforts are grounded in the superior vineyard farming style implemented by Partner and Director of Operations Laurence Sterling. The vineyard has been slowly replanted over the past eight years by 10-15 acre increments. In certain blocks, the row direction was changed to get the most even sunlight with computer generated simulations guiding the proper orientation.
Laurence's responsible farming has had ripple effects beyond superb wine, even the creek which cuts across the property has begun spawning salmon again. I'm not surprised to see this commitment to doing what's right pop up again and again. As a keen Iron Horse observer, this pervades all decision making, regardless of just how challenging it might be.
David's roots are on the East Coast, where European wine is the template. Burgundian wines and French style sparklings are his jumping off point - a style that matches the Sterlings' love of French tastes/culture based on their history as past French residents! The combined French influence is evident in Iron Horse wines, especially as they age. Flavors also originate from the site and from his deep understanding of his audience - the Iron Horse fans. He works with team members in blind tastings and solicits consumer feedback from visitors at the tasting room to facilitate consistent improvement and innovation.
To better understand the sparkling winemaking process, David walked me through pivotal points which illuminated the intense work, oversight, time and patience required:
Step 1: August is dedicated to hand picking pinot noir for sparkling, followed by chardonnay. Each vineyard block is kept separate until blending time.
Step 2: Fermentation.
Step 3: In February, David starts assessing blend options. He plays with the blends based on smell, visuals, and of course tastes. He consults the team through "blending sessions" and notes that he has to separate from his own preferences at this point. His priority is to determine proper taste for the different occasion and label. (Note - David's toughest critic is his wife whose all time favorite Iron Horse Sparkling is Russian Cuvee)
Step 4: After the sparkling blends are chosen, they're put into stainless steel then refrigerated to
force crystals to form so they won't form in the bottle. You'll find these "cold stabilization" tanks with ice on the sides!
Step 5: Seven days before bottling day, he grows a yeast culture. One day before bottling, he adds sugar. The product is bottled for the secondary fermentation creating bubbles and then aged for three to eight and even 15 years for the future magnums of Joy!
Step 6: The riddling process and disgorging process remove the spent yeast. At this point, a dose of David's "special sauce" is added - this secret ingredient determines the degree of sweetness to dryness and sets the style of each of the Iron Horse bubblies.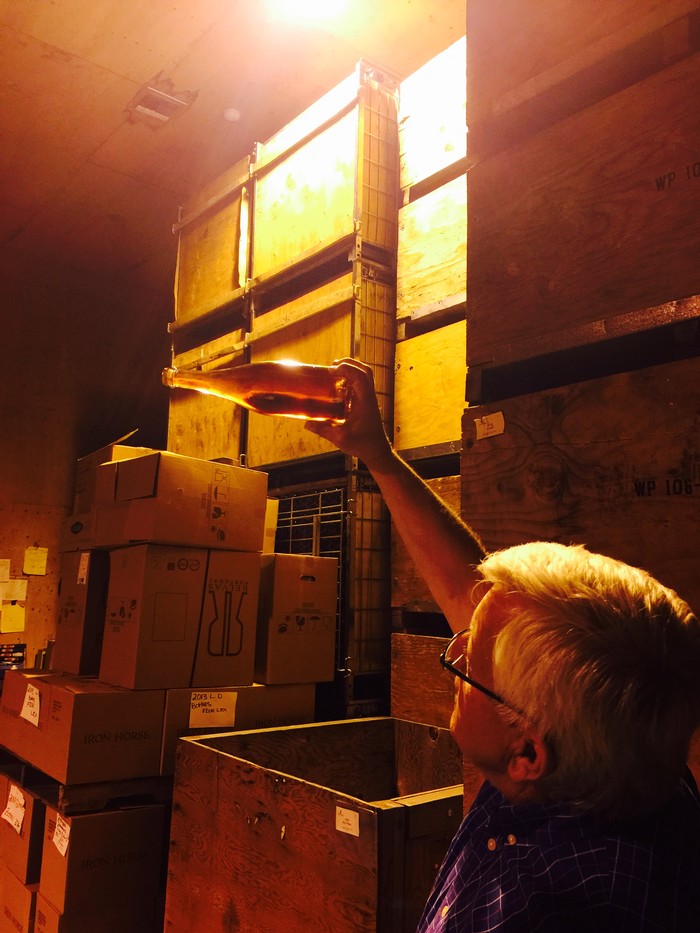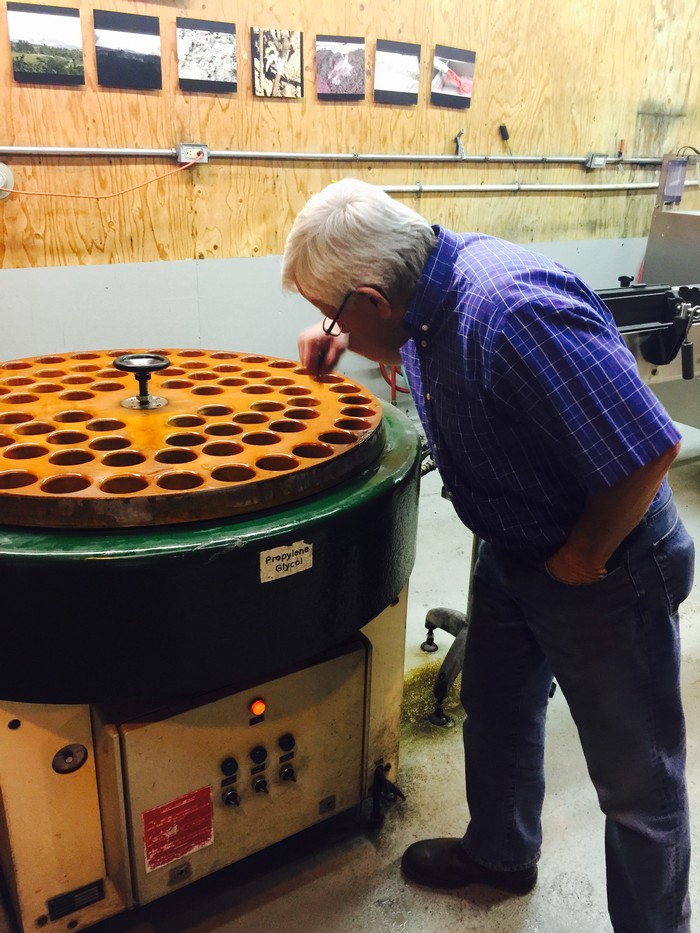 Fun Fact! Even the Iron Horse corks have been specially curated. The vineyard partners with one family in Portugal - David says they're the best in the business! Signature cork shown off below by the wonderful Wine Club Manager Kevin Vanderhoff.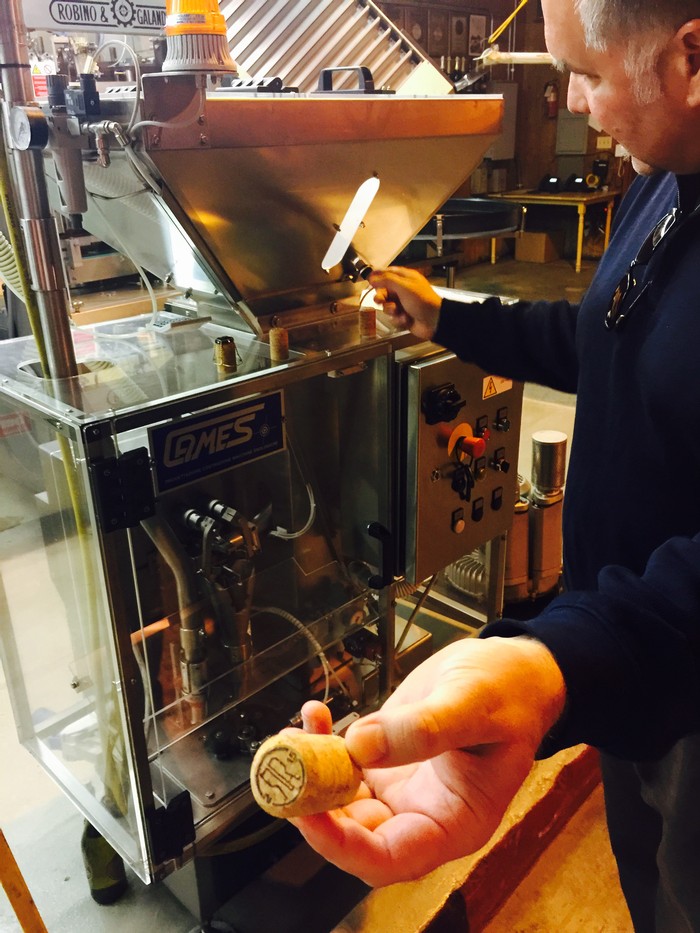 If you ask David to name his favorite bottling - you won't find an easy answer. His passion for all of his creations drives the Winemaker's Choice Club option where David selects his two favorite bottles each month to answer the question of "what's the winemaker drinking." Sometimes he'll spotlight "hidden gems" which he and the cellar master might stumble upon by accident in some forgotten corner … a discovery prospect which I found very romantic!
He does make a few recommendations:
Summit Cuvee, commemorating the history making free climb by two brave climbers and Iron Horse friends in Yosemite in January. Some have called it his "masterpiece," the special sauce (aka liqueur de dosage) is a deliciously distinctive flavor with notes of caramelized cream soda like.
Russian Cuvee, the "ideal toasting" sparkling, always at the ready, chilling in his fridge at home.
Ocean Reserve, made in partnership with National Geographic. $4 a bottle goes to National Geographic's Ocean Initiative to help establish marine protected areas and support sustainable fishing.
And Summer's Cuvee, a limited production, seasonal pop that he dreamed about for years before actually developing. The new vintage has just been released!
Pictured below... bottles always line his desk and the Tasting Room shelves just outside.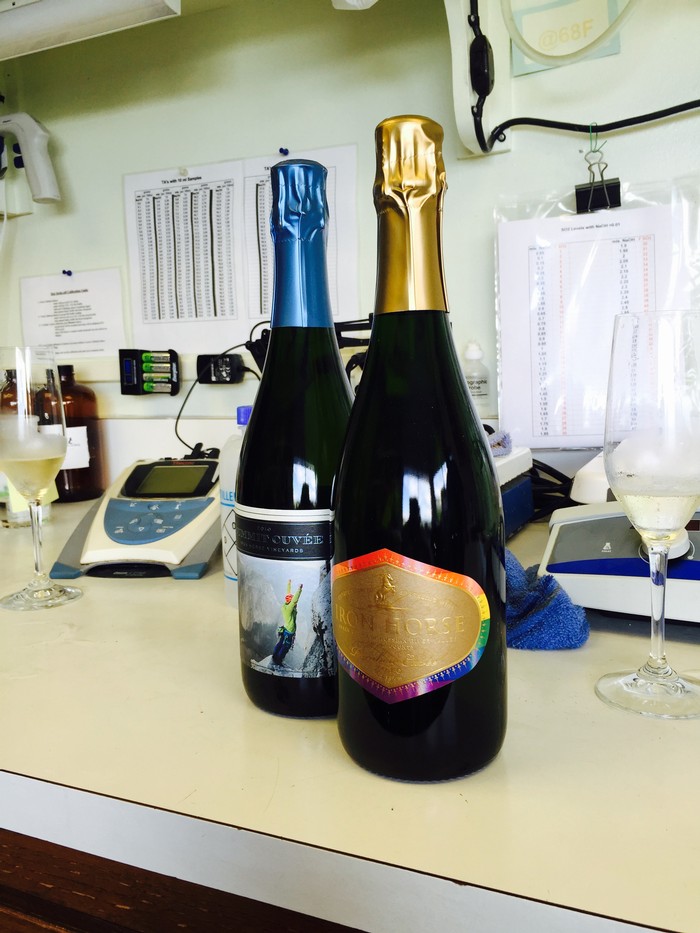 He also enjoys working with longtime Iron Horse special partners, like Charlie Palmer, Michael Mina, Commander's Palace, and Disney where Iron Horse is the official wine in the theme parks and on board their cruise ships. These friends have a long standing trust in the irresistible allure of the vineyard flavors and David's winemaking prowess.
David, a poetic and gentle soul at his core, explained sweetly "You want to fall in love with the wine." This reflects our winemaker's self-assigned mission to create the perfect sip which anchors you into a memory and an experience. He speaks about overhearing brides in the Tasting Room reminiscing about Wedding Cuvee on their special day and is filled with emotion. That's what he works for. That pairing of a beautiful moment in time punctuated by the specially crafted and perfectly corresponding bubbles.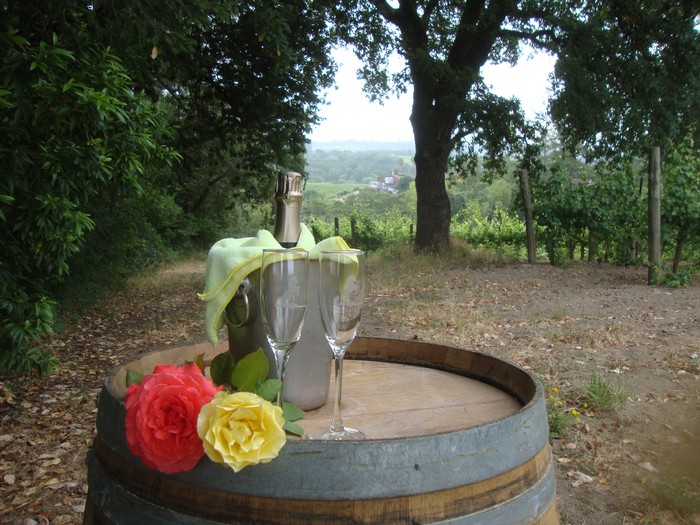 For more fun with David, Iron Horse offers very special "Truck Tours" of the vineyard on Mondays, by appointment only. And I must warn you that these tours are becoming legendary at Iron Horse. A recent "Truck Tour" resulted in a proposal and a pop of a champagne cork with David as a co-conspirator.
He began a private tour with a glass of bubbly & an unsuspecting future bride accompanied by her prince charming. David led the couple to a barrel conveniently placed in his favorite area of the vineyard where he strategically stopped the truck to point out the beautiful view of the winery - handed off a bottle of Wedding Cuvee - and stepped aside for the magic proposal to occur in the glow of fizzing Iron Horse bubbles. I think it goes without saying . . . she said YES.
Book your own romantic memories by clicking here . . .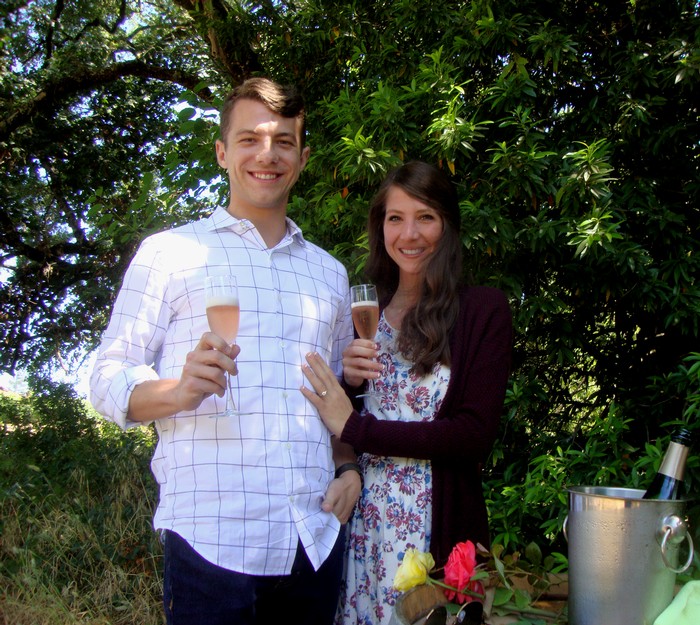 -Interview with D. Munksgard as told to Tarin Teno