May 20, 2015 | California drought, Industry Leader, Water Policy | Joy Sterling
Wells Gone Dry in California
"You never miss the water till the well has run dry." Irish Proverb
1,900 wells have gone dry in California as we dive further into a four year drought. That's about 1% of the state's wells, with the greatest concentration in the Fresno area. Groundwater levels continue dropping, in some places as much as 10 feet. For the first time in nearly a century, farmers who normally receive canal water from the Fresno Irrigation District will get no regular deliveries. As one Fresno Irrigation District farmer conceded in the Fresno Bee, "You can't release water you don't have."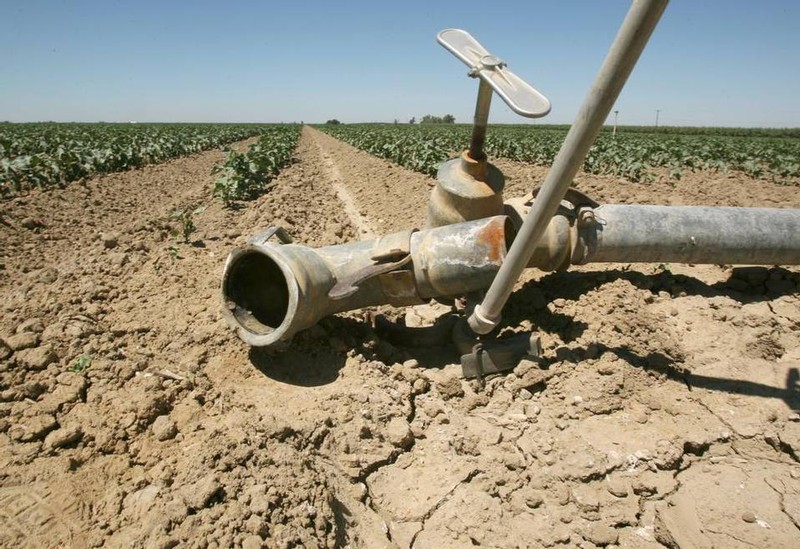 Essentially - water will be flowing in the canals but will NOT be available for on-farm use. A shocking image. Law abiding farmers wishing to avoid fines will have to turn on their pump and pray for sufficient groundwater to make it through the season.
The water that is available has been repurposed - tasked with recharging underground aquifers and directed to surface water treatment plants.
As a member of the California State Board of Food and Agriculture, appointed by the Governor, I attended a public forum on the drought last week in Fresno.
The event's big takeaway: mandatory restrictions will become a way of life.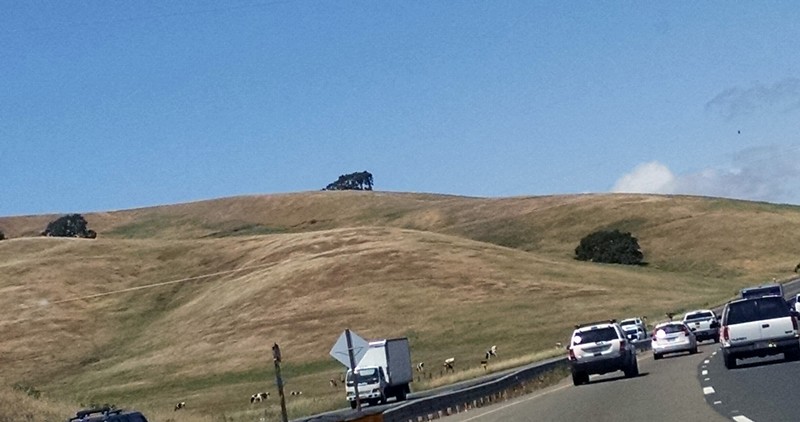 (pictured above - Marin Hills turning gold prematurely - a phenomenon we usually see in August)
Here's a snapshot of information shared by government officials:
California Business, Consumer Services and Housing Agency Secretary Anna Caballero estimated 4,000 residents don't have access to water because wells have run dry. She said, "It's obviously a health crisis and we want to make sure we're doing everything we can to provide resources to be able to avoid that." (Source)

Mark Ghilarducci, director of the Governor's Office of Emergency Services, provided updates on the government's drought relief and conservation plans, water efficiency programs and increased funding for research and development of new technology. (Source)

Ghilarducci hinted that further cuts may become necessary if it doesn't look like people are saving enough to meet the state's targets. Governor Jerry Brown's April executive order requires an across-the-board 25 percent reduction in the state's water use by February 2016. (Source)
I had expected fights to break out at the meeting. My first hope was that everyone would be asked to park their guns at the door. Instead, we heard mainly sad stories:
One rural homeowner spoke of groundwater concerns, saying:
​

"The water table dropped two feet a year for 70 years and right now it's dropping at eight feet a year." He dug a new well that goes down 400 feet and figures he is OK for the time being. But realizes many others won't be.
There was a shared and vocal concern about the blame being heaped on agriculture.
An almond grower called the criticism "hyperbolic attacks."
CDFA Board President Craig McNamara, a walnut grower, posted on the CDFA's "Planting Seeds" blog:
"Those holding that point of view may believe that farmers and ranchers consume more than their fair share of water. While it's easy to cast blame, let's not forget that irrigation wells have gone dry, lifelong investments are dying in the fields and serious financial burdens are hanging overhead."
Secretary of Agriculture Karen Ross wrote an OpEd piece in the Modesto Bee asking: What happens to Ag water? Eventually people eat and drink it. (Source) The piece opens up with this statement:
"A recent survey by the Farm Water Coalition indicated that 41 percent of California's irrigated farmland will lose 80 percent of its surface water in 2015 due to cutbacks because of the drought. Add that to a reduction of more than 30 percent last year and it's obvious that farmers and ranchers have suffered the brunt of drought-related losses, so far."

As the crisis continues to evolve, expand and worsen in dangerous new ways, all Californians need to become involved in the drought conversation. Acreage, livelihoods, health, and the environment are being threatened.


Our next Board meeting is Tuesday June 2 at CDFA headquarters in Sacramento, beginning at 10am with participation from New York Times Columnist Mark Bittman as well as representatives from Mother Jones, Grist and Gizmodo. As always, it is open to the public for comment.
Comments
Commenting has been turned off.