January 4, 2016 | California drought, California Sparkling, California Wine, Iron Horse Vineyard Update, Vineyard Updates, Water Policy | Joy Sterling
Checking the Rain Gauge
We were dreaming of a green Christmas this year and we got it. Thank you Santa! A near average amount of rain, bringing the hills back to life.
Even more importantly, we have snowpack to the Sierras.
The Sierra Nevada Snowpack currently stands at 105% of normal - the first time above average since 2012.
This is a remarkable milestone in a state where snow was virtually absent even at the highest elevations well into February last winter, and has been consistently far below average for four consecutive years. The early season storms in NorCal have been cold ones, creating a very healthy accumulation of snow across even in the middle elevation.
Think back to April 1 when Jerry Brown at Echo Summit in the Sierra Nevada Mountains, walking across dry grass, announced the first ever mandatory water cutbacks of 25%. The Governors of California have trekked to that spot for 65 years and this was the first time there was no snow.
Snowpack contributes about 30 percent of California's water supply. This season's first measurement was last Wednesday, December 30. The next will be April 1.
Meanwhile, back at the ranch, we recorded about seven inches of rain in December. The hills have greened-up. There's water running down the creek.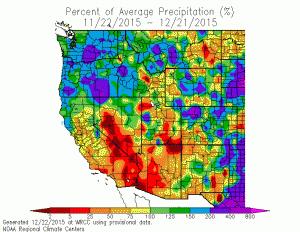 We actually had flooding for two days, closing off the main entrance to the winery. All visitors, tasters, workers, the office, tasting room team, FedEx trucks had to go around the back way – a solid 30 minute detour, two days before Christmas. It was hard not to complain. We need the water. And it is amazing how many intrepid tasters there are.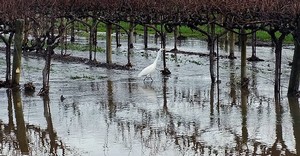 The week leading up to New Year's was old and dry with blue skies, puffy grey clouds and sometimes rainbows in our view.
We started pruning mid-month. We are pruning as if the drought will continue, deciding to err of the side of caution, though it means lowering our sights again in terms of crop sisze. The vineyard teams were given golf pencils with instructions that only shoots bigger than the pencil could be pruned down to two buds (meaning two shoots per position), anything smaller, would be pruned to one bud.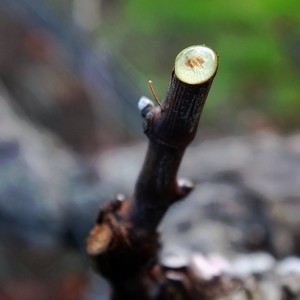 We are hoping for nice, steady, but not overwhelming rain in January. More specifically, we'd like for the storms to unfold with ideally a two-day lull between each one to allow the water to seep into the ground and not just rush off down the creek to the Ocean, please.
Wish for a good El Nino!

Comments
alfalah12345
@ Feb 2, 2016 at 3:39 AM
Great article!!
Shiv Ji
@ May 19, 2016 at 1:57 AM
For Unbeaten Packers and Movers in Hyderabad visit http://www.movers5th.in/packers-and-movers-hyderabad/ For Unexcelled Packers and Movers in Bangalore visit http://www.movers5th.in/packers-and-movers-bangalore/
Best Nighties

@ Jan 14, 2017 at 1:56 AM

Hello out standing pictures sharing i love this kind of pictures great job keep it up.

Commenting has been turned off.