June 25, 2015 | California Sparkling, California Wine, Industry Leader, Iron Horse Sparkling, Special Production, Sustainable Practices, Wedding Season, Winemaker Updates | Tarin Teno
Vineyard Spotlight: Winemaking with Iron Horse Mad Scientist & Incurable Romantic, David Munksgard
Winemaking at Iron Horse is a passion and brimming with romance. It's a family effort spanning three generations. Winemaker David Munksgard (pictured below in his "mad scientist" lab) has been a part of the vineyard family for the past 20 years. He plays a leading role in determining the outcome of exceptional Iron Horse wines and bubbly.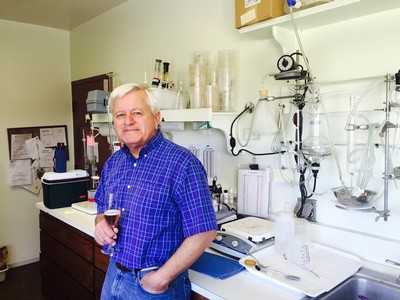 I had the pleasure of touring the property with David one sunny afternoon in Green Valley. The first thing that sticks out is David's emphasis on the importance of the "place." After an ebullient hello and a pop of Wedding Cuvee to celebrate my recent marriage, he informed me that the Iron Horse estate has the most sought after land for growing Chardonnay and Pinot Noir in all of California.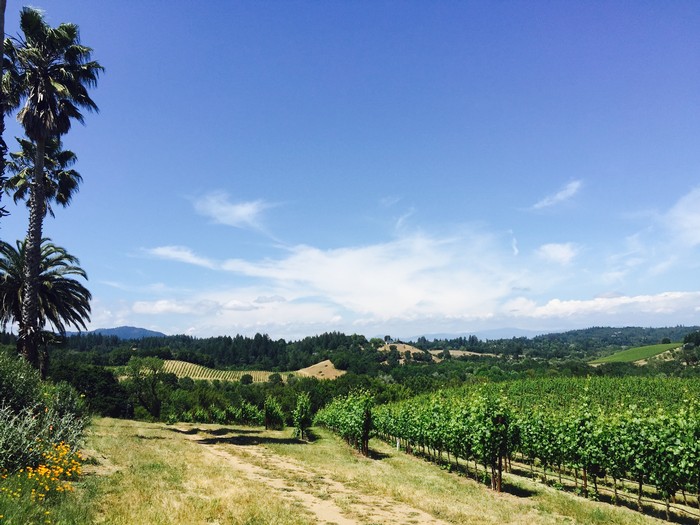 The unique conditions - cool nights and nearby ocean influences, make each of the exclusively estate bottled wines rich with the special flavors, specific to the vineyard and never the result of "recipe winemaking." Don't get him started on his "special sauce" or his tireless drive for balance, quality, and class in a bottle.
David starts out every day in a personal paradise. He arrives in the vineyards at 6AM and conducts a sunrise walk through. The winemaking process is about getting on an intimate level with the grapes from beginning of their life cycle 'til the wine is corked and "laid down" to age. David even admits to whispering motivational words to grapes. And when he returns to his "desk" -- this delicious view below awaits him....
His efforts are grounded in the superior vineyard farming style implemented by Partner and Director of Operations Laurence Sterling. The vineyard has been slowly replanted over the past eight years by 10-15 acre increments. In certain blocks, the row direction was changed to get the most even sunlight with computer generated simulations guiding the proper orientation.
Laurence's responsible farming has had ripple effects beyond superb wine, even the creek which cuts across the property has begun spawning salmon again. I'm not surprised to see this commitment to doing what's right pop up again and again. As a keen Iron Horse observer, this pervades all decision making, regardless of just how challenging it might be.
David's roots are on the East Coast, where European wine is the template. Burgundian wines and French style sparklings are his jumping off point - a style that matches the Sterlings' love of French tastes/culture based on their history as past French residents! The combined French influence is evident in Iron Horse wines, especially as they age. Flavors also originate from the site and from his deep understanding of his audience - the Iron Horse fans. He works with team members in blind tastings and solicits consumer feedback from visitors at the tasting room to facilitate consistent improvement and innovation.
To better understand the sparkling winemaking process, David walked me through pivotal points which illuminated the intense work, oversight, time and patience required:
Step 1: August is dedicated to hand picking pinot noir for sparkling, followed by chardonnay. Each vineyard block is kept separate until blending time.
Step 2: Fermentation.
Step 3: In February, David starts assessing blend options. He plays with the blends based on smell, visuals, and of course tastes. He consults the team through "blending sessions" and notes that he has to separate from his own preferences at this point. His priority is to determine proper taste for the different occasion and label. (Note - David's toughest critic is his wife whose all time favorite Iron Horse Sparkling is Russian Cuvee)
Step 4: After the sparkling blends are chosen, they're put into stainless steel then refrigerated to
force crystals to form so they won't form in the bottle. You'll find these "cold stabilization" tanks with ice on the sides!
Step 5: Seven days before bottling day, he grows a yeast culture. One day before bottling, he adds sugar. The product is bottled for the secondary fermentation creating bubbles and then aged for three to eight and even 15 years for the future magnums of Joy!
Step 6: The riddling process and disgorging process remove the spent yeast. At this point, a dose of David's "special sauce" is added - this secret ingredient determines the degree of sweetness to dryness and sets the style of each of the Iron Horse bubblies.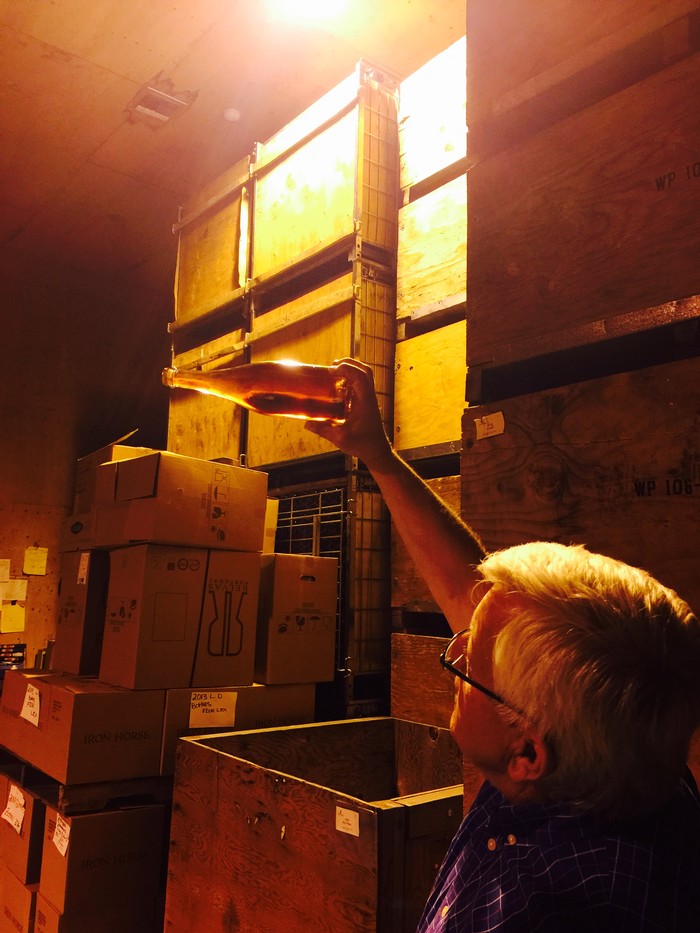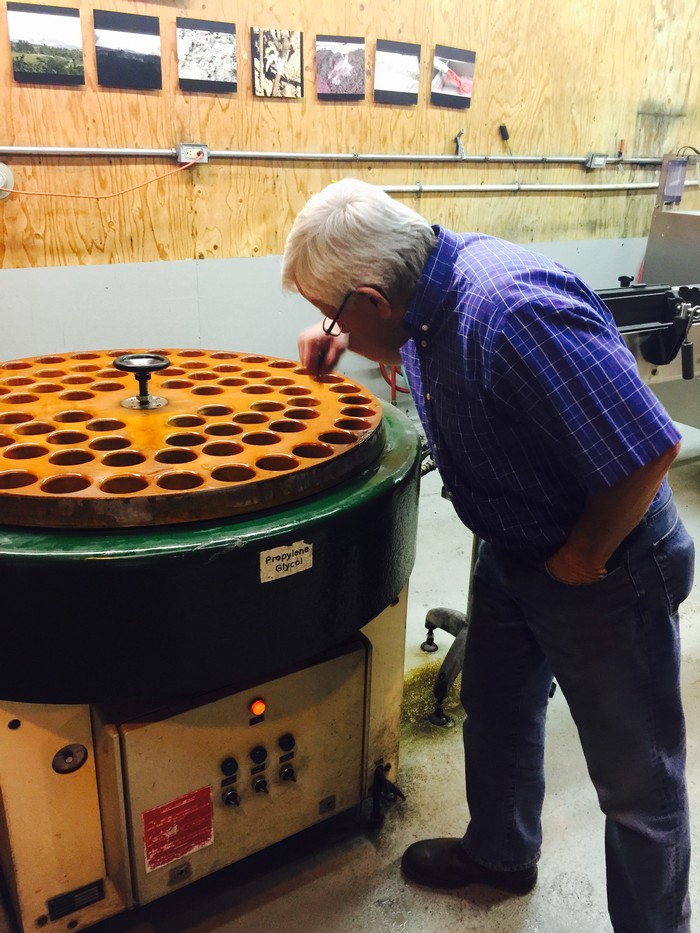 Fun Fact! Even the Iron Horse corks have been specially curated. The vineyard partners with one family in Portugal - David says they're the best in the business! Signature cork shown off below by the wonderful Wine Club Manager Kevin Vanderhoff.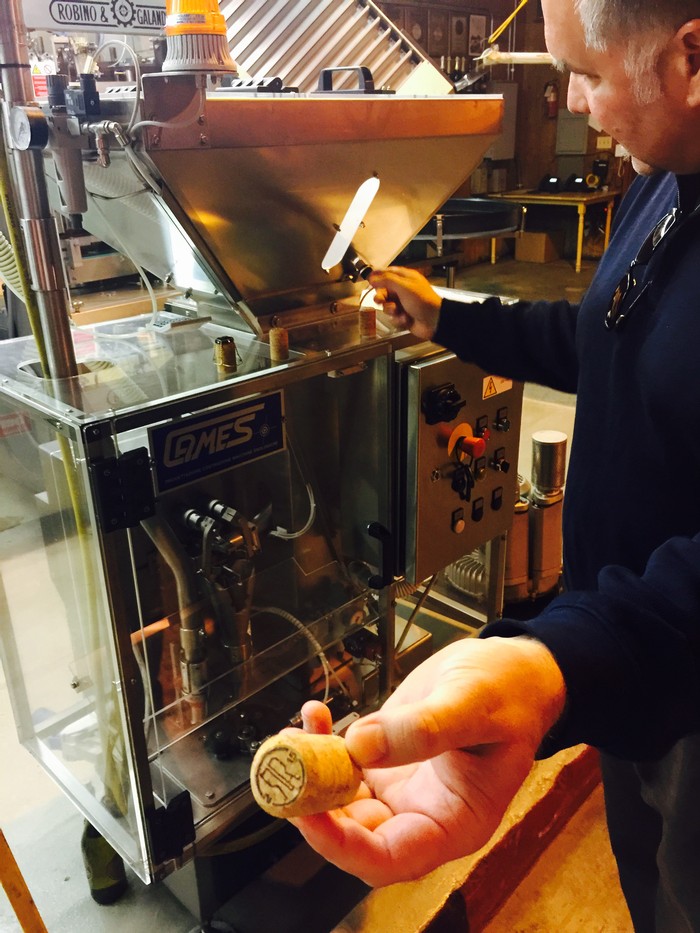 If you ask David to name his favorite bottling - you won't find an easy answer. His passion for all of his creations drives the Winemaker's Choice Club option where David selects his two favorite bottles each month to answer the question of "what's the winemaker drinking." Sometimes he'll spotlight "hidden gems" which he and the cellar master might stumble upon by accident in some forgotten corner … a discovery prospect which I found very romantic!
He does make a few recommendations:
Summit Cuvee, commemorating the history making free climb by two brave climbers and Iron Horse friends in Yosemite in January. Some have called it his "masterpiece," the special sauce (aka liqueur de dosage) is a deliciously distinctive flavor with notes of caramelized cream soda like.
Russian Cuvee, the "ideal toasting" sparkling, always at the ready, chilling in his fridge at home.
Ocean Reserve, made in partnership with National Geographic. $4 a bottle goes to National Geographic's Ocean Initiative to help establish marine protected areas and support sustainable fishing.
And Summer's Cuvee, a limited production, seasonal pop that he dreamed about for years before actually developing. The new vintage has just been released!
Pictured below... bottles always line his desk and the Tasting Room shelves just outside.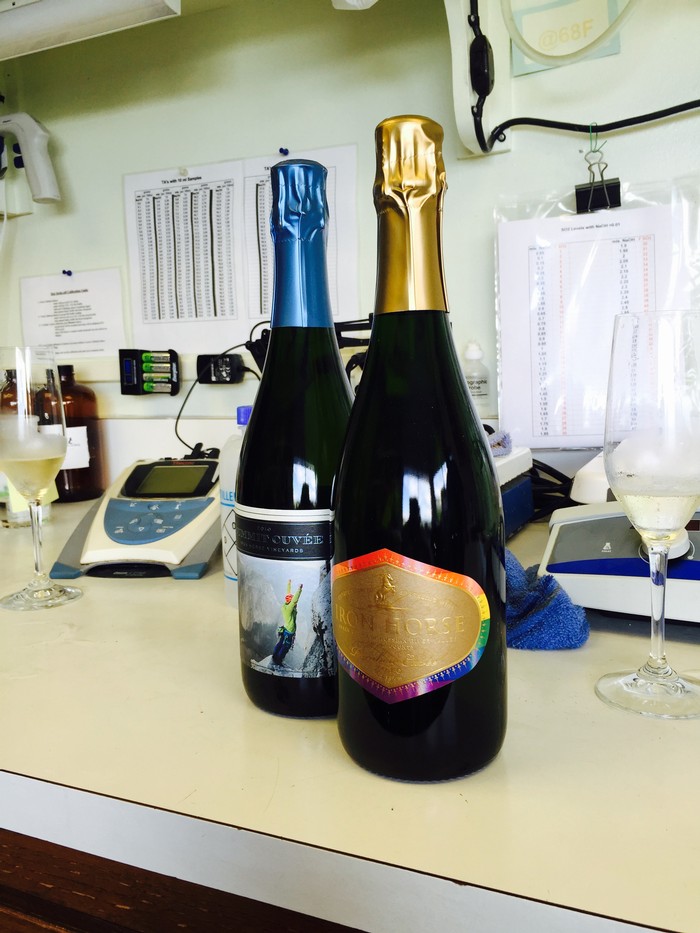 He also enjoys working with longtime Iron Horse special partners, like Charlie Palmer, Michael Mina, Commander's Palace, and Disney where Iron Horse is the official wine in the theme parks and on board their cruise ships. These friends have a long standing trust in the irresistible allure of the vineyard flavors and David's winemaking prowess.
David, a poetic and gentle soul at his core, explained sweetly "You want to fall in love with the wine." This reflects our winemaker's self-assigned mission to create the perfect sip which anchors you into a memory and an experience. He speaks about overhearing brides in the Tasting Room reminiscing about Wedding Cuvee on their special day and is filled with emotion. That's what he works for. That pairing of a beautiful moment in time punctuated by the specially crafted and perfectly corresponding bubbles.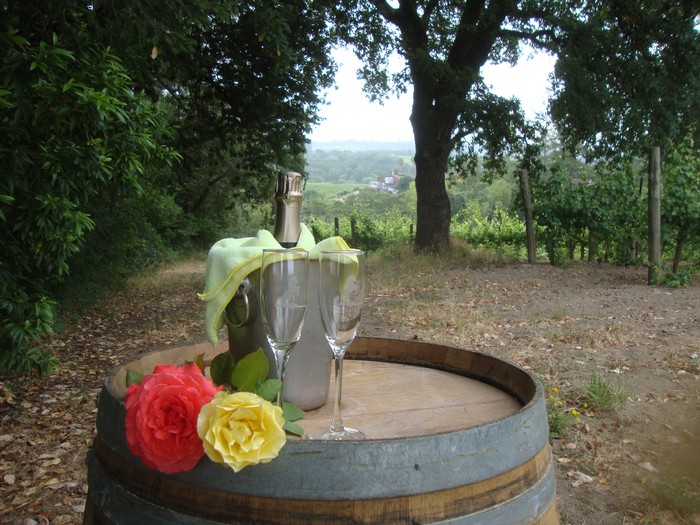 For more fun with David, Iron Horse offers very special "Truck Tours" of the vineyard on Mondays, by appointment only. And I must warn you that these tours are becoming legendary at Iron Horse. A recent "Truck Tour" resulted in a proposal and a pop of a champagne cork with David as a co-conspirator.
He began a private tour with a glass of bubbly & an unsuspecting future bride accompanied by her prince charming. David led the couple to a barrel conveniently placed in his favorite area of the vineyard where he strategically stopped the truck to point out the beautiful view of the winery - handed off a bottle of Wedding Cuvee - and stepped aside for the magic proposal to occur in the glow of fizzing Iron Horse bubbles. I think it goes without saying . . . she said YES.
Book your own romantic memories by clicking here . . .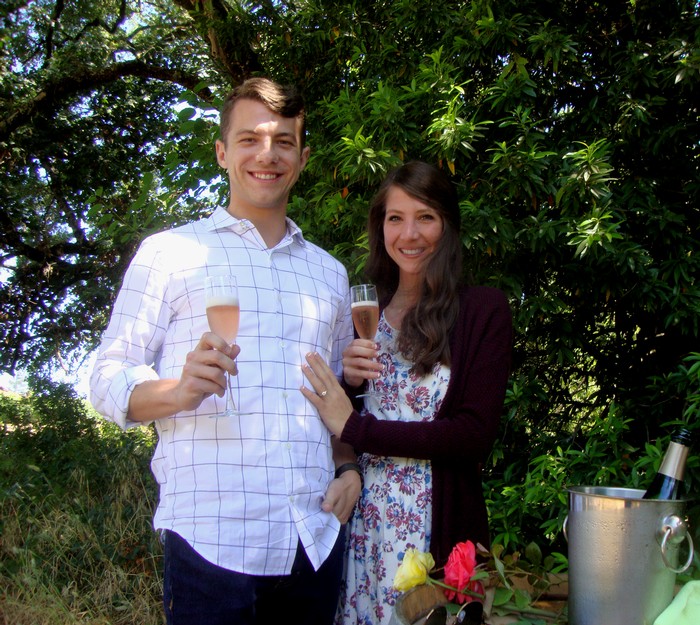 -Interview with D. Munksgard as told to Tarin Teno
Comments