July 20, 2017 | Joy Sterling
Summer Pro Tips
I hope your summer is going swimmingly. Ours got off to a scorching start with triple digit temperatures, shattering heat records going back a century. This, coming off the wettest winter on record, after five years of extreme drought.
Taking it all in stride, our best advice for beating the heat is of course multiple bottles of bright, crisp bubbly. Summer Pro Tip #1: The fastest way to chill bubbles is in an ice bath – half water, half ice. You need to fully submerge the bottles. You can put the bottles in plastic bags to preserve the labels.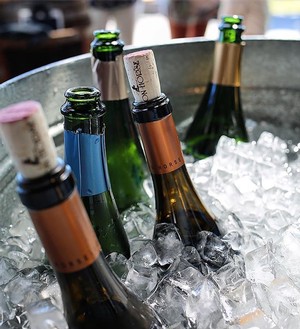 Photo Shana Bull
100 plus degree days are extreme for us in cool, foggy Green Valley. And, as you can see in the photo above, when the temperatures soar, we put our Pinot on ice as well. Summer Pro Tip #2: Pinot Noir volatizes and tends to shows more alcohol if the bottle gets hot.
Fortunately, in the vineyard, the grapes held up remarkably well, thanks in large part to having sufficient water from the abundance of rain we received this winter. Amazingly, people were snow skiing in Tahoe July 4th weekend. We still have water trickling in Green Valley Creek. And I have never seen the hydrangea so exuberant.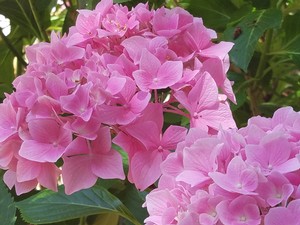 On the flipside, all that moisture gave us massive leaf growth, trapping humidity as high as 85% in the area around the grapes, which could cause mildew and rot.
Our job has been hedging the vines, removing lateral shoots that grow off the main shoots, cutting back the canopy, and hand pulling off individual leaves to allow air to circulate through the vines.
Additionally, a bit of sunlight filtering through to the clusters heightens fruit aroma and flavor development.
This photo shows the great job the vineyard team is doing, removing leaves from the morning side of the vines. Morning sun is softer… less likely to cause sunburn.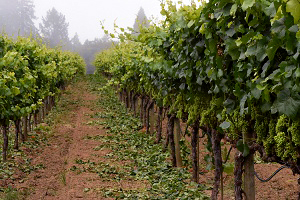 Photo David Munksgard
Mercifully the cooling fog has rolled back in … restoring our signature summer weather pattern of the sun breaking through at about 10 am, usually in time for the Tasting Room to open. Then the fog slowly lifts to reveal Mt St Helena on the horizon. It's a show we love to put on every day during the growing season.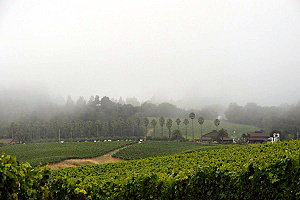 Photo David Munksgard
Summer Pro Tip #3: Best to wear layers when you come to taste with us.
I hope you have had a chance to try our 2013 Summer's Cuvee. It just went out in our July Wine Club shipment and is as as much a taste of the season as tree ripened peaches.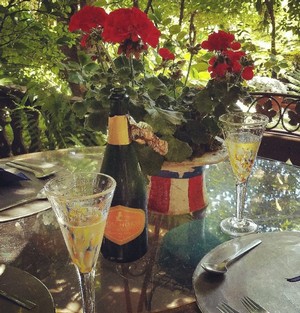 I hope you are planning on coming to our Summer of Love Garden Party exclusively for club members on Sunday August 6 at my parents' home, where you will get to see the hydrangea I was bragging about above.
Sunday September 10 is our annual Make Your Own BLT Party in the vegetable garden behind my house. We are growing 290 varieties of tomatoes this year.
And, we are planning a Wine Club Appreciation Soiree on Saturday evening September 23. Complimentary tickets for up to 150 guests will be available by a Willy Wonka style lottery. To enter, please go to our events page on this website. Your Golden Ticket awaits.
Summer Pro Tip #4: For tastings, please make advance reservations here.
The entire Iron Horse family joins me in sending our very best wishes,

Comments
Commenting has been turned off.