March 31, 2015 | California Wine, Food & Wine Pairings, Industry Leader, Iron Horse Pinot Noirs, Iron Horse Sparkling, New Season, Special Production, Star Chef Series | Joy Sterling
Star Chef Series: Sparkling & Spring with Charlie Palmer
Welcome to the first installment of our Star Chef Blog Series. Over the next few months, we'll be sharing Q&As with our most special friends who serve custom Iron Horse cuvees in their restaurants. In honor of Easter & Passover, and with the spirit of renewal that comes with Spring, we've interviewed Iron Horse's great friend Charlie Palmer for a fresh take on a classic.
Starting with New York City's Aureole, Charlie now owns 14 restaurants around the country, two hotels in the heart of California's wine country and The Mystic Hotel in San Francisco. Our friendship with Charlie Palmer is as rich as his culinary creations and shines through in the delicious Aureole Cuvee. The current release is our 20th vintage of making this unique, limited production bubbly.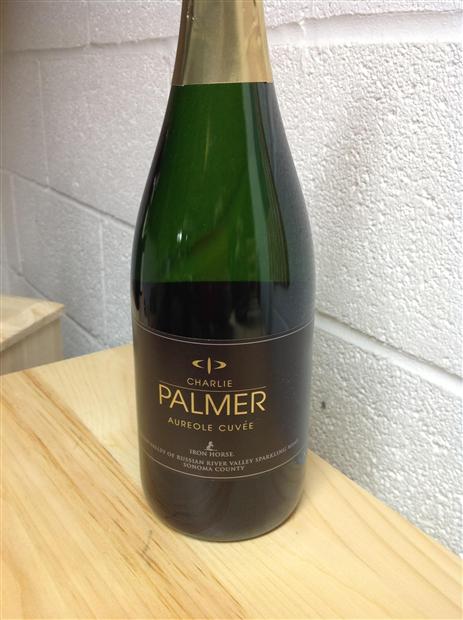 When we called Charlie up one early Spring day, we challenged him to walk us through a seasonally appropriate food pairing for our sparkling wine and Pinot Noirs. The season is right for the Sonoma County baby lamb or ham and our Pinot Noirs just received stellar ratings by the editors at Wine Enthusiast which will appear in the June 2015 issue. Here's what we learned...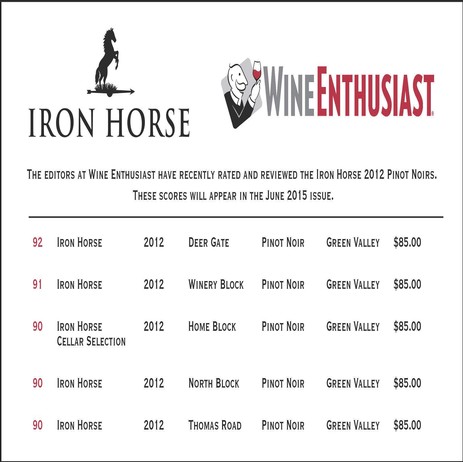 IRON HORSE INTERVIEW WITH CHARLIE PALMER:
Iron Horse: What drew you to develop a partnership with Iron Horse?
Charlie Palmer

: We started with Iron Horse years ago. My team of wine directors and sommeliers aimed to develop a sparkling wine that was both "food friendly" and could be an aperitif. The

Aureole Cuvee

is just that. We offer restaurant guests a small coup glass as they peruse the cocktail menu. Just 3 ozs of bubbles triggers that feeling of celebration and serves as a palette starter, but you can certainly drink it through the entire meal.
Iron Horse

: What flavors make the Aureole Cuvee a menu go-to for you?
Charlie Palmer: It's about freshness and balance. It was important that the sparkling wine bring good acidity to compliment richer foods with higher fat content.
Iron Horse: Spring has sprung at our vineyards. What celebratory sparkling creations are you preparing for Easter and Passover celebrations at your restaurant?
Charlie Palmer: When you think of Easter and Passover, you think of brunch. Our brunch menus at a few of the restaurants will offer a seasonal sparkling wine cocktail which will include 6 oz of the Aureole Cuvee, a few drops of pomegranate syrup to get a blush pink coloring, pomegranate seeds, and half an ounce of absynth.
Iron Horse: What's on the menu for the main course?
Charlie Palmer: When I was a kid we always had a big, roast ham for Easter. It brings salty, rich flavors that are perfect for pairing with Iron Horse Pinot Noir. The fatty, smokiness of the cured ham is perfect for balancing the Pinot Noir flavors which bring fruitiness and acidity up front. Lamb dishes would also work wonderfully.
Iron Horse: You mention Pinot Noirs, ours were recently honored with excellent ratings awarded by Wine Enthusiast. What makes this Iron Horse red stand out?
Charlie Palmer: When people think about Iron Horse - they think about sparkling. But the Pinots have some of the most interesting terrior make-ups. Green Valley Pinot is different from other areas because of its indigenous vegetal overtone which makes them more interesting than some of the bigger fruit bombs from Sonoma Coast and Russian River. They have great depth and finesse that are more Burgundian in style than others you see from California.
Iron Horse: Finally, how do you conclude an Easter or Passover meal?
Charlie Palmer: I'm not big on sweet wines or Ports. More than anything else I like the idea of closing the meal with dessert and sparkling wine, especially fruit desserts. I would recommend poached green peaches with deconstructed crumble and Aureole Cuvee. This has good acidity and effervescence from the sparkling wine in the poaching liquid.

For more information about Charlie Palmer's current projects visit charliepalmer.com. Find shop our full selection of Iron Horse Sparkling Wine on our website.
Comments