October 1, 2015 | California Sparkling, California Wine, Industry Leader, Iron Horse Sparkling, Special Production, Star Chef Series | Tarin Teno
Star Chef Series: Michael Mina On His Longtime Love of the 49ers & Iron Horse Bubbles
It's officially fall! And with that comes Football Season. To explore the art of tailgating and the role bubbles play in the quintessentially American fete, we caught up with our longtime friend Michael Mina. The rockstar restaurateur pours our special production Michael Mina Cuvee at his many beautiful restaurants across the country and has been in the headlines as he launches the second year of his famous tailgate hosted in the new Levi's Stadium. Learn from the master about the art of grazing this season and how to match up signature seasonal dishes with your favorite Iron Horse bottles…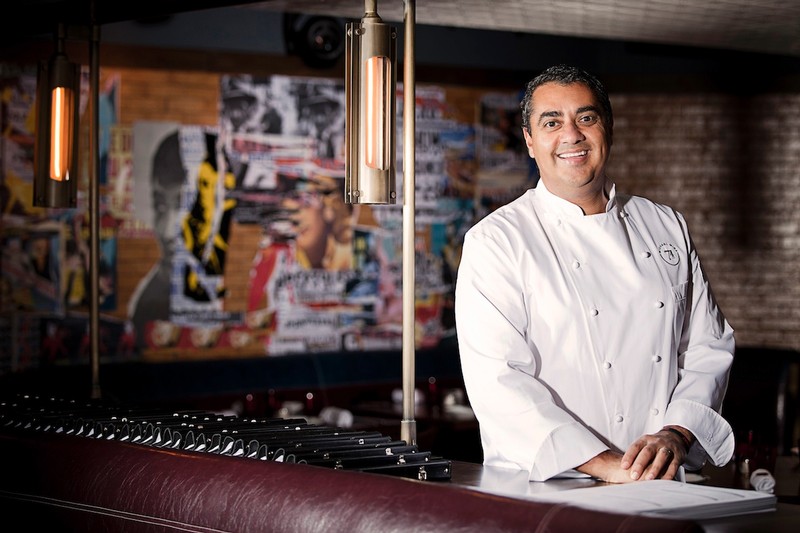 Tarin: Tell us about your tailgating venture with the 49ers and what inspired you to pursue it.
Michael Mina: Part of why I moved to San Francisco was because I'm a huge fan of the 49ers. I've been a season ticket holder for decades and I've had the good fortune of getting to know the forces from the team who dominate both the field and the behind-the-scenes business. So when the organization was building their new Levi's Stadium, they knew they wanted to leverage my 20+ years of tailgating experience to launch a Bourbon Steak / pub inspired venture with me to appeal to the demographic of the stadium.
Tarin: And so the plans got into motion. What came next?
Michael Mina: When we looked at the drawings of the restaurant space, there was a weird area next to it that remained empty. I suggested we move into that area to execute a tailgate. It was then that the tailgate proposal was concepted. I suggested we run a membership only tailgate event and use the space for catering during the off season. We intended to target a couple hundred members and just have some fun with it.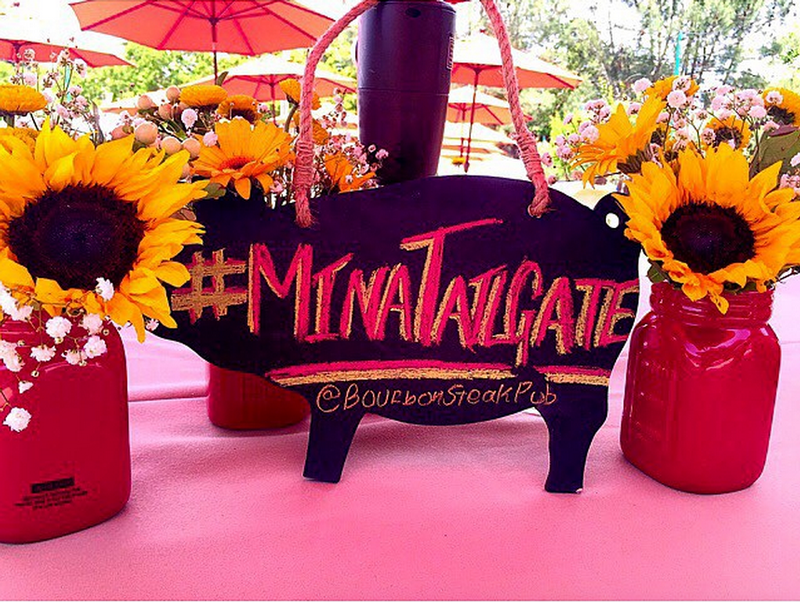 Tarin: Clearly, the organization considered your proposal a culinary touchdown. Tell us a bit more about how the tailgate has become the spectacle that it is today.
Michael Mina: One of the key elements of the event is that we invite outside chefs to help make each tailgate a unique and over the top experience. We also built a rotisserie that holds an entire cow - 1200 lbs and each game we roast a Skywalker Ranch Wagyu animal. We have massive pots that can hold literally tons of water and over 200 lobsters. We keep within the spirit of the tailgate but offer a range of fine dining to walk around stations. Guests can select from 12 composed dishes and 20 other items throughout the space as they explore the inside or outdoor seating options. Members spend their time watching the 80 screens and working through their food and drink options.
Tarin: This is very obviously a passion project for you.
Michael Mina: Absolutely. I don't really get too fanatic about anything except the 49ers. It's the one time I get really crazy. I'm definitely responsible for whooping up the crowd.
Tarin: Any fun behind the scenes scoop on the players themselves? Are they fans of yours?
Michael Mina: I have a lot of favorite players on the team and the feelings are reciprocal. There's a private tunnel for players to easily access our tailgate after the game. Players like Kaepernick, Eric Reid, Vernon Davis are frequent guest. And last weekend NaVorro Bowman requested tuna tartare he'd had at one of my restaurants in Miami. So I do take requests from VIPs, especially the new coach who is a serious foodie and in the restaurant all the time.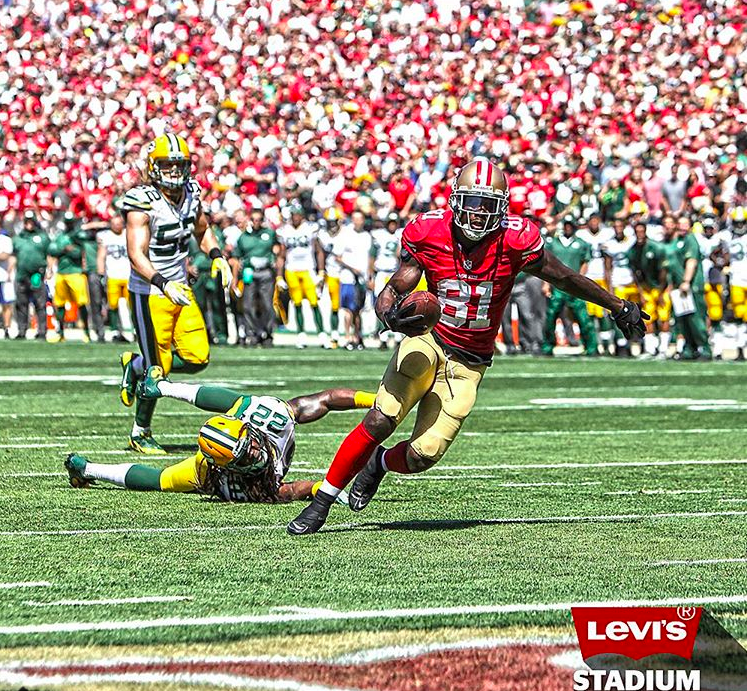 Tarin: What did you have planned for the game against the Green Bay Packers?
Michael Mina: That game will let us explore what football is all about. We got really cheesy. For example, we had a couple of fondue fountains where we offered black truffle cheddar and some classics with everything you could ever need to dip from wagyu cow, to brats, beautifully grilled vegetables, and sourdough bread.
Tarin: Which celeb chef are you really excited about collaborating with as you look down the schedule.
Michael Mina: I found out that one of my friends, Chef Todd English, is from Atlanta so he'll be on hand to execute a crazy Southern BBQ spread with me. He just sent me the menu and I'm looking forward to some classic Georgia style BBQ. I'm hoping that Joy Sterling will come pour for that game! It's been fun to learn new things about my friends as well as the cities that they come from.
Tarin: For our readers who can't make it out to the Bourbon Steak tailgate extravaganza, what do you recommend for football fans who are throwing a football watching party at home?
Michael Mina:
I like to theme it off of the team that we're playing against. I select cocktails and beers that work within that frame.

It's important that you don't just think about the dishes that come from that region or city - I like to take products that come from that state in general. And always stay within the spirit of tailgate while diversify outside of only smoked or BBQed items.

Especially when outside, I like to have a pot of something ready to do like a braised soup or chili.

And considering timing! Take the slow approach of doing one thing at a time. Grill some steak and slice it up on the spot. Then do what's next. Don't try to make it a meal all at one time - should be about grazing and drinking.

Tarin: What about wine pairings? Do bubbles come into play?
Michael Mina: Of course bubbles come into play! That's how every great tailgate should start. A glass of champagne and a bloody mary! My wife runs a bloody mary bar with her own unique recipes she's going to bottle and sell as part of her new company.
Tarin: Iron Horse is honored to have a wonderful friendship with you. And we'd like to explain to our blog readers how Michael Mina Cuvee came about. Joy wanted to remind you that we started 20 vintages (or shall we say football seasons) ago!
Michael Mina: Has it been that long?? Yes, we've been connected to Joy and Iron Horse for 20 years. And about 11 years ago, the label officially changed to Michael Mina Cuvee in honor of the launch of my Michael Mina restaurant.
Michael Mina: Now a question for Joy -- does she remember the first dish I paired with the bubbles?
Tarin: I'll have to ask her, in the meantime please tell the readers!
Michael Mina: When we first got the cuvee, we paired it with my new Caviar Parfait. The crispness of the cuvee cut through the rich flavors of the creme fraiche and salmon, but the richness also paired wonderfully with the overall dish. It's still my favorite all-time pairing.
Tarin: What makes Iron Horse special for you?
Michael Mina: It's delicious to sip. But it also pairs really well with food. That's what makes these bubbles a go-to year after year - they're very versatile.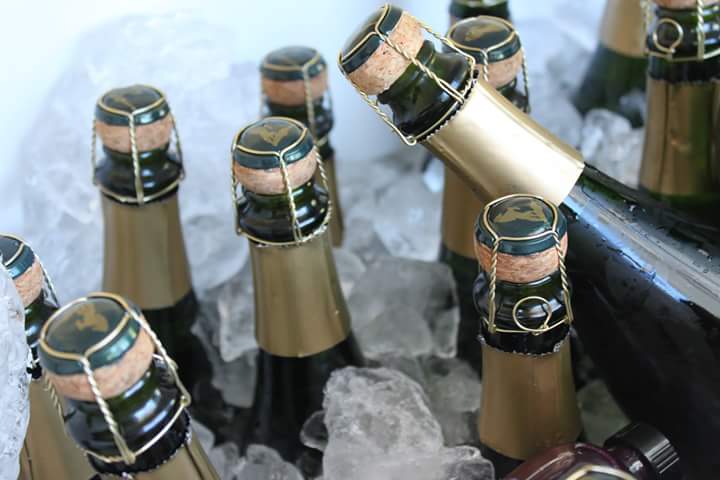 Tarin: I know Super Bowl 50 is a ways off but it will be played at Levi's Stadium. Are you excited and how are you going to tackle that momentous day at the tailgate?
Michael Mina: I have a gut feeling that the 49ers will be on the field that day each year because I'm a true fan. If we ARE there this year, I made a bet with my son that I'll get a team inspired tattoo. So I'm scared but I'll take the bet.For the tailgate, we're working with the NFL on their week long takeover of the stadium.
Tarin: Promise us that you'll share a sneak peek when you know more!
Michael Mina: Of course! More to come.
*****
Comments