February 7, 2016 | Tarin Teno
Ring in the Lunar New Year with "Monkey Cuvee"
Chinese New Year, the Year of the Monkey, starts February 8. The festivities continue for 15 days. San Francisco's Chinese New Year parade, the biggest and oldest in the U.S., is February 20. Delicious food is the centerpiece of Chinese celebrations, so we were especially happy to get to chat with our special chef friend Ming Tsai, who gifted us with a recipe for his delicious and very lucky pot stickers. (See below.)

The Monkey is the ninth animal in the 12 year cycle. People born in the Year of the Monkey are characterised as lively, quick-witted, curious, innovative and mischievous. In addition, their gentleness and honesty bring them an everlasting love.
To celebrate, Iron Horse has created a special production of Year of the Monkey Cuvee. $5 a bottle goes to the Leakey Foundation to help protect the natural habitats of primates like the Golden Snub Nosed Monkey featured on the label.
It is a perfect birthday present year long for people born in the Year of the Monkey and as a good luck gift for parents expecting babies this year.

And here to help us understand more about the time honored Chinese New Year celebrations is Chef Ming Tsai, famed restaurateur and culinary visionary born in the Year of the Dragon. Read on for our complete interview.
You're a very special chef friend for Iron Horse. We're very proud that our Year of the Dragon was featured on your February 2014 menu for the State Department lunch with the former VP Xi of China. Can you recount any specific memories about the toast that day and what it meant for you to be part of it?

It was an amazing day. To be able to cook for the now President Xi and Vice President Biden was a great honor. My father was there along with my wife and he was tickled pink that cooking could bring a man so far. Biden and Hillary Clinton thanked me personally for the meal, Hillary believed that negotiations went better because of the thoughtful menu and the bonding ritual of coming together over a delicious meal. It was this positive experience which provided the impetus to create the now famous "Chef's Core" at the State Department, Hillary saw the merit in leveraging American chefs as diplomatic aids.
I was able to meet all three leaders at the end of the meal. Because I speak Chinese, I greeted President Xi in his language. My 3-4 minute conversation had to be translated for Hillary and Biden and touched on my philosophy as a chef. I was humbled and amazed that he took time with me.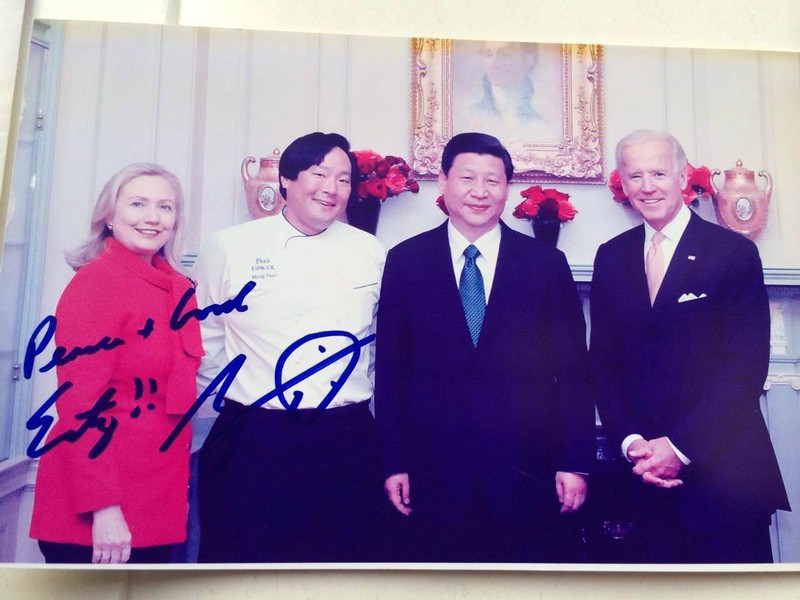 So, in addition to a career highlight, you could call this the unofficial kick off of the Chef Core!
Yes, and I'm proud to have been at the forefront of the ongoing program. The State Department recruits chefs who understand the culture of the visiting diplomats. For my part in this first dinner, I brought my understanding of Chinese preferences. Protein like duck along with hot soups are a favorite, so I took the opportunity to weave in those elements. I also served an interpretation of my signature butter fish using soy marinated butter instead of miso which is a Japanese ingredient.
Tell me a little bit about your background and what inspired you to dive into this business as a restaurateur and renowned chef.
I've cooked my whole life. I had a natural love for food which grew during summers in Paris while I was in college. I immersed myself in French cuisine & pastry and immediately decided I had to merge French with Chinese food. For me, these are the two master cuisines of the world which have been around for the longest time. From then on, I explored a blend of these two top techniques.
This appreciation of French production techniques is a natural point of intersection with Iron Horse!
That's true. It's part of why I appreciate the Iron Horse bubbles, they're made in the US but with a French style.
You have a TV show called "Simply Ming" which airs in Boston, do you have any other interesting projects that you're currently working on?
One cool project I'm working on is called FoodyDirect. It is a web based food delivery service offering regional favorites from over 100 different restaurants, delis, and bakeries. You literally get Blue Ginger food sent to your home with simple instructions on how to finish it off. I'm excited because FoodyDirect is now offering my signature butter fish dish which goes out goes out authentically from my hands in my kitchen. We're also serving our pot stickers especially for the Chinese New Year, they bring good luck.
Chinese New Year is fast approaching. How do the menus that you concept reflect Chinese New Year celebrations at your restaurants?
We'll prepare a couple special dishes and always include dumplings. The proper dumpling has a crescent shape and is said to bring prosperity. Some families hide a coin in a dumpling, the lucky bite promises an exceptionally great year. We'll have a "whole fish" dish at Blue Dragon. Wholeness is a major theme at this holiday, it signifies completeness into the New Year. Especially with fish, have to keep a good head and tail, it suggests a great beginning and end.
How integral are bubbles in marking calendar milestones? How do your guests react to the popping of a cork in your dining rooms?
Chinese are just learning how to drink wine and I think they'll learn as I did - that champagne is great for everything - breakfast lunch and dinner! It's unfortunate that many think it's only appropriate at special occasions, it should be enjoyed every day. It seamlessly cuts through fat like french fries or tempura on my menu. And the well made Iron Horse Blanc de Blancs hold up against some serious food very well.
It's clear that you're passionate about wine as a perfect compliment to the food portion of a celebratory meal, what will you be drinking tonight at your Chinese New Year celebration?
Iron Horse is a staple, they don't make a bad champagne. I'll be popping the special production Year of the Monkey Cuvee. After cooking all day at Super Bowl 50, it will be the perfect way to unwind with family and lots of dumplings.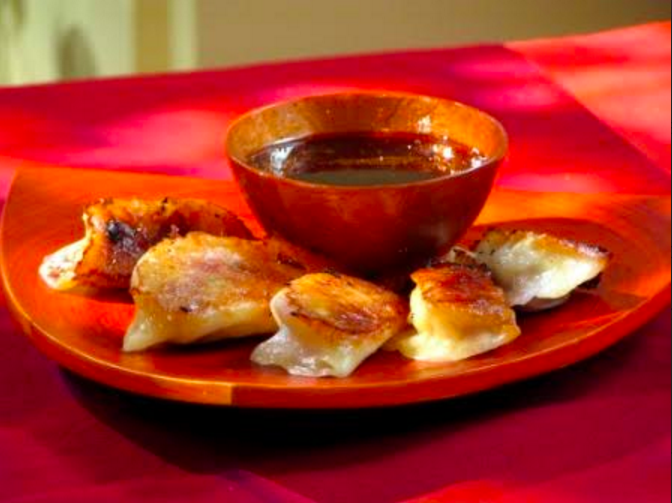 Can you provide some guidance on a Chinese New Year inspired recipe that Iron Horse readers can create in their own home with Year of the Monkey Cuvee?
Pork and Apple Pot Stickers with Dim Sum Dipper
Makes 20 to 25 pot stickers
Filling
½ pound ground pork, (not too lean)
4 tablespoons butter, softened
1 green apple, peeled, finely diced
2 tablespoons finely chopped fresh ginger
1 ½ tablespoons finely chopped garlic
1 tablespoon sambal oelek
2 tablespoon naturally brewed soy sauce
1 tablespoon toasted sesame oil
1 egg, lightly beaten
1 ½ teaspoons salt
Purchased Pot-Sticker Wrappers
2 tablespoons canola oil
Dim Sum Dipper*
1. To make the filling, combine the pork and the butter in a large bowl. Knead the butter into the pork until it is fully incorporated. Add the apple, ginger, garlic, sambal, soy sauce, sesame oil, egg and salt to the pork and mix.
2. To fill the pot stickers, place about ½ tablespoon of the filling in the center of each wrapper. Avoid getting filling on the edges of the wrapper, which would prevent proper sealing. Fold each wrapper in half to form a half-moon shape. Seal the top center of each dumpling by pressing between the fingers and, starting at the center, make 3 pleats, working toward the bottom right. Repeat, working toward the bottom left corner. Press the dumplings down gently on the work surface to flatten the bottoms.
3. Heat a large non-stick skillet over high heat. Add the oil and swirl to coat. When the oil shimmers, add the pot stickers, flattened bottoms down, in rows of five and cook in batches without disturbing until brown, about 6 minutes. Add about ½ cup of water and immediately cover to avoid splattering. Lift the cover and make sure about 1/8 inch of water remains in the pan; if not, add a bit more. Steam until the pot stickers are puffy, yet firm and the water has evaporated, 8-10 minutes. If the water evaporates before the pot stickers are done, add more in ¼ cup increments. If the pot stickers seem done but water remains in the pan, drain it and return the pan to the stove top.
4. Continue to cook over high heat to allow the pot stickers to recrisp on the bottom, 2 to 3 minutes. Transfer the pot stickers to a platter and serve with the dipping sauce.
*Dim Sum Dipper
Makes about 1 cup
1/3 cup soy sauce
1/3 cup rice wine vinegar
1/3 cup scallions, green parts only, sliced 1/8 inch thick
1 tablespoon toasted sesame oil
1 tablespoon sambal oelek
In a medium bowl, combine the soy sauce, vinegar, scallions, sesame oil and sambal oelek. Stir to blend and use or store.
******
Are you curious about your birth year in the Chinese zodiac?
The Chinese animal zodiac is a repeating cycle of 12 years, each year is represented by an animal and its reputed attributes. In order, the 12 animals are: Rat, Ox, Tiger, Rabbit, Dragon, Snake, Horse, Goat, Monkey, Rooster, Dog, Pig.



The Iron Horse family wishes you a great Year of the Monkey filled with with happiness, bright colors, beautiful blossoms, the excitement of fireworks and, of course, delicious food and wine. Gung Hay Fat Choy!
Comments
Shiv Ji
@ May 19, 2016 at 1:21 AM
For Unbeaten Packers and Movers in Hyderabad visit http://www.movers5th.in/packers-and-movers-hyderabad/ For Unexcelled Packers and Movers in Bangalore visit http://www.movers5th.in/packers-and-movers-bangalore/
Omkar Ji
@ May 19, 2016 at 1:21 AM
For Unbeatable Packers and Movers in Pune visit http://www.movers5th.in/packers-and-movers-pune/ For Optimum Packers and Movers in Mumbai visit http://www.movers5th.in/packers-and-movers-mumbai/
Shiv Ji
@ May 19, 2016 at 1:22 AM
For Optimal Packers and Movers in Delhi visit http://www.movers5th.in/packers-and-movers-delhi/ For Ultimate Packers and Movers in Gurgaon visit http://www.movers5th.in/packers-and-movers-gurgaon/
dissertation writing help
@ Aug 10, 2016 at 12:33 AM
Pleasant post and articles are likewise exceptionally marvelous, I am extremely left your site thank you such a great amount of offering to us.
tracy grilli
@ Dec 12, 2016 at 7:48 PM
Hello, I Read the article of a very great spell caster and it seems very helpful to me. I haven't had the chance to have a proper relationship with my ex because we work together. This will be the final week or work and then I wont be around him constantly. Unfortunately, I broke one of the rules in the article and have been sleeping with him. Something I'm not proud of, especially since he has a girlfriend. Not to mention that she's a girl he dated off and on for 3 years before he dated me. When I asked him why he kept sleeping with me even though he was in a relationship, his response was because I wanted it, and he wants me to be happy. But obviously what would make me happy would be to have him all to myself. That was when i read about dr alexzander on how he help people in saving their relationship and i was really despirate for his help. There were things in our relationship that were tough. We traveled for 4 months right in the beginning, and it was hard due to different expectations. When we returned our living situation was unstable which caused a lot of stress on my end. And when I ask why he didn't give me a chance to make things better he said he gave me tons of chances. Oh, and he compared our relationship with his past. He says that things were great, and then they went bad really fast, and thats why his back with his ex. Because it at least took them years for things to get that bad. So i was very sad and disappointing and decided to contact this spell caster for help with tears running out of my eyes and Dr alexzander promised to make things right in my relationship and also assured me that my boyfriend is going to come back to me within 78hrs. At first i was shock and didnt believe him because i thought it was impossible to do. But i gave it a try and trusted him. Dr alexzander asked for my details and his, then guarantee me of his return. Truely my ex lover started calling me and also begging me to forgive him and that's his willing to give us a second chance, then promised me never to love any other woman apart from me. it all seem like a miracle to me till now. Dr alexzander. Words can't express how i feel right now. it been 2 month now since you casted that love spell for me and nothing have gone bad between us. his now caring more than ever and also the loving kind of Man i have ever wanted for myself in life. I thank you Dr alexzander for saving my relationship. Indeed you are the best. I want to use this media to share my testimony for the whole world to see and know that there is still hope in your broken relationship, No matter how bad it seems don't give up hope and also contact this man who saved my own. you can reach him through his website address http://alexzanderhightemple-com.webs.com or contact him direct with his email address alexzanderhightemple@gmail.com. I thank you dr alexzander for helping me and i will always share my testimony in every social media or place i may go to. (From United State Of America). Mrs Tracy Grilli.! https://tracygrilli.blogspot.com.tr
terrilynbarzey.weebly.com
@ May 17, 2017 at 10:25 PM
Heya i'm for the first time here. I found this board and I find It really useful & it helped me out a lot. I hope to give something back and aid others like you helped me.
مشاهده سایت foot pain after surgery
@ Jun 24, 2017 at 5:14 AM
These are in fact impressive ideas in on the topic of blogging.
You have touched some nice factors here. Any way keep up wrinting.
foot pain bunion
@ Jul 2, 2017 at 3:15 AM
My brother suggested I may like this blog. He used to be entirely right. This put up actually made my day. You can not consider simply how so much time I had spent for this info! Thanks!
foot pain bottom

@ Jul 3, 2017 at 9:14 AM

Hey there, You've performed a great job. I will definitely digg it and personally recommend to my friends.

I'm confident they'll be benefited from this site.

Commenting has been turned off.