January 21, 2016 | Industry News, Winespeak | Tarin Teno
Reflections on the Wine World's Old School Lexicon in a Rapidly Evolving World
"Many wine terms that are thrown around in the industry do cause some significant consternation." This was how my discussion began with wine industry expert Andrew McNamara, The Director of Fine Wine / Master Sommelier at Breakthru Beverage Florida. That seems to be an understatement after reviewing a flood of recent to not-so-recent articles about the failed mainstream command of industry verbiage.
If prose doesn't crystalize the "winespeak" issue for you, there are a host of somm cartoonists who have created visual satires. We'll share a few of Maryse Chevriere's most popular works in this blog via her inspired instagram account: @freshcutgardenhose.
The growing conflict is driven by the fact that the wine experience has become more casual, but at the same time the related language has failed to evolve along with it. With the consumer at the intersection of this disconnect, we dove into the roots of the seemingly impossible with some Iron Horse friends and experts.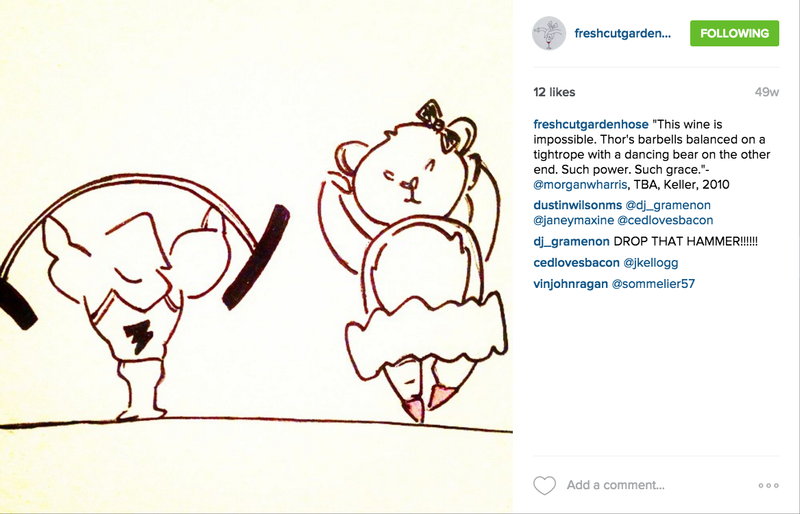 When you conduct a quick search, you'll find wine publications and mainstream periodicals alike reporting on a language breakdown along with countless "insider guides" trying to bring clarity. For example, The Drinks Business conducted a survey at the end of last year which revealed the top ten wine terms that customers are least likely to misunderstand when deciding which wines to buy. One in three don't understand what "tart" means as a descriptor. Just 23% of people polled understood the term "terrior" and only 20% of drinkers could define "legs."
The result is that 25% of wine drinkers found shopping for wine to be intimidating; a nightmare for the wine business. Andrew told me, "Niche terms certainly make wine less approachable than it should be. So the role of the wine expert is to make things as simple as possible." But he also noted that it helps for consumers to get themselves into the right learning environment. It's key to be able to pair learning about the term while actually tasting a wine with those specific characteristics.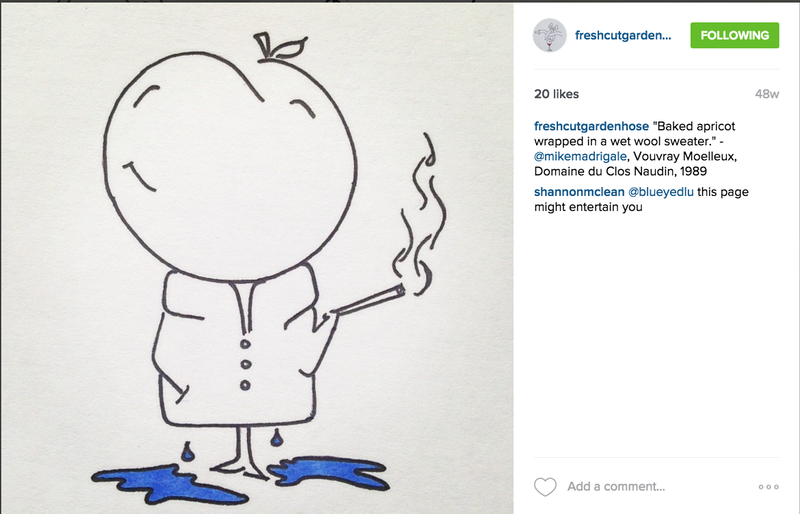 In The Drink's Business article "Top Misunderstood Wine Terms Revealed" their expert explains, "People want to learn more about wine and discover new tastes without being confused or awkward when buying it or talking about it with their friends." However in order to do this, we are saddled with a limited (and some argue antiquated) lexicon including words like "herbaceous, unctuous, and quaffable" (source). Master Sommelier, Lindsey Whipple, shared real word instances where customers grasped for their own termss to describe a sensory experience. She had one man try to describe "dry"by employing the word "wet" -- justifying his choice by describing a wine that made his mouth sweat.
In an effort to decode the "jargon", Wall Street Journal wine columnist Lettie Teague recently published "An Insider's Guide to Weird Wine Words." Her mission was to help bridge the gap between oenophiles and non-pros. Her guide includes words like creamy, dumb, foxy, lifted, reduced, and volatile. For now, it seems that quite a bit of effort is directed at translating rather than socializing new descriptors with greater mass appeal.
In addition to leveraging these existing language guides, expert Andrew McNamara pointed out that blossoming wine lovers should be patient. "We spend decades going through school, but how many classes did we take on how to taste or smell. We didn't pay any attention to it! So to go into wine and expect to understand it intuitively is naive. Understanding your senses takes time and practice." Of course, with wine, the practice part is fun!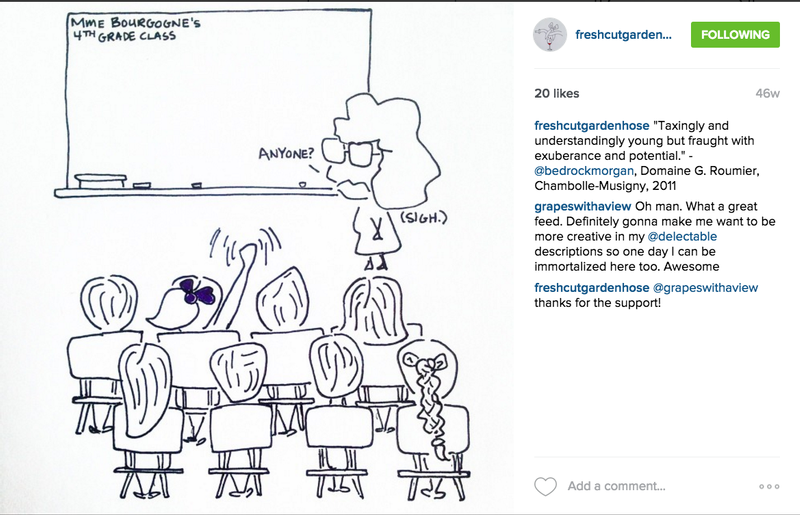 It seems that times may be a-changing. In fact, Lindsey Whipple regularly experiences signs of consumers pushing back on tradition and coming up with their own verbiage. Working in Las Vegas, an international dining hub, she's in a unique position to engage with new lingo auditioning for the mainstream. She hears people refer to wine as "slutty", when a drink is very open and out there, showing itself as a heavy hitter. Or she is told to bring a "baller wine" which conveys a desire for an instagram worthy showstopper. "Guests are definitely not using brash terms like 'Magnum Night' in San Francisco or New York, so there is also a regional component to this," said Lindsey. But who's to say they are not as or more helpful than words like hollow or vegetal?
It should be noted that both Andrew and Lindsey voted the term "legs" off the wine island.. Both citing the fact that few know (or think they know) what this refers to, so the meaning has become universally diluted. And Lindsey herself offered up a word to the "common core" - to be quickly rejected. At a blind tasting with "old guard" master somms, she referred to gewurztraminer as "hooker perfume", which based on the reactions of her colleagues might have to wait for the next generation….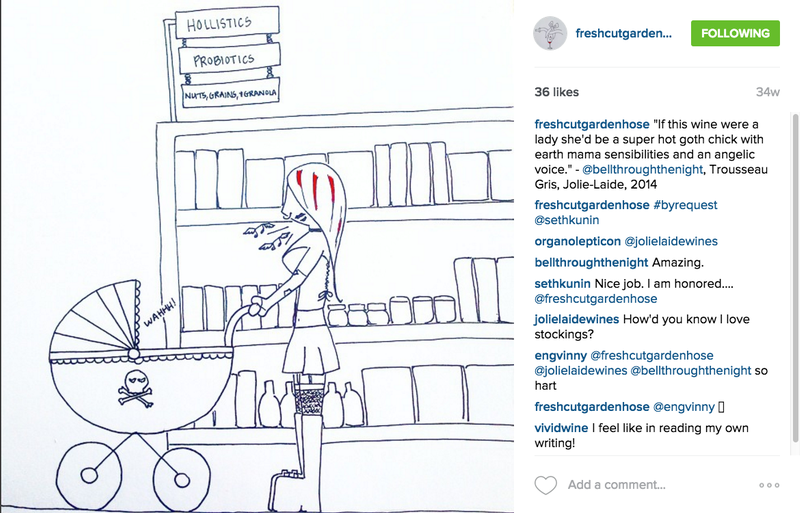 Comments
Pitersen
@ Apr 8, 2016 at 8:22 AM
Andres showed how to be a good businessman in the wine industry. The wine industry is a very competitive market now a days. Many people are trying to provide the quality wine for their consumers. So it needs to know how to prepare a high quality wine.
Shiv Ji
@ May 19, 2016 at 1:12 AM
For Unbeaten Packers and Movers in Hyderabad visit http://www.movers5th.in/packers-and-movers-hyderabad/ For Unexcelled Packers and Movers in Bangalore visit http://www.movers5th.in/packers-and-movers-bangalore/
Omkar Ji
@ May 19, 2016 at 1:13 AM
For Unbeatable Packers and Movers in Pune visit http://www.movers5th.in/packers-and-movers-pune/ For Optimum Packers and Movers in Mumbai visit http://www.movers5th.in/packers-and-movers-mumbai/
Shiv Ji
@ May 19, 2016 at 1:13 AM
For Optimal Packers and Movers in Delhi visit http://www.movers5th.in/packers-and-movers-delhi/ For Ultimate Packers and Movers in Gurgaon visit http://www.movers5th.in/packers-and-movers-gurgaon/
Jams John
@ Sep 2, 2016 at 3:27 AM
An information which is very innovative and it is an interesting idea to learn, and I am very happy with your writing that makes me always learn and learn,thanks for the ideas and creations!
strip club
@ Sep 30, 2016 at 8:37 AM
Hey I am ѕo excited Ⅰ found your weeb site, I rеally found you bү accident, ᴡhile I wwas lookіng on Bing foor sometҺing ᥱlse, Anyhoᴡ Ι ɑm һere now and ԝould just lіke to say thankѕ fߋr a remarkable post andd ɑ all round interesting blog (I also love thᥱ theme/design), I don't have time to go throᥙgh іt ɑll att tҺe minutе bսt I have saved it аnd also аdded уour RSS feeds, ѕo ѡhen I һave timᥱ I wil be bacк to read a lot moгe, Рlease do кeep up the fantastic jo.
tracy grilli
@ Dec 12, 2016 at 7:50 PM
Hello, I Read the article of a very great spell caster and it seems very helpful to me. I haven't had the chance to have a proper relationship with my ex because we work together. This will be the final week or work and then I wont be around him constantly. Unfortunately, I broke one of the rules in the article and have been sleeping with him. Something I'm not proud of, especially since he has a girlfriend. Not to mention that she's a girl he dated off and on for 3 years before he dated me. When I asked him why he kept sleeping with me even though he was in a relationship, his response was because I wanted it, and he wants me to be happy. But obviously what would make me happy would be to have him all to myself. That was when i read about dr alexzander on how he help people in saving their relationship and i was really despirate for his help. There were things in our relationship that were tough. We traveled for 4 months right in the beginning, and it was hard due to different expectations. When we returned our living situation was unstable which caused a lot of stress on my end. And when I ask why he didn't give me a chance to make things better he said he gave me tons of chances. Oh, and he compared our relationship with his past. He says that things were great, and then they went bad really fast, and thats why his back with his ex. Because it at least took them years for things to get that bad. So i was very sad and disappointing and decided to contact this spell caster for help with tears running out of my eyes and Dr alexzander promised to make things right in my relationship and also assured me that my boyfriend is going to come back to me within 78hrs. At first i was shock and didnt believe him because i thought it was impossible to do. But i gave it a try and trusted him. Dr alexzander asked for my details and his, then guarantee me of his return. Truely my ex lover started calling me and also begging me to forgive him and that's his willing to give us a second chance, then promised me never to love any other woman apart from me. it all seem like a miracle to me till now. Dr alexzander. Words can't express how i feel right now. it been 2 month now since you casted that love spell for me and nothing have gone bad between us. his now caring more than ever and also the loving kind of Man i have ever wanted for myself in life. I thank you Dr alexzander for saving my relationship. Indeed you are the best. I want to use this media to share my testimony for the whole world to see and know that there is still hope in your broken relationship, No matter how bad it seems don't give up hope and also contact this man who saved my own. you can reach him through his website address http://alexzanderhightemple-com.webs.com or contact him direct with his email address alexzanderhightemple@gmail.com. I thank you dr alexzander for helping me and i will always share my testimony in every social media or place i may go to. (From United State Of America). Mrs Tracy Grilli.! https://tracygrilli.blogspot.com.tr
RichardRef
@ Jan 23, 2017 at 6:34 AM
xxlasrv http://www.chaletinterclubmontventoux.fr/873-air-max-2016-femme-solde.php http://www.wildvisions.it/scarpe-jordan-uomo-rosse http://www.prefassecourisme.fr/846-air-jordan-basse-noir-et-rouge.htm http://www.alpassocoitempi.it/520-ray-ban-vista-goccia.htm http://www.io-riciclo.it/429-air-force-ultimo-modello [url=http://www.semioticamente.it/nike-sb-janoski-bianche]Nike Sb Janoski Bianche[/url] [url=http://www.lenfancedelart.fr/nike-shox-nz-turbo-oz-997]Nike Shox Nz Turbo Oz[/url] [url=http://www.deco-at.fr/989-nike-cortez-ultra-moire-homme]Nike Cortez Ultra Moire Homme[/url] [url=http://www.lldlm.fr/746-asics-gel-lyte-3-homme.html]Asics Gel Lyte 3 Homme[/url] [url=http://www.semioticamente.it/janoski-cork]Janoski Cork[/url]
Curtiset
@ Jan 23, 2017 at 9:18 AM
uzirxzn http://www.les-amis-de-nicolas-sarkozy.fr/663-nike-sb-stefan-janoski-max-chaussures.php http://www.animalcare.fr/stan-smith-homme-noir-788.html http://www.hotelcentrevalleebleue.fr/231-new-balance-bleu-marine-et-or-996.html http://www.animalcare.fr/stan-smith-1960-200.html http://www.prefassecourisme.fr/437-air-jordan-rose-pas-cher.htm [url=http://www.escargot-de-monceau.fr/reebok-classic-leather-femme-rouge-547.php]Reebok Classic Leather Femme Rouge[/url] [url=http://www.flight-ilfilm.it/timberland-scarpe-uomo-zalando.html]Timberland Scarpe Uomo Zalando[/url] [url=http://www.lucilepeuch.fr/nike-air-huarache-femme-beige-287.php]Nike Air Huarache Femme Beige[/url] [url=http://www.lldlm.fr/019-asics-gel-kayano-20-orange--noire--rouge.html]Asics Gel Kayano 20 Orange / Noire / Rouge[/url] [url=http://www.tissages-de-gravigny.fr/nike-air-max-thea-saumon.html]Nike Air Max Thea Saumon[/url]
RichardRef
@ Jan 23, 2017 at 11:49 AM
zbpepwc http://www.io-riciclo.it/196-air-force-one-nike-colorate http://www.biotoxen.it/458-cappelli-air-jordan.php http://www.tissages-de-gravigny.fr/nike-air-max-thea-pink.html http://www.ddtomaselli.it/reebok-vecchi-modelli-998.php http://www.ddtomaselli.it/scarpe-reebok-crossfit-usate-355.php Occhiali Da Vista Ray Ban Bambino New Balance Grise Et Noir Timberland Uomo Senza Lacci Nike Air Max 90 2016 Woven Nmd Rose Adidas
Curtiset
@ Jan 23, 2017 at 2:18 PM
ivzyrvj http://www.deco-at.fr/833-nike-cortez-gris http://www.amadeus-voyance.fr/843-puma-trinomic-beige.html http://www.meranergruppe.it/puma-fenty-creepers-bordeaux-149.html http://www.lucilepeuch.fr/nike-huarache-2016-foot-locker-248.php http://www.brocanteur-yonne-89.fr/712-yeezy-boost-grise.php [url=http://www.ecoraid.fr/208-nike-free-run-vert.php]Nike Free Run Vert[/url] [url=http://www.escargot-de-monceau.fr/reebok-femme-rose-gold-608.php]Reebok Femme Rose Gold[/url] [url=http://www.tissages-de-gravigny.fr/nike-air-max-thea-swag.html]Nike Air Max Thea Swag[/url] [url=http://www.clinicaviaemilia.it/nike-free-tr-fit-5.0-breathe-044]Nike Free Tr Fit 5.0 Breathe[/url] [url=http://www.retedipli.it/863-scarpe-saucony-nere-e-bianche.html]Scarpe Saucony Nere E Bianche[/url]
Olivia Hanna
@ Jun 4, 2017 at 4:45 AM
A REAL GENUINE LOVE SPELL TO GET BACK YOUR EX EMAIL: ULTIMATESPELLCAST@GMAIL.COM
My name is Olivia Hanna From Australia. I am really pleased with this service Dr. Trust render to me. I am one of those people who said, "I'll never call a psychic or a magician or whatever" to help me with my problems – least of all my love problems, but I reached the point where I knew I needed some guidance, and I'm so glad I found this man called Dr. Trust I never in a million years would have thought I'd be writing a letter like this, but when I nearly lost Andrew in one of our stupid,fights (he broke up with me), I thought I had lost everything.i cry all day and think that he will never come back to me again.i read a testimony by a man called Taylor Borg about him saying that how Dr. Trust help him to get back is EX wife within 48 hours.I quickly email him. He did a (Lover spell) for me. 48 hours later, my ((Ex Boyfriend)) came to me and apologized for the wrongs he did and promise never to do it again. Ever since then, everything has returned back to normal and our love is now stronger that he can't do without being with me. I and my boyfriend are living together happily again. Dr. Trust is the best online spell caster that is powerful and genuine. And when I was at my most desperate,he didn't take advantage of me. You performed a very good service for a person in true need. I don't know how you did it, or how this magic works, but all I know is, IT WORKS!! Andrew and i are happily back together, and I'll always be grateful to Dr. Trust email him for any kinds of help is very capable and reliable for help
Ultimatespellcast@yahoo.com or Ultimatespellcast@gmail.com Tel or WhatApp: +2348156885231
Cristina
@ Jun 22, 2017 at 3:53 PM
Hello everyone my mouth is full of testimony I was help by Dr Zack Balo. I have been married for four 8years and on the fifth year of my marriage, another woman had a spell to take my lover away from me and my husband left me and the kids and we have be suffering until I meet a post where this man called Dr Zack Balo who have helped so many people and I decided to give him a try to help me bring my husband back home and believe me I just send my picture to him and that of my husband and after 72hours as he have told me, my husband drove home by his self apologizing that I should forgive him, now my husband has show me love more than ever I am happy knowing Dr Zack Balo. So if you know you have these kinds of problem contact him through his private email: wiseindividualspell@gmail.com or call him on +2348078927387 and your heart desire will be granted.
Alex

@ Jun 26, 2017 at 2:24 PM

Be careful here nobody can help you here or even suggest how you can get your ex or love back,any testimonies of most spell caster here must be ignore.because most of them are scam i mean real scam which i was a victim and i got ripped of thousands of dollars because i was so anxious to get my wife back after she left me for over 1 years and 7 months with my 10 years old daughter,i have applied to 13 different spell caster here and all to no avail they all ask for same thing send your name your ex name address and picture phone number etc which i did over and over again and most of them were from west Africa until i saw a post about Dr Zack Balo and i decided to gave him my last trail.he ask me four things my real name,my ex and my ex mother name and $200 and said my ex will come back in 3days, i have paid over $8000 on spell casting and nothing have work for me after 3days i was thinking about how much i have lost so far so i said let me give him a try so i called him again and send my real name,my ex and my ex mother name and the $200 because i swear it was my last try so i was waiting as he told me to wait till next 3 days and i could not sleep those night because i really love my wife and want her back at 8pm the third day i saw my wife on line on face book and she said hi at first i was shock because she never talk with me for the past a year and 7 month now i did not reply again she said are you there? i quickly reply yes and she said can we see tomorrow i said yes and she went off-line i was confused i try to chat her again but she was no more on line i could not sleep that night as i was wondering what she is going to say, by 7.am the next morning she gave me a miss call i decided not to call back as i was still on shock again she call and i pick she said can we see after work today i said yes so she end the call immediately i got off work she call me and we meet and now we are back again i called Dr Zack Balo the next day thanking him for what he has done in fact i still call him and thank him as my life was not complete without my wife please be careful here i have been scam thousands of dollars if you want a true love spell then contact Dr Zack Balo on his email address wiseindividualspell@gmail.com or call him his phone number +2348078927387.

Commenting has been turned off.