March 17, 2014 | News & Accolades, Vineyard Updates | Joy Sterling
Rainbow Cuvee
I am very proud to announce the release of a new, limited edition, vintage Sparkling Wine called Rainbow Cuvée, available at the winery and on our website.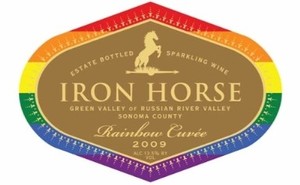 It's meant for everyone who believes in love, justice and equality … and, nothing says marriage quite like a gorgeous bottle of bubbles.
The wine is vintage 2009 Blanc de Blancs - 100% estate Chardonnay, aged three-plus years en tirage. The dosage, or finishing element, makes it unique. Only 250 cases were produced.
Dosage is the final ingredient to go in the bottle before the cork. It is syrup made of wine and sugar. How much is added to the bottle sets the degree of sweetness to dryness of the Sparkling. The composition of the dosage sets the style, like a spice or seasoning.
It never ceases to amaze me how a few milliliters can change the color, bouquet, weight, flavors and finish. Rainbow Cuvée is certainly one of the most delicious we have ever produced.
The release date coincides with rainbow season in the vineyards. We are told Iron Horse has more rainbows per square inch than anywhere else.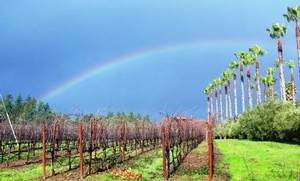 Stylistically, "Rainbow" is bright and exciting, dry, surprisingly rich, made for celebration.
The label design is by Mark Berry of Akins Berry Communications. The winery retail price is $58/bottle, available at the Iron Horse Tasting Room and on-line.
Comments
Commenting has been turned off.