September 14, 2015 | California drought, California Sparkling, California Wine, Industry Leader, Iron Horse Pinot Noirs, Iron Horse Sparkling, Iron Horse Vineyard Update, New Season, Vineyard Updates, Winemaker Updates | Tarin Teno
Iron Horse Harvest 2015: An Update from Winemaker David Munksgard
This year's harvest offered a bunch of "firsts" for the Iron Horse team and provided challenges for expert wine growers like the Sterling Family and winemaker David Munksgard. Each harvest offers its own hurdles and opportunities to recommit to a vineyard philosophy of garnering exceptional flavors. But as the 2015 harvest comes to a close, it's apparent that this year was uniquely challenging for several reasons.
To learn more about the unprecedented growing conditions and harvesting game plan that define the vintage, I snagged some precious time with David, the 35 year "veteran of the vines" who teamed with Laurence Sterling to employ methods that traditionally are only seen in the finest wine chateaus in France.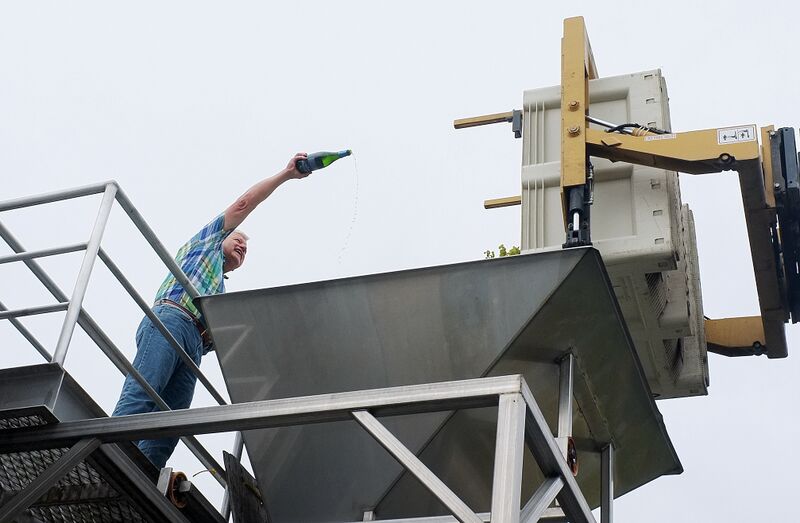 Tarin: Where are we with harvest? Close to wrapping up?
David: We will finish this week.
Tarin: Is it appropriate to say that this year's harvest calendar was anything but expected?
David: Yes, it was completely mixed up. The normal progression would be to start by picking Pinot Noir for Sparkling, followed by Chardonnay for Sparkling. Then we'd move to Chardonnay grapes for still wines and finish with Pinot Noir for still. This year, we started with Pinot Noir for Sparkling but then jumping all over the place from there. We're actually wrapping up with sparkling. In my 35 year career, I have never seen a harvest like this. That doesn't mean it's bad. It simply means that it's challenging. You really needed to be IN the vineyard to observe and judge the ripening vine by vine, day by day, so that you could improvise a game plan to take advantage of a constantly changing situation.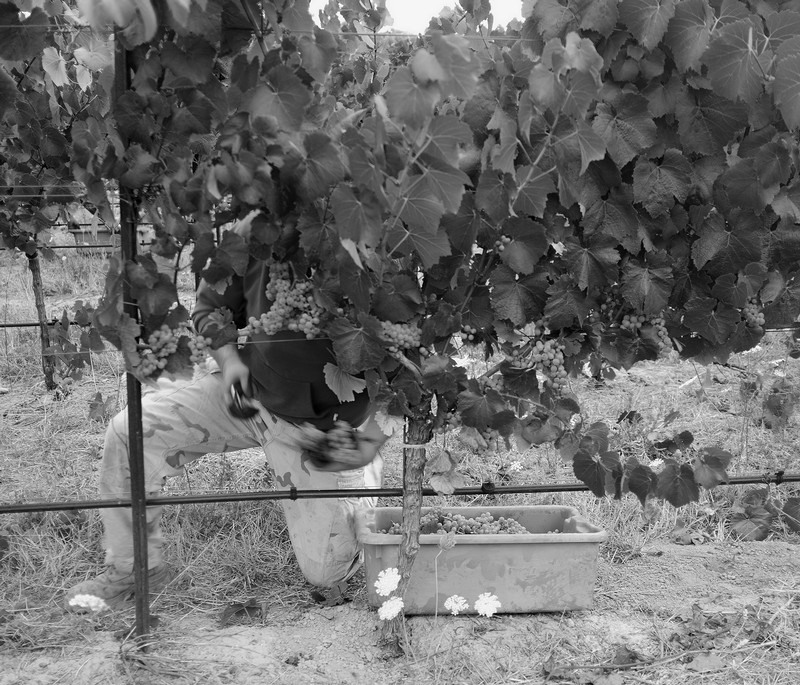 Tarin: Explain some of the hurdles you experienced upon starting the harvest.
David: Compared to the previous three bountiful years, this crop was sadly very light. Additionally when we assessed the grape vines, rather than finding uniformity, we found Pinot Noir vines where half the grapes were green and half were purple. Knowing that it was going to be a smaller harvest, we had to work with this diversity and not just cut those green grapes and let them drop to the ground. Essentially, we had to pick each vine twice. Laurence and I were clear with the vineyard team about which shades of purple were ripe for picking. It was the only way we could protect our ability to make the highest quality wine.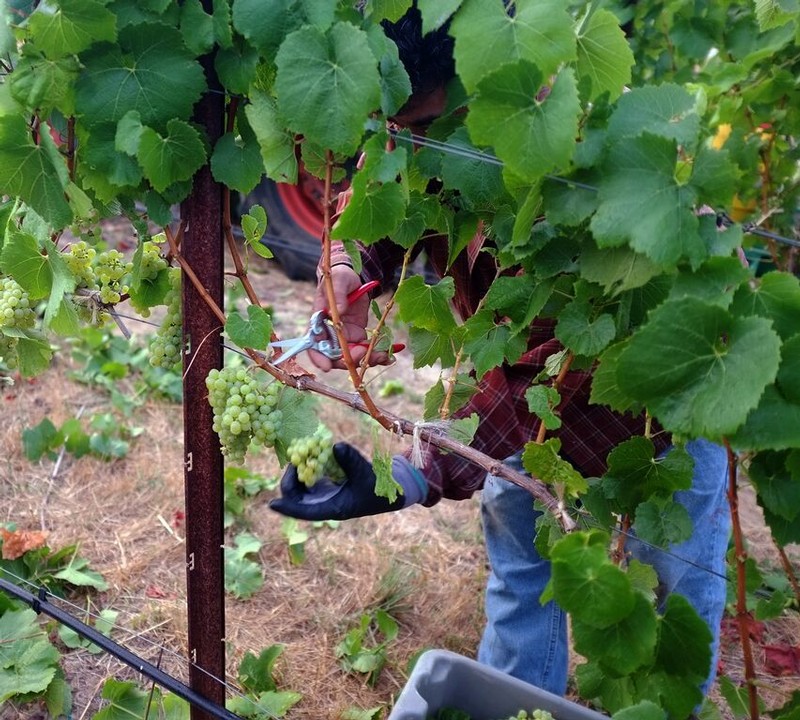 Tarin: How do you describe the vintage?
David: Challenging! But it is so satisfying to work with people who can all agree on the solution even when it is the more difficult path. Sure, we could have waited until the average analysis of the vineyard was what we needed, but the truth is that we would never have been able to make an amazing product by picking under-ripe or overripe fruit and let it even out in the press. We simply can't do things like that with our commitment to excellence. We have to protect the reputation of the winery and if that means working twice as hard and incurring the cost, then we will. In the end, we devised a way to make really great wines in a difficult vintage.
Tarin: How does this harvest compare with last year?
David: Last year, harvest was delivered to us with a ribbon. But I think the wines are going to be on par with the last couple of excellent vintages.
Tarin: We're hearing that quantity is down … but quality is high?
David: Quality is not high because the crop is small - the quality is simply there thanks to what Iron Horse does in the vineyards.
Currently we have only six wines available to taste. The rest are still fermenting. But they are clearly equal to the past few great vintages. Honestly, this was kind of shocking. Based on what we had to go through, I was expecting the results wouldn't be so great. I am extremely happy to be surprised.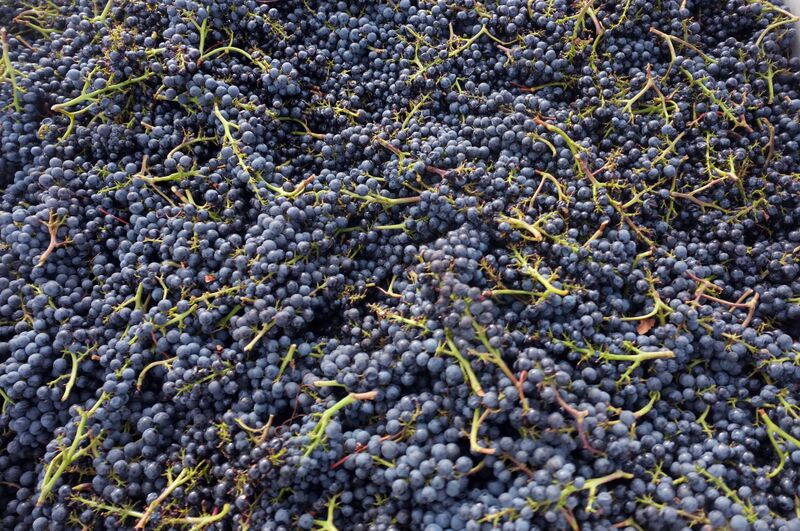 Tarin: Weather was clearly a driving factor, describe the weather starting with that nice rain in December 2014…. then what?
David: Nice and promising ... then extreme, protracted drought. Luckily we have a reservoir on the property, which the Sterlings had the foresight to build in the 70s. We use recycled water which Laurence and the vineyard crew carefully allocated to keep the vines in really great shape. We never got to a place where I was nervous about the vines holding up until the grapes were mature.
We didn't have as much fog as we normally have. There was a time where the harvest was faster than normal - the sugars were rising quickly, but then we dropped into moderate weather with cool nights. For the most part, the weather was cooperative with cooler conditions that envelope the grapes through the night until mid morning and allowed the crew to pick until 10-11am.
However at the very end, we had a few days of 100+ heat. By then, the few remaining blocks could be completely picked before the day got too hot. We only had one very small block that suffered a slight bit from the high temperatures. It was our last block of Pinot Noir for still wine, our harvest crew culled out clusters that had raisined.
Tarin: What has the long growing season meant?
David: When we started bud break, it was ridiculously early - two weeks ahead of last year, which was three weeks ahead of 2013. Then we went into a period of cool almost cold weather and that stopped the clock. The vine is only active when the average daytime temps are above 60 degrees, if it doesn't meet that, the vine goes into a dormant, slumber state. So essentially, the early spring didn't count. In the absence of a consistent rise in temperatures, we got the cluster to cluster variation which was so challenging. All the historically important and reliable timelines got stopped and re-started repeatedly. That interruption of the normal cycle in the vineyard led to uneven ripening and us picking the same vines repeatedly.
Tarin: What are your great take aways from this harvest?
David: I've always heard that the great vineyards in France make exceptional wines even in a difficult vintage, while lesser chateaus often miss the mark under distress. What it boils down to is the commitment on the part of those great wineries. Iron Horse has that passion and dedication. As Laurence says, "It has to MEAN something when we put 'Estate Grown.'" on our labels.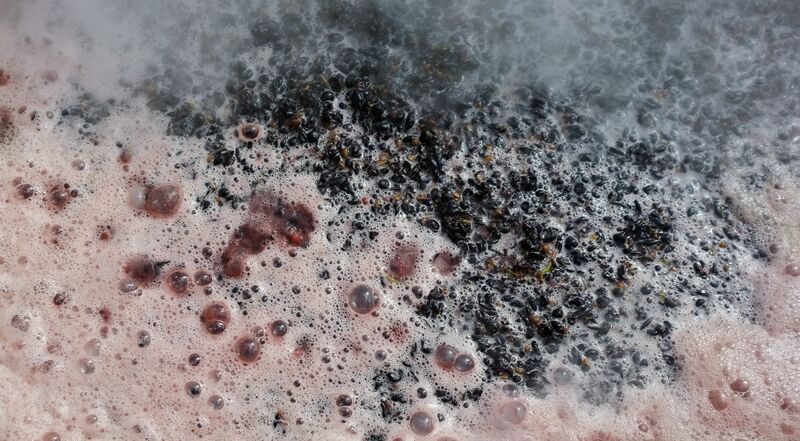 Tarin: Now, tell us about your new drone! We LOVE this video shot recently. How are you using the drone in the vineyard?
David: I initially used a small drone with a 1-2 megapixel camera to take some vineyard photos. At the time, I of course knew the property was beautiful but I didn't know it was that beautiful! I ultimately upgraded to a big drone with a large high def camera and I've been blown away at the view from 400 feet.
From a practice perspective, the benefits are untapped. Years ago, we would do an annual flight over the vineyard for infrared insights into the foliage conditions in different sections. With the drone, we can do this much more frequently and at lower cost.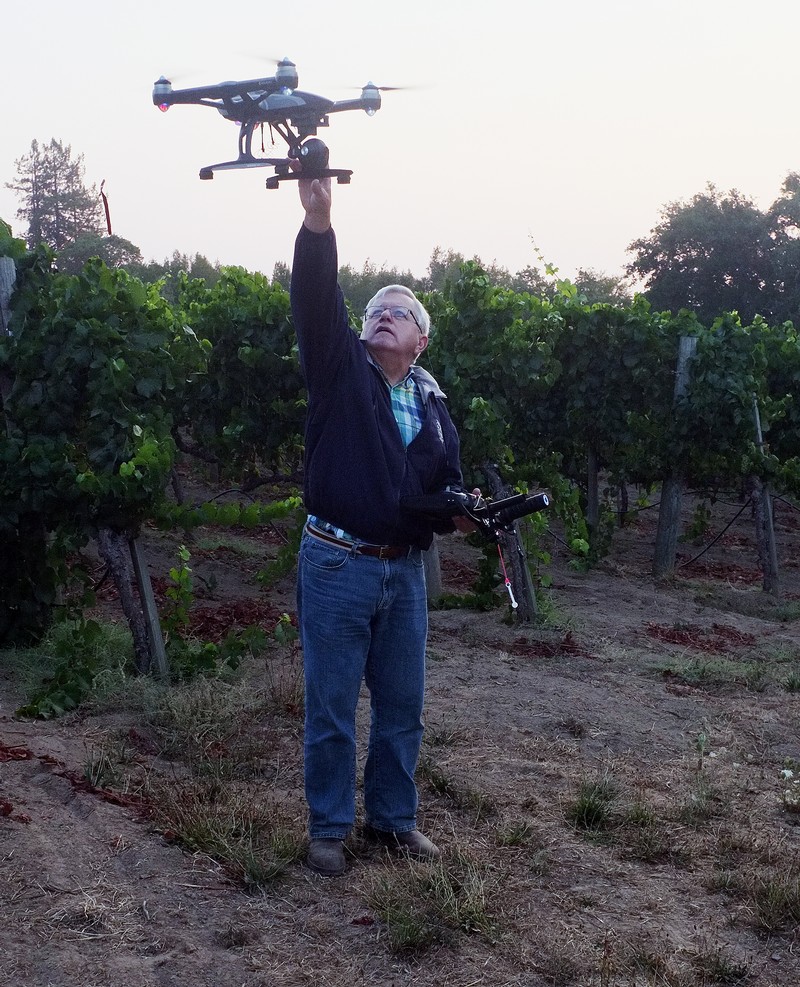 Tarin: How has it helped with the harvest?
David: I got this drone a couple weeks into harvest, but next year I plan on getting it up there weeks before we start picking to look around with a hawk's perspective. These flights will serve to help us identify which vines need more emitters (more water). It also has the potential to pinpoint differences in the canopy. Once something out of the ordinary catches your eye, you can walk out to that spot and see what's going on. I'm sure this drone can be used to make a better bottle of wine.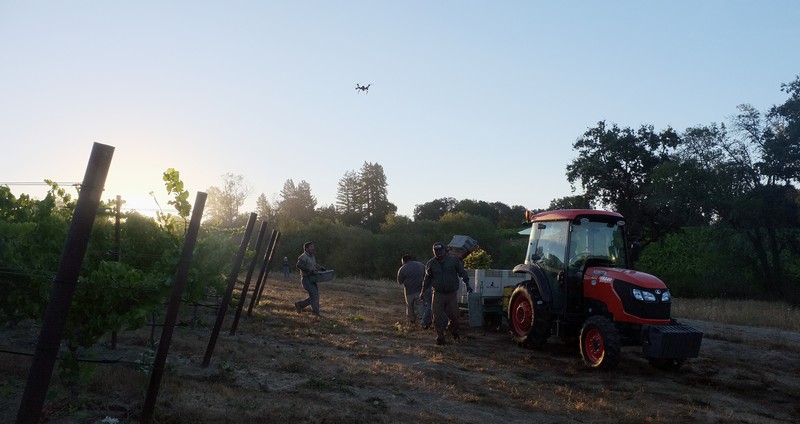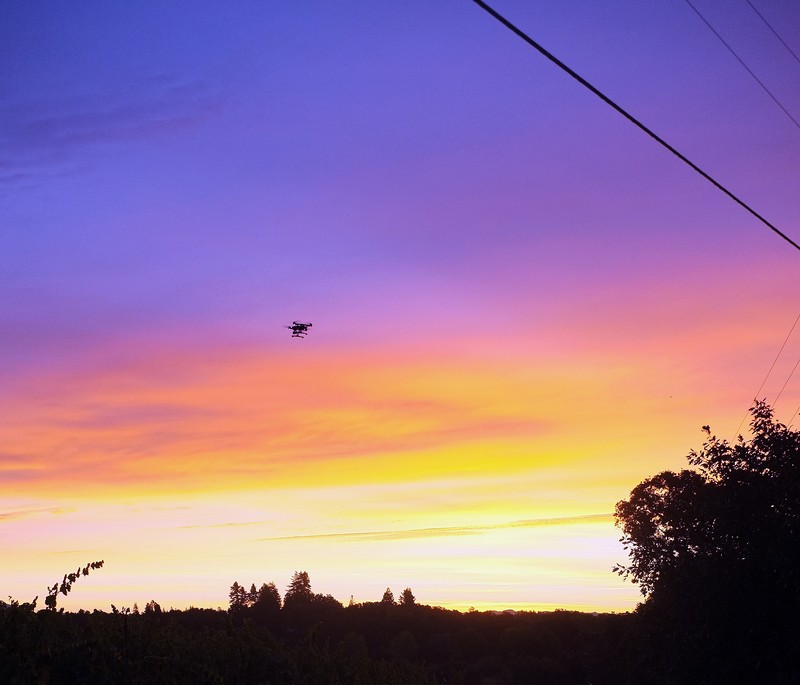 Tarin: When will we be able to taste the wines of 2015?
David: The Sterling family tradition has been to get together around Thanksgiving to taste the new vintage. Generally, November-December is when you get your first good sense of quality ie depth of character and complexity of flavors.
And as winemaker I taste the wines continuously as they develop.
As a finished product, the Chardonnays will be released in two years, the Pinot Noir in three and most of the bubbles in 2019.
###


Comments