October 19, 2017 | Joy Sterling
Gratitude
Dear Friends and Family,
We feel we dodged a bullet from the fires this past week, which puts us front and center to contribute. One of our ways of helping is with the release of a special cuvee called Gratitude – a limited production 2012 vintage rosé with $5 a bottle sold going to The Redwood Empire Food Bank.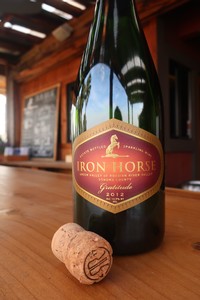 Photo: Shana Ray Bull
As you know, making a special cuvee is one of the things Iron Horse does best. Gratitude is a rosé based on freshly disgorged 2012 blend of 76% Pinot Noir and 24% Chardonnay, laid down spring of 2013, four plus years en tirage … and given a unique dosage. Winery retail is $65/bottle. Total production 500 cases.
To be honest, we planned this cuvee months ago … before Harvey, Irma, Maria, Las Vegas and the fires.
We certainly had no idea it would be so timely.
Back in May, the Tasting Room team said they wanted a rosé for Thanksgiving. Our Winemaker David Munksgard is the master of the special cuvee. So, we came up with Gratitude.
Mark Berry designed the label, which is of course gorgeous.
We are funneling all of our contributions to The Redwood Empire Food Bank, currently providing critical food to evacuation centers and shelters for our neighbors displaced by fires … while working to ensure that those who needed food assistance before the fires are still able to access their help.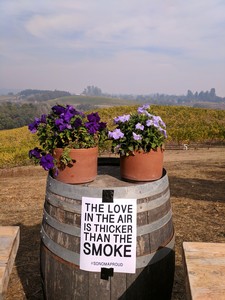 Photo: Jon Strachan
Our Tasting Room is open. There will be no tasting fee through at least the end of the month. And a portion of the proceeds from the Tasting Room and on-line sales will go to the Food Bank.
With all our very best,

Comments
Commenting has been turned off.