August 9, 2016 | California Sparkling, California Wine, Food & Wine Pairings, Industry Leader, Industry News, News & Accolades | Tarin Teno
2016 Awards Season in the World of Wine
Harvest has begun at Iron Horse, early once again, and just as promising as ever. Like the old saying goes, we keep making new friends (and new vintages!) and treasure the old. And in that spirit, we're excited to share our annual blog-homage to many long-time Iron Horse friends recently honored by key wine industry publications.
Behind the scenes (or blog!) efforts involved fanning out across the country to catch up with some of the award winners now receiving 2016 accolades from Wine Spectator and Wine Enthusiast in all different categories of excellence. We're in the harvest state of mind right now and that colored our perspective as we "hand picked" the interviews. In some ways, we see each sommelier as a "farmer" each working tirelessly to grow their "crop" over the years, applying a signature "blend" of inputs which ultimately contribute to unique success. Their "terroir" includes hometown roots, global travel, renowned mentors, and years of tasting experiences. The resulting award winning program is a "special cuvee " all its own.
The quality and depth of our conversations with these innovators were as intriguing and pleasurable as a beautifully curated wine list. We hope you enjoy sharing in these moments as much as we did.

JAMIE HARDING
Award: Wine Spectator Grand Award for Murray Circle; SAUSALITO, CA

Notable and Quotables from the Judges' Write Up: Murray Circle was praised for its stellar cellar stocked with 12,000 bottles and more than 2,200 selections, anchored by California classics. Wine Director Jamie Harding told the judges, "It used to be rare when someone came in because of the wine program. Now it's a few times a week." The laid-back attitude at the restaurant pairs with vibrant cuisine and a "deep trove of classic wines at a wide range of prices." And Harding's Sommelier Selections page offers a curated window into his mind's eye. "I'm not pushing an agenda. If I were running a little restaurant in the Mission District I'd have a completely different list. We have a culture of pleasing the customer. If they want Zinfandel, I'll give them Zin."
Somm Reflections on the Honor: "It was our first time winning for this restaurant and for me as its wine director. The award is very satisfying and is the culmination of the work of the Master Somms who came before me. I was prepared very well by people like Dan O'Brien to drive the wine program in the direction I wanted to go, and it has been a goal for us to achieve this since I arrived in 2009 as a staff sommelier.
I'm born and raised in the Bay Area and as much as I love wines of the world, I feel a kinship with California wines. That respect is massively important for someone like me who serves international resort guests, they visit us and they want to try NorCal wines. My desire moving into my role was to build up that California producer list, build up the verticals. Hopefully that had something to do with us getting over the hump (to win!). One of the things Wine Spectator mentioned was our commitment and focus on California, vintage depth and the producers we work with - that's what moved the judges. I'm committed to smaller, younger winemakers who are defining a style."

Special Mention: Jamie took an interesting path into his current area of expertise, "I started out in the music business, I wanted to be a rock star." While he pursued the music world, he always had a bartending job and found himself an unlikely mentee of Jeff Kramer a wine director at Hawthorne Lane. "I tasted things I never tasted before, learned how to pair wines, and that's where I really got hooked." Thus the wine rock star was born. As he got deeper into the industry, he found inspiration in meeting the winemakers responsible for the vintages he enjoyed so much. "There's beauty, quality, and amazing people behind the wines. When you meet winemakers, they're very down to earth people. They want wine to be inclusive. I try to breathe that attitude into my style and my staff. I want to be approachable even in the fine dining setting. There's an improv performance art and a sales component to my job - it's a complex twist!"
Iron Horse Favorite: My wife and I have been up to the Iron Horse Vineyards and tasted everything. The quality top to bottom is phenomenal. The wine on my list always is Wedding Cuvee. It's probably the best California rose out there. It has a refined beautiful style with enough fruit coming through that you get the strawberry from the Pinot Noir and the crispness from the Chardonnay.
Must Try Summer Pairing for At-Home Chefs: "Our menu changes fairly often for seasonal and local reasons. Chef Justin Everett has a great relationship with local farmers and purveyors, he's always excited about what's coming in the backdoor and the new produce in season. It's fun because I'm always tasting food and pulling corks. Right now there's a scallop dish on our tasting menu with a heart of palm puree, spring peas, and house cured pancetta. The dish was hard to pair, it's an example of how a straightforward dish can be challenging and requires out of the box thinking. You could go with a Chardonnay, a Sauvignon Blanc or bubbles, depending on what creates that WOW moment for you.
MATT PRIDGEN
Award: Wine Enthusiast "America's 100 Best Wine Restaurants of 2016" Award for Underbelly; HOUSTON, TX

Notable and Quotables from the Judges' Write Up: Winner for the second year in a row, wine list crafter and Underbelly GM Matthew Pridgen is a stickler on one thing. He told Wine Enthusiast, "If a winery isn't family owned and operated, it won't find a home on 'Wine Herder.'" The edgy drinks list is a purist when it comes to producers but is decidedly avant garde when it comes to its aesthetic. The Underbelly partners are friends with sketch artists and they collaborated on signature menu cartoons which are updated every year. Matt explained, "We wanted it to be visually appealing and fun, we're all about fine dining in a casual atmosphere and we want the menu to reflect that. Most guests love the list, it's especially fun to present to a first timer who will read through the entire wine menu and laugh at the comics."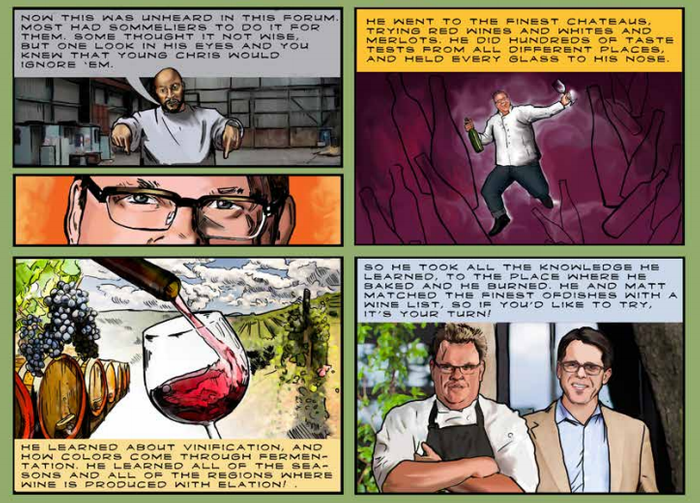 Somm Reflections on the Honor: "It's an incredibly huge honor. I've been in the wine business for quite some time, and at Underbelly for going on five years that we've been open. I was given complete control of the wine list with the parameters that we wanted something different and unique which was a little daunting because there are a lot of incredible wine lists across the country. The premise of the restaurant is locally sourced, everything in the kitchen comes from people we know. It made sense to model our wine list after the philosophy of the restaurant, so we only source wines from people who produce their own wines -- not big corporations or bank owned vineyards. Family owned and operated is our credo." The Houston native also benefits from the fact that access to good wine in Texas has gotten exponentially better over the past five to ten years.

Special Mention: For Matt, it's essential to put a face to the wine, "Personality is the thing that's making the wine and that has a lot to do with the outcome. For example, Joy is the wine she makes, she's bubbly, festive, fun and friendly which translates to her wines. Having been in the business for a long time you taste wines that are mass produced vs small. Smaller producers aren't just in it for the money to produce for the masses. It's a true labor of love and the required passion shows in their product. That weighs heavily on Underbelly's decision to focus on family owned only. And it shows across the board on our wine list. Every wine is there for a reason, nothing is just there. People who have a passion for their wines - their bottlings tend to be better with food."
Iron Horse Favorite: "I've known Joy for a long time. Iron Horse was one of my firsts visits in Sonoma when I went out there many years ago with a small group and was hosted to a full tour, tasting, and lunch with salmon and veggies out of the garden. She's an amazing person, and the wines are amazing." Right now Matt is pouring Wedding Cuvee, "For the weather right now (close to 100 every day!) and the food we're serving, it's versatile and fun to drink."
Must Try Summer Pairing for At-Home Chefs: For this time of summer Matt suggested a cantaloupe and bresaola (beef that has been dry cured and rubbed with spices), served with fresh herbs. He favors a rose to pair with the refreshing dish.
MICHAEL ENGELMANN
Award: Wine Spectator Grand Award for The Modern; NEW YORK, NY

Notable and Quotables from the Judges' Write Up: Wine Spectator did not hold back when describing the first time Grand Award Winner as "a culinary treasure in an iconic museum." As Michael explained, "There was really an ambition to take the restaurant to greater heights. I was like a kid in a candy store. I wanted to show the diversity of the wines I've served over the course of my career from California to Australia and beyond. I'm hoping we can offer the best wine program and have the best restaurant in New York. I want to be known in Japan and Europe and elsewhere as a world-class destination for food and wine."
Somm Reflections on the Honor: "There was an immediate rush of satisfaction. My team and I tripled the selection of wine in my two years at The Modern. A great amount of work was involved in achieving this award. I wanted to bring more of an international vision to the program. My tenure in Sydney exposed me to some of the greatest wines in the world, now The Modern carries hundreds of Australian wines along with legendary producers and vintages. I push to always be tasting more wine and discovering new favorites. I strive to represent the old and the new and the rising stars all on one menu. I want to accommodate any guest who walks in. We are located in NYC at the MOMA, the meeting place of the world, so it's my responsibility to be able to serve wine whether it's from California, Europe, or their native land."

Special Mentions: New York is not known for an excess of space. But Michael has unparalleled access to storage upstairs in the restaurant's "Wine Wall," a Eurocave wine cooling unit, and three floors below in former museum space for crates and offices. From physical space to mental space, Michael mentioned that The Modern is closing down for renovations for five weeks at the end of summer. The somm, who was born in France and has lived in England, California, Australia and now NYC, plans to take the the skies for more travel. He loves living in New York and the extraordinary wine community there, but looks forward to travelling and unplugging from email.
Iron Horse Favorite: "I lived in San Francisco and I would travel to Sonoma quite a bit, so I've had the pleasure of visiting Iron Horse in person. I think it's one of the most gorgeous places to start you day. Getting off the main highway and enjoying the outdoor tasting room - the natural beauty is overwhelming."
Must Try Summer Pairing for At-Home Chefs: Roasted Watermelon with Whipped Crème Fraîche and Caviar with rose, ideally Wedding Cuvee. Another one would be a glass of Meursault served with Roasted Lobster Potage with Pickled Garlic and Potatoes.
LULU MCALLISTER
Award: Wine Enthusiast "America's 100 Best Wine Restaurants of 2016" Award for Liholiho Yacht Club; SAN FRANCISCO, CA
Notable and Quotables from the Judges' Write Up: The former pop-up restaurant was lauded for "thrilling, modern food with a global, value conscious list." Wine Director Lulu McAllister separates the wine menu into classic "Old Friends" and emerging, unusual "New Friends." Described as a star somm by the magazine, Lulu explains she seeks to accommodate all levels of wine lovers, "Some people are curious and don't know a lot about wine, some people do know a lot about wine but are still curious, so I try to be sensitive to both of those progressions." She keeps things fresh by constantly tasting new wines, "I'm constantly juggling the space I have and trying to make room for the great things I'm finding. It's like the best kind of Tetris."

Somm Reflections on the Honor: "LihoLiho Yacht Club is one of the four restaurants where I oversee the wine. It's a very distinct menu with a unique flavors, textures, and colors that make pairing exciting. The expanding wine program considers wine from all across the world and is slowing moving into specific regions as I educate myself. The "Old Friends vs New Friends" approach is unique to my palette, but the general intention is to serve up classic styles and well known grape types from well known regions as well as newer options for when you want to depart from what you know and advance to more exotic grapes and styles, new products and concepts. It caters to what people want when they dine, sometimes you want something familiar and sometimes you want to escape and be adventurous. I try to remind the staff that for someone who is not used to tasting wine, any wine can be a new friend."
Special Mention: "I was surprised when we got a full page spread in the magazine. I was excited! And glad I didn't look like a total dork!" (Pictured with Chef Ravi Kapur) For Lulu, the honor hasn't really sunk in yet. "I actually recently got married, and I'm finding it's important to enjoy your milestones and accomplishments. But I'm also still pushing forward, I hope to continue to do things that people think are exciting and relevant."

Iron Horse Favorite: Lulu has many Iron Horse memories that she treasures. One of her first trips while studying at CIA was to Iron Horse Vineyards and she recalls enjoying lunch with Joy and her parents. Lulu told us she has hosted Joy for Magnum Monday as well - sounds like a perfect start to the week!
Must Try Summer Pairing for At-Home Chefs: Right now Lulu is loving roasted octopus. "It's easy to pair. For myself, I would probably choose a Sicilian rose. But the dish is friendly to a lot of styles, sparkling aromatic wines would be perfect."
ERIC HASTINGS
Award: Wine Spectator Grand Award for Jean-Georges; NEW YORK, NY

Notable and Quotables from the Judges' Write Up: This was the first time that Jean-Georges was awarded the Grand level mention. The write-up for the Trump Towers flagship was titled "A top dining destination elevates its wine list". "Historically, Jean-Georges was not really a wine restaurant, says Jean-Georges Restaurants Beverage Director Eric Hastings " But according to Wine Spectator, the current list of 1,100 selection is "perfectly attuned to the needs of the menu and the desires of the customers." They also note that "Hastings has engineered a portion of the list to be more eclectic and affordable - think boutique producers quietly putting out superb character wines, within the confines of certain regions." Cheers to that!
Somm Reflections on the Honor: I am very excited and proud of what we've accomplished as a wine team and a restaurant. We have won three Michelin stars, and four stars from New York Times, but it was thrilling to be able to add one more wine-specific feather to the Jean-Georges cap. This award is a collaboration amongst a lot of people, past and present, but it wasn't something we were seeking out. Our organization's goal is to be the best restaurant we can possibly be. We know Chef Jean-Georges puts out the best food and it is our mission to rise to the occasion of service and atmosphere. When I got the call from Wine Spectator's Ben O'Donnell, I was honestly a little surprised.
The Grand Award winners have traditionally boasted massive wine lists. But I had been working consciously over the past year and a half to build depth in vertical selections. I wanted to make sure I could get the best wine to people at the best price. The styles that tend to work best with Chef Jean-Georges are the Old World selections, so I tried to expand on that.

Special Mention: Eric explained that they're working with a deficit in the storage category telling us "Sometimes great wines don't make the list simply because I don't have anywhere to put them!" But you take the good with the bad in terms of location. He explained that being in NYC is one of his greatest assets, "It's the people around me and the availability of wine that you just can't get anywhere else on any level." He's also inspired by the increasingly educated nature of his guests. Eric explained that there are more educated wine consumers than they were 20 years ago, "They are talking about malolactic fermentation and minerality. People are branching out into wine regions that never would have year ago. It's a lot of fun and it gives us the opportunity to be more engaged which is important"
Iron Horse Favorite: Eric and Joy met at the awards dinner of the first Top Somm Final in 2010. "Afterwards, she gifted me with a wonderful magnum of 2006 vintage bubbly. Today, we serve the Iron Horse Pinot Noir and the Wedding Cuvee. And it's on the wine list at the hotel in every room. The Pinot specifically is delicious because of its Green Valley roots, a location which is becoming more universally heralded as a top region."
Must Try Summer Pairing for At-Home Chefs: One of Chef's great new dishes is nougatine hake with summer peas and ginger, it pairs beautifully with Grüner Veltliner.

ARTHUR HON
Award: Wine Enthusiast "America's 100 Best Wine Restaurants of 2016" Award for Sepia; CHICAGO, IL
Notable and Quotables from the Judges' Write Up: Specifically recognized by Wine Enthusiast for their excellent by-the-glass program, Sepia's deep and detailed list is the creation of Arthur Hon. They extoll Arthur for his "knowledge, enthusiasm, and experimentation which continues to have national impact."

Somm Reflections on the Honor: "The award was not planned in any way. It's such an honor and very special. This is our fourth year in a row as one of the best programs in the US. It started off very organically with a more creative and artistic perspective, but I had to make it more practical, acknowledging I'm working with someone else's money.
Overall, I believe the beverage list needs to match the culinary aspect of the restaurant. Chef Andrew has been here for over seven years and his instincts are very global, true "contemporary American". I spent my first few years getting to know his cooking style and understanding so many different flavors and components, which can be tricky with wines. Ultimately, I decided to match the breadth of the restaurant's direction and take the wine menu VERY global. My list represents 90% of the wine growing regions in the world. Within each country, there's a fairly good representation."
Arthur is also deeply connected to the restaurant's Chicago roots, "We're in the Mid-West and that has given me a sense of freedom. There are no regional wine favorites here, but we can get everything and have a much more balanced distribution of influences from East Coast, to West Coast, and European wines. It's also a top tier city that still offers more affordable living options. The budding food scene is supported by a vibrant urban population and all of these components serve as a solid foundation for a vibrant city with a younger crowd seeking adventurous dining experiences."

Special Mention: Arthur commented on his wine list price strategy, "Every successful wine program has to have a varied price point. You're running a business for someone else. You have the glamorous wine side of the business, but the other side is the numbers and my job is to combine the creative part and the financial aspect. Cost is very important. You can be very creative, and become too subjective and you forget about the patrons."
Iron Horse Favorite: "I've always been fascinated by the Wedding Cuvee. You can feel that it's coming from the New World genre, a playful interpretation of a California Sparkling made in the Blanc de Noirs style. It's unique and approachable with a soft texture. The name itself is very festive and Pinot Noir dominant. When I look back at the older vintages, say five years ago, they were actually "blanc" with very little color. And I've watched them grow into becoming rose. I'm also very impressed by Joy's willingness to hold back and age vintages until absolutely ready for release. To put perfection above earning is commendable. I admire Joy's efforts and wish all wineries could do the same!"
Must Try Summer Pairing for At-Home Chefs: "Summer means it's corn season in the Mid-West, which is very exciting. My favorite dish right now is a poached cod with grilled corn, pan roasted shishito peppers, corn puree and pickled veggies paired with a crisp, citrusy white wine." Sounds like Iron Horse Chardonnay, don't you think?
Comments