November 2, 2016 | Joy Sterling
Disruptive Dosage [Dosage 3.0]
October, besides being just a gorgeous month at home, also happens to be a prime selling month. This takes me out into the market to present Iron Horse wines ahead of the holidays. It's an annual ritual I cherish as I get to personally call on some of the country's leading sommeliers and wine buyers and hear first hand what they're thinking. This year, the word on everyone's lips seems to be "dosage." As in, "What is your dosage"?
So that got me to thinking, what's driving the interest in dosage and, as VinePair posited, "Is Dosage a Dirty Word?"

2015 Cuvee's Line-Up
The answer is obviously yes. Globally speaking, the trend in sparkling wines is skewing drier and drier. But at Iron Horse, we are taking this highly rarified aspect of sparkling wine making to a whole new level having actually very little to do with sugar.
Dosage (aka liqueur d'expedition or lex) is the finishing touch to a bottle of bubbles – a simple syrup of wine and sugar, the final step in méthode champenoise, the last addition before inserting the cork.
Dosage represents about 1% of the contents of a 750ml bottle and at its most basic, determines the degree of dryness to sweetness of the wine.
The spectrum runs from:
no dosage, which goes by various names: brut zero, brut nature, non dosé, bone dry

extra brut (defined as under .5% residual sugar)

brut level dry (.5% to 1.5% rs) the most classic and pervasive

sec, which ironically means dry in French, but denotes medium sweet, sometimes confusingly called extra dry, but is to my taste downright saccharine. The discontinued Moet White Star was a particularly popular Extra Dry style, at one time the most popular in the United States.

doux, 5% sugar.
Over the last two centuries, there has been a tendency to drink champagne with less and less added sugar. In the 19th century, champagne was drunk very heavily sweetened, with residual sugar levels varying between 5 and 10% or even more.
Today, there very few "doux" and "demi-sec" champagnes. And as a general trend in my observation even the bruts are becoming drier in recent years. Why?
For insight we contacted Rajat Parr, Partner/Proprietor Domaine de la Cote. I first met Raj as the wine director for Michael Mina's Wine Program and we first had the pleasure of working with him on crafting the inaugural Michael Mina Cuvee 20 years ago and counting.

Rajat Parr
Raj told us, "Champagnes in the 20s, 30s, 40s up until the 80s were slightly off dry. Now in the last 10 years, Champagne has gone drier and drier, it's a trend of the world. Sweeter drinks are now seen as simple or not as complex. Non-dosage sparkling wines are a la mode. "
"My pallet is all about fresh and higher acid wines. For Michael Mina, I wanted dry because I knew Michael Mina's cuisine. I was looking to make wine that was more accessible with the food. I was thinking about the guests at the restaurant and trying to profile their preferences."
To achieve this, we brought Raj in-house to participate in the process we use in creating dosage. It starts with David assembling a series of dosage trials.

Signature David Munksgard Dosage Trial -- the scientist assessing Wedding Cuvee
The dosage trials involve sitting in front of eight or so flutes. Each is filled with the same base wine, same vintage, everything being equal, except for the dosage. You may think we are talking about how many angels can dance on the head of a pin, but the stylistic differences are jaw dropping.
Says Raj, "Being involved in the blind tasting with David to taste so many different combinations and permutations of dosage, was an amazing experience … and then we celebrated at lunch with the family."
So, by our "disruptive" thinking, more important than the amount of sugar (or lack there of) is the composition of the dosage.
As David puts it "A lot of what we do has nothing to do with the addition of sugar. I'm actually adding in aromatics and flavor. Sugar has no flavor; it simply tastes sweet. What Iron Horse is doing at the very end - what dosage is about for us is a final "spicing" of the wine. This sets the style of the wine." This approach is something that not many other houses are doing -- and it's why we have come to call it Disruptive Dosage (Dosage 3.0).
Here's how David explains it:
"An easy visual to explain our process is to think about a cold glass of ice tea. To perfect it with our flavor goals in mind, we crush more raspberries or Parisien lime juice into it. In essence, we're building on the flavors that are already there to bend the wine in one direction or another.
For example, we sometimes like to add an older still wine to the dosage …. instead of sugar. Older wines have a high level of aldehydes , which are like sherry. Most of the time, when you taste sherry you would swear the wine was sweet, but actually there's no residual sugar; you are tasting aldehydes. So, instead of adding sugar, I sometimes I reach into the Iron Horse library for older wines, in bottle, aging on the cork.

Experience and enthusiasm yielding disruptive dosage excellence
If I want to make it even more fun, I can add a bit of a red wine - not enough to make it pink but maybe copper, which could add 'patina' to the wine, if that's what we're looking for.
An all-chardonnay dosage can bring brightness and a perception of youth. The most important ingredient is creative thinking.
We are adding other things at the end that have nothing to do with sugar. In that regard, we're doing something, to my knowlege, that really no one else is doing."
Here is a mini-version of a dosage tasting that you can try at home:

DIY Template
Compare our 2012 Brut X, 2012 Classic Vintage Brut and 2012 Russian Cuvee – three variations on the same base wine, each with a different dosage. We feel all three are of equal quality, making this a purely hedonistic experience. The point is to spotlight the influence of dosage.
NB For a straight up comparison, go with the same vintage across the board.
Brut X is the driest, so start there... The first two vintages were called Ultra Brut, a name I loved, until we received a very polite letter from the attorneys for the Laurent Perrier Champagne House asking us to cease and desist.
Some vintages like X is absolutely bone dry i.e. no residual sugar, which was a learning for me. I thought ultra or extra brut meant by definition no dosage, but we found that adding a few milliliters of Chardonnay and Pinot Noir gave the bubbly added refinement and polish.
Our Classic Vintage Brut is as the name implies our standard bearer in the sense that it sits at the same table with the finest bubblies made anywhere in the world, but showcasing the gorgeous fruit flavors that are unmistakably California, Sonoma County, Russian River, Green Valley and most specifically Iron Horse.
Russian Cuvée is the richest of our bubblies, but still technically a brut at 1.5% residual sugar. This has been (since 1985) and hopefully will continue to be (for all time) the cuvée favored by the White House. The tradition has been to serve it as the toasting wine at State Dinners, at the end of the meal, with dessert and prior to the evening's entertainment.
This tasting of the three bubblies - X, Classic and Russian, should be purely hedonistic. We feel they are of equal quality. It's fine to pick a favorite or love all three. The game, I mean "educational exercise," is intended to give you mental space to understand your own perspective on the dosage discourse dominating the industry.
As David will tell you, "Don't just think about the dryness. 'That's so yesterday'. We've considered the standard post-disgorgment practice and we've taken it to a whole new, exciting level."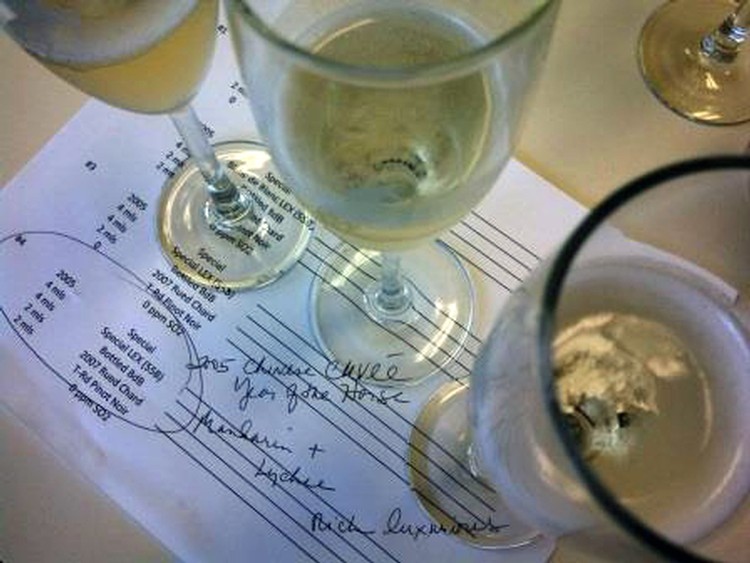 #####
Comments
Virginia
@ May 11, 2017 at 2:27 AM
Thanks
Daniel Smith

@ May 11, 2017 at 2:30 AM

Really thank you so much for the post.October, as well being just a beautiful month at home, also happens to be a prime selling month.You provide very interesting details and I am very happy to discover your site.

Commenting has been turned off.