September 11, 2014 | Food & Wine Pairings, Recipes | Joy Sterling
Delicious Recipe for Tuscan Style Chicken Cooked Under a Brick
This quintessential Tuscan dish is said to have originated in Etruscan times when fowl was cooked over an open hearth while being flattened with a heavy stone to insure even cooking. The result is a crispy yet succulent chicken fragrant with the aromatic herbs rosemary and sage. Serve with Iron Horse 2012 Estate Chardonnay or our 2012 Native Yeast Chardonnay.
This recipe is courtesy pf Deborah Dal Fovo and Relish Culinary Adventures in Healdsburg.
Both the Iron Horse Estate Chardonnay and the Iron Horse Native Yeast have been awarded a 93 point rating in Wine Enthusiast. Chardonnay's lemony character makes it a perfect pairing with this dish.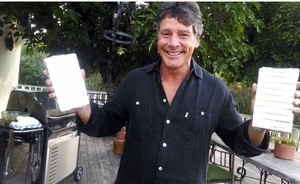 Ingredients
2 terracotta or red clay bricks washed and air dried, wrapped in 2 layers of heavy aluminum foil
1 young frying chicken, 3 to 4 pounds, preferably free-range
¾ cup quality extra virgin olive oil
2 cloves garlic, crushed and peeled
¼ cup fresh rosemary needles
¼ cup fresh sage leaves
Kosher or sea salt and freshly ground pepper to taste
Ask the butcher to remove the backbone of the chicken, trim and cut it in half. Then, chop off the knuckle from each drumstick and the tip of each wing and lightly pound each partially boned chicken half with a flat disk meat pounder or the flat blade of a chef's knife to flatten.
At home, rinse the chicken halves under cold running water and dry well with a kitchen towel.
Place the chicken in the olive oil marinade for 2 to 4 hours for best flavor, turning occasionally.
Prepare a charcoal grill with hot coals. Remove the chicken halves from marinade and generously season with salt and pepper on both sides. Place the chicken halves on the hot grill and cover each with a foil-covered brick to weigh them down. Cook for about 25 minutes until golden brown and crispy. Use a kitchen mitt to remove the bricks. Turn the chicken halves on the grill and replace the bricks on top. Cook for about 25 more minutes or until juices run clear when the upper chicken leg is pierced with a sharp knife.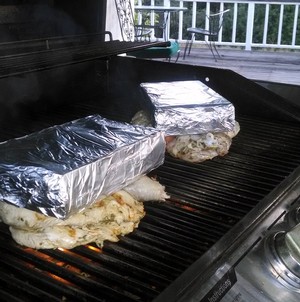 Transfer to a serving platter, lightly tent with foil and let rest for 5 to 10 minutes. Quarter the bird and serve with the Iron Horse Chardonnay.
Enjoy!
Comments
Commenting has been turned off.