August 18, 2016 | Tarin Teno
Connecting the Dots: Early Assessment of Harvest 2016 Thus Far
We're two weeks into Harvest 2016. So far it's been start, stop, start, stop, which is trying because once we get going, we far prefer to maintain momentum.
Looking out at the vineyards from the Tasting Room on top of the hill, you can see the crop on the vines looks good. We're figuring on a more substantial yield than last year, but not as big as 2014.

Quality is being determined with each passing day as the grapes accumulate flavor and arc to optimal ripeness. From here, it's all about taste.
We had yet another early start. Look back at the archive of our June Vintage Update and you'll see David's then shocking prediction that we could start picking August 1. Well, turns out he was right, yet again. Our first day was August 4. Same as last year. This is our third early harvest in a row.
One significant difference relates to water - Topic A in California. We were extremely lucky we had great winter rains, saturating the soils and filling the reservoirs. This is a big departure from the protracted drought conditions of the prior three vintages. (Another topic we have covered widely on our blog).
Early bud break was followed by intense heat, which shot us into a period of rapid growth before we were even done pruning.

June was cool and foggy, slowing things down, while creating its own demands. For the first time in years, the vines had access to groundwater. This major difference translated into fuller, more vigorous canopies which coupled with a humid spell increased the risk of disease.
Late rains and cloudy days of high humidity create the potential for early mildew. Our vineyard crew is extremely vigilant and nimble, but mildew won out in a few small pockets. Those affected areas received extra leaf pulling to increase air circulation and a "vine washing" to stop it from spreading. The combination of manual leaf pulling and the new vine hedger proved successful in combating crop loss.

A quick visit with David provided more clarity on the state of the vineyards heading into the second half of August.
Tarin: Any big surprises?
David: Mother Nature is full of surprises, but the way to keep up is daily, year round walks through the vineyards. The better you know each individual block, the better decisions you can make. No matter how well planned the vineyard, no matter how well tended, there will be spots of greater and lesser vigor. Our team strives to monitor each block separately and even specific blocks within the blocks.
So far, we have harvested:
G - Lower Pinot Noir for Sparkling
I - Pinot Noir for Sparkling
G - Upper Pinot Noir for Sparkling
F- Upper section Chardonnay for Sparkling
H 5 - Lower part Pinot Noir for Sparkling
E - Purple clusters only
The drone shot below from 6-2-16 covers all these areas - all were picked for bubbly.

This shows how we "hop scotch" strategically around the estate. We use a drone as a guide and then on the ground we even differentiate between specific clusters.
Below you can see how much "green thinning" is required by our teams at this stage. Green thinning involves manually dropping green grapes on the ground row by row. This action effectively guides the vines towards using all their energy on ripening only the most mature, promising fruit.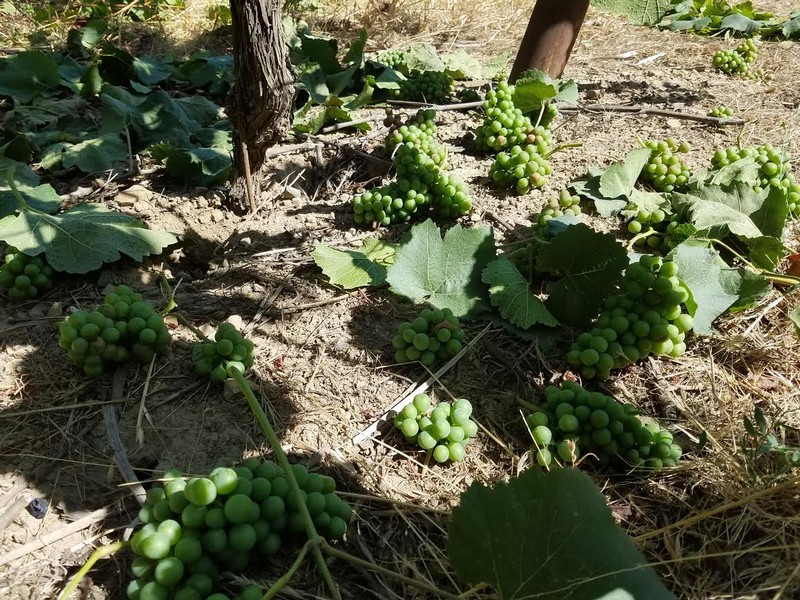 It's an impressive sight, which some might see as money on the ground, but which we feel is an investment in quality.
Tarin: What's your sense of the vintage?
David: Crop size, I think we are looking somewhere between the abundant 2014 and the paltry 2015. As for quality, it's way too soon to make comments. But I never shy away from an educated guess and it seems we are beginning to think that this could actually result in a great vintage.

We have every reason to be optimistic. Grapes that look like this can only make delicious wine!

#######
Comments