October 12, 2016 | California Sparkling, New release, New release, Vineyard Updates, Vineyard Updates | Tarin Teno
Sabers & Bubbles -- A Brief History
The Iron Horse "marketing " team is lean, to say the least, but we think big and are quick to move on a great idea. A new product launch becomes part of an illustrious and dynamic legacy. Standards are high, and family expectations are higher. So when Joy informed me that Iron Horse would be releasing a new gift item, I was intrigued. That curiosity grew to excitement when I discovered that item would be a saber. Shiny and beautiful but also useful and extremely efficient towards the end goal of unleashing delicious bubbles. An engraved saber that comes in a branded wood box is the perfect accompaniment to Iron Horse Sparkling Wines.
I jumped at the chance to understand why Joy selected this particular item to add to the family's special cache of Iron Horse offerings. Maybe because my wedding party sabered bottles to fuel a champagne tower at our reception or maybe because sabering is enjoying a pop culture renaissance .... either way, I dove in. Which required research. My mini investigation transformed me briefly into my AP World History student-self, this time with the joys of the internet and none of the dust of the library. The discoveries were as enchanting as the sunrise in Green Valley and as rooted in French history as the winemaking methods at Iron Horse.

The lore of sabering takes different turns depending on your source. Most agree it all starts with Napoleon. After the French Revolution of 1789, The Napoleonic Wars raged across Europe. Napoleon's soldiers mounted fast horses and dressed in lavish uniforms. Oil paintings depict young men in long cloaks with furs draped over broad shoulders. Most importantly, they were armed with rifles … and brass handled sabers. Early victories came easily for this force, who charged home through villages where revellers tossed them bottles of Champagne.
But it seems riding a horse while fumbling with a bottle secured with cork, wire cage and foil-wrapping didn't fit the dashing portrait of Napoleon's men. So they improvised, discovering that a quick stroke of a saber blade to the neck of the bottle both released the "drink of the stars" and did so in a decidedly heroic fashion. The upturned bottle with a dangerously sharp tip added to the overall vision of youthful brashness and celebration.

The "Widow" Clicquot makes an appearance in accounts of saber lore. This famous female Champagne house owner symbolises quite a bit for the women of Iron Horse (a story for another blog). But in this context, the story goes that the savvy business woman opened her mansion to Napoleon's officers and then armed them with her bottles on their way back into battle. Wishing to display gratitude, or perhaps hoping to capture the fancy of the wealthy lady, the young men would perform the saber ritual for her before racing back to the front lines. Swoon.
It is comforting to me that the best things through history seem to endure. And that is truly the case with sabering. I caught up with several Iron Horse friends who were happy to chat saber etiquette and procedure. Meet Master Sabreuse Catherine Fallis aka the Grape Goddess, Master Sommelier David Glancy founder of San Francisco Wine School, Brad Kinder of Kind Wines, who represents Iron Horse through Florida, and Petra Polakovicova, Wine Director at Epic Steak in San Francisco. All have a slightly different take on the art of the performance. But all share their concern for safety above all else.

David Glancy explained, "Sabering really started out as a quick and dirty tactic. You used a sword or knife or a blunt object to knock off the neck of a champagne bottle. It started with Napoleon's troops who employed this method very sloppily I'm sure. Sometimes it worked and sometimes it didn't." He told us that the key to the whole show is to get the champagne REALLY cold. Especially the neck. We're talking ice bath cold, completely submerged for at least an hour.
David emphasized this point saying, "Bottles DO explode. I've gotten very tiny shards of glass in my wrist and in my neck even from what seemed to be perfect sabering." Catherine Fallis is also a fanatic about the well-chilled, near-frozen temperature in her sabering performances. Our favorite Grape Goddess added that she prefers magnums, which are easier to take contact with along the seam to the lip. And she reminds us the sabering is an unright motion, not a downward "decapitation" (an appropo reference when speaking of the French Revolution).

Michael Rosati Photography
But if all goes well you can be assured that party goers will clamor for more. It seems to put a punctuation mark on the event. As Brad Kinder told us, "Bubbles are the beverage of celebration and nothing really kicks it off in a better way than sabering the bottle. It draws attention and is super cool especially for people who have never seen it before." He went on to say, "It's showmanship and that's what bubbles are all about. It's a perfect pairing." Do not try this at home, but Brad has been know to "saber" a bottle using the bottom of a wine glass. "The danger and the uncertainty of success adds to the fun. I've sabered many bottle but I always get an adrenalin rush."
Taking a risk on an innovative approach can be the most powerful strategy. If this YouTube video involving a golf ball doesn't make you jump out of your chair, I don't know what will.
However you decide to go about it, here are some performance and safety MUSTs which I gathered from our experts:

Pre-planning is key.

The bottle needs to be as cold as it can be before the wine turns to slush. That "tames" the bubbles. With a warm bottle, the cork is likely to fly out.

Wear protective eyewear, sunglasses are a dramatic, easy option.

Some experts recommend gloves. Our friend Catherine Fallis favors opera gloves for protection disguised as glamour.

Crowd control is a must. Select a safe space with a clear opening, set up something to aim for, and make sure people aren't in your path.

Aim at something soft which might absorb the impact … or the great outdoors.

Common sense should also lead you to remove the wire cage from the neck, to avoid a boomerang effect.

Taking off the cage is the most dangerous part - remember it has the power to take your finger off with it!

The maneuver is not about force … or even a sharp edge.

In fact, a butter knife will work.

They key is to run the saber along the seam of the bottle, hitting the neck at just the right angle.

A smooth, clean stroke works best.

Form is everything.
Petra Polakovicova presides in a well-known dining room and can attest to the celebratory vibe created by even a traditional pop of the cork. But she too is moved by the elevated experience of the sabering ritual. "Sabering adds drama. When you open bubbles with a sword, there's an anticipation. The anticipation of something really cool."
In victory, you deserve Champagne, in defeat, you need it. -Napoleon


Welcome to the family, Iron Horse saber, Sebastopol Edition.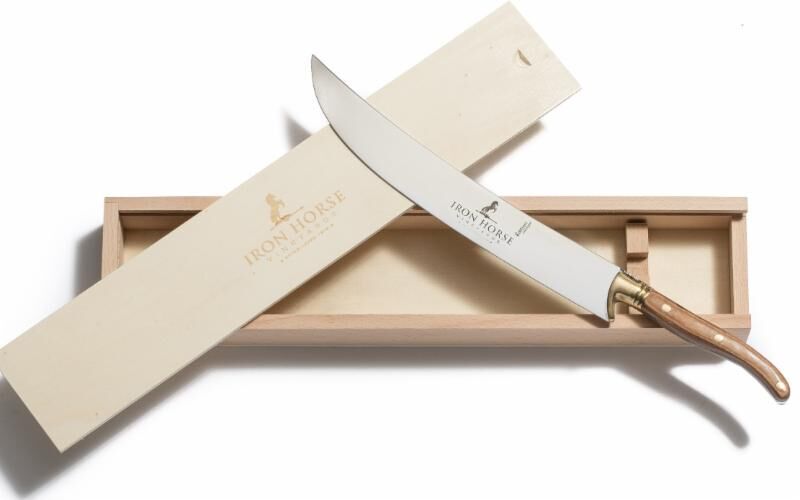 Comments