November 19, 2016 | Joy Sterling
A Peaceable Thanksgiving: Wine as Saving Grace
Thanksgiving dinner is traditionally fraught and seems especially so this year coming on the heels of an historically bitter election. A story in The New York Times last Wednesday suggests the all out war between the presidential candidates may also lead to war at the family table. I pray this doesn't happen to you. But hosts and guests alike can stave off holiday strife by heeding some very easy to follow advice: make sure there's plenty of really delicious wine on the table, especially wines you yourself will love to drink. Thanksgiving is all about indulgence and sharing. So, why not?

Wine can be the great equalizer at the Thanksgiving table, bringing us together at a pivotal moment in American history. I encourage you to leverage this unique, conciliatory quality of wine to navigate potential landmines at your holiday celebrations.
Wine has a long and storied history of providing common ground. It's a convener. It draws everyone in. To shore up this thesis, I solicited supporting evidence from our vineyard based team and here's what they shared:
Wine is a perfectly safe topic.

It's fun! It does contain alcohol.

It's empirically proven that you always make friends when you bring the wine.

And, if you enjoy wine, you probably will probably enjoy talking about it … especially as a respite from talking politics.

A delicious wine can bridge all divides.
We traditionally start our holiday meal with a toast, which automatically brings in everyone at the table with the clinking of glasses. After a couple of sips, the social lubricant does its magic. Everyone starts to relax and communicate. The din in the room starts to rise. Laughter follows.
Each of us experiences wine in a different way. It is one of the few things where everyone is right. You taste raspberries in a Pinot … and I taste smoke and spice. It's like sitting on the bench at the winery and looking out at the clouds. I see a bear and you see a ship in full sail. We're both right. What's exciting is the sharing. It's a way to get to know someone.

Wine has intersected with politics dating back to the time of pharaohs and continues today as part of a strategy of "soft power" being deployed at the White House and State Department where the menu, the wines, the table setting are all carefully considered (see NY Times article here).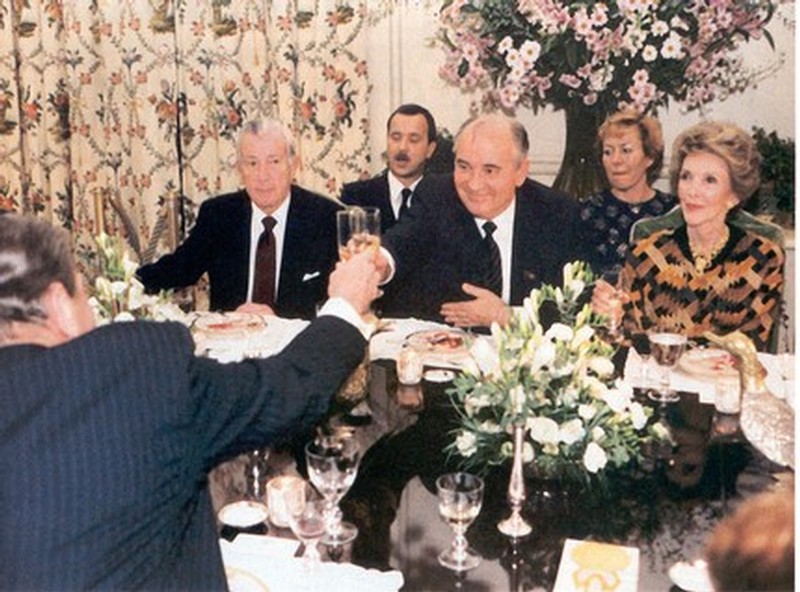 I believe one reason Iron Horse was chosen for the Reagan-Gorbachev Summit Meetings in 1985 is because of our proximity to the Russian River and that we pertain to the town of Sebastopol. Our geographic roots supplied an instant connection and something mutually agreeable to talk about. At the time, we were told that every member of cabinet signed off on the selection.
As we prepare for a memorable Thanksgiving, I want to leave you with some unifying words that you might be able to carry into a potentially challenging holiday season. Rudyard Kipling said, "Words, of course, are the most powerful drug used by mankind." Use them wisely, and kindly. With a glass of wine ever in hand.

Icebreaker Quotes:
"Good company, good wine, good welcome, can make good people." – William Shakespeare
"Strange to see how a good dinner and feasting reconciles everybody." - Samuel Pepys,17th Century England
"An iconic American Thanksgiving meal prepared by an iconic American chef (Mom, Dad, Grandma) calls for iconic American wines … " Dave McIntyre, Washington Post
Historic Thanksgiving Day Facts:
1621: The year of the first Thanksgiving, a three-day feast in Plymouth.
The holiday was originally dedicated to giving thanks for a bountiful autumn harvest.
The Pilgrims probably drank beer or even more likely hard cider.
Thanksgiving became an annual affair only in the late 1660s.
The first truly national Thanksgiving holiday was observed in 1863. President Abraham Lincoln established the annual Thanksgiving date in a bid to promote unity between the Northern and Southern states.
Every president since Harry Truman has pardoned a turkey for Thanksgiving.
Finally, for the giving in Thanksgiving, please consider our 2012 Ocean Reserve. $4 per bottle goes to National Geographic's ocean initiative, helping establish marine protected areas and support sustainable fishing around the globe.



Sending my very best wishes to you and yours for a wonderful, peaceable Thanksgiving filled with love, laughter and delicious wine.
Comments
Commenting has been turned off.