November 11, 2019 | Joy Sterling
2020 VISION
Dear Friends and Family, I sat in on one of the best meetings last Friday, conducted by my brother, laying the groundwork, literally, for a great vintage in 2020.
The wines of 2019 are basically all settled. We are ecstatic about the quality, particularly the bubblies. The vines are on the verge of going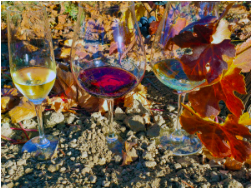 dormant. It's time to review – what went right, what went wrong and how to continue a trajectory we have been pursuing for many years.
I love that just days after our fermentations are done, we are planning what we can do better with the next vintage, which, hard to believe, is coming up very quickly. (Yes! A friendly reminder: the 20's are just 50 days away.)
Our work plan is essentially to put even more precision into our precision farming and go all "in" on climate smart agriculture.
Few agricultural products are as sensitive to climate as wine grapes. Part of what makes wine so marvelous is its capacity to express the nuances of the vintage, the vineyard – all the inestimable, interlocking attributes that come together as terroir. On a very personal level, we ourselves were essentially climate refugees when we had to evacuate from the wildfires.
This is our welcome back to the Tasting Room photo the first day we were able to get to work.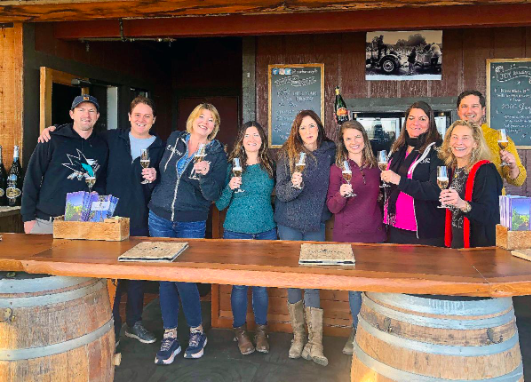 As farmers, we are excited to have the opportunity to be part of a world solution. Through our farming practices, vineyards can help sequester carbon in the soil. We are going to prune in a whole new way for vintage 2020, with training to begin in December, to broaden out the growing season and give ourselves a chance of keeping up with the pruning, training, tying, suckering, leaf pulling and dropping green fruit, to get even just two days of breathing room, before we start harvest. Everything we can do to do better at these essential tasks can directly result in higher quality.

We're going to reconfigure the irrigation system in our favorite Chardonnay blocks, step up our monitoring of soil moisture, and reevaluate our cover crop mix and how high to till so it has a chance to reseed without exacerbating the potential for frost problems.

I am very excited about setting up more owl barns and adding perches for other raptors as the best solution for gophers, and I am so pleased we are converting to "Weed Slayer", an organic herbicide based on clove oil.
I hope we are going to get a pause around Thanksgiving. It is my mother's favorite holiday and a real treat because she pulls out all the stops. She sets a magnificent table and has already started planning for this year. It's always different and stunning; with many, many wine glasses. She says she already has an image in her mind for this year.
Here's the table from vintage 2016,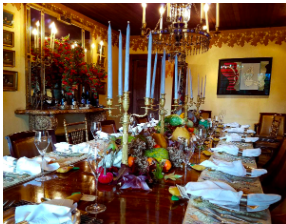 Thanksgiving 2017,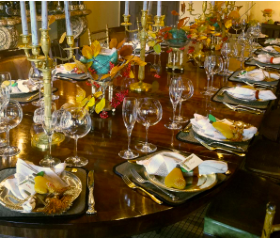 and, Hospitality Manager Dixie Bohlke with my father at the table last year.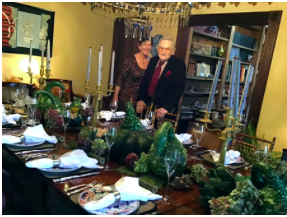 I am very excited that we have released two new wines: 2005 Joy! Blanc de Blancs, aged 13 and a half years en tirage, produced exclusively in magnums. This is for Blanc de Blancs lovers. And, for red wine drinkers, 2017 Gold Ridge Pinot Noir, a complex and elegant blend, named for our special soil type, Gold Ridge soil, among the most coveted, especially for Pinot Noir.

Our 2011 Brut Rose LD has been awarded an outstanding 93-point rating in the current issue of Wine Spectator, described as "… distinctive, with a touch of age … hardly a typical bubbly blush…" And, 2014 Wedding Cuvee is #28 in Wine Enthusiast's Top 100 Wines of the Year.

We, as a family, feel especially thankful this year. We wish you and yours all our very best.

With heartfelt gratitude,

Comments
Commenting has been turned off.