Sofian Himeur - Winemaker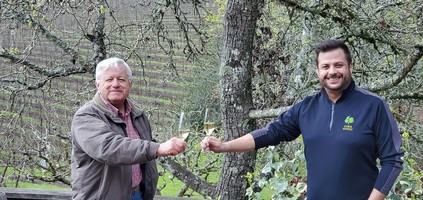 Sofian Himeur is the newly installed winemaker at Iron Horse, joining Winemaker Emeritus David Munksgard on the winemaking team in March of 2020. Sofian has been in the wine industry for 18 years, producing Gruet Sparkling Wines in New Mexico.
Born in Troyes, France, and relocated to New Mexico when he was an infant, Sofian is the grandson of Gruet Winery founder Gilbert Gruet. Growing up around wineries with his family, he always knew he would be in the wine business in some capacity. With nearly a lifetime spent performing nearly every task in and outside of wineries, he advocates impeccable standards.
When the opportunity came for Sofian to relocate his family to California, he without hesitation jumped on the opportunity. Sofian has always wanted to branch out from his family and make wines on his own, and Iron Horse presented that opportunity. "Being a part of Iron Horse is truly a dream come true, I have always been very fond of the wines here, and I look forward to continue building on their impressive history." Sofian's philosophy of winemaking is that it all starts in the vineyard. With quality grapes, the possibilities are endless.
Sofian loves spending time with his wife Ingrid, watching his daughter Mackenzie play basketball, and enjoying every moment with the newest addition to his family, Leon, born just weeks before joining Iron Horse.
Sofian enjoys traveling, skiing, auto racing, and is a big sports fan, and follows the 49ers, and his favorite soccer club Paris Saint Germain religiously.